I noticed some aircraft model entries are missing from the aircraft menu in the upload page, despite being already present in the database.
Yesterday I tried to upload a photo of a Cessna O-1E Bird Dog. The auto-fill did not fill the aircraft menu, which I thought it was quite strange since the registration was already in the database (some of the photos were even taken by me). When I tried to manually fill the aircraft menu, the E version was missing: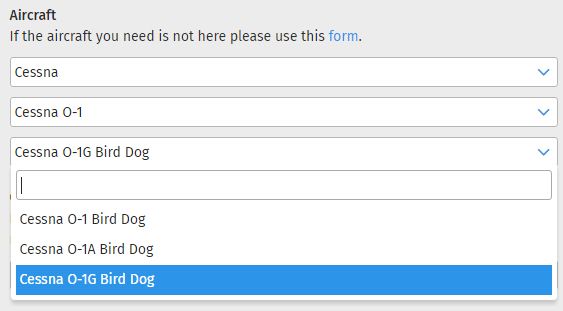 I made a request for a new model, and it was accepted without any problem.
However, few minutes ago I tried to upload a photo of a Margañski & Myslowski Swift S-1 aerobatic glider. It is a new registration in the database, so I manually filled the aircraft menu. However, this time too the model was missing:
Now for the strange part: when I tried to submit a new aircraft request, I was told it already exists!
I tried to reupload the photo inserting the registration of another Swift S-1 (D-6081) and then editing manually the registration, but the result was the same as the screenshot above.
Thank you very much for your assistance!