I briefly scanned this article over Breakfast this morning and I read more about it throughout the course of the day. It's kind of exciting I think, although I've never actually taken interest in a new camera release until now (to me they always just popped up in stores).
Anyways, today Nikon announced the New
D3200
! As they describe it, it is an Entry-Level SLR to go alongside the D3100.
A DX-format CMOS image sensor with an effective pixel count of 24.2-million pixels, the EXPEED 3 image-processing engine, the Guide Mode function, and support for smart device collaboration, making full-scale photography and sharing of photos more fun
TOKYO - Nikon Corporation is pleased to announce the release of the Nikon D3200, a Nikon DX-format digital SLR camera. The camera is equipped with a new CMOS image sensor with an effective pixel count of 24.2-million pixels, the same EXPEED 3 image-processing engine built into Nikon's high-end models, and Guide mode, all of which enable capture of beautiful, high-quality images with simple operation.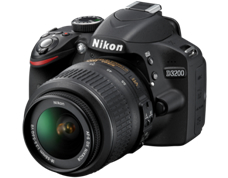 The D3200 is the successor to the D3100 and is equipped with Guide mode, which supports simple and intuitive operation. Last year, the superior usability of the D3100 was recognized not only by the camera's extreme popularity, but also when the camera was awarded the iF Communication Design Award 2011, one of the iF Design Awards. The iF Design Awards are globally prestigious awards sponsored by International Forum Design GmbH of Hanover Germany.
The D3200 not only offers an improved Guide mode for even simpler operation, but also a number of new and improved functions. In addition, the new DX-format CMOS image sensor, developed by Nikon with an effective pixel count of 24.2-million pixels, and the same EXPEED 3 image-processing engine built into Nikon's high-end D4 and D800/D800E cameras enable capture of images with quality and definition at the top of its class. The D3200 also supports collaboration with smart devices (Android), with use of Wireless Mobile Adapter WU-1a increasing user convenience even further with the ability to transfer images and control shooting remotely over a wireless connection.
The extremely portable, compact and lightweight body of the entry-level D3200 is loaded with the latest digital SLR camera functions, allowing for full-scale, flexible photography. Users will enjoy its simple operation with the capture of beautiful images exhibiting superior image quality that they will be eager to share with others.
http://www.nikon.com/news/2012/0419_dslr_01.htm
I am going to take a hard look at the 3200. Because I have been looking at buying the D3100 for the past 2 months and I am saving up and making preparations to buy it. Then, this morning I see this. I know that the two camera bodies are almost identical in design, and very similar functions and features. It seems like the biggest differences are the censors (14.2 vs 24.7 I think, not that I'm counting pixels) and 3 FPS vs 4 FPS and I'm not sure if the 3200's screen is higher res or not.
The biggest question I am facing now (which I had never really considered before because I never thought anything like this would happen) is: Whether to buy the older, slightly lower-end D3100, or to wait a couple weeks and buy the new D3200 from the shop. In Canada it will most likely be priced at $649 as a kit. Is there that much of a difference that I should pay full price for a brand new upgrade to the camera I'd like to buy?
Please feel free to discuss the new D3200. And I would appreciate it if you could also help me with my little dilema.
Thanks
-WJ