Boeing 737-958(ER) from El Al(4X-EHD) named Kiryat Gat and with Peace logo landing runway 30, taxi and take off runway 12 Manises Valencia Airport (VLC) with ATC audio included (November 2020)
Aircraft fitted with C-MUSIC Anti Missile System. Elbit Systems Intelligence and Electro-optics Elops Multi Spectral Infra-red Countermeasures C-MUSIC systems are a family of Directed IR Countermeasures (DIRCM) solutions for protecting aircraft against heat seeking ground to air missiles.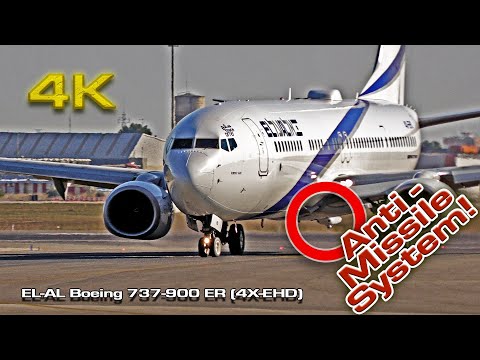 This aircraft also made the first flight between Israel and UAE on September 3 2020
The flight, LY971, operated non-stop between Tel Aviv and Abu Dhabi, covered a distance of 1,311 miles and took three hours and 17 minutes to complete. Service on the flight was operated by a Boeing 737-900ER, 4X-EHD. The aircraft was chosen over the airline's flagship Boeing 787 due to the availability of a missile defense system on the 737.