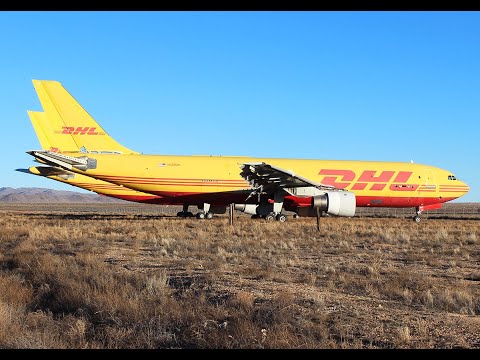 In today's video, we look at a somewhat uncommon aviation story, the story of an old aircraft being resurrected from the bone yard and made airworthy to fly once again. The plane in question an ex DHL Airbus A300 which I have seen many a time on my work tours of Kingman. N362DH serial number 84, was a nearly 44 year old Airbus A300B4-100 which started its life as HS-TGP when it was delivered to Thai Airways international in September 1979. In Oct 2000 it was delivered to DHL and converted to a freighter and re-registered to N362DH where the aircraft flew until July 2009 when it was stored in Kingman, AZ with a handful of other DHL aircraft, including other A300s, 727s and DC-8s.
After roughly 14 years in storage, on March 2nd 2023 the aircraft (now registered to TVPX trust service, a US aircraft brokerage service specializing in cross border aircraft transactions) made a short 50 minute flight from Kingman, AZ (IGM) to San Bernardino, CA (SBD). The aircraft sat for 5 days before making a 3 hour flight on March 7th from San Bernardino, SBD to Oscoda, MI (OSC). After a short 2 hour sit for what was presumably a fuel stop, the aircraft departed Oscoda on a 6 hour flight to Keflavik, Iceland (KEF). The next day, March 8th, the aircraft would make a 2 hour flight from Keflavik to Riga, Latvia (RIX). It would then continue to Baku, Azerbaijani (GYD) on a 4.5 hour flight. The aircraft would then make a final 3 hour leg on its delivery flight to Manas international airport (FRU) in Bishkek, Kyrgyzstan.
Although not yet re-registered as EX-30005, the aircraft is being delivered to Aerostan, a cargo airline based at Manas International airport. The airline was originally founded in 2004 but suspended operations in 2012 before restarting flights again in 2020. Aerostan currently has a fleet consisting of one Airbus A300B4-200 and 3 747-200s. The airlines current A300 serial number 141 registered as EX-30002, has virtually the same story as N362DH stating its live with Thai before being converted and flown for DHL to be parked in Kingman as N364DH. 141 however, flew for Air Speed charter, AMS airlines, & Sigma airlines before being delivered to Aerostan in September 2020. The airline also operates 3 Boeing 747-200s, registered as EX-47001, EX-47002 & EX-47004. 2 of which started their lives at United and Northwest before flying cargo with Michigan based Kalitta Air. The 3rd, an Ex Air France freighter.