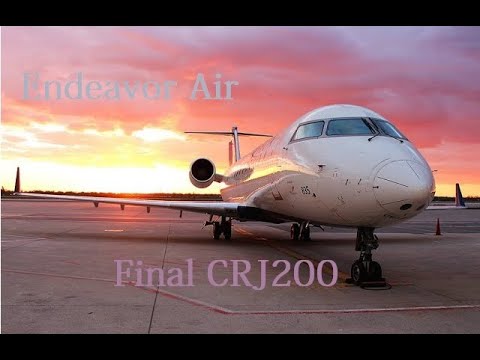 Tonight, April 30th 2023, Endeavor Air, the regional subsidiary of Delta Air Lines, retired its last CRj200. Operated by N8918B, flight 5278 would make a 1hr and 5 min flight from Brunswick, GA to Atlanta, GA, arriving around 7:30pm.
Originally delivered to Pinnacle airlines and operated for Northwest, 8918 was built in March 2004 as a Bombardier CRJ440. The 44 seat configured aircraft was converted to the 50 seat CRJ200 in 2007 where it would operate with Pinnacle & Endeavor throughout the Northwest and Delta merger. The 19 year old aircraft currently has just over 33,130 hours and 14,158 cycles on its airframe.
Along with 8918, Endeavors other 2 remaining 200s, 8946 & 8986 made their final revenue landings into Atlanta earlier this evening. The 2 are scheduled to reposition to Kingman, AZ where the rest of the Endeavor 200 fleet is in storage. It is rumored 8918 will be doing some sort of employee flight between Endeavor's hubs before its final flight to Kingman for storage.
Historically, Endeavor has operated 146 CRJ200s. Much like their CRJ700 & 900 fleet, its -200 fleet is a hodge-podge of all different regional carriers and origins. Pinnacle with its fleet of -200s, some of which came from its original brand of Express 1, would acquire Mesaba and its small fleet of -200s in 2010. The airline would eventually be rebranded as Endeavor air in 2012. As the airline grew, so did its fleet of second hand aircraft like those aircraft from ASA and ExpressJet. Over time its -200 fleet would grow and shrink and cause the airline to store planes in Kingman and in some cases turn around and reactivate them a few years later. Some aircraft were transferred to Skywest and it some cases transferred back. For example N601XJ, which started its life with Mesaba was leased to Compass, coming back to Mesaba, going to Pinnacle, going to Skywest and then finishing its life with Endeavor again before being stored.
Now the news of the CRJ retirement might excite a lot of people since most of the flying public dislikes them due to their small cramped cabin. Unfortunately, travelers will still have to see them for a little while longer as Skywest, another regional operating for Delta, still has about 20 of them in operation for Delta. In 2020, Delta announced its plans to phase out the -200 by the end of 2023. The airline cited the lack of first class cabin in the 50 seat jet as the main reason for the decision.
The CRJ200 is a variant of the Canadair Regional Jet 100 which was produced by Bombardier. Taking its first flight in May 1991, the aircraft was produced between 1991 and 2006 before it ended production. 1,021 CRJ100 &200s were built in that time. The design would help pave the way for the later 700 & 900 variant which are widely used by the regional airline today. Although more and more -200s are being parked by the airlines, some companies have found a use and are picking up some of these aircraft second hand using them as a business jets or in some cases converting them for cargo use.
Although the aircraft was not widely loved and had some issues that would really be a pain sometime, like many others, the CRJ200 will always hold a place in my heart as it was the first aircraft I worked on when I started my career with the airlines. As always, don't forget to like and subscribe. Thanks for watching.