Hi,
After a week in the resort of Fuengirola in Malaga, Spain visiting my sister who works as a Holiday Representative for the Airtours division of the MyTravel Group the time had come to return home. I would just like to say that the MyTravel team on the Costa del Sol are all fanatastic and are much better than the Thomson team that I have experienced in the past!
Anyway...
Depart:
Malaga, Spain (AGP) Terminal 2 - 14 September, 21:45
Arrive:
Manchester, United Kingdom (MAN) Terminal 2 - 15 September, 01:30
Airline:
Excel Airways
Aircraft:
Boeing 737-8Q8 - G-XLAH
Duration:
2 Hours 50 Minutes
Apologies In Advance For Poor Quality Of Some Pics
We returned to Malaga's Pablo Ruiz Picasso International Airport in good time for the flight. We dropped the car off at the MyTravel Car Hire Return Desk and caught the courtesy bus to Terminal 2 Departures. We checked the departure boards and checked our allocated check-in desks but as we where early these where being used by Basiq Air. As we had some time to kill we bought a coffee and a sandwich. At this time I took some pictures of the Terminal and got a few timetables from Helvetic, Air Berlin and Spanair.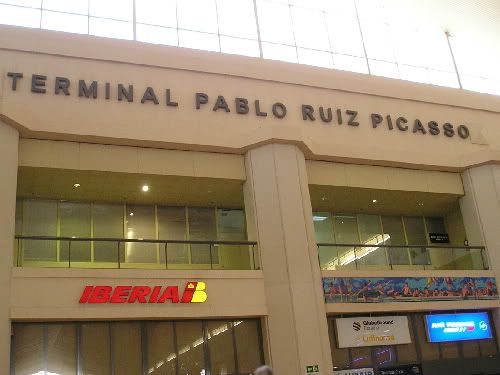 After a short wait and a quick phone call home to a fellow forum member ( Ryanair737 ), it was time to check in. We where first in line and after a short wait the pre-occupied CSA called us forward. We where handed our boarding cards and ticket stubs back and proceeded to security. I had asked for seats 15/16 AB/EF and this was granted.
Once at security we endured a short wait as a man had tried to pass passport control without a passport or boardind card. After this we went staright through without a problem. At this point I saw two massive A310 models hanging from the terminal roof of Air Plus Comet and Hapag-Lloyd: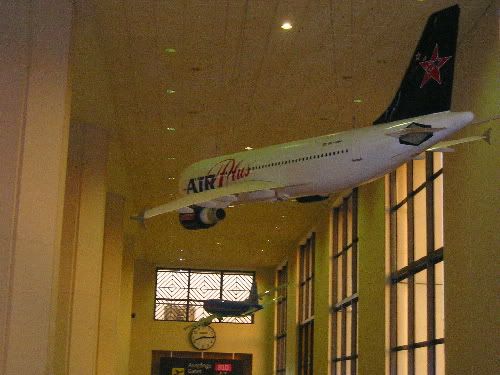 We then browsed Aldeasa and bought a bottle of Sangria. I also wanted to have a look at the aircraft on stand. I got a picture of an Air Finland B757-200, Spanair A320-200 and a Saudi Arabian B777-200ER. At the British bound flights pier there was a Thomsonfly.com/Thomson Holidays/Britannia B757-200 G-CDUO for Gatwick, a Thomsonfly.com B737-500 G-THOB for Coventry, a Monarch Airlines B757-200 G-DAJB for Gatwick, a GB Airways A320-200 G-TTOC for Gatwick and an Excel Airways B737-800 again for Gatwick. Overall the airport was pretty busy with a few movements from Iberia, Air Nostrum, Air Europa, Spanair, Air Berlin and other cariers.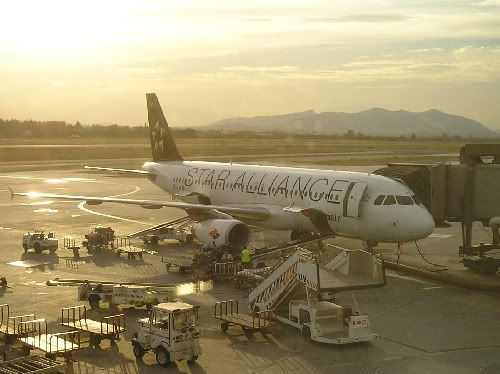 As the the sun set over the Andalucian backdrop the departure time grew ever closer at which time we checked the screens once more to discover an hour and a half delay. I wasn't to bothered if not quiet happy. We grabbed another coffee and a sandwich.
As the last sight of Spanish sunshine faded away and the black starry sky beckoned I sat content by a window close to the runway. Approach was very busy as was departures. A flight for bmibaby to NEMA pushed as did an easyJet B737-700 as our aircraft began its final approach. At this point I was still hoping for SAA leased B737-800, ZS-SJG. I watched my aircraft touch down and roll by as it exited the runway and to no supprise it wasn't the aircraft I wished for. Oh well. It was G-XLAH which was just as good as it is Excel's newest B737-800
The noise in the terminal fluctuated as it arrived on stand and then receeded as the engines shut down. The passengers slowly exited via the air bridge and a few PSAs arrived at our gate - C40.
An hour passed as the aicraft was turned around and the time came to board. The pre-boards where put out on the tannoy at which time the PRMs came forwards. After this we where called and after handing over my boarding card I walked down the air bridge and met a queue. The queue remained for a long period without moving as the dispatch team realligned the air bridge with the aircraft to allow a wheel chair passenger to board. It was very funny as there was sign in on the bridge which read "Air Bridge Must Not Be Monuvered Whilst Passengers Are In Presence" and just that was being done! During this time I watched a delayed Thomsonfly.com/Thomson Holidays/Britannia B757-200 as it had its engine cowling raised and a team of maintainence engineers inspect it. I discovered that it had been there for some 6 hours!
Soon enough the dispatch team alligned the bridge and we where free to board. At the door we where greated by the very cheery Pursers Rachel and Janeen. Rachel pointed out our seats and Janeen offered a newspaper to us. Our Cabin Crew today would be Rachel, Barbera, Janeen, Amy and Rebecca.
I walked down the cabin to our seats on the exit row and was greeted by Cabin Crew member Amy. I placed my bag in the lugage bin not before removing my camera and took my seat. The seat was once again leather and resonably comfortable but I must say that if I was on a row other than on the exit I would of been very uncomfortable! This flight was going to be almost full but with a few more empty seats than the outbound service. After a few announcments welcoming us onboard and appoligising for the delay the annoncment "Cabin Crew Please Arm the Doors, Cross Check and Report" was made. After this a second announcment was made "Cabin Crew Demo Positions."
They began a manual safety demo which lead me to think that the IFE was tech but later found that this wasnt the case. After the demonstration our Captain - Tony O'Brian spoke to us and gave us some route information as well as explaining the reason for our delay which turned out to be due to the aircraft working "flat out" for the last few days and just accumilating the odd delay here and there which had mounted up.
The aircraft shuddered and began a slow push back leaving a heavily delayed Thomsonfly.com/Thomson Holidays/Britannia aircraft behind. The aircraft vibrated as our number 2 CFM56-7B26 engine whined up to "fuel on" rate. With a sharp increase in noise the engine roared as the fuel entered it before returning to idle. The process was repeated for the number 1 engine for which the vibrations where even greater.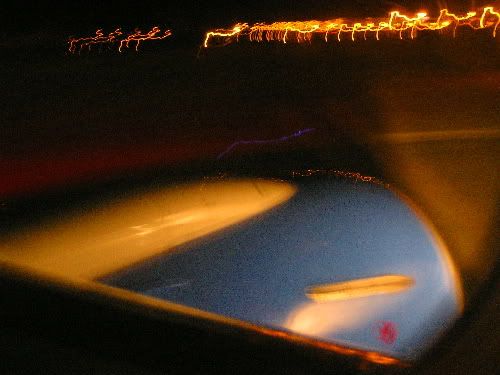 The push back truck was removed and we where waved off. The engine power was spooled up to around 30% as we began our taxi before returning to idle. The call "Cabin Crew Seats for Take-off" was given and we continued a quick taxi out passing Terminal 1 and continuing towards Runway 32. The flight controls where checked and Flaps 5 was set. We approached the runway entrance point where we held for a Spanair A321-200. The signal that we where ready for take-off was given to the crew. It touched down and we lined up with the centre line. The Spanair A321 soon exited and an influx of noise filled the cabin as 30-40% power was applied, the brakes where released as we began our roll. Then 50% was applied before the engines spooled into TOGA. With a loud noise increase we where rolling. The thud of the nose gear over the centre line was to be heard. We passed the apron on which the Air Nostrum aircraft where parked and the nose began to rise. The main gears quickly lifted of the runway as we said goodbye to Spain and began a powerful and fast climb.
We continued a fast climb out as the engines spooled back and the engine noise rapdily decreased. The aircrafts nose then leveled out and a few squims where heard in the cabin. The signal for cabin crew to work was given and they proceeded to there duties. The engine nose then increased as we began our climb up to FL360. The Cabin Crew then announced the order of service which would be: The Holiday Questionaires, Drinks and Snacks Sales, Complimentry Meals and Our "Final Opporunity to Purchase Tax Free Goods."
Sure enough this was the order of service! I filled in my questionaire and purchased a Hot Chocolate from the bar.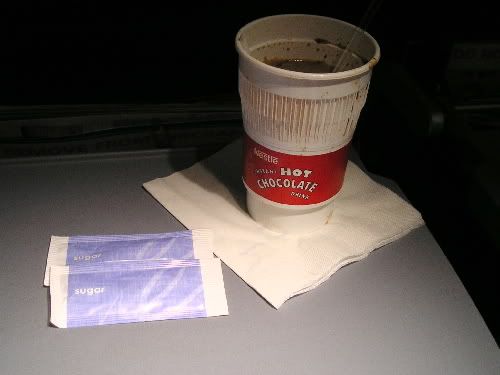 The IFE sreens then dropped down much to my suprise as I concieved that it wasn't working. A DVT video was aired following by a promotional video for Excel Airways and then a Destination Report as seen on Sky News. This was followed by a few T.V programmes. At this time we where just passing through some mild turbulance.
The meal service commenced from which I recieved Sweet and Sour Chicken with rice and peas and peppers, which was quiet small but still alright for this night time service. I thought maybe a strange choice for a late night flight but I was content. I also recieved a coffee with this.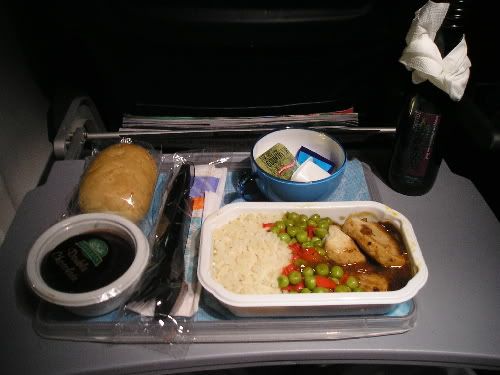 The Captian then updated us on our progress. At this time we had just left the Bay of Biscay and where over the Brest Peninsualar. He informed us that descent would commence in just over 30 minutes as we passed over Gatwick. From here we would pass Birmingham and then Manchester City before making our final approach on Manchester's Runway 24R. The weather in Manchester was gusting a 10 knot wind in extremely heavy precipitation.
After a good 30 minutes our meal was collected and the Cabin Crew started the duty free sales as Recess was showing on the IFE. From this I purchased an Excel B737-800 and B757-200 Model.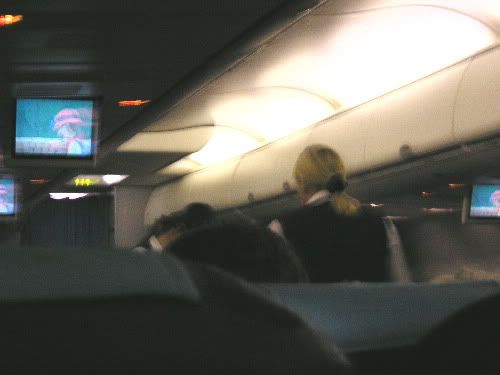 At this time as we passed over London the engines whined back and we began a steady descent into Manchester. The speed brake was deployed to reduce speed from which a lot of drag could be felt. The Captain then told us that we should expect some pretty moderate turbulance as we pass through the clouds and some bad weather. He also joked that "Unlike Alton Towers, you don't have to pay for the ride" and that we "might get bounced around a little."
The first stage of flap travelled and the speed brake retracted as we descended into some rough cloud to which the wings where flexing crazily! The rain rushing past the wing was utterly amazing! I had never seen rain like it! The Cabin Crew where then told "10 Minutes to Landing" and took their seats. The Cabin lights where dimmed as we where arriving in then hours of darkness. At this time we remained in the cloud which was producing some quite heavy turbulance! The engines where spooling forwards and then back producing a lot of varied noise in cabin. During our time in the clouds, as the cabin was in darkness it was almost as if it was lightening as the strobes where flashing where creating some nice effects on the wing and in the cabin.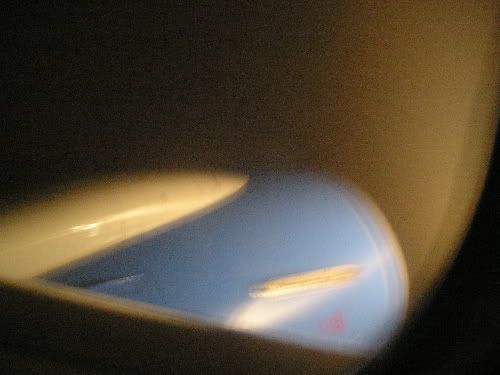 Almost in tandem to exiting the cloud layer condensation filled the wing and a vortex formed. The stages of flaps continued to travel as we continued our approach. As we established ourselves on to 24R we began our final approach. Rain rushed past the wing and the condensation flickered on like a light bulb being turned on and off. A vortex speeded from the engine over the wing and in to the air behind. This was a far cry from the 30 degree plus weather in Malaga! The engines spooled forwards and again back numerous times to maintain approach speed and the aileron movement was clealry visable as the Senior First Officer battled the wind. We passed over the housing estate on the MAN approach path and then over the airfield at around 300ft. In our final stages the nose dipped forwards to loose height. We passed the 'Airport Pub' and over the threshold for 24R.
Touchdown came at a speed of 143 Knots and the aircraft firmly touched down just after the Touch Down Zone with a thud. The speedbrake deployed and with another hard thud the nose gear made land. With this near to full reverse was deployed. All this combined with a high setting of autobrake made for a violant deceleration. The nose thuded over the centre line as reverse was cancelled and manual brakes where taken. We exited the runway here:
The rain then filled my window as it battered the aircraft. Rachel (Purser) welcomed us to Manchester and thanked us for flying with Excel Airways. We taxied passed the AVP where Concorde and the Avro RJX could be seen fully lit. We taxied slowly towards Terminal 2 and made a brief stop by the MyTravel Aircraft Engineering Hanger. We then continued our taxi in as around 30% thrust was used to start us rolling again. We taxied in past a MyTravel Lite A320-200 G-SSAS and a line up of tech Excel Aircraft - one of each type!
We entered our stand and parked. The Cabin lights where switched back on and the engines whined as they where cut off. The Cabin Crew where then asked "Cabin Crew Disarm Doors, Cross Check, Report."
The seat belt sign was switched off and once again passengers jumped out of there seats in preperation to de-board!
Once again I awaited everyone elses disembarkation as I had another flight deck visit in mind (very greedy of me!). As the last of the passengers left I approached Cabin Crew member, Rebecca and asked to visit. She replied "Sure, not a problem, follow me", from which she lead me in.
Again I just made general conversation with the First Officer as the Captian was liasing with the ground crew. He let me take a seat and take a few pictures: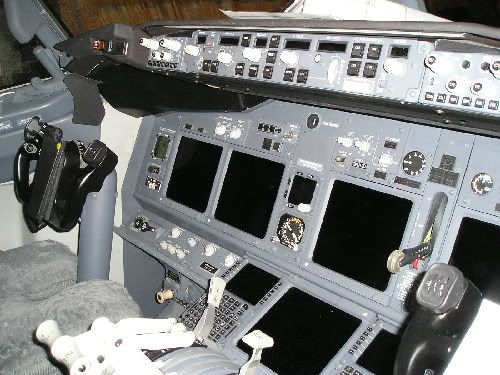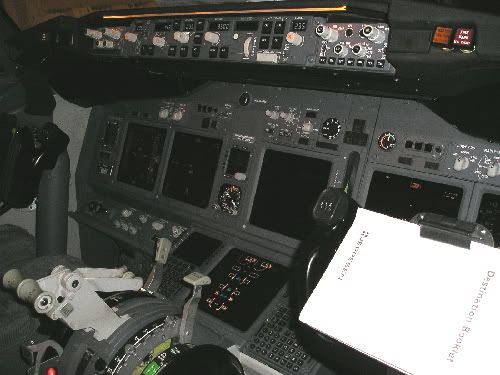 With that I said goodbye to both him and the crew and left up the airbridge and into the deserted arrivals lounge.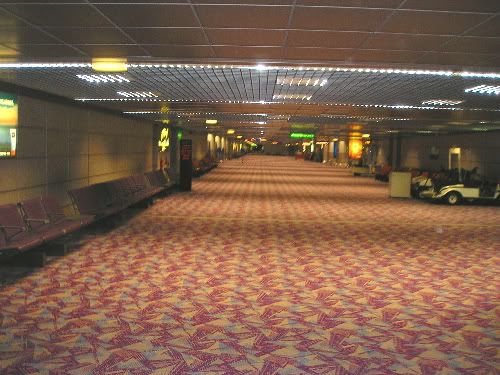 We proceeded through passport control and to our carousel to collect our waiting luggage and with that the end to my Excel adventure!
Overall I would highly rate Excel Airways as they offered a good product but saying that no different to most UK charter airlines. I do prefer MyTravel Airways though.
Well done Excel!
I hope you have enjoyed reading and I look forward to recieving your feedback!
To view the rest of my pictures please visit:
My Photos @ MyAviation.net
Regards
MyTravel
NB - Some photos (the thumbnails) are from the JetPhotos database.