Seat: 11A
BOS (gate C17 ) - DEN (gate B28 )
Flight number: 249 (flight 249 goes from BOS-DEN and continues with the same aircraft, crew, and flight number to EGE)
Aircraft: 757-200 United Airlines
Seats taken: full plane
time: 7:30am - 10:08am arrival (flight was delayed 1 hour and 40 minutes, we arrived in DEN at 11:40)
Food: None
date: Monday, 2/21/05
--------------------------------------------------------
We arrived at the airport 1 hour and 30 minutes before the flight was supposed to board. On the way to terminal C we passed deltas new terminal A, looks just about done, even on the inside, I hear it will open in 2 weeks (march 16th). Because we had our ski equipment going with us we did a quick curbside check-in and received our boarding passes before we set foot in the terminal, it was snowing heavily however our flight was on time so far. The security line took about 10 minutes, it almost never takes any longer, I donít know why people complain about the security lines so much. When we got to gate C17 our 757 was already waiting for us in the snowstorm, to bad, no new colors.
This is the 757 that would take me on my journey to the wessssT syyyyyyyyyiDe (thatís west side for those who wonder WTF Iím tryin to say)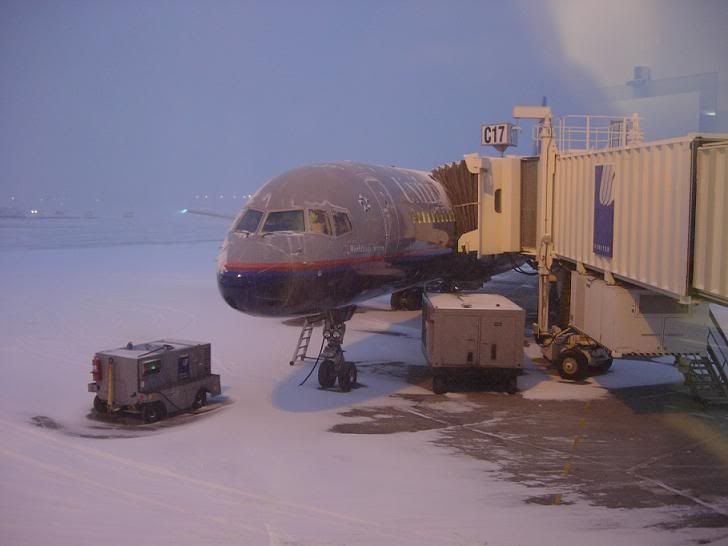 Here is a photo some of the action with a fellow united plane in it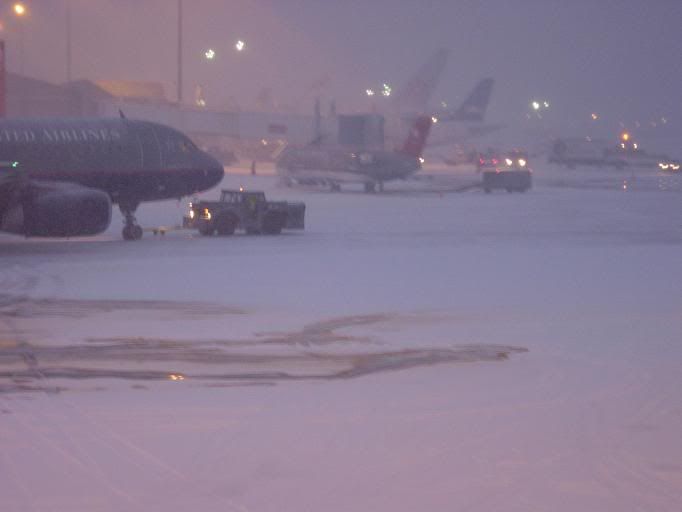 close up of the nose on our 757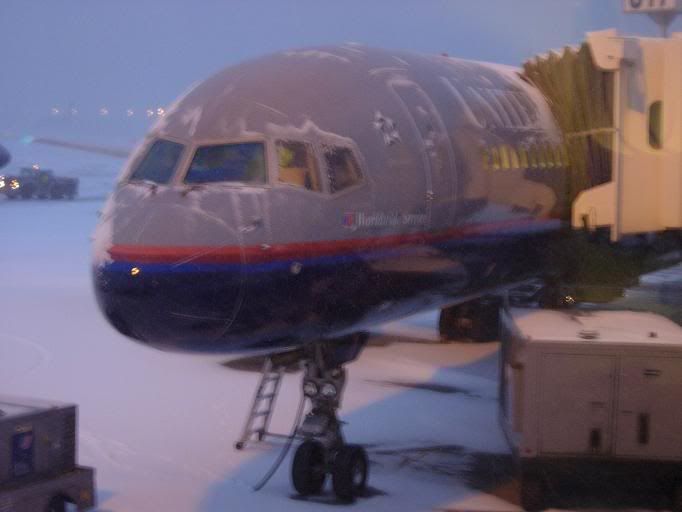 NWA crj is de-icing at terminal E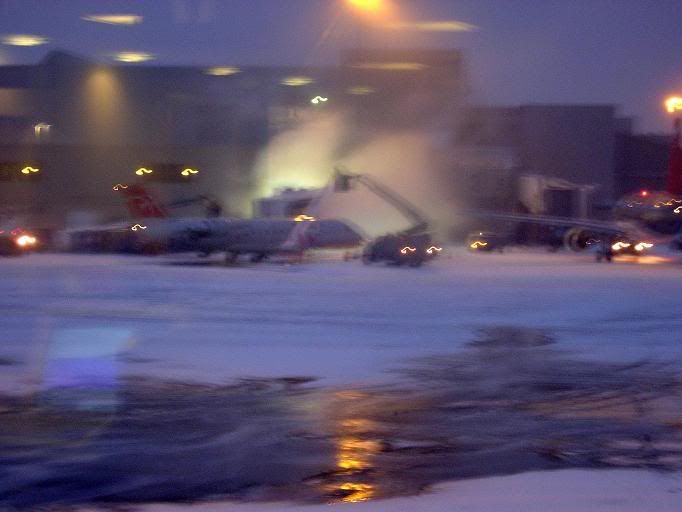 Here is more at terminal E, with a gate gourmet truck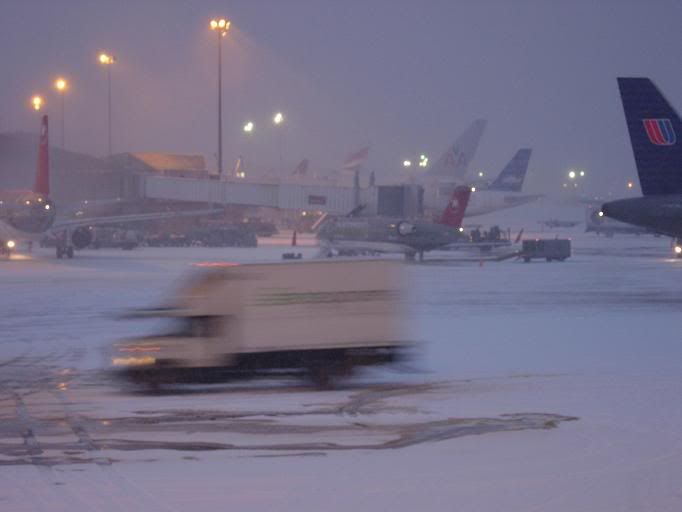 A united 757 is pulled by a tug to gate C16 from the hanger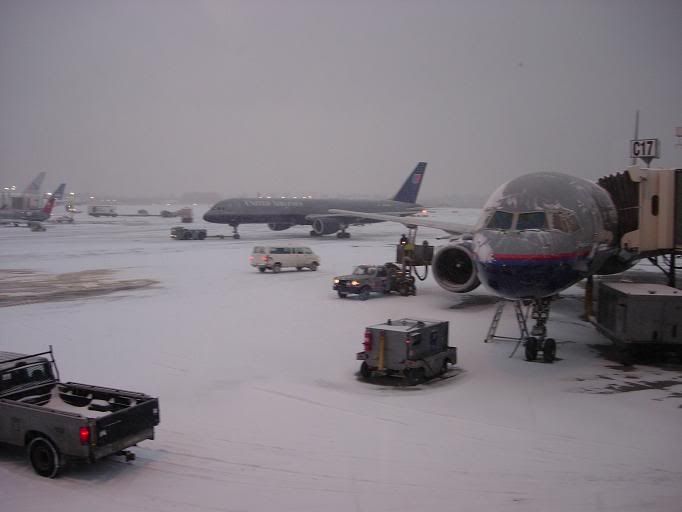 The plane sits there as the snowplow plows the snow out of the gate area so the plane can park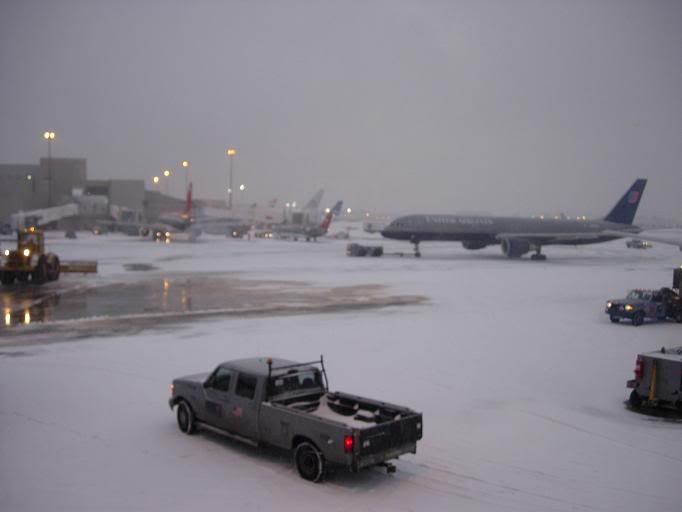 Here are 3 united planes, the 757 taking me on flight 249 to DEN then on to EGE, the 757 sitting there while the snow plow clears its gate, and the a320 seen in the second photo is on the runway and ready for take off.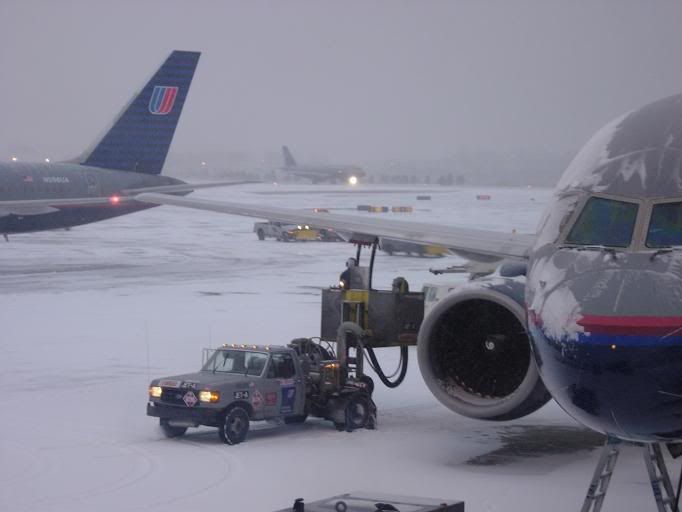 While I was taking these photos standing about 10 feet away from me there was a guy who thought he was an airport expert telling his young kids all kinds of incorrect things about the action going on outside. ďLOOK, THAT TRUCK IS DE-ICING THE PLANE!Ē he said as he was clearly pointing to tug pulling the plane into the gate. That was just the first time, I didnít care much that he mistaked the pushback tug for the de-icing truck but that was just the first of his comments. Next he talked about how the pick-up truck (the one near my gate in the last few photos) was also a de-icing truck. Huh? Ok, the tug was understandable but thatís clearly a pick up truck. Perhaps he does not know what a pick up truck is.
So I went and found a seat by the gate and waited until boarding. Shortly later boarding began right at 7:00am and I took my place at seat 11A (economy plus, good leg room, yay!). Here is a photo of another 757 parked next to us and you can see some strange looking snow plows in the distance: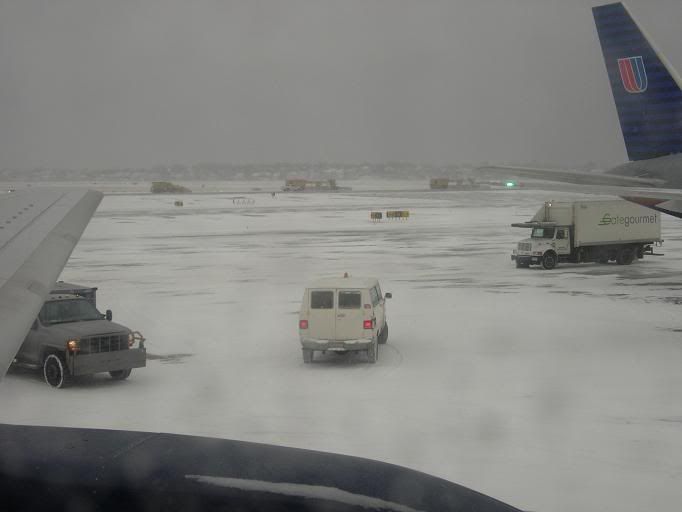 ------------------------------------------------
If you would like to continue to part 2 click here
http://www.jetphotos.net/forums/show...648#post226648