Britannia Airways Flight BY154A Manchester (EGCC) Ė Hewanorra, St Lucia (UVF).
Flight Details:
Date: 13th March 2005
Airport: Manchester International (MAN/EGCC) Terminal 2
Airline: Britannia Airways
Flight: BY154A
Equipment: Boeing 767-204ER
Registration: G-BYAB
To: Hewanorra International, St Lucia
Seat: 27H (Window)
Scheduled Departure: 1000
Actual Departure: 1010
Flight Time: Approx 9.5hrs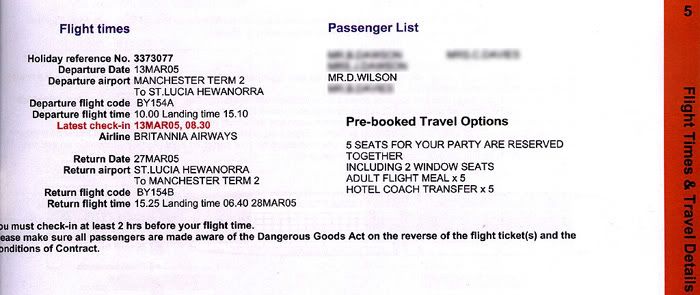 The alarm clock sounded at 0600, the day had arrived for 2 weeks in St Lucia. After a quick breakfast and cup of tea, I did my final checks around the house to make sure everything was secure then waited for the airport taxi to arrive which was booked for 0645. We had had a severe frost overnight with temperatures down to Ė5 degrees celcious. I didnít bother standing at the door and opted for the window instead, which was a bit warmer! I always get a little nervous hoping that the taxi driver hasnít forgot but my mind was at rest as he arrived 5 minutes early. The roads were quiet and 45 minutes later, we were at the arrivals area Manchesterís Terminal 2. A quick glance on the screen showed we had to check in at desks 34 Ė 39. There were a couple of other Britannia flights also scheduled for Sunday morning so each desk had a small queue. It only took about 20 minutes, not too bad. All 5 of our seats had been pre-booked, including 2 window seats. I was allocated 27H which is in the rear 1/3rd of the aircraft, just behind the wing. After check in, we proceeded through security and as usual, I was stopped and had my camera equipment searched (I get stopped at every airport because my marine camera housing doesnít allow x-rays through it!). Once through security, we only had about an hour to kill in the departure lounge so a look around the duty free area and a walk around the departure lounge to see what aircraft could be seen soon passed the time. A Virgin 742, soon to disappear for good and replaced by a 744, was boarding for Orlando as well as a PIA 777, US Airways A333, Thomson 757 and a few others. I found our aircraft on Gate 202.
[photoid=436636]
Our flight was called for boarding from gate 202 at 0915. Boarding was quick and everyone was seated and the doors closed for around 0950. Although the standard seat pitch on Britanniaís 767ís is only 30Ē (and no premium section on their 762ís, 290 economy seats), the seat actually felt quite roomy. There was plenty of room underneath the seat in front to stretch out your legs fully, unlike some other aircraft Iíve flown on and I even had an inch or two between my knees and the seat in front (Iím only 5í8Ē!). We pushed back at approximately 0955 then had a slight delay as we had to wait for a PIA 777 to clear in front of us before we could taxi over to 24L for departure. The usual safety briefing was presented on a well-animated video as we taxied to the runway. We taxied on to 24L as the 777 departed and waited for about 30 seconds before the CF6ís spooled and we were off. Just as we rotated, the sun appeared and cast a shadow of the 762 on the ground. It made for spectacular viewing as we climbed away. After take off, we turned right slightly and headed for Ireland before turning left for a direct route to St Lucia. The captain made his speech and explained we were to cruise at 33,000ft and the weather was expected to be smooth.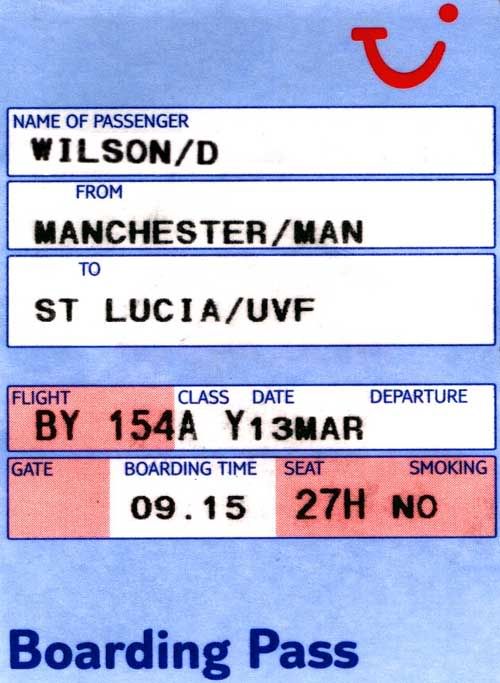 Take off video:
http://www.flightlevel350.com/video_...ng.php?id=2355
The bar service and in-flight entertainment commenced about 30 minutes after take off. The first beer of the holiday was called for! A can of Kronenbourg, a Gin, a Whisky and a bottle of water came to £10.50, not the cheapest round but not too bad. Having flown on Airbus A332ís to the Caribbean in the past, the in-flight entertainment system was a bit old fashioned with ceiling mounted CRT screens every 10 rows or so and bulkhead mounted LCDís at the front. Sitting in seat 27H meant the overhead locker obscured my view slightly but I could see most of it so it wasnít too bad. Those sat closer to the screen had to look upwards which isnít ideal. The way the headphones plugged in to the sound system was a little strange in design as the 3.5mm jack socked was located to the side of the armrest. When plugged in, the plug projected in to your leg, which is far from ideal. Why they couldnít be located on the end of the armrest like all other aircraft Iíve been on is strange. I soon solved the problem by raising the armrest slightly as I also didnít want to split the wire at the end of the plug. The entertainment consisted of TV programmes such as My Hero, Only Fools and Horses and My Family that have been screened on the BBC, all of which I had seen before. I flicked through the 10 radio stations instead and watched the world pass underneath us, we were cruising with a ground speed around 575mph.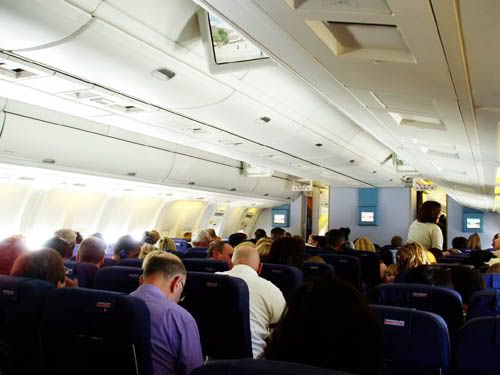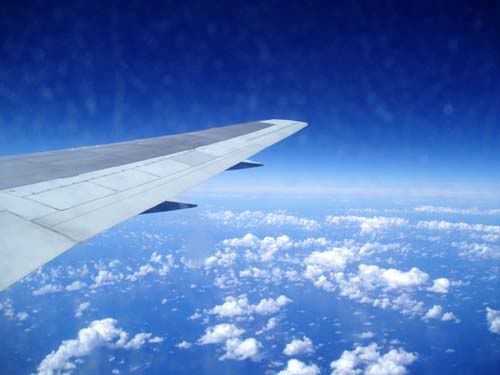 Before lunch, those on the flight who were staying in St Lucia were given tourist visitor forms, which needed to be filled in before arrival to speed up the passage through the airport. It was just a case of filling in personal details, travel information and passport numbers etc. Lunch was served at 1400 consisting of roast chicken, roast potatoes and vegetables with a white sauce. It was very nice, not too dry as chicken sometimes is. Desert was chocolate profiterole, which was naughty, but very nice!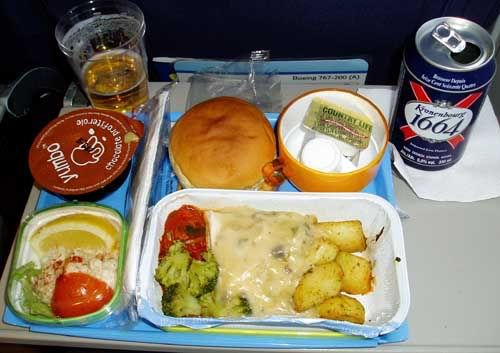 After lunch, the in-flight movie was shown which was Bridget Jones 2: edge of reasoning. This was quite appropriate because the in-flight movie in March 2004 on my flight to Cuba with TCX was Bridget Jones 1!! The duty free service, with some excellent deals on cigarettes and spirits was conducted after the movie as well as another bar run. An hour before our scheduled landing, a light snack consisting of a pepperoni pizza (more like a nan bread filled with pepperoni and tomatoes), an ample piece of chocolate gateaux and fresh orange was served. Again, the food was very nice.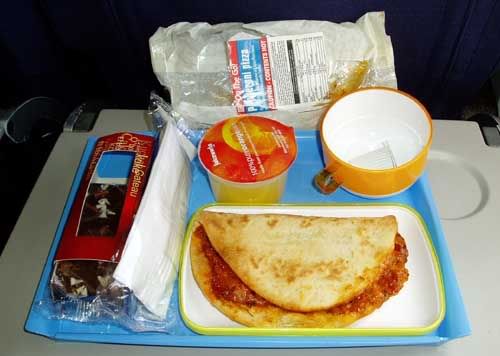 The captain made his last speech as we started our descent in to Hewanorra. The weather was clear with light easterly winds and 32 degrees, 37 degrees warmer than when I set off from home! The first piece of land to be seen out of the window was the island of Martinique. We headed across the southern tip located 27 miles to the north of St Lucia. St Lucia and the Pitons then came in to view as we made a right turn to line up for landing on runway 09. The landing was smooth and uneventful. The speed brakes and thrust reversers were deployed and we exited the runway well short of the end. Taxi to the terminal was quick although we had to wait for a few seconds as a light aircraft was moving in front. As this flight was via St Lucia, those staying in St Lucia disembarked while those carrying on to Barbados stayed on the aircraft while the aircraft was unloaded and reloaded with returning passengers.
Landing Video:
http://www.flightlevel350.com/video_...ng.php?id=2357
As we disembarked, a Virgin 747-400 taxied in behind us, inbound from London-Gatwick. Also present was an American Airways 737-800, a USA3000 A320, US Airways A320 and an Air Canada A320. A small selection of light aircraft and private jets were located on the other side of the airport terminal.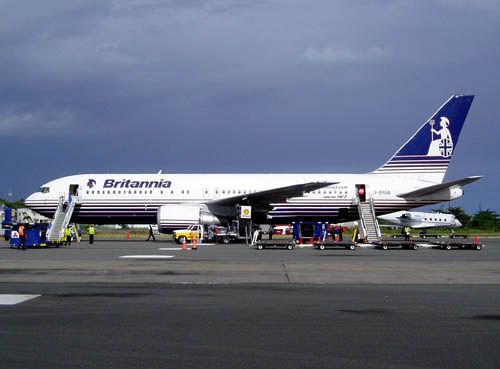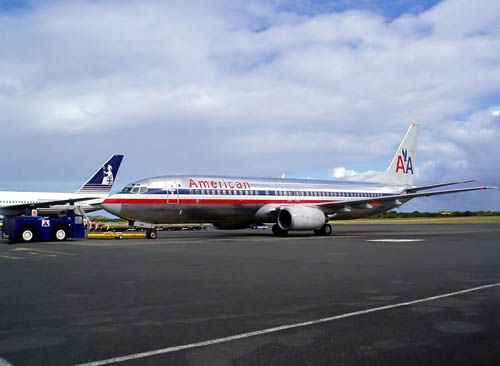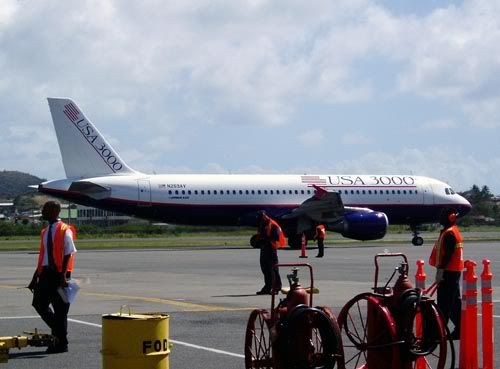 Once inside arrivals, passport control and immigration was painless. The immigration card we filled in on the flight was handed in with our passports. The original top layer was retained by immigration and the copy stamped and returned in the passport ready for our departure. We were surprised to find that our baggage was already waiting for us in the baggage collection hall when were arrived; it only took about 10 minutes! After collection, we were asked a few questions by customs about our visit to St Lucia (where we were staying and purpose of stay etc) before meeting the Thomson rep. A mini bus was allocated to our group and we were on out way to the hotel within 20 minutes of touchdown, very efficient.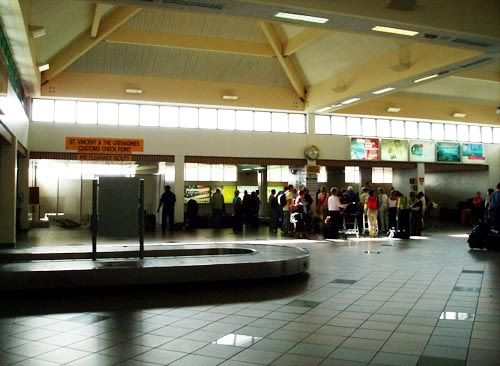 My 2 week holiday in St Lucia was excellent. A report on the hotel we stayed at (Rex Papillon, Rodney Bay) as well as photoís is posted on the Holiday Truths website. Click here to have a look.
www.holidaytruths.co.uk
Follow this link for the inbound flight; BY154A/B Hewanorra, St Lucia (UVF) to Manchester (EGCC) via Grantly Adams, Barbados (TBPI):
http://www.jetphotos.net/forums/showthread.php?t=21777
If anyone has any questions about this flight or comments on the report, let me know. My inbound trip report with be availalbe very soon.
www.britanniaairways.com
Darren