Britannia Airways (Thomsonfly) Flight BY154A/B: Hewanorra, St Lucia (UVF) To Manchester (EGCC) Via Grantly Adams, Barbados (TBPI).
Flight Details:
Date: 27th March 2005
Airport: Hewanorra International, St Lucia (UVF
Airline: Thomsonfly (Britannia Airways)
Flight: BY154A/B
Equipment: Boeing 767-304ER
Registration: G-OBYF
To: Manchester (EGCC) Via Grantly Adams, Barbados (TBPI)
Seat: 44E (centre isle) and 5A (Window)
Scheduled Departure: Hewanorra: 1530, Barbados: 1730
Actual Departure: Hewanorra: 1530, Barbados: 1730
Flight Time: Approx 30 mins UVF, Approx 7.75hrs –EGCC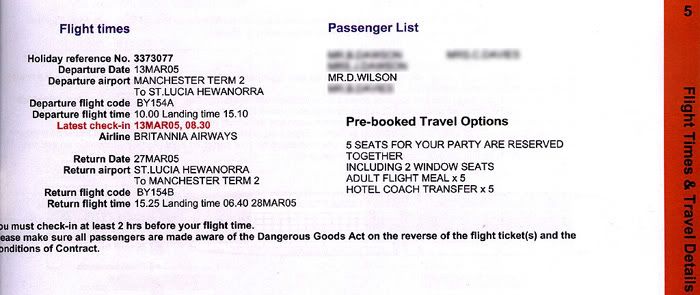 I got a letter from the Thomson rep at the hotel I was staying at in Rodney Bay, St Lucia to say that our taxi for the 1.5 hour transfer to the airport was booked for 1130. We were at the front of the hotel for about 1115 and the taxi arrived at 1130 promptly. Because of the topography of St Lucia, coaches aren't used due to the steep gradients involved; smaller 9 seat mini-buses are used in stead. On the way to the airport, one of the roundabouts had a miniature Virgin tail in the middle of it, I hope it hasn't fallen off one of their 744's!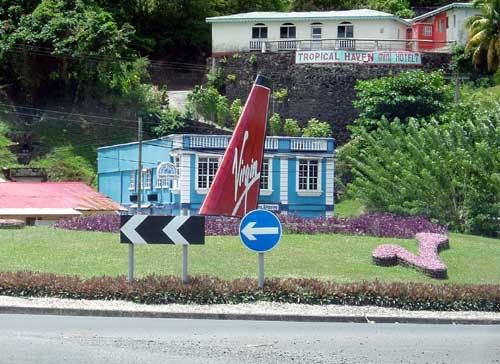 We arrived at the Hewanorra airport at just after 1300, in good time for our flight as it was scheduled to leave until 1530.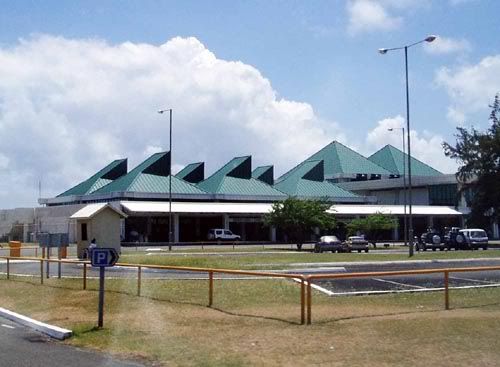 There were several other flights also checking in at the same time, an American Airways flight to Chicago and a US Airways flight to Philadelphia. Even with three flights checking in at once, the queues soon diminished apart from the AA flight who's security procedure was very stringent with every single suitcase and piece of hand baggage being searched by airport security by hand. This is presumably an AA security procedure following 9/11 as other flights, including the US Airways did not have this level of security. The check in procedure was slightly more complex than normal because the flight had two destinations, St Lucia and Barbados. The check in personnel had a seat planner with stickers of available seats which must have been forwarded from Manchester once the outbound flight had departed detailing who was getting off in St Lucia and who was staying on the flight for Barbados. We also had to pay our EC$54 departure tax ($21 US) at check in which was attached to our boarding cards. The receipt gave us access through security. I was allocated seat 5A, a window seat at the front of the aircraft.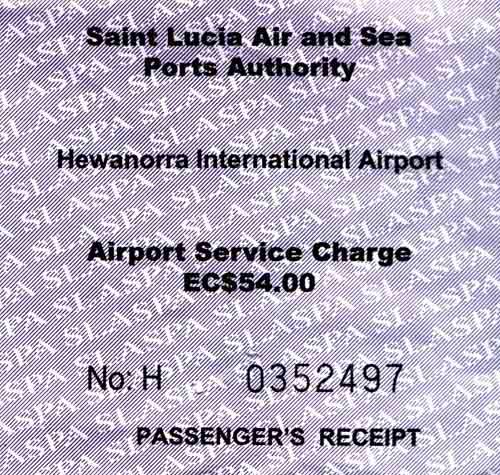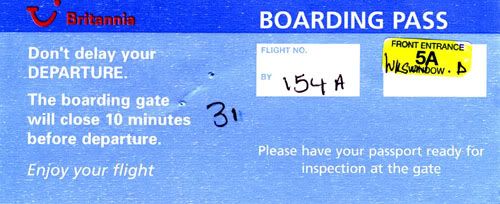 Once checked in, we had to leave the check in area and walk around the corner to the security control area. Their, our boarding cards and departure payments were stamped and we were allowed to enter the immigration area. A word of warning to all smokers: have a fag (or several) before entering the terminal building as there is a strict no smoking policy enforced. We looked all over the place and couldn't find anywhere in the terminal were smoking was permitted. Once our passports had been stamped, we proceeded through security and as usual, I was stopped and had my camera equipment searched (I get stopped at every airport because my marine camera housing doesn't allow x-rays through it!). Once through security, we entered the departure lounge that was just about adequate for the number of flights at the time. A USA3000 flight was just boarding which eased some of the congestion.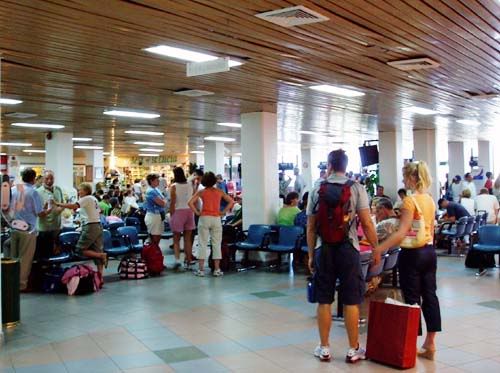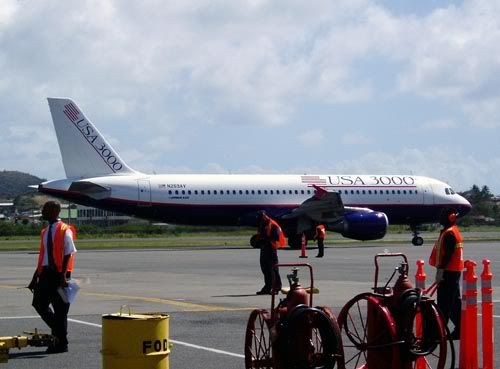 The PA system announced that Britannia BY154A from Manchester had just landed. I looked out of the window and to my surprise, saw a Thomsonfly Boeing 767-304ER (G-OBYF) taxi past the terminal. Our outbound flight had been on a Britannia Boeing 767-204ER (G-BYAB) which had been operating this flight for at least the last 2 months.
[photoid=446288]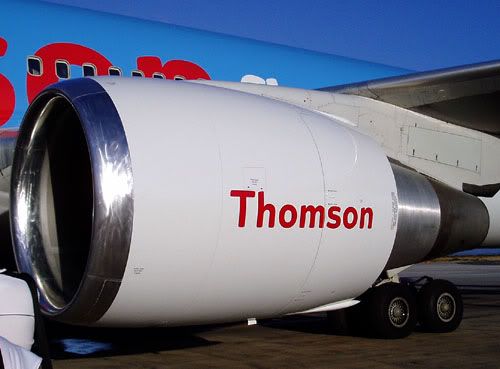 Our flight was called for boarding at about 1500. The aircraft had been positioned on a remote stand a little way from the terminal building that gave me the opportunity to take a few photo's as we walked down the apron. After taking 4 or 5 shots, I was approached by one of the security staff who told me very firmly that if I didn't stop taking photo's, I'd be arrested! At that point I put the camera away and boarded the aircraft via the front steps.
US Airways A320 in Star Alliance colours: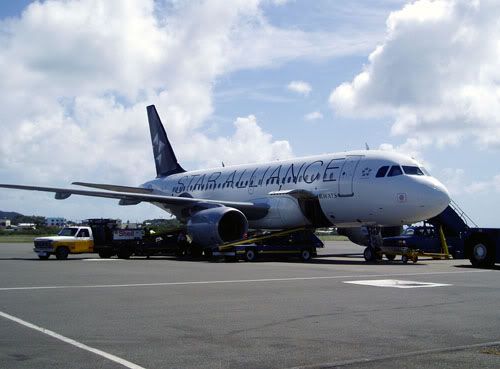 Private Beechcraft C90 King Air: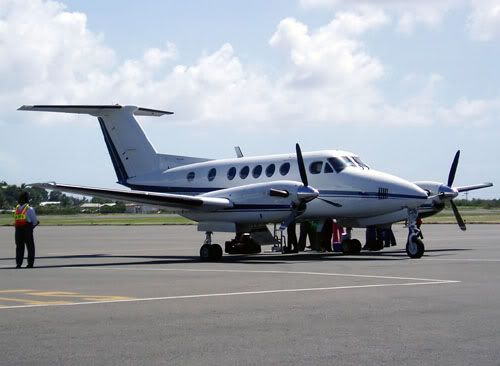 Once on board, there was a bit of a problem. Passengers bound for Barbados occupied our allocated seats. There had been a mistake with seat allocation somewhere along the lines. We were told that we had to stand in the toilet area (not actually in the toilet!) until all passengers had boarded and they'd see what seats were available.
Once everyone had been seated, there was a block of 5 seats, as we had booked, on rows 44 and 45 towards the back of the aircraft. The fact they were at the back wasn't a big deal, but we had paid to have 2 pre-booked window seats and because of this problem, we didn't have any. I wasn't very happy about this but there was nothing the cabin crew could do, it wasn't their fault and it was only for 30 minutes. They assured us that the problem would be rectified once in Barbados. I was disappointed not to have a window seat because I now couldn't film the take off and landing so sorry about that!
Although the standard seat pitch on Britannia's 767's is only 30" (and no premium section on this aircraft, 328 economy seats), the seat actually felt quite roomy. There was plenty of room underneath the seat in front to stretch out your legs fully, unlike some other aircraft I've flown on and I even had an inch or two between my knees and the seat in front (I'm only 5'8"!).
We taxied out to the runway bang on schedule. The take off was routine, very smooth. We climbed to 15,000ft. Just as we levelled out, it was time to start our descent in to Barbados. This has to be the shortest flight I've ever been on! Again the descent in to Barbados was routine, although a little bumpier due to a slight crosswind and a little heavy on touchdown, a positive 'thud'. Once in Barbados, all passengers disembarked the aircraft. Those staying in Barbados proceeded to the arrivals area, those in transit were given transit cards and headed for the departure lounge.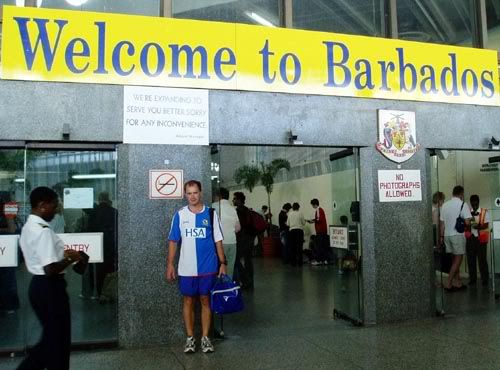 Grantly Adams airport is being extended and refurbished so there were quite a few areas closed or in a bit of a state. The departure lounge was very limited for space and seats were scarce. That didn't bother me as I had a walk up and down the departure lounge looking at the various aircraft being prepared for their flights. These included a Virgin 747-443 (G-VLIP), British Airways 777-236 (G-VIIC) with its huge GE90's, an Air Canada A320, American Airways 757-200, and various smaller aircraft. The duty free shopping was limited to a couple of shops selling the usual tobacco and alcohol and a small food outlet with a very long queue.


A word of warning to all smokers: Grantly Adams has a strict no smoking policy enforced. We looked all over the place and couldn't find anywhere in the terminal where smoking was permitted. No smoking lounges, smoking areas, nothing. I suspect the only areas where smoking may be permitted are the VIP lounges. If you ever travel through this airport, make sure you have a fag (or several) before entering the airport.
Once our aircraft had been refuelled, cleaned and a new set of crew, we were called for boarding at about 1700. We only spent about 1 hour in the departure lounge. We left the airport from gate 16 and had a 2 minute walk to the aircraft. This took us past Concorde (G-BOAE) which was sitting just off the apron on a stand which is being constructed to show off this fantastic aircraft.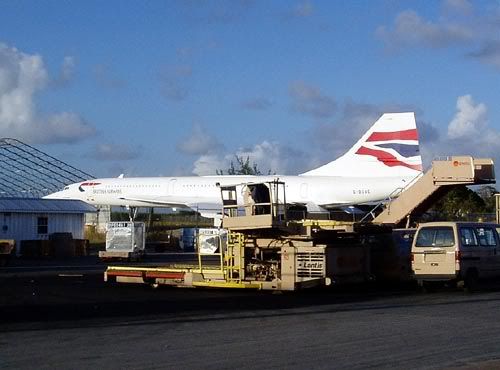 We boarded the aircraft from the front and took the seats which were allocated in St Lucia (5A). They must have sorted the seat allocation problem. I was very happy because it meant I had my window seat! Doors were close right on time and we taxied out to runway 09 behind the BA 777. I had a great view of the runway as we taxied, seeing a DHC-8 landing and taking off, the Virgin 744 roaring down the runway, then the full take off roll of the BA 772, all captured on video! Our turn came and we turned on to the runway after the BA 777 had departed. The CF6's spooled and we accelerated down the runway. We rotated in front of the terminal building, which gave us a great view of the airport and Concorde. We were soon over the Atlantic and turned left on a northeast heading for a direct flight back to Manchester. The sun soon set over the horizon and my last view of the Caribbean turned to pitch black.
Take off Video:
http://www.flightlevel350.com/video_...ng.php?id=2365
[photoid=446590]
The bar service commenced about 30 minutes after take off followed shortly by our hot meal. Once again it was roast chicken served with roast potatoes, carrots and broccoli, a prawn salad and a lemon crumble for desert. The chicken was a little dry but apart from that, the food quality was high. The best part of the meal was a good old cup of English tea! You always know you are home bound when you get a cup of PG Tips!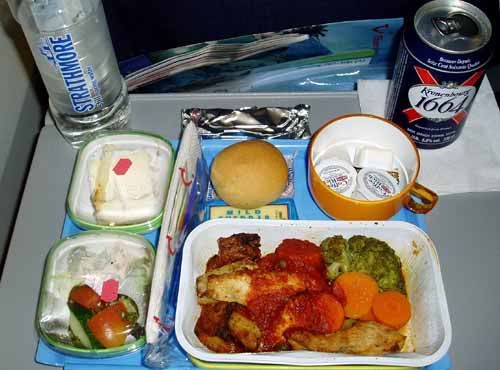 The entertainment started after our meal but due to my seat being only 2 rows from the ceiling mounted screens, I had to look upwards all the time which gave me neck ache after a while. I wasn't too interested in the animated film anyway (The Incredible) so elected to listen to the 10 radio stations instead. As it was an overnight flight, I was planning on getting a bit of sleep anyway.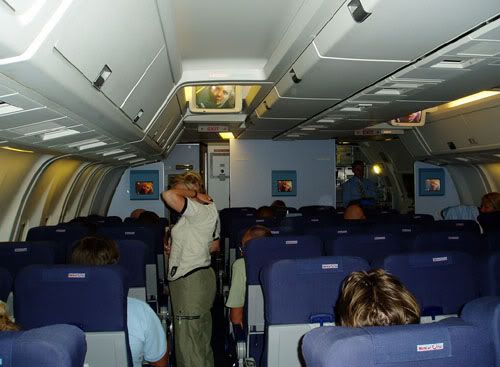 The usual duty free services were done then the lights dimmed for the middle part of the flight. The captain must have been a little bored up front because he had a brew and a chat with the flight attendants on a couple of occasions during the night. About an hour before our scheduled landing, the lights were turned back on and an announcement made that a cold breakfast was to be served. I was hoping for a good old English breakfast but no such luck! Instead, we were given a selection of fruit, a yoghurt, a muffin and fresh orange juice which was quite nice and I suppose is the healthy option.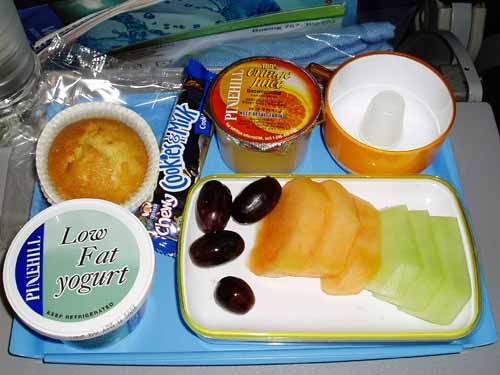 We then started our descent in to Manchester through thick clouds and landed on 06R. It was a little bumpy in places but nothing out of the ordinary and was actually a very smooth touchdown, much gentler than in Barbados. For some reason, the cabin lights weren't dimmed for landing which is the normal procedure. Because of this, the video of the landing was obscured by lots of glare off the window, which ruined it. Sorry about that! As it was only 0630 in the morning, no thrust reversers were used for noise abatement reasons and we rolled right to the end of 06R. We taxied across 06L were a couple of aircraft were waiting to take off. The outside temperature was 7 degrees, quite warm for this time of year but a bit of a comedown from the mid 30's we'd experienced over the last couple of weeks in St Lucia. We taxied on to stand 203 and disembarked the aircraft 15 minutes in front of schedule. Baggage collection was very quick by Manchester's usual standards and we soon cleared security, as we were the only flight.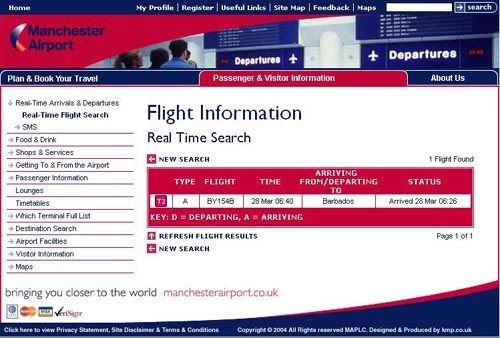 Overall, I was very impressed with Britannia's punctuality. They kept to the schedule accurately. Food quality was good and the drinks prices as reasonable (expensive!) as any other airline. Apart from the seat allocation problem experienced between St Lucia and Barbados, the flights were uneventful. The aircraft were clean and tidy and the legroom pretty good considering the mean 30" seat pitch. I'd have no problem in flying with Britannia (Thomsonfly) again although I must admit I would probably choose My Travel or Thomas Cook for long haul service over Britannia. This is no reflection on their service, more the aircraft they use. I prefer the more modern facilities of MYT's and TCX's Airbus A332's provide, especially MYT's A332 with the flight cameras and downstairs toilet areas.
If anyone has any questions about this flight or comments on the report, let me know. This is the link to my outbound trip report with photo's and videos:
http://www.jetphotos.net/forums/showthread.php?t=21720
www.britanniaairways.com
Darren