please read my BOS-RSW report first before reading this
http://www.jetphotos.net/forums/show...878#post271878
route: RSW-ATL
airline: delta
flight: 978
plane: 767-200 in new colors
departure: 6:15pm gate B4
arrive: 7:50pm gate A24
seat: 12G
I arrived at the airport around 3pm that sunday afternoon. After the rental car was returned I took a bus to the terminal and did the check-in. Here is what I like about the RSW terminal, As soon as you go up the escalator thereís nice big windows with seats in front of them, which are fantastic for plane spotters, all before security. This is just on the B terminal side but I walk down to the A terminal side and it looked like they had the same thing. After that I when to Chiliís Too and got a good burger. There was plenty of time and no line for security so I went on through.
In the terminal there was much plane spotting to do but the sun was really bad for taking pictures with the window glare, I had about 2 hours to enjoy the planes. After about 30mins there was some interesting action going on, first a condor 767-300 landed from FRA! I couldn't believe my eyes, here is a photo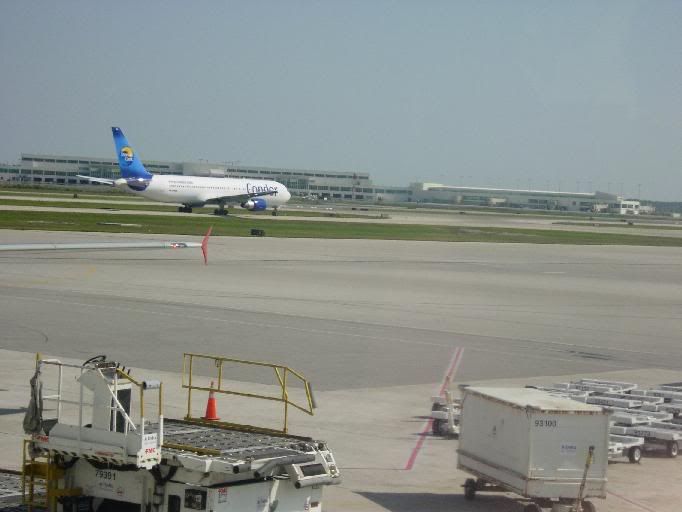 After that I saw an a319 from NWA, a md80 from AA, an a320 from jetblue, and the 767-200 that would take me to ATL all land on runway 6. About 10mins later they switched to runway 24 and an independence air a319 came down in the craziest landing I have ever seen. The plane was swerving and was going down nose first, it landed very late; I was very surprised it wasn't a go around. It used up every inch of the 12,000ft runway. That sh*t was crazier than some of the stunts at the Oshkosh air show! After that a usa3000 a320 landed, a spirit md80 landed, and for some reason ATA had a 757 parked on the ramp, it was there when I arrived to so I think it might have been chartered.
After all that I made my way back to gate B4 (the same gate my song flight arrived at) to check out the 767-200 I was going to fly on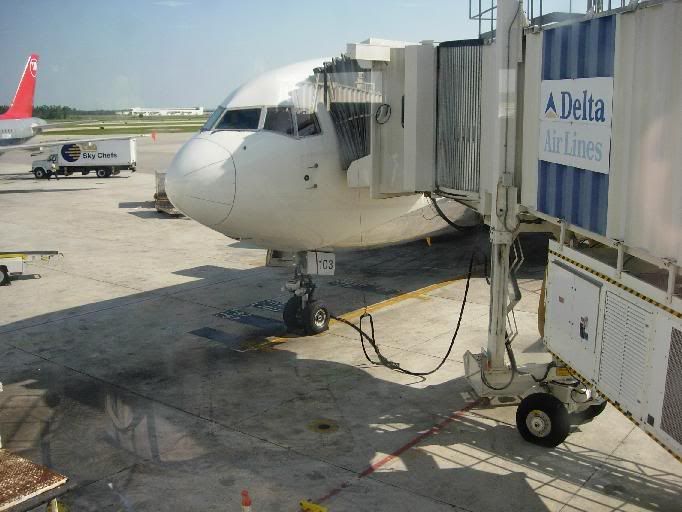 15mins at 6:00pm it was time to board, however weather in ATL delayed us for 15mins. As it was I have a 45min connection and I didn't want to miss my flight of course. They then decided to board us anyway and have the plane taxi out bye the ATA 757 parked on the ramp and wait 15mins because an md80 had to use our gate. After that we were clear to go we taxied down to runway 24 for take off.
We waited on the taxiway while a small privet jet and a song 757 landed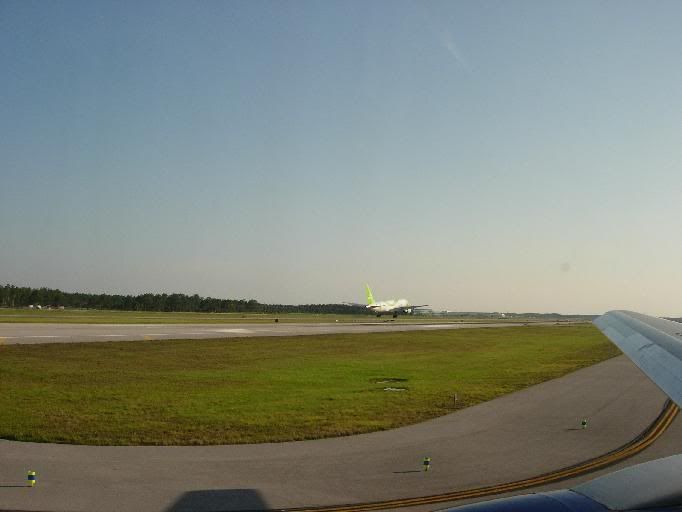 then we got on the runway and were ready to go. Just when I thought we would take off a usa3000 a320 entered the runway from a taxiway ahead, I never seen a plane take off with another plane waiting to take off right behind it. Here are some pics I took on take off
(crapy picture, but it shows terminal A and the condor 767)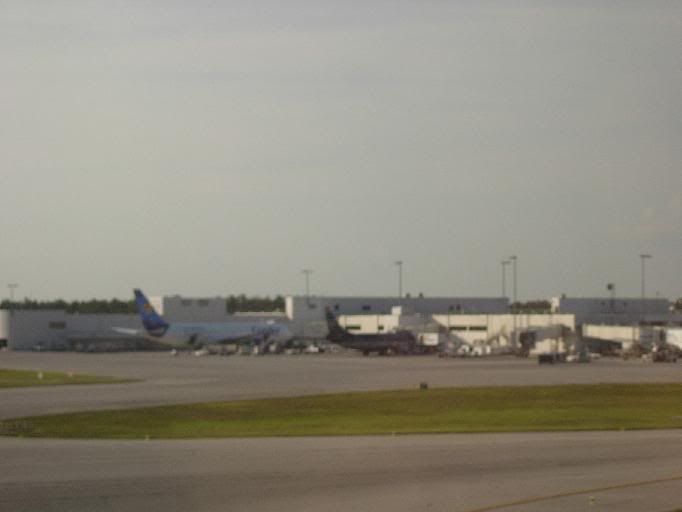 (the privet jet ramp)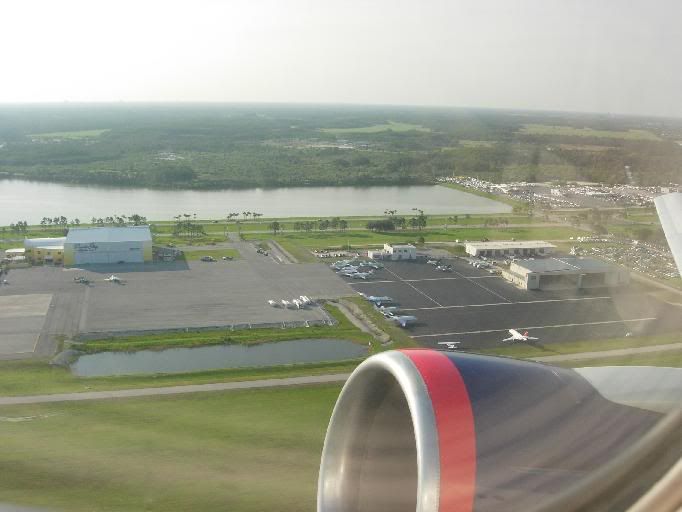 (RSW overview)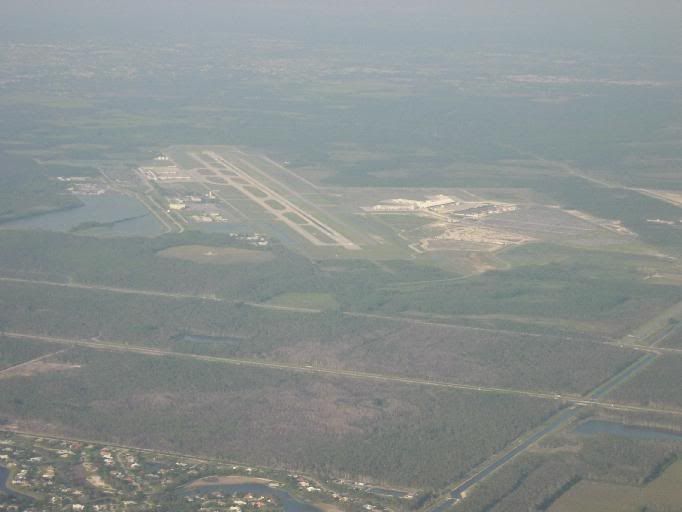 The flight had some turbulence but I enjoy that so no big deal. I just listened to my cd's the whole flight.
On approach into ATL I made about 3 circles and it there was thick black clouds all around us, in the distance you could see other delta planes following the same circle pattern as us, all in a line. A delta 757 actually got pretty close. After we were done with this circling we entered a cloud sandwich, where the plane is in-between clouds.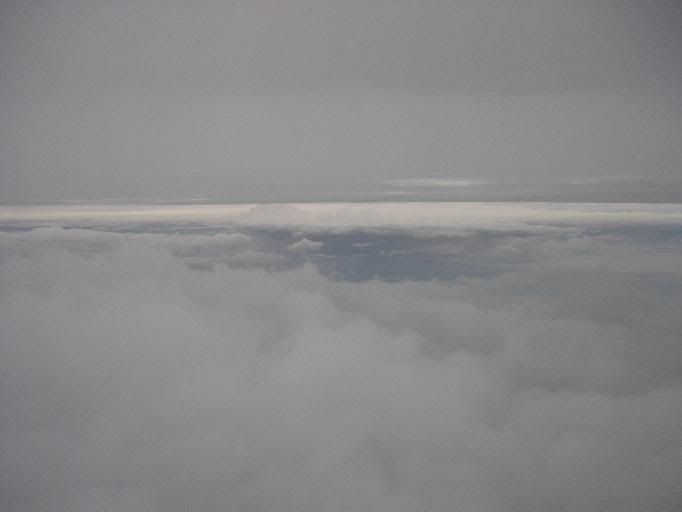 After we left that the sky looked beautiful and so did Georgia.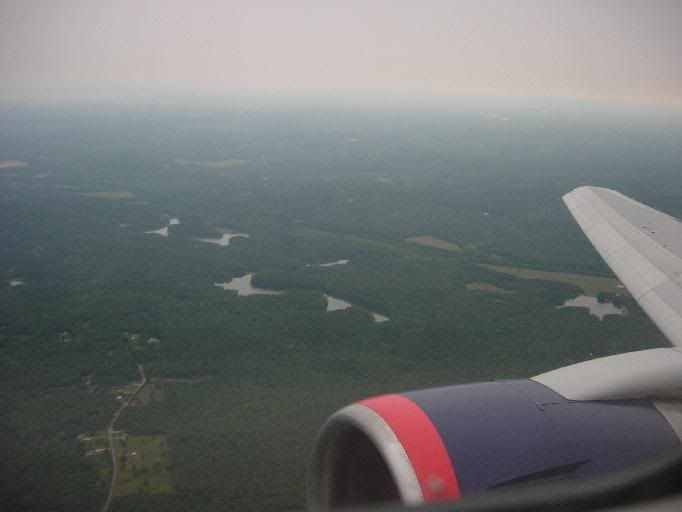 shortly after that we landed and the pilot announced we would arrive at gate T4 which was great cause me connecting flight left from T3, then he announced that there was a plane at our gate (which happened to be a delta 767-400 going to TPA) so we had to go to A24
.
(this shows how we taxied to A24)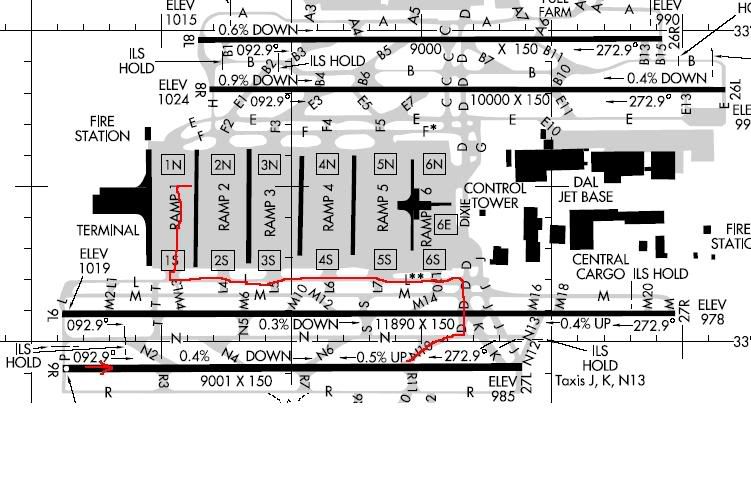 (terminal A and B)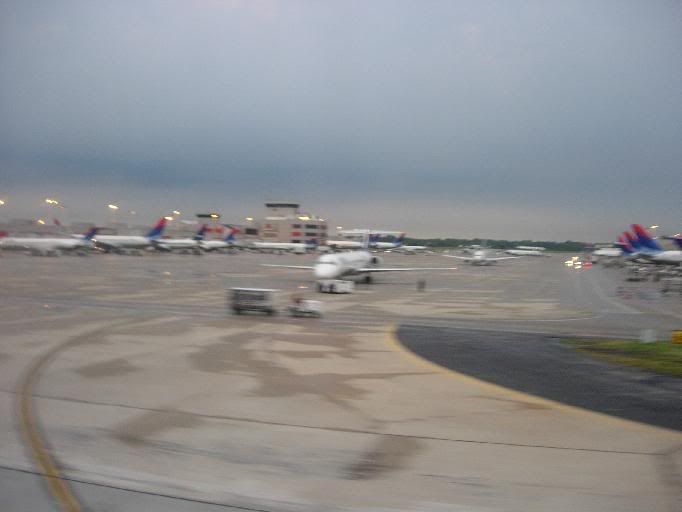 (our plane at A24)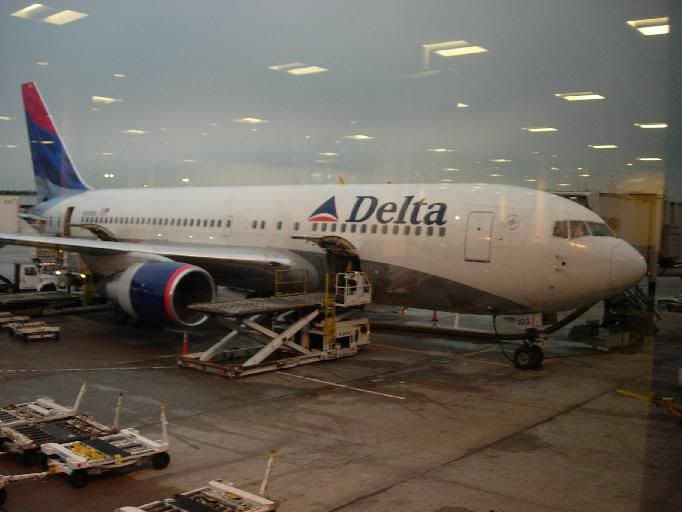 --------------------------------
route: ATL-BOS
airline: delta
flight: 756
plane: 757-200 new old colors (flight was supposed to be a 767-200)
departure: 8:35pm gate T3
arrive: 11:00pm gate A15
seat: 35F
So now I had a 30min connection to make my Boston flight and the flight didn't arrive in Boston until 11:00pm and I was really hungry. I dashed down to the train for terminal T and made a quick stop at Nathanís hotdogs in terminal T before heading to the gate. Boarding was almost over when we got to the gate and the flight was full.
(our plane at the gate)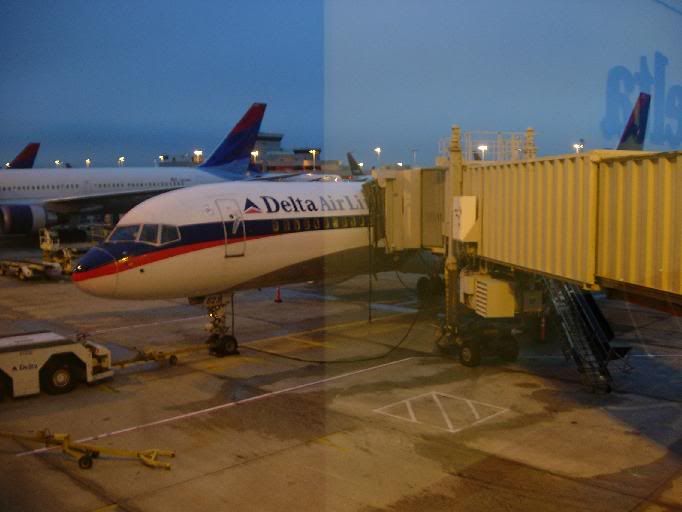 We were ready to leave as soon as this 767-400 (the same one that was using the gate our rsw flight was supposed to arrive at) passed so we could pushback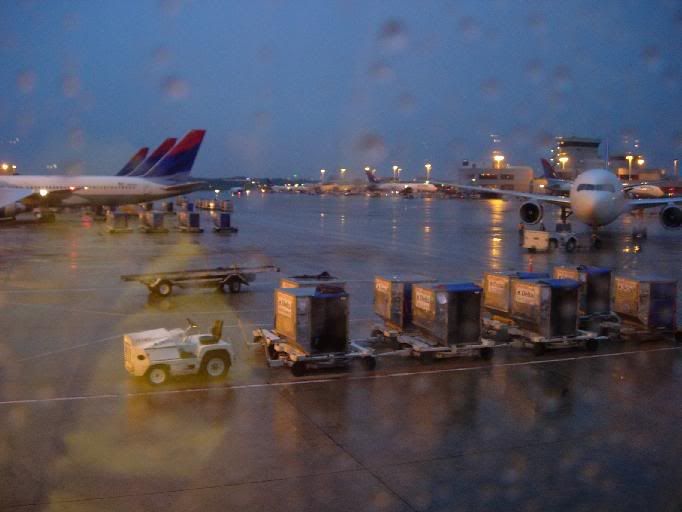 Taxi and take off was quick, the 767-400 headed to TPA was the only plane ahead of us
(how we taxied from gate T3 to the runway)
not long after take off there was some turbulence and everything was pitch black, nothing to see, so I just slept the hole flight and woke up 15mins before landing. Not much was visible and we made a smooth landing
After landing we were pretty far from the A terminal, and I was expecting a normal taxi, then we got on the parallel runway and started going pretty fast then we made a turn past the usairways terminal B and fedex cargo to get to gate A15.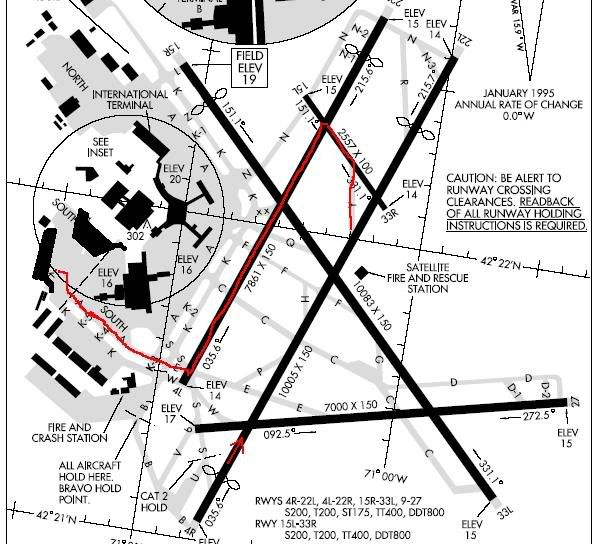 (our plane at the gate)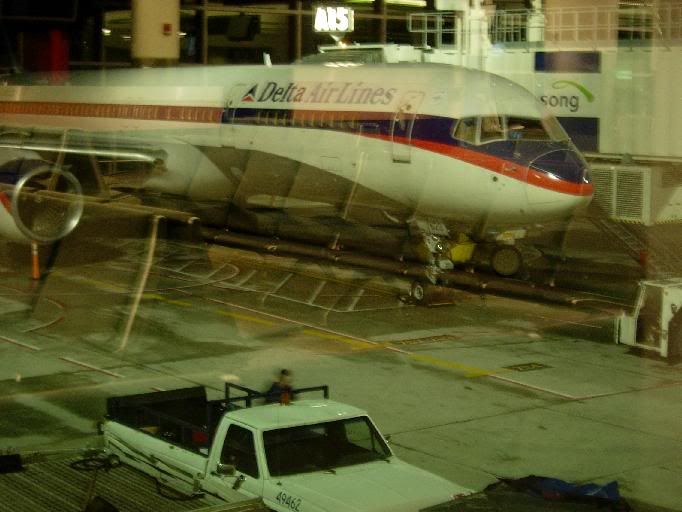 Hope you enjoyed the TR!