BMI British Midland Flight BD7365 (charter), Manchester (EGCC) – Dalaman, Turkey (DLM/LTBS).
Flight Details:
Date: 3rd September 2005
Airport: Manchester International (MAN/EGCC) Terminal 1
Airline: BMI British Midland
Flight: BD7365
Equipment: Airbus A320-232
Registration: G-MIDT
To: Dalaman, Turkey (DLM/LTBS).
Seat: 23A (Window)
Scheduled Departure: 1350
Actual Departure: 1440
Departure Runway: 06L
Flight Time: Approx 4 hrs
Arrival Runway: 01
This is my third visit to Icmeler, Turkey. I first visited Icmeler with My Travel back in September 2002 and with Thomas Cook in September 2004. This time, we decided to travel with an independent travel agent as the hotel we wanted to stay at was showing as full, Thomas Cook's allocation anyway. We phoned Regal Holidays who specialise in holidays in Turkey and the answer was 'no problem sir, when would you like to travel'. I was excited when they confirmed the flight details a week later; they had charted a BMI British Midlands aircraft, my first opportunity to try this airline and only my second flight on an Airbus A320. The first time I had travelled on an A320 was way back in March 2001 when I travelled to Tenerife on a Virgin Sun A320, it might have been an A321, I can't quite remember.
Anyway, the 9 weeks between booking the holiday and the 3rd September departure date seemed like 12 months, but the day finally arrived. It was time for the final checklist; underwater video camera for diving, my newly acquired Canon 350D, passport, tickets, money, oh, and 20kg in my suitcase! The airport taxi arrived bang on time and we were off to Manchester Airport at 1030. Manchester airport is only 45 miles from my front door and I was glad to see the traffic on the M61, M60 and M56 was light so it was no hassle. We arrived at Terminal 1 for about 1130, plenty of time. A quick glance at the screens showed we had to check in at desks 51-53, the other end of the airport as we had been dropped off at the Thomas Cook desks, (around 5), typical! The check in area was quite busy but we were pleased to see a relatively small queue at BMI's desks. A BMI Baby flight was also checking in at desks 49-51 which was a little strange as our flight was supposed to be on desks 51-53. Some passengers waiting at use desk 51 were turned back, they must have put the wrong information on the screen and only desks 52 and 53 were being used. I was in the queue for desk 52 and check-in only took about 20 minutes, not too bad. I was pleased to be allocated seats 23A/B/C for out party of 3. My name was allocated to seat 23C, but there is no way I was sitting on the isle, 23A was all mine! For some reason, BMI didn't have a desk for business class passengers and they had to queue and check in with everyone else.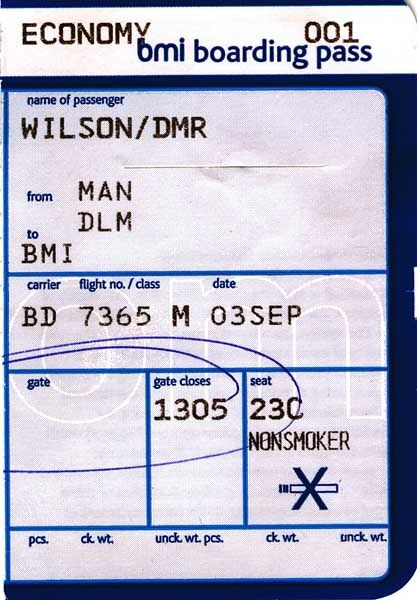 Once we'd got rid of the suitcases, we had about an hour to kill before the flight would be called for boarding. We thought we'd go and have a snack and a watch of the planes from the viewing area before going through security. However, once we got down the slope towards the lounge, we were greeted with an enormous queue for security so we thought we'd better go straight through. The queue didn't wake as long as expected and we were through security after about 20 minutes. As usual, I was stopped and search because of my underwater video camera. I even had it swabbed for drugs this time because there were a few salt crystals on it from my last diving trip! I was expected getting searched, I always do. I don't mind really because its for everyone's safety, its good to know they have a good look at anything suspicious.
Once through security, we realised part of the reason why the queue was so long was because a few flights had been delayed and passengers had been taken back through security for meals etc as their flight was delayed for over 5 hours. They were going back through security, as their flight was now ready to depart. A look out of the excellent viewing facilities at T1 showed the usual aircraft. A couple of MYT 757's, TCX 757's, Monarch A300, A320's and 757's, Emirates 777, TCD 747, etc. Our aircraft was due to position in from Heathrow at about 1300. We got a pint of Stella apiece (I was on hols after all!) and sat at the window to watch its arrival. It arrived bang on time at 1254 at gate 4. The assigned aircraft was G-MIDT, which is in the new BMI livery, very smart.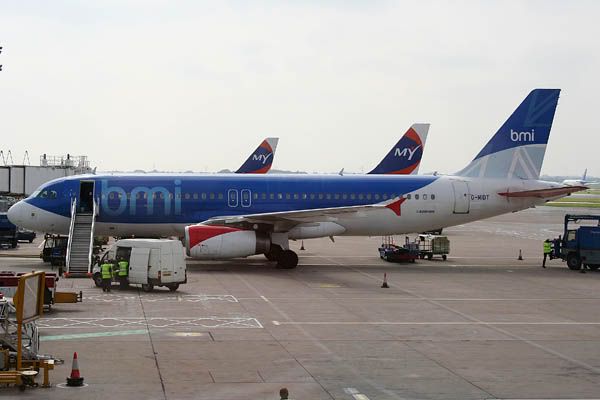 I had photographed this particular aircraft in April this year.
[photoid=465128]
A quick trip around duty-free and it was time to go to gate 4. We arrived at the gate nice and early only to find that a BMI engineer had a cherry picker at the tail fixing something. An announcement by the BMI staff at the gate said there were be a slight delay due to a technical problem. I hope it wasn't anything too serious!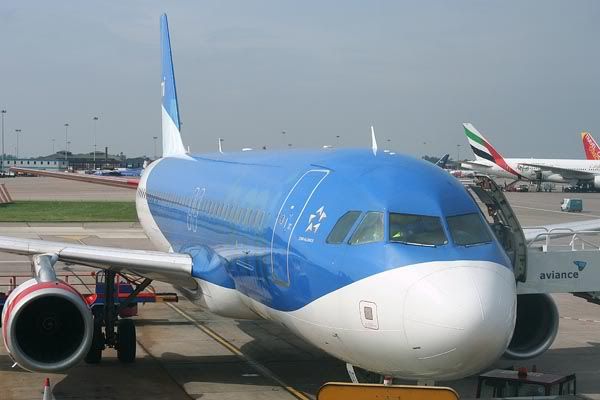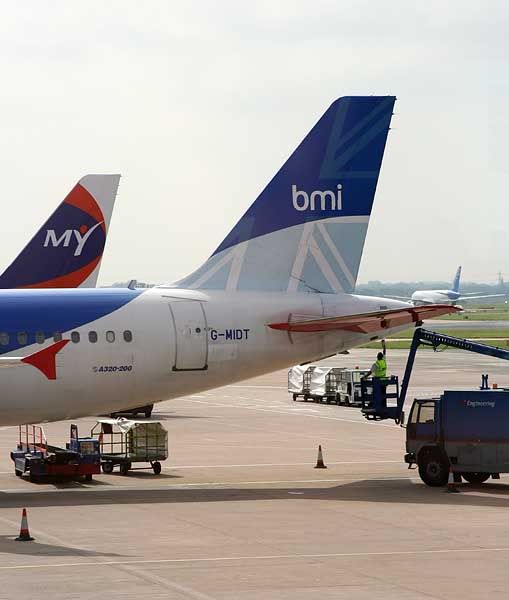 The expected departure time of 1350 came, and went. We were called for boarding at about 1415. Gate 4 doesn't have an air-bridge so a walk across the apron to the rear stairs gave us a good close-up view of the aircraft and the Rolls-Royce Trent IAE V2527 power plant. Even though this is a relative small aircraft compared to their larger sisters, the engines still look huge when you stand next to them. Once aboard delta-tango, the underwater video camera was safety stowed in the overhead locker and I took my seat, 23A. The aircraft was clean and tidy and the window lovely and clean both inside and out, perfect for getting a few pictures on-route. As I was on the left of the aircraft and we to depart on 06L, I even had the sun on the right side of the aircraft! I was impressed with the amount of legroom. I'm normally used to travelling on charter-configured aircraft with the usual 28" seat pitch but as this aircraft is in a scheduled configuration with 30" pitch, it felt very roomy. I don't normally have this much room unless I'm off the Caribbean on wide-bodies! As we were waiting for the doors to be closed, a Flybe Dash8-Q402 drew up to gate 3.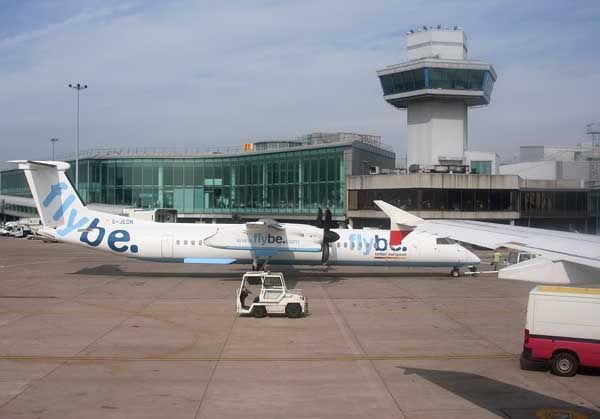 We pushed back at 1430 and made the short trip, past the aviation-viewing park to 06L. We had a British Airways A320 and the Emirates 777 in front so once they had departed, it was our turn.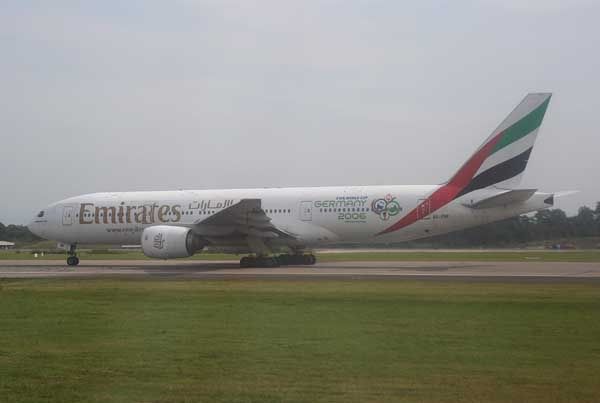 Engines were spooled up for take off at 1440. The trusty 350D was glued to the window as we powered down 06L. A MYT A321 was taxiing behind us and we rotated soon after passing Concorde.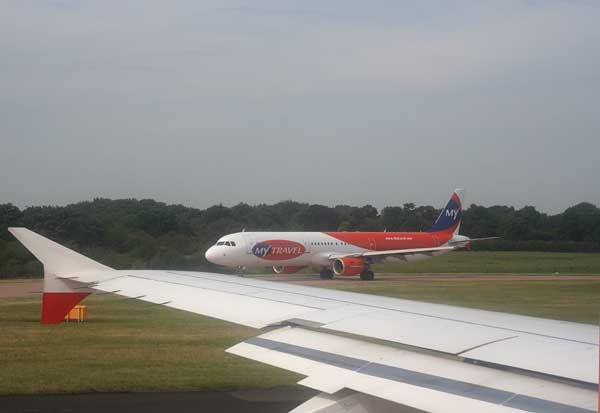 I got a great overview of the airport as we climbed out. It's the first time in a long time that we've taken off on 06L as all my flights for the last few years have always departed 24L, it was a pleasant surprise.
[photoid=547557]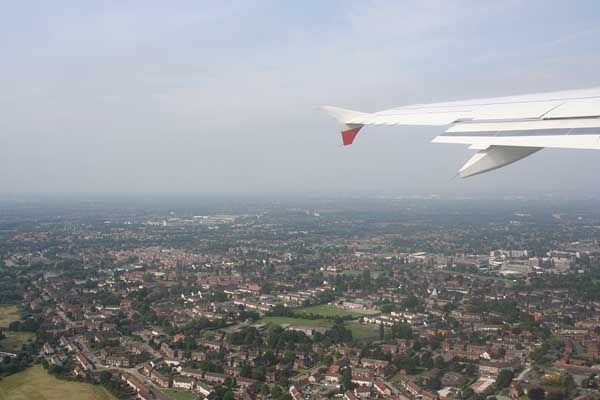 We made a right hand turn soon after departure and flew over an airport, presumably RAF Woodford (EGCD).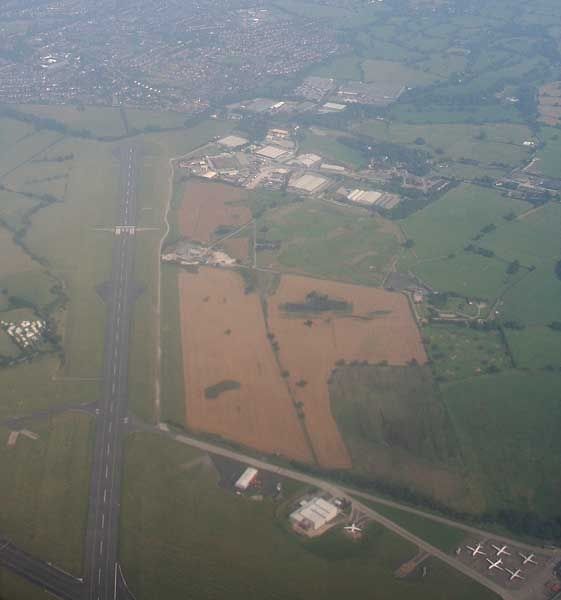 It wasn't long before Captain Nigel Evans was on the mic telling us about our expected flight path. We were to head over towards the east, between Derby and Nottingham, then head south to the east of London over Kent, across the channel towards Holland then over towards the northern part of Italy. After crossing the Alps, we'd head southeast towards the western coast of turkey before heading south, following the Turkish coastline for our descent in to Dalaman. The expected weather was clear apart from the Alps where turbulence was to be expected. My view from the window confirmed the clear conditions, not a cloud in sight!
Before leaving British airspace, we flew over 2 more airports, presumably Nottingham East Midlands and Manston, Kent respectively.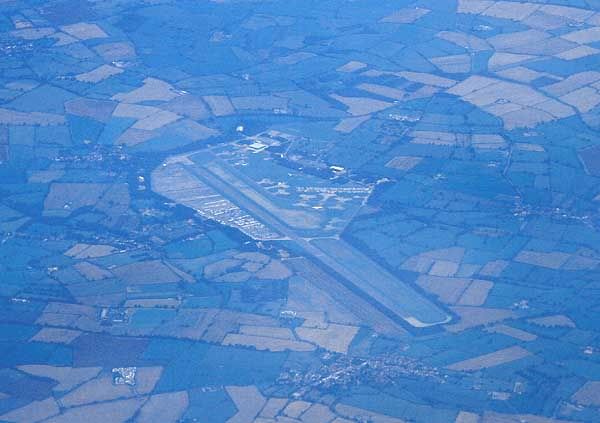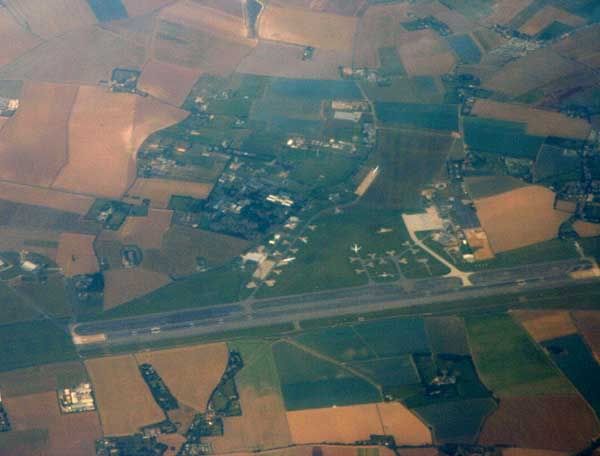 We couldn't have been higher than 20,000ft before the cabin crew announced the first drinks service, very quick. A look in the seat pocked showed a good selection of drinks but only one thing was on the menu for me, a can of Fosters! Prices were quite reasonable (for air travel anyway!), £2.50 for a 330ml can with shorts and mixers coming in at £3. Complimentary packets of cocktail savours were given with every drink as well.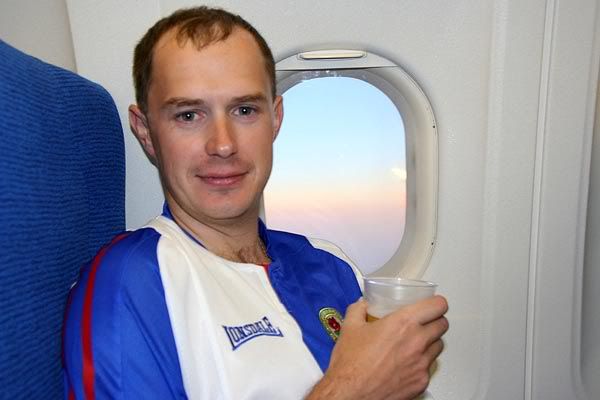 The only disappointing aspect of this flight was the lack of IFE. The aircraft was fitted with drop down LCD screens for the safety briefing, but that's all they were used for. I suppose IFE isn't required for short scheduled services but I bet some of the families on board got a little bored and had a hard time keeping their kids entertained without any in-flight movie, music etc. I wasn't too bothered; my entertainment was looking out of the window!
[photoid=547537]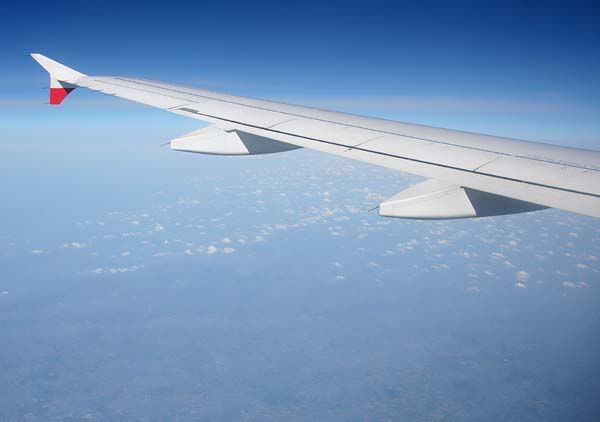 About 2 hours in to the flight, the meal service was announced. This was the first time we hadn't bothered booking meals, as we would be arriving in Turkey in time for the late evening snack at the hotel. When the meals were being dished out, we were surprised to find that all passengers got meals regardless of if you had paid the £10 or not, nice one! The meal was roast chicken with rice covered in a creamy sauce, followed by a nice chocolate gateaux style cake, cheese and biscuits. A carton of water and my last cup of proper English tea for 2 weeks washed it all down. It was quite tasty and not bad for a freebie!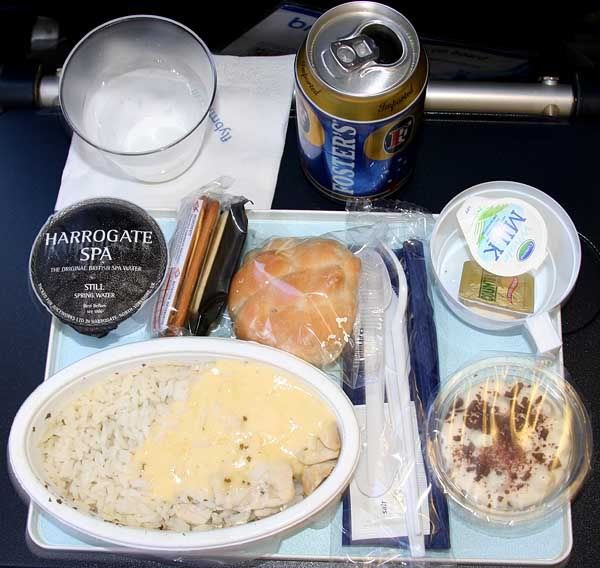 Once over the Alps, the cloud cover thickened and the expected patch of turbulence made the aircraft buffet around for 20 minutes, nothing too severe although the seat belt signs were illuminated. Once at the other side, the cloud cover lightened and the flight remained smooth all the way in to Dalaman. About an hour before descent, the sun set on the right of the aircraft so I didn't manage to get a sunset shot over the wing, just a golden glow of the setting sun on the wing fence.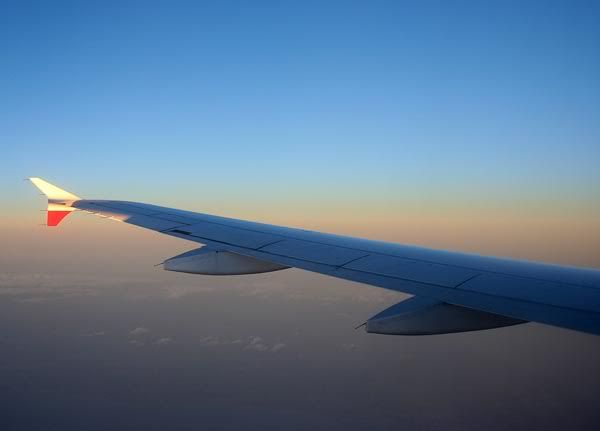 Captain Evans made his last announcement as we started our descent in to Dalaman. As the descent was mainly over water, I couldn't see much in the blackness out of the window but that improved as the cabin lights were dimmed for landing. A few small towns and villages could be seen lining the coastline then the airport came in to view at about 45 degrees to our left. A quick bank to the left to line up with runway 01 and we were on finals. Captain Evans said the winds were gusting a little but nothing major. As we passed over the piano keys, I felt the aircraft flare. The aircraft touched down bang in the middle and was so smooth, you couldn't actually feel the wheels hit the tarmac. Maybe this is due to the small aircraft compared to the 767's, A330's and 757's I'm used to flying on, but this was the smoothest landing I've ever experienced. Well-done Captain Evans!
We pulled up on a remote stand next to a TCX Condor 757 and a Lufthansa A300. The transfer busses and steps were there within seconds.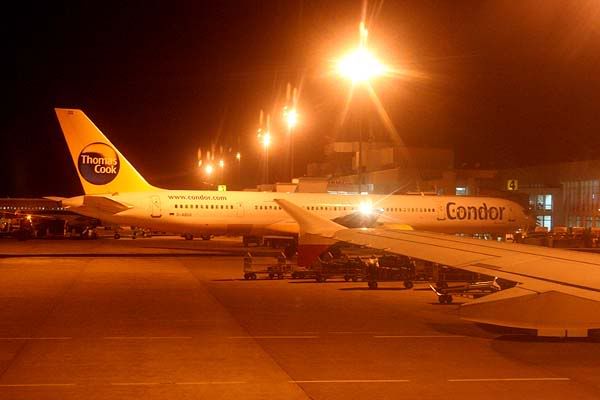 Overall, I was very impressed with BMI's service and the Airbus A320. Apart from the technical delay back in Manchester, the flight had been uneventful. The cabin crew worked their socks off and couldn't do enough for you. It was time to hand over my crisp £10 note to get my visa and spend the next 2 weeks diving and relaxing at the hotel L'Etoile in Icmeler.
You can read the inbound trip report here
Darren