BMI British Midland Flight BD7366, Dalaman, Turkey (DLM/LTBS) - Manchester (MAN/EGCC).
Flight Details:
Date: 17th September 2005
Airport: Dalaman-Mugla, Turkey (DLM/LTBS)
Airline: BMI British Midland
Flight: BD7366
Equipment: Airbus A320-232
Registration: G-MIDZ
To: Manchester International (MAN/EGCC)
Seat: 23A (Window)
Scheduled Departure: 2055
Actual Departure: 2130
Departure Runway: 19
Flight Time: 4h hrs 20 mins
Arrival Runway: 24R
After 2 weeks relaxing and diving in Icmeler, it was time to come back home. The minibus picked us up from the hotel at 1620, 10 minutes ahead of schedule, a good start! After all the farewells and goodbyes, we hit the main road for the 2hour drive to Dalaman-Mulga Airport. Our flight wasnít scheduled to leave until 2055 and we arrived at Dalaman at 1815 in plenty of time as the procedures for entering the airport are rather unique. As we approached the airport, just as the sun was disappearing over the hills in the background, we got a brief glimpse of the airside view of the terminal and the new terminal building which will be open in 2006. There was a KTHY A321 and an Onur Air A300 already on the apron.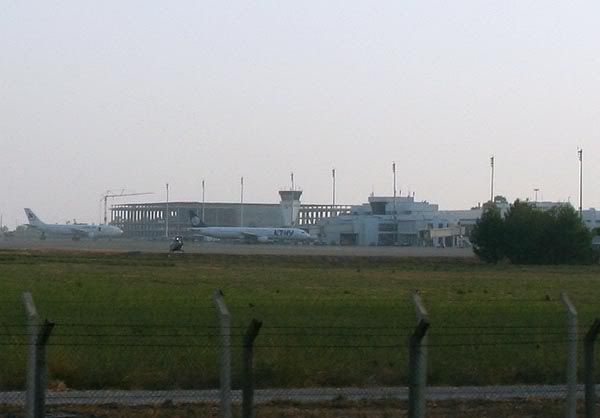 Rather than simply entering the terminal building and going straight to check-in, as Dalaman airport is a shared civil and military installation, all baggage is screened with the usual x-ray machines as you enter the terminal building. As you can imagine, the queues to get in to the terminal at peak times are horrendous, itís not uncommon to queue for up to an hour. Today was no exception! The queues werenít as long as Iíve previously experienced as this was a relatively early departure for Turkey, most flights are late night departures, but as only one screener was operational, the queues had built up. Luckily for us, they opened up another door and screener about 5m in front of us so we were straight in without too much hassle. Some of the passenger in the queue in front werenít best pleased! I normally get stopped and searched at this point with the underwater video camera I use for diving, but after being asked what it was and explaining its an underwater video camera, I was waved through without getting searched for a change.
A quick glance at the screen showed our flight was checking in at desks 1-4. I was glad to see all the desks were open and no-one checking-in, we must have jumped the queue with getting in to the terminal quickly! The check-in process went without a hitch considering our suitcases were over the 20kg limit (you canít go to Turkey without stocking up on the genuine fakes!) but as we hadnít pre-booked out seats, we were allocated seats 20C/D and 22C. It wasnít a problem though; we can cope with being separated by 2 rows for 4 hours! My biggest disappointment was not being able to have a window seat, it seams the seat allocation was done back in Manchester so they couldnít change it. Never mind, it was a night flight so it wasnít too much of an issue. At least the check-in was the fastest ever, only about 30mins from leaving the coach to clearing security and entering the departure lounge, not bad at all for Dalaman.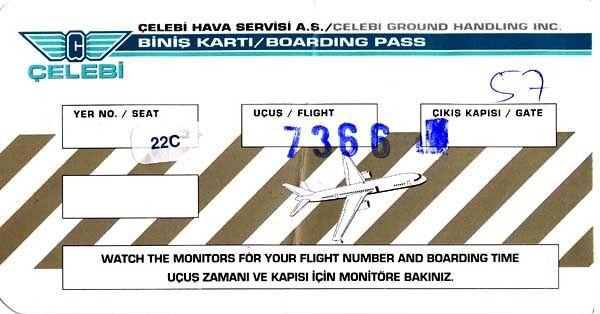 The departure lounge at Dalaman is small considering the volume of passengers they handle, it will be much better when the next terminal is opened in 2006. The lounge is lined by duty free shops selling pretty much the same wines, spirits, tobacco, fragrances etc. All the prices are open to negotiation so it can be fun haggling!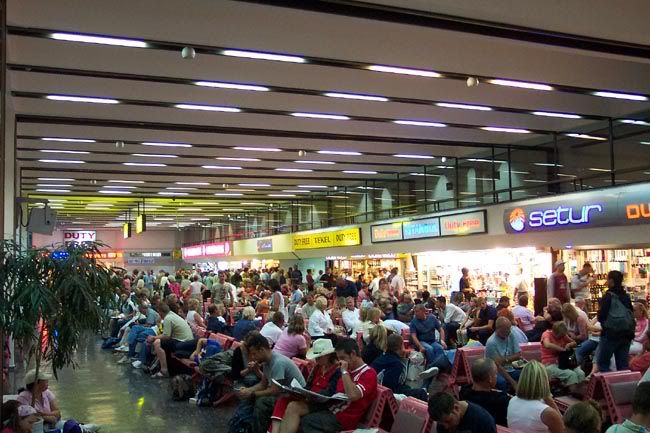 One thing to note about Dalaman is the prices they change once you in the departure lounge, to say they are steep is an understatement. There is a Burger King at the far side of the lounge and a food hall at the other with a sandwich bar, Dominoes Pizza, coffee shop and a couple of stalls selling soft drinks, crisps etc. A normal burger with fries and a drink will cost you approx. 21 lira (YTL), a whopping £9 at current exchange rates (about 15 euros / US$). As we hadnít booked meals on the flight home, we decided to have a sandwich from the ĎSíWch Crustí bar. All sandwiches were 7.60 YTL so we got a beef pepper, cheese and onion, and ham and cheese which came to 22.80 YTL, about £10 (16 Euro / US$). It wasnít bad value considering the cost of the other outlets, not much more than a motorway services and they were quite nice (unlike some of the motorway services!). One strange thing about the food hall at Dalaman its also the designated smoking area, that wouldnít happen in England!
About an hour before our flight was due to depart, gate 3B was allocated and it wasnít long before our flight was called for boarding. There are further security checks to go through on the way to the gate and all our hand luggage was screened once again. This time, I was stopped and searched as they had never seen an underwater video camera before so I had to unpack it and show them its contents. Although itís a bit of a hassle having to unpack it to show the security what it is exactly, itís for airline safety so I donít mind. Itís reassuring to know they check out suspicious looking luggage. Once at the gate, we had to wait for a bus to take us to the awaiting aircraft. This time, BMI had allocated G-MIDZ which is in the older British Midland colour scheme. Iíve photographed this aircraft a few times previously so it was nice to travel home on a different aircraft than the outbound flight (G-MIDT).
[photoid=549707]
We got on the bus and were ferried around to a remote stand, it was a nice tour of the apron which was getting busy by now. A First Choice 757 and A320 were on gates 2A and 2B, a Lufthansa A300 on 3A, a Maersk 737 on 1B and I couldnít see what was on 1A, not a livery I recognised anyway. On a remote stand, next to our aircraft was a Sterling 737 (OY-SEA), another airline Iím not familiar with.
The coach pulled up besides the aircraft and we headed for the rear stairs. A friendly member of the BMI cabin crew greeted us at the top of the steps. It was nice to get aboard and out of the Turkish heat, the air con was lovely! I arrived at my seat to see two other passengers in the row, one of them sat in my allocated seat, 22C, his wife was in 22B and no-one was sat in 22A. I asked the gentleman if he was in the correct seat and I was in luck, he proffered to sit at an isle seat so the window seat was free. Not only did we have the luck of getting in to the terminal without the usual hassle, Iíd managed to get my window seat! I was well pleased! The camera was quickly stowed in the overhead locker and I took my window seat before he changed his mind. Again, I was impressed by the legroom these schedule configured A320ís had and the window was sparkling clean.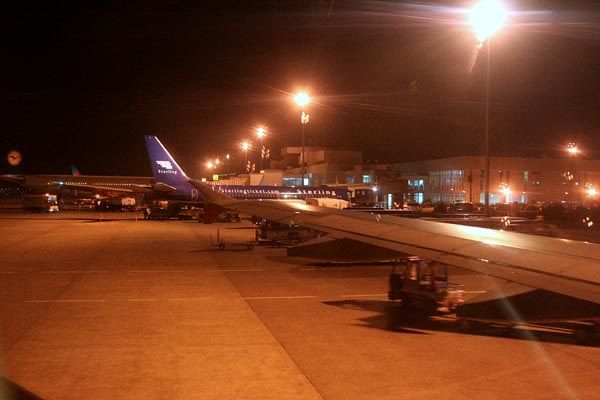 Everyone was aboard and the doors closed bang on time and we pushed back at about 2100. The Rolls-Royce IAE V2527ís were lit and the dog barked! (hydraulics activated). The Maersk 737 and FCA A320 were ready to depart in front so we had to wait for those to clear before we started to taxi to the active runway. This was going to be a strange departure as I could see aircraft on approach and finals in the distance, and we were pointing towards them. I presume itís because of the topography of the region that take off and landings have to be in one direction as aircraft were landing on runway 01, and we were taking off on 19. The mountains looked to be way in the distance during daylight, but looking in to the blackness of night, its not surprising approach and takeoff are carried out on the seaward side. Because of the situation, it was about 20 minutes before we eventually entered the runway for take off. I imagine we had to depart quickly due to an aircraft on approach as we taxied on to the runway and the engines were immediately spooled for take off. I donít know what thrust setting was applied, but I donít think there was much left in reserve. This A320 blasted down the runway more like a 757!
We rotated with and seemingly climbed quite steeply, certainly steeper than the outbound flight. We were soon over the sea and performed a sharp right hand turn to get out of the way of approaching aircraft. The throttles were pulled back slightly as we climbed through what looked very clear skies, no clouds as far as I could see. Again, the BMI cabin crew were quickly off their feet and the first drinks service was coming around within 15 minutes of take off. A nice cool can of Fosters was very welcome with 2 packets cocktail savouries this time; they must have had plenty left from the outbound flight.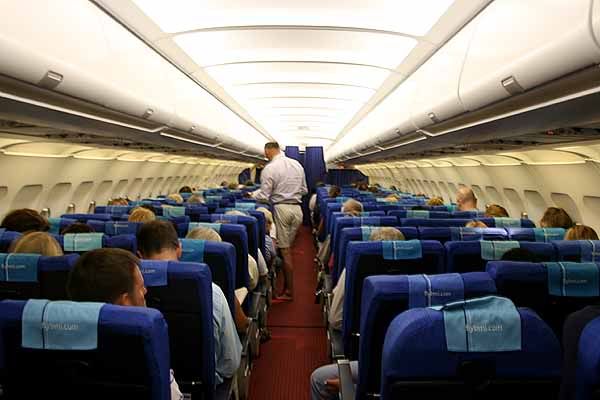 The in flight meal was served after about an hour. Again, even though we hadnít paid for the meal, all passengers received one. It was roast chicken again, this time served with roast potatoes and carrots followed by a chocolate profiterole, cheese and biscuits. This was washed down with a carton of water and some Fosters I had saved for the meal.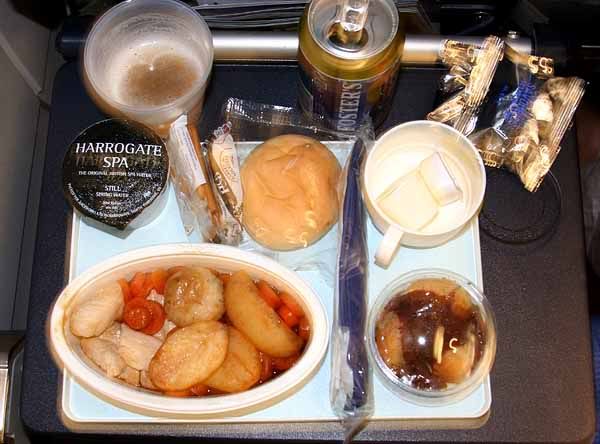 Once the meal service was cleared away, the lights were dimmed so passengers could get some sleep, until our descent in to Manchester. This gave some stunning views of the towns and cities below without the usual glare from the windows. I managed to get a few half decent shots with the camera considering the darkness. This was taken about 1.5 hours before landing so I presume we are over Holland of Belgium given the topography.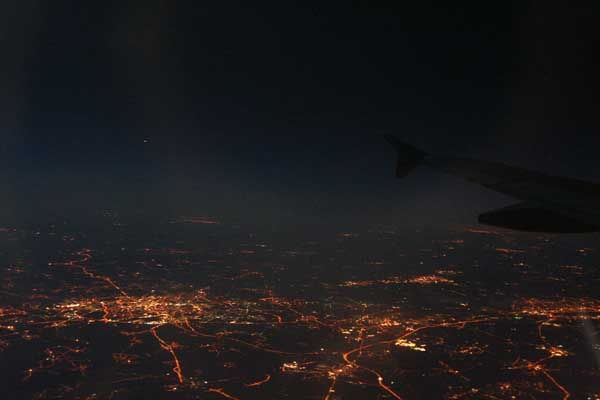 The captain made an announcement about 30 minutes from touchdown that we had commenced our descent and that the weather was fine and 11 degrees. A bit chillier than the 40 degrees when we left Icmeler! The descent was smooth and I soon recognised the landmarks on approach, we would be landing on 24R. The aircraft flared just over the piano keys and we landing with a the typical thump due to the mound in runway 24R. As this was a midnight landing, no thrust reversers were used due to noise abatement so the brakes were used quite aggressively. We left 24R just before the aviation viewing park were Concorde greeted us, lit by the purple-blue lights. We taxied over to gate 17 at T1 and the engines were shut down. The cabin crew announced that because this is a domestic gate, we would have to leave the aircraft via the back doors as the air-bridge couldnít be used to enter the terminal for international flights, only domestic. They must have positioned the aircraft on gate 17 ready for the early MAN-LRH flight the following morning.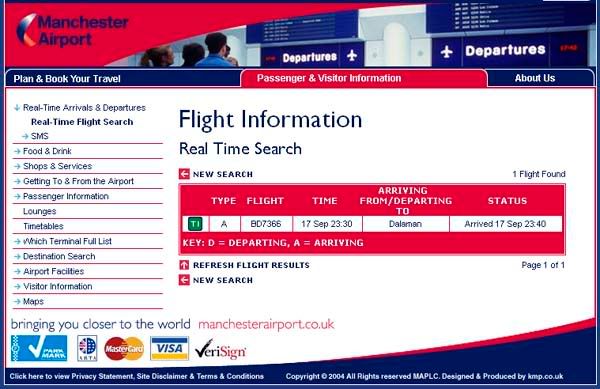 The bus was waiting for us and we were taken on a tour around T1 to an area between T1 and T2. Not only did that save our legs, we got to see all the aircraft stopping over. These included several Monarch 757ís, A320ís and an A300, a MYT 757, TCX 757, a couple of Jet2 737ís and many more at T2.
Baggage reclaim was easy enough as we had carousel 1 all to ourselves, 150 passengers and plenty of room unlike my last trip though Manchester which was inbound from St Lucia / Barbados with 315 people scrambling to get their luggage back!
Overall, it was a pleasure flying to and from Dalaman with BMI. The aircraft were clean and very comfortable and the Cabin Crew excellent. They couldnít do enough for you. The only let down was the lack of IFE due to the short flight schedule configuration of these aircraft, the plentiful legroom and window seats made up for that though. Roll on March 2006 when Iím off to Cuba!
You can read the outbound trip report (BD7365) here.
Darren