Well as previously mentioned, I am going YEG to get my sis.
Now, we got bumped off AC617 due to lack of F/A's. Then bumped to AC621, an Embraer E-190.
Now I am not one to prejiduce against aircraft (dont say im Prejiduce agains Mexico
) because im open to new "experiences" on different types. But after this, I refuse to fly on a E-Jet. A lot of these E-Jets arnt living up to there
optimus prime
. Ive been hearing storys of these things SNAFUing left, right, and center but I kept a open mind and thought "ill try it for myself".
So I went on with a open mind, I felt the plane to be small, I was as tall as the max headroom in the plane. Around 5'11'' I am, and I just fit. The planes accually nice inside, I thought the transition from First Class to Hospitality would be a mess. Not the fact that there different, the fact the the isle changes dircection from a bit right to an angle to the center but no, its not really that bad.
So my Dad and I sat in the last row, 32D and 32F. Wingo, not bad. I had an impressive wingview.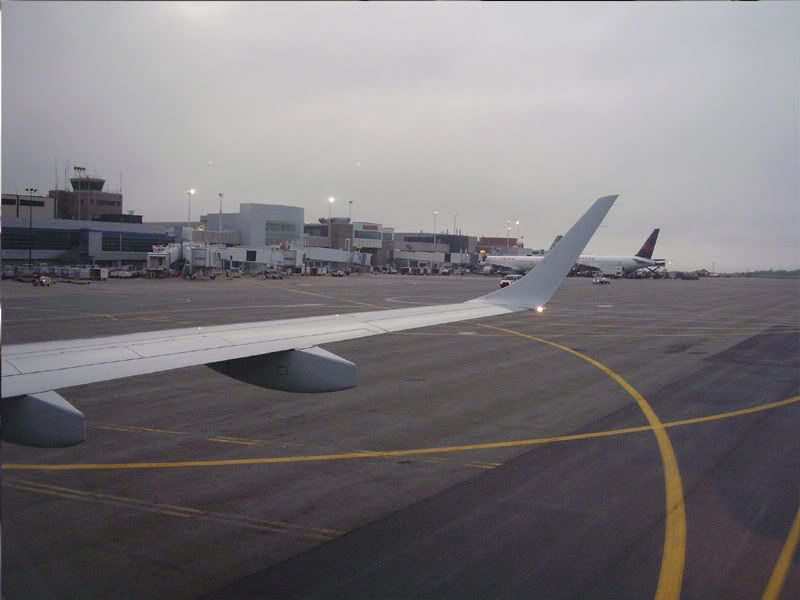 All is well, just before the push the plane is fine. Obviously you know somethings gotta mess up.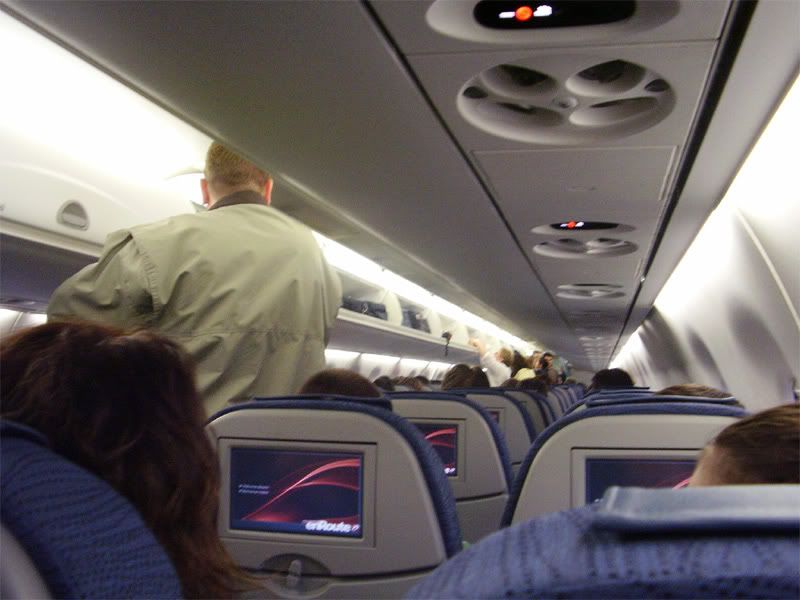 The cabins nice too, not bad really.
So we sit for a bit, sit, sit, and then sit. Bing Bong "Captain here, we got a sensor issue. were going to taxi to a un-used gate and reset the plane". So we taxied to a part of the ramp not used due to construction.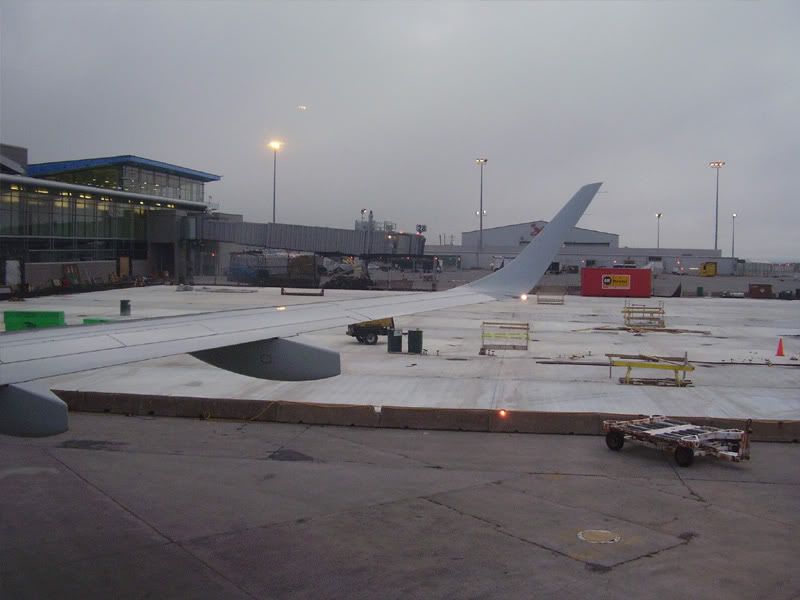 I got up along with 10 other people and used the bathroom. Suprisingly enough the lav is accually quite big. I used it, and when you flush the can you hear a sound that is reminicent to a jet spooling up ahahahaah. So we sit some more, then he comes back on the PA and says there going to power down the aircraft and try again.
So the cabin went dark. Just like that, peopel continued and I took a pic. The flight attendant went around serving drinks. She saw me take a pic your about to see and said "First time flying?" "No, I fly quite frequently. But its my first, and
last
time on one of these". She laughed and poured the water and I told her Im not biased, ive just heard bad things about these planes getting mechanicals.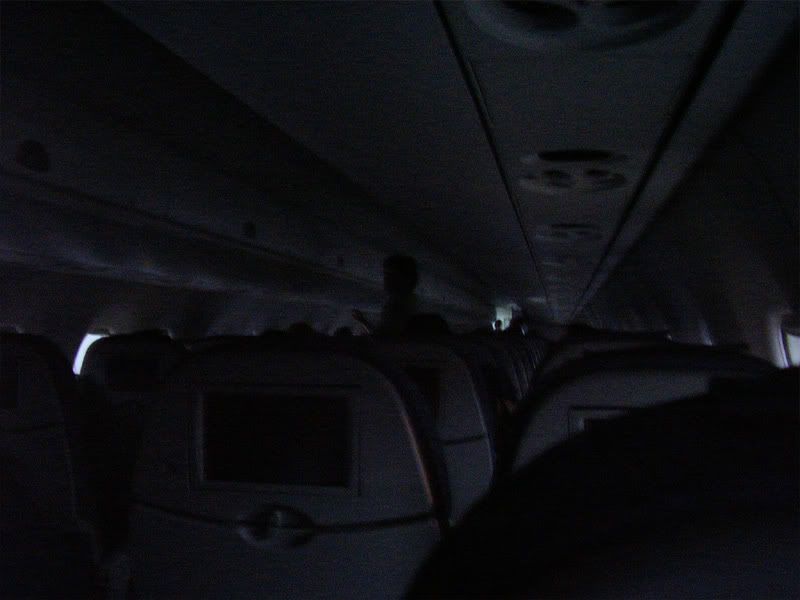 So then the fuel truck came, and the people infront were to Wemon (one was a mom and the other was a teenager) and she got worried cause the fuel truck said "Aviation Services" and "a man is sticking a pipe in the plane!". Its understandable to the general public.
So then cabin power was restored minus cabin lights. The seatbelt sign turned on and I tested my personal light and it seemd to have started a trend.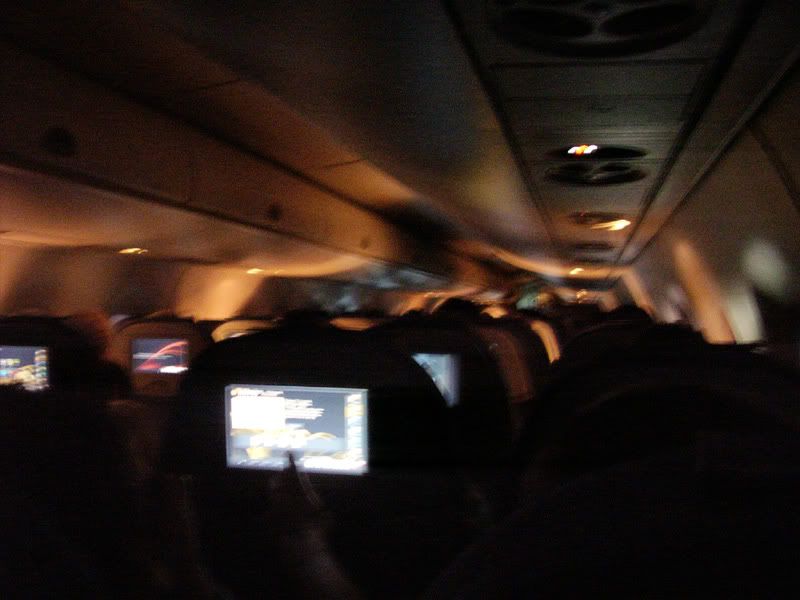 My Dad talked to the flight attendant, and asked her if we could deplane because we would never meet AC153 connection in YYZ. She said ok and we got off and now, here I ma talking about a fun expericne on a E-Jets aircraft.
Personally, Im gonna try to avoid these planes from now on, Unless its absolutly nesissary to fly on it (IE no other aircraft flying that route or at that time). Im gonna stick to my Airbus's and Boeing's.
Im now booked for Tomorrow on 601 (YHZ-YYZ) and 123 (YYZ-YEG) and 158 (YEG-YYZ) and 604 (YYZ-YHZ) which I will return Tuesday morning. Im gonna try and beat the clock for 24 hours away!