This is my first time flying on Virgin Atlantic. I had booked this flight 2 months ago for a reletively cheap price from Washington-Dulles Intl. Airport to London Heathrow Intl. Airport.
I left the house in D.C. at quarter til 4pm for my 18:40 departure on Virgin Atlantic flight 022, an Airbus A340-600, registration # G-VWKD. The night before I checked in on my home computer thinking I wouldn't be waiting in line to check in at the airport but I was wrong. I got to the DIY online check in line along with 15 or so travelling who are flying to LHR on the same flight. THe regular check in line with approx. 150 people were waiting in line. However, the time in the online check in line went slow, took me over an hour to check in and head to sercurity. I should've just waited in the regular check in line and that would've been quicker. Going to sercurity was simple, with only a few people in line. At this point, it was 18:00, 40 minutes until my flight leaves the gate, plenty of time for me. I took my laptop out of my laptop bag along with my camera gear and simple as that. I proceeded to the B terminal via the mobile lounges as what it's called at IAD. 5 minutes later, I was at the gate B32 and ready to board. Boarding call was normal, first with pre-board for the elderlies and for unaccompanied minors. Then it was upper class and then premuim economy and then economy from the rear to forward. My seat is 42K, so it was the third to be announced.
I was excited to be on an A340-600. I've heard nothing but great things with the airline. The flight was full but short of one passenger and I got lucky. The seat next to mine was empty. Virgin Atlantic provided us with an small amenity kit such as a toothbrush, a small tube of toothpaste, ear foamies, an eyepad, and a pen and of course, a blanket and a pillow.
As we got everyone on board, we were ready to pushback at 19:00 only a few minutes late. We roar of the Rolls Royce were fierce and they're the ones that is powering our aircraft to London. The captain came on the PA with a friendly british greeting and the welcome aboard speech, then we were on our way to taxi to runway 30 which only took a couple of minutes in front of some executive jets and RJs.
Once we were airborne, flight time to London is 6 hours and 30 minutes which isn't all that long. Once we reached 10,000 ft, electronic devices were allowed and that's when they turned on the Vpower IFE system. Works absolutely awesome and has a many selection of on demand movies and TV, radios, games, and of course the iMap. Most of our flight was during the night, but the first hours was evening daylight until the sun set. We cruised at FL350 for about 5 1/2 hours. The first hour, the flight attendents served dinner to thep assengers on the port side of the aircraft, then and hour later, they served the starboard side their meals. The selection was chicken pasta and beef stew, so I had the chicken pasta and a glass of red wine while watching "Date Movie" on demand. During the middle of the movie, other passengers had problems with the IFE system, so the purser had to reboot the whole system down for about an hour. It was a bummer since I lost the movie, but I had my iPod for backup. Every hour, the flight attendents strolls by asking for water, coffee, or tea and collecting garage from the passengers. Most passengers took a nap to counteract with the time zones, while some stayed up enjoying the IFE like myself, but I did fell asleep for about an hour and a half and woke up and we were between Ireland and England already. At that time, the lights in the cabin were on and that's when we started our approach into London Heathrow's Airport. The weather on approach was cloudy, but above the clouds was beautiful with the sun rising as it was 06:30am. but once we got underneath the clouds, it was dull and grey but we had a nice view of the city and landed on runway 27R and arrived at the airstair parking 10 minutes early of schedule. Going thru customs took nearly 2 hours becuase of the long queue, but it was worth it becuase this started my voyage into London.
I'll have pics in a bit.
Kevin
Some pictures.....
My seat 42K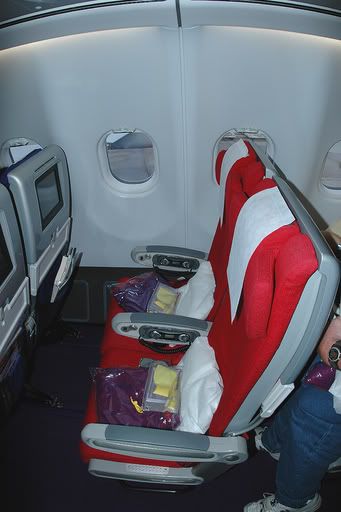 the PTV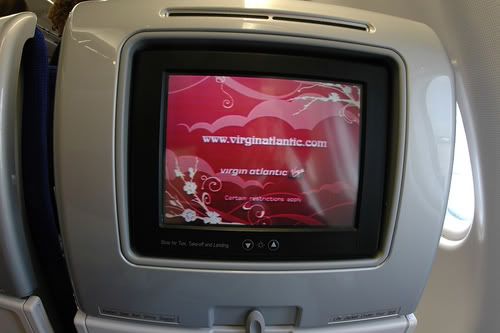 Taxiing to runway 30
Taking off runway 30
Turning right after takeoff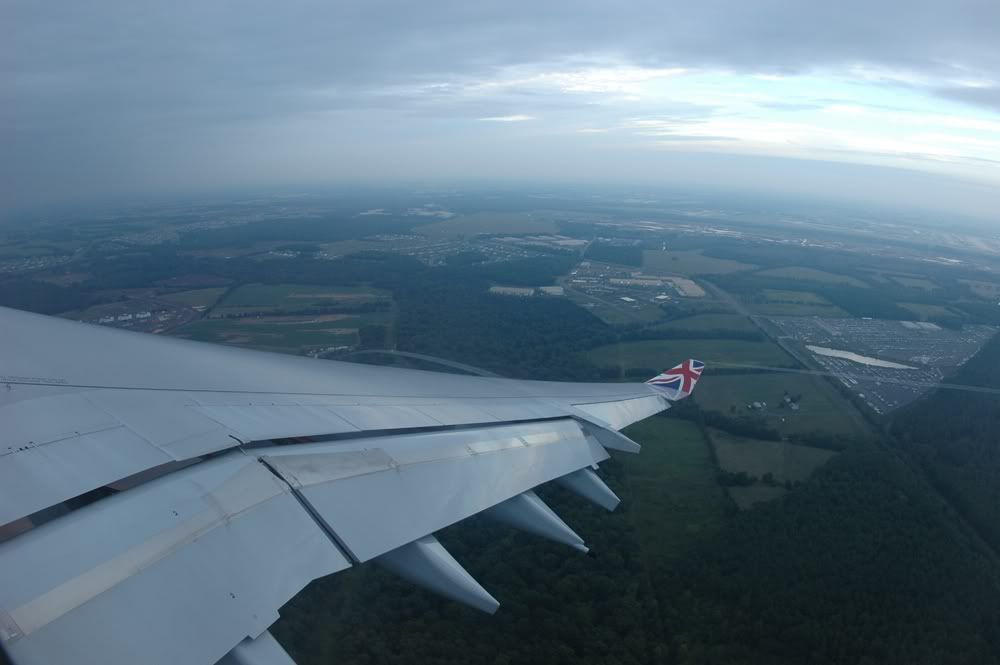 Dinner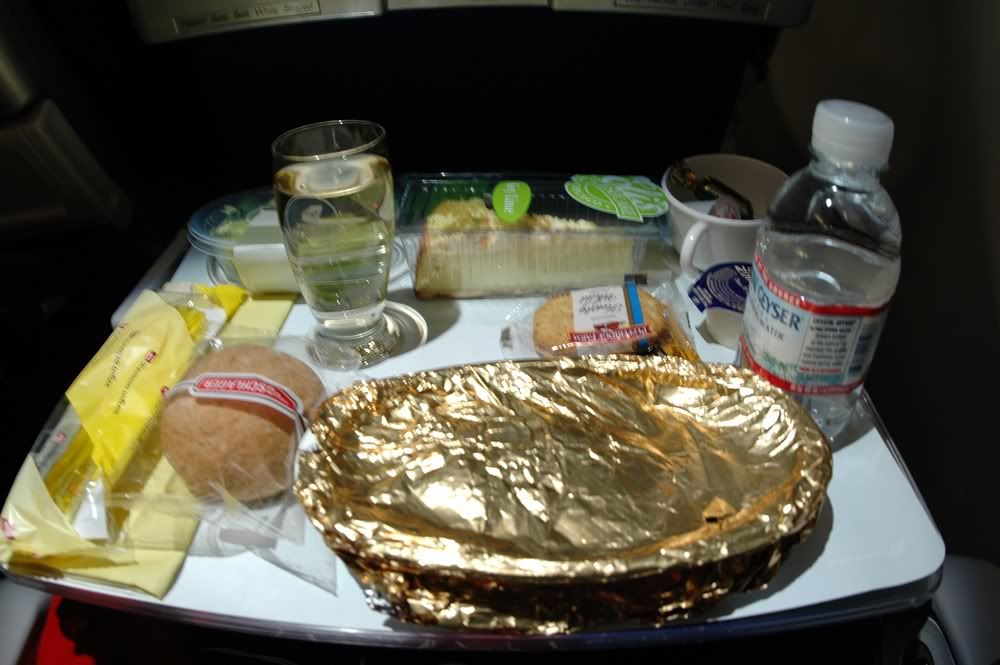 AM approach into LHR
Final approach 27R LHR
Deplaning the bus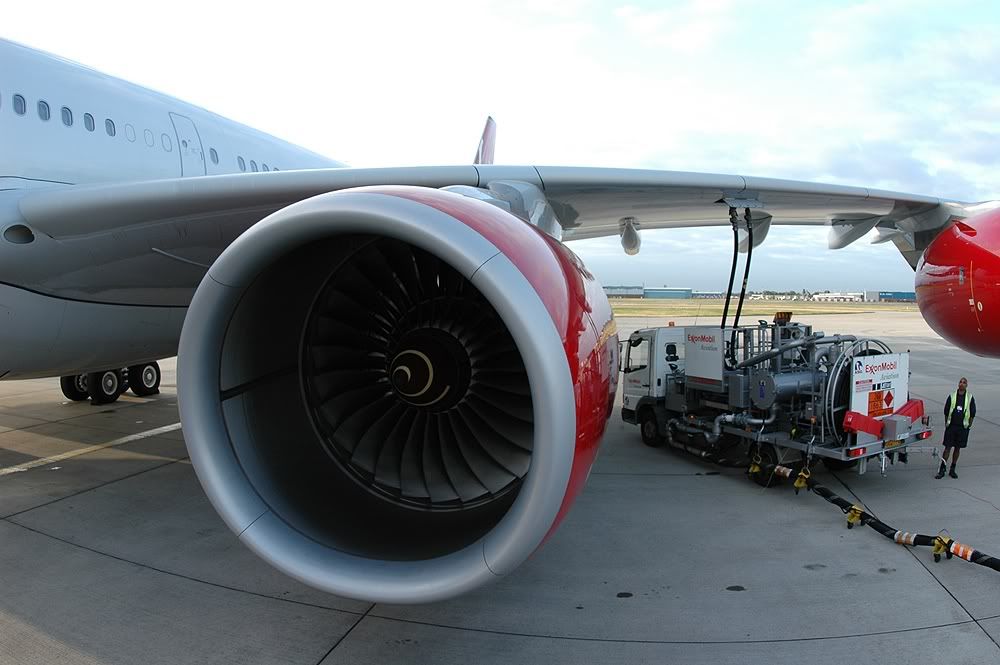 hotel room view Jurys Inn LHR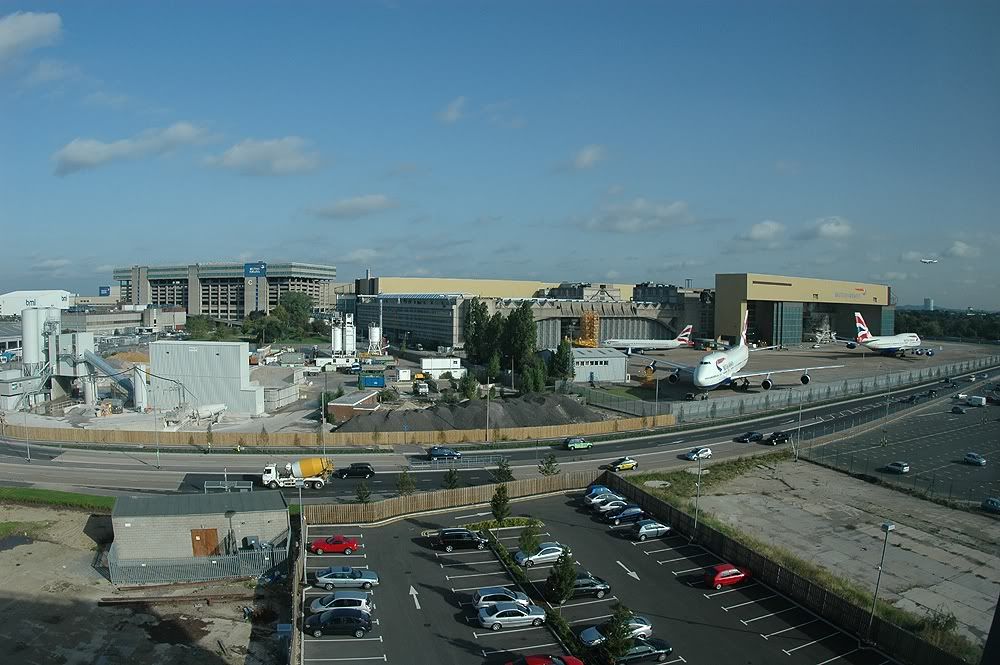 Enjoy!!
Kevin