Hello!
Introduction
We booked this fly-drive in August 2005 for 2 weeks in Orlando, Before hearing Travel City Directs's Reputation. but i was (a little bit) releaved too hear they had merged with Excel Airways and operate flights for them. I had wanted to fly with Excel Airways but only on shorthaul, not longhaul as they are not really an Longhaul airline. The Passengers on this flight were, Myself, Mother, Father And Sister.
Flight Details
Airline - Excel Airways
Flight Number - XLA 136 / 136L
Callsign - "Expo 136 Heavy"
Departure Airport - Manchester International Airport / EGCC / UK / MAN
Arrival Airport - Orlando Sanford International / KSFB / Florida, USA / SFB
Departure Date - Sunday 27th August 2006
Aircraft - Boeing 747-312 'TF-AME'
Schedualed Departure Time - 13:30BST | 12:30Z
Actual Departure Time - 14:16BST | 13:16Z
Schedualed Arrival Time- 17:30EDT | 22:30BST | 21:30Z
Actual Arrival Time - 17:26EDT | 22:26BST | 21:26Z
Schedualed Boarding Time - 12:30BST 11:30Z
Actual Boarding Time - 12:35BST 11:35Z
Seats - 16DEFG
Departure Gate - 206
Arrival Gate - 4
Check-In Opened -08:30BST
Departure Runway - 24R
Arrival Runway - 09L
Departure Taxiways - D, J, Hold J1
Departure SID - WAL 1 R
SELCAL Code - BD-JK
The Flight
Well we awoke at 7am, had a shower, got dressed (naturally) and headed for T2 Departures to check-in for our holiday to Florida! so we arrived there around 8am and check-in opened at 8:30 we waited went to our check-in desk (there was only 1 for now) too our left, Virgin Atlantic Was check-ing In for VS077 To Barbados, and our right was Qatar Airways check-ing in for flight QR042 To Doha. There was a couple in front of us who we got chatting too. we got to the desk with 5 bags for 4 of us. we got allocated 16D,E,F,G i knew that was in the middle, i was gutted! we asked for a window, but she said "They Are Allocated 24-Hours Before deaprture and are not changeable" so we got out boarding cards.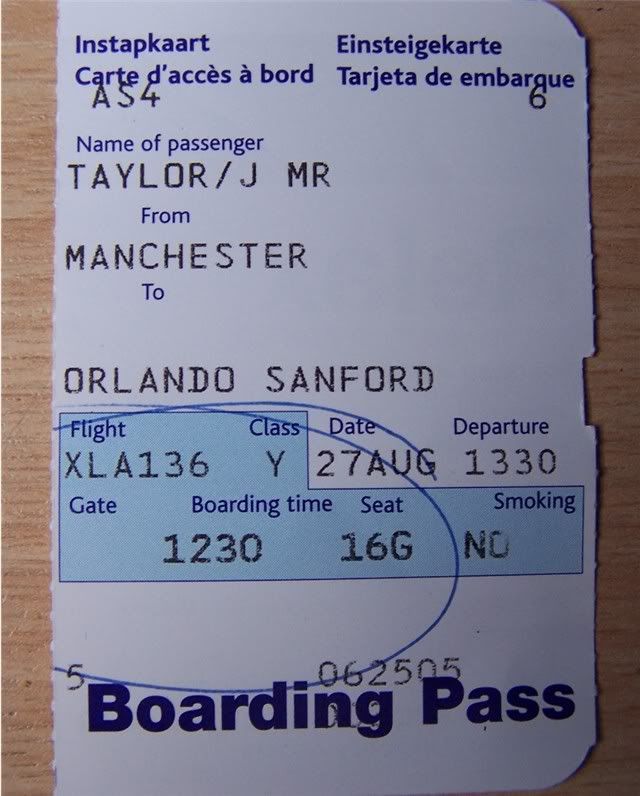 We then went to the roof, too have a butchers at the traffic, and the poor weather!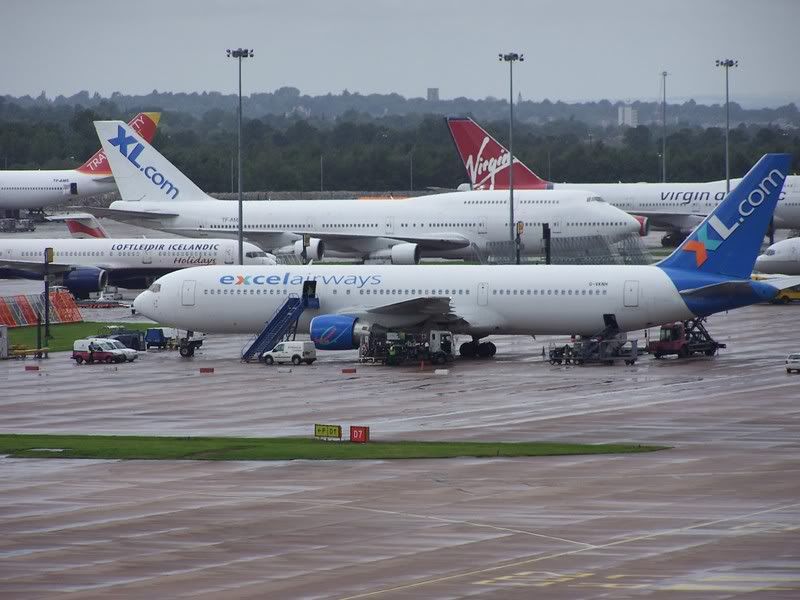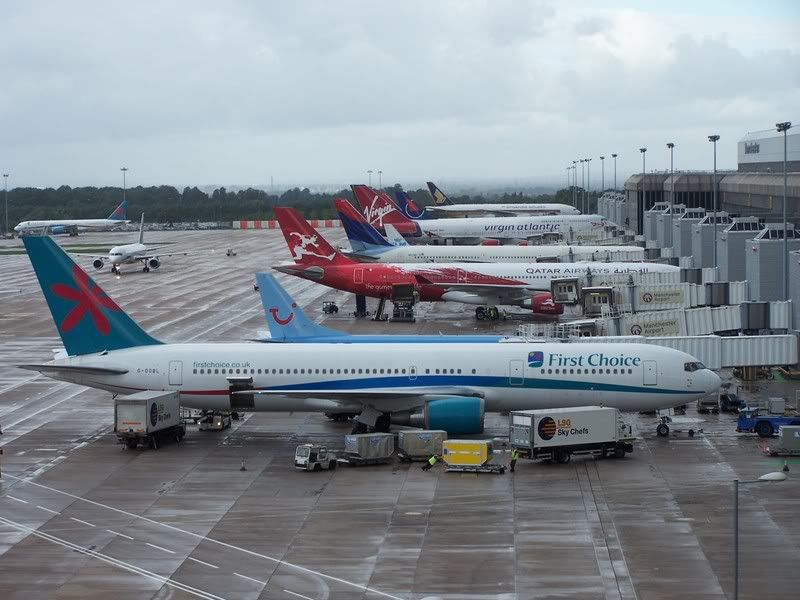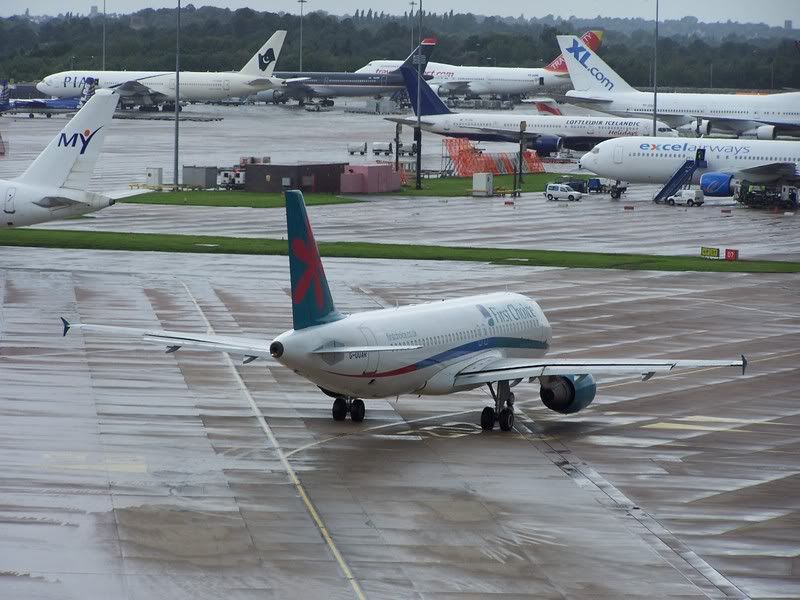 After a while .. it started too rain, so we went through security
Security
With the recent Folied Terror Plot on August 10th, now you cannot have Liquids Pastes Gels Etc On A Flight! so we got to the checkpoint and i had too put my belt, shoes, necklace, phone and money onto the belt, i was then hand searched, as was everyone, all in all i was extreamly happy with the security at Manchester! was quick and tight!
The Flight
Ok so boarding started at 12:35 and they boarded Back-Forward, we then got on about 13:15, the captain signed on, a very happy american! seemed very friendly! telling us that our flighttime was expected to be 08:15 and we were ready too pushback! after about 10 minutes with no movements he signed back on and said "Ladies and gentlemen hello again, the captain here, erm we do seem to have a problem, the US Security hasnt yet given us our release form, and we cant go anywhere untill this happens, i cant give you an estimate but it could take anything from 5 minutes to 5 hours, ill keep you informed!" just what you want too here, so the dispatcher came on and questioned certain passengers onboard our flight. After around 30 minutes the doors shut and the captain told us we was cleared from US Immigration. We started push at 13:52, and taxiied to runway 24R. We had an Virgin Atlantic Boeing 747-400 behind us, postioning to Gatwick as 'Virgin 74P" We the departed after a long run! the aircraft interior was rather nice, much more than i expected! They wern't kidding when they said they merged with Excel Airways, everything either had XL.Com on it or Excel Airways! even the Cabin Crew were Excel Airways! One member of them was Janine, who is off the TV Programme Trolley Dollies On Living TV! The flight was noneventful i had a Cajun Chicken Dinner (i had the last one
) It was very bumpy for most of it! The weather when we was on approach wasn't too good unfortunately, was quite cloudy .. We then landed at 17:26 local. We left the airport and the weather cleared up, was very very hot!
The Return
Flight Details
Airline - Excel Airways
Flight Number - XLA 137 / 137L
Callsign - "Expo 137 Heavy"
Departure Airport - Orlando Sanford International / KSFB / Florida, USA / SFB
Arrival Airport - Manchester International Airport / EGCC / UK / MAN
Departure Date - Sunday 10th September 2006 / Monday 11th September
Aircraft - Boeing 747-312 'TF-AME'
Schedualed Departure Time - 20:30EDT | 00:30Z | 01:30BST
Actual Departure Time - 20:32EDT | 00:32Z | 01:32BST
Schedualed Arrival Time- 09:35BST 08:35Z
Actual Arrival Time - 08:35BST | 07:35Z
Schedualed Boarding Time - 20:00EDT | 00:00Z
Actual Boarding Time - 19:10EDT | 23:10Z
Seats - 29ABC & 30C
Departure Gate - 4
Arrival Gate - Remote
Check-In Opened -13:00EDT
Departure Runway - 09L
Arrival Runway 24R
SELCAL Code - BD-JK
The Flight
Ok after 2 weeks, we did every theme park, Went to a house party, stayed at my relatives and caught the brunt of Tropical Storm Ernesto! I got 2 pics from my aunts house one of TF-AME and Thomas Cook 332! unfortunately, not very good, as they were after dark!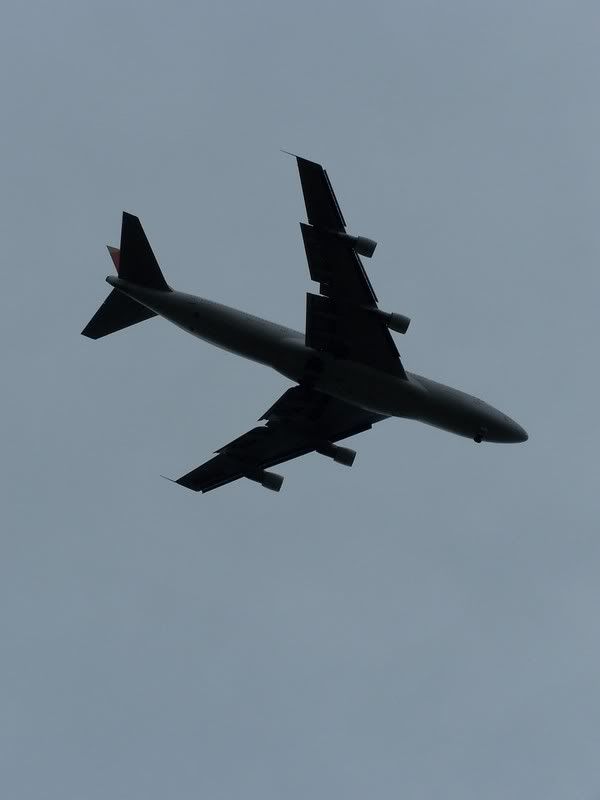 But now it was home time!
we awoke at 6:30am as we was using TCD Freetime check-in, which opened at 07:30 at Beuna Vista, we got there and there was no sign of ant TCD reps, so it turned 8am and a women came and asked us if a person from TCD had spoke to us, we said no, and she said its been cancelled becuase of a computer failure, well we was cool about it, but a london family was swearing at this poor women! she was only there too fix the computer, about 3 mins later, the couple from Manchester airport Check-in queue turned up and we said hi and explained what was going on, then a TCD Rep turned up and issued us with vouchers for the Priority Queue at SFB airport and we didnt have too queue. We spent the rest of the day at my relatives house and went too the airport around 3 to check in, Im not too sure why but this flight was now called XLA137L/JN0137L but nothing was differnet so it didnt bother me one bit!
I was very impressed by SFB Airport! it wasnt busy, they had a Thomsonfly 767-300 G-OBYH heading off to Doncaster, TF-AMJ another Travel CVity Direct heading to Gatwick, We went through security and waited for our flight! it started boarding 50 minutes early! I was actually very suprised! and happy!, and we was all onboard by 19:55EDT we was told our flighttime was 07:05 and we was going up the US East coast, spend 3 hours over the atlantic then decend over Dublin. We started push at 20:12 and departed at 20:32! We did have to wait by the runway from around 20:15 untill 20:30 because we was early! i was very happy with this! we had a great view of Sanford! it was then night time! and i awoke shortly after sunrise! The flight itself wasnt too bad, nice crew, meals and it was quite bumpy over the atlantic, but it was alright apart from that!
we was told we would be arriving into manchester around 1 hour early, i was really pleased! we started our decent and approach into Manchester, We were going too be using Runway 24R for arrival.
we landed at 08:35BST, 1 Hour early!, One of the smoothest ever! and we vacated the runway at A2! and then taxiied to a remote stand next to a Jet2 757-200 and a Virgin Atlantic 747-400, we bussed it over too T2. To end our holiday!
All In All
Check-In - 6/10
Aircraft - 7/10
Puncuality? - 9/10
Cabin Crew? - 9/10
IFE - 2/10 (Not Seatback like most airlines
)
Security - 10/10
Fly With Them Again - Longhaul If We Upgrade, Maybe Shorthaul
Conclusion
TCD had a very bad rep, as a 'Chav' airline, well there wasnt any on the flight, only about 2, but they were at the back of the plane. i think Excel Airways have helped them as in Crew and meals etc, out of the whole TCD / Excel Airways i would give them a stern 6/10 Becuase of some minor and 1 or 2 major faults!
I really hope you enjoyed my report!
Please post comments!
Jon.