I posted this in the other site and thought I'd better share here too!!
Well, theres a first time for everything and this is my first trip report with pictures.

It was my birthday on March 14th and I had a spare Manx2.com freebie burning a hole in my pocket. So, I used a half day's holiday and some TOIL and took the day off. Booked a flight to Blackpool.

Nice early start. Up at 05.15 for a quick shower and some trough - well, a couple of yoghourts and a banana. Then down to the airport, parking my car in the executive car park because no one cares any more! Checked in with my wifes company who handle Manx2 with no problems. Then security. Ah, security. Bearing in mind I work on the airport and know these people, sometimes their anal retentive attitude really amazes me. Shoes off, belt off, coat off. All through the scanner along with my camera bag. Camera bag? Whats in there? Bugger me, it's a camera! Can you unpack it and send it through again? Certainly, I'd love to! Needless to say my thoughts did not reflect my actions and words - I actually wanted to get away today, not next week!

So, through to IOM departures and wait. We are due out at 07.25, the LBA flight at 07.40. So why did we follow the LBA flight out? Ah the wonders of modern air travel. Speaking of wonders, my flight was in Let-410 OK-UBA. First impressions on boarding - basic! Forget your contoured seats, your IFE, your cockpit doors. This is FLYING!! Oh, and forget your F/A too!

A board (for want of a better word) separates the pax from the crew, who can be seen working through either side. I didn't get a picture of this, I was too traumatised! Anyway, settled down for the flight, sat in the second single seat back from the front on the left (no seat numbers) and strapped in. Not for nothing is the lat called a Bouncy Castle!1 Wobbling in the non-existent wind as we taxiied out I thought it's a good job I don't get seasick!

Watched the LBA take off (Metro III - Has to be my next Manx2 experience!) And turned onto the runway. The engines wound up to screaming pitch and he let the brakes off. In seconds we leapt into the air and were climbing away over Castletown and hanging a left turn toward the Lancashire coast. I tried to take a couple of pictures and failed miserably. However, here's one attempt through the nice big windows.



>>
Only a short while and we were crossing over the coast just South of the Tower
>
>
>>
>
>
>>
>>
Shortly after we rumbled to a halt at the small terminal at Blackpool, between a Ryanair 737 and a jet2 737. God, that makes you feel REALLY small!!

Off the Rent-A-Wreck and through arrivals and bingo! Here I am in Blackpool. First things first, find a cashpoint, which I duly did. For some reason the UK won't accept good Manx money. Anyway, card in, select £30 and- Sorry, no £10 notes only £20's! Bugger, so, select £40 - and blow me if the SOB charged me £1.99 for the privelage! Nothing on the outside to say it's so. Won't make THAT mistake again! Robbing Bankers!

So, outside and a wander to the left brought me to some light aviation area which was spectacularly uninteresting. Retracing my steps and went back past the Terminal and toward the Off Shore terminal and the Emerald hangars. Couldn't see a blind thing! Totally disgruntled I decided to go into the great Metrolopse of Blackpool Town and see what was going down there.

Asking at the information desk I find there is a bus, route 11, which will take me to town, pick up outside the hairdressers across the road. None of your on the spot transport links here!! After trying to get on a number 11 going the wrong way I finally found myself on a singularly scruffy single decker, paying £1.50 (this is significant) heading toward the centre of town.

Alighting my charabanc on the Prom near the pier I was struck by the spectacular closed air that oozed around. Few pedestrians, little traffic - just like the Isle of man on a wet weekend really! Except the weather was bright and sunny, if a little nippy.

So, I took a couple of nondescript pictures and headed to the shops. Don't ask why, I just did.
>
>
>>
After some desultory wandering I found a greasy spoon (well, actually quite a nice cafe really) and had breakfast - bacon, sausage, egg, mushrooms, tomato and toast, all for £3.95. Fully fortified I had another wander around before heading for the Promenade again. here I took some more pictures.
Anyway, I then headed back to the tower for an uplifting ride to the top. Which is easier said than done! After paying £7.95 entrance (no circus today, get a £1 off) I made my way, following the signs for "Top of Tower" lift. I knew this was a mistake once I went through a door and the sign pointed back the way I had come. In fact, on either side of the door signs pointed AT the door. So, I asked a keen looking chap who guided me through the Ballroom to the lift. I stopped on the way for a picture.


>>
For some reason the image of the Monty Python organist, totally starkers except for bow tie and shirt front came into my head. Shudder!!

Anyway, I finally made it to the top where I attempted to take pictures through the somewhat scratched and filthy windows. Going up a level I found a hole in the suicide fence (?) and managed to get one decent one.



>>
After this excitement I made my way down again and after meandering through the Ballroom
>
>
>>
>
>
>>
and the Aquarium (loose description of a bunch of fishtanks collected together) I exited the building. Back to the same place I had brekkie, this time just a latte and a fruit scone.

Then another bus ride back to the Airport. I was getting withdrawl symptoms by now, not having taken an aircraft picture for hours! This time the journey (from the same stop I got off to the one I got on) cost me £1.30. Frequent traveller discount?

So, back at the Aerodrome I wandered around and snapped a few helicopters and stuff
>>
>
>
>>
>
>
>>
Had a long look at the sad sight of all the Emerald aircraft rotting away quietly . Amazingly, though, they had one running and taxiing to do engine runs, G-ORCP. Heartening to see one of the old 748's actually working. Made my way to Morrisons car park where I lingered a while with a couple of the local lads who gave the the lowdown on what happens there. Basically nothing much, but it was good to talk to another human being.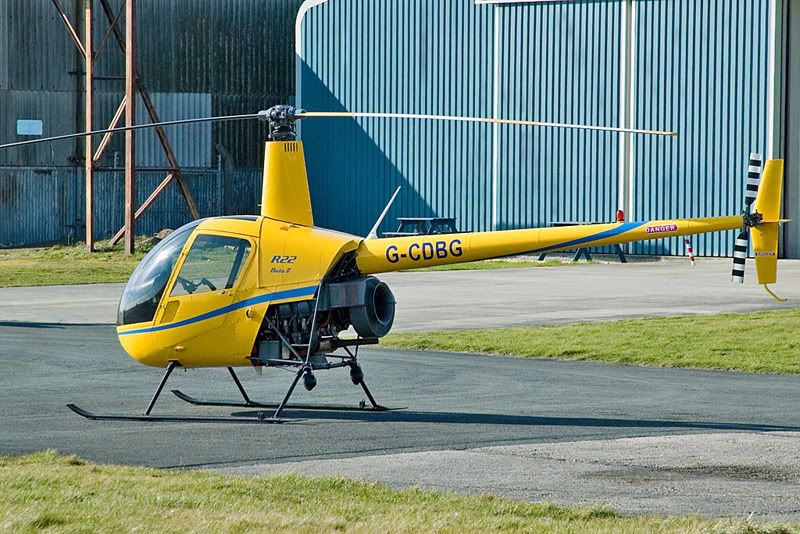 Finally I made my way back to the terminal and went to check in. When the check in CSA finally turned up (15 minutes late) I was first in the queue and found myself approaching the dreaded security. No shoes off this time but he wanted to see my ID with my boarding pass. Why on earth aren't ALL the bloody airports the same? Sheesh!

Anyway, soon into the Departure Lounge with a magnificent view over the (empty) ramp. Here, a cup of Latte costs £1.40 compared to £2.45 outside.



>>
While I sat there the old 748 taxiied back to the Emerald hanger after another ground run
>>
>>

Not long after my mighty flying steed also taxiied in

Which, for some reason, won't appear in picture form, so imagine a Let-410 taxiing ok?

This proceeded to park nicely positioned side on to the terminal. I was amazed when a man pulled a set of 737 boarding steps out! But, it was just so the fuel man could gain access to the overwing tank filler points on the wing. After watching the F/O refuel all four tanks I was amazed to see him go back and reopen them and put more fule in! Apparently the fuel guages don't work that well - comforting that!

Well, we finally boarded as the last rays of the setting sun were glistening off the scrap bits scattered around the airport. As we taxiied out the pilot checked the brakes, putting the fear of God into the passengers as they groaned and creaked! Still, at least they worked!

After a short 25 minute flight I arrived back in the Isle of Man thoroughly tired but happy, having had a relaxing, different and stress free day.