Going Down Under: MUC-DXB-SYD on Emirates A332 & A345
Intro
In spring 2006 I decided to travel to Australia in order to visit an old friend in Brisbane. Though were many interesting options available, it was quite clear from the very beginning I would choose Emirates. Main reason: Getting both the A340-500 and B777-300 (non-ER). When I checked all fares I even found out that Emirates was the cheapest option by far (some 1060 Euro), followed by Thai Airways (some 1200 Euro) and Qantas (some 1300 Euro).
Final itinerary: MUC-DXB (A332), DXB-SYD (A345), BNE-SIN-DXB (B773), DXB-MUC (B772).
Actually I would have preferred EK's one-stop service to SYD (EK 418 via BKK) on the B777-300ER because of one extra flight at no additional cost – but getting the A345 was a priority.
Tuesday, 19. September 2006
Munich (MUC) - Dubai (DXB)
Emirates EK052
22:35-06:30 (22:29-06:17)
Flying time: 05:24 (hrs)

Airbus A330-243
A6-EAE (msn 384), delivered 01/2001
Economy, seat 33K
Online Check-in
Exactly twelve hours prior to departure I logged on EK's website and checked in. Many seats were still available and I chose window for the short flight and aisle for the long haul flight. More than 13 hours with an IFE box under my seat would be simply too much. I printed a confirmation and didn't need to be concerned any more about the usual "seat choice stress" while checking in at the airport.
"Short of Staff"
Shortly after eight in the evening I arrived at EK's counters and was surprised that no dedicated "Online Check-in counter" was available – though clearly advertised on the website. I had no choice but waiting in a regular row, with no progress noticeable for 15 minutes. Two large families at both counters with masses of suitcases and boxes slowed down the whole process. Finally I spotted a lady in an EK uniform and asked about the "Online Check-in".
"Oh, we are a bit short of staff today"
, she answered. Though, after some more minutes she waved her hand and offered me to wait at the Business Class counter. With only one person in front, all the waiting was over soon and I got my boarding passes within a few moments...
Shortly after 21:00 I went through security and overheard a conversation of two screeners, one saying that
"163 passengers of the Emirates flight"
would have to be checked. Boarding later confirmed that relatively low pax number.
First of all, I checked the aircraft's registration: A6-EAE was parked at the gate, still wearing the World Cup titles.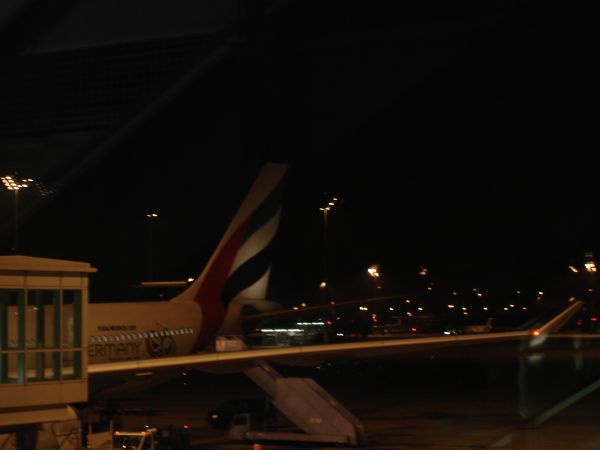 Flight
Boarding was started close to 22:00 and it didn't take very long until everyone was seated. After a very friendly welcome at the door I went down to row 33 and took my seat. First of all I noticed how hard that seat was, probably one of the hardest long haul seats I had ever experienced. Then I checked the well-known IFE box under the seat and found out there was still room for my carry-on luggage.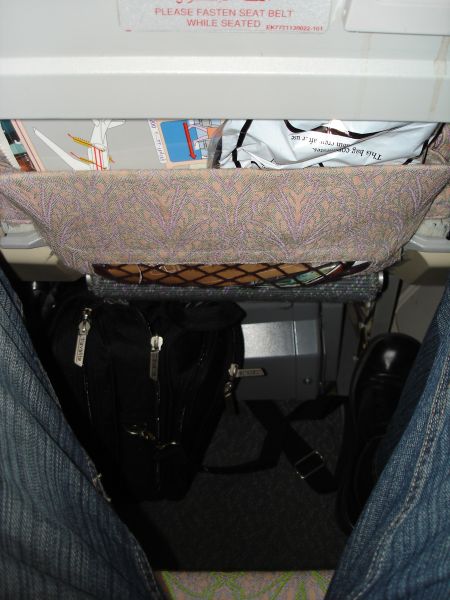 However, I could soon store my bag under the aisle seat since boarding had been completed and it turned out I would have the row for myself. Interestingly, the seats are quite high and there's no space in between, giving travellers some more privacy.
Very welcome feature: live pictures from the front camera.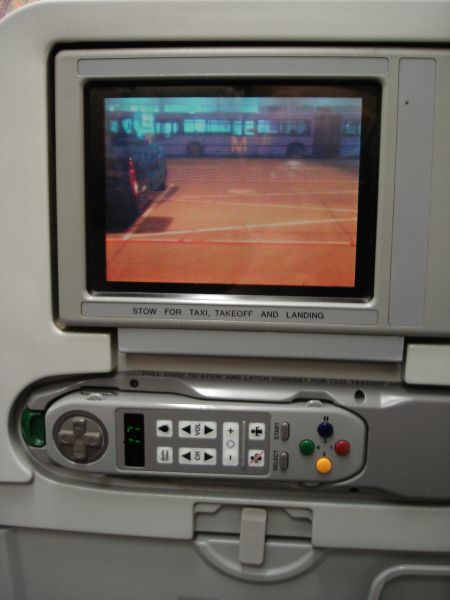 At 22:29 we were pushed back and ten minutes later we turned in for departure at runway 26L.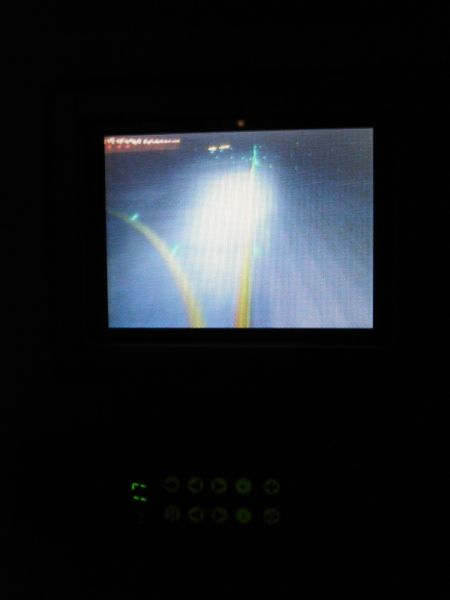 We already accelerated while turning in, though the Trents weren't really kicked. The LH Technik hangar brightly illuminated: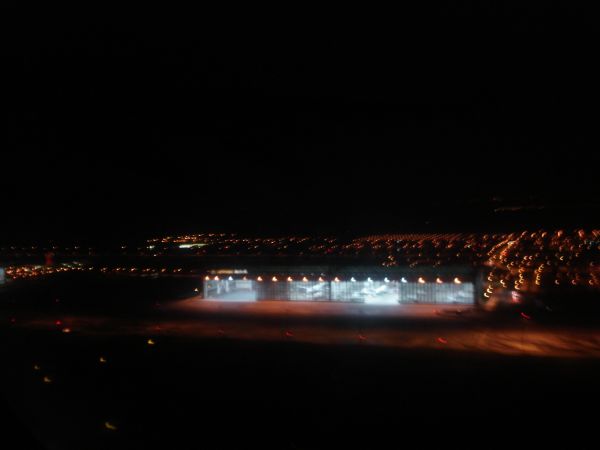 After flying a wide left turn we overflew the city of Munich and one could even see the "Wiesn" (Oktoberfest). Unfortunately, it was too far away for a shot without flash.
IFE
The entertainment system on the A330 is not the latest, though it offers 68 different movie/TV options, 26 radio channels and 50 games. The front and down cameras are quite useless on a night flight. Most of the time I watched the air show channel, though what I found disturbing was the frequent interruption of the airshow programming by advertising for different EK services.
"Short of chicken"
Menu cards were distributed early in the flight and I had decided to take the spicy chicken medallion. However, one row in front of me I overheard the FA saying:
"Sorry, we're short of chicken. Can we offer you fish please?"
I wasn't pleased – I usually eat fish, but the description of the chicken main course sounded better. When they came to my row I said I would still prefer to get chicken. Then the FA offered me "some food from Business Class" as an alternative.
"But only after they have finished, that takes at least half an hour"
, she added. Since I was hungry and didn't want to risk of being forgotten I finally accepted the fish.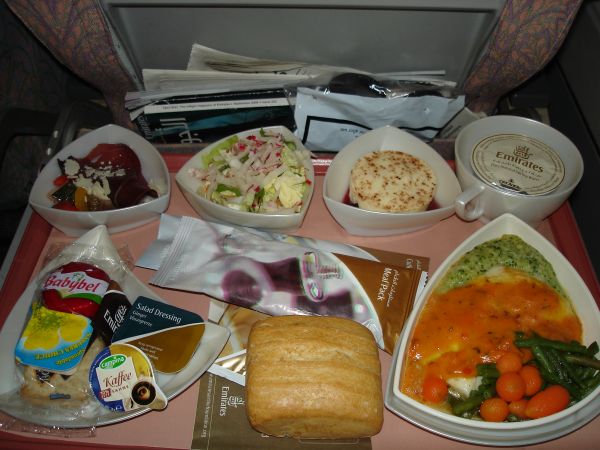 The main course was a pan-fried fillet of Tilapia with a saffron and tomato cream sauce, accompanied with broccoli flavoured mashed potato, carrots and French beans. As appetizer a "Breasola" was served, consisting of air-dried beef and a marinated grilled vegetable salad, topped with parmesan. Also on the tray: a seasonal salad, bread and butter, cheese and biscuits. The dessert was a "Morello Cherry Wedge" – a crunchy biscuit base, topped with morello cherry filling, encased in white chocolate mousse.
While the portion was very filling, the fish and the tomato sauce were quite flavourless. Best of all was the dessert. A wide range of alcoholic beverages was available free of charge – with the exception of Champagne which costs 30 Dirham.
After the meal I tried to get some sleep, but the hard seats didn't help. After cabin light had been dimmed and many passengers were sleeping or trying to, the FAs frequently passed through the aisles and offered water and different juices.
No breakfast
Interestingly, EK didn't serve a breakfast prior to arrival, only drinks were offered. On Etihad's FRA-AUH service (identical flying times) we did get a breakfast. Though, I wasn't hungry anyway this time.
The rest of the flight was uneventful and after only five hours in the air we already started our approach.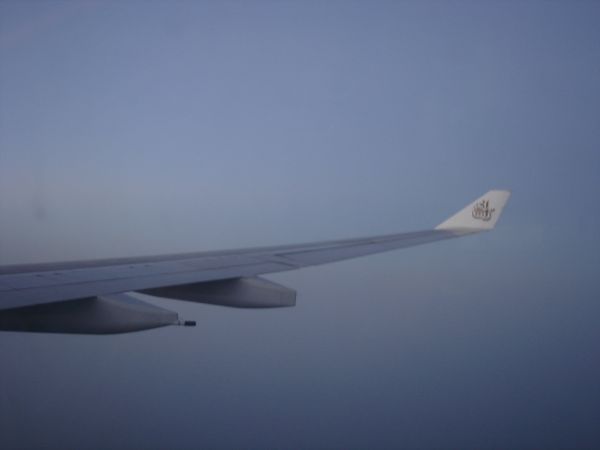 It was very foggy over the Persian Gulf and even over Dubai's harbour...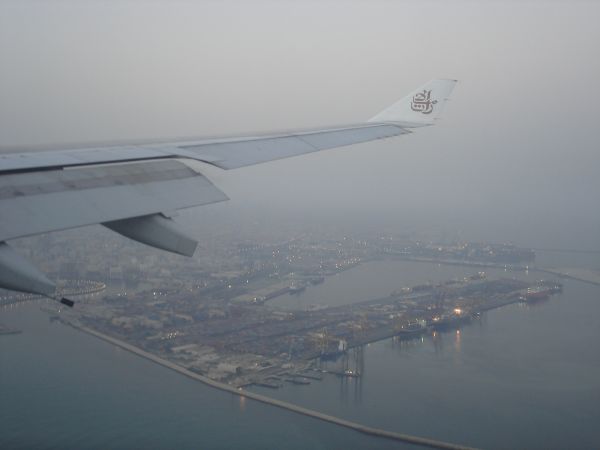 ...and the city.
We touched down gently at 06:03 but it should take a total of 14 minutes until we reached our parking position – after taxiing around the whole terminal building. On the other side we stopped at the very last stand and even had to disembark on stairs. However, perfect opportunity for a shot: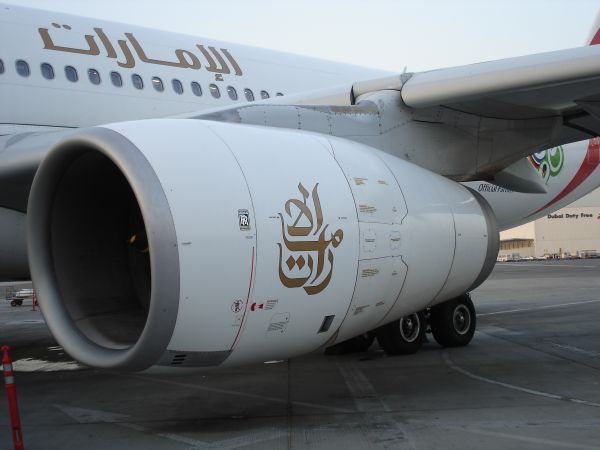 Dubai Airport
Transit passengers had to leave the bus at the first stop and pass a security checkpoint. When I entered the large hall I was surprised by the masses of people rushing around, with a further concentration in the open duty free area. After some minutes I walked up to the departure level and found out that access to the large windows is very limited. Only passengers for their particular flights have gate access, so there are only few places where spotting is possible.
My gate wasn't shown on the monitors yet so I simply walked around. There's a lack of seats in certain terminal areas so that large groups of travellers sat on the floor and didn't make it easy to pass. After a while I went to a restroom and the presence of several cleaning staff seemed to be a good sign – though I was disappointed when I found the fixtures and the floor covered with water. Not really encouraging...
Like at LHR, one has to wait until about an hour prior to departure before the gate number is shown on the monitors. When EK412 finally appeared on the screen I walked all the way down to the end of the terminal.
Wednesday, 20. September 2006
Dubai (DXB) - Sydney (SYD)
Emirates EK412
10:15-06:05 (11:09-06:51)
Flying time: 13:23 (hrs)

Airbus A340-541
A6-ERJ (msn 694), delivered 09/2005
Economy, seat 36B
Delay
I was very interested to find out which A345 would operate the flight, though at around 09:00 I found the parking space at the gate still vacant. When I checked again 15 minutes later, A6-ERJ – EK's tenth and last A345 – had arrived at the gate.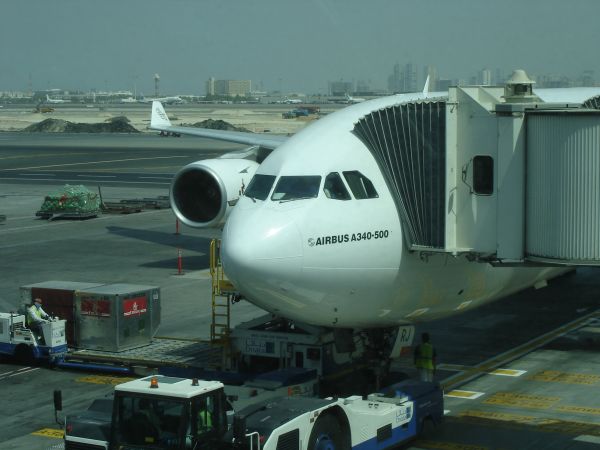 Then I saw passengers disembarking – it was obvious the aircraft had just arrived from a long haul service and for certain it would take longer than an hour to turn it around for the flight to Sydney. Though, no announcements were made. Later, after boarding had been completed, the captain explained that the aircraft had arrived late from JFK.
Boarding started at around 10:30 and - according to an announcement - should be done by seat rows in Economy, but no further calls were made. The result was a long queue because passengers destined for seats all across the cabin blocked the aisles. Not a really organized boarding process. I used the waiting time for taking another picture: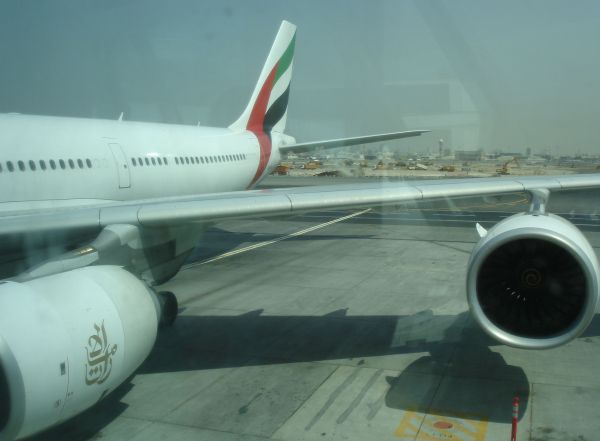 Flight
Condensation vapour was streaming out of the air conditioning slits while I went down to my row. A young lady was seated at the window and we had some small talk in English – later we found out we could have used German from the beginning because she was from Switzerland.
The flight was packed, apparently no seat remained empty. Consequently, boarding took its time but nine minutes after 11:00 we were finally pushed back – almost an hour behind schedule. Minutes before we had received an amenity kit with socks and eye patch as well as a hot towel. The seats are much more comfortable than on the A332, but after 10 hours it's also more than enough.
Takeoff
Faced with the noon heat at DXB, the four Trents started accelerating the heavy aircraft at 11:22. After a rather long takeoff roll A6-ERJ slowly lifted off, climbing towards the sea. Suddenly, while still quite low, we flew a sharp left turn and I had an amazing view of the city district below – including the Dubai Creek Golf and Yacht Club. Comfortable seating meant having no option to take pictures in that particular situation...
Lunch
Shortly after takeoff crackers and drinks were served, followed by lunch some time later. Again I had decided to take the chicken while reading the menu card and this time the supply was sufficient.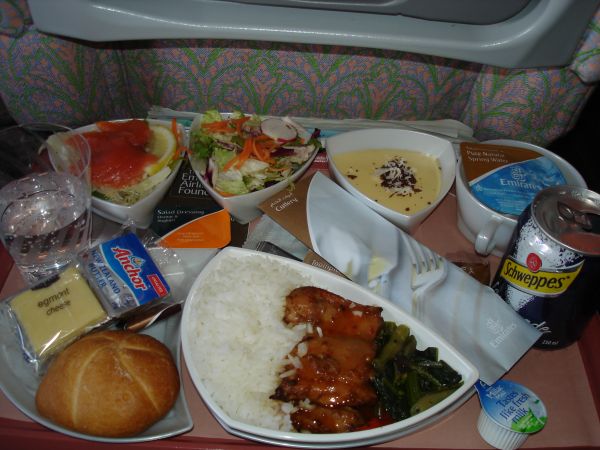 The main course was a marinated chili chicken thigh, served with a sweet chili sauce, accompanied with steamed rice and stir-fried vegetables. The appetizer was smoked salmon with marinated coleslaw salad. Again, a seasonal salad, bread, butter, cheese and biscuits were served. The dessert was a mango and raspberry mousse, topped with chocolate. No complaints about that meal, tasty and filling.
When we came closer and closer to Male I watched out for any islands, but all I could see was clouds and blue sea.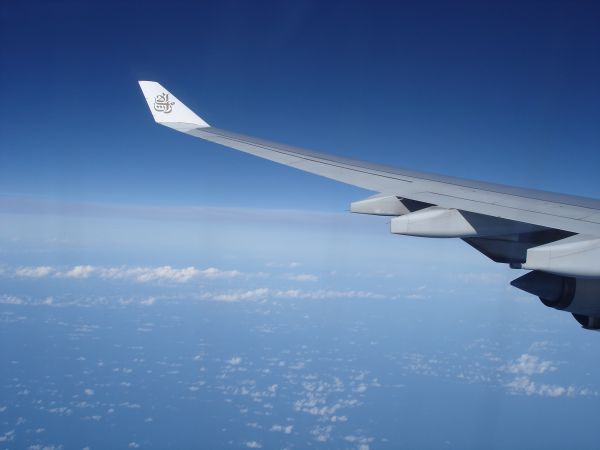 ICE
Now it was time to fully explore
ICE
– EK's famous entertainment system. Here's the main menu: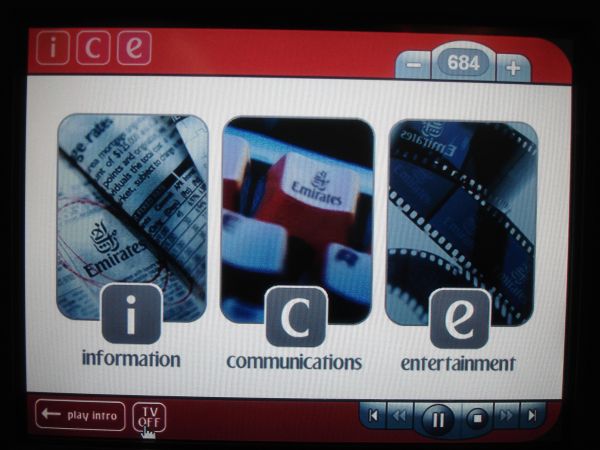 Control is easy, either by touchscreen or handset. The variety of channels is absolutely amazing - here's a short overview:
Information: airshow channel, news, information about Skywards, Emirates and Dubai
Communications: seat-to-sea calling, phone, email&messaging (wireless LAN for laptops)
Entertainment (audio/video-on-demand): More than 500 different channels, including radio & CDs (over 6,000 music tracks, pod-casts), more than 140 movies (new releases, all time greats, Disney classics, Arabic & world cinema), 65 TV channels (comedy, quest, sports, drama & arts) and 41 games.
Each movie and each music track can be started, stopped, re-winded at any time. Extremely interesting features are the UK charts with every single no.1 hit since 1952
(!)
, the latest albums, essential albums and very best albums. I couldn't believe it but I could leave my MP3 player in my bag.
Here's "Stadium Arcadium" by the Red Hot Chili Peppers: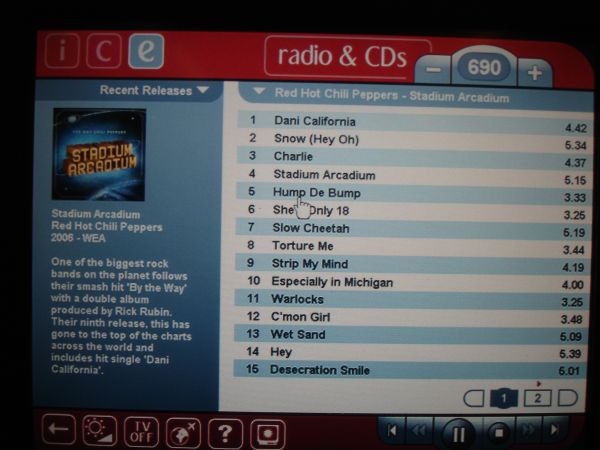 I listened to music for probably two hours and watched "16 Blocks" – even available in German (like many other movies). Then I had a look at the company profile – and discovered serious mistakes on the fleet page. They use an A332 picture for the B773s and a B772 picture for the A332... :rolleyes: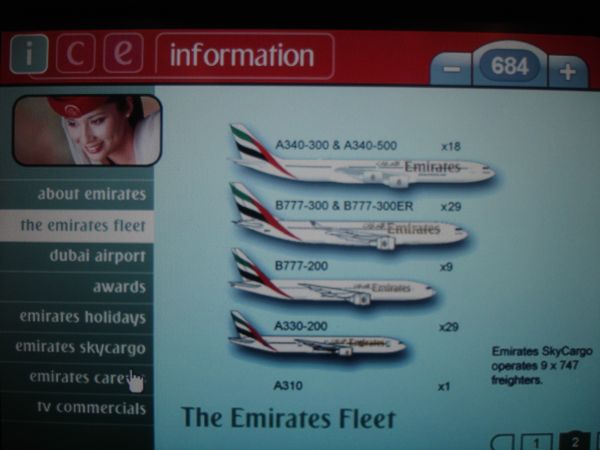 The ICE guide is a small book with almost 60 pages – on page 2 there's a table of contents (small size type), with a funny message:
Emirates would like to apologise for having to use such a small type size, required to list the large number of channels available.
There wasn't really much to complain about the IFE system. However, the airshow is permanently interrupted (like on the A330) and both front and down camera weren't available.
Snack
After the "ICE-marathon" a hot snack was very welcome – I took the beef and onion wrap: sliced beef, mixed with purple onions, tomatoes and mango chutney wrapped in Arabic bread. Several chocolate and granola bars were also available.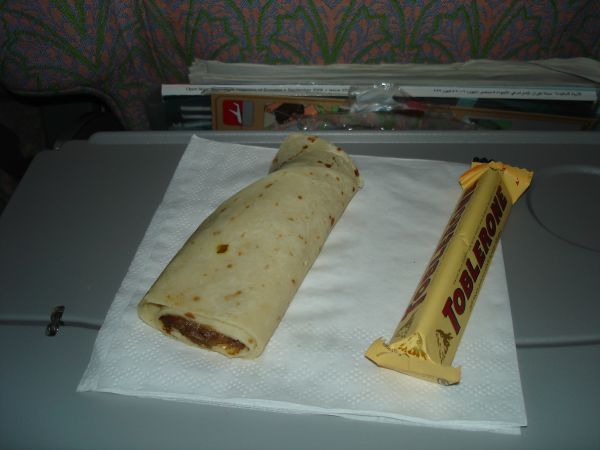 Finally, I tried to relax a bit in the dimmed cabin. Exclusively on EK: Dubai's starry sky on the ceiling.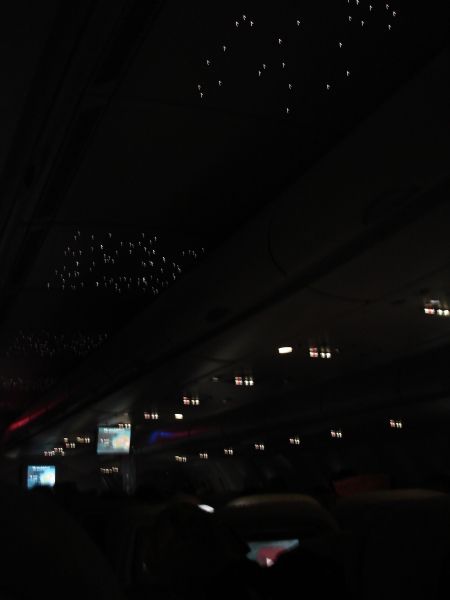 Some hours later we had almost reached the Australian west coast – and still 4950 kilometers ahead of us.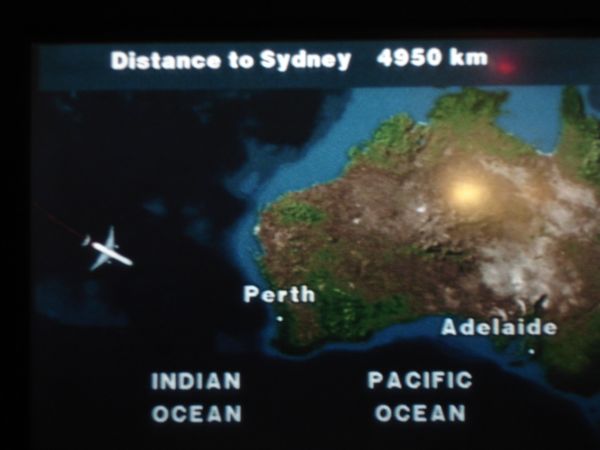 In contrast to the shorter MUC-DXB flight, FAs didn't regularly pass through the cabin with drinks. And unlike certain other carriers, EK didn't offer a self-service bar in the galley.
Breakfast
I killed some more time easily by using ICE and about an hour prior to arrival a hot breakfast was served. I took the omelette with grated Gruyere cheese, accompanied with creamed spinach, tomato wedge, grilled veal sausage and roesti potatoes.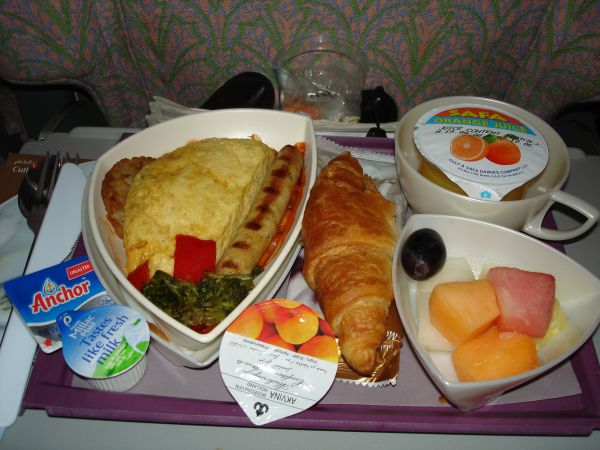 It tasted very good, though tea and coffee followed too late and rushed. I noticed one young female FA who seemed to be new in the job – several times some items fell off the trolley when she put trash up there. Once a can even struck my shirt – fortunately it was empty.
The remaining flight was uneventful and descent into Sydney was started. Again I couldn't take pictures from my aisle seat, but we didn't pass the Skyline anyway. At 06:45 we touched down gently and taxied to the International terminal where we parked next to Virgin Atlantic's A346 G-VFIZ.
Sydney Spotting
With many passengers arriving at the same time, it took a while to pass all the checkpoints, including immigration and customs. Finally I reached the exit and left my luggage at a storage facility. Then I went up to the departures level and entered the observation terrace which is an excellent facility, offering great views of most parts of the airport. "Wunala Dreaming" with Sydney's skyline in the background: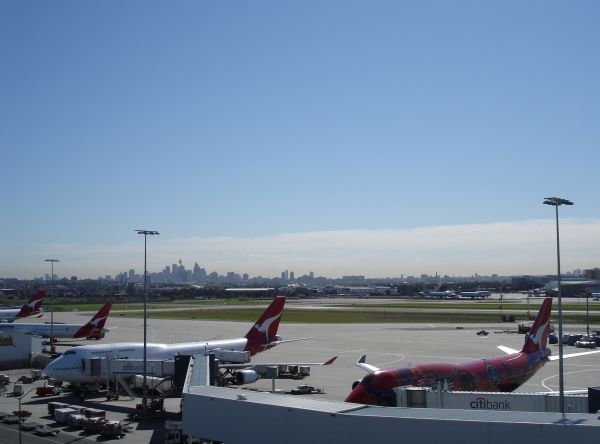 I met an older British spotter later and we could log a large number of interesting birds. Here's A6-ERJ leaving again on its way to Christchurch: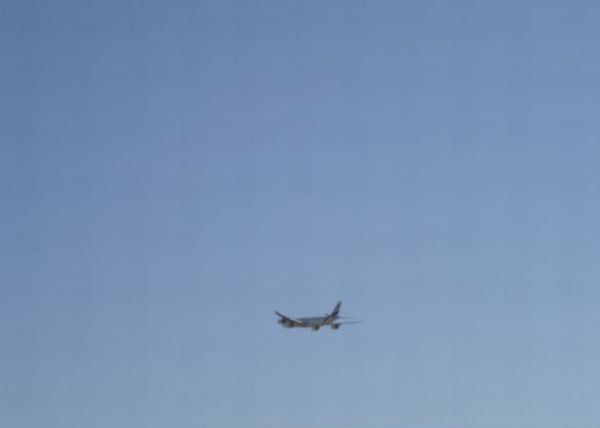 In the early afternoon I finally took a bus to the hotel and finished the day – the next flight to Melbourne was already scheduled to depart at 06:30 in the morning.
Conclusion
In general I was absolutely satisfied with flying Emirates, despite some deficiencies – which can occur on any carrier, of course. FAs are widely professional and friendly, cabins are clean and in good shape, meal portions are enormous, the food's quality is good. Even the regular IFE (non-AVOD) is already very advanced and better than on most other carriers. The seat quality can be limited (e.g. A332), pitch is not different from other carriers. ICE simply beats any competition, no need to elaborate further. I wouldn't have a problem to go on a 20 hours-flight with that kind of entertainment.
Dubai airport as a transit hub needs to be improved, but I have no doubts that this will happen. I can only recommend travelling on Emirates and will fly them again in the future.
Domestic trip reports (Jetstar, Qantas, Virgin Blue) :
Return trip on Emirates (BNE-SIN-DXB-MUC) :
As usual, comments, opinions and questions always welcome!
Best Regards,
PlaneHunter