"Triple 777": BNE-SIN-DXB-MUC on Emirates B777-200ER & B777-300
For all those interested - the MUC-DXB-SYD report (EK A332 & A345) can be found here:
Online Check-in
Exactly 12 hours prior to my departure I logged on EK's website and checked in online. Again, it worked well and I chose my seats for both EK433 (BNE-SIN-DXB) and EK049 (DXB-MUC). While it was no problem to reserve a window seat in the second last row on the B772 to MUC (38K), all similar rows (two seats abreast only) on the B773 to DXB were already occupied - apparently by pax from AKL who had been able to check in earlier. So I chose 44K and hoped for a light load.
At the airport I had to wait only a few minutes in line. There was a dedicated online check-in counter, but I was called to another one. Within a few minutes a very friendly agent gave me the boarding passes.
Spotting
I spent the remaining hours in the gate area where huge glass windows enable good views of the runway. Fortunately I got several more interesting registrations and finished my Australia trip with 161 new regs at SYD, 49 new regs at BNE and 18 new regs at MEL.
Friday, 29 September 2006
Brisbane (BNE) - Singapore (SIN)
Emirates EK433
20:05-01:50 (20:10-01:38 )
Flying time: 07:07 (hrs)

Boeing 777-31H
A6-EMR (s/n 402), delivered 05/2002
Economy Seat 44K
EK433 from Auckland arrived some minutes early and the aircraft turned out to be A6-EMR, built and delivered in 2002.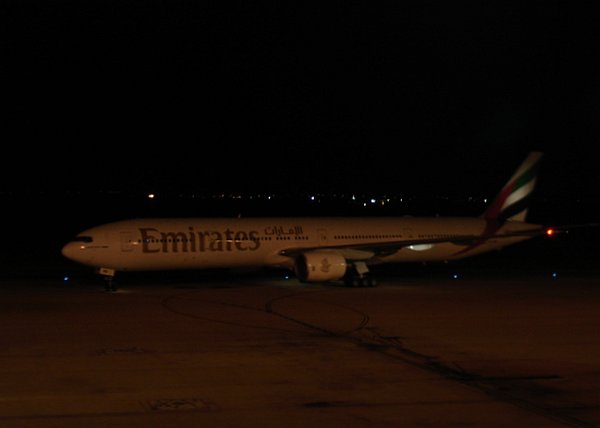 The B773's long fuselage really stands out, particularly when parked next to some A320s.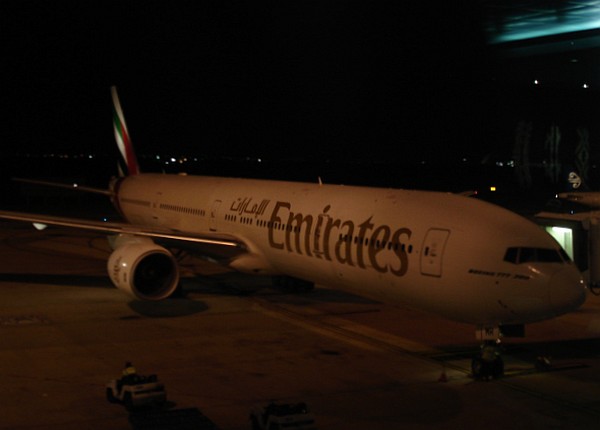 Boarding
Boarding was started on time and I wondered about the load. The gate was quite filled, but I wasn't sure whether transit pax from AKL had been allowed to stay on the plane. I was welcomed by some friendly FAs and walked down all the long way to row 44.
Space...
Shortly after 20:00 it seemed the passenger flow had stopped - with the remaining seats in my row still empty. Then I asked and got a confirmation: boarding completed. I guess the load factor was somewhere between 60 and 70 percent.
For the next eight hours I would be able to enjoy lots of space. The seats are quite comfortable and don't feel narrower than on a 3-3-3 configuration. Though, the aisle seems to be indeed narrower.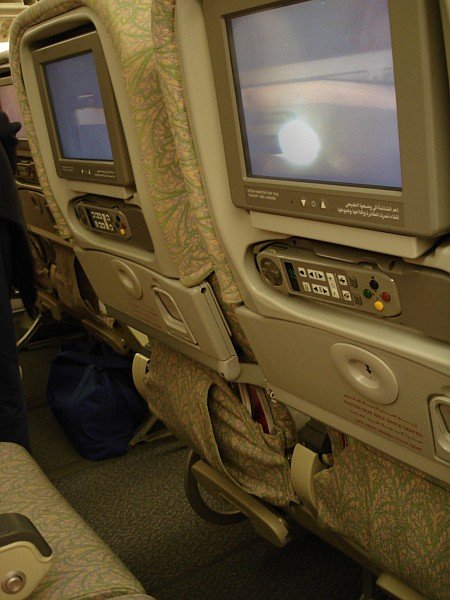 Takeoff
Hot towels were distributed, pushback followed at 20:10. Only ten minutes later A6-EMR turned in and started a rather long take off roll. Just like on the B77W the plane's rear section was oscillating.
Climbout towards the ocean into a black sky: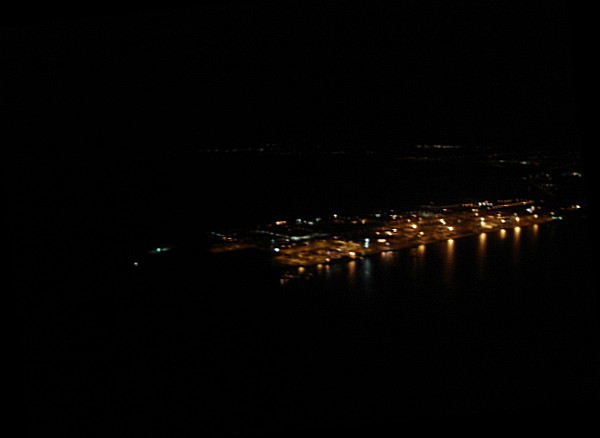 Soon we turned left and flew straight across "The Great Dividing Range":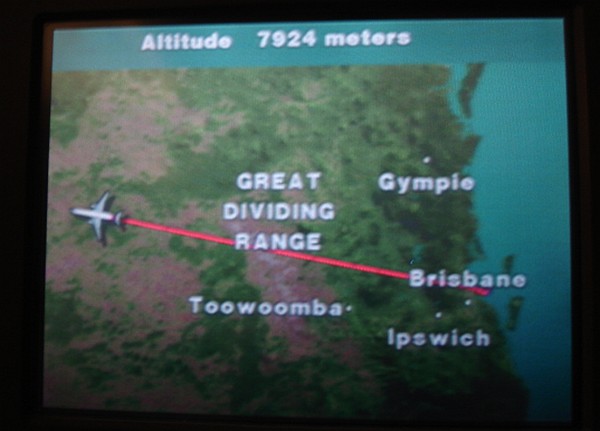 Dinner
Menu cards were distributed and I chose chicken over fried noodles and prawn. Here's the complete meal:
Appetizers

Tasmanian hot smoked salmon accompanied with seed mustard and chive potato salad
Main course
Sautéed chicken with mushroom sauce, served with creamy mashed potatoes, buttered green beans and carrot batonettes.
Dessert
Strawberry cheesecake: light cheesecake with strawberry topping and whipped cream.
Additionally, there was a seasonal salad, bread and butter as well as cheese and biscuits. Again it was a filling and tasty meal, but the drink service came too late.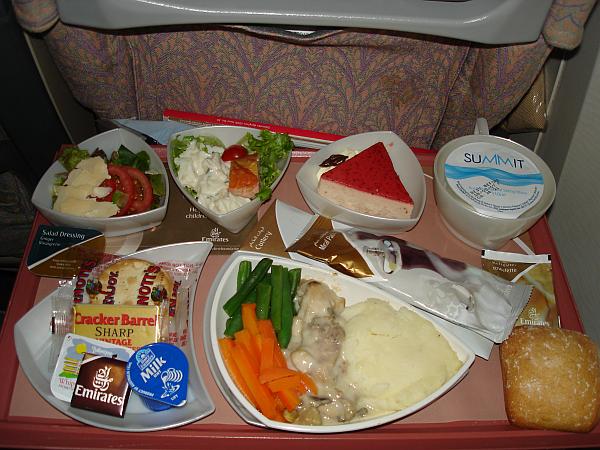 IFE
The inflight entertainment system on EK's B773s is the same as on the A332s. Not video/audio on demand, though it offers 68 different movie/TV options, 26 radio channels and 50 games. The front and down cameras are quite useless on a night flight. Most of the time I watched the air show channel or played different games - while stretching out over three seats, of course.
Snack
Two hours prior to arrival at SIN a snack was offered. The choice was between a "lamb and tsatziki wrap" and an "aspargus and capsicum wrap". Additionally FAs offered a selection of fresh fruit and different chocolate and granola bars. Here's the "aspargus and capsicum wrap":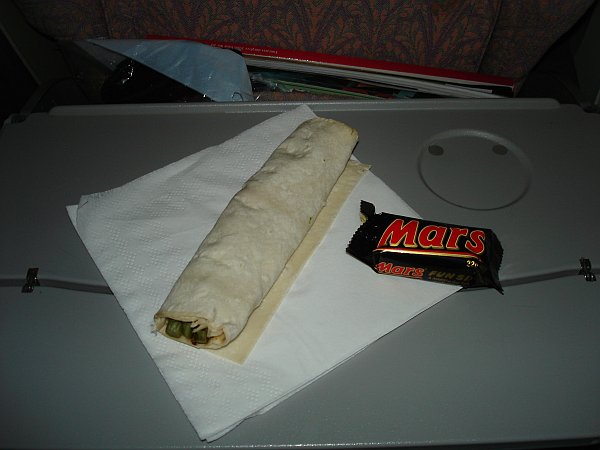 Short stop
The remaining flight was uneventful and after seven hours and seven minutes we touched down gently at Singapore Changi. It wasn't very busy in the middle of the night, though I could log some registrations. We parked at a gate next to another EK B773 which had arrived from Melbourne, operating EK405. DXB-bound passengers could stay on board but like most people I decided to go on a walk though SIN's transit area.
Saturday, 30 September 2006
Singapore (SIN) - Dubai (DXB)
Emirates EK433
03:00-06:00 (03:00-06:03)
Flying time: 06:45 (hrs)

Boeing 777-31H
A6-EMR (s/n 402), delivered 05/2002
Economy Seat 44K
Packed cabin
The gate area was absolutely packed when I returned after 30 minutes and I expected a higher load this time. Indeed, when I came back to my row one man was already sitting at the aisle. He was a friendly guy Pakistan and we talked a bit about our trips. The cabin was getting filled and one of the last remaining empty seats was our middle seat. Just when I expected the boarding to be completed a tall guy came down the aisle and he was indeed bound for the middle seat...now I could test the 3-4-3 configuration under extreme conditions.
I somehow guessed he was German and my impression turned out to be right. He had no clue about spotters at all and asked me
"is there anything special out there?"
when I watched out for registrations with my binoculars...and after I told him about the hobby he said:
"Really? That's odd."
Qatar Airways A332 A7-AFN parked next to Xiamen Airlines B73G B-2991: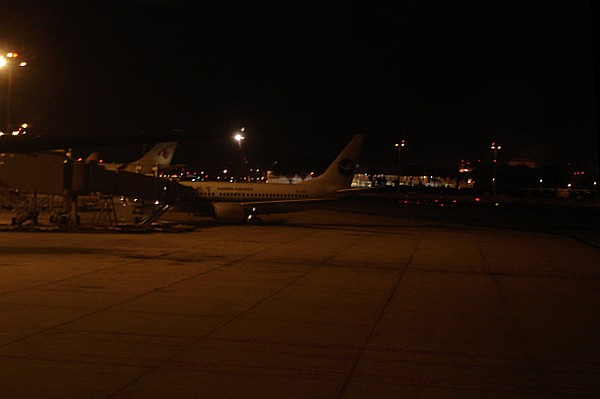 Limited space
We left the gate on time and took off only few minutes later. Most people around opted for sleep, including my neighbor, which meant I was somehow stuck in my seat. Space was very limited in that full row but it wasn't any different from 3-4-3 on a B747 or 3-3-3 on the B777. The IFE box under the seat didn't help either but at least it guaranteed entertainment.
Snack
About an hour in the flight a very tasty snack was served: two sandwiches, topped with peppered beef pastrami and cream cheese with fresh herbs, accompanied by a fresh strawberry & vanilla pudding tartlette: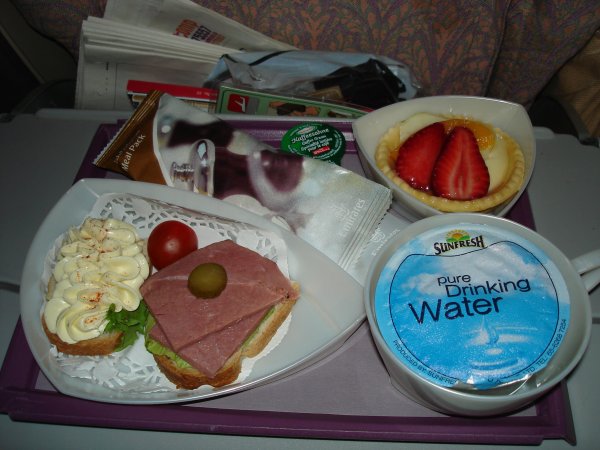 Crossing India at 10972 meters:
Breakfast
Thanks to the IFE time passed quickly and 1,5 hours prior to arrival the FAs started serving a large hot breakfast. There was a choice between a Swiss cheese omelette and stir-fried noodles and decided to try the former. It was served with mushrooms provencale, mixed peppers and sable potatoes. The breakfast also comprised fresh fruit, a warm croissant, a muffin, bread, cheese and crackers - very tasty and extremely filling!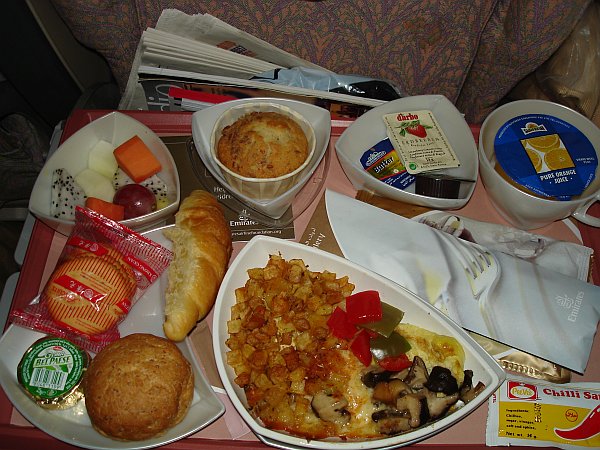 Sunrise...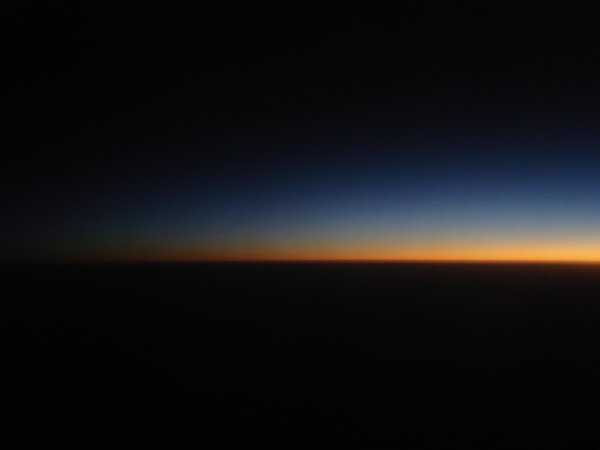 On approach to DXB through a foggy sky: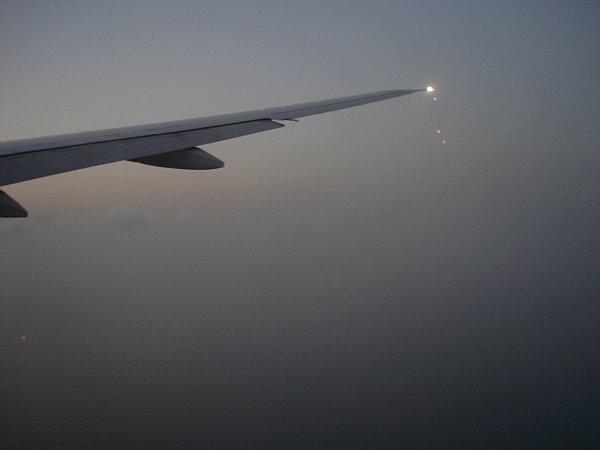 Here's a view of the water close to the coast - and it looks like the bright areas are artificial sand banks for Dubai's island projects: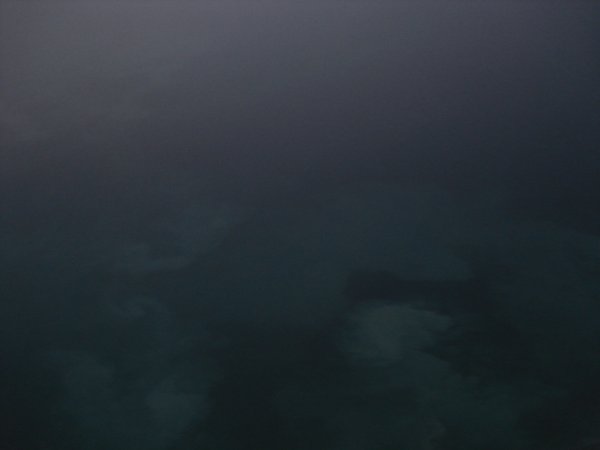 Short finals - time to switch to...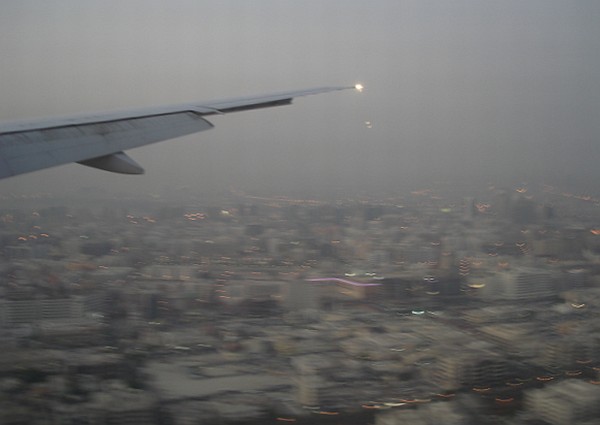 ...the front camera channel. Yet again a foggy morning at DXB.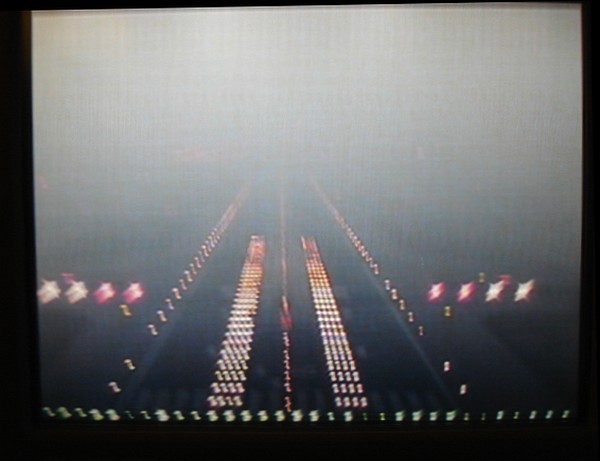 Just like after arrival from MUC our aircraft was parked at a remote position.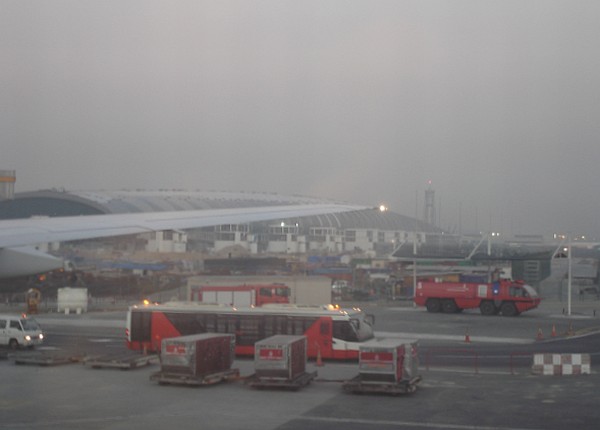 Though it takes longer to reach the terminal via bus transfer, it's always nice to "shoot" the engine.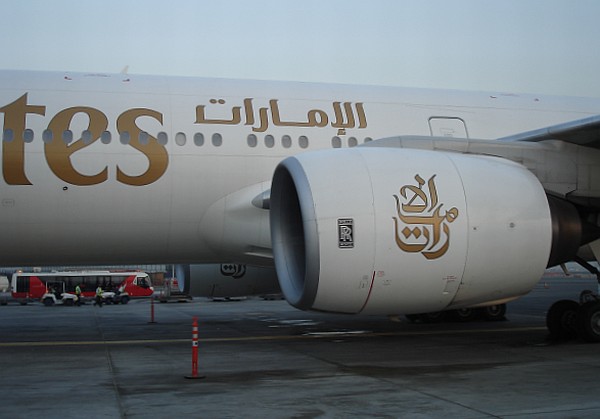 Dubai Airport
The bus transfer turned out to be very useful because we passed some 20+ Emirates aircraft parked at the terminal and I could easily log their regs. Again the airport was really packed during the morning rush, again there weren't enough seats for the masses of transit passengers and numerous people were simply laying on the floor. However, the toilets were clean this time - at least in the bus gates area at the southern end of the terminal where my MUC flight was scheduled to operate from.
Extremely remote…
Boarding started on time and since no gate position had been available for the MUC flight we had to enter a bus again. This time we went in the opposite direction and I expected we would probably end up somewhere next to A6-EMR. However, we passed some 15 EK aircraft and were brought to an extremely remote parking position where A6-EMH was being prepared for EK049.
Saturday, 30 September 2006
Dubai (DXB) - Munich (MUC)
Emirates EK049
08:35-13:00 (08:42-13:04)
Flying time: 05:49 (hrs)

Boeing 777-21HER
A6-EMH (s/n 054), delivered 05/1997
Economy Seat 38K
Seating
After being welcomed by very friendly FAs I sat down in the second last row - one of the few with only two seats abreast, which also means additional space.
Boarding was completed soon and I was glad that the aisle seat remained empty once more again. Actually the load was very light with only 50 percent of the rear Economy section being occupied.
ICE on board
When I touched the screen a red framed menu appeared and I was glad A6-EMH had already been upgraded to ICE - EK's excellent IFE system. Though, just like on the A345, front and down cameras were switched off.
Parked next to us: A6-EBA, EK's first B777-300ER.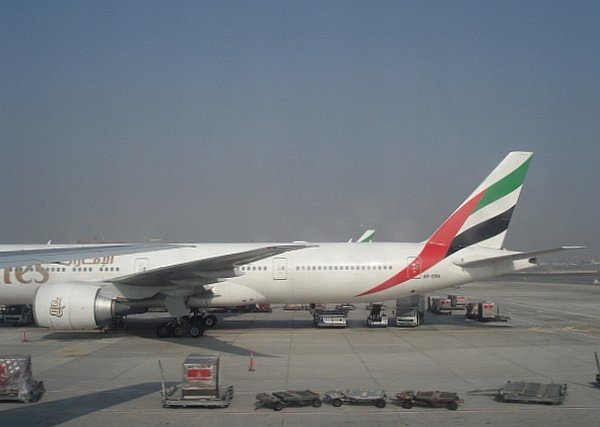 Takeoff
After pushback it took a while until we reached the runway from our remote position. Then the two RR powerplants started accelerating for a rather unspectacular takeoff. Passing the new unfinished terminal section which will double DXB's current terminal capacity: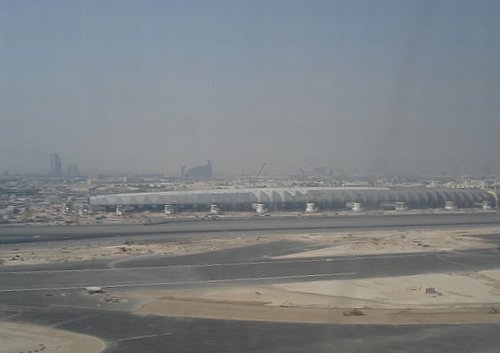 The remote area where we had been parking only 25 minutes ago: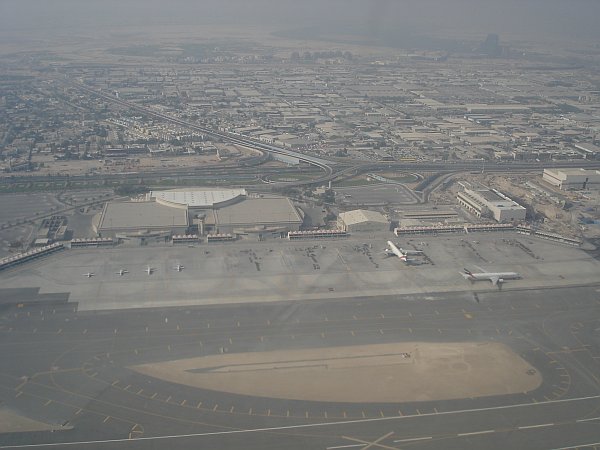 DXB's VIP area with one of Dubai Air Wing's B747-400: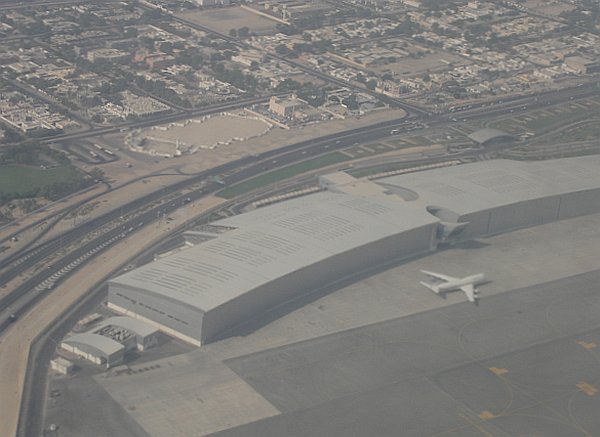 About 30 minutes after takeoff while cruising over Iranian airspace I spotted this lake which appeared to be red: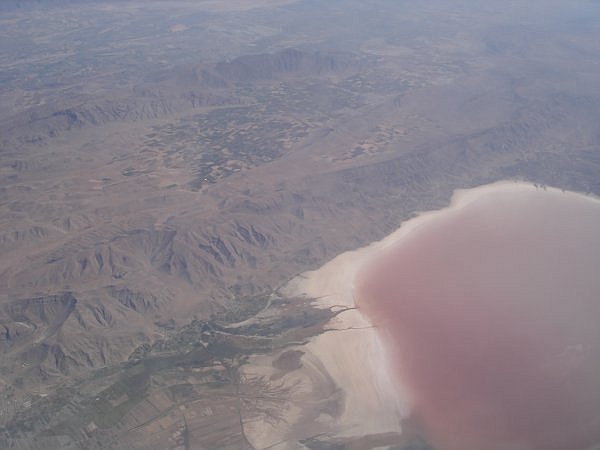 Breakfast
The friendly FAs soon started to serve breakfast, consisting of fresh fruit, a warm croissant (with more being offered several times), a chocolate muffin and orange juice. Again, everything was very tasty.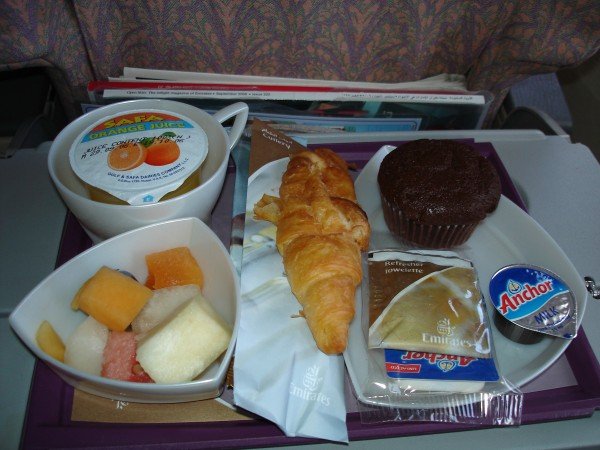 While eating I enjoyed looking at the beautiful Iranian landscape, with impressive barren mountains...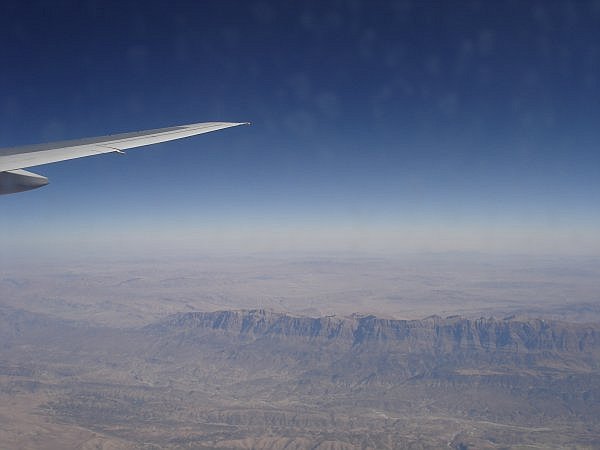 ...and numerous deeply blue lakes: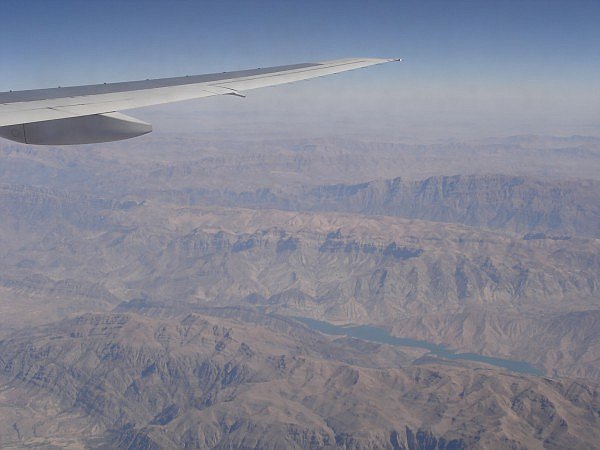 Suddenly I saw a white object and realized it was another aircraft...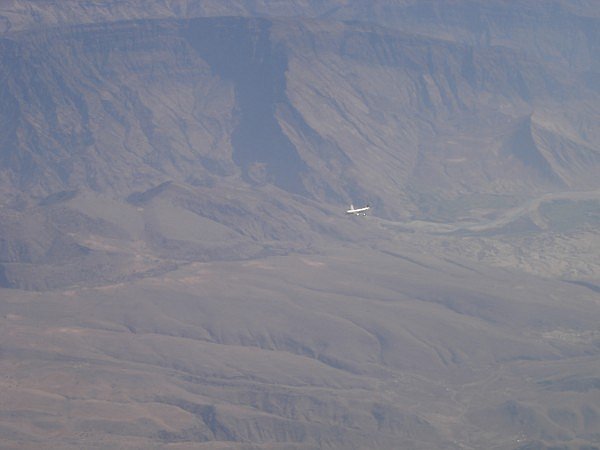 ...which turned out to be a white B747 freighter with blue engines, most likely Air Atlanta Icelandic. There had been one waiting for departure at DXB at the same time we took off, so this could be exactly the one: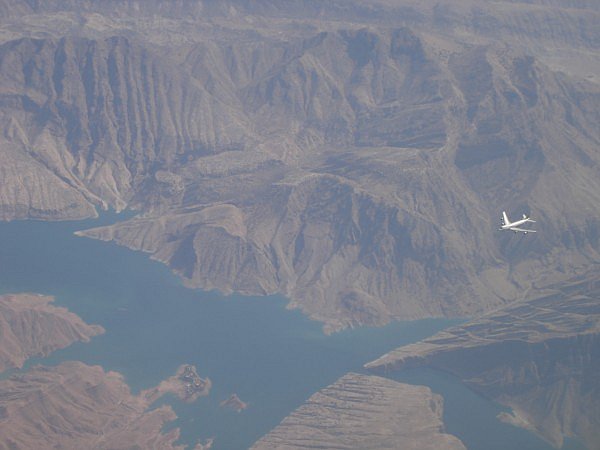 ICE
It was time again to explore the ICE system and I listed to numerous music tracks, e.g. "If you tolerate this…" by the Manic Street Preachers (UK no.1 hit list 1998 ):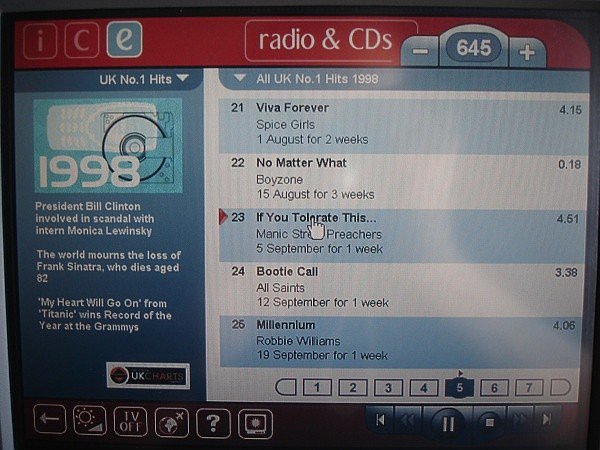 For all those who haven't read my A345 trip report, here's a short ICE overview:
Information: airshow channel, news, information about Skywards, Emirates and Dubai
Communications: seat-to-sea calling, phone, email & messaging (wireless LAN for laptops)
Entertainment (audio/video-on-demand): More than 500 different channels, including radio & CDs (over 6,000 music tracks, pod-casts), more than 140 movies (new releases, all time greats, Disney classics, Arabic & world cinema), 65 TV channels (comedy, quest, sports, drama & arts) and 41 games.
Each movie and each music track can be started, stopped, re-winded at any time.
Lunch
No meal cards were distributed on this flight (according to an FA, EK is currently working on new ones for this route), so I wasn't sure whether we would get a snack or a large hot meal. Well, I should have known better...
I was offered beef and I agreed immediately after having had chicken several times. And since I would be picked up at MUC, I ordered an ice-cold Heineken...
Appetizers

Smoked salmon accompanied with a mixed salad
Main course
Stir-fried beef with noodles, served with mushrooms, green beans and slices of red pepper.
Dessert
Vanilla cream on a selection of red berries, topped with chocolate.
In addition there was a seasonal salad, bread and butter as well as cheese and biscuits. The meal was good and filling as usual, but not as tasty as the other main meals on my trip.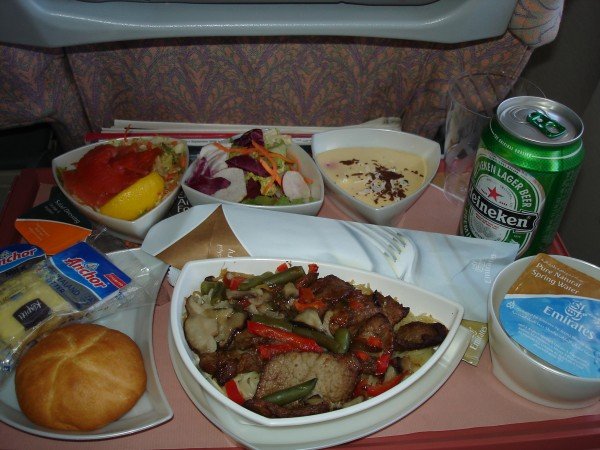 Thanks to ICE time passed fast - actually too fast - and we started the approach to MUC:
The B772's shadow on an acre: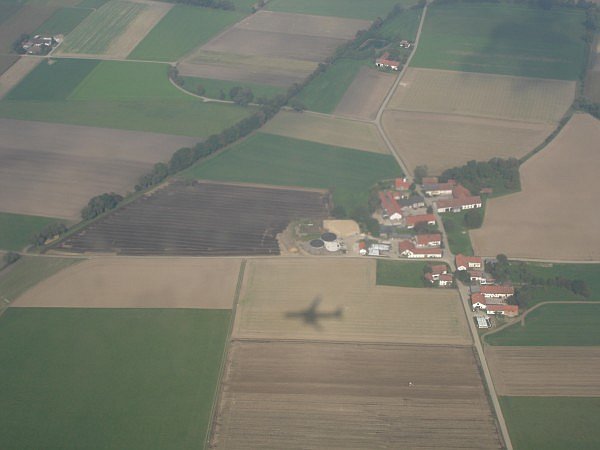 All the red roofs in the middle of the picture cover a large car park belonging to a "Park & Ride" company: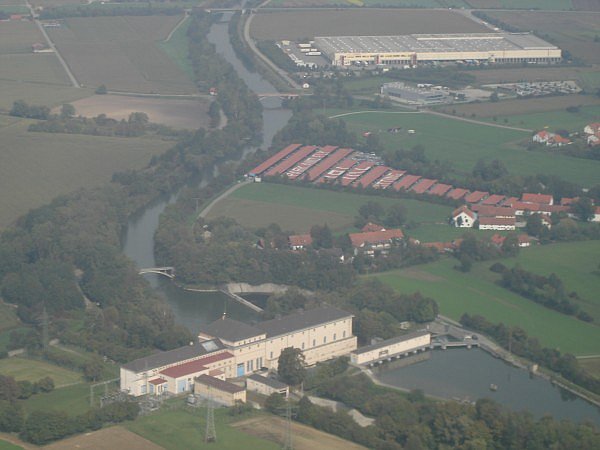 Seconds from touchdown at runway 26L: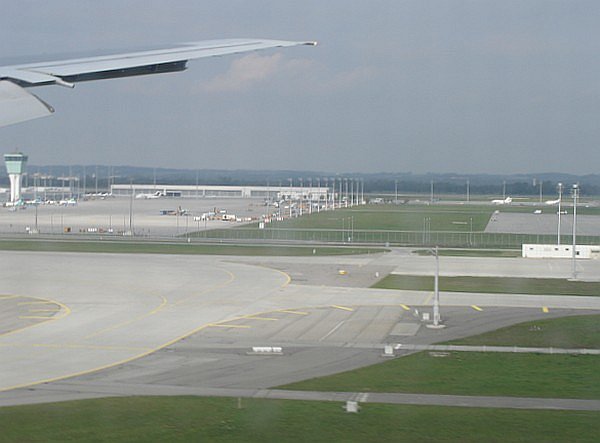 The terminal 1 area was rather deserted on that early Saturday afternoon, only few aircraft parked around our gate.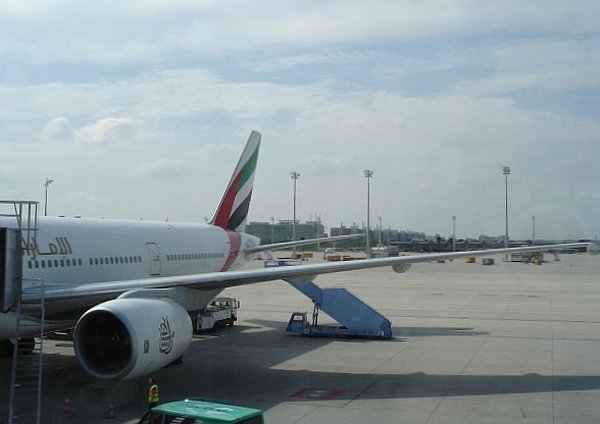 Disembarking didn't take very long but after leaving the aircraft I found myself in a large waiting crowd of passengers - only two immigration counters were open (EU and non-EU) and the queue didn't move. Unbelievable: some 200 passengers arrive on a flight and the authorities seem to be unable to guarantee a fast clearance.
Not even the crew could pass, nobody seemed to care. I used the time to take another picture of the aircraft's nose: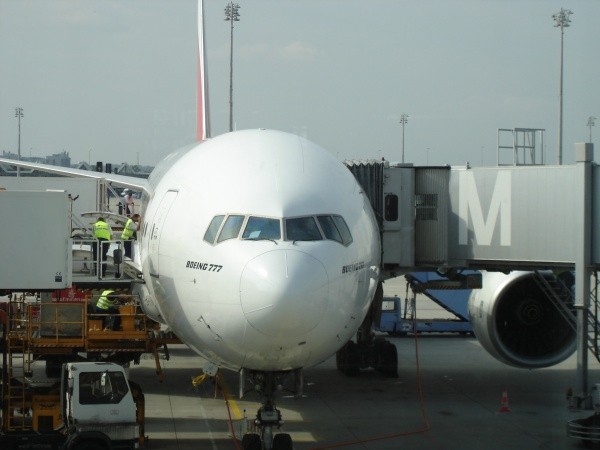 Finally, another counter was opened and after some 20 minutes of waiting I could pass, grab my suitcase and head home.
Conclusion
The conclusion is not any different from the one in my first report. In general I was absolutely satisfied with flying Emirates, despite some deficiencies - which can occur on any carrier, of course. FAs are mostly professional and friendly, cabins are clean and in good shape, meal portions are enormous, the food's quality is good, sometimes absolutely excellent. Even the regular IFE (non-AVOD) is already very advanced and better than on most other carriers.
The seat quality can be limited depending on the type, pitch is not different from other carriers - and even 3-4-3 on the B777 is not worse than 3-3-3. ICE simply beats any competition, no need to elaborate further. I wouldn't have a problem to go on a 20 hours-flight with that kind of entertainment. However, I would prefer to take a flight with short stopovers rather than a long nonstop service. EK433 (BNE-SIN-DXB) was more pleasant than EK412 (DXB-SYD), simply because one can leave the aircraft for a while and walk around.
Australia domestic trip report:
As usual, comments, opinions and questions welcome!
Best Regards,
PlaneHunter