Testing Qantas' Domestic Service: SYD-MEL-SYD-BNE on B738, B763 and A332
After posting the report about my Emirates flights to and from Australia I'll now add some domestic trip reviews. More background information and the EK trip reports can be found here:
http://forums.jetphotos.net//showthread.php?t=38452
http://forums.jetphotos.net//showthread.php?t=38847
Intro
Shortly after I booked my Emirates flights to Australia in spring 2006 year I added some Qantas domestic sectors to my itinerary. First of all I chose a flight from Sydney to Brisbane where I would stay most of the time during my visit. My plan was to spend a night at the Sydney Airport International Inn and continue the journey on the next day. So I chose QF524 (B767-300ER), departure time 12:05.
Some days later I added a QF round trip BNE-SYD-BNE for September 26 (B744 and B738 ), followed by a round trip to Hamilton Island (BNE-HTI-BNE) on Jetstar and Virgin Blue. However, some months later I found out that Qantas had changed the equipment of QF524 to a B738 – which meant I would get the B738 twice and miss the B763. Therefore I needed to react and finally decided in August to add an additional round trip, this time SYD-MEL-SYD, on Friday 22. Part of that "deal" was rebooking from QF524 SYD-BNE to another flight later in the day. The fare was still quite the same (some AUD 105), so I only had to pay the rebooking charge of AUD 50. The result was a tight schedule on Friday 22, with three QF flights on three different aircraft types.
Friday, 22 September 2006
Sydney (SYD) - Melbourne (MEL)
Qantas QF 405
06:30-08:00 (06:29-08:15)
Flying time: 01:29 (hrs)

Boeing 767-336ER
VH-ZXA (s/n 288 ), first delivered to British Airways 03/1990
Economy, seat 39K
Check-in
At 05:00 in the morning I took the first bus shuttle to the airport and entered Terminal 3 which is run by Qantas. I approached a check-in kiosk and checked in for the round trip to Melbourne. Handling was very easy and within three minutes I chose my seats and got my boarding passes.
Then I tried to check in for the later BNE flight but my attempt was rejected, I got a printed message which suggested to ask a customer service agent. The next agent entered the data again and suddenly it worked. She only wondered why I wanted to check in my suitcase so early already and I said I would first go on a short rountrip to MEL before - with carry-on luggage only. Fortunately she didn't ask uncomfortable questions about that and simply added I should be back on time in order to prevent a security alert caused by the deserted suitcase bound for BNE. Then I left my suitcase at an express counter and went through security.
Within a few minutes I reached my gate and checked the aircraft for the flight to MEL – it was VH-ZXA, a former British Airways bird (ex G-BNWE) with RR engines.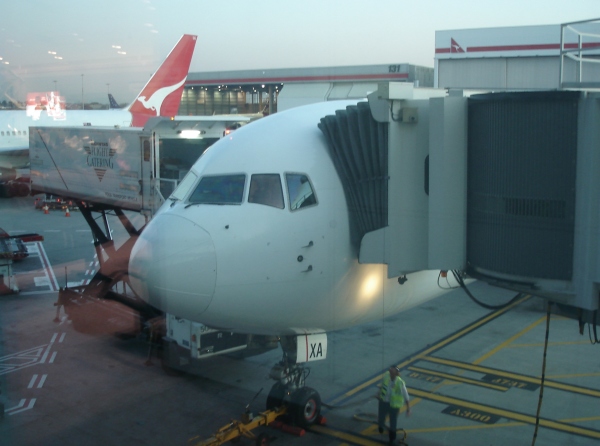 Flight
Boarding started as planned and I took my seat in row 39. Load factor was around 75% but I was lucky and the aisle seat remained empty. The interior showed its age, with one seat broken in the middle row and the reading lights on the right side fluctuating for a while.
The seats were worn, but not uncomfortable. Pitch was sufficient.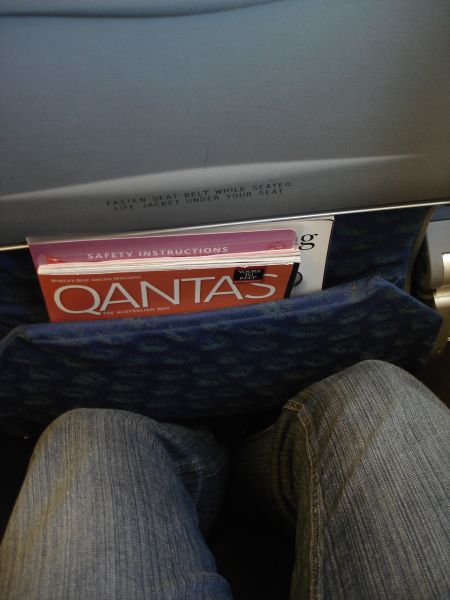 Meanwhile the sun had risen and we were pushed back at 06:29.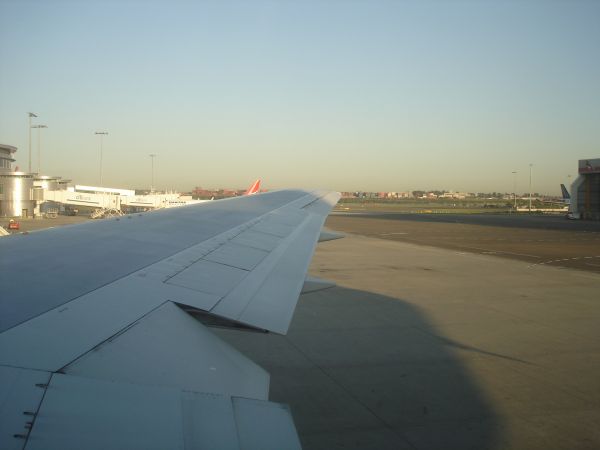 12 minutes later we turned in for takeoff and lifted off into a beautiful blue sky, with Sydney's skyline in the background. The international terminal was quite packed at this point of time.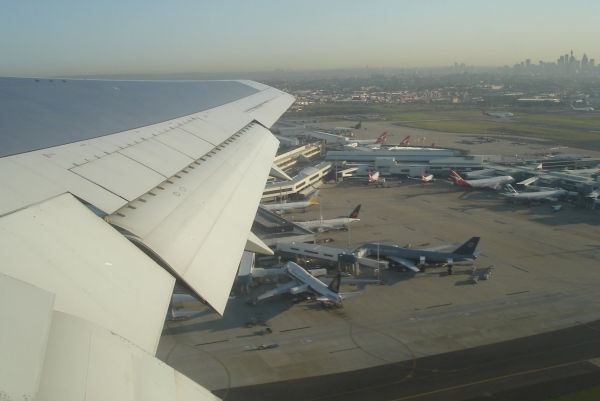 Shortly after seat belt signs were switched off a light and tasty breakfast was served, consisting of triple berry cereal, milk, fruit yogurt, a bread roll and a juice called "Fruit Frusion" – a mix of pineapple, orange and mango juice. Coffee and tea followed minutes later.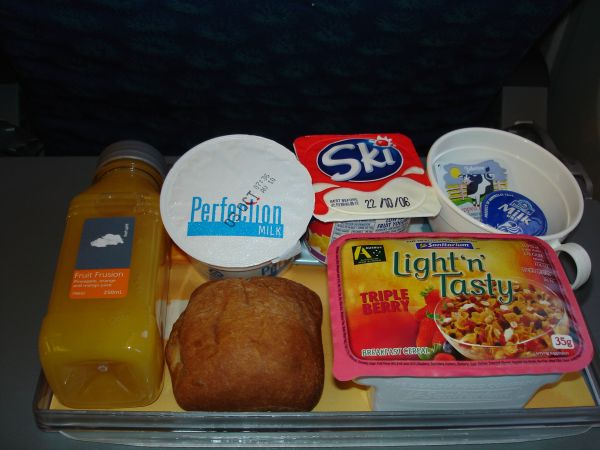 No airshow was available on the overhead screens, only some TV features. Headsets were distributed free of charge, but I didn't use them.
The remaining flight was uneventful, though the captain announced a slight delay. Strong winds from the north limited the operations at Melbourne airport and we had to spend some time in the holding pattern. Finally we turned in over large housing areas.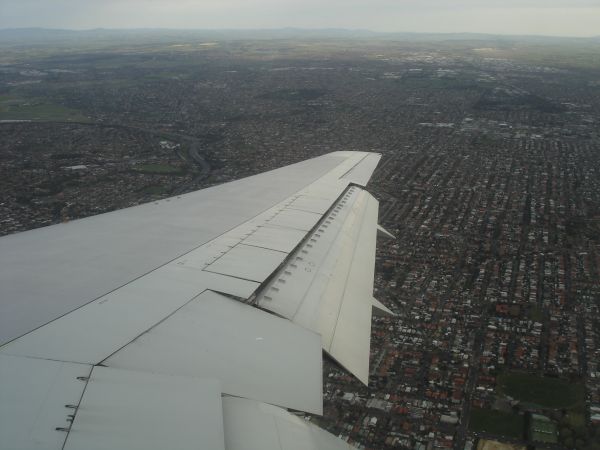 The approach was indeed bumpy with all the flaps shaking a lot all the way down to the runway.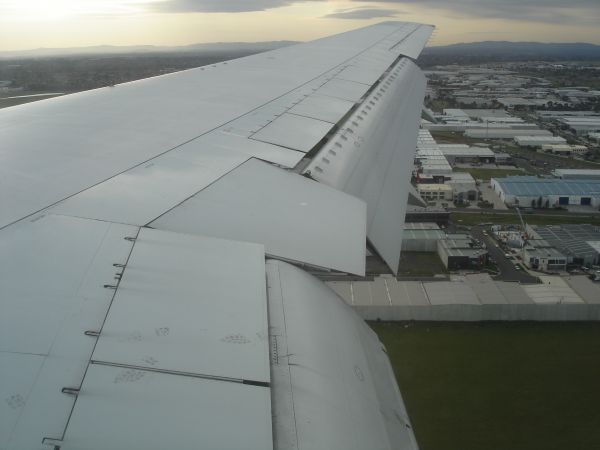 After a rough touchdown we quickly taxied to the gate and I got off the plane at 08:15, just some 15 minutes late.
Melbourne Airport
Boarding for my return flight to Sydney would start at 09:00 so I had some 45 minutes to spend at the airport. For a short moment I was alarmed when I saw on the arrivals screen that two flights to SYD had been canceled, but fortunately QF420 was not affected...
Yananyi Dreaming
being prepared for another morning flight: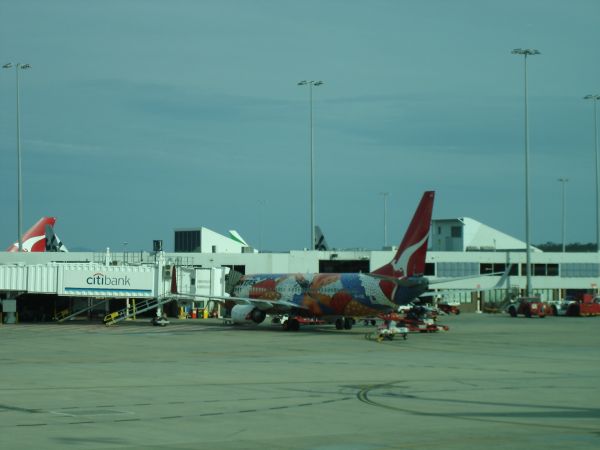 Friday, 22 September 2006
Melbourne (MEL) - Sydney (SYD)
Qantas QF 420
09:30-10:50 (09:34-10:58 )
Flying time: 01:06 (hrs)

Airbus A330-201
VH-EBA "Cradle Mountain" (msn 508 ), delivered 12/2002
Economy, seat 46A
When the aircraft for my flight arrived I was glad to identify VH-EBA – the first A330 for Qantas, delivered in early December 2002.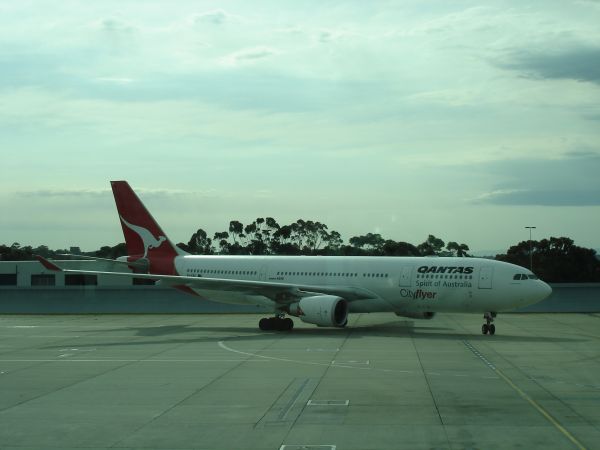 The plane is named after "Cradle Mountain" which forms the northern end of the wild Cradle Mountain-Lake St Clair National Park, itself a part of the Tasmanian Wilderness World Heritage Area.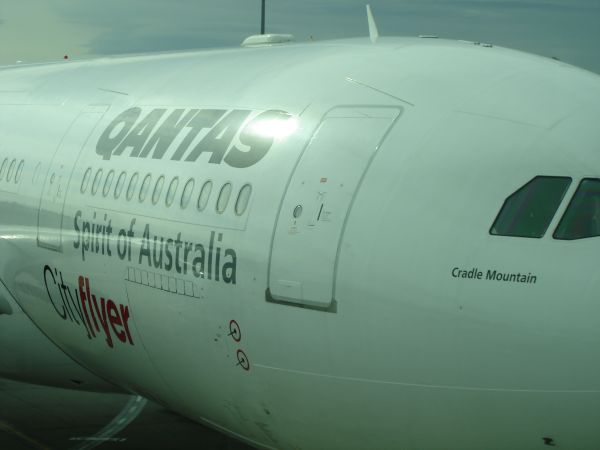 Flight
Boarding was started shortly after 09:00 and the load factor must have been somewhere around 90% this time. The cabin was in good shape. Seats were comfortable and pitch sufficient, but I wondered about the IFE box -because the aircraft is not equipped with PTVs.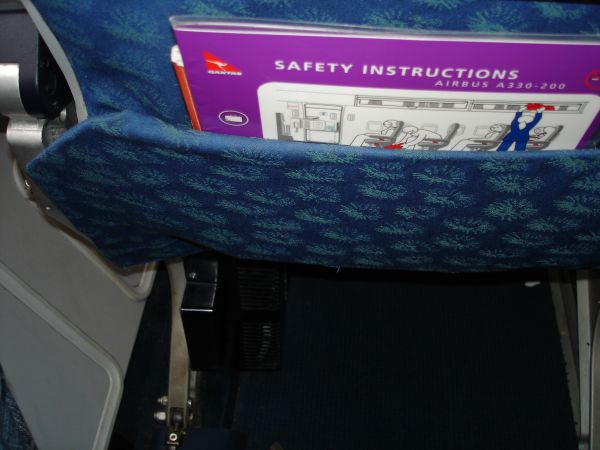 We were pushed back at 09:34 and some minutes later I could have a look at Melbourne's skyline.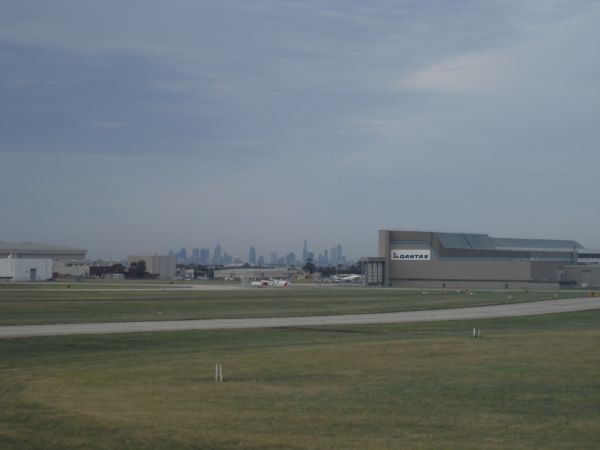 Waiting for a Qantas B763: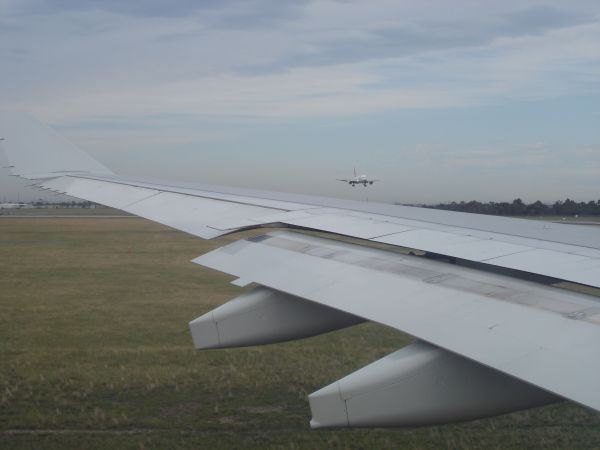 At 09:48 the two GE engines started to accelerate and I could enjoy a powerful takeoff roll, followed by a steep climbout. The strong winds were still blowing, causing some turbulence.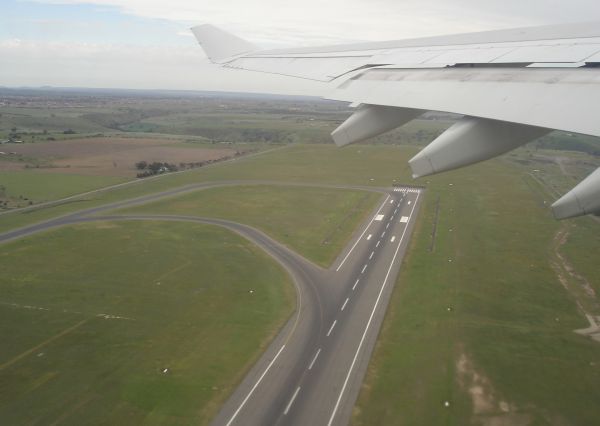 Again, only TV features were shown on the overhead screens, but no airshow. Cruising somewhere between MEL and SYD – exact position unknown: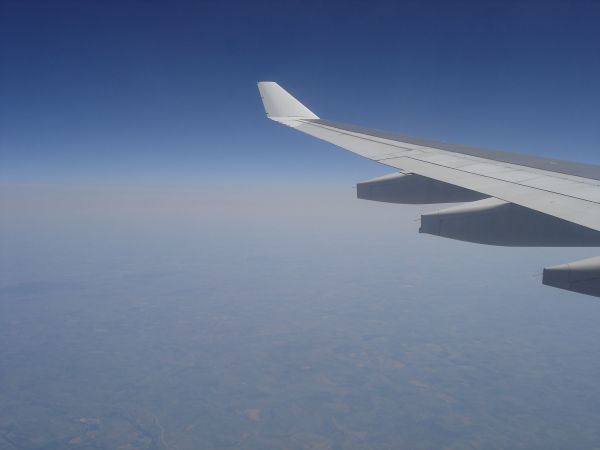 This time drinks and a snack were offered, consisting of two delicious wattle seed biscuits. They were served along with a "Tablemat" – which
"may also be used for easy litter disposal"
.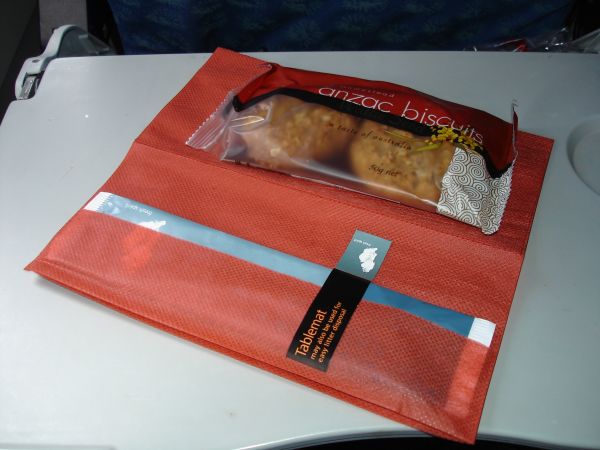 The remaining flight was uneventful and approach to SYD was started soon. Here's a view of the airport: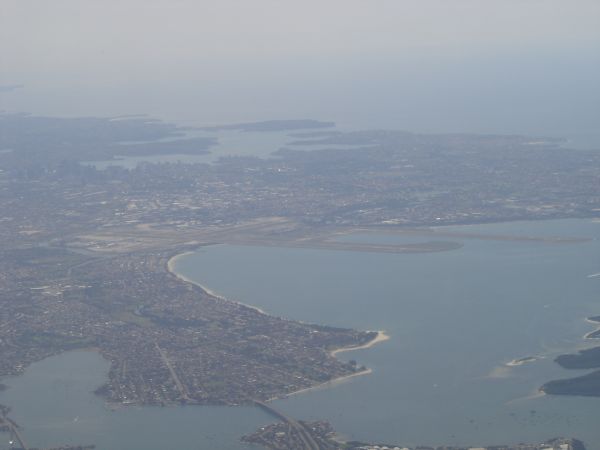 Some nice housing areas...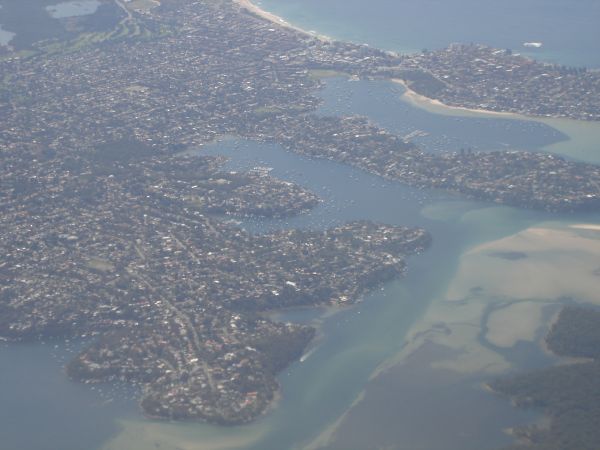 ...a beautiful coastline with bold cliffs...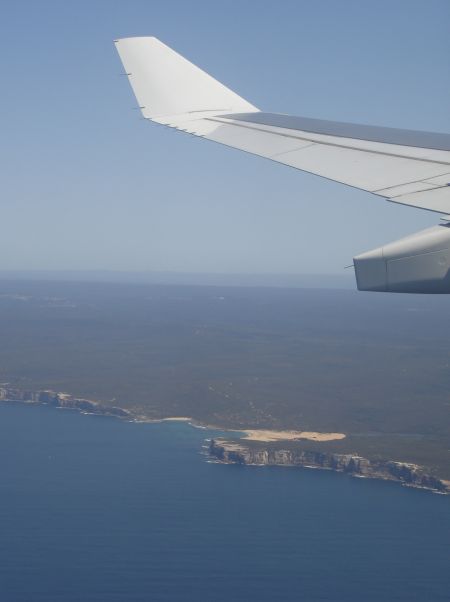 ...and another attractive residential area: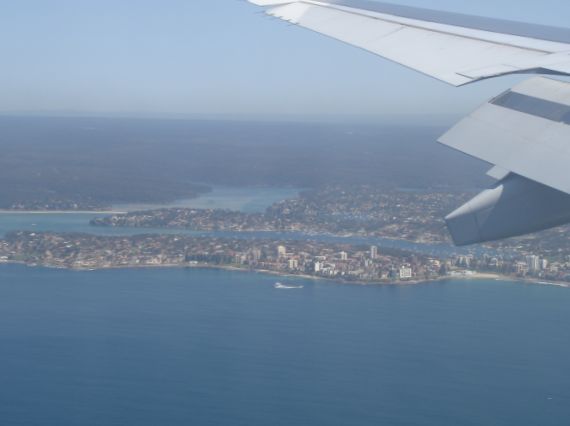 Touchdown was smooth and after a short taxi I could leave the aircraft at 11:00.
Qantas Heritage Exhibition
While walking through the front gate area of Terminal 3 I noticed an entry to an area which seemed to be a lounge. Though, it turned out to be the "Qantas Heritage Exhibition". I walked up to the first floor and was surprised to find a hall, subdivided into several sections, with a collection of all kinds of Qantas memorabilia, pictures and documents from the early days until today. The interior is elegantly arranged, reflecting the pride in the airline's history.
Here's a collection of QF uniforms, along with the first airline seats on the left...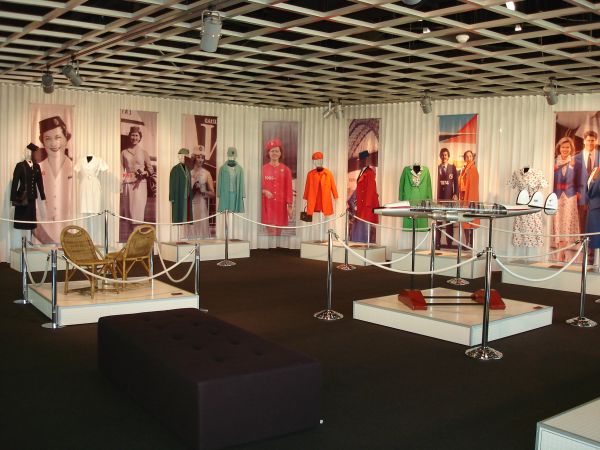 ...compared to Qantas' current Business Class seats.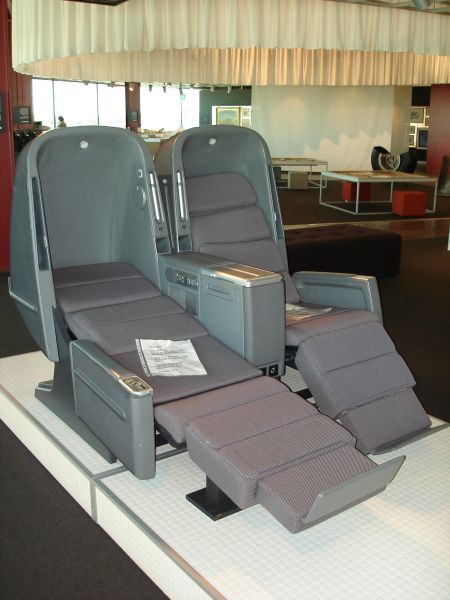 Though still far from first delivery to QF, the A380 is already present as a model: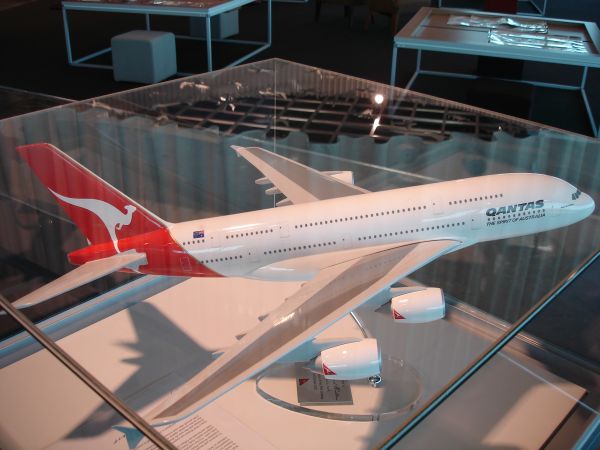 The hall is not only full of interesting stuff, but a large window front provides an excellent view of the airport. This is VH-EBA being prepared for another Cityflyer service.
Here's a DHC-8 at the gate with a QF B747-400 taking off...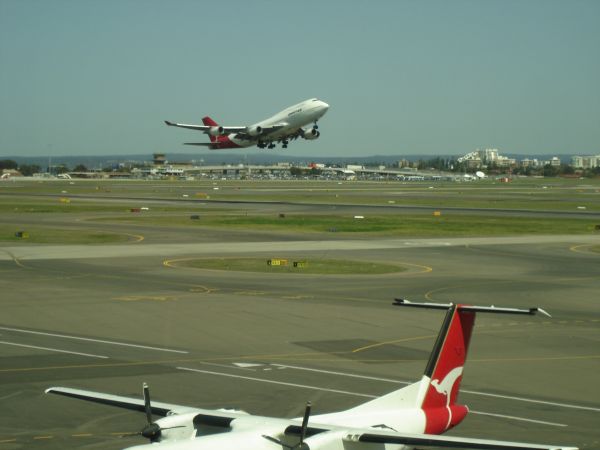 ...and climbing away.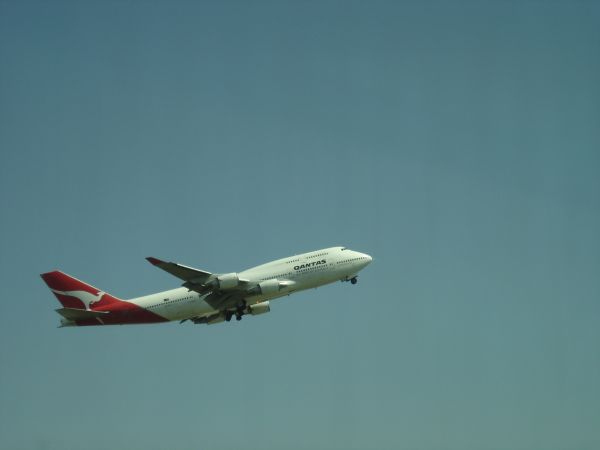 At around 12:00 a group of some 20 young Chinese ladies, all of them well dressed with black costumes, entered the lounge. They were accompanied by a TV team and led by a guy from Qantas who told them about the airline and its history. After walking around for a while they had to line up next to the uniforms and were asked to simultaneously articulate "Qantas" several times, followed by "Welcome to Qantas!" The last attempt apparently satisfied the guide...
It seems a bunch of new flight attendants was welcomed by its new employer.
I spent several hours behind these windows and nobody (staff included) asked me uncomfortable questions about writing down registrations. What a great facility – many airlines could learn a lesson from Qantas.
Friday, 22 September 2006
Sydney (SYD) – Brisbane (BNE)
Qantas QF 530
14:05-15:35 (14:11-15:32)
Flying time: 01:06 (hrs)

Boeing 737-838
VH-VXL "Charleville" (s/n 1172), delivered 07/2002
Economy, seat 27F
Meanwhile I had checked my gate for the flight to Brisbane and watched VH-VXL arriving. One last shot from the Qantas exhibition area: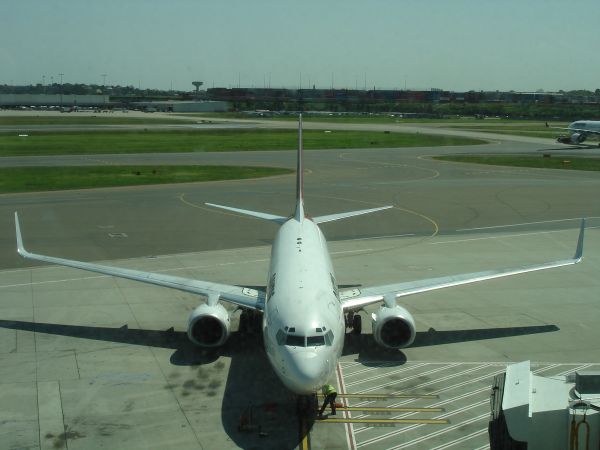 Flight
Boarding was started on time and I took my seat in row 27. The load was around 75% and fortunately the middle seat remained empty. Seat comfort and pitch were not different from the A330. The usual TV features were shown on the overhead screens.
The aircraft was pushed back at 14:11 and takeoff followed 12 minutes later. After several widebody flights in a row the takeoff roll on the B738 appeared to be more rough and noisy than usual.
We turned right immediately, so no chance to see the skyline this time...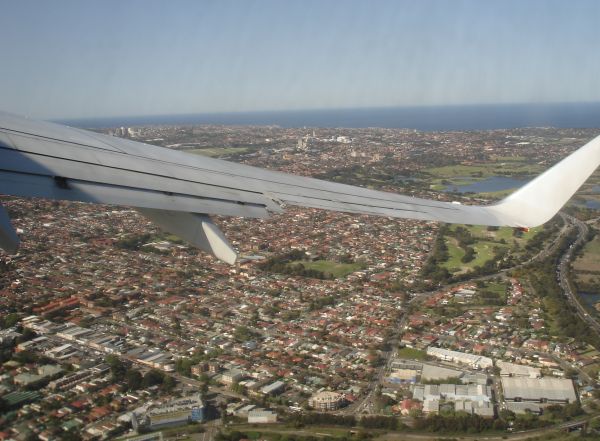 ...instead I could spot a large golf course: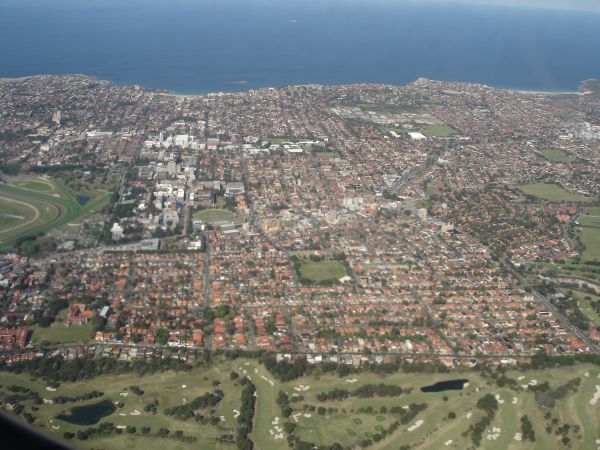 After flying over the ocean for a while we reached the mainland again, cruising along the coastline.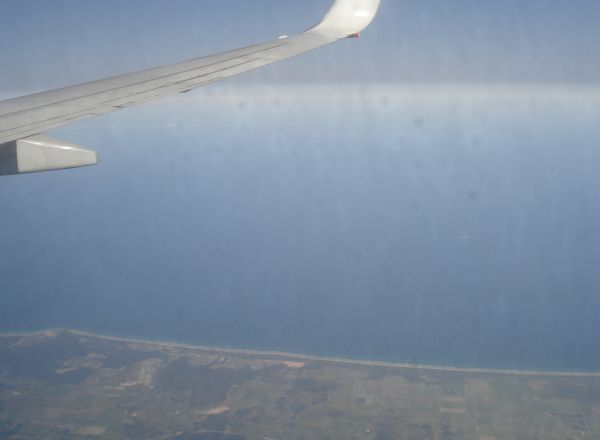 Since the flight was operated in between meal times another cookie snack was served. This time I got very delicious dark choc walnut & caramel and white choc banana biscuits.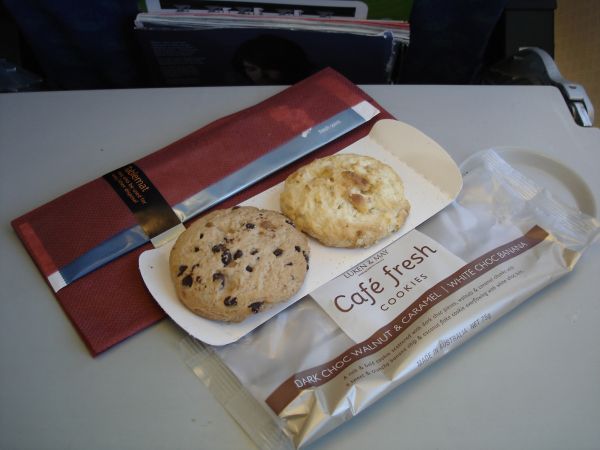 Flying time was just barely over an hour and descent was started soon. Turning in for landing at BNE (airport on the left)...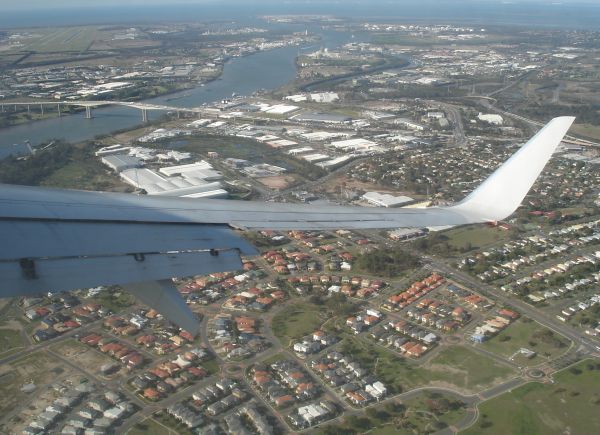 ...and crossing the Gateway Bridge, with VH-VXL's shadow visible on the surface of the Brisbane River: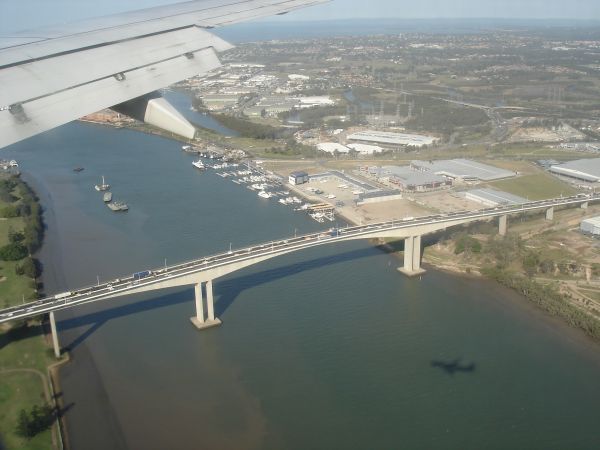 Touchdown followed at 15:29 and only three minutes later engines were shut down at the gate.
Conclusion
Domestic flying on Qantas was a real pleasure – clean, efficient airport facilities, quick and easy check-in, friendly FAs and ground staff. Drinks and food on board are free of charge, seats are comfortable, pitch not as humble as on most LCCs – and frequent widebody services available. Headsets are free of charge, but I'd prefer an airshow over TV features.
I payed some AUD 105-120 for the one-way flights which is not bad – considering I also got 1000 frequent flyer points for each flight. Virgin Blue fares were either as expensive as QF or slightly cheaper. Though, one has to pay for drinks and food and only gets B737s.
More domestic trip reports (Jetstar, Qantas & Virgin Blue):
http://forums.jetphotos.net//showthread.php?t=38864
http://forums.jetphotos.net//showthread.php?t=38479
As usual, comments, questions and criticism welcome!
Best Regards,
PlaneHunter