BNE-SYD-BNE: Domestic run on Qantas' oldest B747-400
Intro
In spring 2006 I had decided to choose another round trip to SYD because of reasonable fares and the scheduled equipment. Qantas uses B747s between SYD and BNE a few times per week, so I picked QF176 (which arrives from Los Angeles).
I booked QF546 for returning in the evening, with the B738 being the aircraft of choice. At this point of time in spring the equipment on my other QF flights hadn't been changed yet. Later, when it turned out I would get the B738 twice I checked for a B734 service, but such flights weren't available on that day.
Tuesday, 26 September 2006
Brisbane (BNE) - Sydney (SYD)
Qantas QF 176
07:45-09:15 (07:44-09:20)
Flying time: 01:07 (hrs)

Boeing 747-438
VH-OJA "City of Canberra" (s/n 731), delivered 08/1989
Economy, seat 66K
Check-in
Since QF176 always operates from the international terminal I couldn't use QF's check-in kiosks. So I had to go to a regular counter some 90 minutes prior to departure, but waiting time was minimal and the agent was very friendly and I got a window seat in the rear section without any problems.
After passing through security I noticed a QF had already arrived and it turned out to be VH-OJA, the very first B747-400 for Qantas, delivered in summer 1989.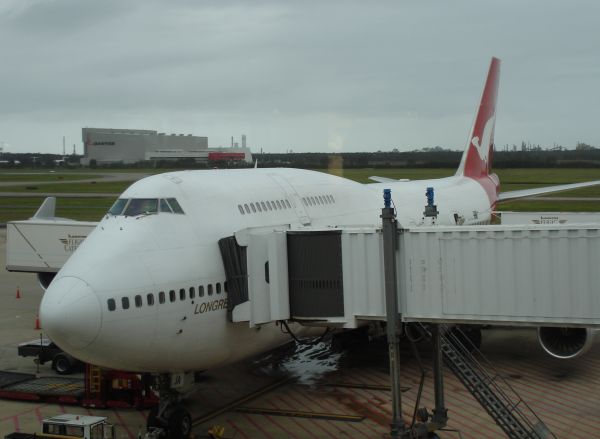 Flight
Boarding was started on time and some friendly FAs welcomed me in the cabin which appeared to be in good shape. After sitting down I immediately realized that QF's seat pitch on the B744 is quite generous.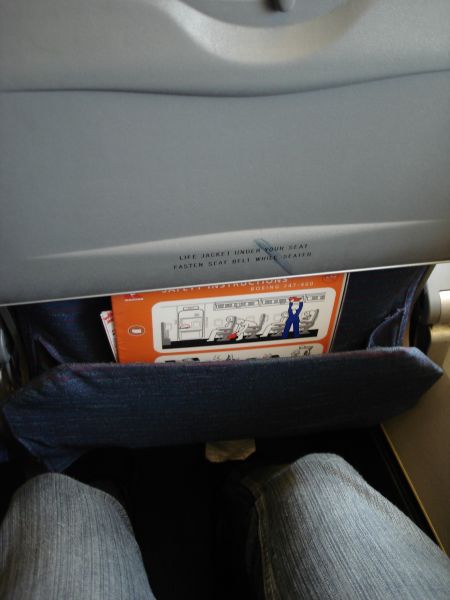 The IFE box is located under the middle seat, though it's not as big as on Emirates' A332 and A345. The seats are not new, but still comfortable.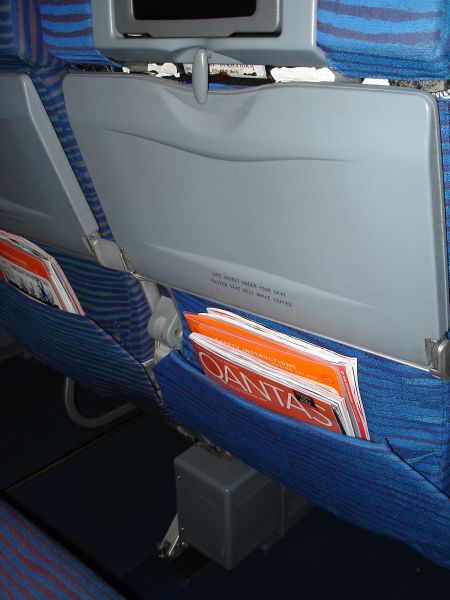 Load factor was probably around 50% and the middle seat remained empty. We were pushed back at 07:44, but the captain announced we would have to spend some time for taxiing to the runway.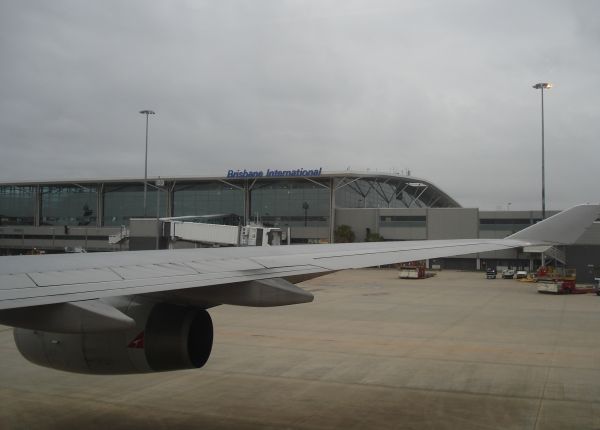 Indeed, 22 minutes passed until the four RR engines powerfully accelerated the light B747, resulting in an early liftoff. Several Virgin Blue aircraft are parked at the domestic terminal, among those the sole "blue" model, B737-700 VH-VBY.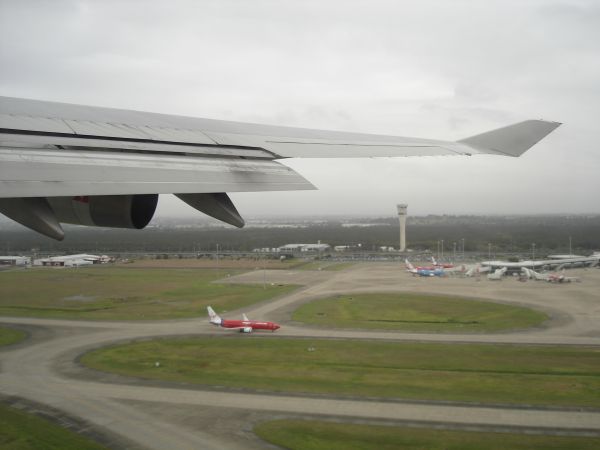 Rush hour at the international terminal: Freedom Air A320 (ZK-OJO), Qantas B734 & B763, Emirates and SIA B777s, a JAL B743 and one of the last JAL B742s (JA8141).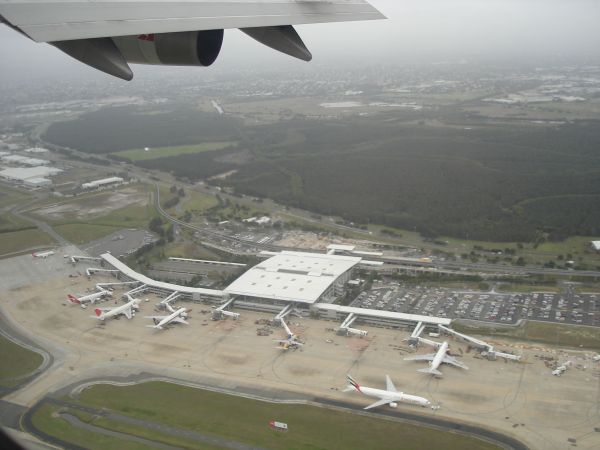 Fast climb...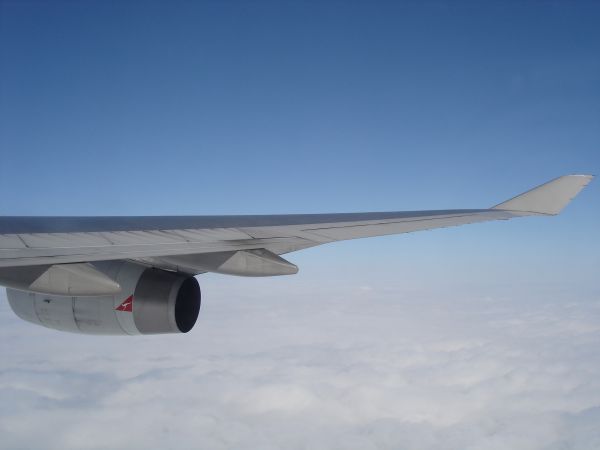 IFE
Though the flight only took barely over an hour, the IFE was fully available and I checked its basic features. It's one of the earlier IFE systems without AVOD and only a limited number of channels. Here's a summary:
11 movies (repeating every 2,5 hours)
7 TV channels (repeating every 2,5 hours)
16 radio channels
10 games
airshow
The airshow channel features interesting background images: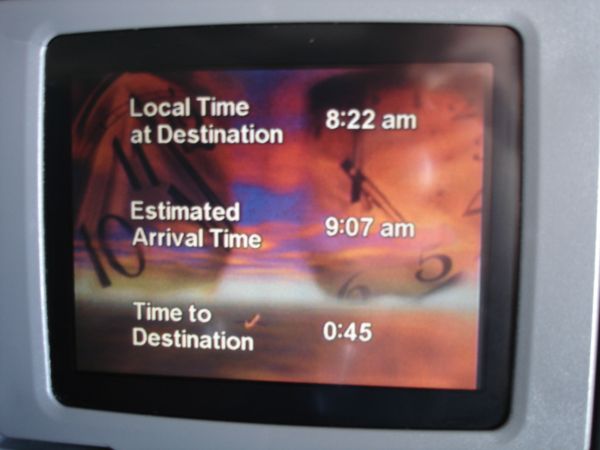 Cruising altitude: 11582 meters.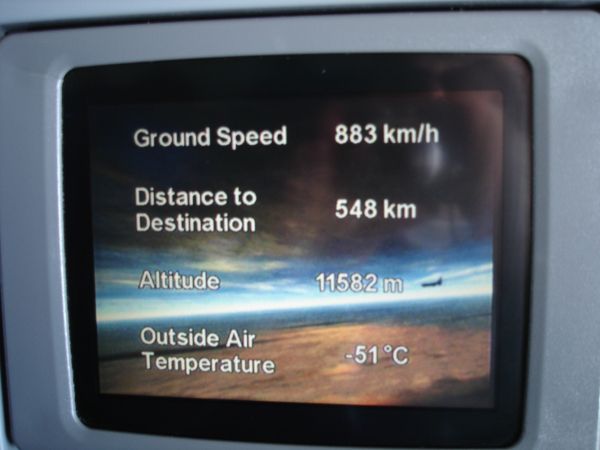 Breakfast
A light breakfast was served, consisting of "Just Right" cereal, milk, fruit yogurt, a raisin bread roll, "Fruit Frusion" juice, tea and coffee. It was indeed "just right" and tasty.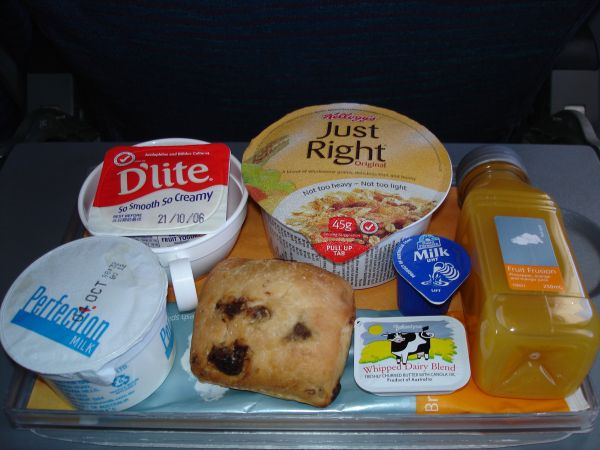 The remaining flight was uneventful and I enjoyed looking at the scenery below.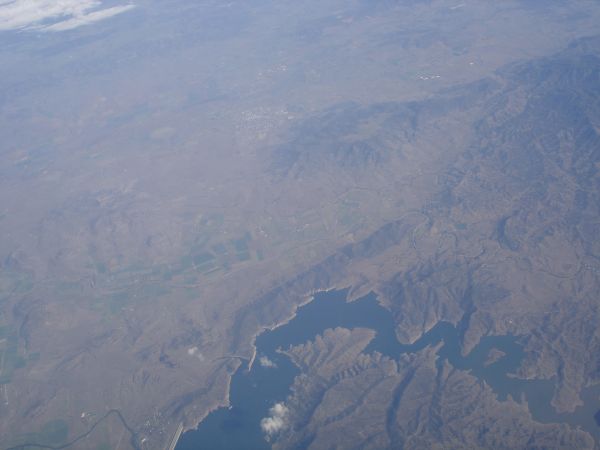 After bad luck with all the flights to and from SYD before I was glad to be seated on the right side this time – so I could take pictures of Sydney's skyline…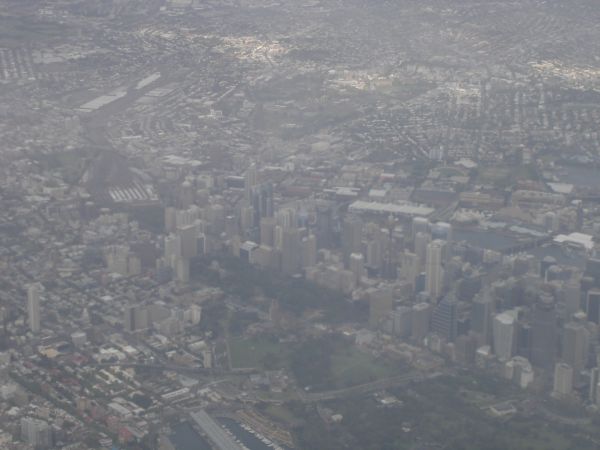 …with the harbor and the famous opera house.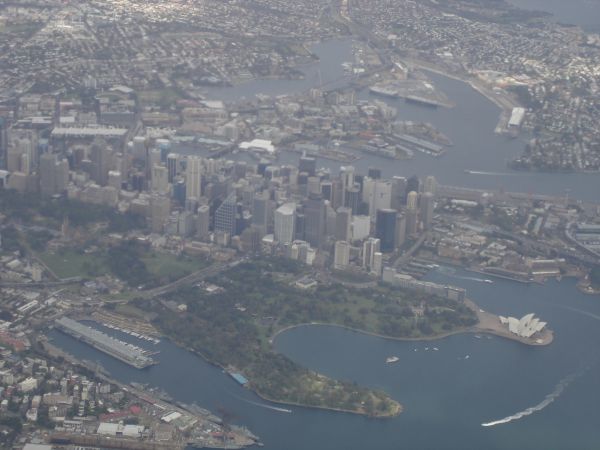 On approach to SYD we flew a long turn over the ocean…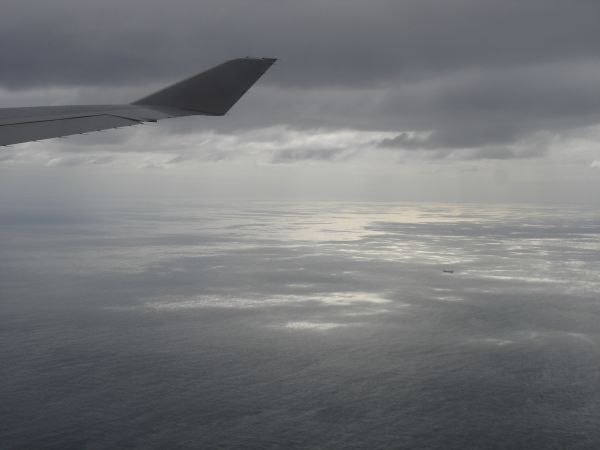 …before reaching the cost again…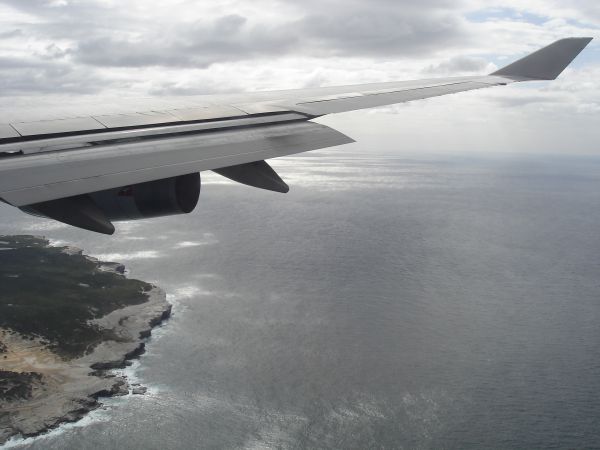 …and passing a large refinery.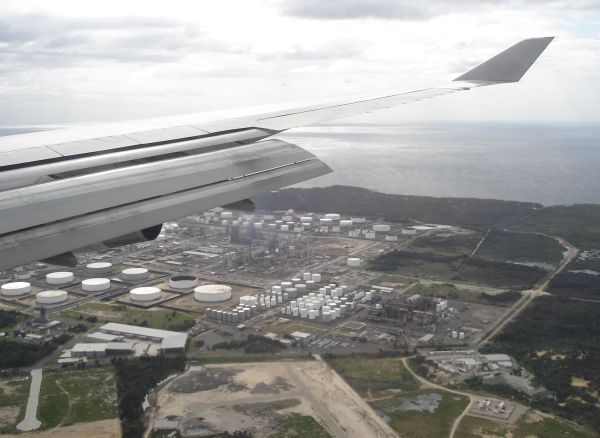 It was a bit windy at SYD which resulted in a very rough touchdown at 09:13. Seven minutes later engines were shut down at the international terminal.
Spotting & meeting
Arriving at the international terminal meant I had to pass the usual immigration and customs counters, but an orange sticker on my boarding pass identified myself as a domestic passenger and I could proceed without any further checks.
At the arrival hall I was awaited by
PanAm_DC10
– a member of another forum. We had arranged a meeting long before I departed for Australia. First of all we went up to the terrace at the international terminal and later drove to Terminal 3 where we spent most of the time at the excellent
Qantas Heritage Exhibition
lounge and discussed the latest developments in aviation as well as past experiences. Interestingly, one doesn't need a boarding pass in order to go to the gate area.
Tuesday, 26 September 2006
Sydney (SYD) – Brisbane (BNE)
Qantas QF 546
18:35-20:05 (18:35-20:06)
Flying time: 01:05 (hrs)

Boeing 737-838
VH-VXT "Townsville" (s/n 1412), delivered 11/2003
Economy, seat 23A
After VH-VXL last time it turned out that VH-VXT would operate the service to Brisbane (please see further information on QF's B738 in the other report).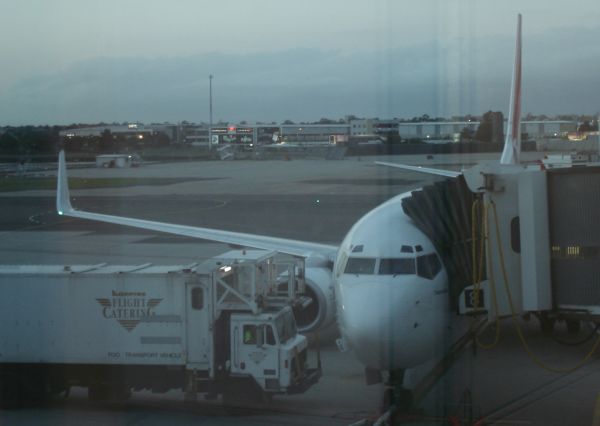 I had already checked in and received my boarding pass in the morning so it wasn't necessary to leave the gate area again after our meeting. Boarding was started on time and I took my seat in row 23.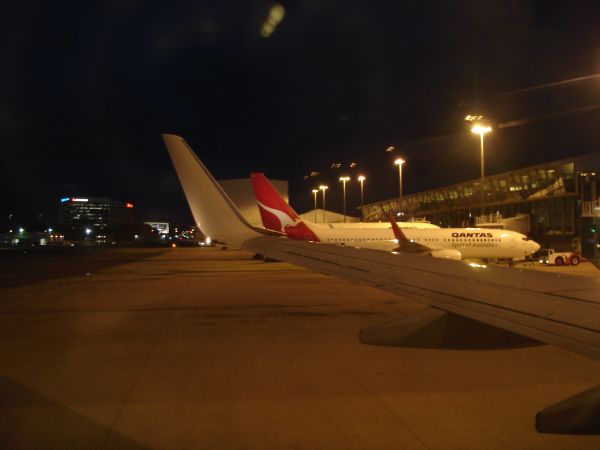 We were pushed back exactly on time at 18:35 but it took 21 minutes until we turned in for departure. Takeoff was quite powerful and shortly after liftoff I was glad about choosing the left side: excellent view of Sydney's nightly skyline.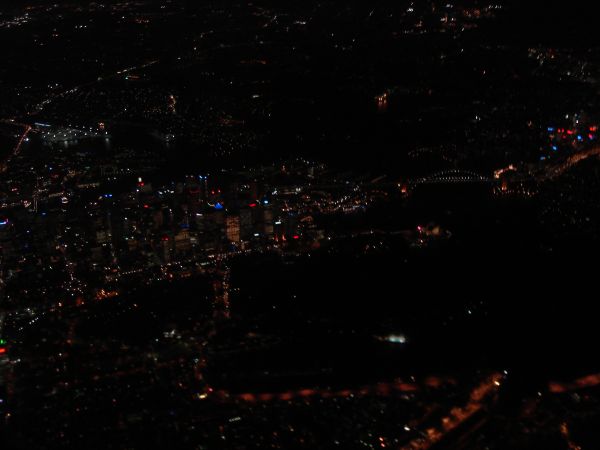 Dinner
Onboard service was started soon and included a hot dinner. The meal consisted of beef goulash, mashed potatoes, peas, a bread roll and a "Boost" chocolate bar – it was really tasty and filling.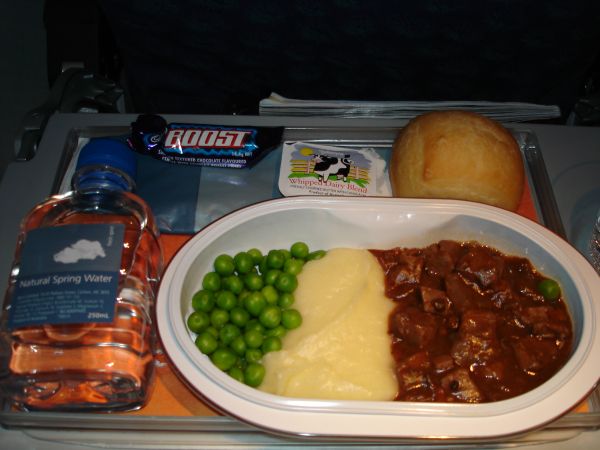 Additionally, FAs were also quite generous with white and red wine – free of charge of course. I can only applaud Qantas for such a good service on a one hour-flight.
The remaining flight was uneventful and we touched down at 20:01, followed by an on-time arrival at 20:06.
Conclusion
The two further flights on Qantas confirmed my earlier impression: clean, efficient airport facilities, quick and easy check-in, friendly FAs and ground staff. Drinks (even wine) and food (even hot meals) on board are free of charge, seats are comfortable, pitch is not as humble as on most LCCs.
Virgin Blue may offer slightly cheaper fares sometimes (not necessarily, as I have experienced), but apart from the service difference Qantas operates many domestic flights with widebodies – and it's definitely more enjoyable to get a B763 or even a B744 rather than a B737NG. I can only recommend domestic flying on Qantas.
Emirates trips to and from Australia (A332, A345, B772ER, B773):
http://forums.jetphotos.net//showthread.php?t=38452
http://forums.jetphotos.net//showthread.php?t=38847
More domestic trip reports (Jetstar, Qantas, Virgin Blue):
http://forums.jetphotos.net//showthread.php?t=38851
http://forums.jetphotos.net//showthread.php?t=38479
As usual, comments, questions and criticism welcome!
Best Regards,
PlaneHunter