*Note: All times are local. Arrival/departure times are gate times. All in-flight data from www.flightaware.com**
So after almost four, fun-filled days in Austin (which included boating, sight-seeing and eating out at various local restaurants), it was again that time. My flight was scheduled to depart at 12:40p.m., CO 1758. But my sister had to be at work on time, and for obvious reasons, I didnít mind spending all that extra time in the AUS terminal (
), so I got the luggage in the car by 6:30 or so and we headed off to Bergstrom Intíl. I had thought about being a standby for an earlier flight, but decided against it since flights would be pretty full and getting a window seat would likely be a slim chance. On the way to the airport, I caught some morning traffic already approaching. One of the approaching aircraft was an ABX 762F. The timing was perfect to where it buzzed us right overhead for a 17R landing. Then, after exiting highway 71 and heading up the access road to the terminal, I spotted a UPS 306F taking off immediately after that, on the same runway of course. My sister dropped me off on the departure level near the CO drop-off area, we chatted for a bit then said bye, and I headed off into the ticket lobby. Again, kiosk check-in only, nothing at the counters. CO personnel were ready for assistance though. I took out my itinerary, punched in the same code as I had back at OKC. This time, it worked, and I got both boarding passes on some pretty flimsy paper. After that, I gave my bag to the lady who was taking luggage to put through the CTX machine (AUS still has those in the ticket lobby, plans are in the works though to incorporate them into the baggage system). The lady mentioned that if the screeners saw something inside that needed inspection, they would cut the lock open, which I didnít really mind since all I had was clothes and some packaged food. I headed straight for security check, since I had plenty of time to kill and do lots of spotting. So I headed to the main terminalís west sec. chkpnt., and although there was a larger line here, it was moving pretty briskly. (It was only later that I found out a skylink bridge that connects the west concourse to the main terminal has itís own sec. chkpoint, for a total of three). After the usual routine of I.D check, then shoes, belt, wallet and any other stuff, I found myself on the other side, and with almost 5 hours of spotting pleasure.
AUS is much busier than OKC, it handled over 8.2 million pax in í06. All 25 gates have now been assigned to some carrier. The first thing I did was head off to the west concourse, and took a look at the departing flights for the morning rush. Pretty much all over the place, IAH, PHX, JFK, ORD, LAX, SJC, HOU, ATL, JAX, SAN, DEN, etc by AA, WN, US, DL Conn ASA, UA, Expressjet etc. I kept it discrete as far as photography was concerned. and really not much of significance was to be seen yet, except for the US 733 at gate 20 for the PHX dep in c/s #3 (post-merger). But that could wait till later, and I was eager to go to the east concourse, where DL/DL Conn, NW/Airlink, Aeromexico and Expressjet were housed. It was a lot quieter on this side of the neighbourhood, and I had a better view of the ramp and field from three good spots as well. I also got my first shot of an E170
. Hereís some of that action: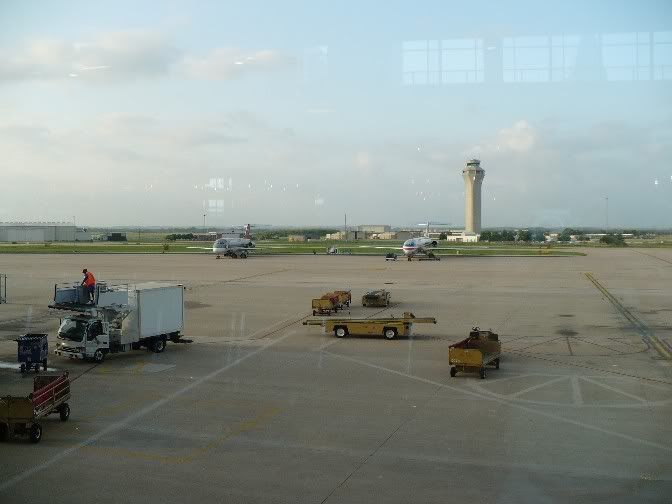 NWA D93 and an AA Maddog on the hardstands across from the terminal.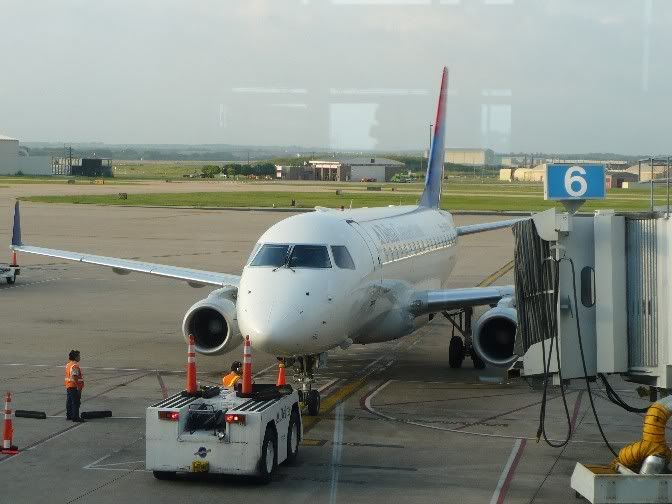 My first shot of an E175 of DL Conn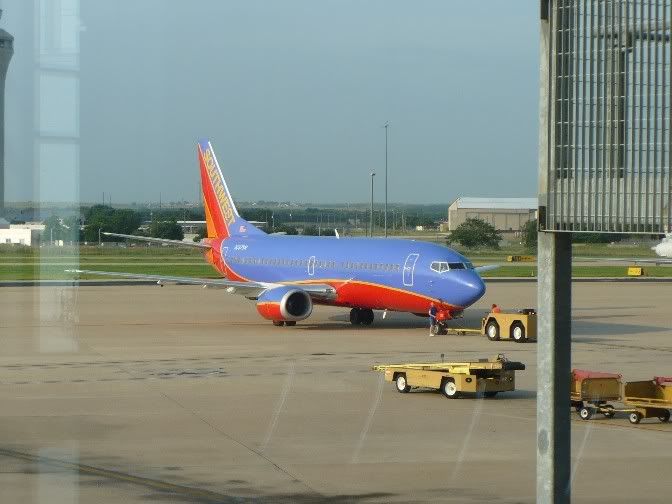 Southwest 733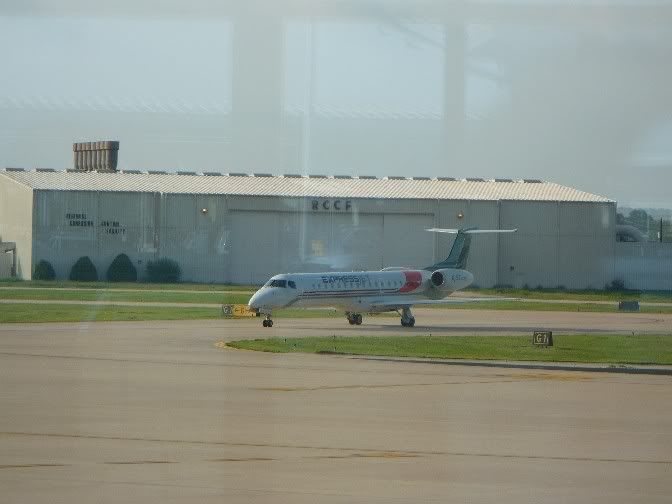 One of the several Expressjet morning arrivals at AUS
Then I roamed around the entire terminal once more, to the west and then back to the east. By 8:20a.m., I decided to head back to the west concourse and check out the arriving flights there. On the way I stopped at Austin Java and picked up a chocolate chip scone, some of the best stuff Iíve eaten in an airport terminal
. I continued on to the west concourse and made myself comfortable in the gate 20 area, snapped a shot of that US 733 parked outside: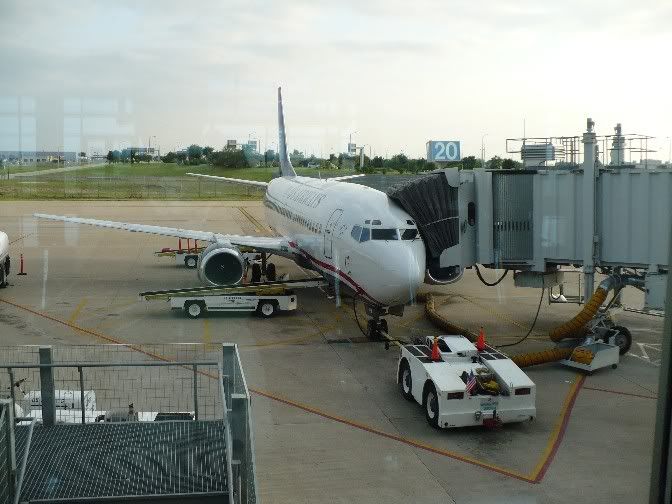 US Airways 733 to PHX
I munched on the scone for a while and was down to the last few bites, when an announcement was made over the PA that I had to report to the gate 18 podium. Huh, ook... I admit that startled me for a moment, but if they wanted me for taking photos, I would be willing to comply. So I gobbled up the rest of the scone, and headed off to gate 18. Upon reaching the gate, I saw two CO agents, one guy and the other a lady, both were busy assisting some pax. After a few moments, the lady was free so I mentioned to her that it was me they had called to the gate. To my surprise, she said yes, she called me and said that there were seats available for the next immediate flight, CO 640, which was almost ready to be get boarded. She asked me if I wanted to go ahead on this flight! ďThereís plenty of room available.Ē I said I had considered going standby but since I already had a guaranteed reservation and the you-know-what, I didnít mind waiting. But no problem, there was a window seat available, and my Bergstrom stay was about to end. I was delighted, as this would give me 4 hrs+ at IAH! I accepted the offer she had made and seconds later, I got a ďmeatyĒ boarding pass, seat 21A on CO 640.
Date: June 19th, 2007
Flight: Continental Airlines CO 640
Route: AUS-IAH
SDT: 9:20a.m.
SAT: 10:18a.m.
ADT: 9:22a.m.
AAT: 10:08a.m.
Aircraft: Boeing 737-800 with blended winglets
Seat: 21A
Registration: N13248
Departure weather: Hazy and humid. ~83F, wind south at 10-15mph. Vis. 10mi. Scattered cumulus.
Arrival Weather: Temp. in the mid 80s, Light easterly wind. Towering cumulus, visbility app. 8 mi.

Nice surprise...
I thanked the CO gate agent a lot as she gave me the boarding pass, still quite surprised. Now standing by for a flight yourself and getting on it is one thing, but being called by someone and offered a seat on a much earlier flight? Thatís just great stuff, but of course, it didnít end there for me, as when I looked outside to see what my ride would be, I discovered it was a 738 w/ winglets!! Woohoo! Four CO 73í models in just two days. This was turning out to be a banner day.
My ride to IAH.
It was already 8:40a.m. now, so I just hung around gate 20. At 8:50, boarding started, and it was business anytime, followed by Y from rear to front. I was in the second group of pax, and the lady was handling the boarding stubs, I thanked her again, mentioned the good connection time I would have at IAH and headed off down the jetway. Once I got settled in my seat, I snapped a photo of that awesome wing and winglet. Pretty soon all pax got on, and in my row, the seat between me and the lady in the aisle seat was empty. I estimated the load factor to be around 99%, as I looked around and didnít see many empty seats. Actually I think I was one of the few lucky ones to have an empty seat next to me.
Looking out to the east, onboard CO 640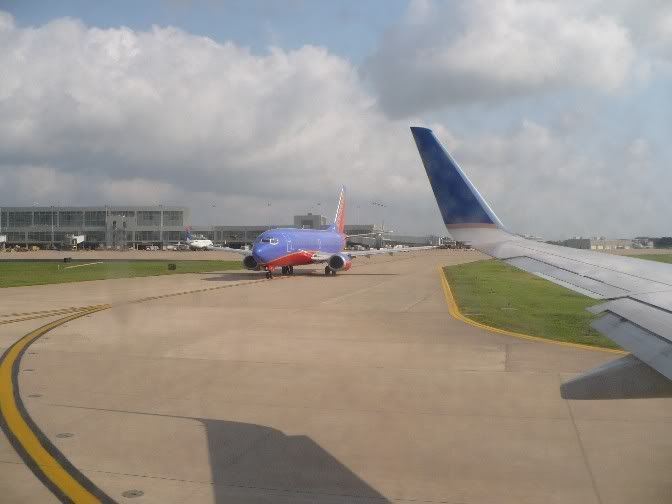 Taxiing to 17L at AUS. We passed by this WN 733 at a good rate, but when we made the left turn to start heading to 17L, he was on our tail
Pushback was on time again, with number 1 started first and then #2. After taxiing out of the north ramp, we headed out around the west concourse, then Golf 3, Golf, Bravo, and then RWY 17L. Rolling takeoff. The CFMís powered the Ďcraft to Vr in about 20 seconds, and after the mains lifted gently for a few seconds, the craft launched itself up. After continuing on runway heading for a while, the pilots banked the aircraft left and basically to the NE. This offered me a good view of the airport, but the angle was just a bit too awkward for a shot. I noticed a new highway being built not too far from AUS. Itís no surprise, given the boomtown Austin has become.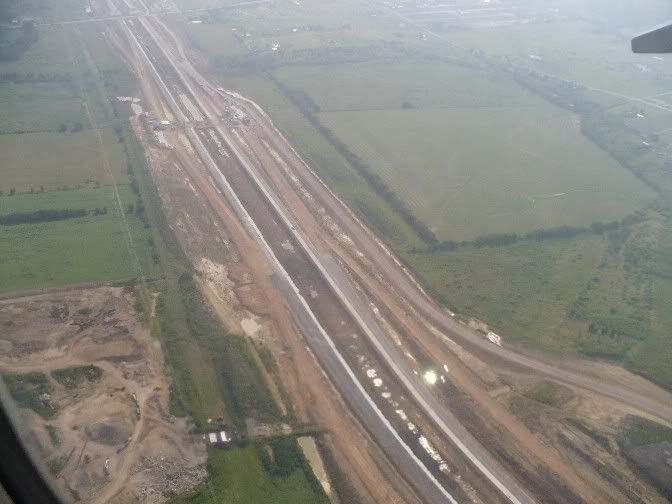 Airborne. Onboard CO 640, AUS-IAH.
The rest of the flight went routinely. After a while we headed east, then SE. In no time flat, descent was started for IAH. The FAs had been serving drinks and snacks, and during descent came by to pick up empty glasses and wrappers. Iíve noticed CO FAís are pretty cheerful on average. Here are a few shots taken during cruise and initial approach.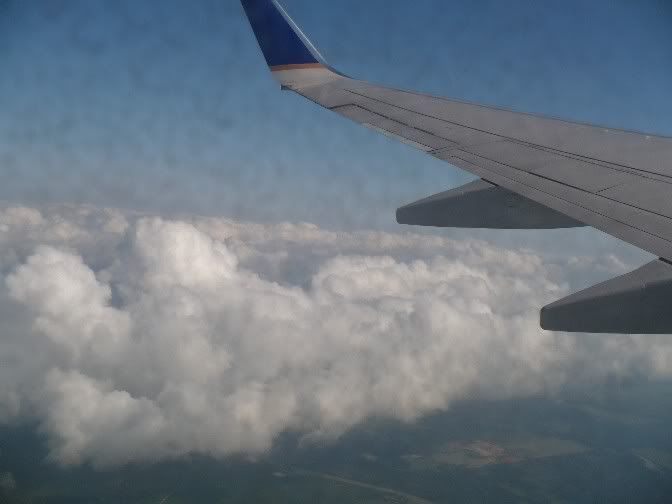 Enroute to IAH from AUS. Nice Cumulus, or "Cu-field."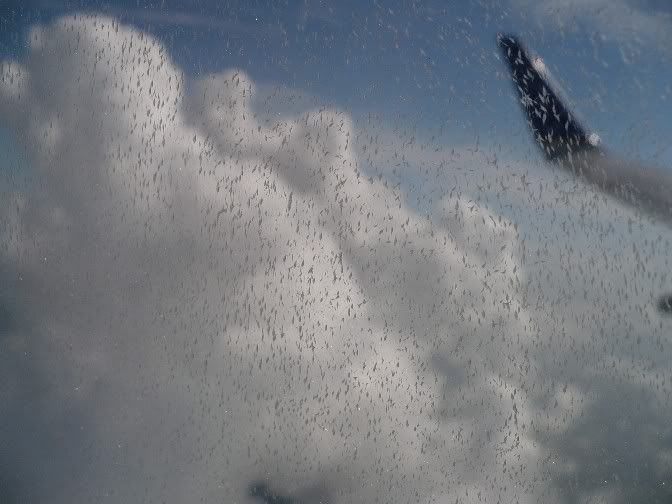 Passing through these clouds gave us a pretty bumpy ride, with fairly decent updrafts. I was having fun but with the sudden and abrupt movements of the aircraft some pax yelped. And uh, yeah, my cam auto-focused on ice-crystals lol.
Long line of building cumulus east of IAH.
Initial approach to IAH took us basically over the outskirts NW of Houston, and then as we got closer to IAH, started the upwind again, this time it would be RWY 26L once more.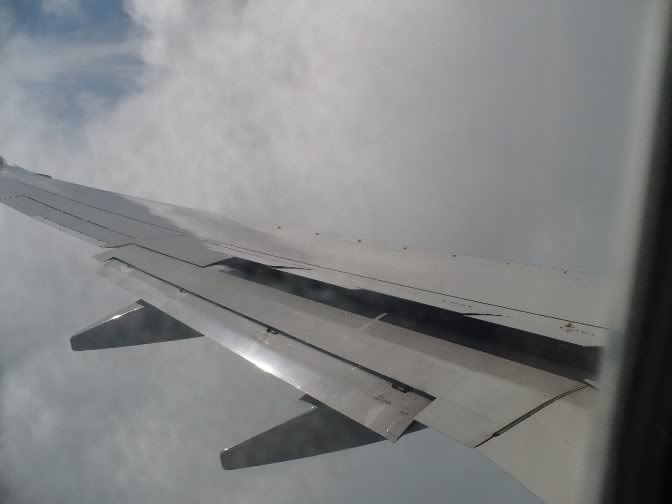 Spoilers up, slowing down for final to RWY 26L at IAH. CO 640, AUS-IAH.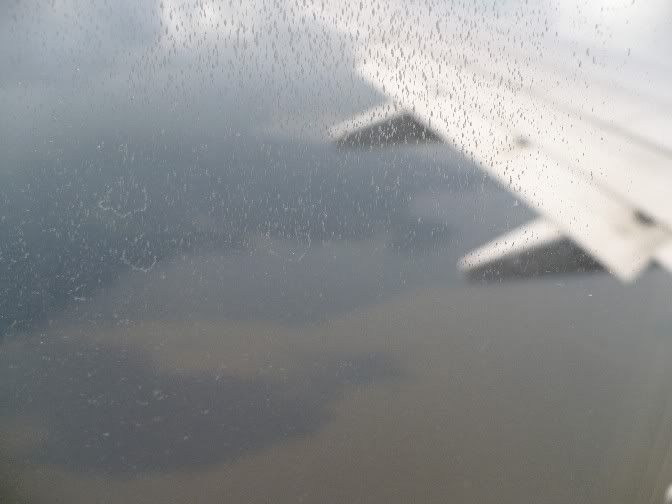 Lake Houston, blurred by camera wanting to auto-focus on the ice-crystals again.
On shortfinal to RWY 26L, looking at RWY 9-27. CO 640, AUS-IAH.
After doing the fly-by, a few right turns set us up for the final to the active. We flew right over Lake Houston (photo above), and the remainder of the final took us over U.S. Highway 59. Then we passed by the CO hangars and CO maintainence. 50... 30... 20... 10... 5... I felt the mains rub it on the concrete and the plane went back up again riding on the shocks, but the spoilers did a good job of preventing a bouncer, and it settled back down again. All of a sudden I heard a screeching noise from the right main haha. To which the girls sitting on the other side started laughing. I think the right main may have ended up locking for a moment, as we did come in a bit fast (Unless it was something else Iím not aware of). Then of course the plane was slowed down using minimal r/t and heavy braking, and the rest was a carbon copy of the taxi after arrival from OKC on my way to AUS (see my other flight review-OKC-IAH-AUS: June 15th) off the runway and to the East Bridge.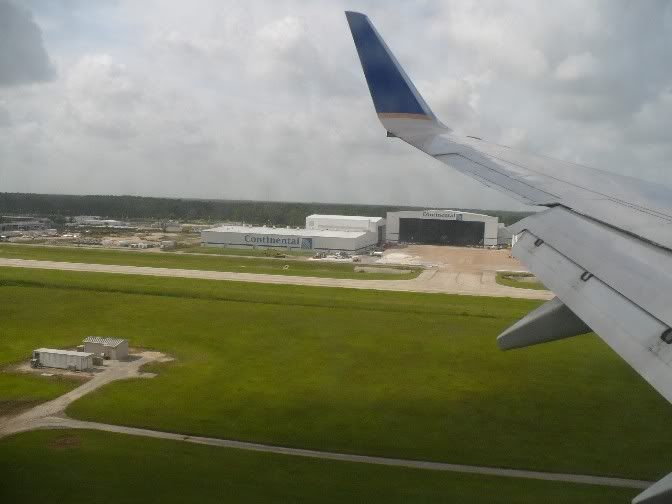 Passing by the CO hangars and mx area.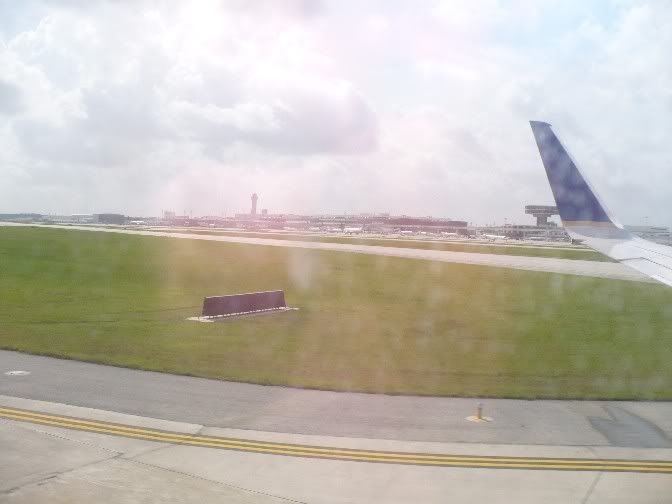 Exiting RWY 26L. Welcome to Houston.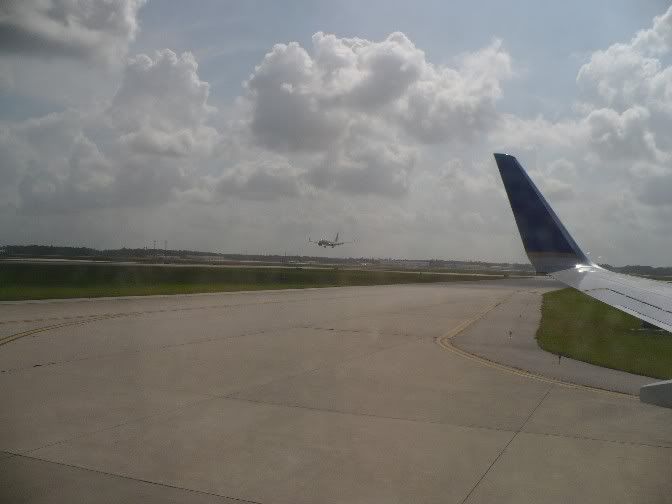 Company traffic about to add more rubber to 26L.
Just before crossing the East Bridge, we stopped, but during braking the entire cabin shuddered heavily
It appears the brakes got more than their fair share of work on the landing and rollout. After crossing the terminal access road over the bridge, we ended up in the east concourse of Terminal E again, this time on the inner ramp. On the way to the gate, we taxiied by the daily 772ER to NRT, CO 7 which was almost ready for departure. I headed out of the aircraft and into a glass wall separated walkway (which seem to be common in E) before entering the pax holding area. I called my mom and sister to tell them about my early AUS departure, to which they were surprised as well, and went around for photography. I headed back to that spot in the Term. C connector and got some photos.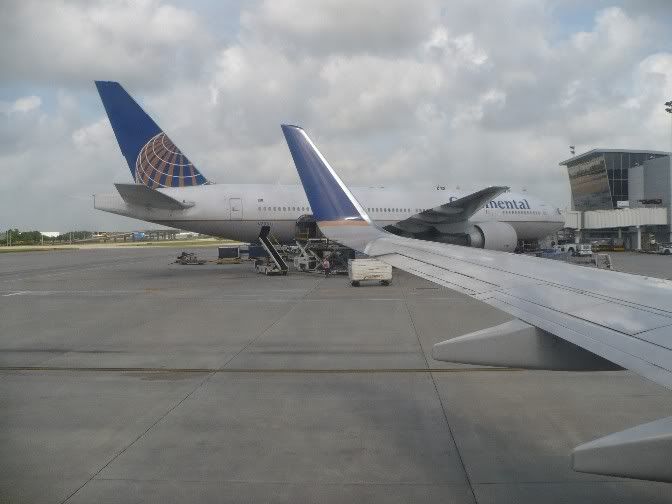 CO 7 heavy almost ready for pushback and departure to NRT.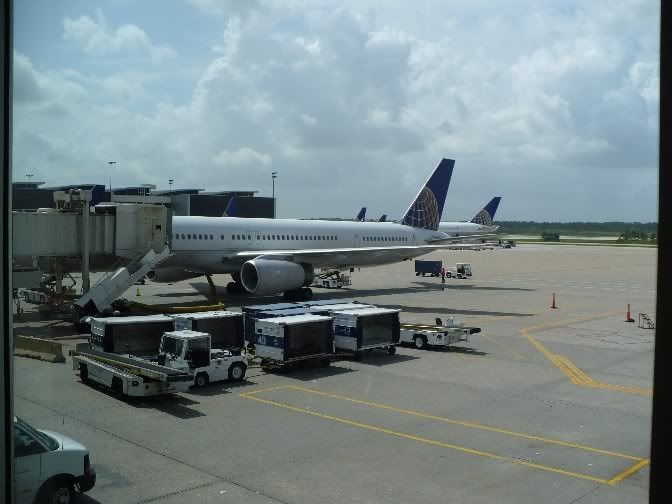 CO COuntry
CO 1 to HNL and GUM, paradise and uh, more paradise.
After that, seeing as how the south ramp of C was getting empty, I walked around in both E concourses, and this time went all the way down to the huge glass-walled gates at the southern ends, what a view! Around 11:30 or so, I decided to get some lunch. I went to the east food court in E and grabbed a buffalo chicken sub from the Charleyís Grilled Subs and Steakery, mmmm. One of the best sandwiches Iíve eaten in a while, and they make it on a griddle right in front of you too. I took my sandwich, walked back to that spot in the C connector, sat and ate, watching planes outside. Food and planes. Can it get better than that?
I think not! Ok, well, for me food, planes and severe weather, but I donít mind good weather while travelling.
So anyway, after finishing my sub, I realized I still had more than two hours to go before my next flight. It was exploration time. I took a look at the terminal map, but I didnít know for sure whether access was available to the other terminals w/o having to pass security, so I did the next best thing. I walked to Terminal D using one of the skylink walkways, which connect E and D through the new FIS building. Once in D, I came upon a location which allowed me a great view of the check-in lobby below. There were lots of pax checking in for the British and KLM flights, including some for COís Gatwick flight.
I went ahead to D, and to my surprise down below at gate D8 was an Aeromexico 73G. I went ahead to the west side of D, passing escalators down to baggage claim along the way. D was still mostly deserted, so I went around and walked freely. I sat in the D4 gate area for a while enjoying the great view of the north side of the field, with CO and COX planes arriving. Traffic was pretty slow at this point anyway, so after a while, I started to head back to Terminal C, where my connecting OKC flight would be departing from. This time, I decided to take the train. I went back through the entrance I had come from, and to my left I saw escalators for the D station. Upon reaching the station, the train came in a few minutes. The view from the train was even better, and in the distance I saw the north concourse of Terminal C. Gate C20 was the gate from which my next flight would depart. Once at the Ter C station, I went down and straight to the north concourse, which was pretty empty seeing as how there were no planes at the gates. I caught a photo of the Aeromexico 73G.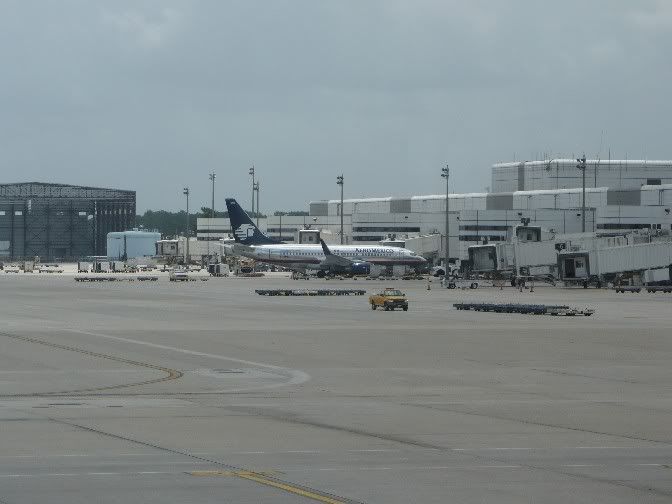 Aeromexico 73G ready for dep to MMMX.
Less than an hour to go, I saw the entire COX ramp (a.k.a. the North Ramp).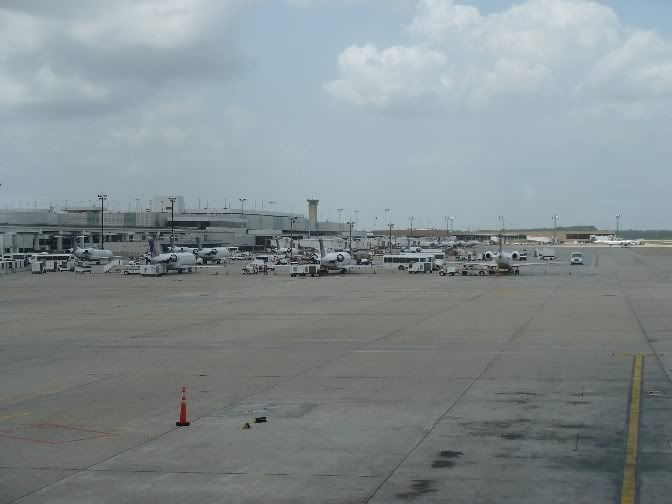 Pretty much the entire COX shuttlebus ramp.
Arriving traffic was still pretty slow on the north side runways, so I just camped out in the concourse, till it was getting close to boarding time. I headed back to gate 20 and sat there waiting for the international traffic to arrive. I hoped ATC wouldnít send it all to the longer south side runway, 8-26. Soon enough, I would snap a few shots of a KLM 744 and an LH 346: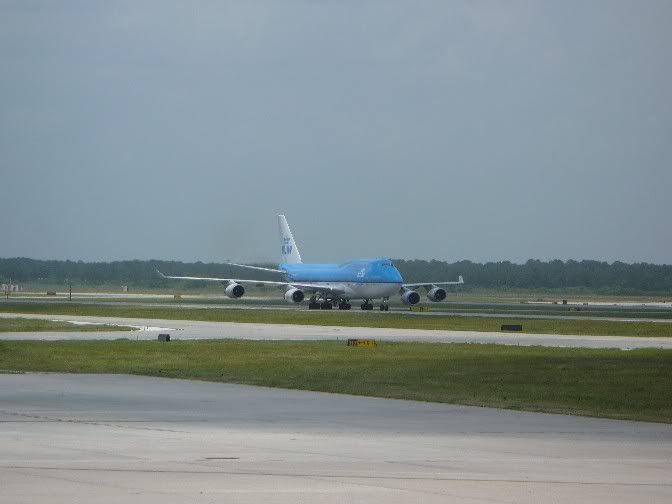 KLM heavy from AMS.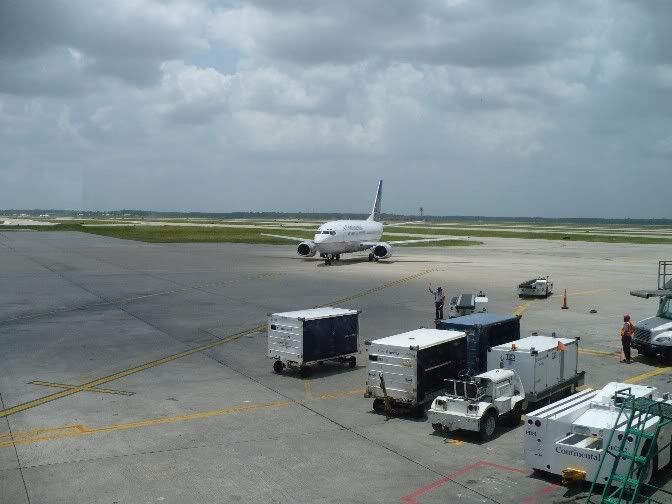 My ride back to OKC. I like the 735.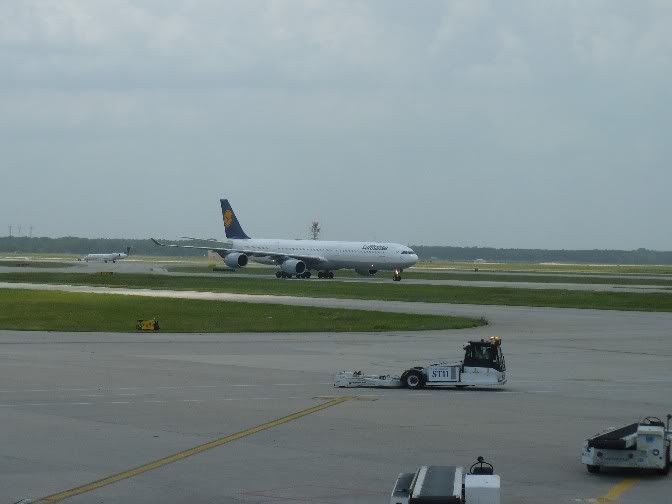 My first shot of an LH 346. Just in from FRA.
After that, I put my cam back in the carry-on and waited for my next flight.
Continental Airlines CO 1604
Route: AUS-IAH
SDT: 2:40p.m.
SAT: 4:06p.m.
ADT: 2:38p.m.
AAT: 3:52p.m.
Aircraft: Boeing 737-500
Seat: 18A
Registration: N18611
Departure weather: Hazy and humid. 93F, easterly winds at 10-15mph. Vis. 10mi. Scattered cumulus.
Arrival Weather: 92F, steamy, wind south at 10-15mph. Vis. 10mi., scattered cumulus.

More surprises...
By 2:15p.m., the north concourse of Terminal C was very busy, especially the north end of it. Besides my departure to OKC, there were 3-4 other flights departing from that area, including a 738 to PDX, another 73í to SEA and such. Boarding started right around 2:10p.m., pretty much on time. As was the case with the other flights, I was in the second group of pax to board. This flight was most definitely 100% full (as are most OKC flights these days). Boarding actually got finished pretty quickly, again, row boarding wins over zone. While the last few pax were getting settled into their seats, I peered at the now increasing activity outside. A COX Saab 340 had just landed on 26L and the pilots were still taxiing on the runway, headed for the next rapid exit. Just then, I saw a NW 319 do a go-around, heading back to the north obviously having aborted its landing. That was cool, I hadnít actually watched a go-around before in person, much less experienced it. Then we got pushed back facing north.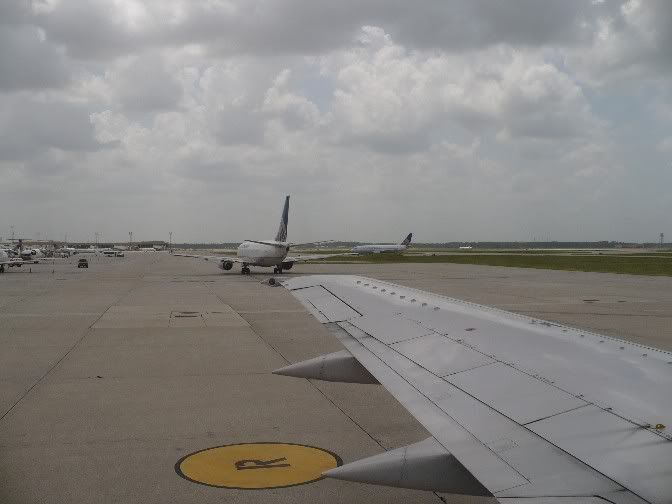 Just having completed pushback and startup. Onboard CO 1604, IAH-OKC.
Taxi took us from the Terminal C north ramp to November Bravo, which was a strightaway to north of 15L, curving around to the hold pad for 15R, which was again the assigned runway. As we neared 15R, I saw the NW 319 had landed, this time though on 26R. So anyway, with departures being stacked on both 15s, we got takeoff clearance on 15R in no time, right after a company -800. Just as the CFMís were throttled to t/o power, much to my surprise, I noticed a COX 145 starting its takeoff roll on 15L-parallel takeoff!! I immediately grabbed my camera and positioned myself for what would be my first-ever parallel t/o experience. As youíll see from the following photos, the ERJís RRs were no match for the powerful CFMs :-p (ok, more like slats really do make a difference.)
Parallel takeoff on RWY 15R, shot 1 of 3.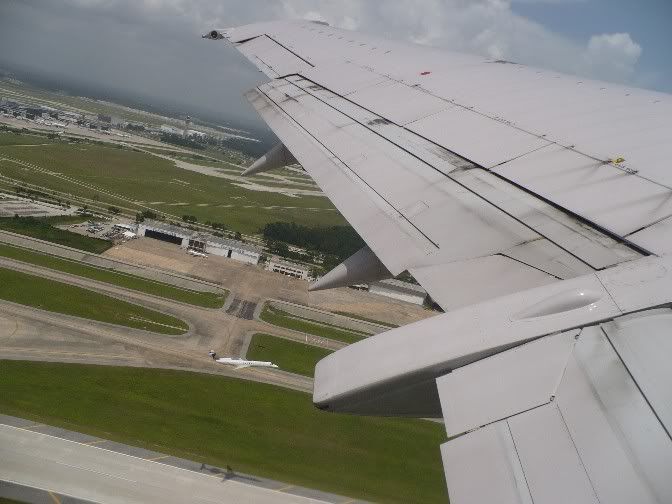 Parallel takeoff, shot 2 of 3.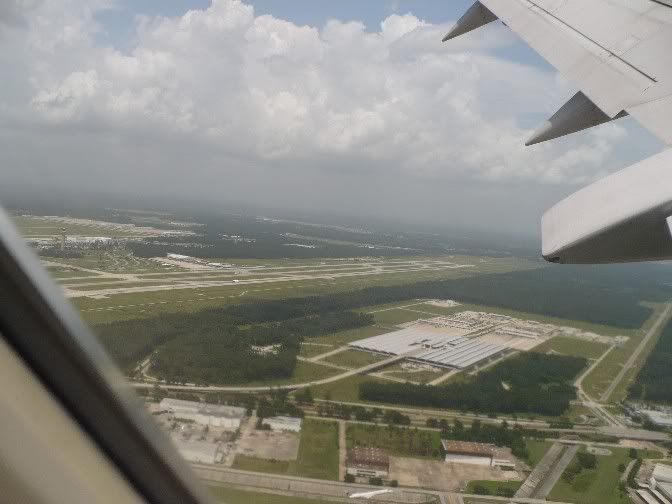 Parallel takeoff, shot 3 of 3. Note RWY 9-27.
As you can see from the photos right above, right as we banked right, I caught a shot of the east half of the airport, including RWY 9-27. Notice the ERJ still climbing out below us in the third photo
And of course, the right turn back to the north was done. After this the rest of the flight was the usual-FAs coming by to serve drinks and snacks, little turbulence here and there, but mainly a smooth flight. Crusing altitude was 36,000 ft.
Cumulus again. Did I mention I like clouds?
Passing over Dallas, TX.
Dallas Love Field.
Pretty soon after passing the Red River, initial approach to OKC commenced. We pretty much paralleled I-35, and I got a shot of my local airport, Max Westheimer Field (OUN-get it? OUn?), which is owned by the University of Oklahoma. We also passed directly over the university itself, but it was too late by the time I realized it :rolleyes:. We were still at a pretty decent speed, so spoilers were deployed well into the approach over Oklahoma City, and we passed by OKC on the downwind quite a distance. A left turn back to the airport was finally executed over the northern suburb of Edmond.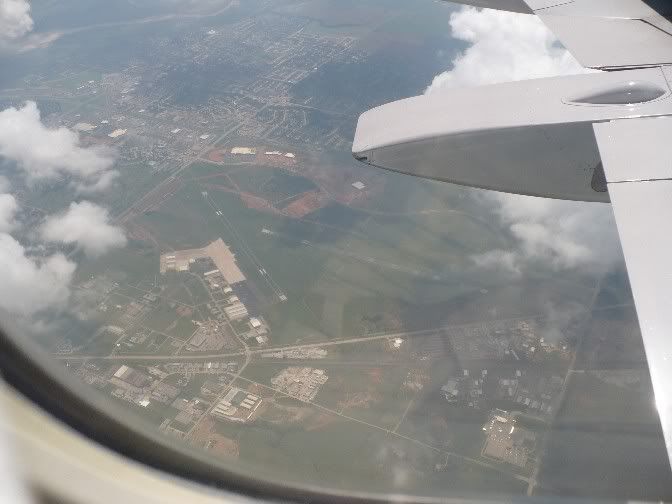 City of Norman, and Max Westheimer Airport. This is a general-aviation airport with a flight school operated by the OU Aviation Department.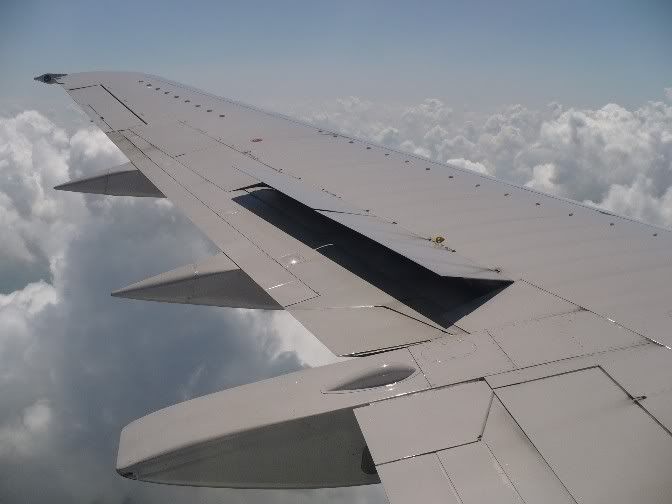 Intial approach to OKC.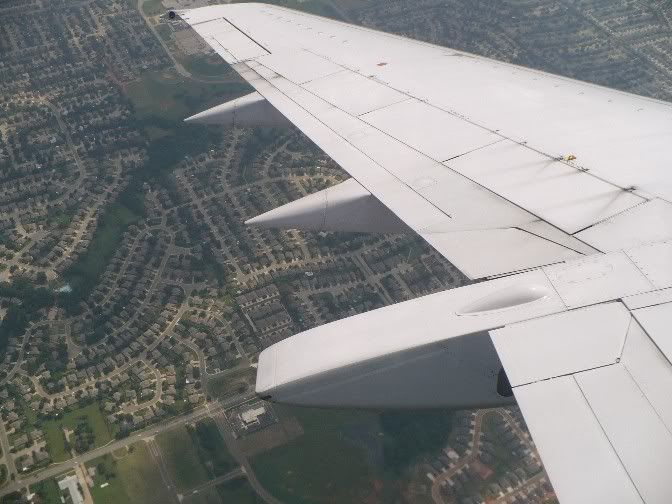 Banking over the northern suburb of Edmond.
After that, more flaps, and the decrease in airspeed was really noticeable. We passed over all the usual stuff you pass over on a typical final approach to OKC from the north. I-40, the I-40-I-44 interchange to our left (with downtown in the distance), Reno Ave. with all the furniture stores, the residential area, and then Airport Road.
Seen here is the Oklahoma River, the I-40/I44 interchange, and some large parking lot. Downtown in the distance.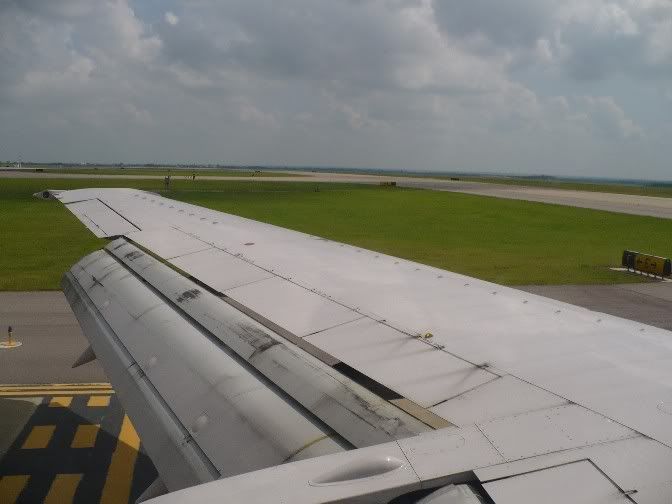 Spoilers down, exiting 17L. Welcome to Oklahoma City.
The assigned runway was RWY 17L, and I saw the huge ARINC hangar coming up in the distance. Touchdown was actually pretty smooth, firm, but smooth. Again, heavy braking w/ idle reverse, and I was actually surprised that even without full reverse, we exited the runway onto crossfield twy Foxtrot. Then it was Foxtrot, Johan and then ramp to gate 10. During the taxi, I spotted some Eagle Ďcraft at the gates, and a WN 733 taxiing to 17R. As we neared the gate, I caught a UA 319 just lifting off for DEN from 17R as well. Disembarkation was pretty quick, and I headed out the jet into a pretty busy west concourse. In the main terminal, all WN gates were packed, pax boarding the daily LAS flight at gate 16. I headed on off on the escalators down to baggage claim. OKCís baggage claim is new and has been expanded just like the rest of the terminal, but the belts are still old school, the ones that are flat and not slanted at an angle, with the rim that comes up over the edge of the moving belt. These donít have any rim or anything, makes getting the bag off the belt that much easier. So anyway, I spotted the belt number for CO 1604, and waited. And waited and waited. After it became clear that my bag was probably not going to appear anytime soon (I almost confused two other red bags for mine), I asked a CO agent about whether that was the end of the bags for this flight. She said yes, thatís it. Great. So I started heading to the CO lost bags office with her when I spotted a red upright with wheels on it. After getting closer to it I found out it was mine LOL. All this time I had been waiting for nothing. Funny thing is I had actually glanced at it for a moment as I was waiting for my bag to ďcome on the beltĒ haha. Anway, I got it and headed outside, where my dad was just pulling up. I put all my stuff in the car and we headed off.
Overall, it was what I consider a perfect round of flights both, to and from AUS, no hassles, no missed baggage no missed flights. And on the contrary I get a freebie standby! Continental is a very efficient airline, the timeliness and service is definitely up there. The FAs are great as well. All around a pretty good airline.