Canaries and Confusion: MUC-MAD-ACE on LH CityLine CRJ900 & Spanair A321
Intro
I early May my girlfriend and I started searching for a one-week vacation package for early July. We checked several classic holiday regions, e.g. Greek Islands, Cyprus and the Canary Islands, but the most difficult task was to find interesting flights. I wanted to avoid rather boring nonstop flights on Air Berlin, TUIfly or LTU so we tried to find "hotel+flight" combinations. It was quite an odyssey but finally we found a RIU hotel at Lanzarote and Spanair flights on TUI's website. Several combinations were available and we earmarked the segments MUC-MAD-ACE (operated by Lufthansa CityLine CRJ900 and Spanair A320) as well as ACE-BCN-MUC on Spanair MD-83 and A320. The CRJ900 and the MD-83 were still missing in my log and I could spend six hours for spotting at MAD.
However, when I wanted to book the flights on the next day the price had suddenly risen by more than 50 Euro (for a total of some 380 Euro per person). I was really sour that the attractive combo wasn't available any more for a reasonable price, so we had no choice but to start searching again. In the end we discovered a combination for departure two days later at the original price, though the MD-83 was replaced by an MD-82 (already in my log). I decided to bite the bullet before losing that fare, too...
Re-Routing & Schedule Change
Eight days later I received an email from TUI - when I read
"Update of your booking"
I feared the worst - which was confirmed a few moments later: the reservation for MUC-MAD-ACE had been changed to MUC-BCN-ACE - the same routing as on the return journey. The reason given by TUI was
"cancelation of flight by the airline"
. That meant the CRJ900 was lost, and no spotting at Madrid.
At least the flights to and from ACE now showed an MD-83 which was still missing in my log. Another negative side effect was the new departure time of 07:25 from MUC, in contrast to 08:50 in the original itinerary.
I checked TUI's and Spanair's websites again and the connection via MAD was still available. Later I called TUI and pointed out that the flights were still available on several websites. All they could say was that Spanair had informed TUI about the change. Just when I had accepted the route change, I received another "update" some weeks later: The departure time had been changed again - from 07:25 to 06:25. Really painful, considering the two-hour drive at night and the requirement to be at the airport at least 90 minutes prior to departure…
Btw - I called Spanair's hotline and asked about reserving seat numbers in advance due to the repeated switch of our departure time. The lady was quite friendly and asked a supervisor but my request was rejected. She said the system didn't accept seat reservations with Economy fares…and web-check-in would be possible only from Spain. So we had no choice but going to the airport early…
Check-in Confusion
Departure day had come and at 04:30 we approached the still deserted Lufthansa's check-in counters at Terminal 2. A very kind lady in the 50s welcomed us and entered our data. I asked for the available seats and the lady promised we could choose them directly from the seat map at her screen.
"We have plenty of time"
, she added. So we picked the seats as desired and she printed the boarding passes. However, she looked a bit confused and told us that the e-ticket number hadn't been printed.
"Without that you may be denied boarding"
, she explained. She tried again, apparently had a closer look at the reservation and suddenly said:
"The system actually shows a connection via Madrid."
I couldn't believe that and told her about the two flight change notifications. She asked whether we wanted to fly via MAD - if not, a new e-ticket for MUC-BCN-ACE would have to be issued. We discussed a bit because the 08:50 departure would require more than two hours of additional waiting but then we accepted. Now I would not only get the CRJ900 and plenty of time for spotting as originally planned, but also a Spanair A321 - the scheduled A320 service had been upgraded meanwhile.
Again the kind and patient lady let us pick the seats from the seat map, but she could only print the boarding pass for MUC-MAD. It was impossible to print the pass for the MAD-ACE segment. The lady contacted a colleague who checked the problem and said a bit ironically after a while:
"Well, the Spaniards like to do that stuff themselves."
So we would have to speak up at a counter at MAD - and of course we hoped we wouldn't face another problem with that strange reservation...
Wednesday, 04 July 2007
Munich (MUC) - Madrid (MAD)
Lufthansa CityLine LH4420
08:50-11:25 (09:27-12:02)
Flying time: 02:20 (hrs)

Bombardier CRJ900LR
D-ACKJ (MSN 15089), delivered 10/2006
Economy Seat 18D
Late Arrival
The time passed by faster than expected while we enjoyed free coffee and tea as well as a large selection of newspapers at the gate. A343 ZS-SXA was parked at the terminal - after completing its first flight of SAA's new JNB-MUC-JNB service.
Shortly after 08:00 we noticed on a screen that our departure would be delayed due to the late arrival of the aircraft. Boarding was started shortly after 08:30 and a bus took us to D-ACKJ, delivered in 10/2006.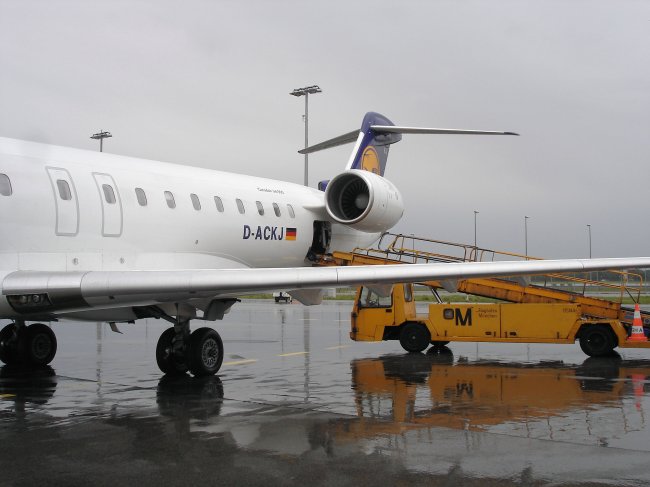 Delay
Boarding was completed at 08:50 and the captain informed us about the flight's status. He apologized for the delay and expressed with regret that the ATC hadn't been able to allow for a departure earlier than 09:30.
"We try to do whatever possible to shorten the waiting time",
he added. It was quite warm in the cabin and the friendly F/As soon started to offer cups with water. What I found really annoying during that time was a permanent and rather loud buzzing sound in the cabin.
At 09:27 we finally left the gate and took off ten minutes later...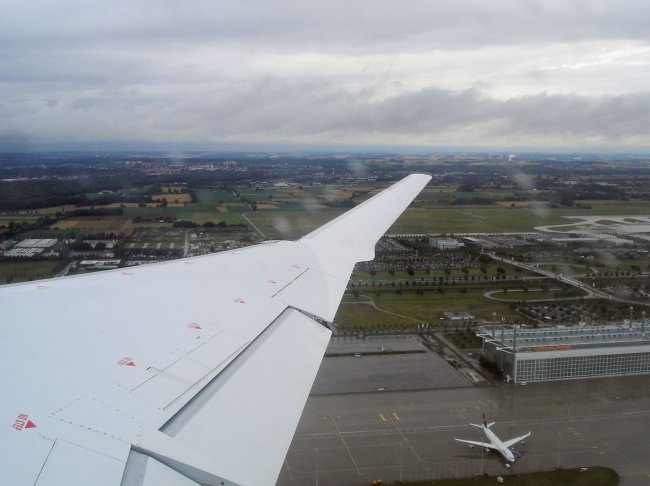 ...leaving behind the bad weather.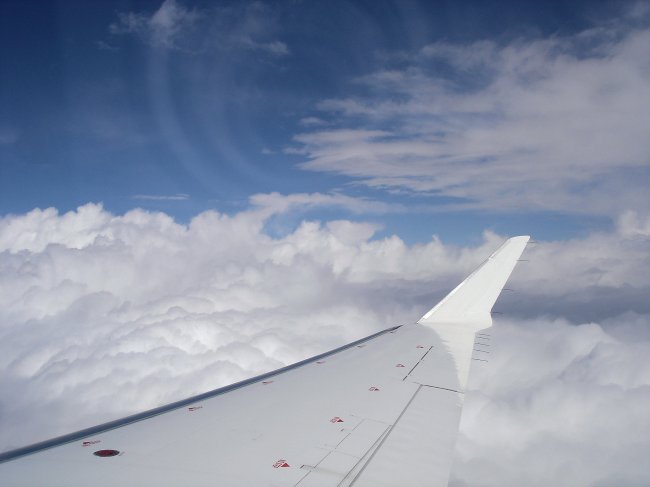 Cabin Comfort & Seating
The CRJ900's cabin is not as spacious as the ERJ170/190's, but still quite comfortable (just like on the CRJ700) - much better than on the basic CRJ100/200. Despite the 100% load factor, it didn't feel cramped. The leather seats are comfortable as well, seat pitch decent, even for a two-hour+ flight: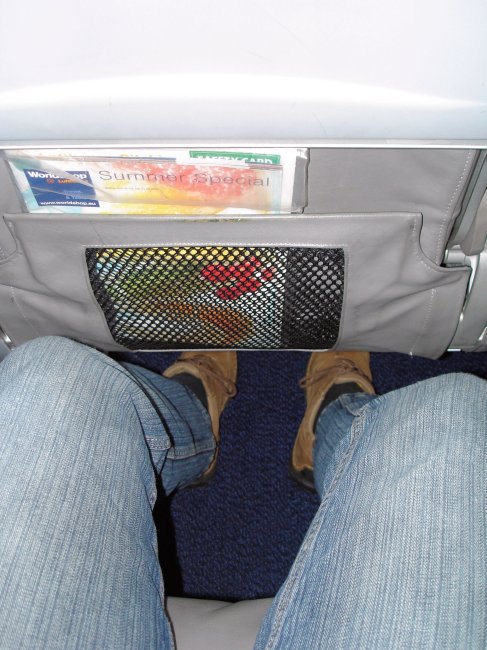 Breakfast
Breakfast service was started soon and I was surprised about a well-arranged tray with two fresh bread rolls, cheese, smoked fillet of ham, turkey breast, a small tomato, jam and orange juice. Everything tasted really good, F/As offered two rounds of drinks.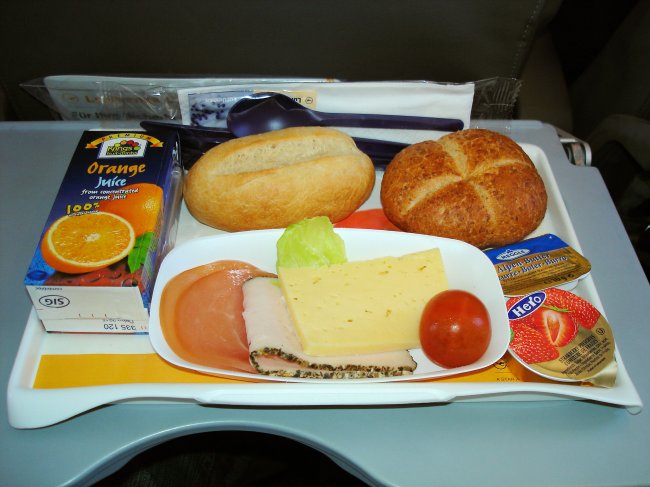 Approach
Somewhere close to Zaragoza the captain informed us about a cruising altitude of 39.000 feet or 11,900 meters and a remaining flying time of 35 minutes. Approach to MAD was a bit bumpy...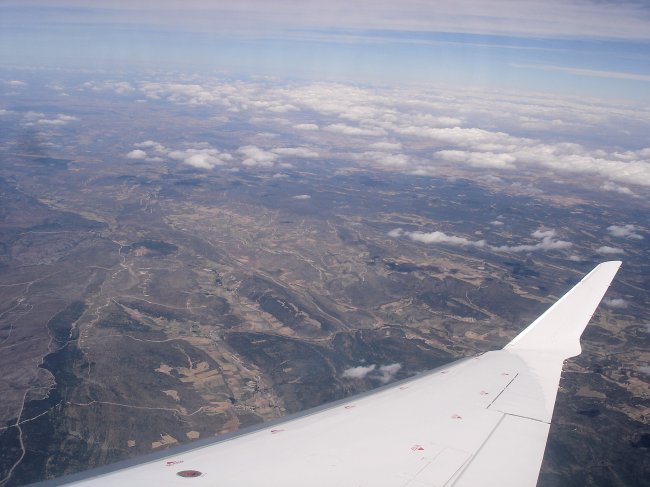 ...and touchdown followed at 11:57. We parked at a remote position and were bussed to Terminal 1.
Madrid Barajas Airport & More Confusion
On our way through the arrival area we watched out for a transfer desk and wondered whether we would depart from Terminal 2 or 3 because a map showed that Spanair was present at both. Construction work throughout the building didn't help either so we decided to head to the central Spanair check-in area at Terminal 3. We weren't happy to find some 80-100 Economy Class travelers waiting in row in that hot, sticky hall, so we went to a deserted Business Class counter on the opposite side.
Fortunately, a young female agent immediately checked our reservation after I had explained the problem and asked for the remaining boarding passes. My fears came true again and the lady looked quite confused, she seemed to browse through numerous sites and then started talking about
"Tenerife and Lanzarote flights were only available today"
.
I wasn't sure whether she had understood the problem - I definitely hadn't asked about switching to another flight on another day. Then she mentioned that a new ticket would have to be issued at a ticket counter, but then she dialed a number and talked on the phone for several minutes. Meanwhile a young employee, probably a trainee, checked numbers on the agent's computer, keyboard and monitor and wrote them down on a list - he moved the parts rather recklessly and for a moment I thought the computer would be disconnected. The agent gave him an evil eye and he stopped...Finally, the agent confirmed we would get the boarding passes. I asked for seats in the rear section of the cabin and we took row 33.
Madrid Spotting
We passed security again and took a seat at the large glass front at Terminal 3. Several gate areas were hopelessly congested and sometimes some 100-150 passengers were standing in row and blocking the passage as soon as boarding started. In certain cases masses of people already started to line up even before boarding was announced.
The remaining hours passed by quickly and I got a total of 93 new registrations, including "goodies" like Air Italy B733, Pace Airlines B757 and PLUNA B763.
Wednesday, 04 July 2007
Madrid (MAD) - Lanzarote (ACE)
Spanair JK5110
17:20-18:55 (17:54-19:20)
Flying time: 02:11 (hrs)

Airbus A321-231
EC-INB (MSN 1946), delivered 04/2003
Economy Seat 33E
Late arrival
Half an hour prior to departure our gate was still deserted so I guessed we would be delayed again. Then a Spanair A321 arrived and rolled to the gate - it was EC-INB, the last of five A321s delivered to the airline between 2000 and 2003. Btw - Spanair was the first airline to accept the 93 MTOW version.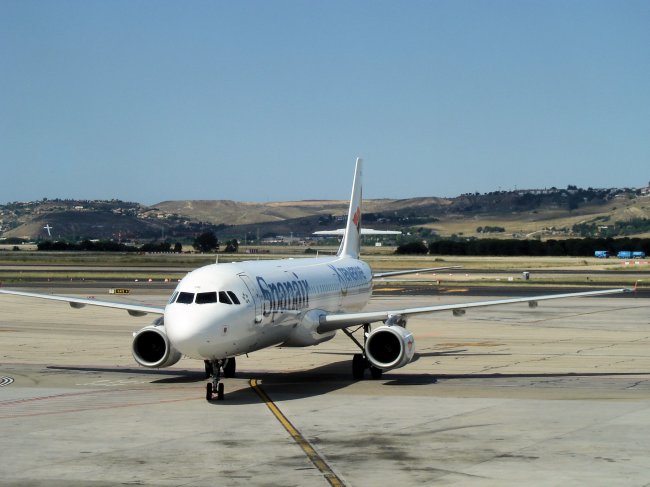 Large titles promoting the island of Tenerife: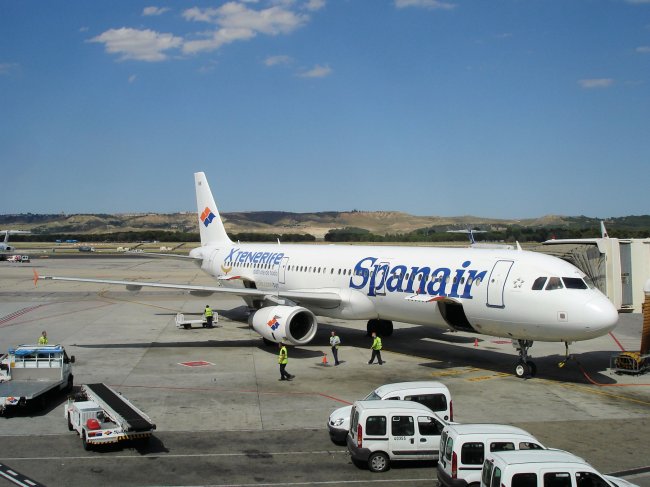 Boarding
Even though the aircraft had just arrived, numerous passengers already lined up and most of them were standing around for more than 30 until boarding was started...We preferred to remain seated and watched our luggage being loaded into the hold. We were among the last passengers to enter the cabin which was totally packed - there may have been some empty C-Class seats, but Economy Class was full - which means a total of more than 200 passengers on that A321 flight.
Cabin Comfort & Seating
I had read about Spanair's cramped seating before and I can confirm all the reports are true. While the seats are ok, the pitch is at minimum, numerous LCCs offer much more than that. The ads for Vodafone throughout the cabin support the LCC-like atmosphere.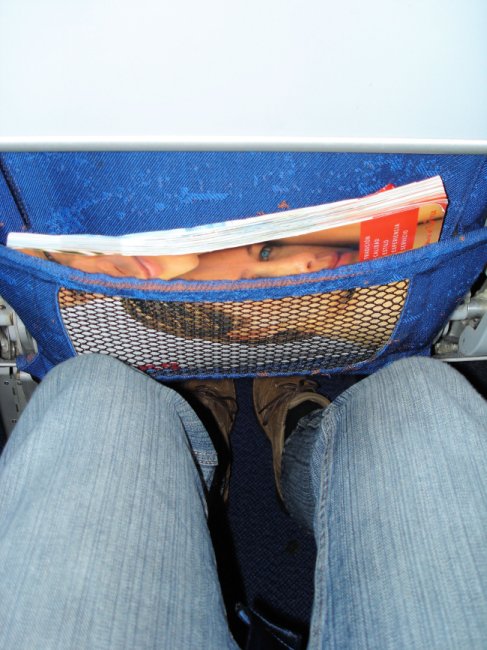 Though the cabin seemed to be clean at first look, I discovered lots of dirt at the seat frame: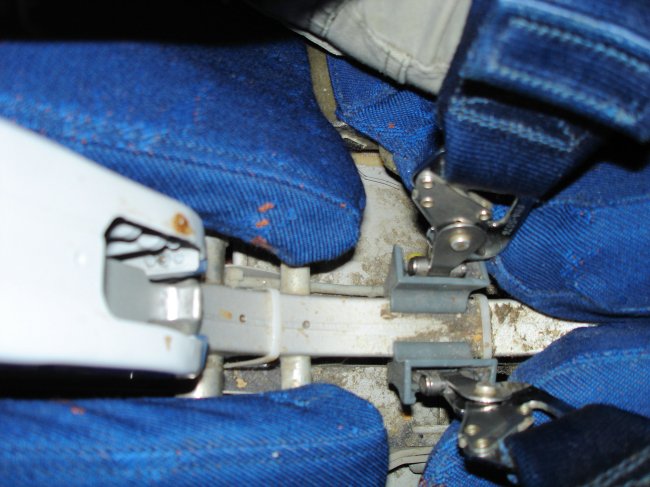 Departure
Some passengers had arrived late and we finally left the gate more than half an hour late at 17:54. No explanation for the delay at any time...On the way to the runway we passed the new and shiny Terminal 4: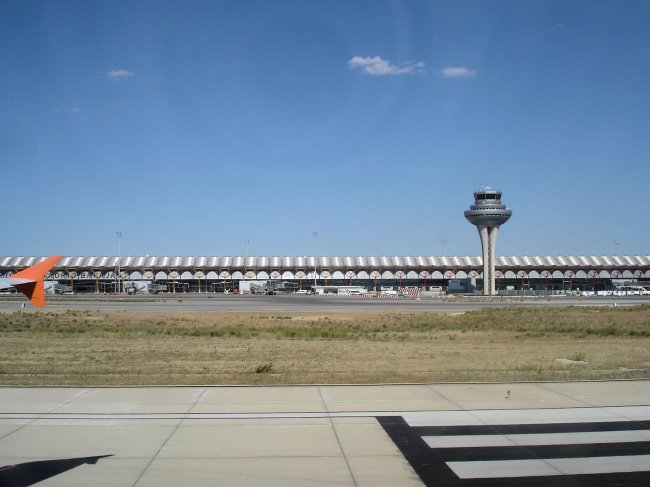 After a rather long takeoff roll we lifted off at 18:06: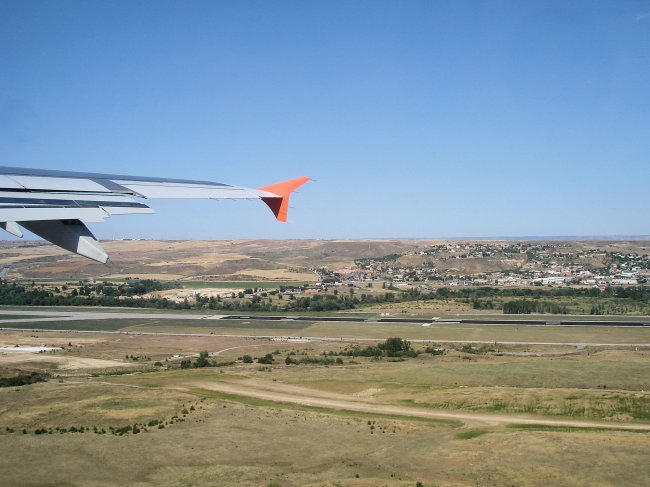 EC-INB's shadow...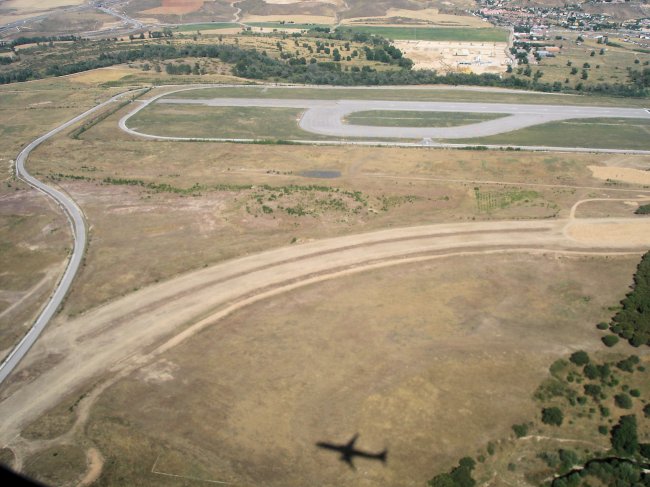 The climb-out was bumpy and therefore quite enjoyable...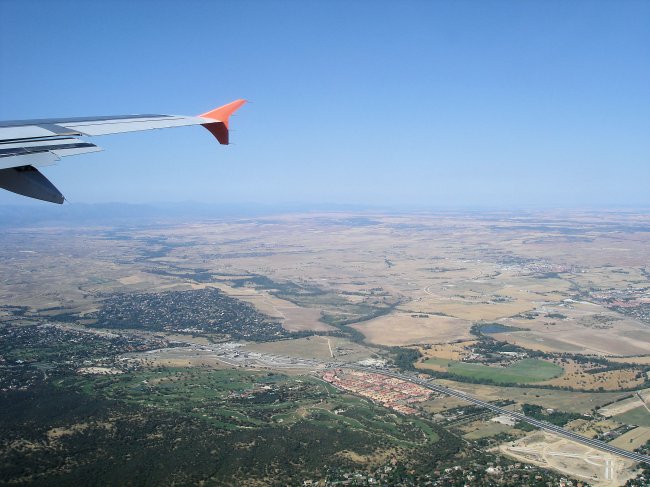 IFE
Spanair has installed overhead foldout screens but the view from my seat was limited. They showed the airshow channel for a while and then switched to TV features which I didn't follow at all. There were also some audio channels available but I preferred to use my MP3-player.
Onboard Sale: High Prices, Low Quality
I knew Spanair would charge for everything on domestic flights, even on the longer ones to the Canary Islands, and I decided to test some of their offerings. The menu card and the pictures look promising: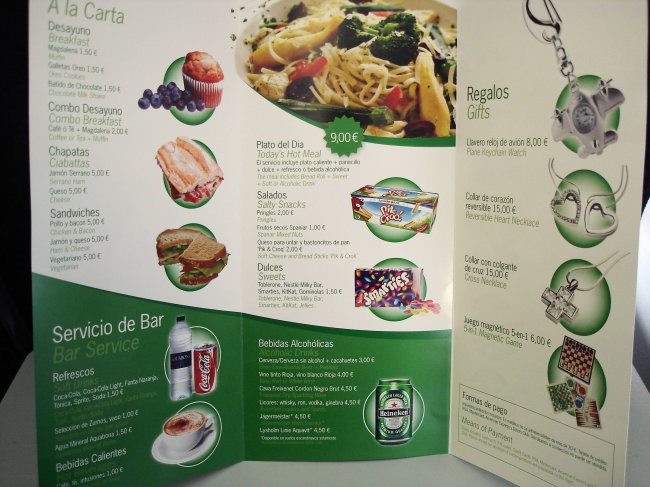 While I ordered a cheese ciabatta, my girlfriend decided to try a "chicken & bacon" sandwich for 5 Euro each. Tonic for 1,50 Euro was the drink of choice for both of us. In the end we paid a total of
13 Euro
for some stuff which wasn't even worth 5 Euro. My ciabatta with four tiny slices of cheese was dry-as-dust and seemed to be several days old - some butter or mayonnaise would have helped a little bit, but there was none. Simply awful.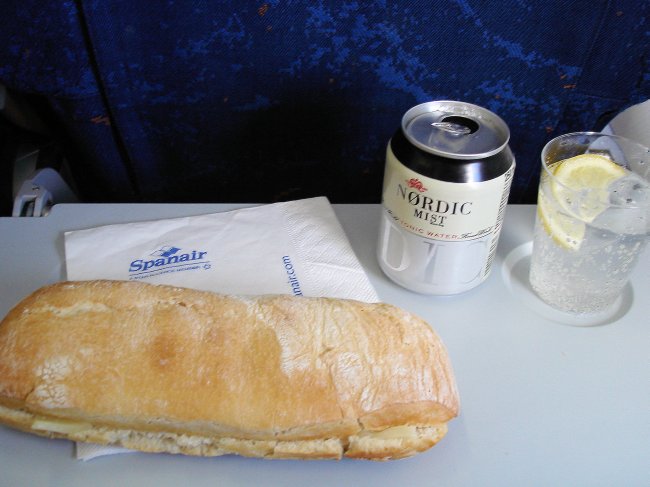 My girlfriend's sandwich wasn't much better. The "chicken & bacon" turned out to be a kind of "mixed sausage something" that tasted just strange and the lettuce appeared to be old and was tasteless.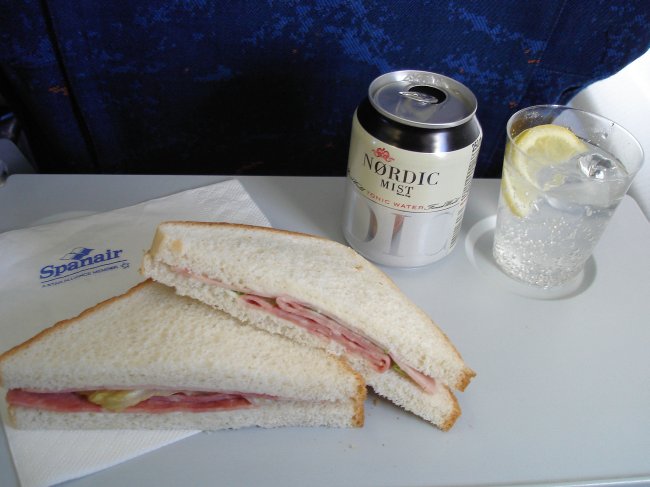 Not to forget, the Tonic called "Nordic Mist" was served in 250 ml cans - not in common 330 ml cans. Some passengers also ordered the "hot meal" in boxes (including drink, bread roll & sweet) for 9 Euro which looked relatively small as well. Interestingly, numerous passengers ordered snacks and drinks - I'm wondering how many have drawn the same conclusion of "high prices, low quality."
I recovered from the disappointment by enjoying my window view. Btw, no announcements from the flightdeck at any time.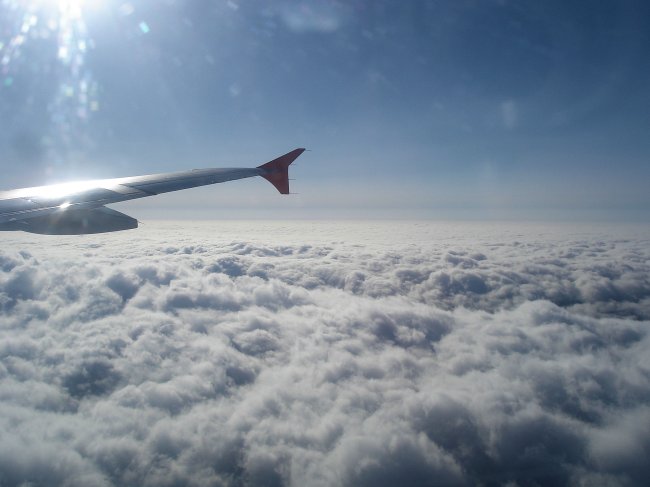 Approach
The remaining flight was uneventful and after we were
oh-so-generously
offered a free candy we started the approach to Lanzarote, sliding through thick clouds: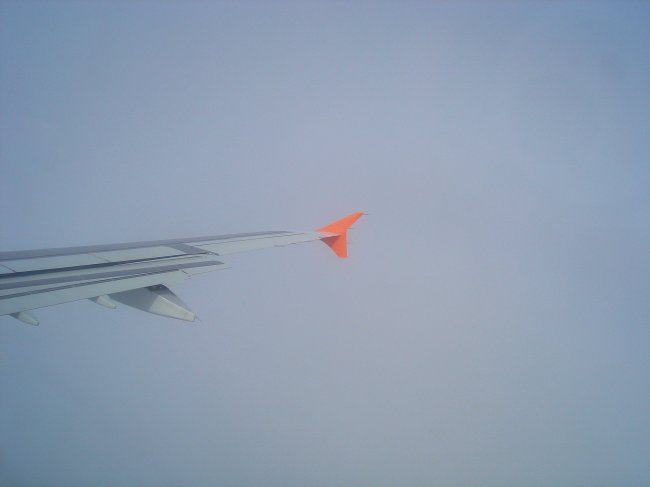 Low clouds over the Atlantic Ocean, windy approach: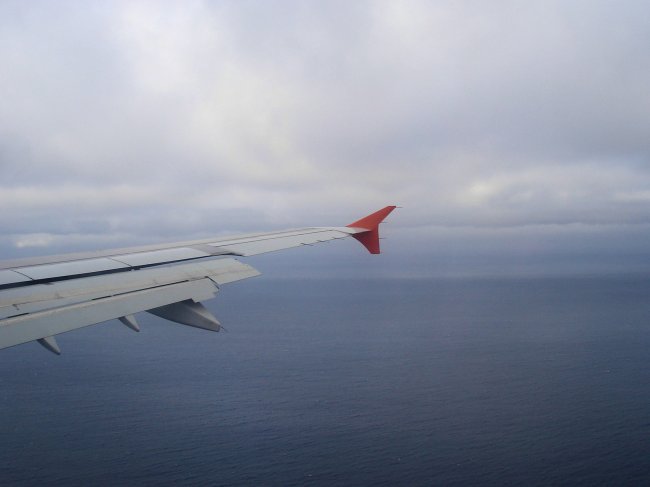 Only a few moments to go...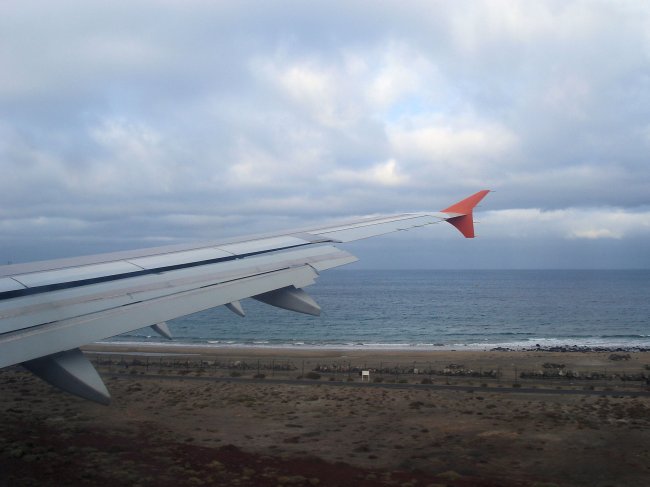 ...until we touched down roughly and slowed down at runway 03: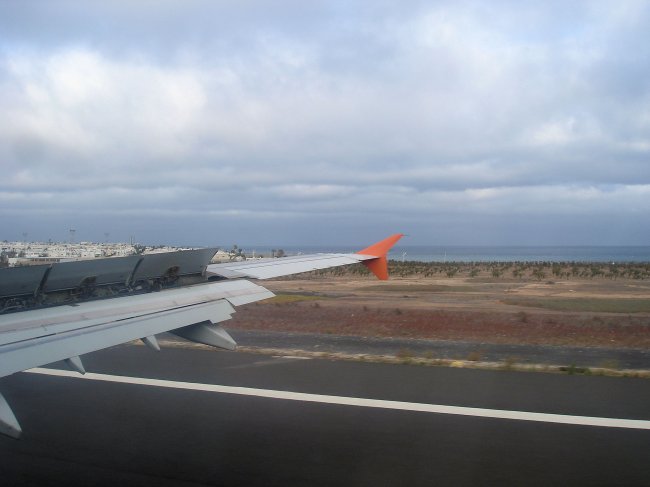 After three minutes we arrived at the gate a rather deserted airport and while leaving the aircraft and rushing through the airport we were really looking forward to the dinner buffet at the hotel...
Conclusion
Flying
Lufthansa CityLine
was a pleasure - comfortable aircraft, motivated crews and an excellent breakfast. Delays can happen at any time due to whatever reasons - the question is how airlines handle them. Lufthansa made a good job and kept us updated, serving water on the ground is a nice and welcome gesture. Also, I have to praise the female agent at check-in - one of the most patient and kindest persons I have ever met at an airline counter. The CRJ900 is one of the better regional aircraft, but still prefer the E170/190 with its spacious cabin.
Anyway,
for Lufthansa this time.
Flying
Spanair
on the domestic segment was a big disappointment. The airline is part of Star Alliance but operates like a cheap LCC in terms of onboard service and comfort. Seating is extremely cramped, nothing's for free except for a sweet. They could at least serve cold drinks on the two-hour+ flights to the Canary Islands. What's most annoying is the low quality of the stuff they sell - I don't mind paying 5 Euro for a sandwich if it's fresh and tastes good - but charging 5 Euro for junk food is impudent. Numerous LCCs know how to make it better.
Several F/As didn't appear motivated, but at least the agent at MAD was quite friendly. It's still a mystery what exactly happened to our reservation, but it's clear something had gone entirely wrong. Would I recommend Spanair? Definitely not for longer domestic segments - international service is a different story. More to follow in the return trip report.
Next reports:
ACE-LPA-ACE on Islas Airways ATR72 and Binter ATR72 (operated by NAYSA):
http://forums.jetphotos.net/showthread.php?p=435550
ACE-BCN-MUC on Spanair MD-83 and A320
http://forums.jetphotos.net/showthread.php?t=40836
Best Regards,
PlaneHunter