Canary Islands Prop-Hopping: Lanzarote-Gran Canaria (ret) on Islas Airways & NAYSA
Background
This ACE-LPA-ACE trip report is number two in a series of three reports. For all those interested in the background of the entire trip and the first part of the series
(MUC-MAD-ACE)
, here's the link:
http://forums.jetphotos.net/showthread.php?t=40705
Planning & Equipment change
Shortly after my girlfriend and I had booked our trip to Lanzarote in early May, I checked the domestic flight options from Arrecife. Since the enthusiast wouldn't go alone this time, I didn't evaluate a major fun flying trip across several islands, but concentrated on an option which would include enough time for some sightseeing. Fares to Tenerife or La Palma were quite expensive on the favoured days, so we decided to go to Gran Canaria.
We picked Islas Airways' morning departure (only two daily flights between ACE and LPA) for 50,50 Euro per person and checked the numerous Binter Canarias flights for returning to ACE. Several flights would be operated by Futura (B733 and B734) and I chose a late afternoon departure on a B734 - definitely more interesting than the common Binter ATR 72s. The fare was exactly the same, 50,50 Euro each. While the booking process on Binter's website can be switched to English or German, Islas talks Spanish (except for a few pages in other languages). Anyway, booking the Islas flight wasn't a big deal even in Spanish.
Only few weeks after booking the trip I noticed Binter had changed the allocation of flights. I was disappointed about spotting "AT7" on the computer screen, but then found the addition "operated by NAYSA". At least another rare carrier - and there was a chance to get one of the brand new ATR 72-500s delivered in June.
Sunday, 08 July 2007
Lanzarote (ACE) - Gran Canaria (LPA)
Islas Airways IF410
08:35-09:05 (08:16-09:01)
Flying time: 00:39 (hrs)

ATR 72-202
EC-JCD (MSN 452), first delivered to Bangkok Air in 06/95 as HS-PGC
Economy Class (free seating)
Check-in
Slightly over an hour prior to departure we took a taxi to the airport (ten minutes-drive) and entered the domestic terminal. The Islas counter was still closed and opened a few minutes later. A friendly female agent quickly handed the boarding passes to us - after asking for a certain row she explained there would be free seating and only 14 pax booked on this flight anyway.
Boarding
The security checkpoint didn't open until around 07:30 which resulted in a long queue. Finally we made our way to the gates and I spotted EC-JCD parked on the tarmac. At around 08:00 I walked around for a while and thought there would be some time left since boarding time had been given as 08:15. However, from the opposite side of the gate area, I suddenly realized no more passengers were seated or standing at our gate, and my girlfriend was already waiting next to the gate exit. I returned quickly and indeed we were the last two pax missing - the agent from the check-in earlier had already asked for me, my girlfriend said. And it wasn't even five minutes past 08:00.
We walked to the aircraft and I asked a ramp worker whether it's ok to take pictures (which is, according to certain airlines, not always tolerated on the tarmac). He smiled and invited me to do so. Btw - note the captain next to the door.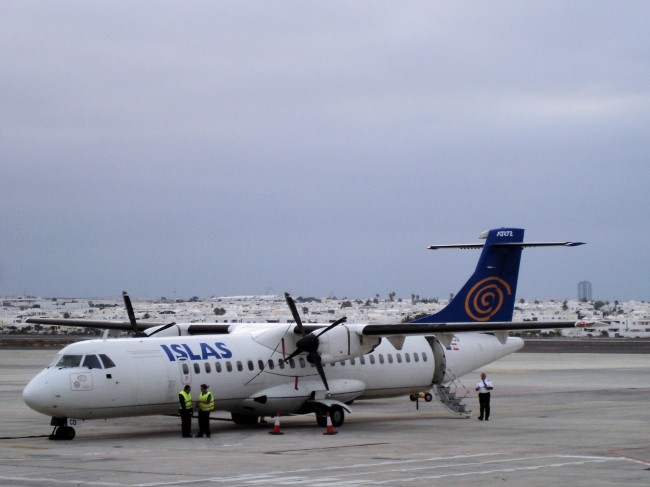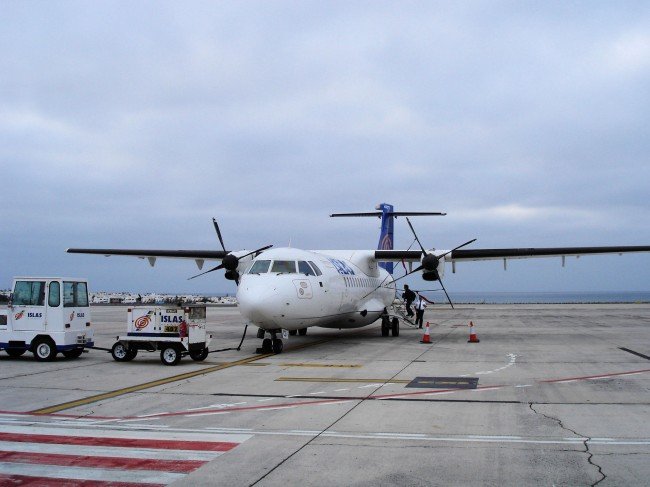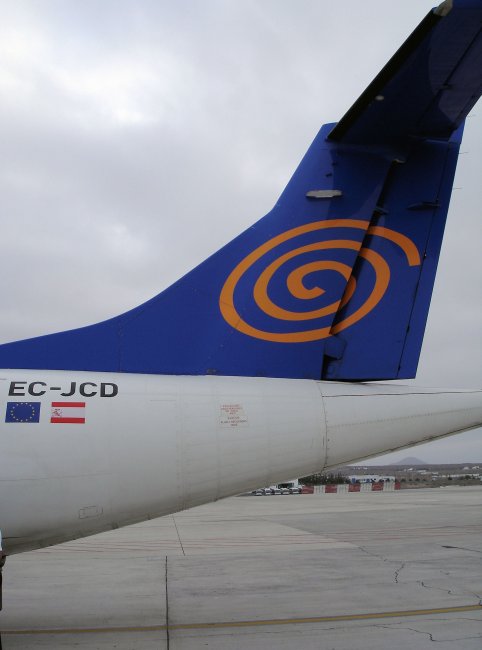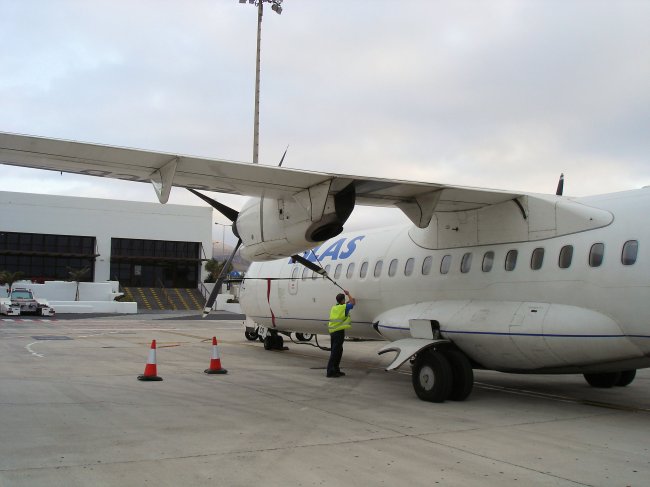 Cabin Comfort & Seating
Two friendly F/As, one of them still very young, dressed in chic blue uniforms, welcomed us on board. Some good seats in the rear section were already occupied so we walked down to the front end and choose row 2. The seats were just fine for the short flight...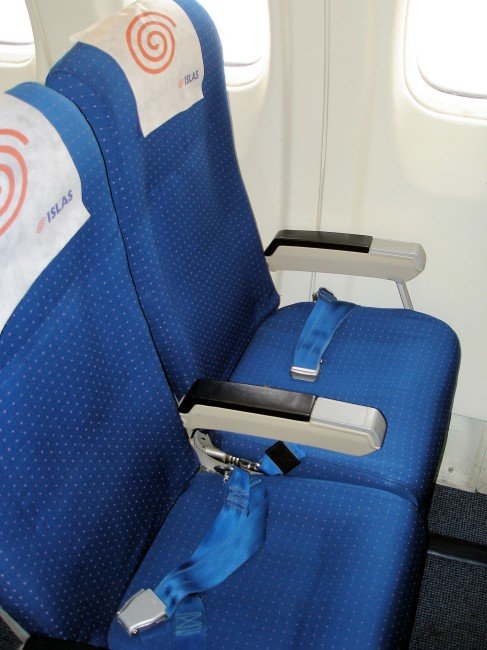 ...as well as as the pitch.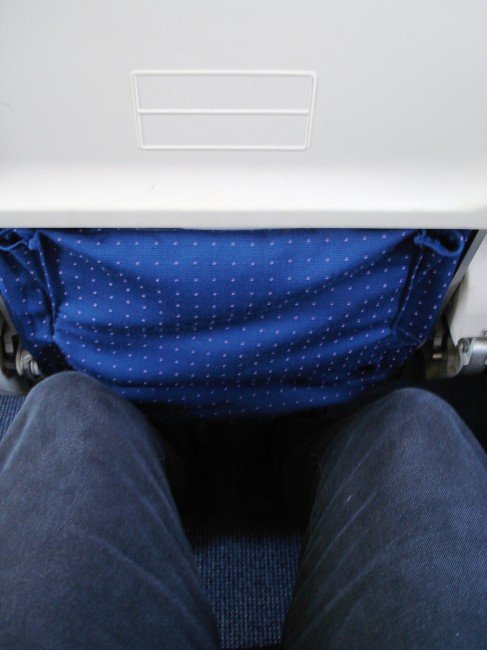 Departure
At only 08:16 EC-JCD was already pushed back and started taxiing to runway 03 - quite ahead of schedule. Just behind the white houses on that small hill you'd find the Beatrix Hotel which is a good choice for spotters.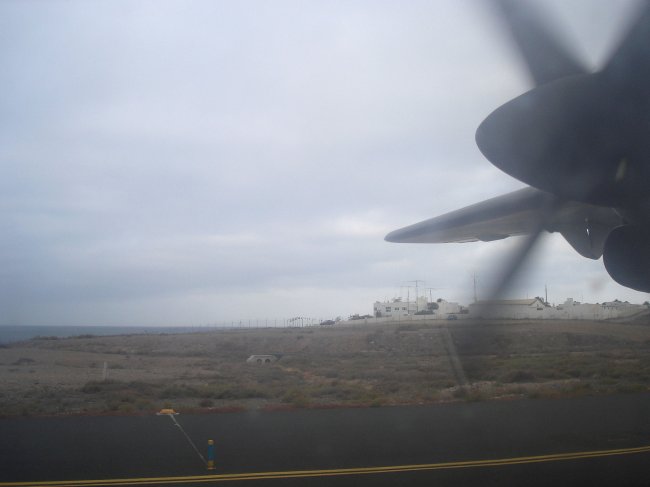 After a short takeoff roll we turned left...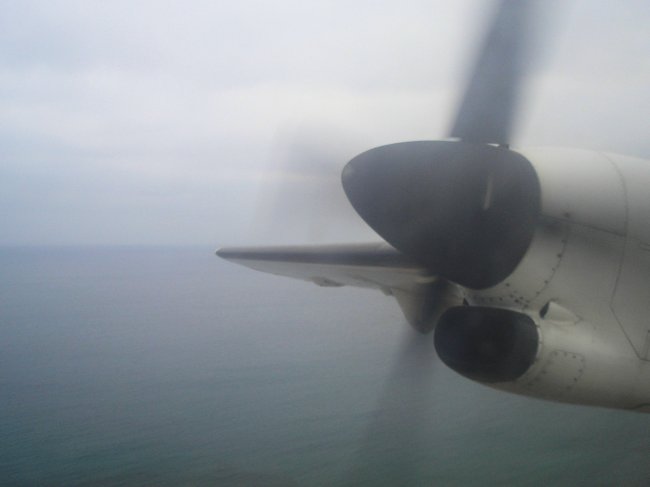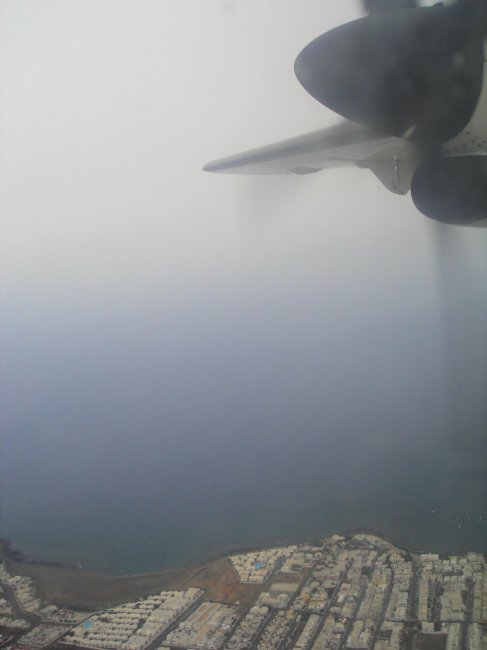 ...and soon climbed through the clouds.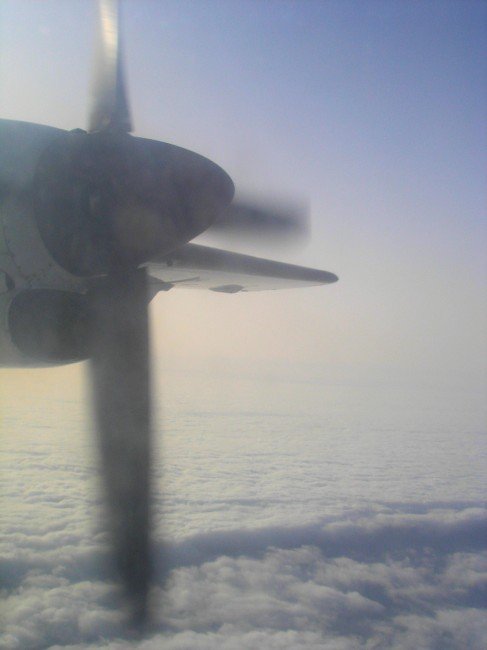 Service
Drink service started a few minutes later and we were offered a
"Cafe Solo"
(= espresso) in tiny cups as well as water. The coffee was strong, but tasted excellent with lots of sugar.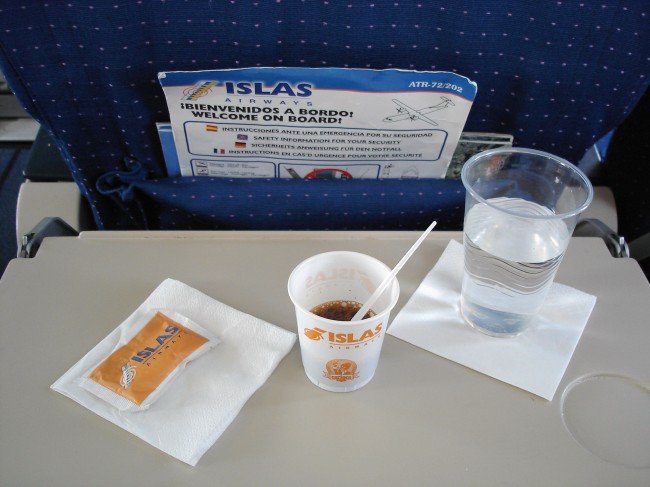 After the trash had been collected again I had a look into Islas' inflight magazine which is quite interesting, though written entirely in Spanish. There is a page which shows a list of all the airline's five aircraft together with registrations. I had a closer look at an article covering the purchase of six new ATR 72-500 which are planned to be delivered between late 2007 and 2009.
Approach
There was an announcement from the cockpit, but only in Spanish - probably some pieces of information about the remaining flying time and the arrival. Gran Canaria showed up on the right, partly covered with clouds, and the approach was started.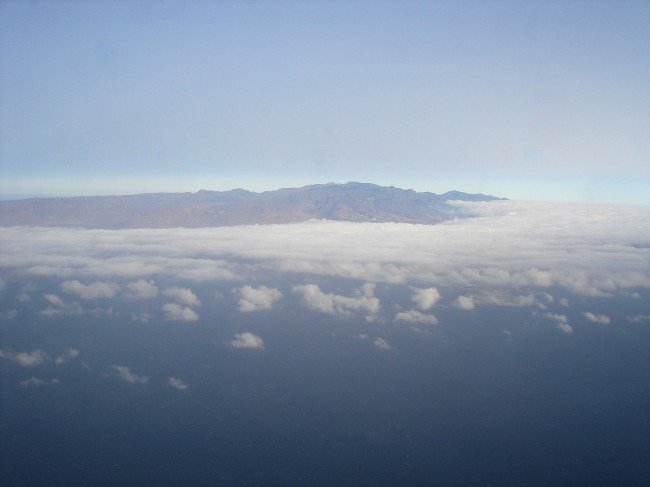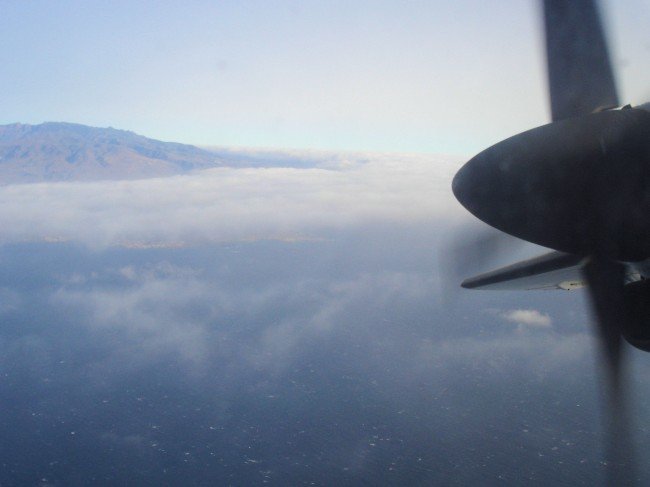 Final descent over numerous warehouses and industrial plants: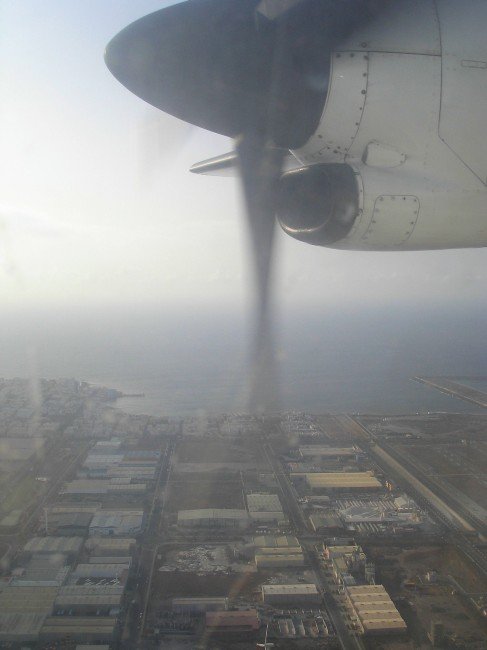 We touched down at 08:58 and stopped at a remote position three minutes later next to a Binter ATR 72-500.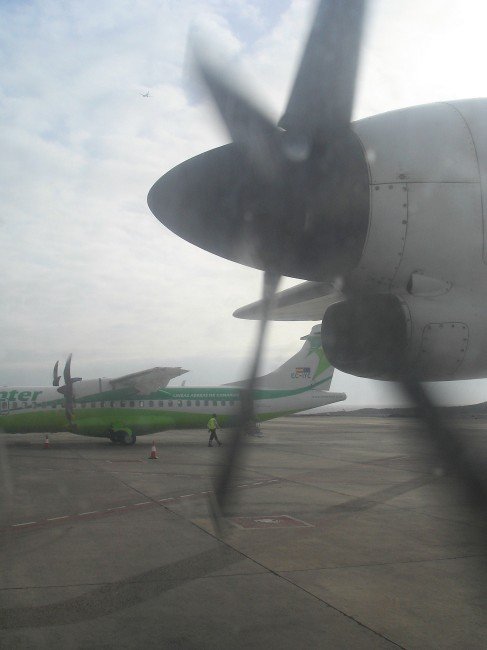 Gran Canaria
Early Return Check-in
After a short bus tour to the terminal we walked to the departure hall in order to check in for our return flight in the afternoon. Binter's check-in machines are easy to operate and within two minutes we had our boarding pass. A young Binter employee had shown up immediately and asked for assistance as soon as we had entered our data. Nice move, though his English was only basic.
Las Palmas
We went back to the arrival hall and waited for the bus to Las Palmas which is, with roughly 400,000 inhabitants, the largest city on the Canary Islands. After a 20 minutes ride we arrived at a central bus terminal and decided to walk to the harbor alongside the water front. As so often it was overcast all day - locals call that phenomenon
"Panza de burro"
- so walking wasn't a problem.
Some views of the copious Las Palmas harbor area: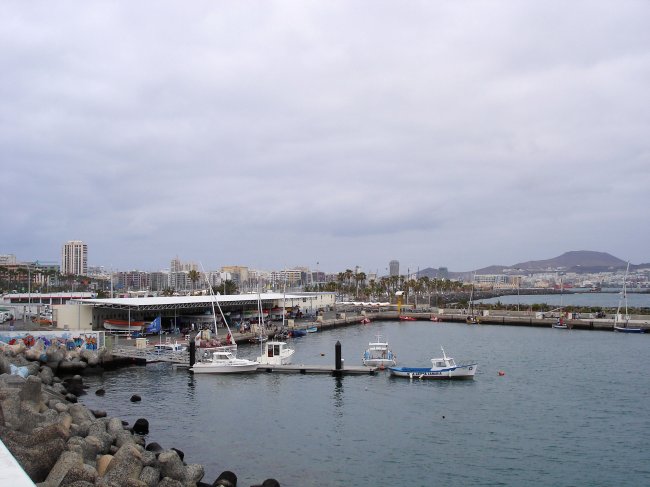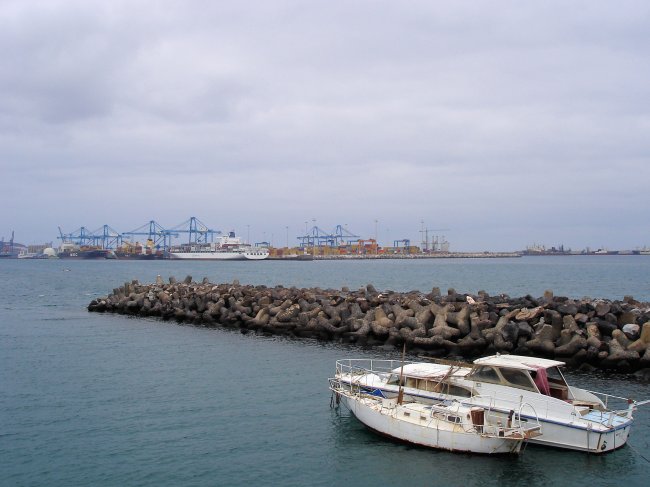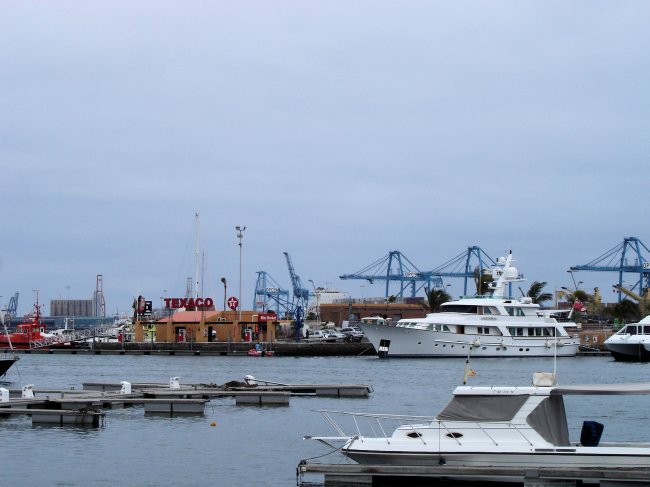 There's a central city beach with nice sand in that part of the city, but facing some large cargo ships, it's not really attractive: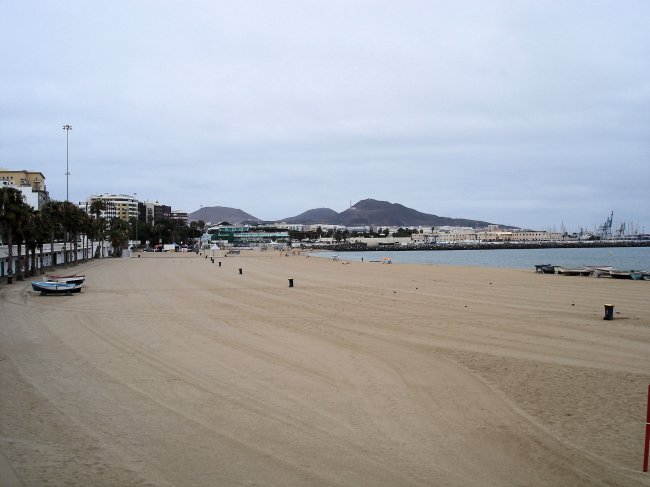 Las Palmas navy base: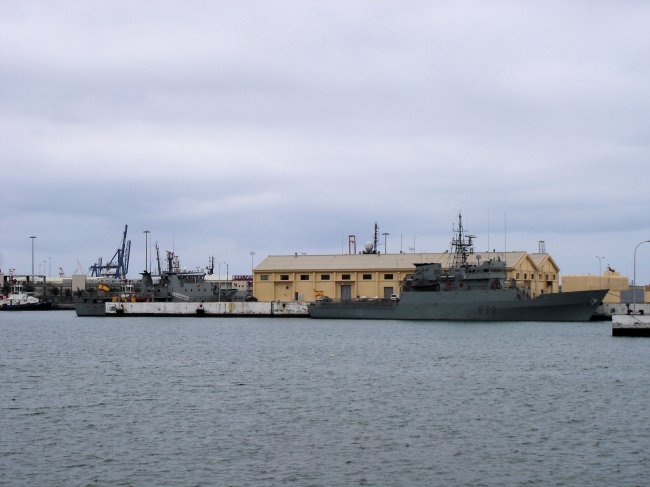 Cargo ships seen from the upper floor of a large shopping mall: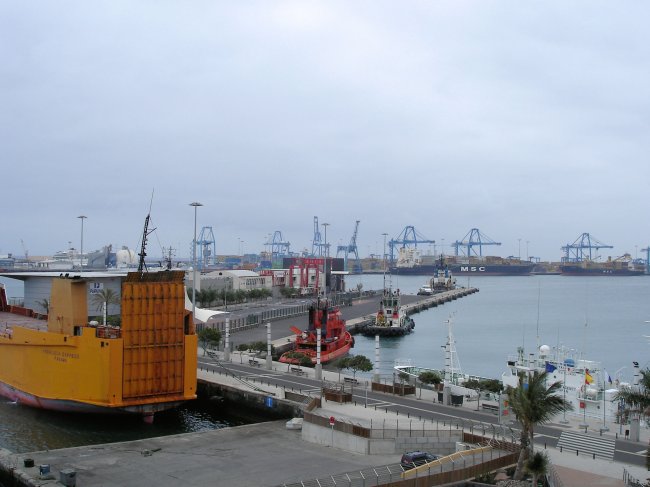 We had plenty of time left after lunch and some shopping and decided to visit the
"Museo Elder de la Ciencia y la Tecnologia"
: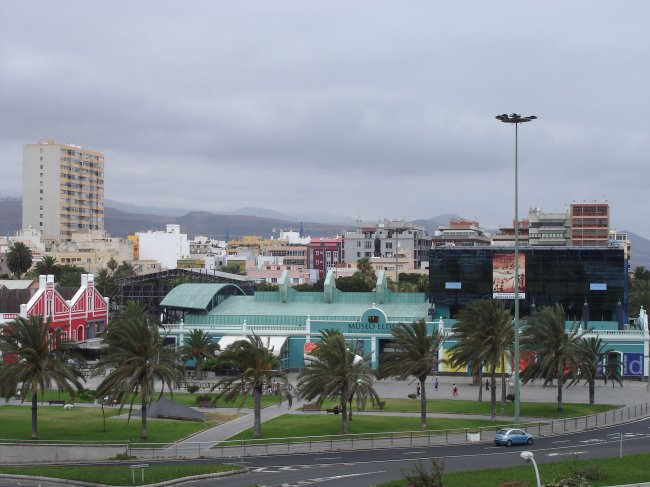 One of the main attractions just next to the entry: The front section of an Iberia DC-9-30.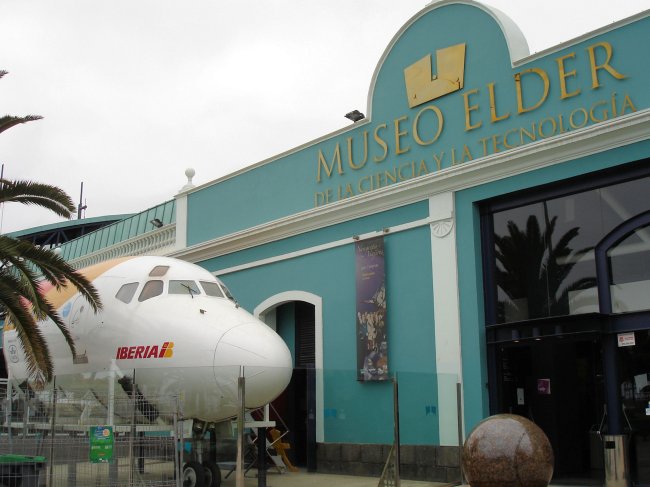 All individual markings are gone, so I couldn't identify the plane. Later at home I checked ATDB and it turned out that the nose sections had once been part of EC-DGB, a DC-9-34 first delivered to Aviaco in October 1979. The aircraft was retired in December 2002 and later scrapped. The nose section was placed at the museum in 2004. Too bad the section's interior wasn't accessible.
We spent some 1,5 hours at the museum which covers all kinds of technical and scientific topics - very recommendable. In the afternoon we walked back to the bus station and returned to the airport.
LPA spotting
There is an observation deck at LPA airport, accessible for passengers only. Traffic was quite low in the afternoon so I didn't explore the deck but decided to have a seat at the glass front in the gate area. Here's EC-IYE - Islas' sole ATR 42-300.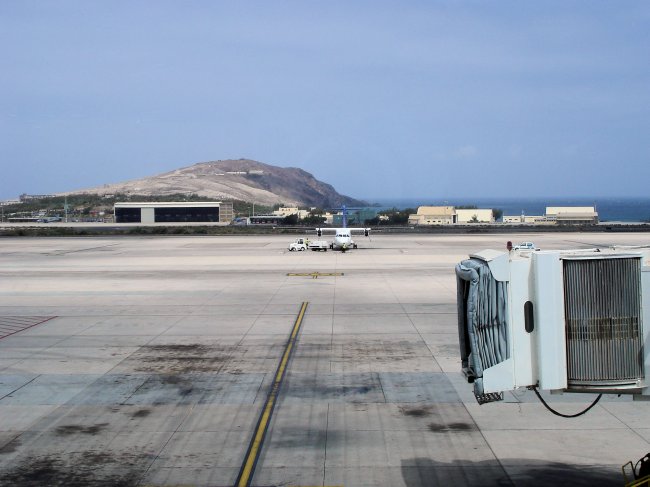 Sunday, 08 July 2007
Gran Canaria (LPA) - Lanzarote (ACE)
Binter Canarias NT536 (operated by NAYSA)
16:30-17:10 (16:42-17:23)
Flying time: 00:33 (hrs)

ATR 72-202
EC-GRU (MSN 493), first delivered to Binter Canarias in 12/97
Economy Class (free seating)
Short delay
I had waited all the time for any white NAYSA plane to arrive, but I only spotted Binter aircraft. Close to our boarding time of 16:10 I guessed there had either been an aircraft change or the flight would be delayed. When we left the glass front and walked over to our gate I was a bit irritated to see that some 50 passengers were already waiting in line at the gate - just like at MAD, people had lined up exactly at the time printed on the boarding pass. Due to free seating on this flight again, I was concerned about a good seat now.
The time passed and since other flights had already been delayed, I guessed the same would happen to us. But then some 15 minutes later boarding was finally started.
Boarding
As we left the building I immediately noticed some pax in front of us headed to a Binter aircraft in old colors, registered EC-GRU.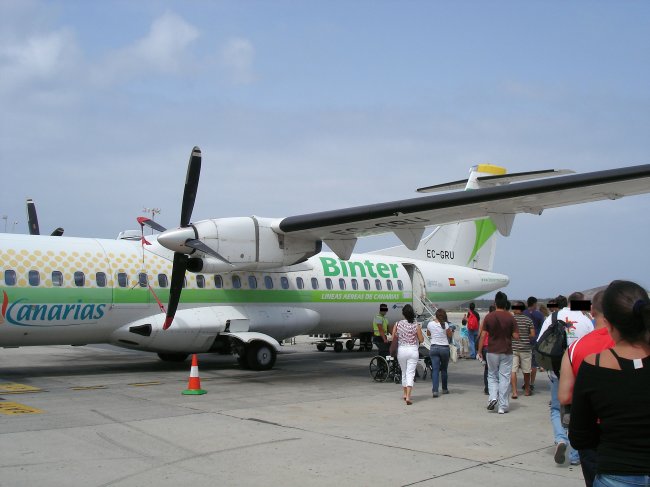 Only some moments later I spotted this sticker: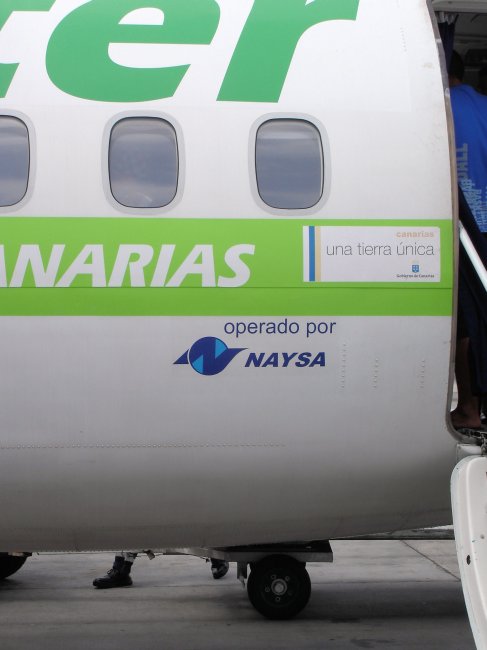 Now it was clear we would indeed fly on a plane operated by NAYSA - but not on the new ones I had hoped for. At home I found out Binter had transferred four ATR 72-200 to NAYSA shortly before our trip.
Cargo door still open: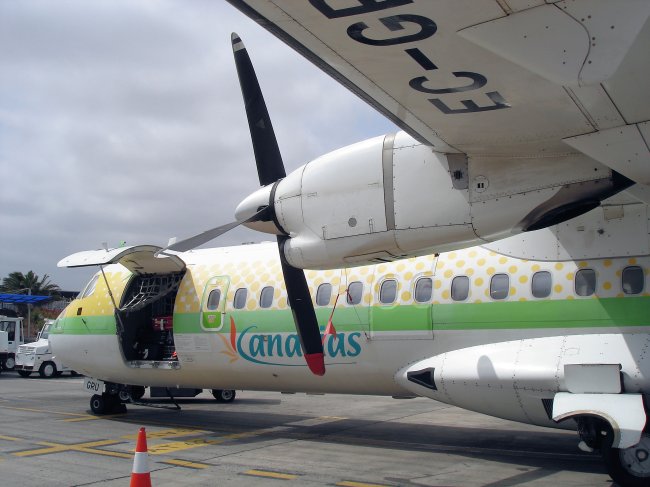 Cabin Comfort & Seating
Even though many passengers had entered the plane before us, we managed to get a row in the rear part which still offered acceptable views. The interior in general looked quite worn. While the seats weren't much different from the ones on the Islas plane...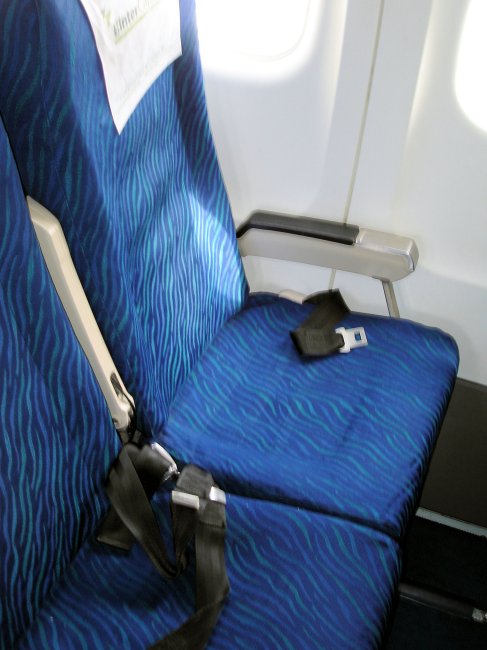 ...the seat pitch was definitely worse. Very uncomfortable seating, even for a short hop. While Islas' EC-JCD is equipped with 70 seats, NAYSA's EC-GRU is equipped with 72 - but that can't make such a difference, can it?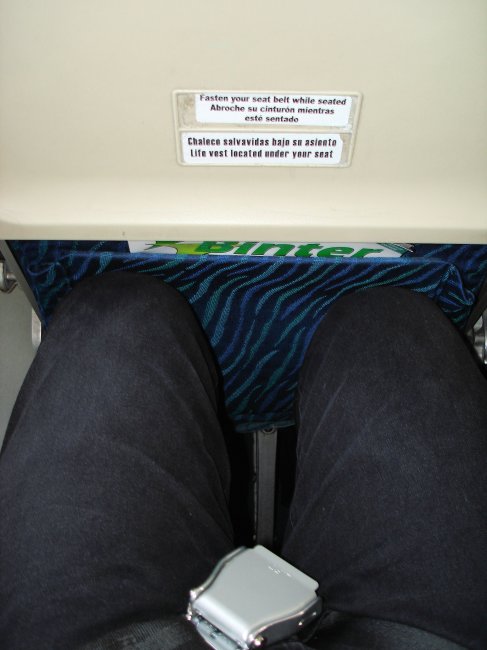 Departure
Boarding was completed quite fast, even though the flight was totally full. We left the gate at 16:42, taxied to the runway...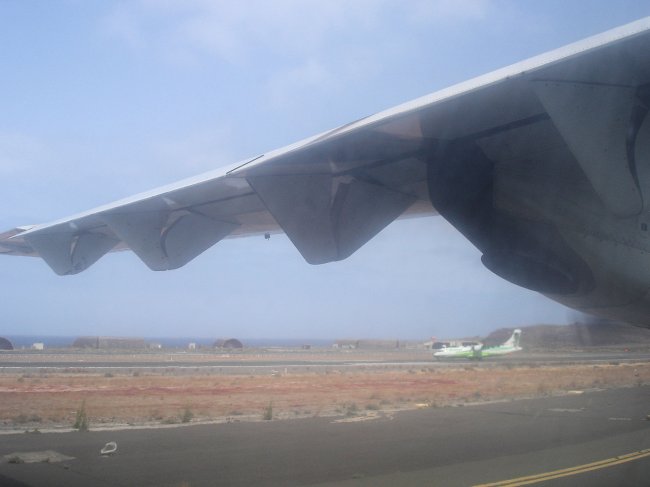 ...and took off seven minutes later. Facing the sun and seated at a scratched window negatively affected the picture quality.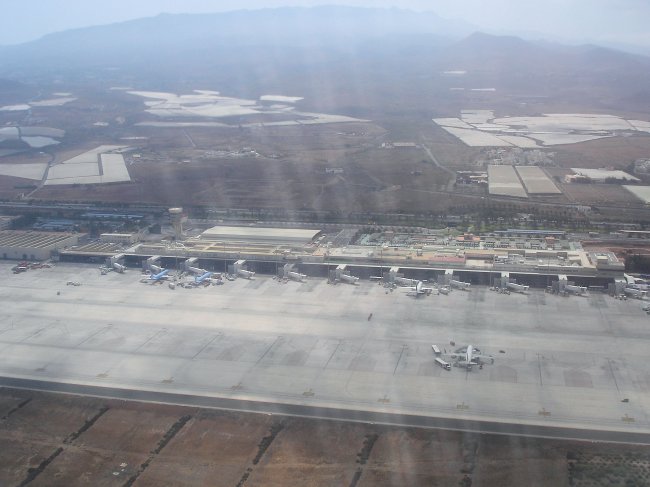 Turning left above the clouds: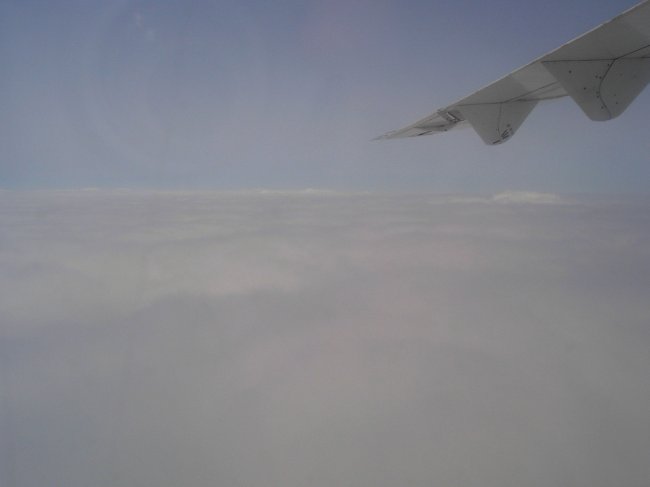 Snack
F/As were friendly like on Islas and offered water as well as peanuts.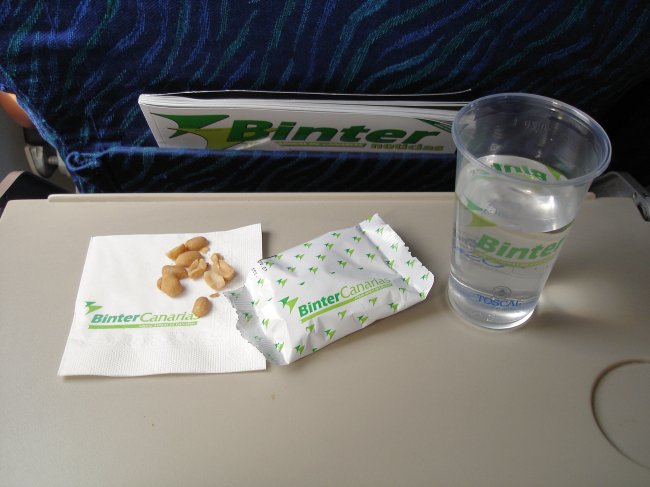 Approach
The flight was shorter than in the morning and after paging through the "Noticias" inflight magazines, we started the descent, flying across a part of Fuerteventura...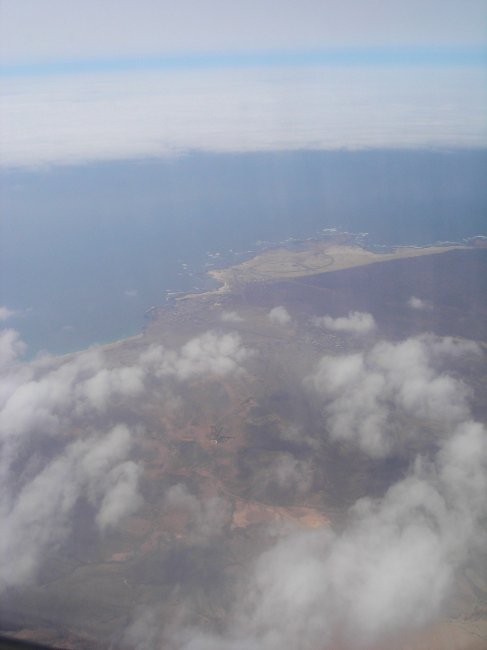 ...and passing the tiny uninhabited island
"Isla de Lobos"
off the coast of Fuerteventura: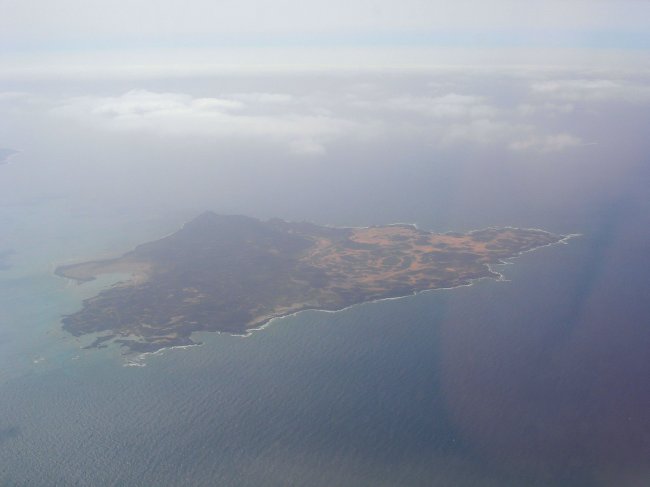 This is the
"Playa de los Pocillos"
, the closest beach from our RIU "Olivina" hotel: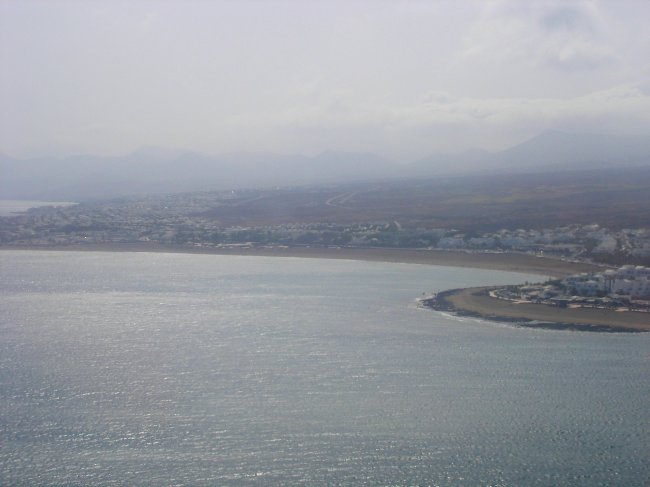 "Spotters' heaven" on the very right - the Beatrix hotel: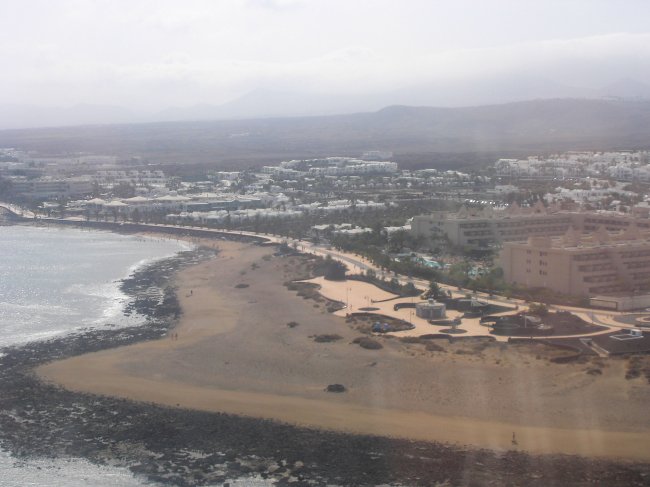 We touched down at 17:21 and stopped at the gate two minutes later. Only some more minutes later we took a taxi and went back to the hotel, preparing for another extensive dinner buffet...
Conclusion
Flying
Islas Airways
and
NAYSA/ Binter
was a pleasure, both carriers enable simple and smooth inter-island travel. Binter's main advantages are a more advanced website and the dense network with lots of frequencies. On-board service is quite similar, though not really a major issue considering the short flight duration on the inter-island routes. Both carriers' ground and cabin crews were friendly and professional. Seating was more cramped on NAYSA, not to forget the worn interior in general. However, I cannot comment on Binter's ATR 72-500s which operate on most flights. In the end, I can recommend both carriers.
Next report:
ACE-BCN-MUC on Spanair MD-83 and A320
http://forums.jetphotos.net/showthread.php?t=40836
Best Regards,
PlaneHunter