Experienced Spanair Mad Dog, A320 Tech Delay & Best of Lanzarote
Background
This trip report is the last part in a series of three - here are the two others, including Lufthansa CityLine CRJ900, Spanair A321, Islas Airways ATR 72-200 & Binter ATR 72-200 (operated by Naysa):
http://forums.jetphotos.net/showthread.php?t=40705
http://forums.jetphotos.net/showthread.php?t=40746
Beach Spotting
Sea, beach & sun is what you get at many holiday destinations – even better if you can add planes to the combo. Our hotel was just some kilometers away from Lanzarote airport so I could watch planes on approach from our terrace, sometimes it was possible to get the registration. Just on the second day we found out that a 1,5 hours walk along the beach would end up directly at the airport fence.
Binter Canarias, Futura, Iberia, Spanair and Air Europa are frequent visitors at the airport, complemented by a variety of mostly holiday carriers, e.g. AeBal, Air Berlin, Air Malta, Condor, Edelweiss Air, First Choice, FlyJet, Hamburg Int'l, Iberworld, Islas Airways, LTE, Martinair, Monarch, MyTravel, Naysa, Thomas Cook, Thomsonfly, TUIfly and XL Airways.
FlyJet B757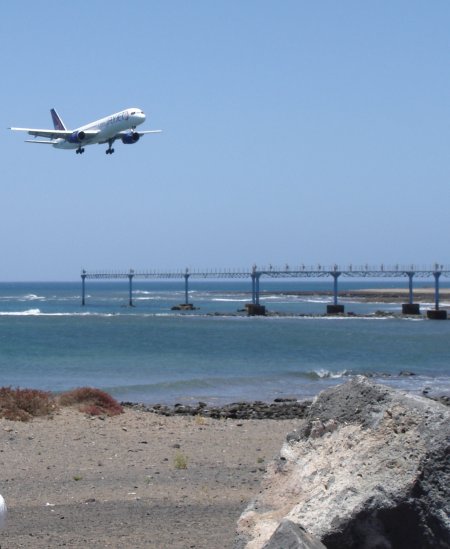 Binter ATR 72-500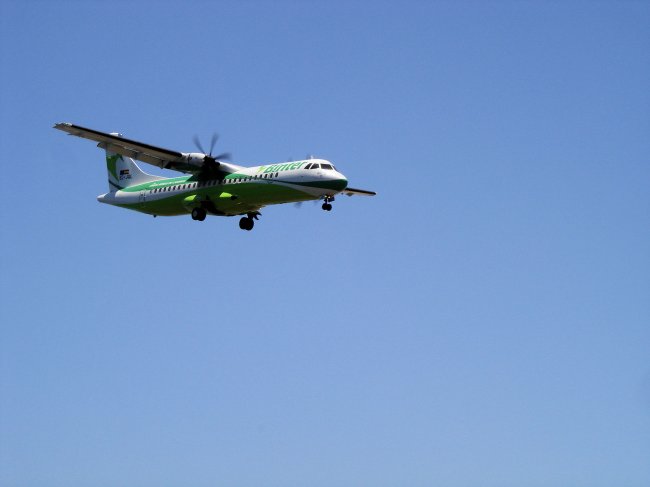 Thomas Cook A320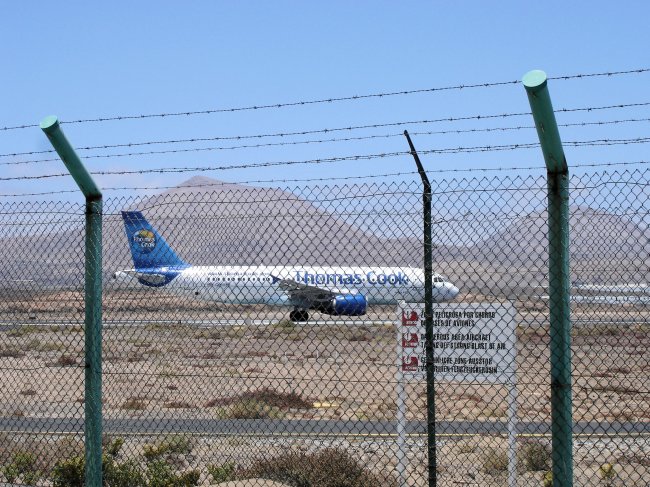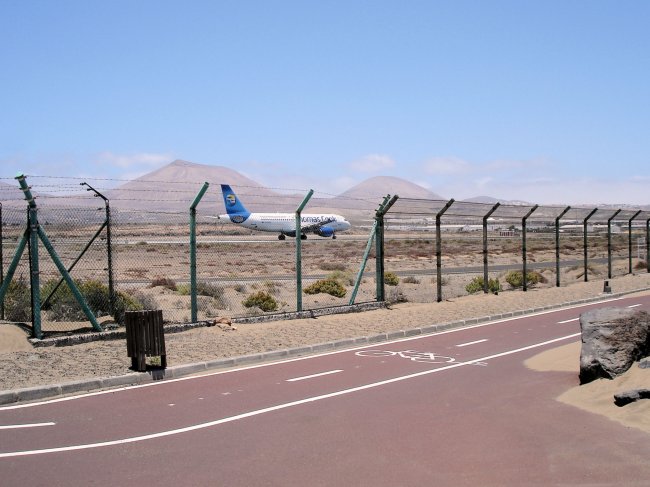 Impressions from Lanzarote
There are numerous places of interest on the island - here's an overview:
Playa de los Pocillos
at Puerto del Carmen (300 meters from our hotel), one of the nicest beaches on the island, mostly consisting of fine grey sand, shelving gently into the sea. There are only very few places with black stones on that beach.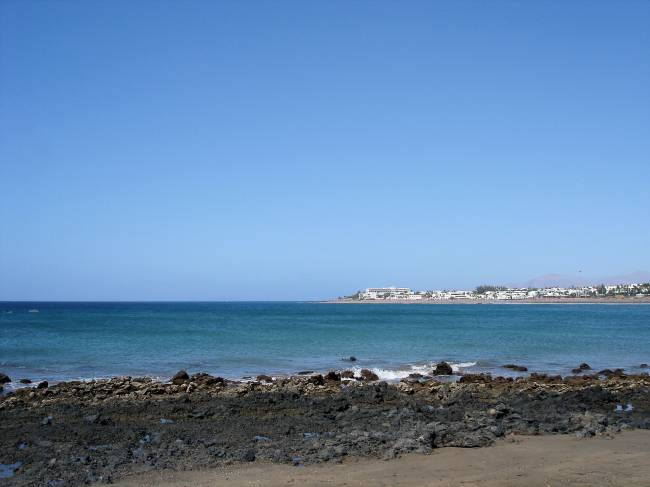 Fundacion Cesar Marique
- situated in what was local artist César Manrique's house, known as
'El Taro de Tahiche'
. The house is built on an unusual and unique terrain - over five lava bubbles.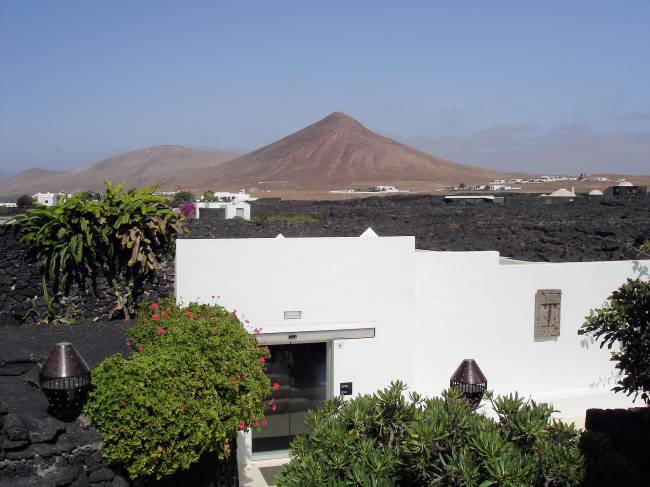 Pleasantly illuminated walkway through Manrique's house.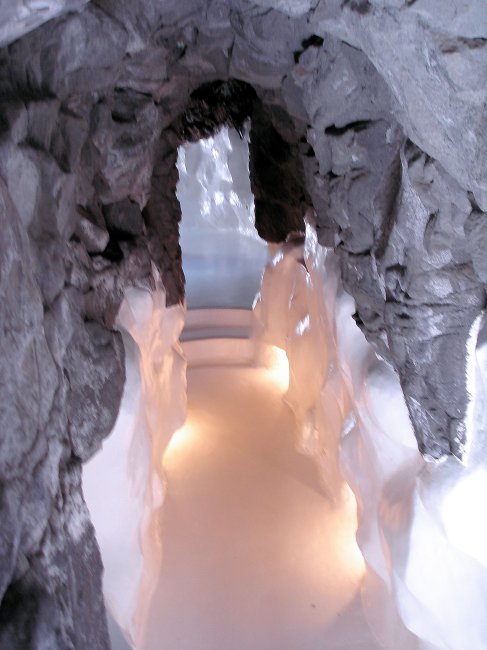 Beautiful flower in the garden of Manrique's house.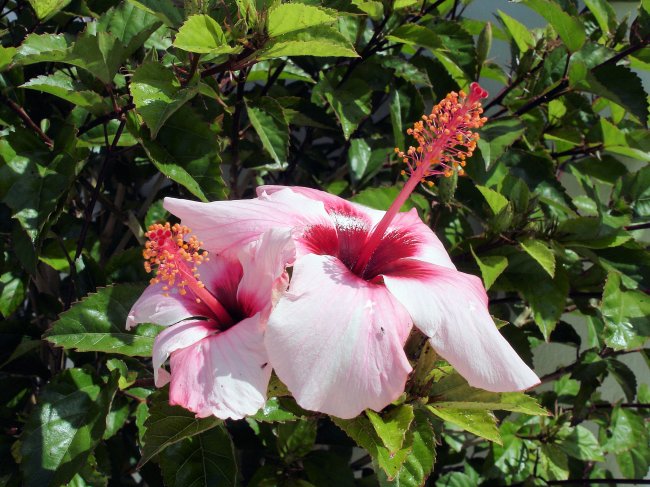 Stonewall-walkway to
Castillo de San José
, at the north end of the island capital Arrecife. It was built in 1776 on the orders of King Charles III as a reaction to pirate attacks. In 1974 it was revamped by artist César Manrique into the
Museo Internacional de Arte Contemporáneo
.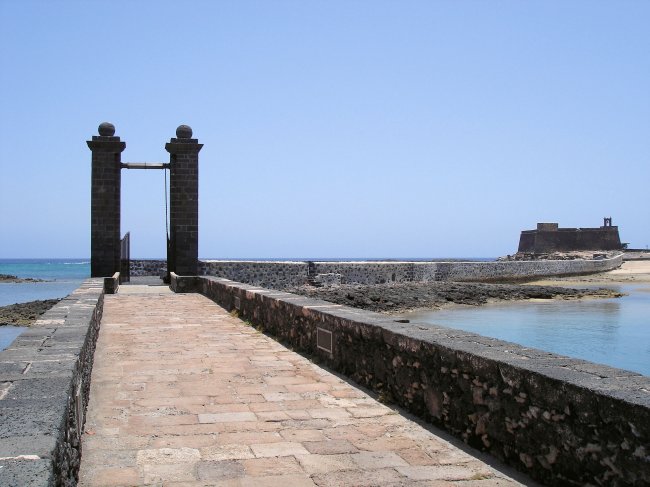 Jameos del Agua
- caves, formed as lava tubes or volcanic bubbles, artistically linked up in accordance with César Manrique's designs. One of the caverns is a concert hall with perfect acoustics, others are used as restaurants and bars. There's also a subterranean lagoon containing rare animal life and a museum of vulcanology.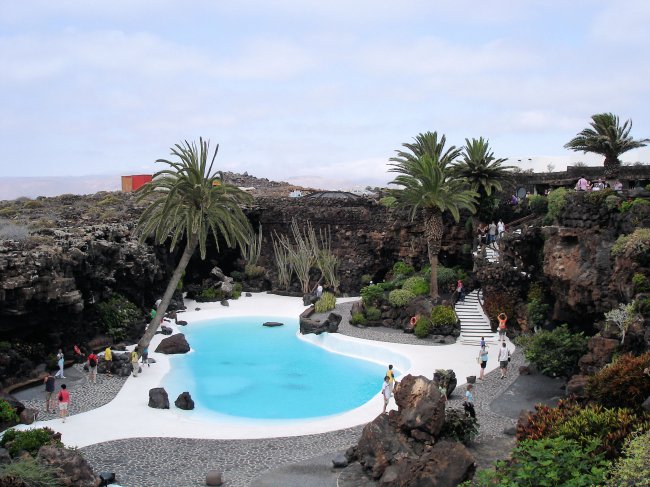 Another eye-catching flower, this time in the gardens of
Jameos del Agua
.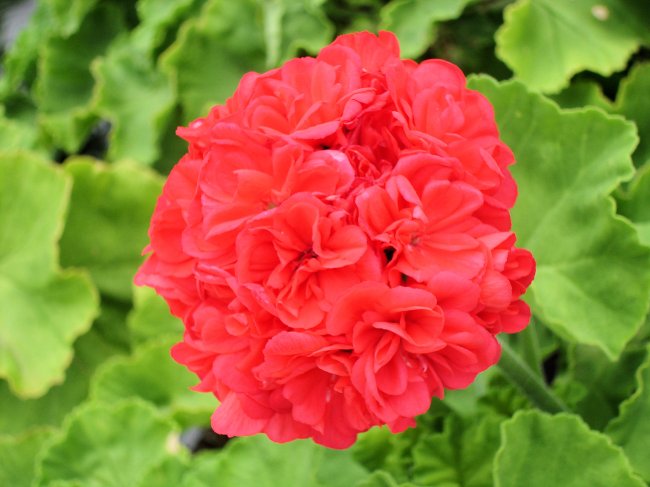 Mirador del Río
- a viewpoint situated on an approximately 475 meters high escarpment called
Batería del Río
in the very north Lanzarote, created by artist César Manrique. It provides a stunning view over the strait of
Río
towards the archaic island of
La Graciosa
. The view wasn't optimal on the day when we went up there.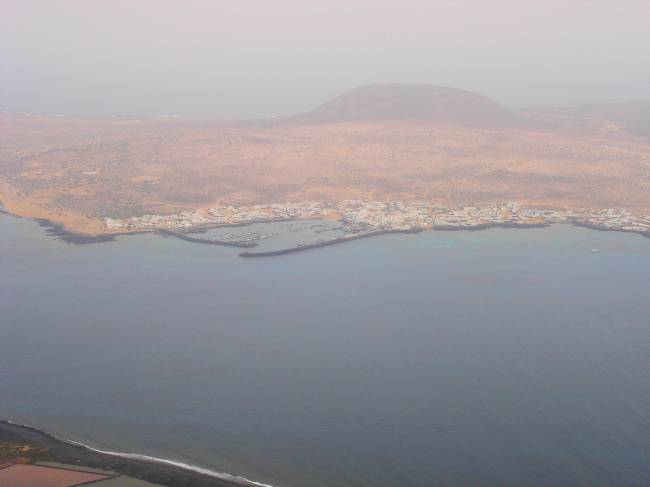 The
Valley of 1000 Palms
in the municipality of
Haría
in the island's north.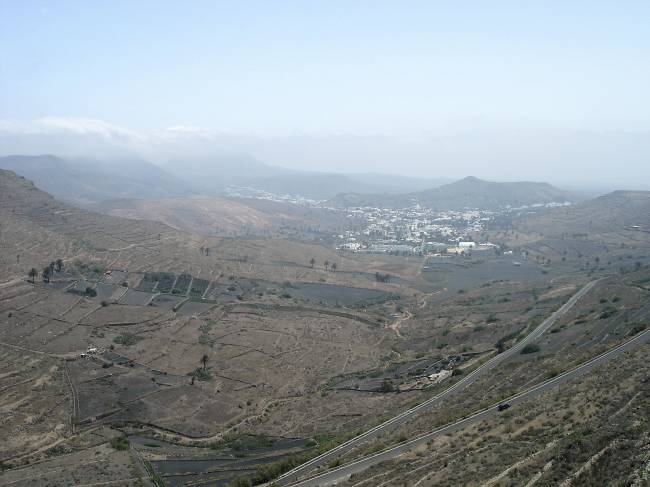 Blossoming cactus - one of many species on the island.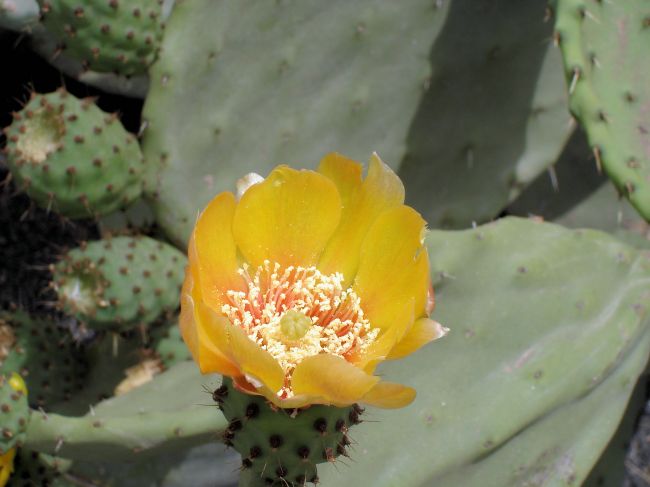 Iglesia de San Miguel
- dominates the scene at the
Plaza de la Constitución
in the historic town of
Teguise
which was the ancient capital of the island until 1852, when the administration was transferred to Arrecife. Many
Lanzaroteños
still regard Teguise as their real capital and refer to Arrecife only as
El Puerto
(the port).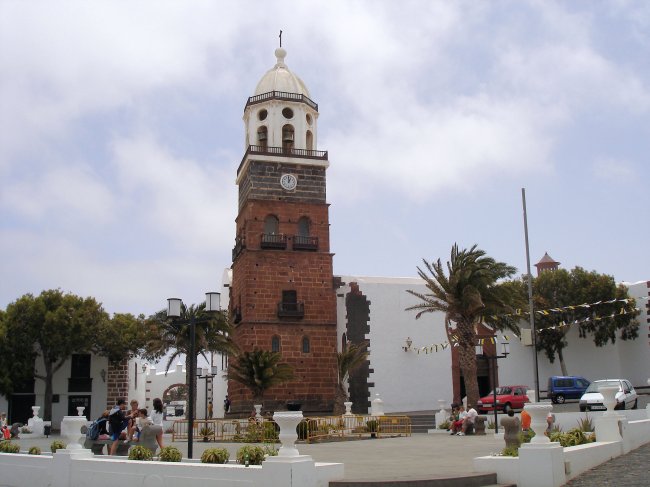 Parque Nacional de Timanfaya
- the clearest exponent of the volcanic origins of the island, with a red, ochre and black lunar landscape which encloses the
Montañas de Fuego
(Fire Mountains) and stretches over approximately 50 square kilometres (19 square miles).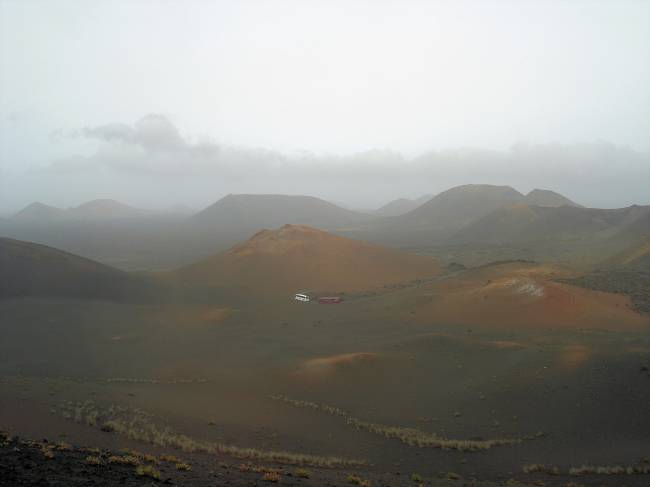 Islote de Hilario
, a black volcano, crowned by the Manrique designed glass-walled
El Diablo
restaurant, built in a circle and offering breathtaking views over the moon-like landscape.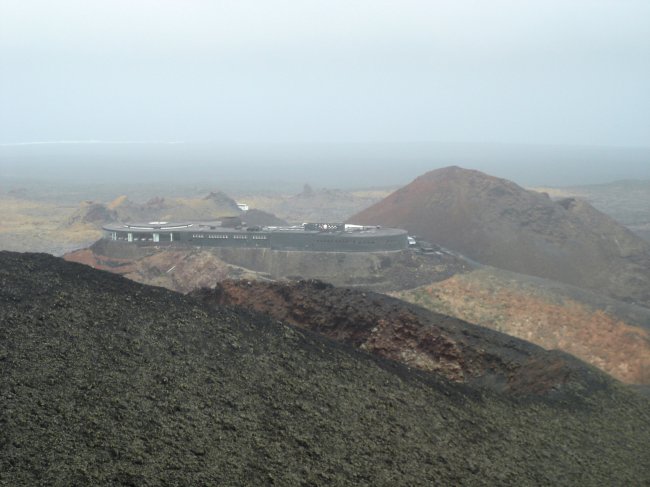 El Golfo
- a half-submerged cone of a volcano, which has been eroded by the sea, leaving behind only the striated wall of the crater displaying a myriad of colours, which various shades of reds and russets prevailing. At the foot of the crater wall is
Lago Verde
, a half-moon-shaped lagoon of a striking green colour, for which mainly account volcanic minerals and micro-organisms that are believed to be unique in this lake.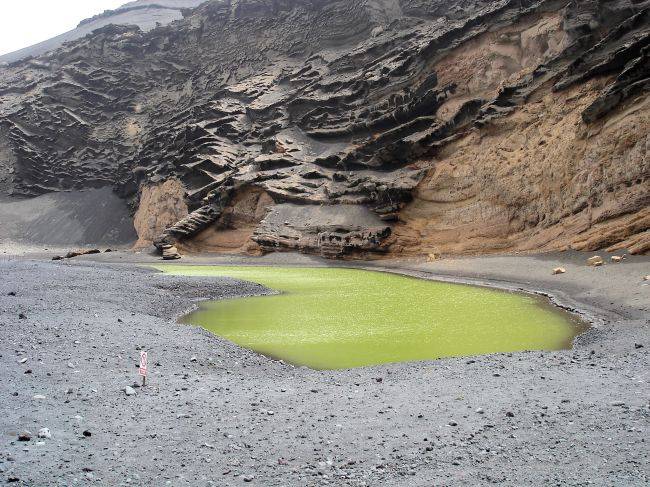 Los Hervideros
- caves and blow holes which have been eroded by the sea from the lava flow.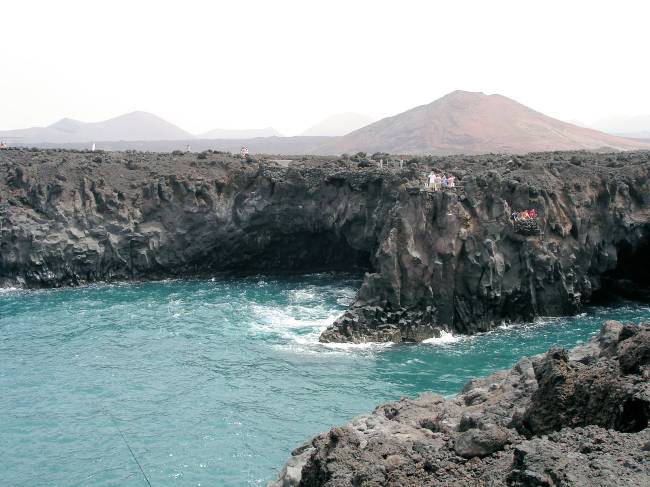 The vineyards of
La Gería
, famous for traditional methods of cultivation. Single vines are planted in pits, protected by stone walls. The vineyards are part of the World Heritage Site.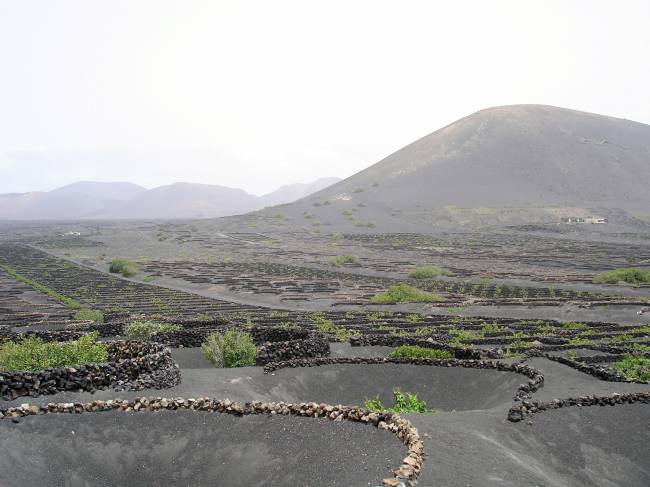 Wednesday, 11 July 2007
Lanzarote (ACE) - Barcelona (BCN)
Spanair JK5261
14:45-18:35 (14:44-18:24)
Flying time: 02:24 (hrs)

McDonnell Douglas MD-83
EC-GVO Sunspot (s/n 1421), first delivered 02/1988 to Braathens Sweden
Economy Seat 22A
Check-in machine out of order
It hadn't been possible to reserve particular seats in advance so we headed to the airport more than two hours prior to departure. First of all I approached the single check-in machine next to the counters - but it was completely switched off. Quite disappointing and definitely negative advertising for Spanair and the whole Star Alliance when faced with all the member airlines' shiny logos on the machine...
So we had to line up in a long queue - most of the travellers were bound for the flight to Madrid leaving about one hour earlier than us. After some 20 minutes it was our turn and we were welcomed by two friendly female agents, a trainee on the computer and a supervisor behind. I didn't remember the MD-83's seat map - and since I wanted to sit somewhere in the rear cabin I asked for a row over the wing to make sure we wouldn't end up at a blind window. After only a few minutes we got our boarding passes and row 22 looked promising.
Water Bottle Undetected
We bought some sweets for the no-frills domestic flight and passed through security. And just when I took my bag from the belt after screening I realized I had forgotten about a still unopened 500ml water bottle. However, the screeners didn't ask me to open the bag and I just walked away - either the bottle had remained undetected or they didn't care about it, who knows...
Arrecife Airport Spotting
The gate area at ACE airport is quite convenient, with various shops and restaurants as well as large windows and a small terrace, ideal for spotting. However, traffic was low and we decided to have a snack. I had hoped for an MD-83 in Star Alliance colors, but then I spotted EC-GVO on approach.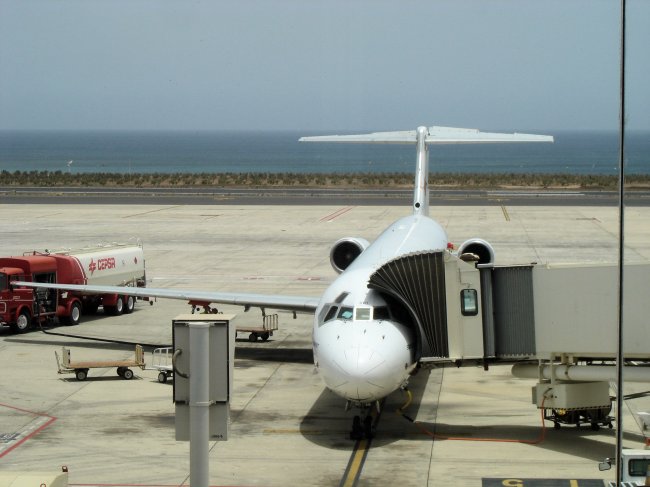 EC-GVO & its Eventful Life
Later at home I found out that the aircraft, named
Sunspot
, had had an eventful history before taken up by Spanair. The plane was built in October 1987 but ILFC cancelled the acquisition in 12/87. After being registered EC-EFL both Spantax and Las Palmas-based Air Sur also cancelled the acquisition of the aircraft. Then Irish Aerospace Leasing accepted the bird which finally started flying for Braathens Sweden as SE-DHF and was leased to Gatwick-based British Island Airways between 03/88 and 05/88. Between 10/88 and 12/88 Lineas Aéreas Canarias operated the aircraft as EC-190 and EC-EKT before Mexico City-based LaTur introduced it as XA-TUR.
After only three months in Mexico, Aviaco added the bird to its fleet for a total of three years, first as EC-257 and later as EC-EMT. In 04/92 TransAlsace acquired the plane as F-GMCD and used it for nearly eight months. In 12/92 Irish Aerospace Leasing registered the plane EI-CGR and leased it to Key Air Int'l, Private Jet Expeditions (04/93) and to French carrier TransAlsace. Oasis Int'l Airlines then introduced the bird as EC-807 in 03/95, changed the registration to EC-GBY and later leased it to Shaheen Air Int'l. In 05/96 the plane was transferred to Centennial Airlines as EC-323 and EC-GHJ before moving to Blue Scandinavia as SE-DHF in 02/97.
GECAS changed the registration to N462GE in 03/98 and Spanair finally took up the plane as EC-GVO in 06/98.
Cabin Comfort – Exit Row, No Instructions
The check-in agent had taken my request literally because our seats were located in the exit row over the wing - so plenty of legroom for us on that 2,5 hours journey.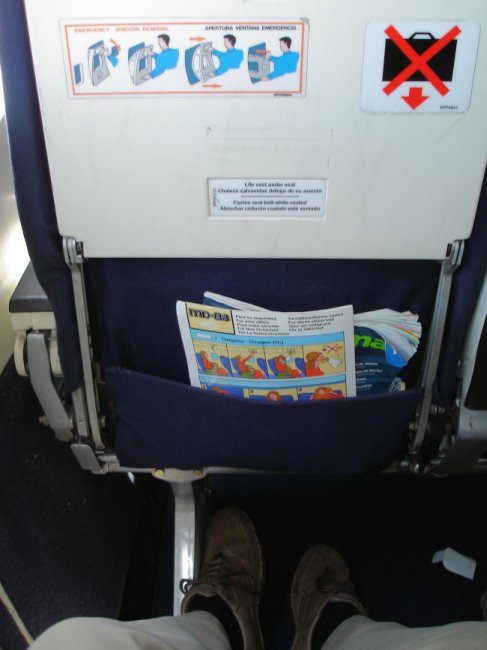 Interestingly, no F/A explained the safety procedures for the emergency exit - they didn't even check whether we speak Spanish or English. Not encouraging in terms of safety - there could always be people undiscovered who don't understand anything and are unable to react adequately in a case of emergency.
Just like on the A321, Spanair has placed Vodafone ads throughout the cabin - supporting the LCC-style of its domestic service.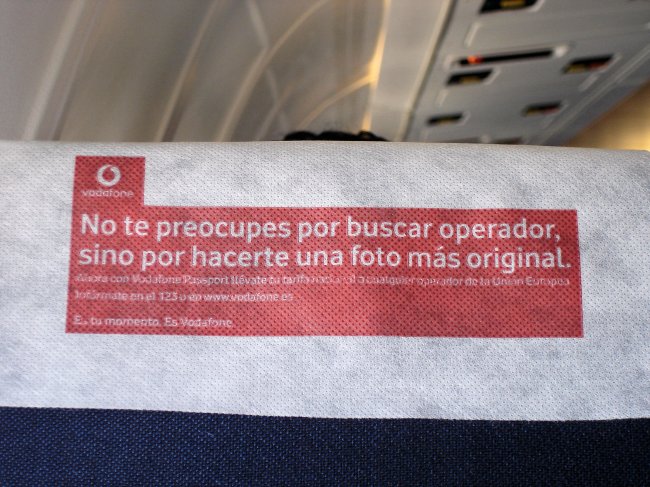 Departure
Boarding was completed soon (load factor nearly 100%) and we left the gate even early. The city of Arrecife in the background: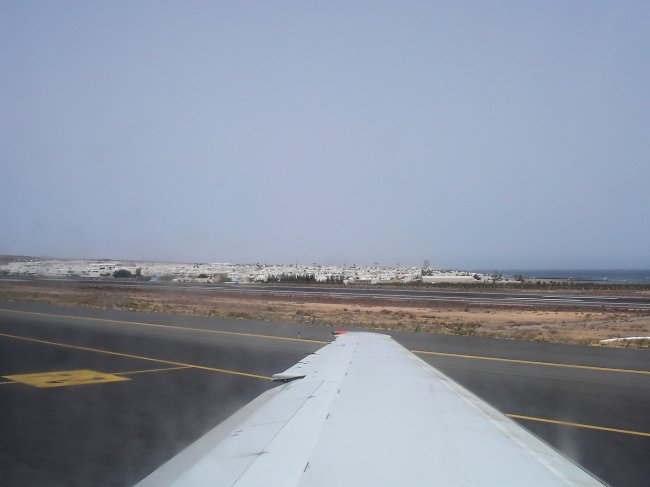 Terminal on the left, runway on the right: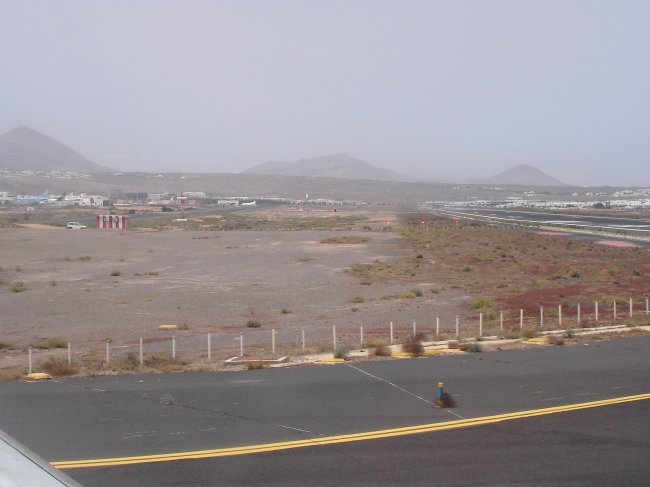 Turning onto runway 03: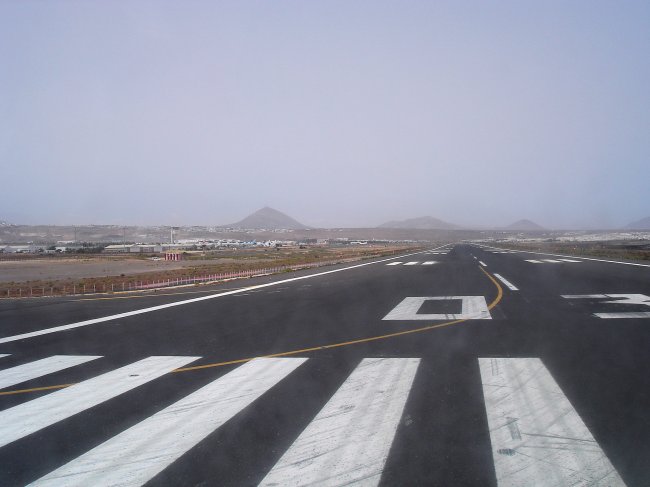 Only a few moments after stopping the two PW JT8Ds howled and accelerated the MD-83 for takeoff...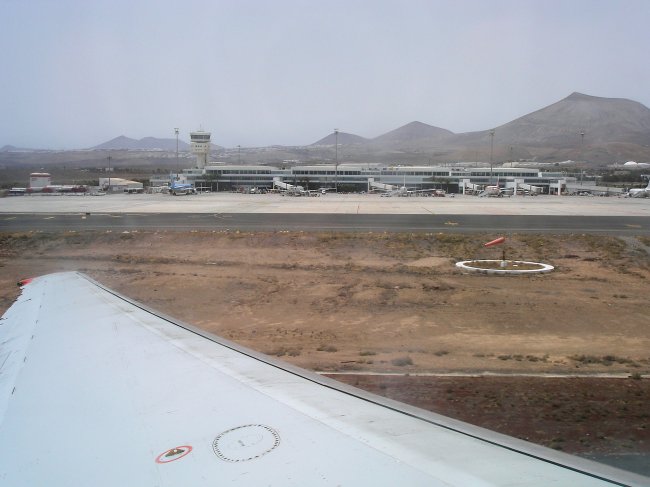 ...and an enjoyable steep climbout: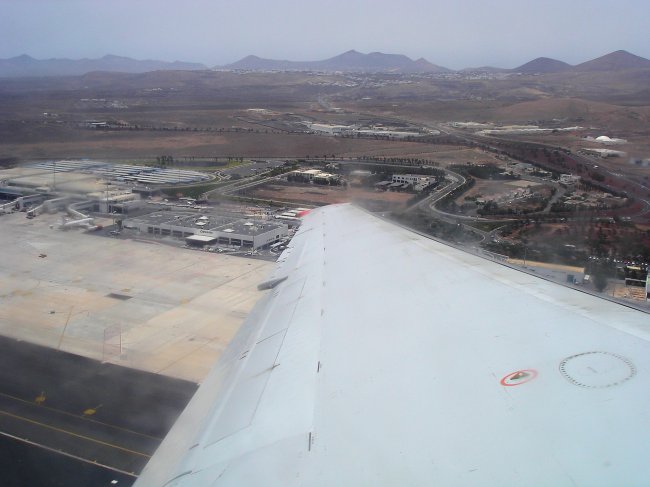 Some more impressions of Lanzarote's stunning landscape: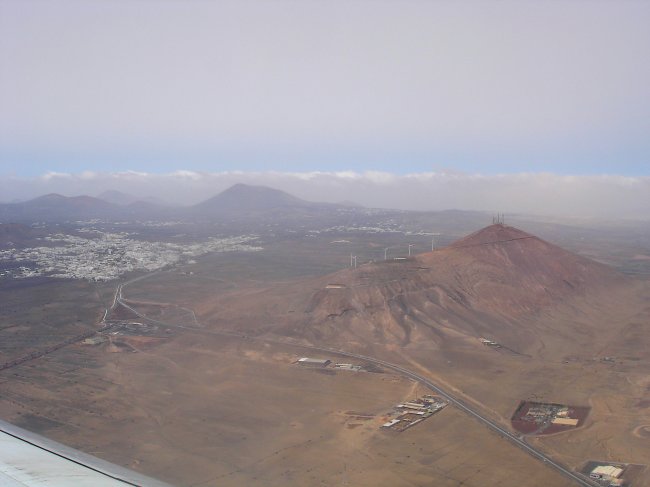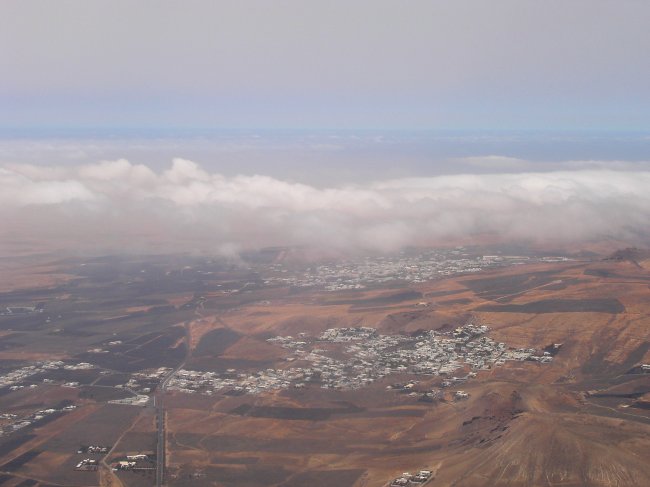 Heading for the Atlantic Ocean: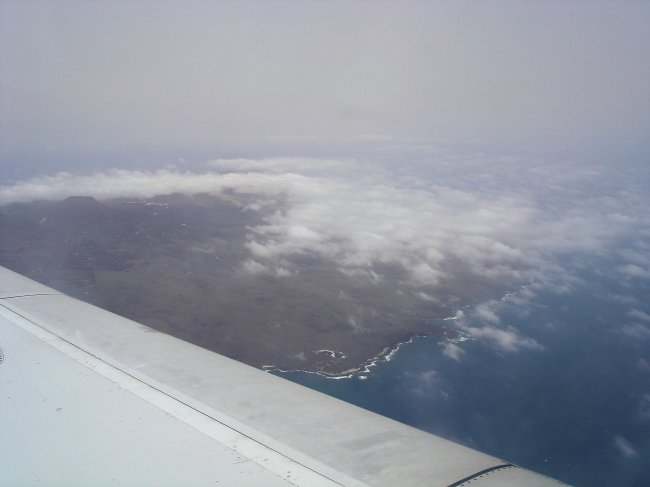 Cruise
The flight was rather uneventful, except for the fact that it was very cool in the window seat - the whole wall around the emergency exit felt very cold. I didn't notice that when I had the exit row on a B734 earlier this year. TV screens were non-existant on the MD-83 so I read a book for most of the time. The F/As offered drinks and food for sale, but after the more than disappointing experience on the MAD-ACE flight I refused to even have a look at the menu card again. Please check the first report for further details on Spanair's domestic service offerings:
http://forums.jetphotos.net/showthread.php?t=40705
Cloudy skies all along the way...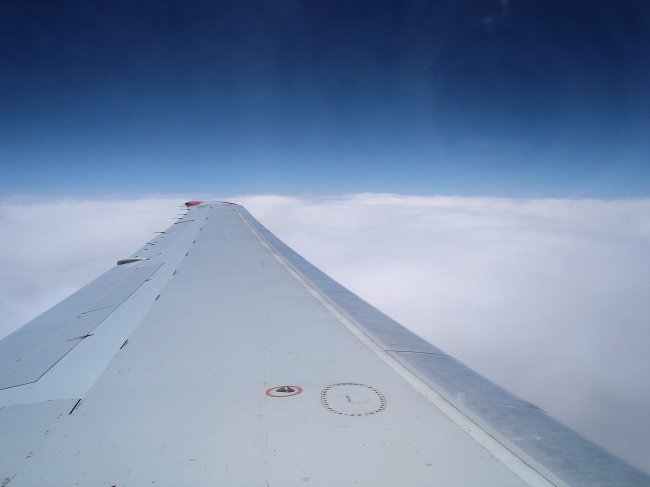 ...until we reached the Continent: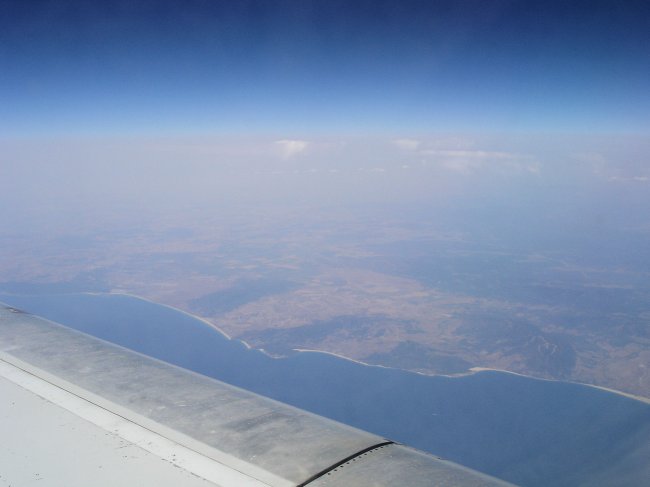 Quick geography quiz - what exactly is down there? I know the answer, btw...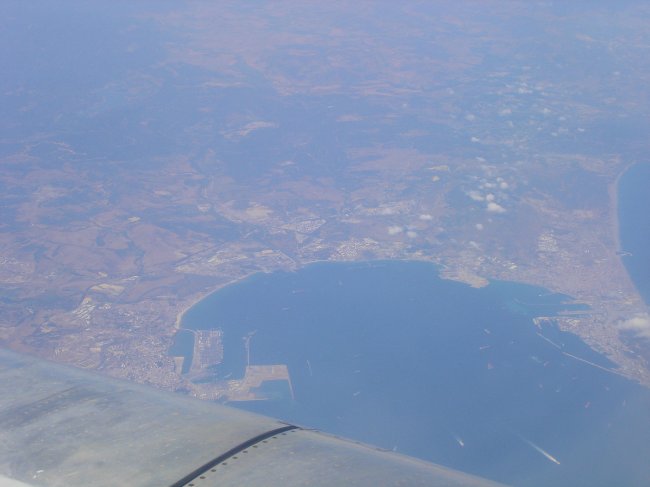 Approach to BCN
After F/As had "generously" offered tiny candies, approach to Barcelona was started. Various cargo ships...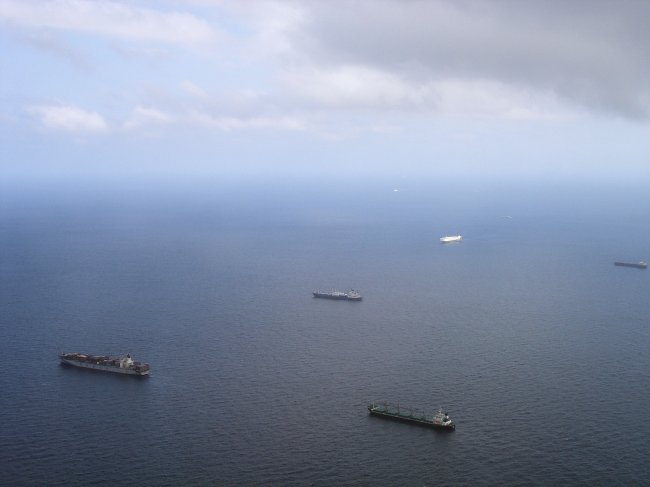 ...land reclamation works...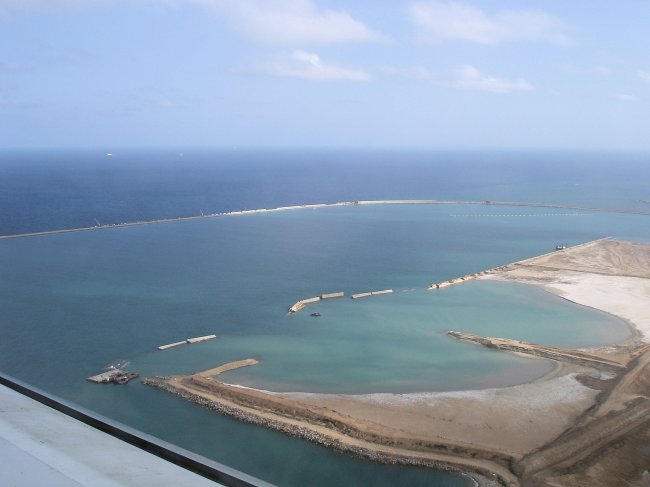 ...and a large sewage plant facility.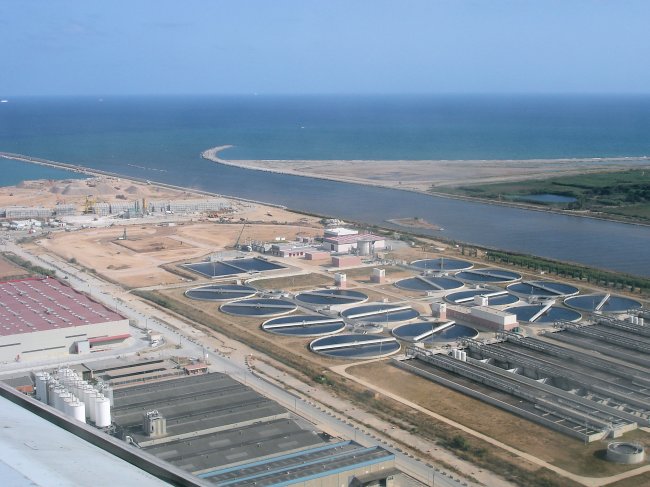 EC-GVO touched down at 18:19 and taxied to a remote position. We left the aircraft through the rear exit: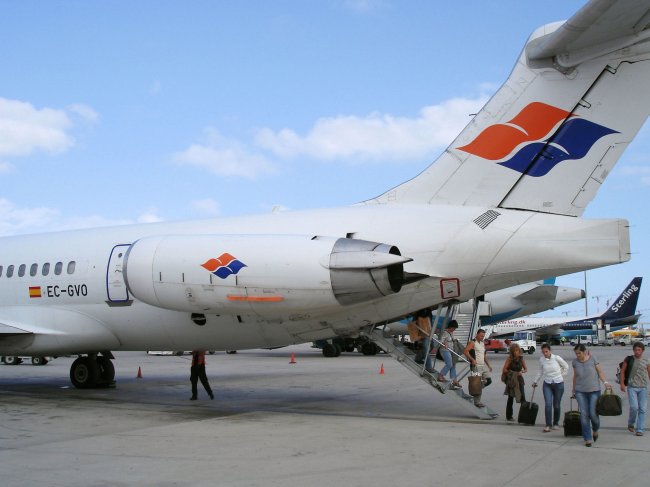 Last opportunity for a Mad Dog tail shot: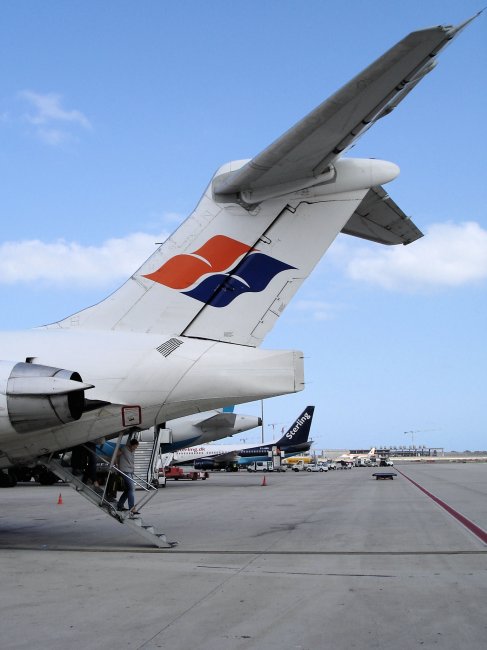 Barcelona Airport Spotting
BCN's "old terminal" is still a quite convenient place to change planes. Large windows offer good views of the tarmac, runways 2/20 & 07L/25R and aircraft taxiing to the distant runway 07R/25L.
Wednesday, 11 July 2007
Barcelona (BCN) - Munich (MUC)
Spanair JK137
19:20-21:10 (20:45-22:47)
Flying time: 02:02 (hrs)

Airbus A320-232
EC-ILH (MSN 1914), STAR ALLIANCE cls, delivered 02/2003
Economy Seat 27B
Late arrival & Delay
I had been concerned a bit about the rather limited planned connecting time of 45 minutes but all worries were gone due to our on-time arrival from ACE. When we reached our gate for flight 137 to MUC I realized that the plane hadn't arrived yet. The information screen at the gate confirmed what I guessed: Departure delayed by an hour to 20:20. So I used the additional time for spotting and got lots of registration in the evening rush. I knew that any Spanair A320 on approach could be our aircraft and again I hoped for a Star Alliance logojet. Soon EC-KEC (ex-bmi) in regular colors arrived, rolled towards our gate...but just stopped in the last moment and turned into the adjoining gate. The next one on approach was EC-ILH in Star colors and fortunately it turned out to be our bird this evening.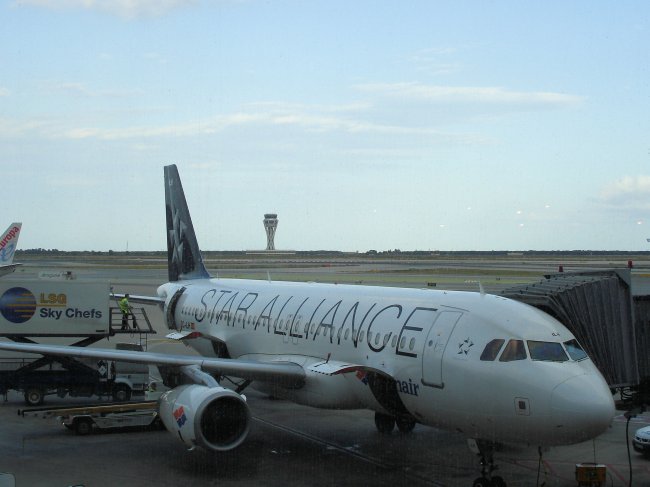 While passengers were already waiting in queue at the gate shortly before 20:00, I noticed that after unloading ground operations around the plane had apparently been stopped. Baggage handlers and flight crew were standing around on the tarmac and I wondered about a possible technical problem. After some ten minutes of waiting ground operations started again and at 20:30 we were welcomed to board to the aircraft.
Cabin Comfort & Seating
Boarding was completed quite fast as all passengers had already been present at the gate. The load was quite light this evening, somewhere between 50 and 60 per cent. The cabin didn't look any different from the A321 one week before. We went down to the second last row and took our seats: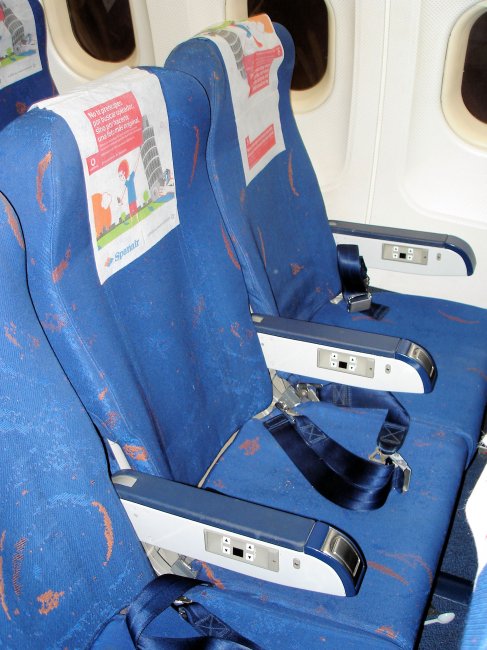 Even though one seat in our row remained empty, it felt really cramped, just like on the A321. Seat pitch is at minimum even on the A320 used for international routes, worse than on numerous low cost carriers. Must be terrible if you are stuck in the middle seat and the person in front reclines the seat back...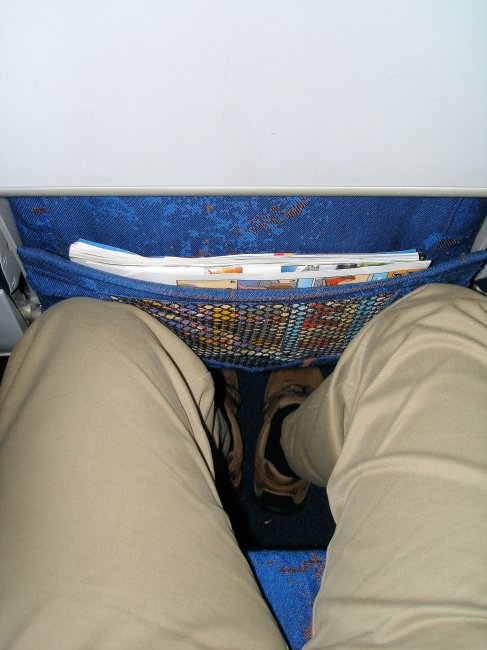 Door under Repair
Just after boarding had been completed a friendly captain welcomed us on board and apologized for the delay. He explained that the plane had arrived late from Las Palmas and was NOW (!) still undergoing repair on one of the rear passenger doors:
"Mechanics are still working on the problem and I hope we can leave soon."
So I had guessed right and now I really hoped the problem could be fixed - I simply wanted to get this logojet.
Departure
After I had heard the left rear door being closed and opened several times we were pushed back at 20:45 - almost 1,5 hours late. The rear door was still open at this point of time and I wasn't sure whether we were ready for departure or just had to clear the gate - but a few moments later the door was closed definitely and engines were started.
EC-KAZ - one of seven (!) Spanair MD-87s currently painted in Star Alliance colors: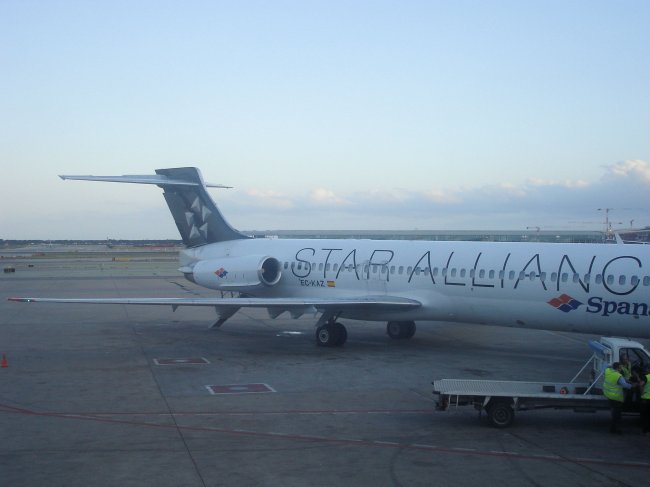 Meanwhile EC-IPI, another Spanair A320 in Star Alliance colors, had arrived: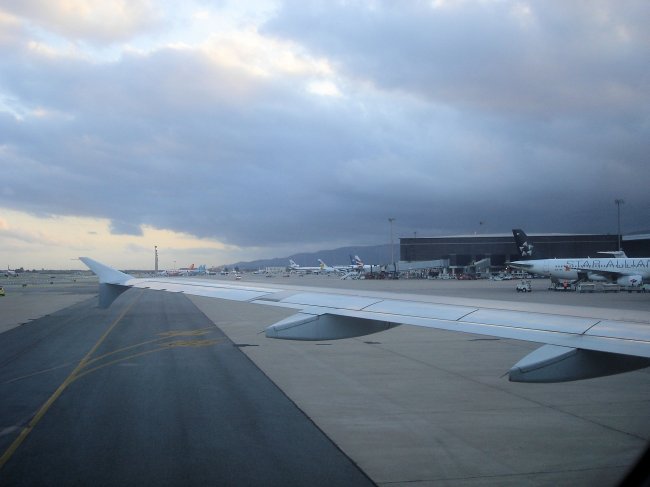 On our way to runway 07R we passed Barcelona Airport's new T-Sur terminal: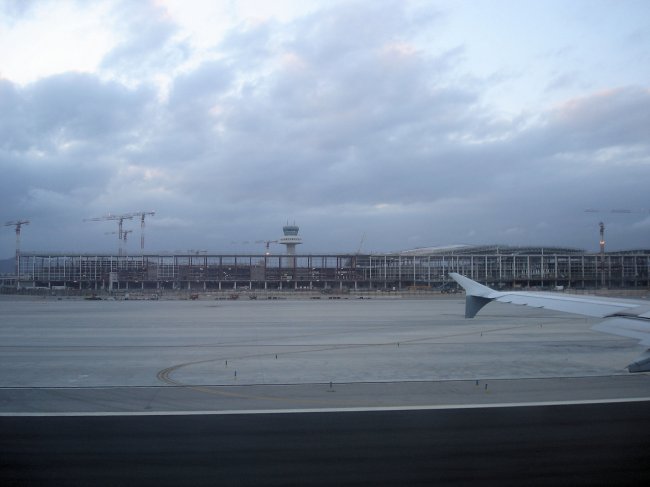 At 21:06 the two IAE V2527-A5 engines finally accelerated EC-ILH for takeoff.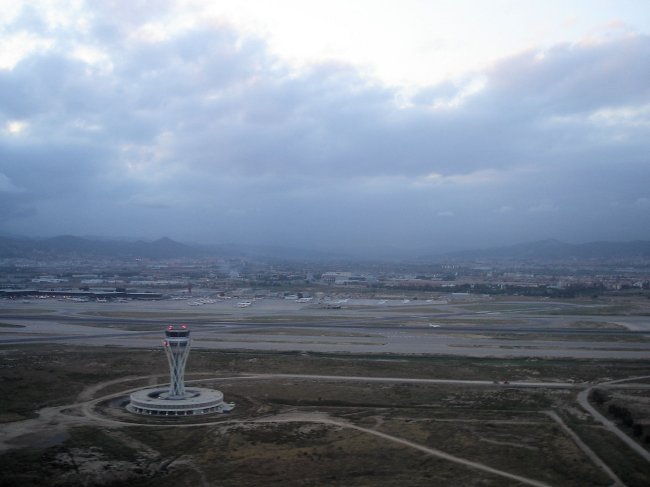 Clear skies ahead: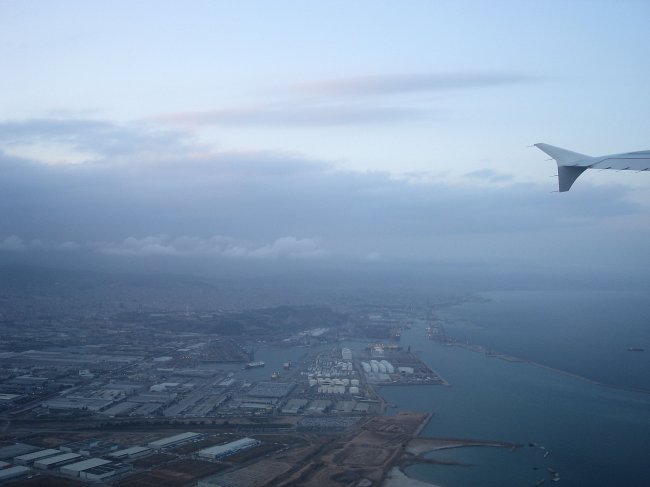 IFE
I always had a look at the moving map on the overhead screen when it occurred, but I didn't care about TV features and the audio channels which I had already found unappealing on the MAD-ACE sector.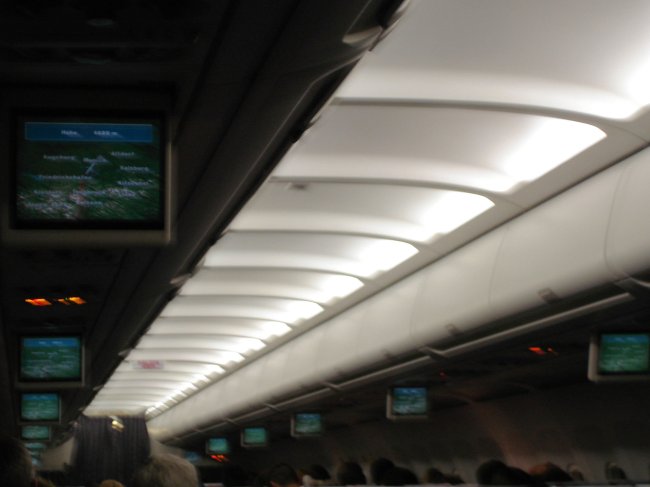 The best IFE was the window on this evening flight anyway, with the sun...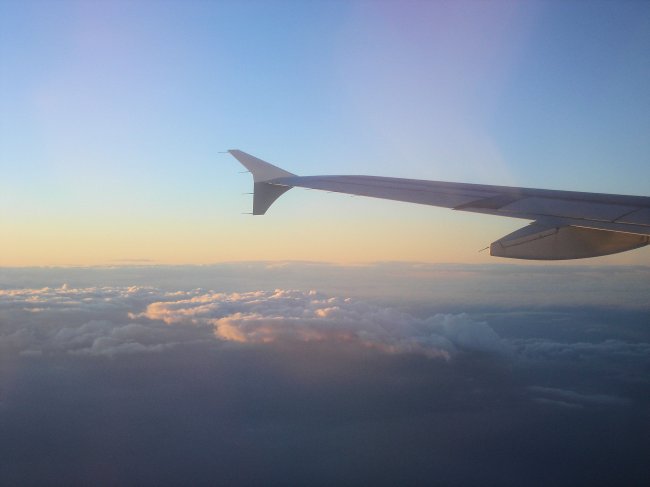 ..slowly disappearing.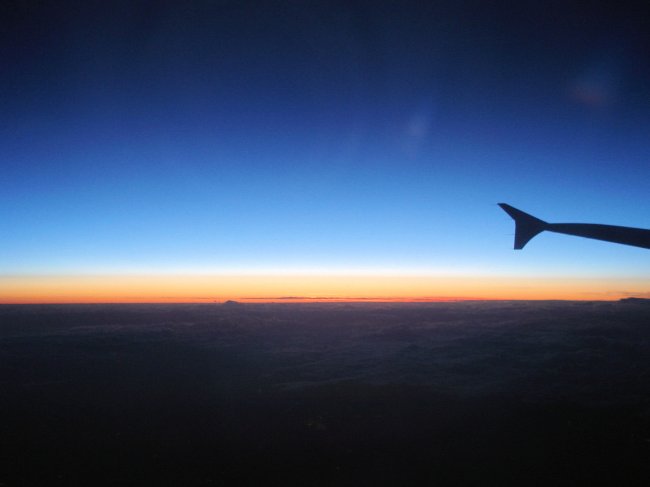 Snack
Just after sunset onboard service started - totally free of charge on this international sector. Friendly F/As offered cold and hot drinks (good coffee) as well as sandwiches. They tasted quite average - but still much better than the expensive and almost unpalatable stuff on the MAD-ACE sector.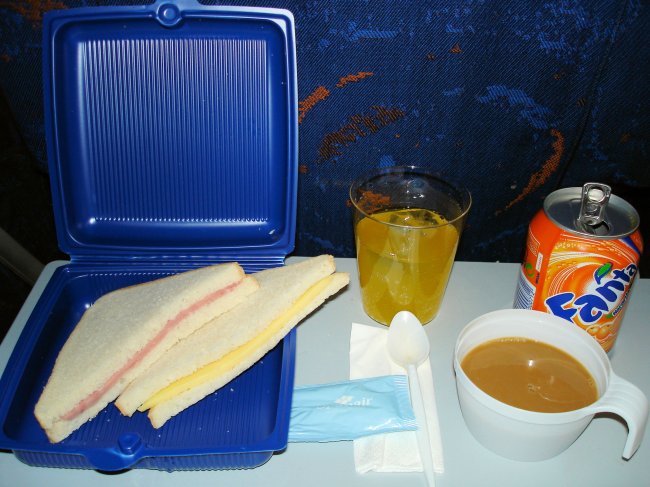 The remaining flight was uneventful and we touched down at runway 26L at 22:41, some 1,5 hours late.
Conclusion
As already pointed out in the first report, Spanair's
domestic
product is one big disappointment. Apart from a tiny sweet prior to landing, "service" is non-existent. While this may be ok for short hops on the mainland, it's unacceptable that a Star Alliance member does not even serve a free cup of water on 2,5 hours flights to the Canary Islands. What's even more annoying is the low quality of the stuff they sell - I don't mind paying 5 Euro for a sandwich if it's fresh and tastes good - but charging 5 Euro for junk food is impudent. Numerous LCCs know how to make it better.
Service on
international
flights includes free cold and hot drinks as well as snacks such as sandwiches. Though the offerings weren't outstanding, there's no reason to complain.
Seating is a general problem on Spanair - I can't comment on the regular rows on the MD-80s, but seat pitch on the A320 and A321 is at minimum, worse than on many low-cost carriers. F/As and ground staff can be friendly and helpful, but some can also appear indifferent. Overhead TV screens and different audio channels were available on the Airbus fleet, but apart from the moving map the IFE programming wasn't striking.
Spanair offers an average product on international flights which wouldn't keep me off from flying the airline again - but I would definitely avoid longer domestic segments.
Best Regards,
PlaneHunter