Munich-Helsinki-Nagoya: Finnair's Embraer 170 & (Old) Airbus A340-300
Intro
Japan is a spotters' and plane enthusiasts' paradise - something which I had often heard and which I can confirm now without any doubts after touring some of the country's airports and airlines. In my series of six trip reports I will go into detail and share my experiences. Here's the first part, covering the MUC-HEL-NGO flights as well as Nagoya Centrair Airport. First of all, I will talk a bit about the trip planning before getting clear for takeoff.
All those who aren't interested in the challenges of trip planning are free to scroll down immediately to the beginning of the flight report!
Background & Long-haul Flight Search
Spotting in Japan had been on my agenda for a long time and in summer ago a friend (Satchmo) and I finally decided to go for a total of eight days. Flights aren't cheap in general and we searched for reasonably priced options from MUC. We found Alitalia (E145, 772), Qatar Airways (A332) and Virgin Atlantic (A346, LH/BA A32X). Considering their constant strikes, we soon dropped AZ. We also dropped QR because connecting time in Doha would have been just about an hour - and missing the flight to KIX would have screwed up our dense schedule of domestic traveling in Japan. I also didn't like the prospect of getting A332s on all four sectors.
So we almost booked VS but then suddenly found a cheaper option on Finnair's website - and two different routings which would include four different types. There wasn't any time left to lose, so we booked MUC-HEL-NGO (E170, A343) and KIX-HEL-MUC (MD11 and A319) for late October/early November. Since we booked the flights via a travel agent we successfully requested seats in the MD-11's forward 3-4-2 section (rear section is 3-4-3). Interestingly, it wasn't possible to secure one of the seat pairs on the right side.
I had hoped to get one of the two new A340-300Es to NGO, but some weeks later I found out on the forum that OH-LQA - the ex-Virgin bird - would always operate the flight on Saturdays, while flying to Mumbai on weekdays.
Domestic Travel Plan - Searching for the Big Birds
The next step was working out a domestic travel plan which would include the most important airports and some interesting flights. We checked the ANA and JAL websites and found out that reservations could be made only two months in advance. Additionally, even less than two months in advance you can't just click and choose JAL flights in their website - you need to call them or go to an agency (in contrast to ANA or Skymark). However, thanks to Finnair's and JAL's membership in the oneworld alliance, we could order the
JAL Yokoso Airpass
and were able to reserve flights earlier (via our agent).
Main targets were the high density 744D and 773 and it took a while to find the right flights - one problem was that JAL often designates the types simply as 777. In the end we chose to fly Nagoya-Okinawa (JAL 744), Okinawa-Fukuoka (JTA 734 - only narrow-bodies available on that route, but at least a new carrier), Fukuoka-Tokyo/Haneda (JAL 772) as well as Tokyo/Haneda-Osaka/Itami (ANA 773). We had to wait for the two-months-deadline before being able to reserve the remaining ANA sector, but there were plenty of low fare seats available on the 773 service (ANA always designates 772 and 773). We had also tried to include Sapporo, but it turned out difficult in terms of route/type planning. Instead we chose Okinawa/Naha where it would be a lot warmer anyway...
Hotels & One more Time-saving Roundtrip...
Finding reasonably priced hotels at or close to airports wasn't a big deal, Asiarooms.com and Toyoko-Inn had attractive offers (double rooms ranging from 50 to 106 Euro, all including breakfast and shuttle). Oddly enough, about ten days prior to the trip I somehow felt the desire to add some more flights during our relatively long 2,5-days Tokyo visit and I had a look at Skymark Airlines' website - why not try out a Japanese LCC? I didn't want to lose too much valuable spotting time at Haneda and I checked numerous options to find a time-saving solution. Well, in the end I booked an early-morning Haneda-Kobe flight on ANA (763 non-ER) and the return sector on Skymark (763ER).
Ground time at Kobe (UKB) was scheduled to be one hour and five minutes - not a comfortable margin if something goes wrong, but no risk, no fun.
On a positive side, I would be back at Haneda at 10:05 - still some 6,5 hours left for spotting on that day. ANA was slightly more expensive than Skymark, but only ANA had the early morning departure from HND and it was a 767-300 non-ER which I also wanted to get. Skymark didn't offer an early morning flight from Haneda - and I dropped the idea of doing that trip in the afternoon because ANA only had an A320 and Skymark had 738 services later. Euro-style narrow-bodies in Japan? No thanks...
Saturday, 27 October 2007
Munich (MUC) - Helsinki (HEL)
Finnair AY810
08:00-11:30 (07:52-11:17)
Flying time: 02:10 (hrs)

Embraer 170-100LR
OH-LEO (MSN 17000150), delivered 11/2006
Economy Seat 17D
Online Check-in
We checked-in online on the evening prior to departure and tried to secure a row in the section where the cabin doesn't narrow yet on the A340, but most seats were occupied. So we kept row 52 and picked row 17 on the Embraer.
Bus Gate
We arrived at the airport about one hour prior to departure and had to wait for at least 20-25 minutes in a long queue. As expected there was no counter for those checked-in online. We passed security some 40 minutes prior to departure but boarding was already started 10 minutes later. As so often at MUC, a bus was waiting where we had to spend another 10 minutes at really low temperatures. Finally we arrived at the aircraft -
OH-LEO
, the newest of Finnair's E170s, delivered in 11/2006.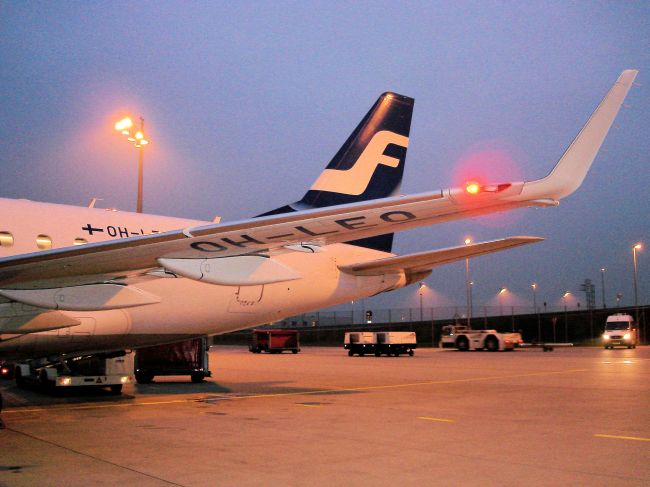 Cabin Comfort
Friendly F/As welcomed us on board and we walked down to row 17. Finnair doesn't offer a jetBlue-style pitch or PTVs, but the cabin is still comfortable. Modern seat design...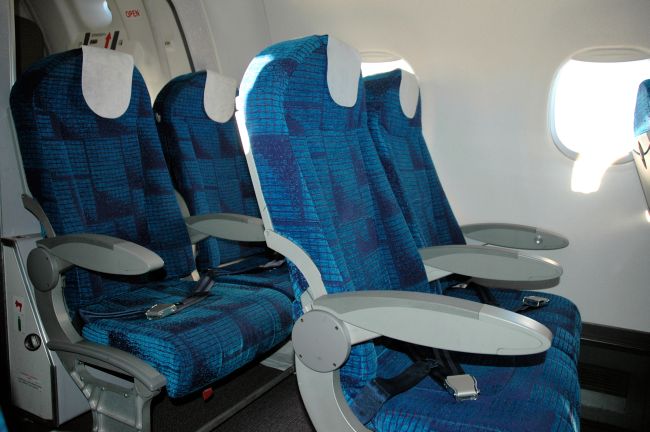 Picture by Satchmo
...and sufficient pitch: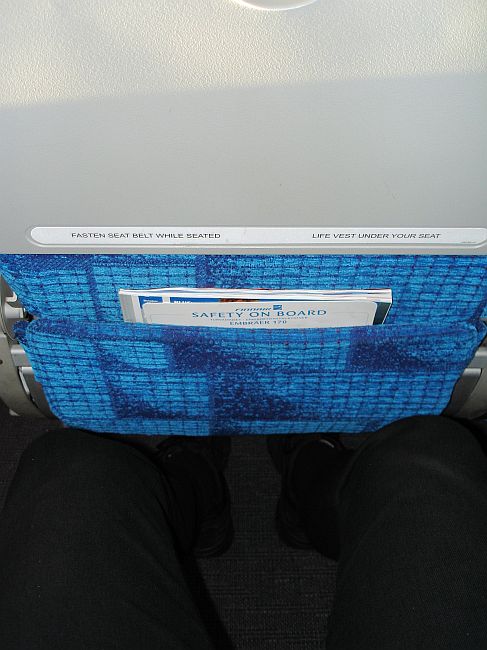 Constant Airflow
With its spacious interior, the E-Jet is simply a class of its own in the regional jet category. However, I noticed a constant cool airflow on the window seat. It wasn't possible to turn it off manually and it turned out to be quite annoying after a while, so I changed to the aisle seat later, thanks to the light load. It didn't notice that on my jetBlue E190 flights earlier this year.
Departure
Boarding was completed quickly (load around 60%) and the plane started moving some minutes early. OH-LEO taxied to runway 26L, turned in almost immediately...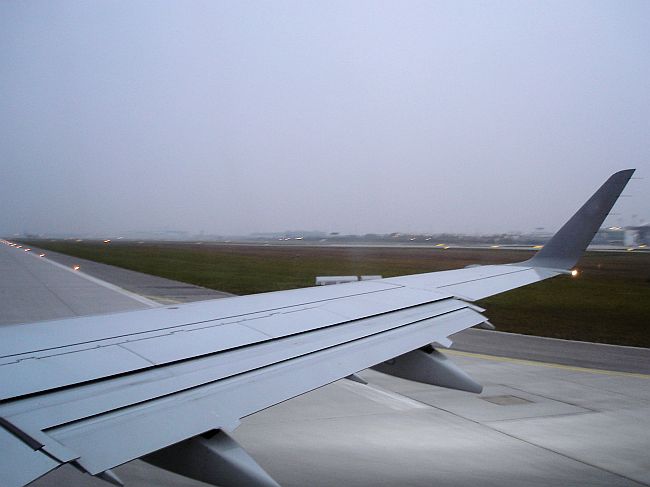 ...and started a rather powerful takeoff roll.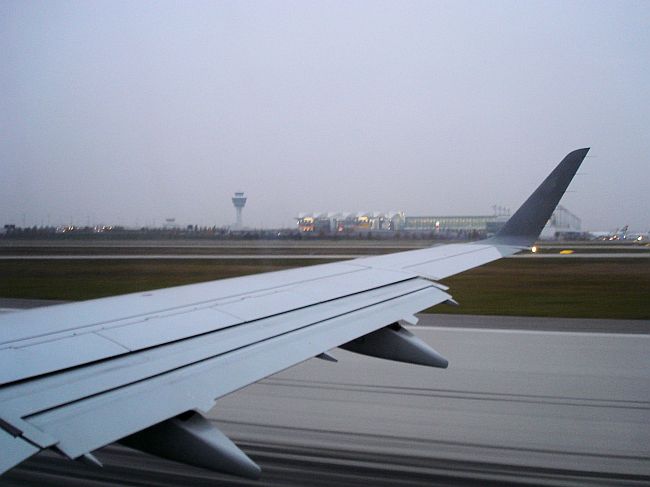 United 777 on its way to Terminal 2: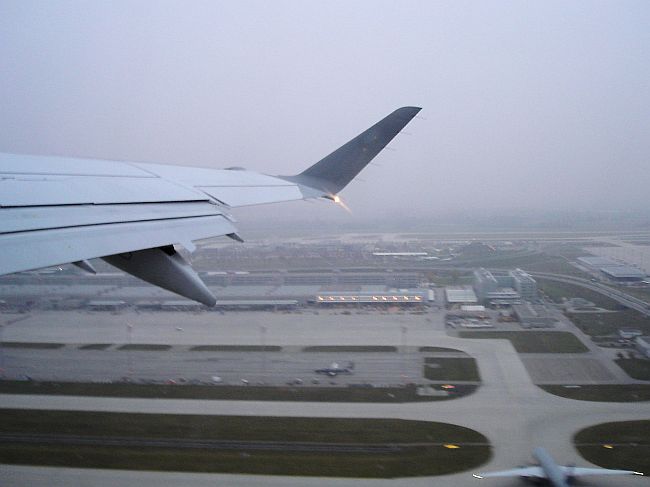 Climb Interrupted
We had left behind the bad weather and the clouds after a few minutes. However, the plane suddenly stopped climbing and flew a wide circle just above the clouds. There hadn't been any announcement from the cockpit and we started to wonder because we had never seen this before after taking off from MUC.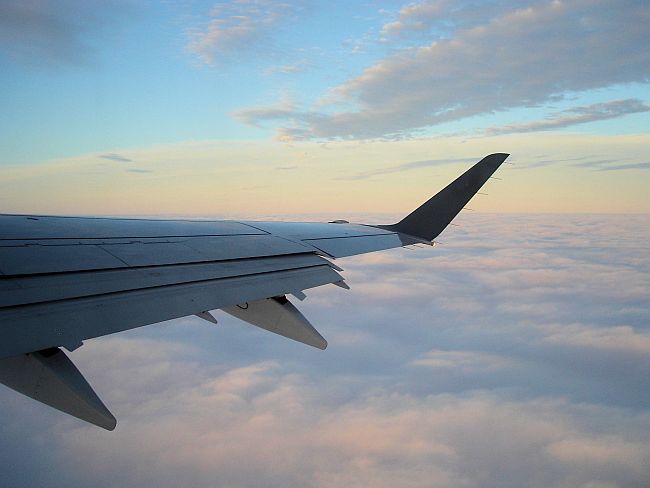 Just when we started thinking about a possible cause the plane resumed climbing. Some time later, the captain gave details on the route to Helsinki.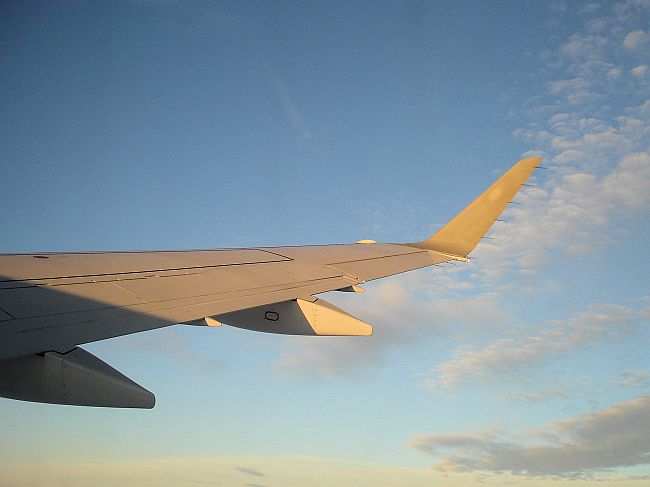 Breakfast
After climbing to cruise altitude the crew started serving breakfast boxes and offered one round of drinks. Finnair's Embraer jets aren't equipped with ovens, so only cold meals or snacks are served on these flights - I have no idea whether a hot breakfast is usually offered on morning Airbus flights. The breakfast comprised of orange juice, a cherry yogurt, a ham and cheese roll and a coconut biscuit. I ordered a coffee, too, but F/As didn't pass again so that I could ask for extra sugar.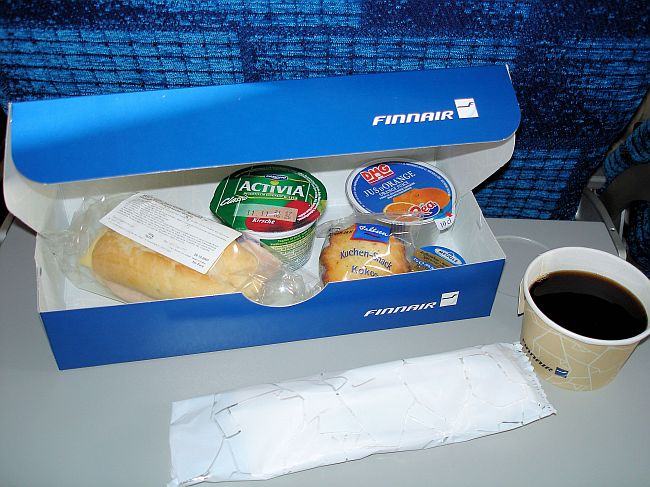 The breakfast wasn't bad, but the "main course", a dry soft ham and cheese roll, wasn't a culinary delight. Anyway, Finnair serves a lot more than other carriers on European sectors. The remaining flight was uneventful and I enjoyed the scenery.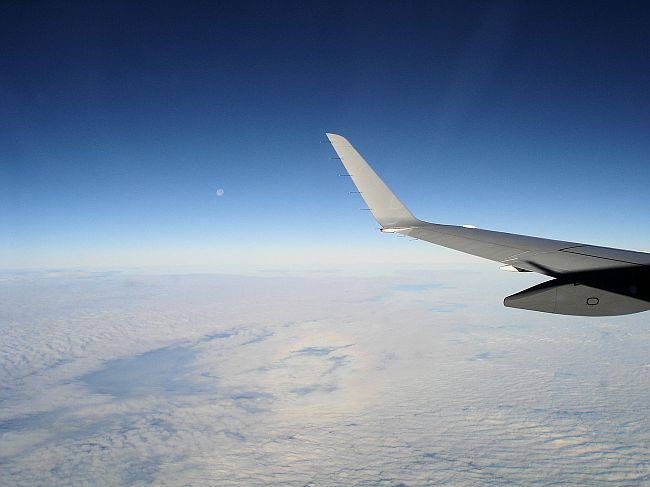 Dense Fog
Time had passed quickly and we started our descent...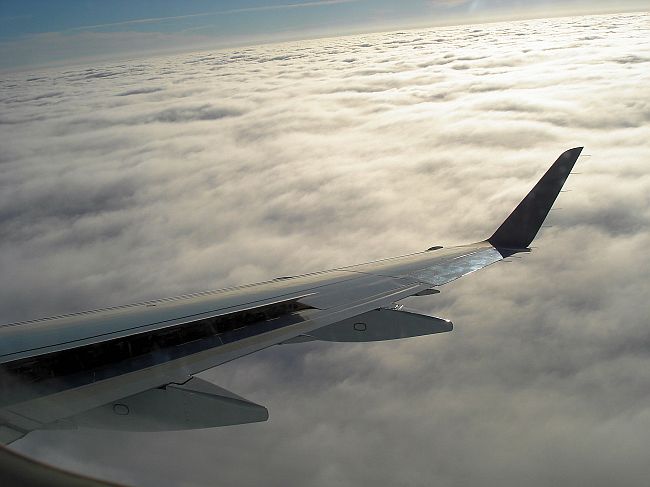 ...diving into dense fog. Actually it wasn't possible to identify anything outside but the fog - until a few moments from touchdown.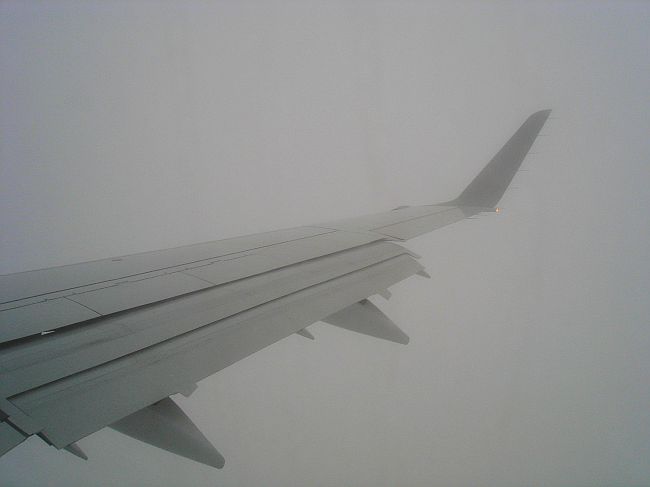 We touched the ground at 11:12, slowed down...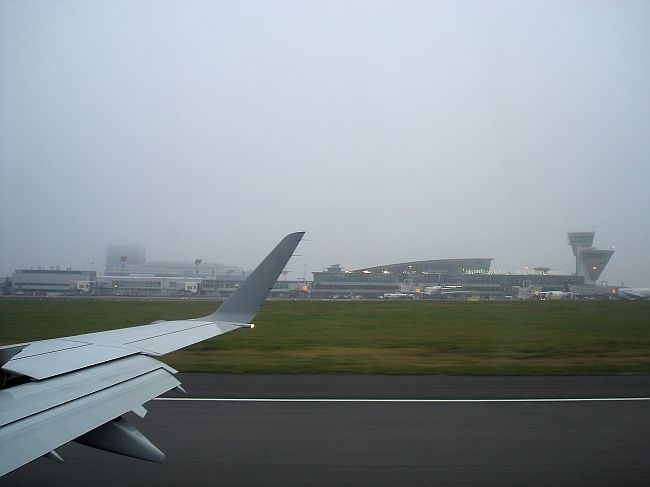 ...and taxied to our remote parking position near the maintenance area. We could recognize an A340 tail in the hangar and wondered whether it would be our bird.
Helsinki Spotting
Again we could "enjoy" the cool weather, this time in Helsinki, and were bussed to the terminal which was still rather empty. We settled down in the terminal's 90 degrees corner between gates 24 and 26 for the next few hours, but spotting wasn't a pleasure due to the low visibility. At least most aircraft passed closely on the taxiway. Estonian Airlines Saab 340 parked between AY A32X: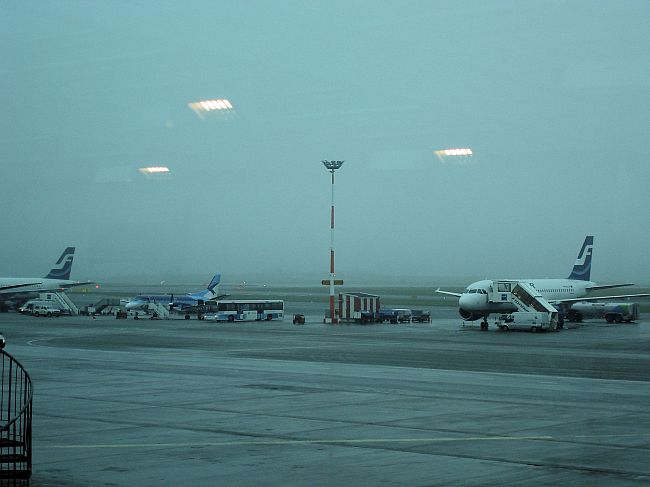 In the afternoon we searched for a nice place to eat but it was soon clear the number of food places is rather limited. We finally chose a self-service cafeteria with a "non-self-service" price level.
Saturday, 27 October 2007
Helsinki (HEL) - Nagoya (NGO)
Finnair AY079
17:15-08:55 (18:48-10:35)
Flying time: 09:21 (hrs)

Airbus A340-311
OH-LQA (MSN 058 ), first delivered to Virgin Atlantic 10/1994 as G-VFLY
Economy Seat 52B
Delay: Technical Reasons
Our scheduled departure time was 17:15 but at around 15:00 we suddenly discovered a new departure time of 18:30 on the screens. It had already become quite boring at this point of time so the delay really was a disappointment. Some time later there was an announcement about flight AY079 being delayed due to
"technical reasons"
Meanwhile
OH-LQB
and
OH-LQC
had arrived, so I draw the conclusion that it had been our A340 (
OH-LQA
) parked in the hangar this morning, most likely already under maintenance. I really hoped the additional time required for getting the aircraft ready was exactly calculated and not just roughly estimated...
Compensation
At around 17:00 we moved to the long-haul gates and heard another announcement that all passengers booked on flight AY079 should proceed to a certain counter in order to pick up coupons as a compensation for the delay. Satchmo was skeptic about that move: He had experienced a similar situation earlier this year with Emirates, when the delay increased from initially just one hour to more than five. Anyway, we took the coupons worth
8 Euro
and bought some more (rather overpriced) food at the adjacent cafeteria. Meanwhile the area was very crowded with passengers, mostly Japanese and Chinese.
Extended Technical Inspection
We had feared an even worse delay, so the boarding announcement at around 18:00 was highly appreciated. There was a long queue at gate 33, moving slowly, and we decided to remain seated for a while. Then we had to walk down a remarkably long jetbridge and finally entered
OH-LQA
which was already filled well. Load factor was around 95-100% in Economy, with passengers mostly from Japan. F/As were mostly friendly and offered water bottles at the door. After all passengers had been seated, the captain apologized for the delay and referred to an
"extended technical inspection"
finished just an hour ago.
Cabin Comfort
The plane's cabin hasn't been refurbished yet (planned for November) since its transfer from Virgin Atlantic and therefore everything looks quite worn, no matter if overhead bins, tables or IFE controls. The blue seat covers are new, but that's it. Cabin view (pic taken later in the flight) :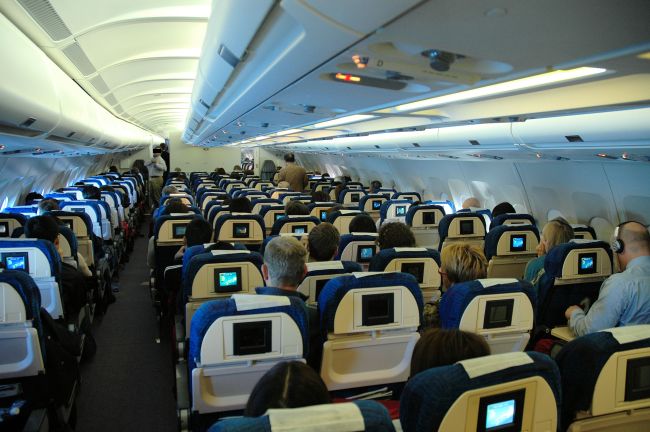 Picture by Satchmo
However, the seats aren't bad at all and seat pitch is sufficient. No IFE boxes required for the plane's early generation IFE system.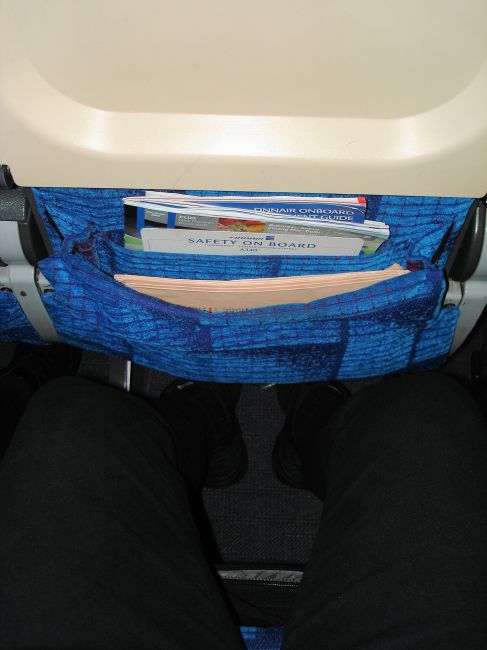 Departure
We finally left the gate at 18:48, more than 1,5 hours late. Within a few minutes
OH-LQA
turned onto runway 22R and the four tiny CFMs worked hard to accelerate the fully loaded bird. After the typically long A343 takeoff roll we lifted off for our 09:21 hours flight to Nagoya Centrair.
IFE
As mentioned before, the ex-Virgin bird is equipped with an early generation individual IFE system, including tiny PTV screens compared to today's standard (picture taken later in the flight) :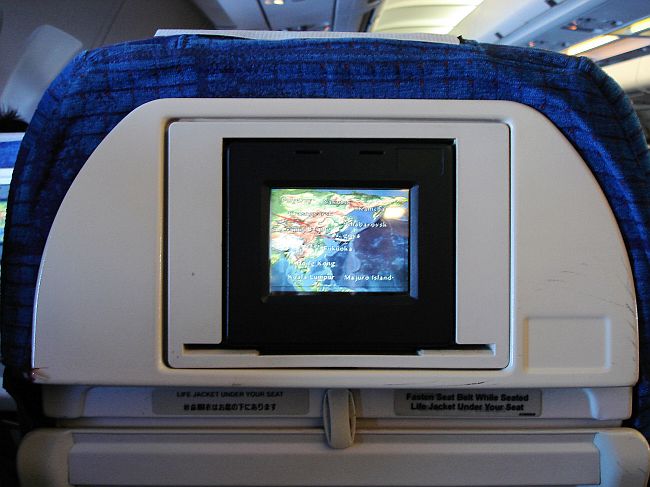 What's even more annoying than the tiny screens is the fact that most handsets are not detachable from the seat. Due to the handsets' sideways location in the armrest it was quite difficult to switch channels or to press any other button. Playing games would have been impossible because of this, but those weren't available anyway. Here's the range of features:
9 movies (repeated after approximately 2,5 hours)
5 TV channels (e.g. news and kids' channel)
airshow channel
9 music channels
The new A340-300Es are equipped with an advanced AVOD system which offers many more features and much more choice. Allegedly
OH-LQA
is scheduled to receive a cabin update, but the question is whether it will also get the new AVOD system. Anyway, I didn't mind about the old IFE system since I had planned to sleep for a few hours. When awake I watched the airshow channel most of the time.
Heading to the Ural Mountains at 30,000 feet (later waypoints on the route were Novosibirsk and Ulan Bator)....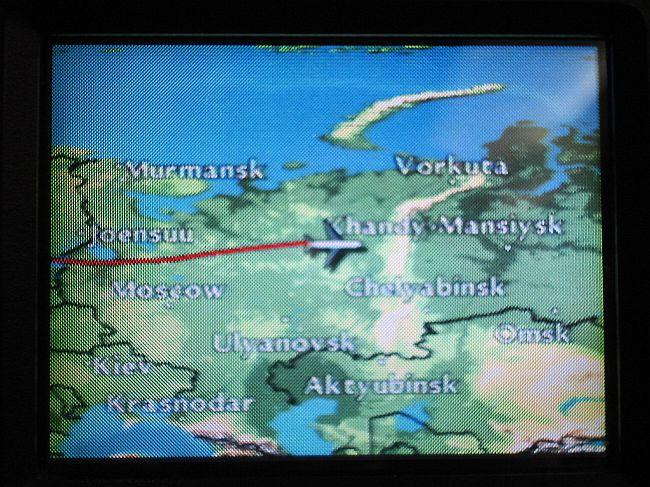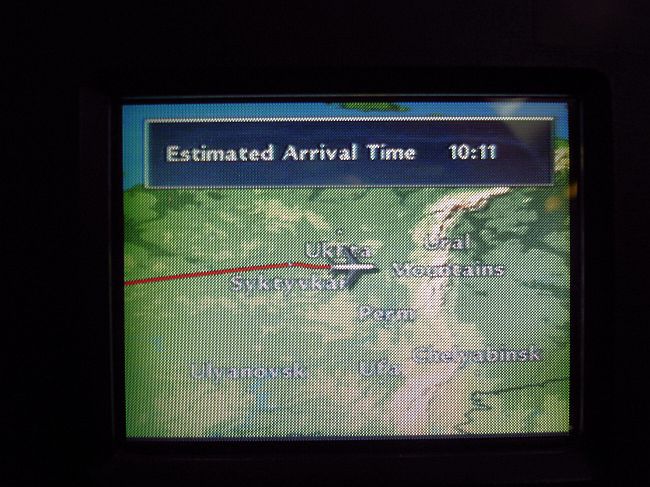 Dinner Disappointment
The lack of menu cards is not unusual in these days, but the lack of a meal choice is unusual on long-hauls flights. About one hour after takeoff F/As started to serve dinner - prior to that we had been informed that chicken curry would be the available main meal. I was still somehow optimistic but what we got was one of the worst airline meals I have ever experienced on a long-haul flight.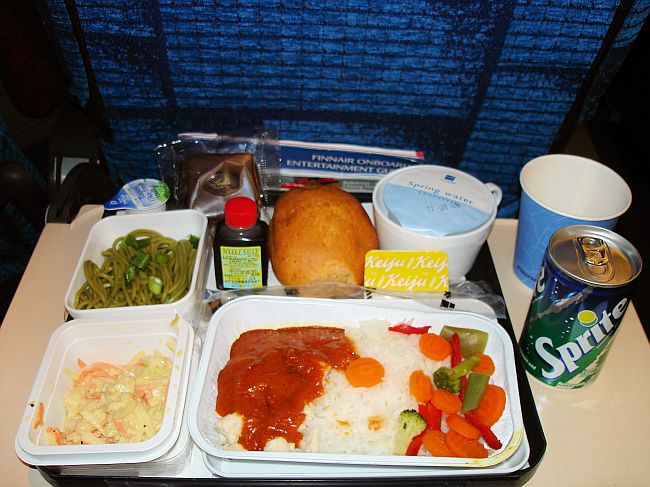 The few (and tiny) pieces of chicken and the sauce were ok, so was the salad. But the rice was tasteless and mushy, the vegetables were squashy. The green noodles were tasteless as well and the noodle sauces didn't make it any better. The bread roll was quite hard, only some butter made it somehow eatable. Not even the dessert could compensate for the disappointment - it was just a tiny piece of Sacher chocolate cake, packed in plastic. The choice of soft drinks was basic, too. No ginger ale, bitter lemon or tonic available...
At least the crew was friendly, especially one Japanese flight attendant mostly serving on our side.
Snack Sale
After dinner I browsed through the entertainment guide and I was almost shocked when discovering the last page: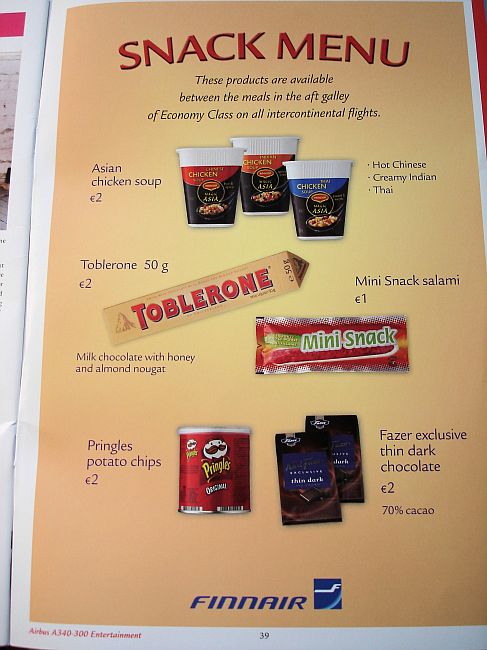 Unbelievable but true: Finnair charges for snacks on long-haul flights (most items cost 2 Euro). Is this a new round of ridiculous cost saving measures? It's not like passengers storm the galley between the meals on overnight flights. This is going too far...
Btw - beer and wine (and only those) are free - but just together with meals.
Passing Beijing
After sleeping for a few hours I checked the route map and found out we had just passed Beijing, now heading to South Korea, meanwhile at 39,000 feet: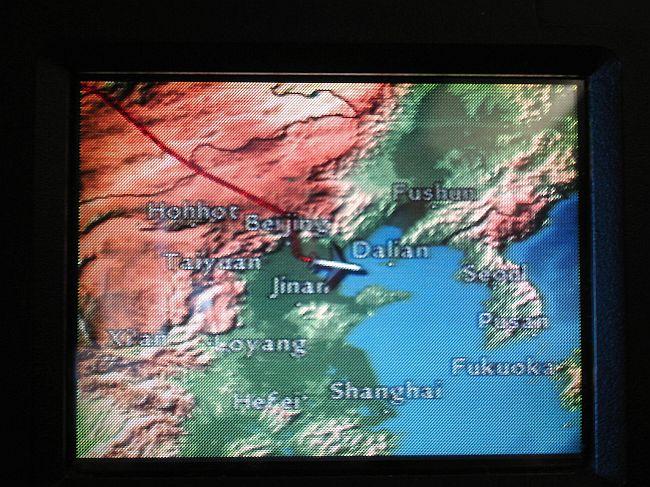 First wing view at daylight: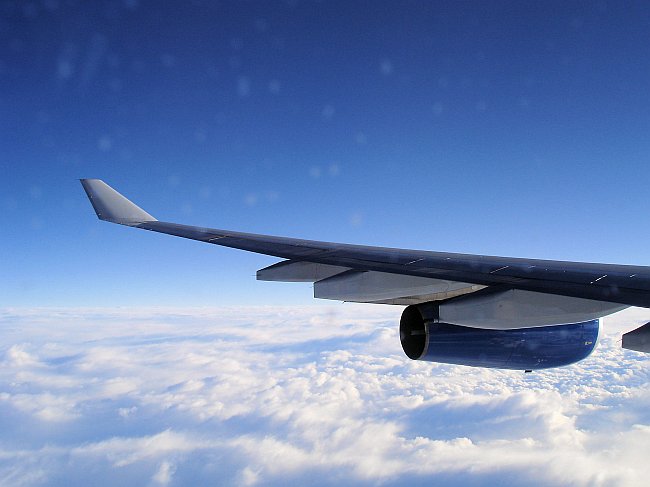 Breakfast
Honestly I didn't expect really much after that dinner but the hot breakfast with pancakes, omelette and beans was fine. The portion was small, but that's it. The carrot & fruit drink and the muffin didn't taste bad either.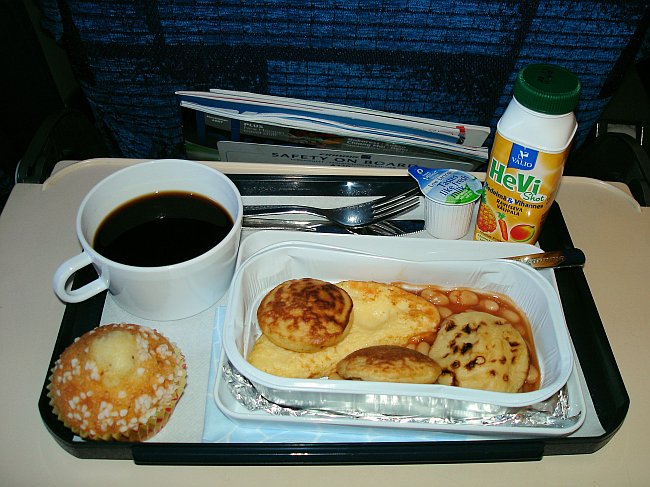 Not much time left until reaching the coast...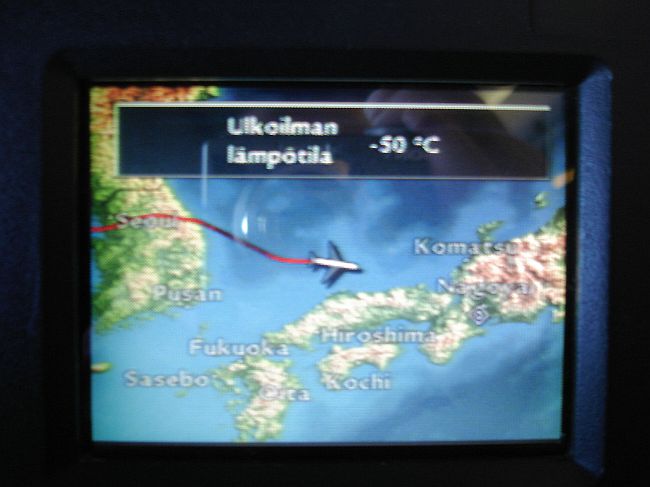 ...with mountainous terrain following shortly afterwards: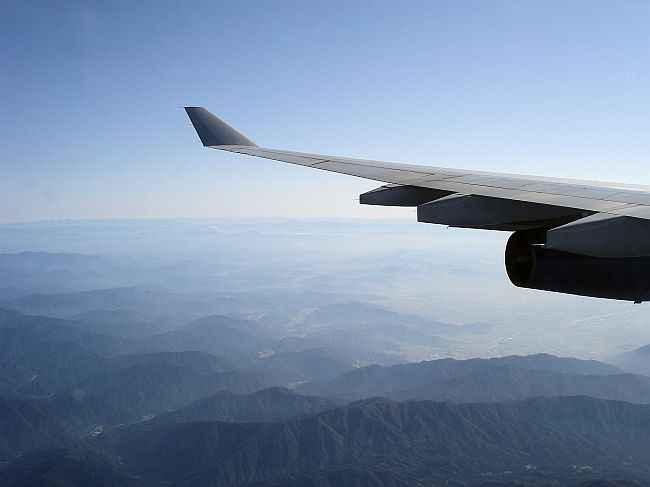 Approach
Hot towels were offered and recollected and approach was started. Ise Bay ahead...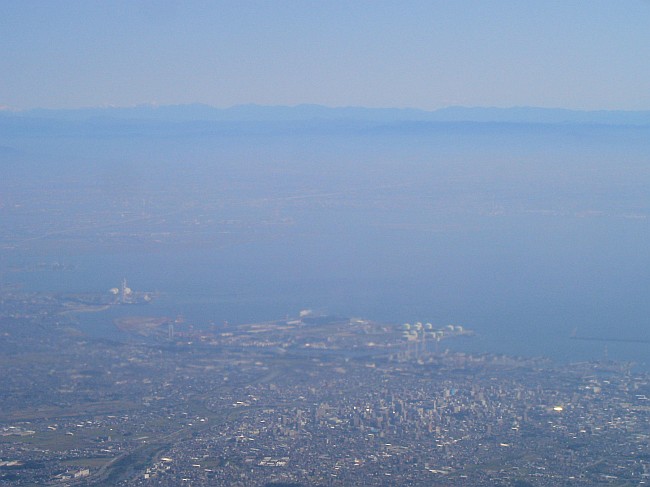 ...Nagoya Chubu Centrair International on the left: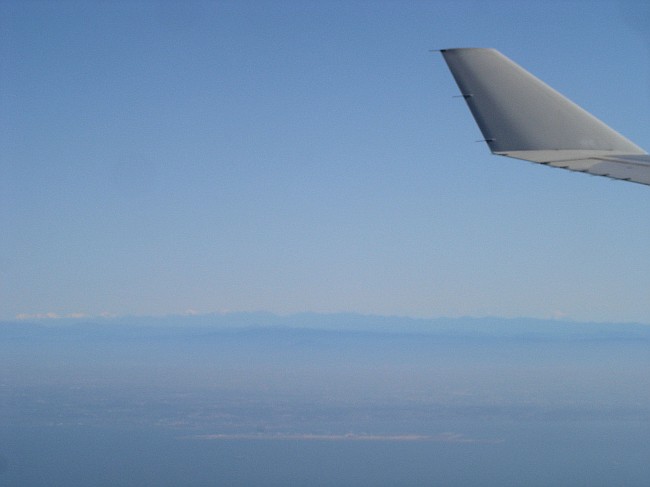 We flew a wide left turn and finally approached from the south, passing large tankers: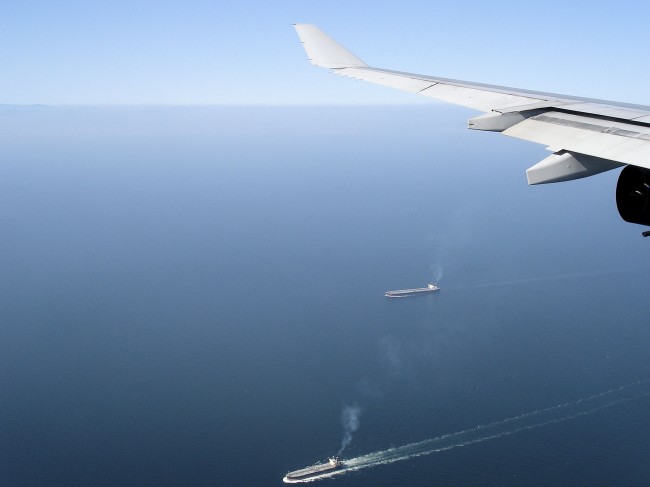 Only seconds to go...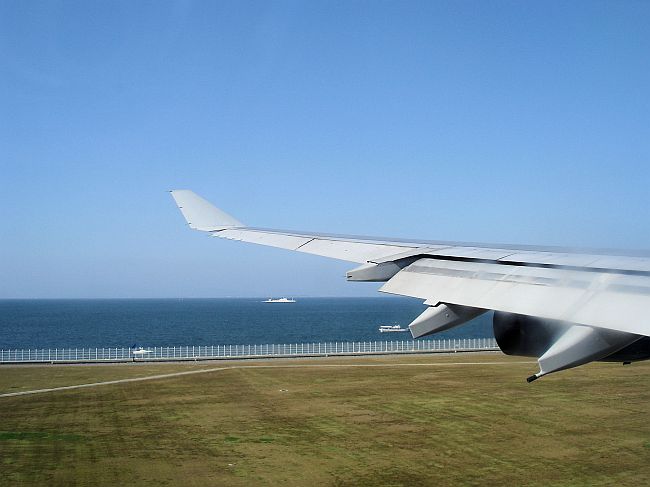 ...and touchdown at 10:20 local time.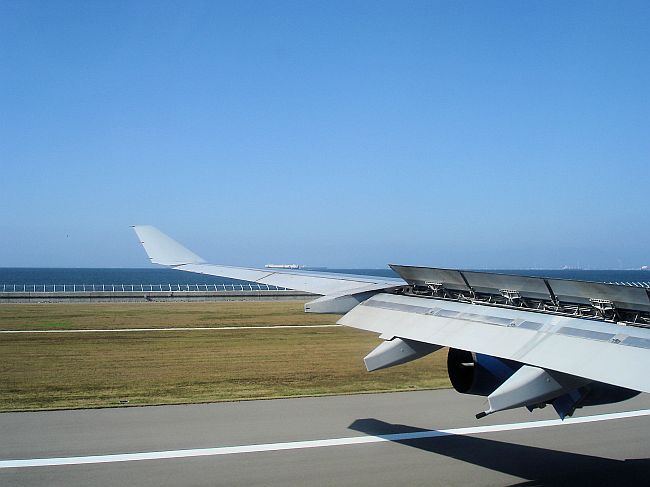 Dreamlifter
Just as we left the runway I spotted a Dreamlifter parked at the cargo apron, great start for our tour: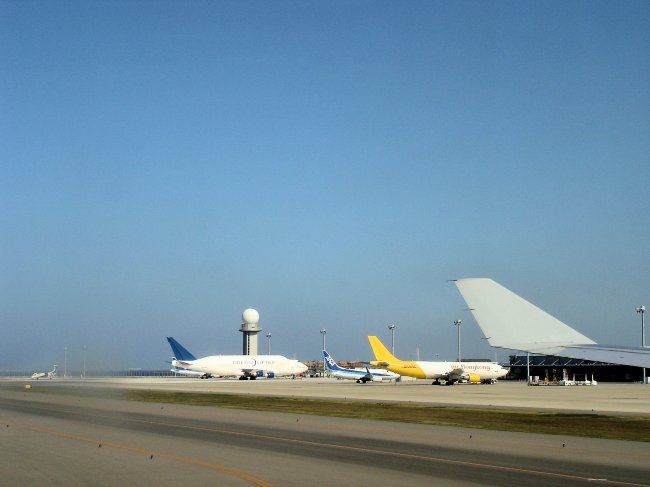 Business Class
We had to wait for some more minutes because our gate was still blocked by an LH A343 - well, our flight was the late one...On disembarking Satchmo took a picture of the Business Class, still showing its Virgin Atlantic descent: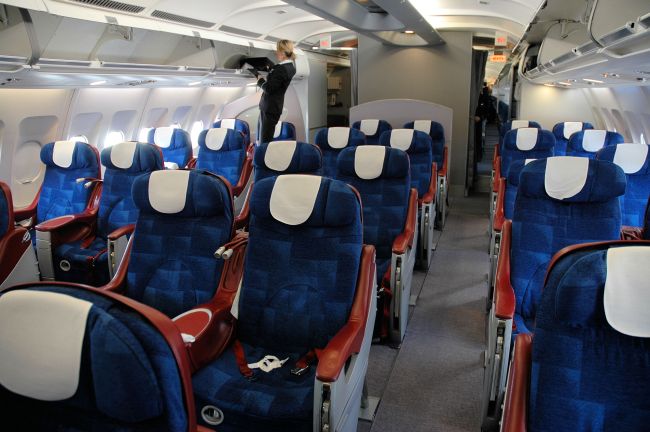 Picture by Satchmo
Cleaning staff already waiting: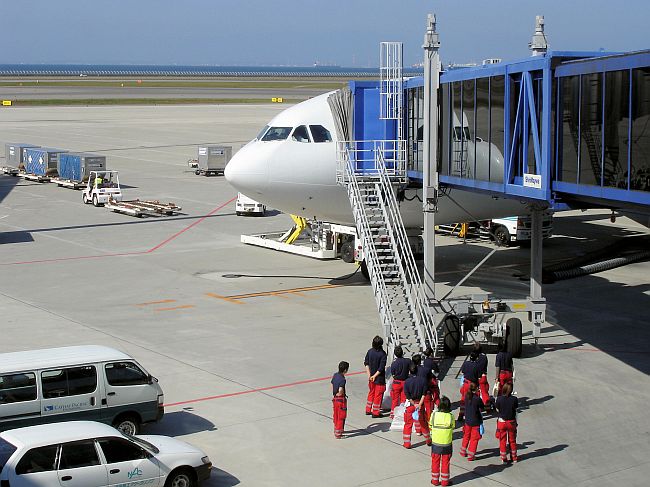 Nagoya Centrair Spotting
It took us about an hour to pass through immigration, luggage claim and customs. Now we could follow the much longed for "observation deck" signs. We walked through a modern and convenient terminal building, passed countless nice shops and restaurants and finally entered the large observation deck. The (remarkably clean) facility stretches across the roof top of the center pier and offers excellent views of the runway and the apron on both sides. While fantastic for registration spotting, it can be a challenge for photo spotters, depending on the sun.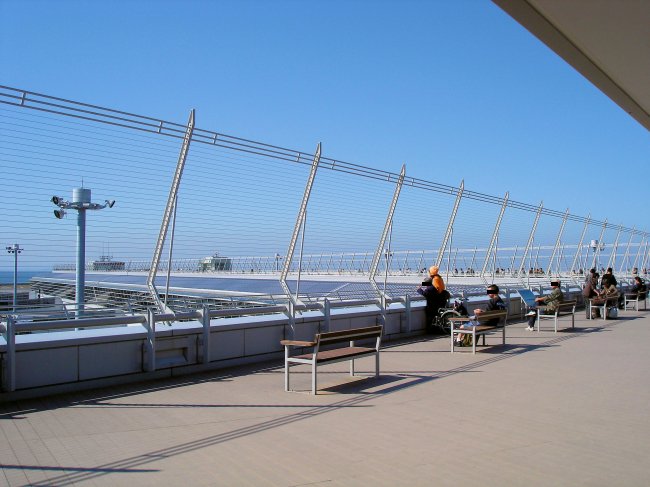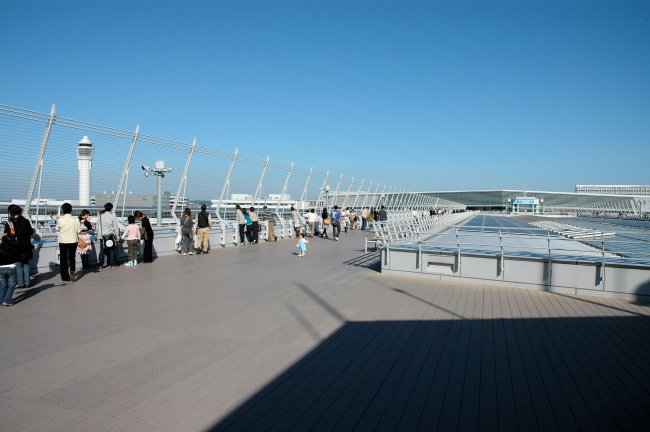 Picture by Satchmo
China Airlines 738 and China Southern A321: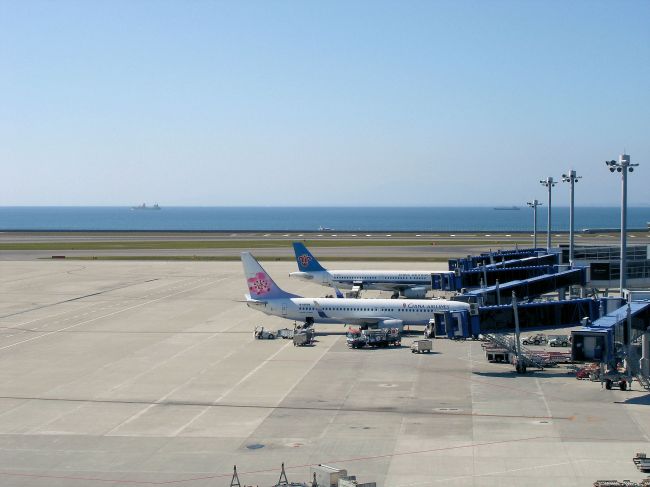 Some 90 minutes after arrival,
OH-LQA
taxies out for the return flight to Helsinki...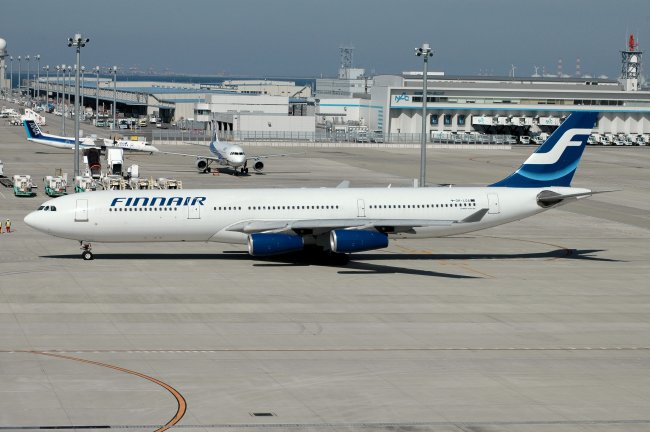 Picture by Satchmo
...and takes off into a blue sky over Ise Bay: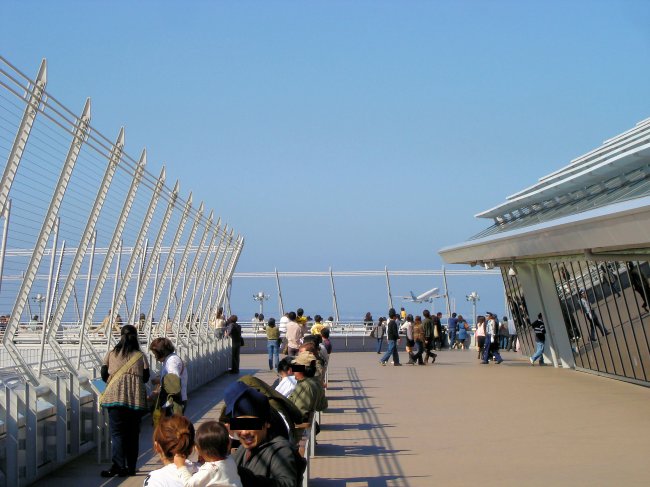 A large variety of mostly Asian and Japanese carriers can be seen at Nagoya Centrair, though certain types don't show up (e.g. JAL A300-600, MD-87). I got a total of 80 new registrations at NGO, even though we already continued to Okinawa on the next morning. One of the aircraft which we would see again soon was JAL 747-400D
JA8905
with Tamagotchi markings: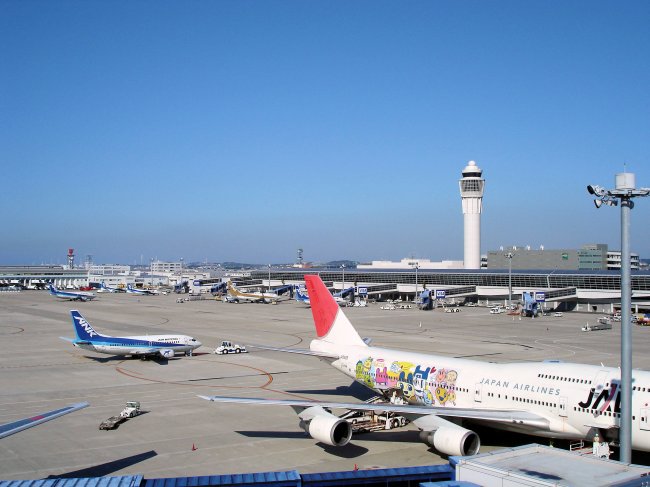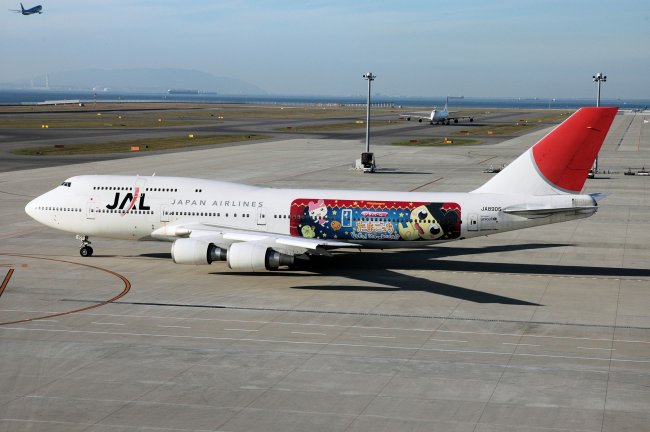 Picture by Satchmo
Interestingly, there's even a nice dedicated section about the sky deck facility on the airport's website:
http://enjoy.centrair.jp/en/facility/index.html
Conclusion
Flying
Finnair
between Helsinki and Nagoya was disappointing, mainly because of the insufficient catering (low food quality, small portions, limited choice of drinks, charge for snacks and alcoholic drinks between meals). Both the cabin interior and the IFE are totally outdated on this particular aircraft and should be updated to Finnair's A340-300E standard soon. Legroom was ok, F/As were mostly friendly, so no complaints here. The delay was not dramatic, it can happen on any flight. Giving out coupons was a nice move.
There's not much to comment on the European flight. Sufficient breakfast, comfortable E170 cabin (except for the airflow), but overhead screens would be a nice addition.
Next reports:
NGO-OKA-FUK on JAL 744D and JTA 734: http://forums.jetphotos.net/showthre...726#post442726
FUK-HND on JAL (ex-JAS) 777-200: http://forums.jetphotos.net/showthread.php?t=41616
HND-UKB-HND on ANA 763 (non-ER) & Skymark 763ER: http://forums.jetphotos.net/showthread.php?t=41728
HND-ITM on ANA 777-300: http://forums.jetphotos.net/showthread.php?t=42945
KIX-HEL-MUC on Finnair MD-11 & A320: http://forums.jetphotos.net/showthread.php?t=43041
Best Regards,
PlaneHunter