Oddities & Okinawa: NGO-OKA-FUK on JAL 747-400D & JTA 737-400
Intro
Naha Airport at Okinawa, JAL's 747-400D (=domestic) and JTA's 737-400 are featured in part 2 of my Japan Trip Report series. All users who have missed part 1 or want to read again about the background and trip planning simply need to click here:
MUC-HEL-NGO on Finnair E170 & A343: http://forums.jetphotos.net/showthread.php?t=41211
Toyoko-Inn Hotel
The Toyoko-Inn at the airport island is not a luxury hotel, but quite new, clean and functional. What's most remarkable: tiny rooms - but they are well-equipped with any kinds of amenities. Breakfast included, (coffee/tea and pastries), friendly staff, not bad for some
46 Euro
(double room).
View from our room - pretty first morning in the "Land of the Rising Sun":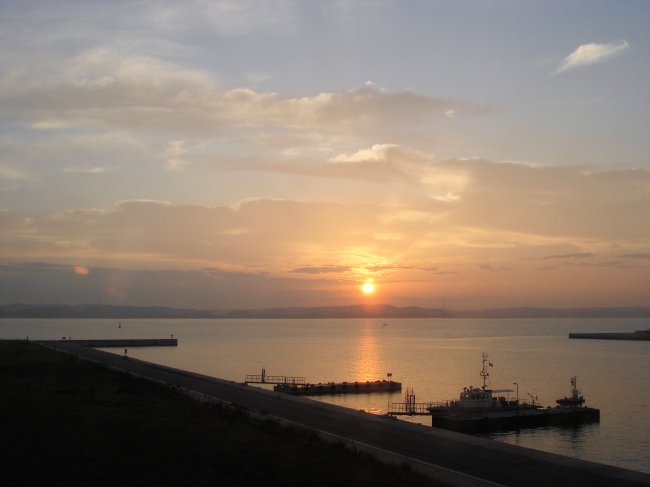 Monday, 29 October 2007
Nagoya (NGO) - Okinawa (OKA)
JAL - Japan Airlines, JL3251
08:50-11:00 (08:47-10:59)
Flying time: 02:00 (hrs)

Boeing 747-446D
JA8905 Tamagotchi cls (s/n 948 ), delivered in 12/1992
Economy Seat 69A
Warm Smiles
The walking distance between our hotel and the terminal building was not very far, but this time we decided to try the shuttle bus. It was quite busy in the check-in hall, but many counters were open so that we didn't have to wait in line. Two smiling female agents welcomed us and took our passes as well as our frequent flyer cards - bedding them on both hands. We asked for seats in the upper deck - and soon one of ladies presented our boarding passes, again using both hands. Even though the two flights weren't booked as a connection we also got the boarding passes for the OKA-FUK sector in the evening. Accordingly, we wouldn't have to deal with our luggage at Okinawa. However, we couldn't leave our luggage at the check-in counter but had to drop off the bags at a dedicated counter.
The Tamagotchi Plane
There was plenty of time left for spotting so we went to the observation deck again which opened to the minute at 07:00. It was quite busy, with most parking positions occupied. What I immediately noticed was that one of JAL's Tamagotchi-colored 744Ds parked at a remote position (on the very left):
Actually it was JA8905 again, like in the afternoon before. It only took me a few minutes to find out that it was the one and only JAL 744D at NGO this morning. An ANA 767 was scheduled to leave from our gate about one hour prior to our departure time so I was confident about the 744 being towed to exactly that position soon...and indeed it happened. No standard 744 last-minute arrival from Haneda...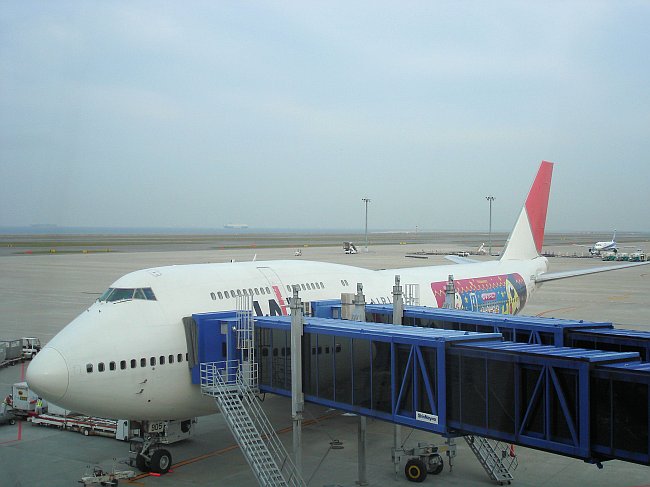 Opposite side: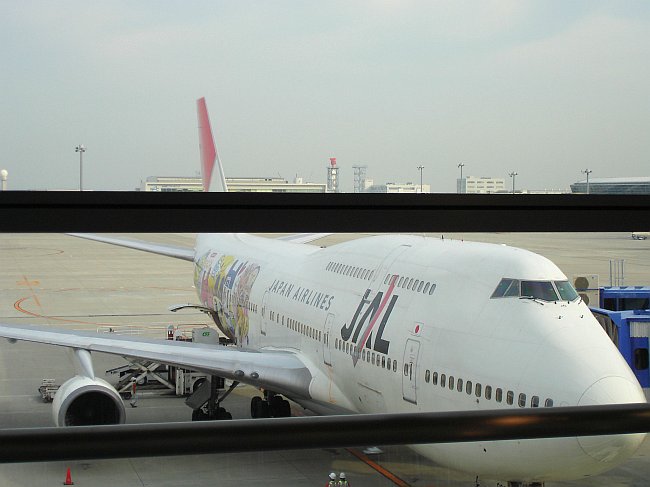 Drinks Vending Machine
While walking around in the gate area I discovered a corner with several drink vending machines - actually these machines can be found at almost any corner across the country. The assortment is excellent and the prices are very reasonable (between 100 and 150 Yen for a drink).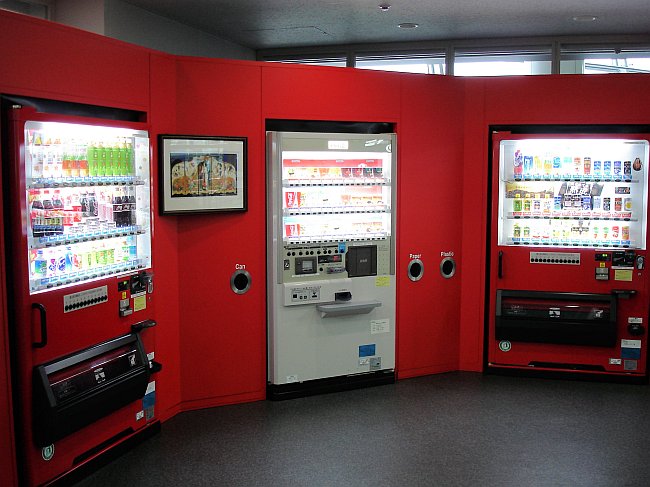 Light Load
Probably some 100 people hung around in the gate when boarding was started - what a low load factor on a 546-seating 747-400D! It was a Monday morning flight to a typical holiday destination - probably there were much more people booked on the return flight. Tamagotchi scheme close-up: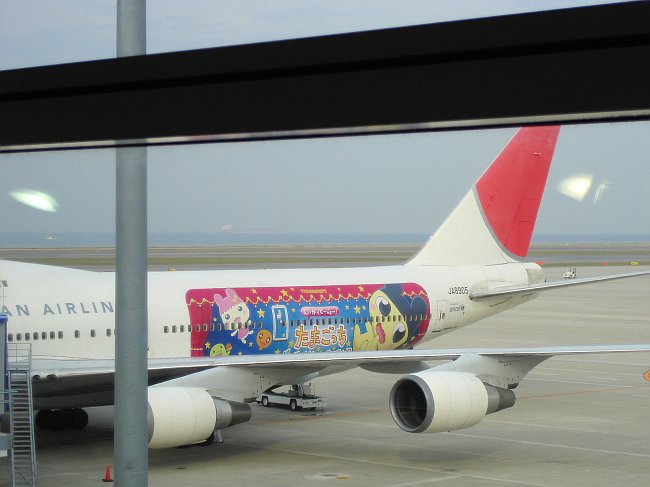 Cabin Comfort
After a warm welcome at the door we went upstairs and took our seats. Some minutes later it became obvious that most of the 66 seats would remain empty so both of us could choose one row each.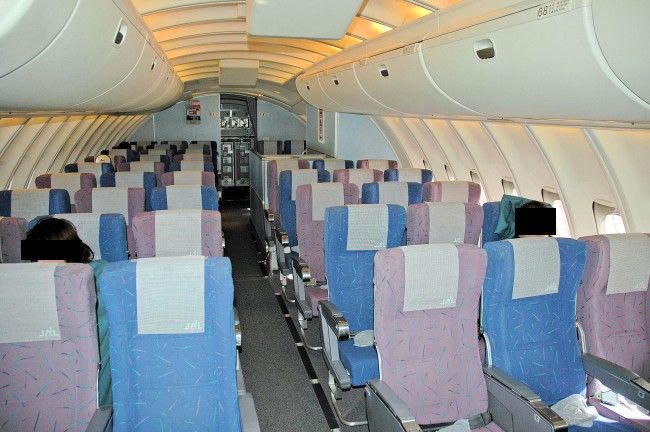 Picture by Satchmo
Old style seats, but comfortable...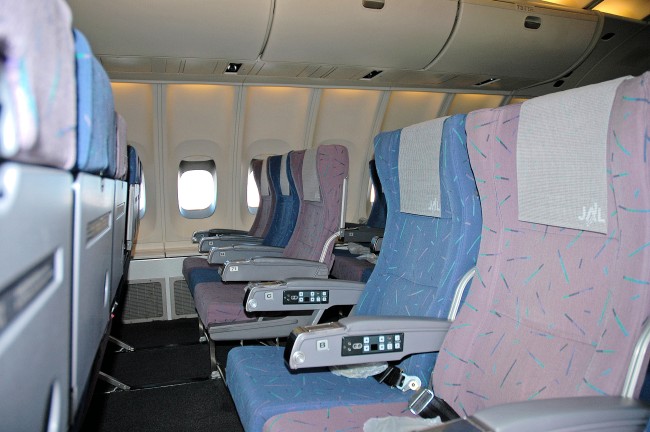 Picture by Satchmo
...and lots of legroom.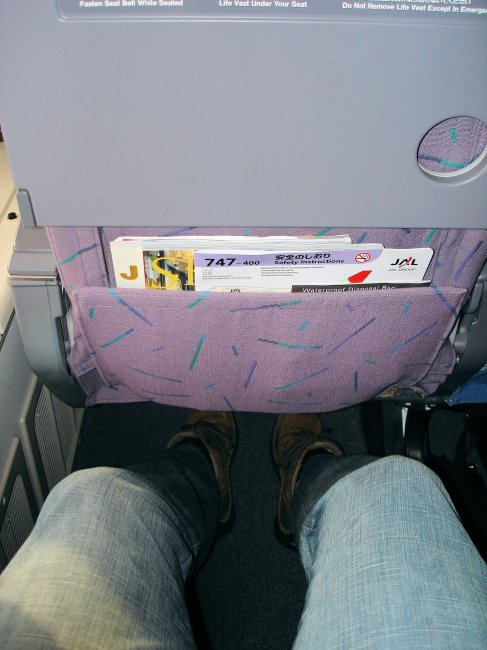 View from my seat: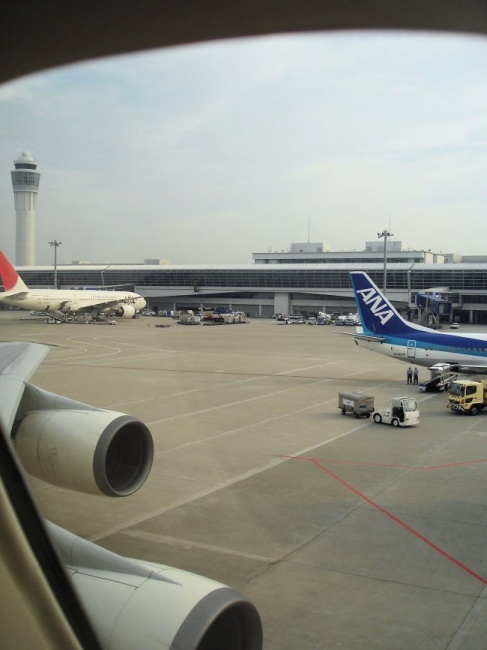 IFE
Antiquated headphones were available at every seat for audio and overhead TV entertainment, but the selection of channels wasn't convincing. Nice feature: front camera for takeoff and landing. Most of the time the airshow channel was shown on the screens.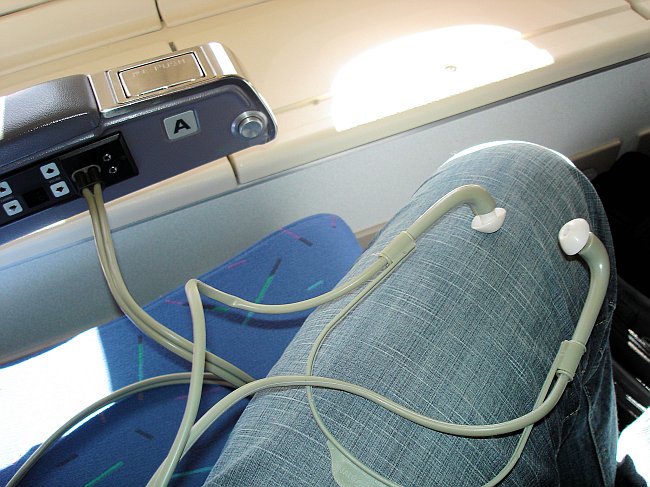 English Newspapers
Just after sitting down a friendly female F/A offered us two English newspapers and I grabbed the International Herald Tribune. Very individual service for us - the F/As had realized we were the only ones on board not from Japan and had correctly assumed we wouldn't be happy with the choice of Japanese newspapers available at the door.
The Waving Rampers
We were pushed back three minutes early and soon started taxiing. And whenever a plane starts taxiing in Japan, the rampers - mostly wearing helmets and white gloves - form a line and start waving: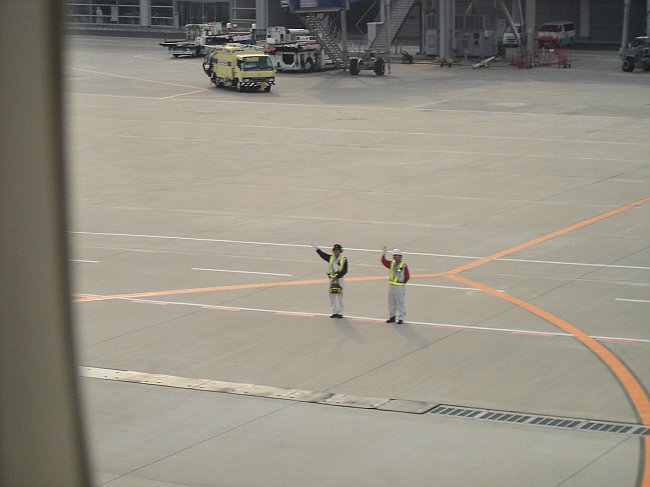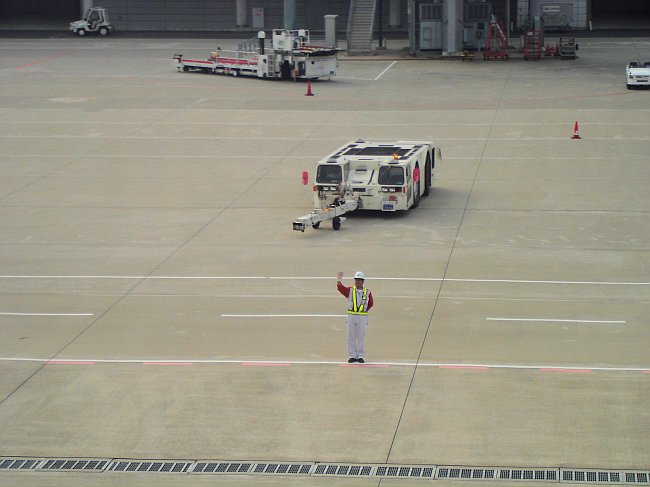 Finally, as soon as the plane has passed their position, they make a low bow. With these rituals the rampers say goodbye and show respect for customers and crews. Simply great!
Flight Attendant Rituals
The two F/As on the upper deck were the next ones to perform a ritual. With synchronized movements they checked doors and overhead bins - slowly pointing along the bins with outstretched arms. Then again synchronized movements when they explained the safety instructions. Low bow before sitting down, low bow again after standing up after takeoff. Very impressing.
No Picture-Policy
Like other Japanese carriers, JAL prohibits the use of any electronic devices during takeoff and landing. In the case of simple digital cameras, this makes no sense at all. Anti-camera policy in Japan - unbelievable...
Fast Takeoff
JA8905 turned onto the runway at 08:56 and started a powerful - and short - takeoff roll. Large Centrair marking in the grass: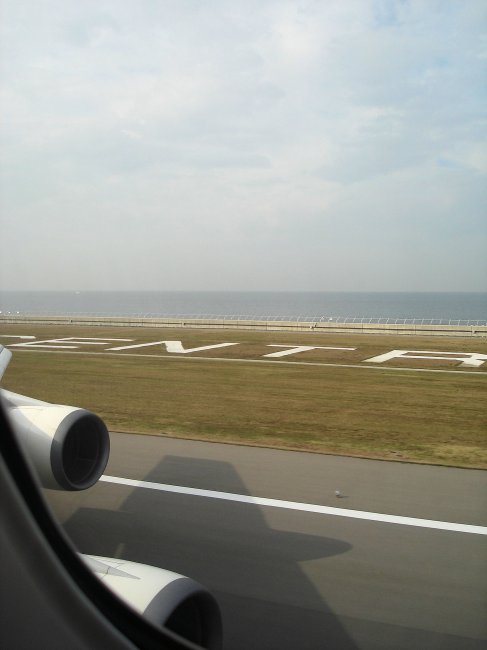 We climbed out steeply and turned left: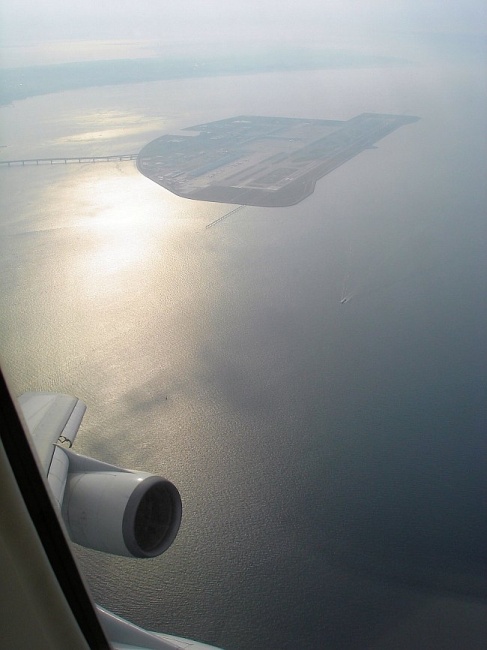 Another view of Centrair: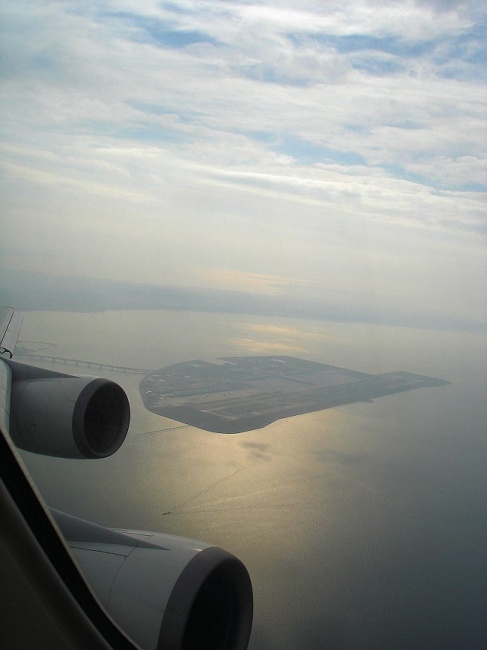 JA8905 climbed fast into cloudy skies over the Pacific Ocean...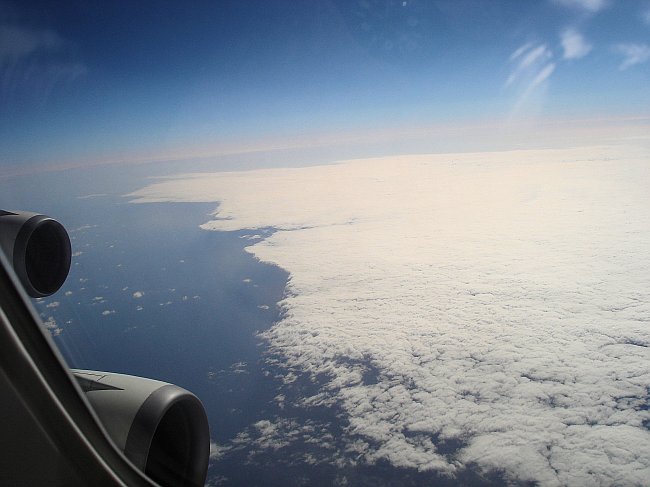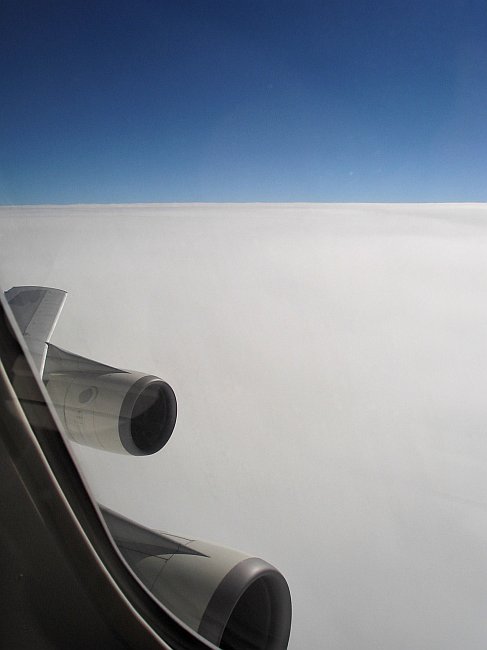 Drink Service
No meals or snacks are served on JAL domestic flights in Economy Class - and no exception for the rather long sectors to Okinawa-Naha. The F/As offered a range of drinks and a soup and I ordered a tasty coffee with extra sugar.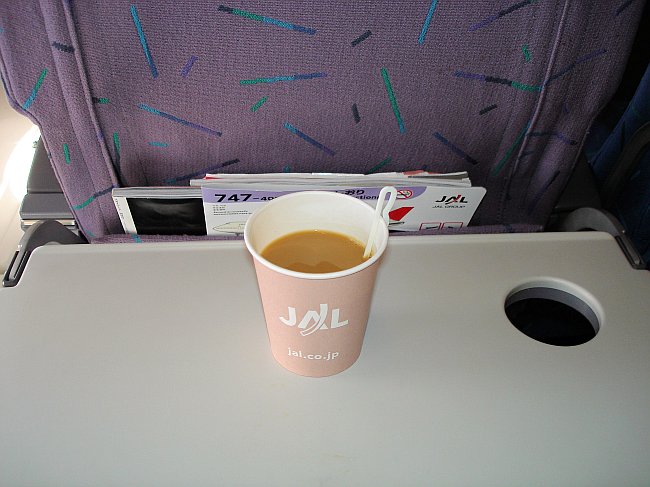 Cabin Tour
Some 30 minutes after takeoff it was time for an extended cabin tour at 11,000 meters: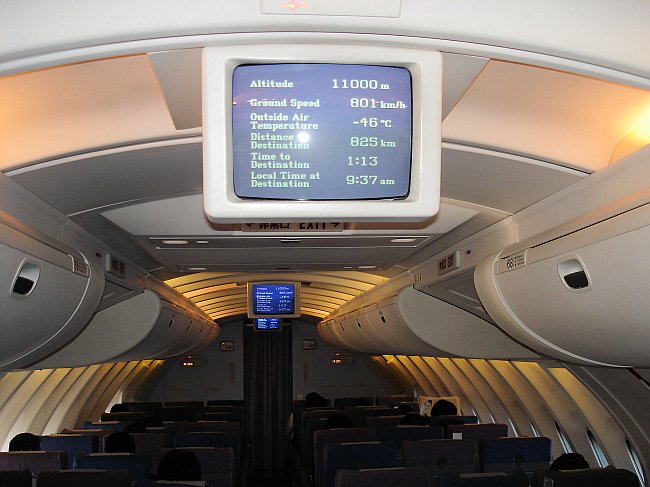 Map in English...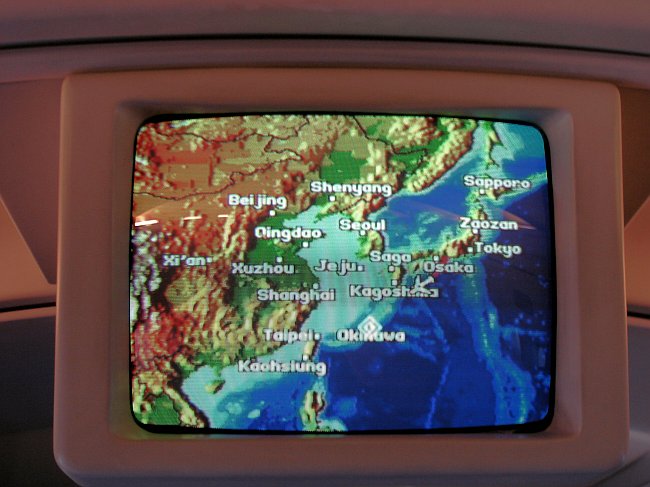 ...followed by the Japanese version: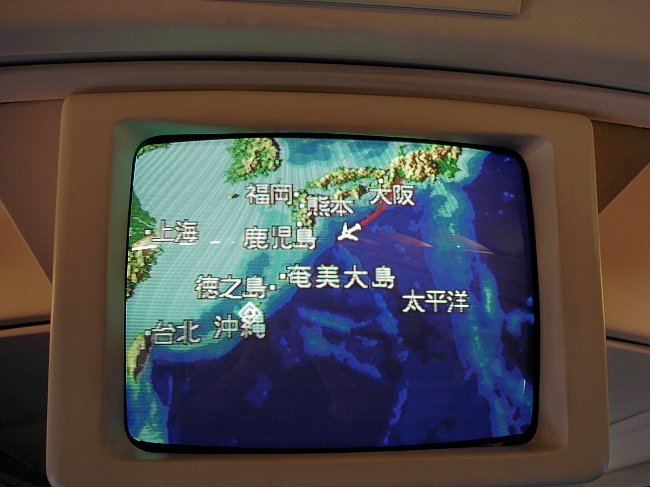 The aft section on the main deck was totally empty...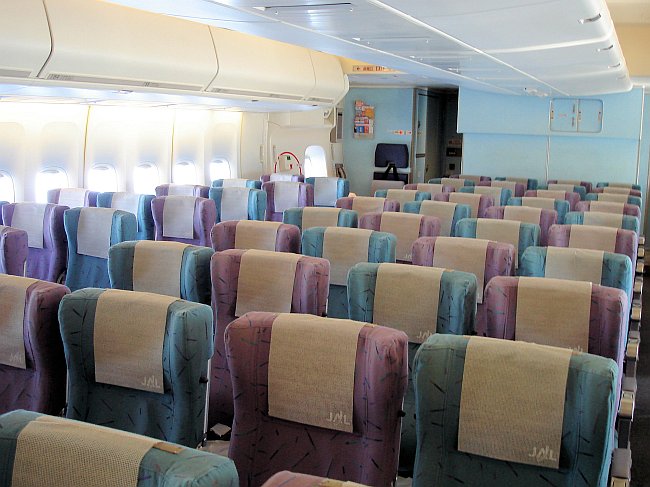 ...most passengers were seated in the front and middle sections.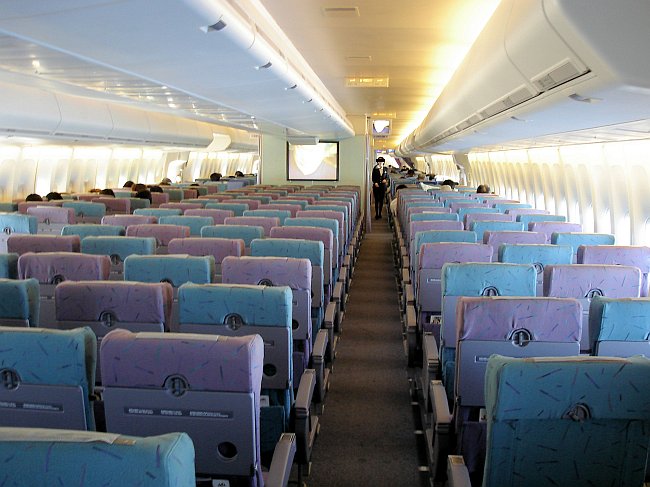 The 744's wing without winglet: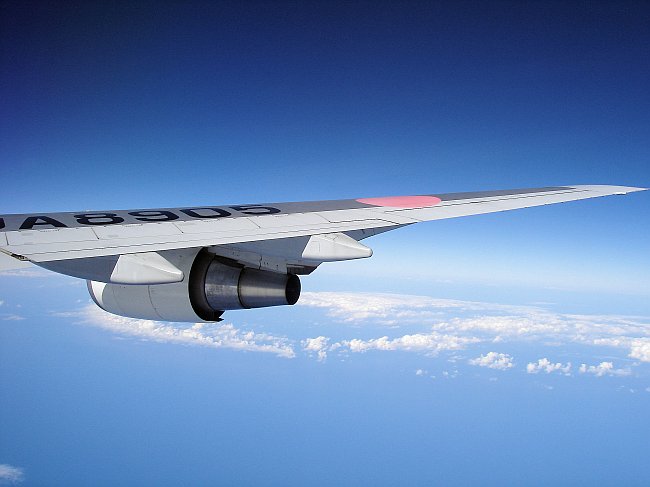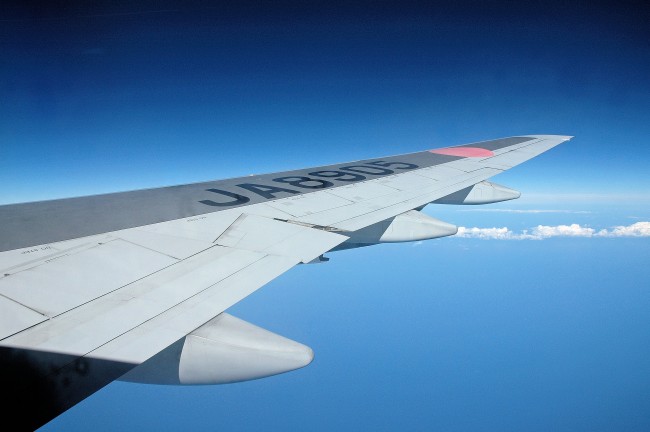 Picture by Satchmo
Two white GE CF6-80s and a great blue sky: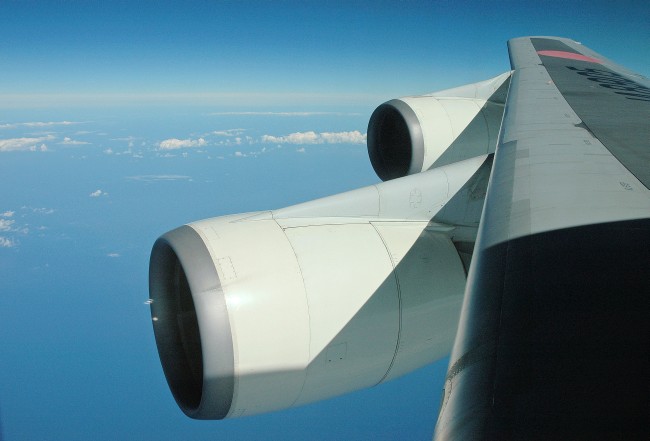 Picture by Satchmo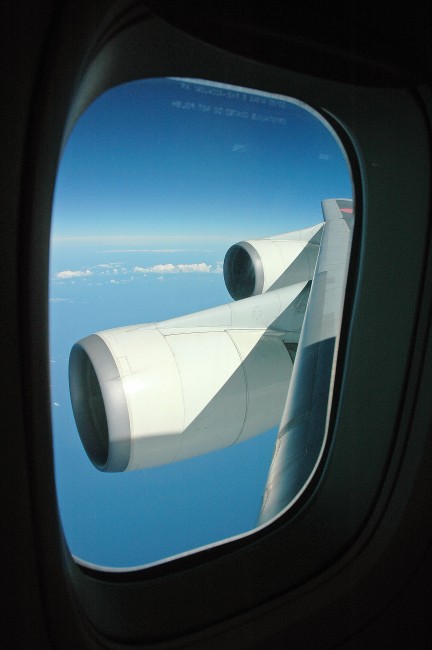 Picture by Satchmo
Pokemon Surprise
Later in the flight in I noticed another plane, still very small and impossible to identify: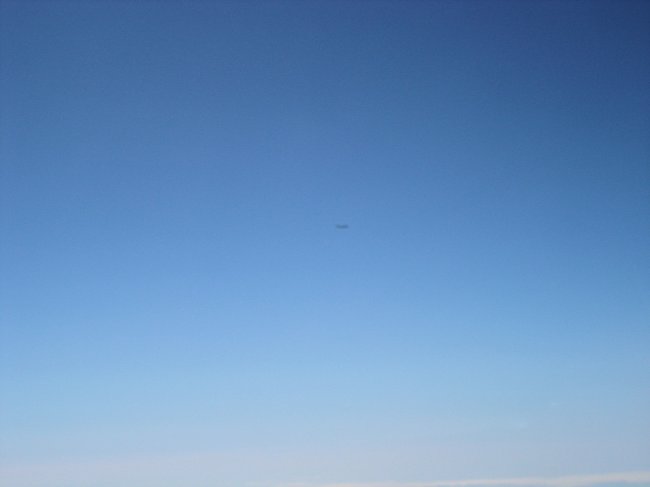 Now it was time to use my binoculars which I could place on the convenient upper deck storage bins: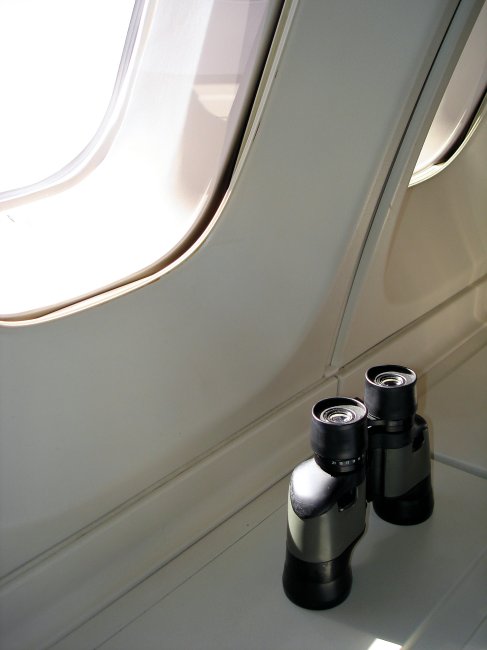 The unknown plane had become bigger and bigger - and it looked extremely colorful. Satchmo and I finally concluded that it must be a 747 in special colors. Then it was clear: ANA Pokemon Jumbo, or to be more exact, JA8956. I could even read the registration under its wing. No doubt, it was also destined for Okinawa.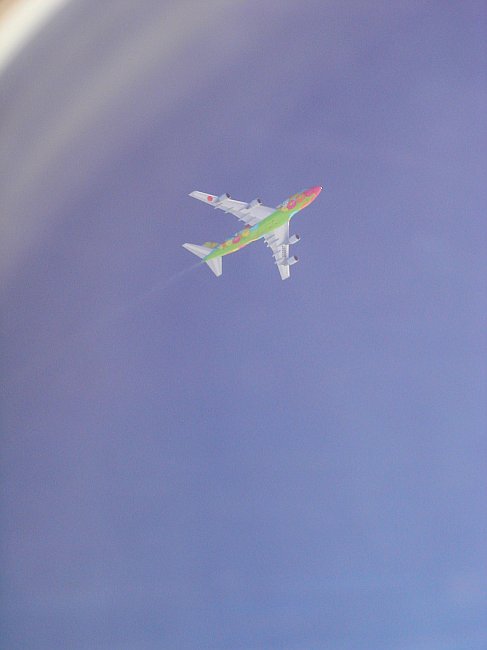 Approach
The time on that enjoyable flight had passed quickly and we started our descent into Naha Airport: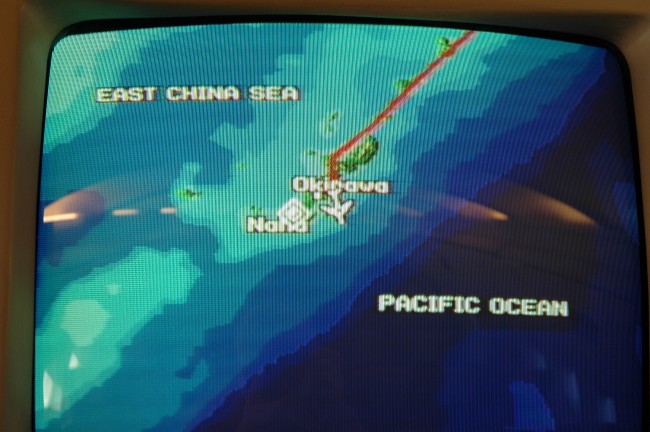 Picture by Satchmo
Dense clouds...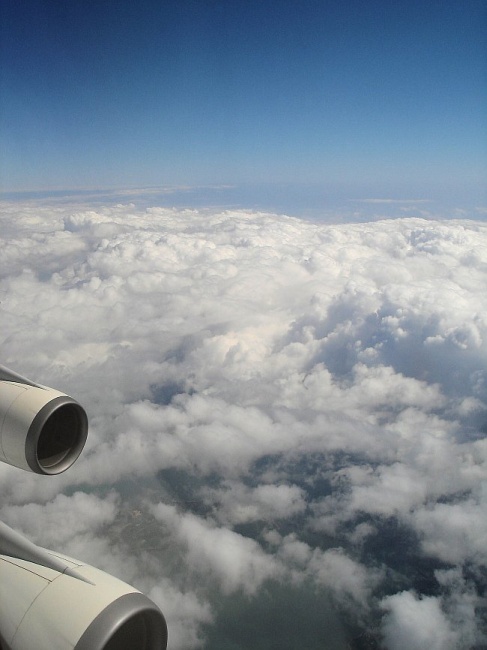 ...water...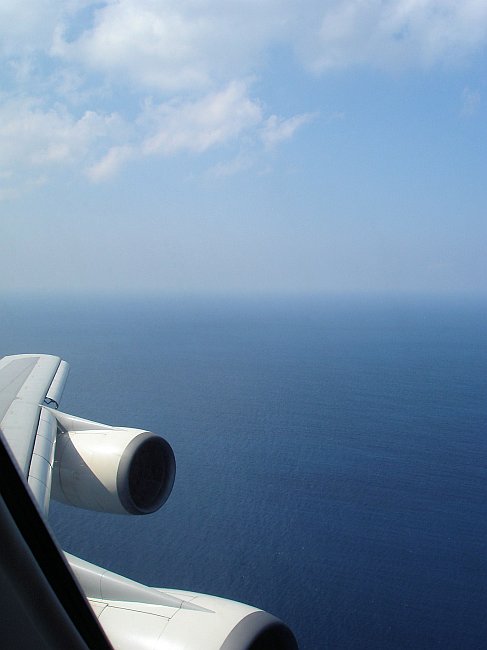 ...reefs...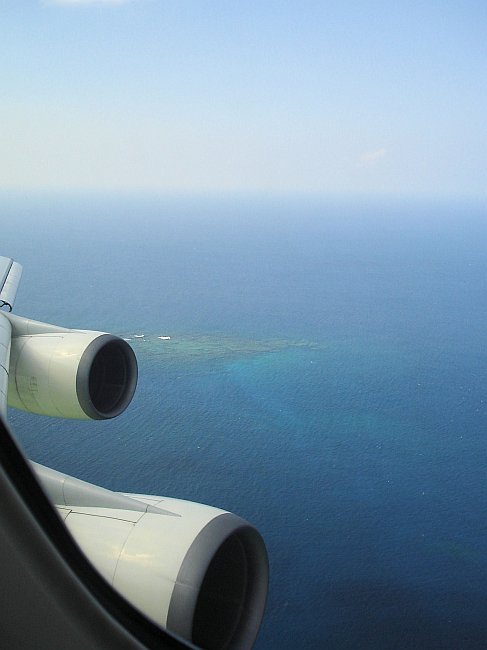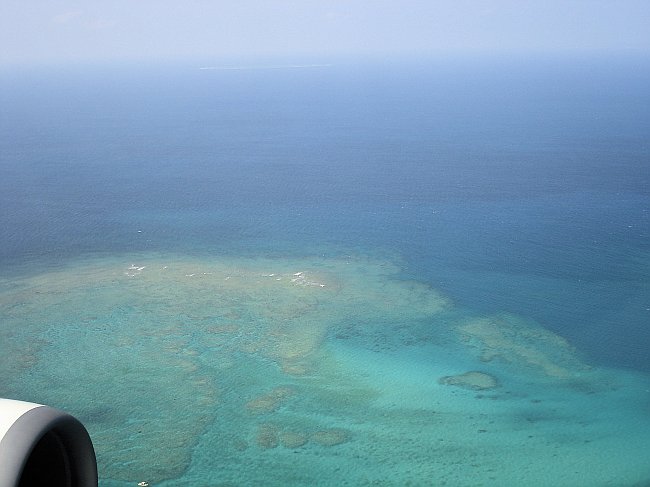 ...and beautiful tiny islands.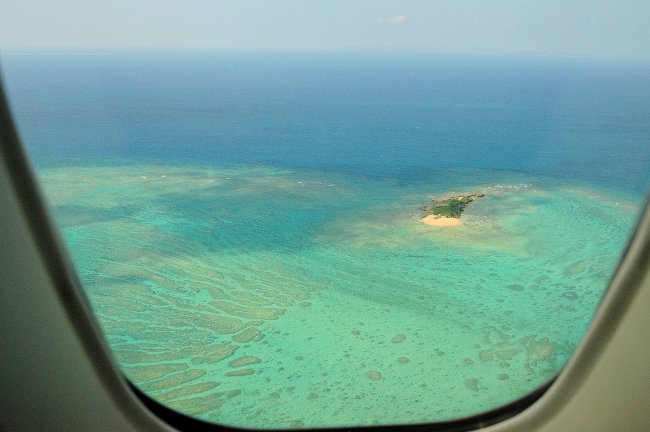 Picture by Satchmo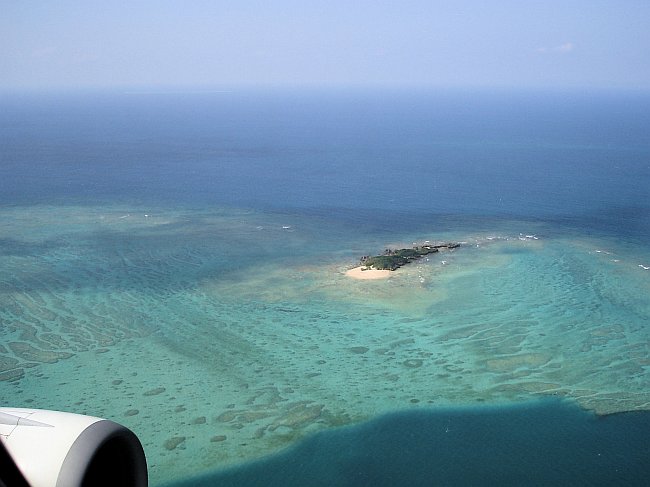 Only few moments to go...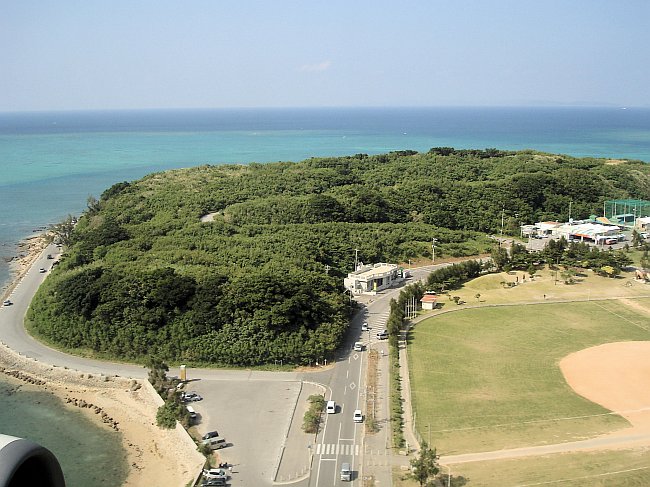 ...and touchdown at 10:56.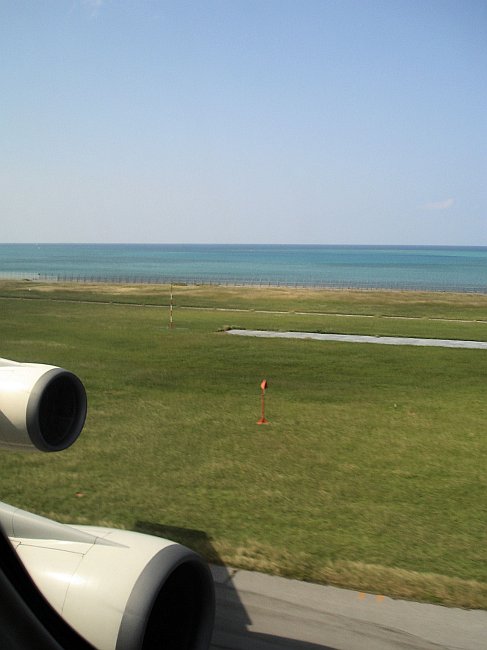 Just as we were slowing down one F/As seated some meters in front of me (and facing the rows on my side) asked me to stop taking pictures. That was quite late, considering her location - but I had the important pics anyway.
Naha Airport Spotting
We arrived at the gate one minute ahead of schedule. No waiting time at disembarking and only some 15 minutes later we entered one of the two observation decks which stretch over both ends of the main terminal building. The facility is not as modern and convenient as all the others we have visited on our tour - and the only one with an entrance fee (100 Yen) - but it offers good views. Again great for registration spotting, but photographers face the sun in the afternoon. There's also an indoor spotting area behind glass free of charge. Not to forget, some restaurants offer good views, too - so we didn't miss anything while enjoying Japanese delicacies at reasonable prices.
Most frequent visitors are ANA (744/763/777), ANK (735/73G), JAL (744/763/777), JEX (734), home-based JTA (734) and RAC (DH8 ). China Airlines is one of the few foreign carriers. In some five hours I got a total of 35 new regs.
Additionally, Naha is a major military base - noisy F-4 Phantoms may be very active.
Various ANA tails (744/763):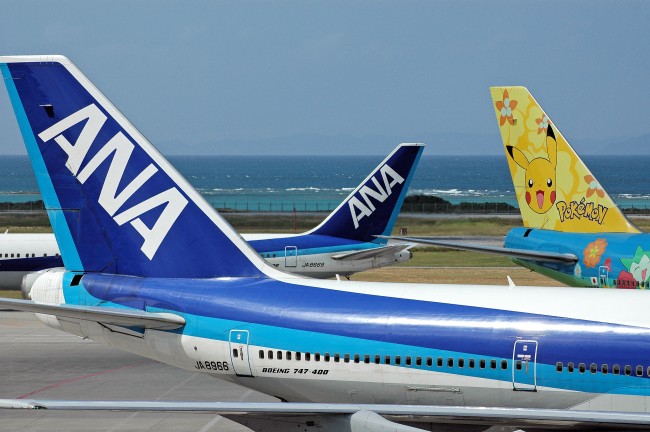 Picture by Satchmo
Here it is again - JA8956, one of ANA's Pokemon Jumbos: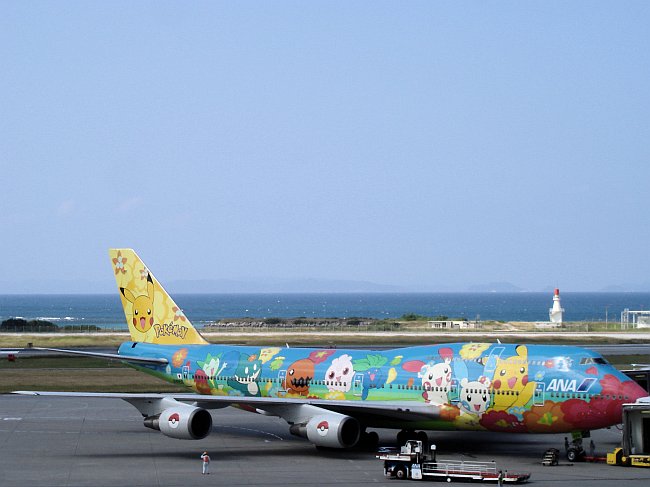 Nonstop widebody action on the apron. JA8904, JAL's other Tamagotchi Jumbo, has just arrived: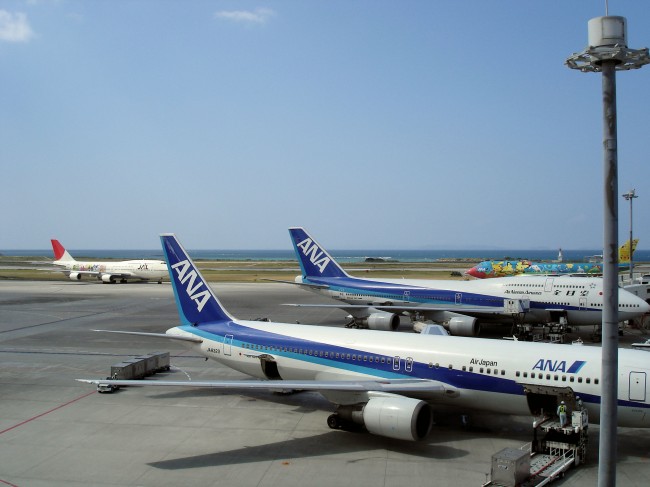 Goodbye, JA8956...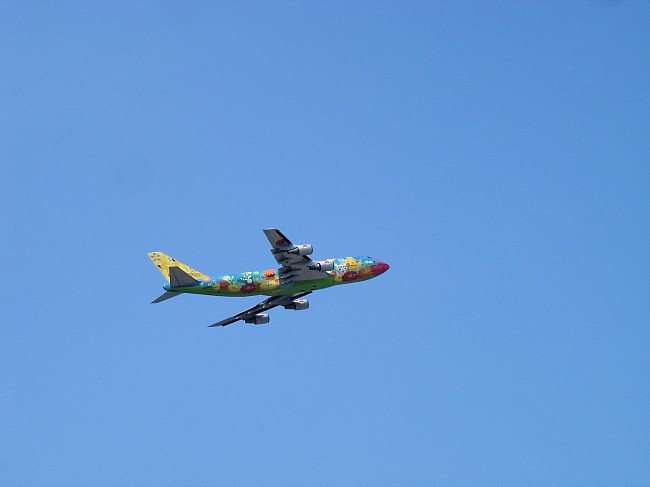 Our Tamagotchi Jumbo on its way back to Nagoya - note the F-4 departing on the right!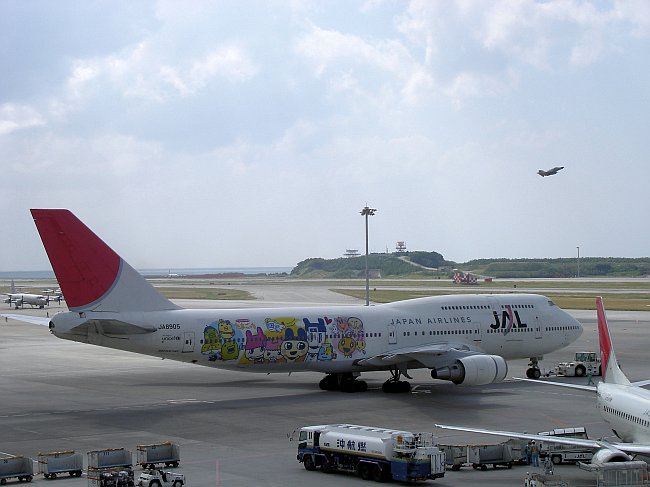 Goodbye, JA8905...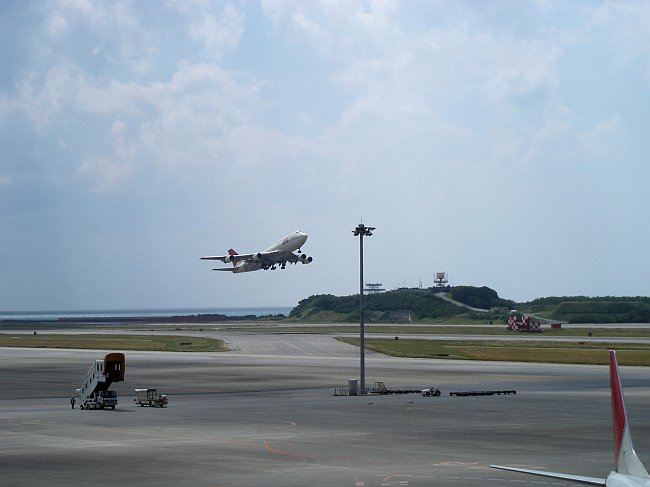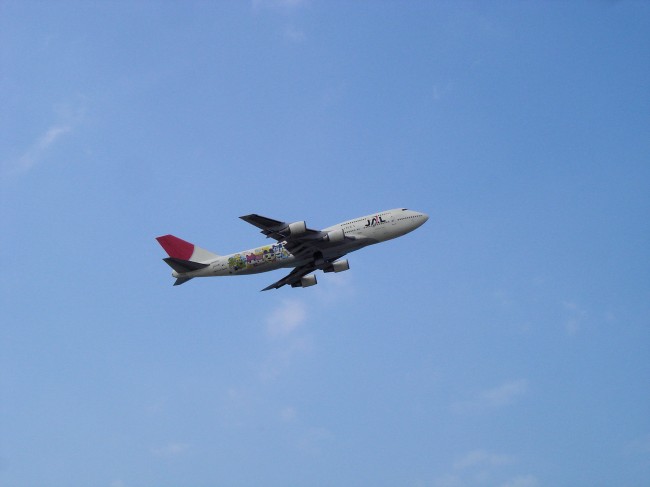 JA8908 has just arrived and is directed to its parking position by a ramper almost at flightdeck height: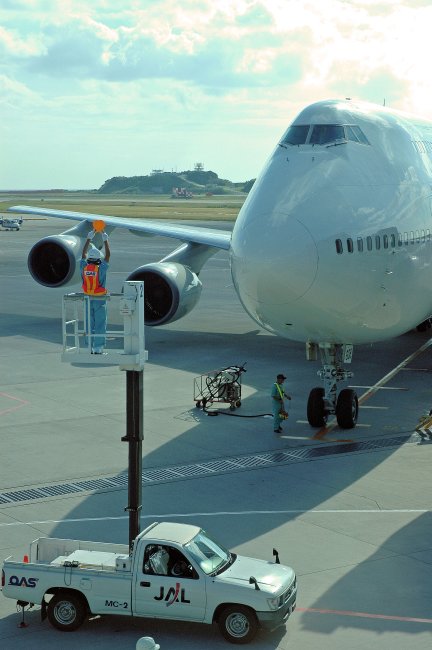 Picture by Satchmo
Final bowing after the work is done: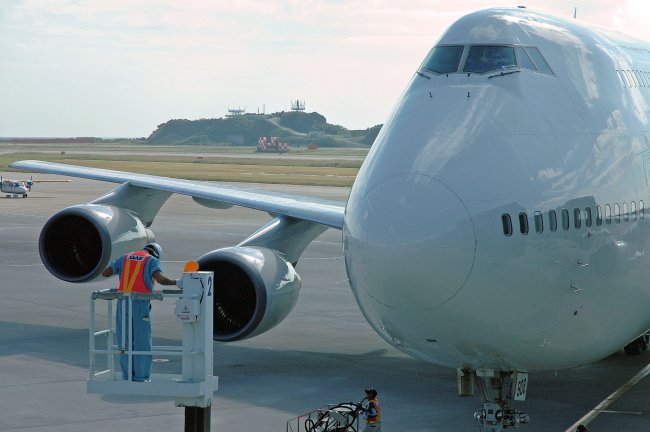 Picture by Satchmo
CAL Accident Site
On August 20, China Airlines 738 B-18616 burst into flames only shortly after landing at Okinawa-Naha Airport. The dark accident site is still closed off: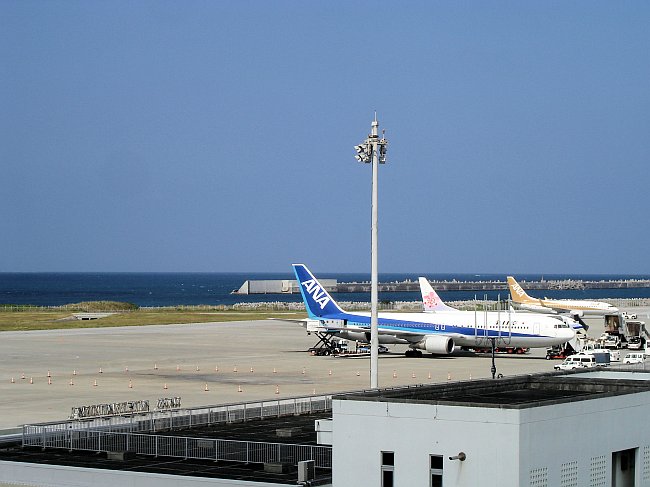 Monday, 29 October 2007
Okinawa (OKA) - Fukuoka (FUK)
JTA - Japan Transocean Air, JL3608
16:00-17:40 (16:12-17:53)
Flying time: 01:16 (hrs)

Boeing 737-4Q3
JA8939 (s/n 3088 ), delivered in 01/1999
Economy Seat 12B
Slight Delay
For the one and only time in Japan we had to wait at a bus gate for the flight to Fukuoka. Boarding was started a bit late and we were bussed to JA8939, a late 737-400 built in 12/98.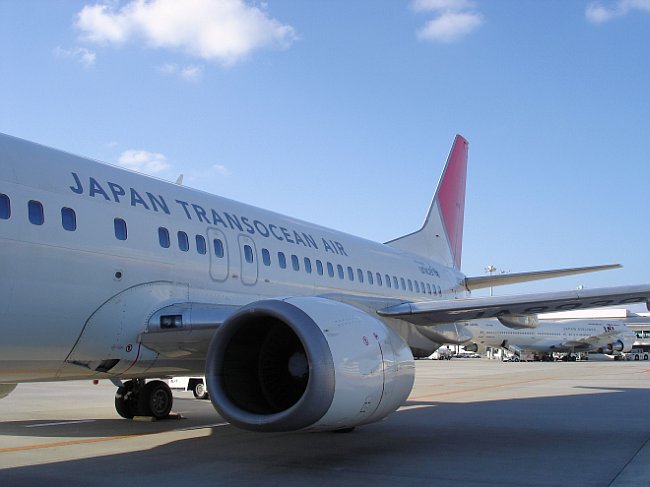 No Pictures!
We took our seats in row 12 and just started taking pictures when a F/A asked us to switch off the cameras - even though the plane was still parked! Either JTA has even stricter rules than JAL or the very F/A has exaggerated. At least she was very friendly. Some minutes later she returned to our row and told us that the flying time would be 1 hour and 20 minutes. Somehow I had the impression that was a kind of remediation after preventing us from taking pictures.
Cabin Comfort
The flight was packed, load factor somewhere between 90 and 100 percent, so after boearding was completed we didn't attract attention by taking some pictures discretely. Cabin view: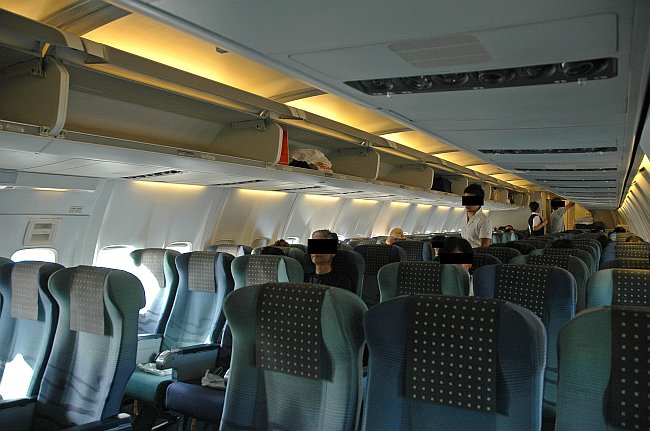 Picture by Satchmo
I would rate the seating comfort and pitch as average, but being stuck in the middle seat is never a pleasure.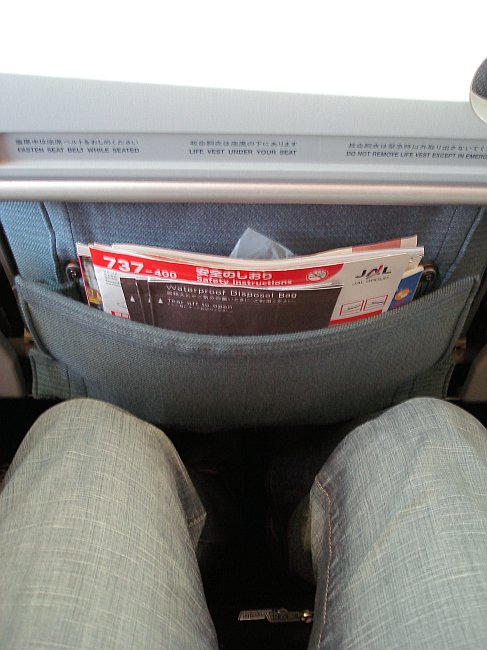 Departure
We left the gate at 16:12 - this time with waving Okinawa rampers: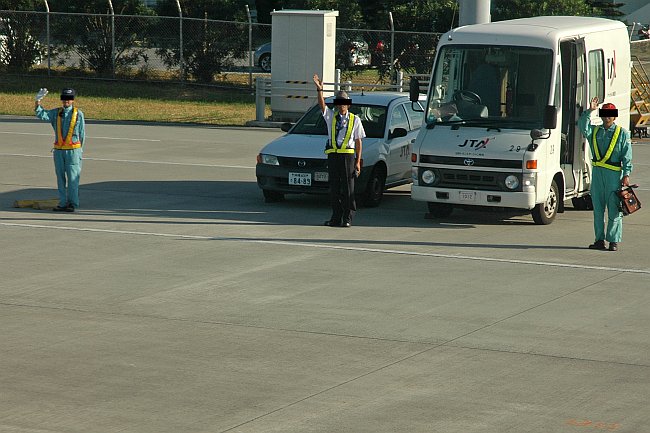 Picture by Satchmo
After taxiing for a while we stopped again for about 15 minutes - no explanation from the flightdeck. Then we finally taxied to the runway. One more arriving ANA 763...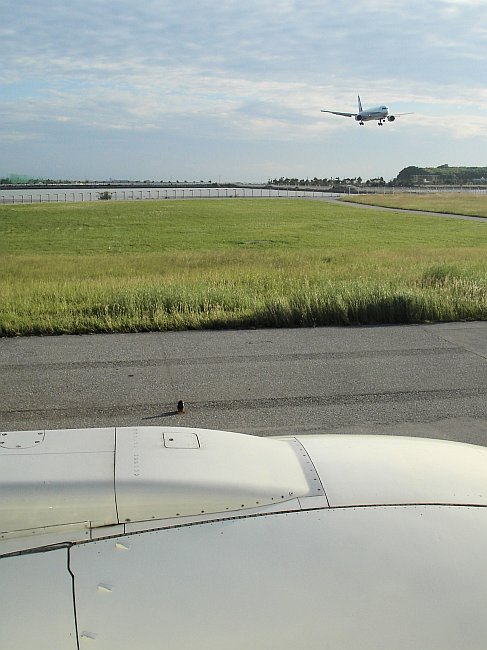 ...and then JA8939 accelerated and took off powerfully at 16:34.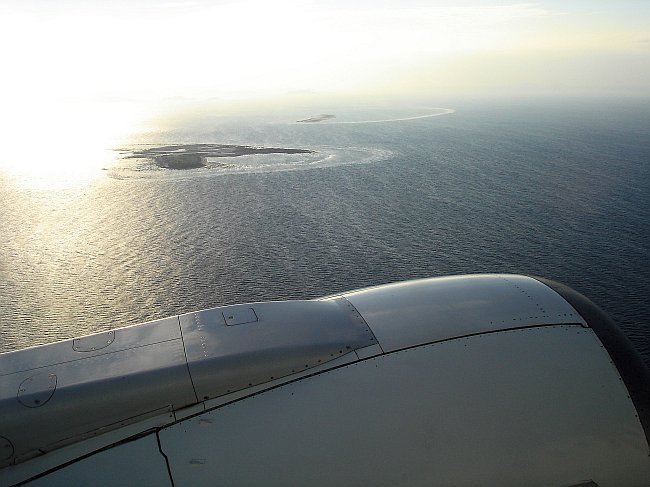 Approach
Except for one round of drinks, the flight was rather uneventful. After about an hour in the air we already started the descent into Fukuoka. The day ended like it had begun: Beautiful sunset - this time over Kyushu: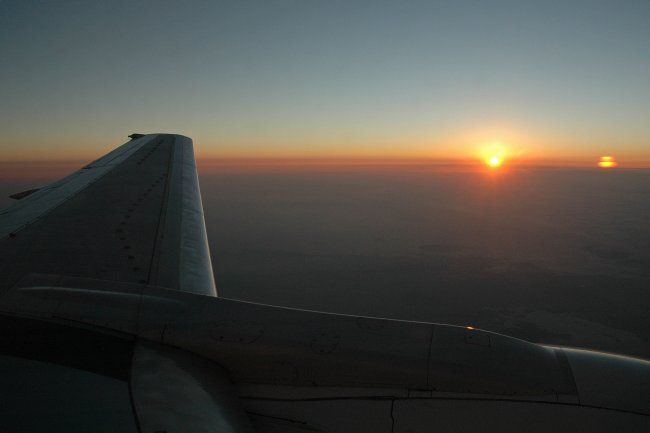 Picture by Satchmo
Fukuoka Airport, the third largest in Japan, is completely surrounded by residential areas. Most of the time aircraft land on runway 16 - but sometimes runway 34 is used for landings which requires a sharp turn on final descent. This evening we had the pleasure to land on runway 34 and enjoyed great views of the (close) thousands of lights on the ground: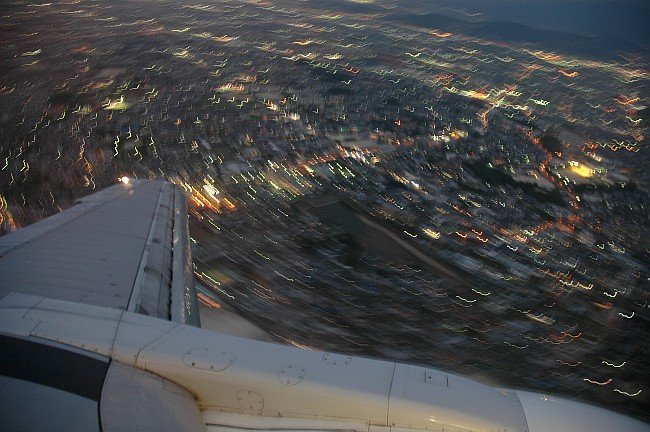 Picture by Satchmo
We touched down at 17:50 and arrived at the gate three minutes later. This means we were 13 minutes late in the end - definitely an exception for Japan.
Last shot of JA8939 from the gate: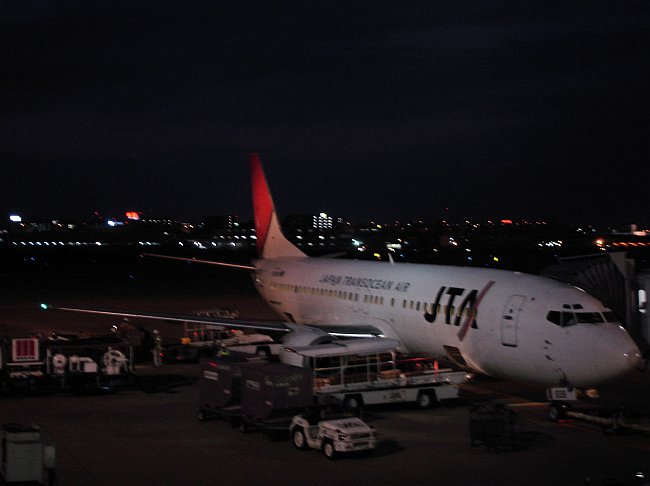 After a short investigative visit to the observation deck on the domestic terminal we picked up our luggage and headed to the airport's subway station. Hakata Station was just two stops away and after some moments of orientation in that multi-story train station we crossed one road and check-in at the Comfort Hotel Hakata.
Conclusion
Domestic flying on JAL and JTA to and from OKA was very convenient and enjoyable. Very friendly ground staff and flight crews, no queues, customer-orientation everywhere. While comfort on the JTA 734 was not different from European or American domestic carriers, JAL's 744 was impressing, especially seating on the upper deck. Nice seats, great pitch - and all that on a large widebody. A snack would have been a fine addition on that rather long sector to Okinawa, but the no-food policy is standard on the major Japanese domestic carriers. It's a bit annoying that the use of digital cameras is not allowed officially during takeoff and landing, but discretion helps...
To sum it up: Fly on Japanese domestic routes and feel & see the difference!
Next reports:
FUK-HND on JAL (ex-JAS) 777-200: http://forums.jetphotos.net/showthread.php?t=41616
HND-UKB-HND on ANA 763 (non-ER) & Skymark 763ER: http://forums.jetphotos.net/showthread.php?t=41728
HND-ITM on ANA 777-300: http://forums.jetphotos.net/showthread.php?t=42945
KIX-HEL-MUC on Finnair MD-11 & A320: http://forums.jetphotos.net/showthread.php?t=43041
Best Regards,
PlaneHunter