Hiya guys! This is my first trip report ever on any aviation-related forum. I've been a commercial aviation enthusiast since the beginning of time and have been surfing this website as well as Airliners.net for ages, but have never actually got around to posting stuff on fora. Anyways, hi!


The following trip report is of a flight (two sectors, actually) I took more than a year ago, but I'm sure it will still be of an interest to y'all. I might say a lotta stuff which may appear evident to most of you, because I originally wrote this for my blog, i.e. this was never intended for aviation enthusiasts well-versed in the minutiae of commercial aviation. Finally, please forgive any errors which I might have made so erm, enjoy!
22 June 2006
Qatar Airways
QR 006
London Heathrow Terminal 3 (LHR) to Doha (DOH)
Scheduled time of departure: 1100
Scheduled time of arrival: 1955
Airbus A330-203
A7-ACA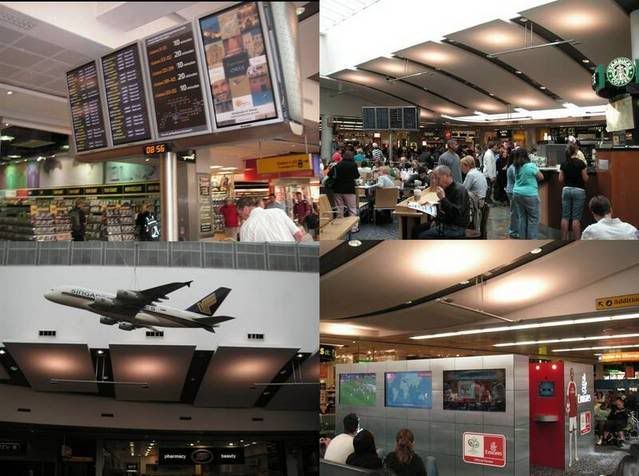 Welcome to London Heathrow's Terminal 3. London Heathrow is the world's busiest international airport - which explains why many travellers, especially businessmen, try to avoid the congestion at Heathrow by using such airports as Gatwick, Stansted and City instead. These are pictures of the central waiting area at Terminal 3. From top left, clockwise: departure boards; Starbucks; plasma screens sponsored by Emirates in the spirit of the World Cup; and finally Singapore Airlines proudly displaying a model of the Airbus A380 (remember, this was summer 2006!).
Plane spotting at Heathrow. From top left, clockwise: United Airlines Boeing 777-222 in old colours; the Qatar Airways jet that would take me to Doha; American Airlines Boeing 777-223 in the foreground and United Airlines in new and old colours in the background; and finally an Air Canada Boeing 767-375 in new colours (hybrid) and Air India's Boeing 747-437.

On board the pretty new Airbus jet. As you can see, the cabin was very clean. Absolutely spotless. The seat next to me remained empty so needless to say, yay!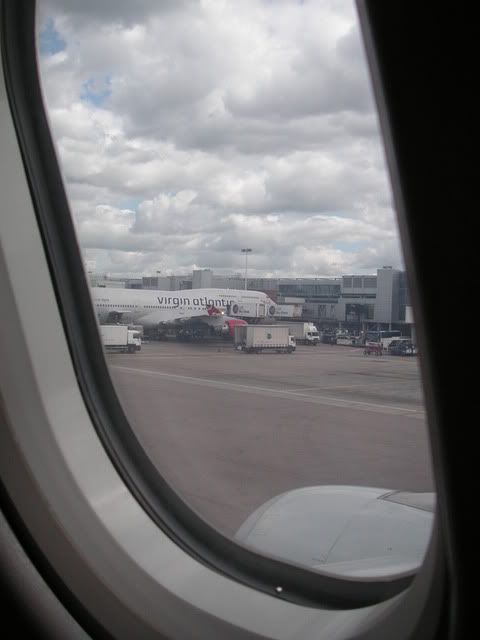 Towback completed. Ready for the taxiway.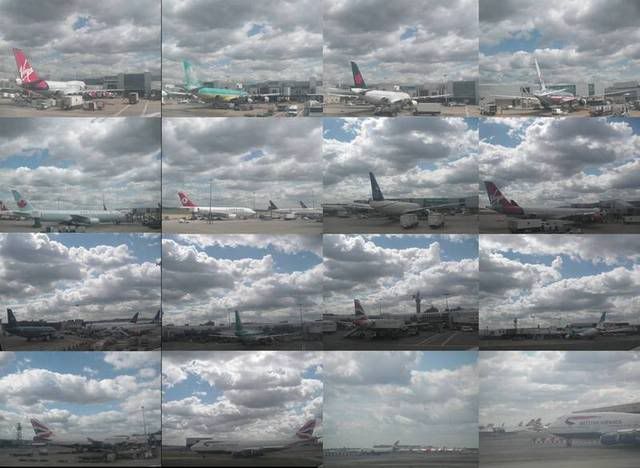 Major plane spotting on the way to the runway. From left to right and top to bottom, in chronological order: Virgin Atlantic, BWIA British West Indies (now Caribbean Airlines), Air Canada, American Airlines, Air Canada, THY Turkish Airlines, Saudi Arabian Airlines, Virgin Atlantic, BMI, Air Canada, SAS Scandinavian Airlines (the last three all in one picture), Aer Lingus, British Airways, BMI, British Airways and more BA jets, Qantas Airways, and finally, if you can make it out - one of the retired Concordes.
Lift off - the English countryside.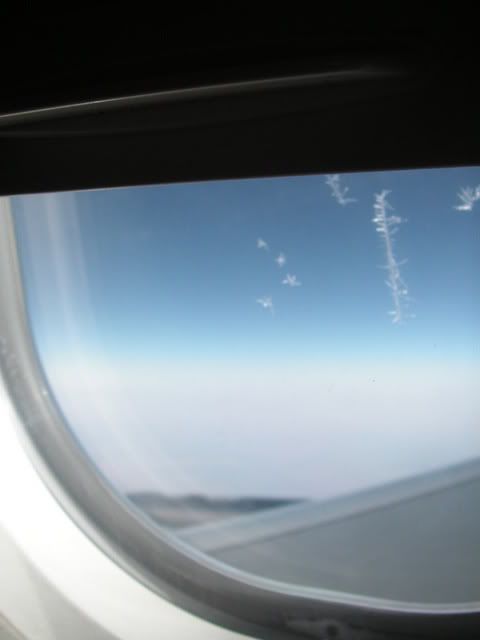 Something artistic? An attempt, at least.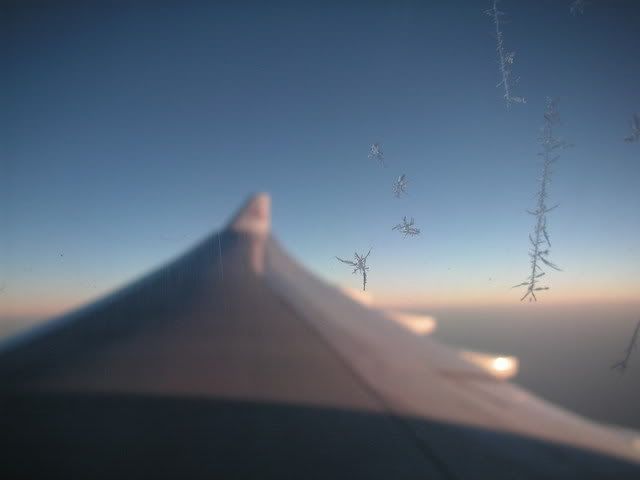 Sunset on approach to Doha, Qatar.
Check-in: 7/10
- Quick and painless.
- Ground staff did not say a word even though my luggage was more than 5kgs overweight.
Boarding: 7/10
- A little chaotic, but not the entire fault of Qatar Airways.
- I was one of the last to board since seats were reserved anyways. I don't know why people bother rushing. It's not Ryanair, people!
- Standard greeting. Crew along the cabin to greet passengers.
- When asked if the flight was full, an Asian flight attendant smiled and said, "Not quite."
In-flight entertainment: 8/10
- Two points deducted for not screening Airshow on take-off and landing. Airshow is very important, to me at least, and especially during take-off and landing.
- Otherwise, audio video on-demand or AVOD system was good. Watched "Failure to Launch" and the Bridget Jones movie where she got arrested in Thailand.
Meals: 7.5/10
- Got my choices for both lunch (chicken) and snack.
- Nothing to rave about though.
- Below was the menu for lunch:
MAIN MEAL
Mediterranean bow tie pasta salad with chicken
Breaded golden Chicken
Pan fried and served with lemon butter,
Accompanied with mixed vegetables
And potatos
Lamb Ouzi
Tender pieces and lamb and rice,
Cooked with flavourful Arabic spices
Light Option
Paneer korma
Served with basmati rice
Delicious chocolate praline gateau
We also offer during our meal service:
Bread roll and butter, cheese with crackers
Your choice of Tea and Coffee
Chocolate
Cabin service: 8.5/10
- Friendly and efficient.
- When I asked for more water as I felt a sore throat coming, flight attendant gave me a whole 1.5-litre bottle. Entirely unlike Emirates, which did not top up my personal 1.5-litre water bottle completely. But this reminded me of Lufthansa, when a Thai flight steward saw my empty water bottle and offered to top it up fully. To which the English girl aged 26 (or so) sitting beside me said, "Ooooh, he likes you!"
- Service a bit cold though, even if there were plenty of smiles. I did not feel the genuine warmth I experienced on Lufthansa.

Overall: 7.5/10
- Impressed by clean and new cabin.
- Impressed by in-flight entertainment system. I don't normally watch movies on the plane.
- Impressed by service of cabin crew, even if they were a tad cold.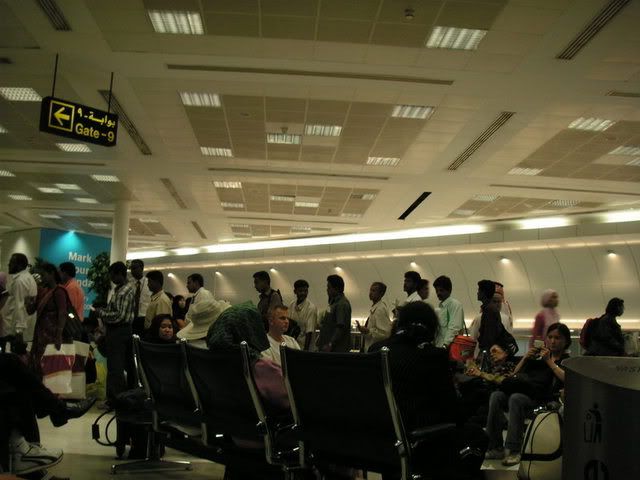 Welcome to Doha's overcrowded airport. For an expanding airline like Qatar Airways, Doha Airport was completely inadequate. (Remember, this was before they even completed the expansion of the terminal to 20 gates. 20, I think.) There are no jetbridges at Doha. All passengers are bussed to the terminal. There was no queue for transit passengers to clear security, only a huge mess - with a number of people manoeuvring towards the front like nobody's business (again, since then, DOH has introduced a queue system). And of course, inadequate seats (again, more than enough seats now, even though we're still waiting on a whole new airport). Many passengers were standing while waiting for their flights to board. There were only four toilets in the entire airport - two for the gentlemen, two for the ladies (again, before expansion. But then even after expansion, the toilets remain somewhat dirty). Finally, there are insufficient gates. Ten gates serve all flights calling at Doha. Yes, ten. I believe my flight onwards to Singapore was delayed because the flight using Gate 9 before mine - headed for Dhaka - took too long to board.
Transit experience: 5/10
- I'm not failing Doha airport entirely because even if there were insufficient seats, I had one.
- I also managed to chat with two Malaysian medical students who were studying in Moscow.
- Until Doha completes its new 24-gate airport, Qatar Airways will be severely inadequate when compared to what Emirates can offer at Dubai. Even then, DXB itself is facing severe problems.
22 June 2006
Qatar Airways
QR 626
Doha (DOH) to Singapore Changi Terminal 1 (SIN)
Scheduled time of departure: 2355
Scheduled time of arrival: 1235
Airbus A330-203
A7-AFT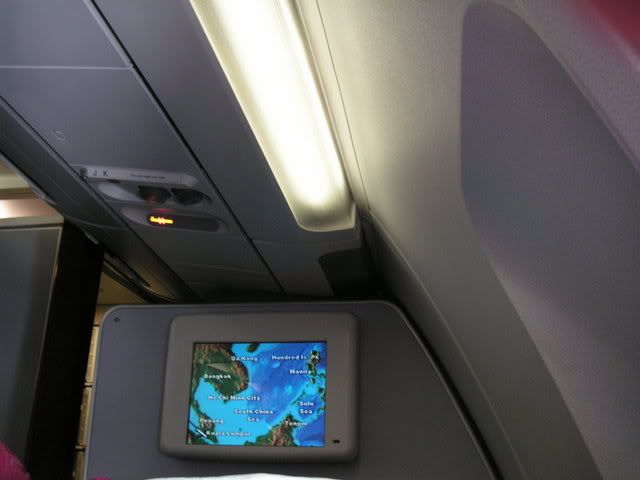 As you can see from the monitors, we were on approach to Singapore.
First sighting of Singapore island. This is the west of the island - with Kranji etc in view.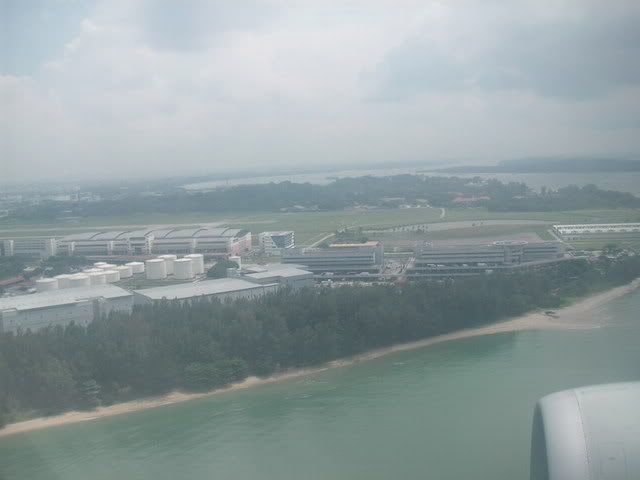 When I saw this, my first thought was, "Since when did Singapore waters turn this clean?!"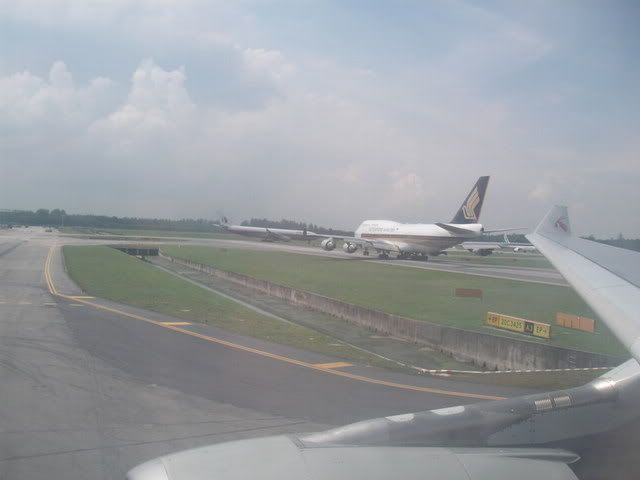 Welcome home. Singapore Airlines and Malaysia Airlines in the background.
Boarding: 3/10
- They definitely flunked this.
- Insufficient seats in the waiting lounge. People, including myself, were sitting on what were essentially tables. A French-Indonesian family had their kids drawing and fighting on the floor. A complete nightmare, if you ask me.
- No reason given for delay.
- Boarding instructions non-existent. A Singaporean man travelling on Business class was told to turn back amongst the huge crowds as only Economy class passengers were boarded first. I would have thought Business class passengers would be treated with a tad more respect.
In-flight entertainment: 0/10
- No personal television.
- This was one of Qatar's older Airbus A330-203s.
- I wasn't that bored though. Looking out of the window sufficed for me.
Meals: 6/10
- Nothing to write home about.
- No menus handed out.
Cabin service: 7.5/10
- Qatar Airways offers a standard, consistent product.
- Unfortunately, consistency also meant that while I received friendly and efficient service, there wasn't much warmth from this set of cabin crew either.
Arrival: 7/10
- Average.
- Quick and painless because most passengers (when I say "most", I mean 95% at least) were continuing on to Jakarta.
Overall: 6/10
- No in-flight entertainment.
- Adequate reason for delay not given. I arrived at Changi more than 90 minutes behind schedule.
- Boarding was a nightmare.
- Consistent in-flight product, less entertainment.
- Plane was packed to the brim - no fault of Qatar Airways of course. I sat beside a quiet Indonesian woman who was making her way home from some fashion festival in Casablanca.