Hey guys, this is the continuation from my first ever post on this forum!
The same qualifications apply and yeah, comments are most appreciated!

22 September 2006, Friday
Qatar Airways
QR 639
Singapore Changi Terminal 1 (SIN) to Doha (DOH)
Scheduled time of departure: 0745
Actual time of departure: 0815
Scheduled time of arrival: 1030
Airbus A330-203
A7-AFO
Seat: 22K
Routing: Singapore - Straits of Malacca - Colombo - Arabian Sea - Oman - UAE - Doha
The jet that would take me to Doha, parked beside a SriLankan A330.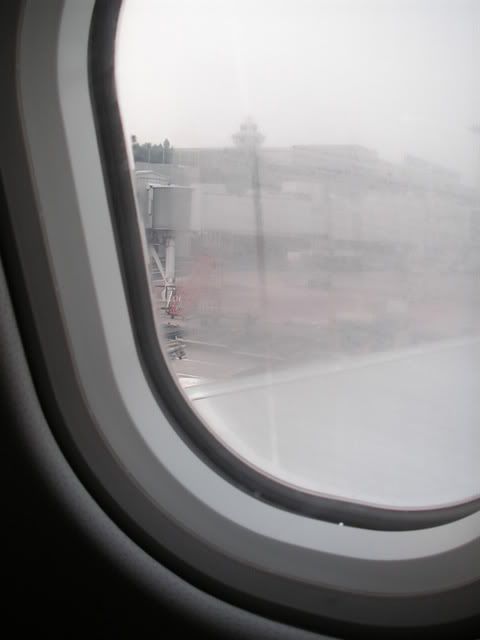 Condensation on the aircraft windows.
Yay! No seatback TV again. What the... It seems like Qatar Airways does not live up to its promise of sending planes with seatback TVs to Singapore. "What promise?", I hear you say. Well, I remember reading a reputable Arabic website which quoted al-Baker as saying that all passengers flying QR to SIN would from then on enjoy personal IFE systems. Don't ask me for a source, I can't give you it. Trust me on that. Geez.
The view on pushback. Saying goodbye to the Qantas Airways Airbus A330-203 that just came in from Perth.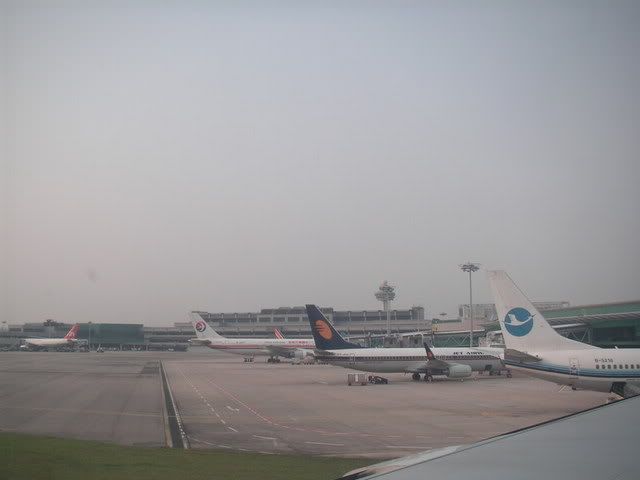 The central parking bay of Changi Terminal 1 as A7-AFO taxies to the runway.
My favourite airline (or what used to be my favourite airline. Dare I say that?!) - Cathay Pacific Airways. The Boeing 777-267 in the background was also pushing back and making its way to HKG as CX 710 - the first CX flight of the day.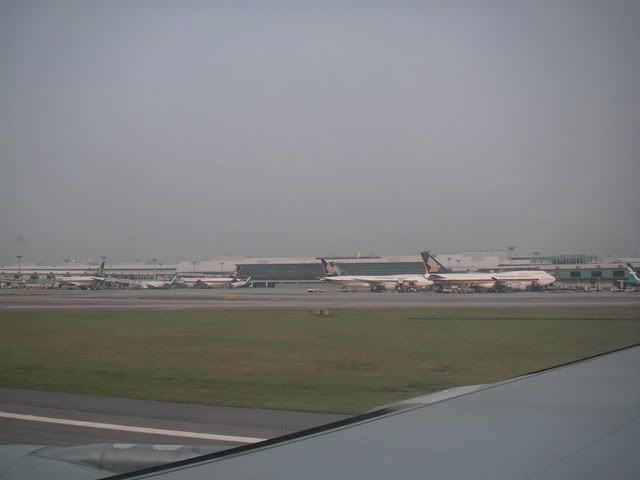 Take-off roll initiated.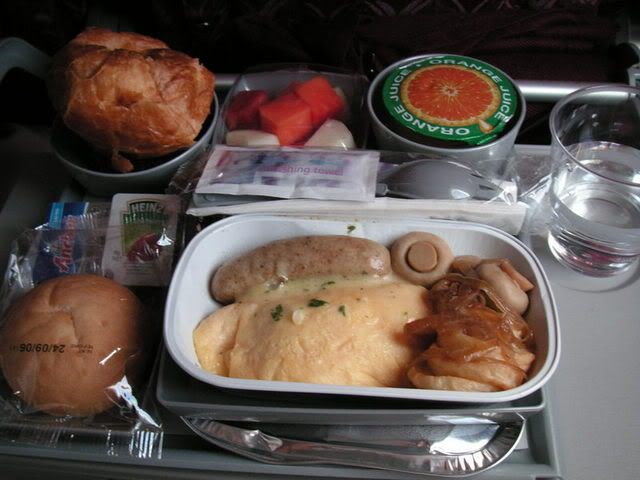 Breakfast - I hafta say, the omelette was really good. I loved the potatoes too. Oh yes, and the croissant was warm and buttery - very nice. The meal was served approximately an hour after take-off.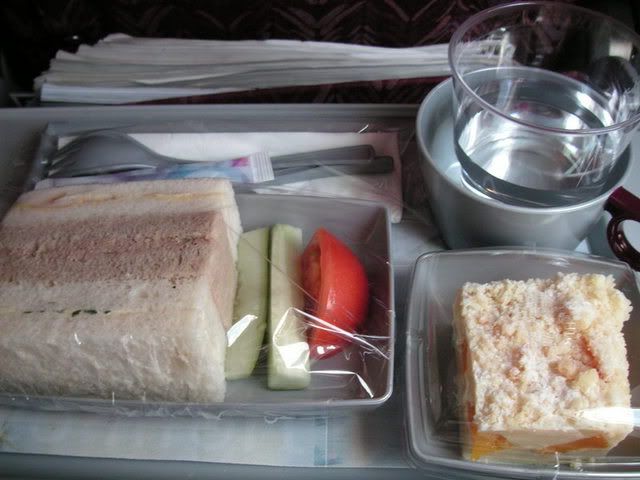 Snack an hour before arrival into Doha. Three small sandwich slices - including chicken, cheese and tuna. Nice and light. The bread could have been softer though. The peach cakey-thingey on the side was good.
A view of the cabin as the plane was over Oman, if I recall correctly.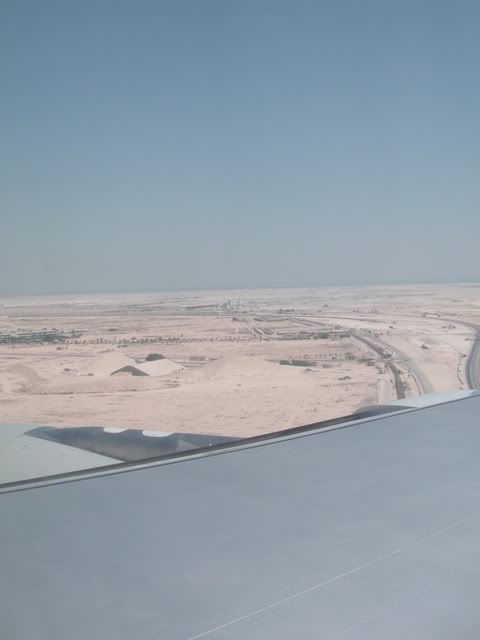 The vast desert that is the State of Qatar.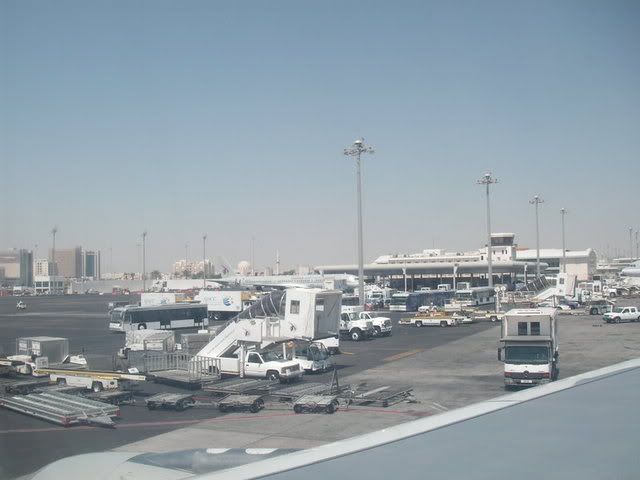 Welcome to DOH. As said in an earlier post, DOH does not feature jetbridges - which can be a plus for aviation aficionados.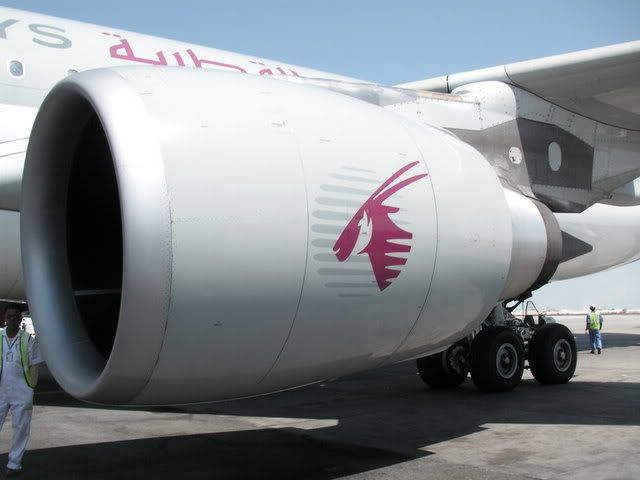 A7-AFO's engine number 1.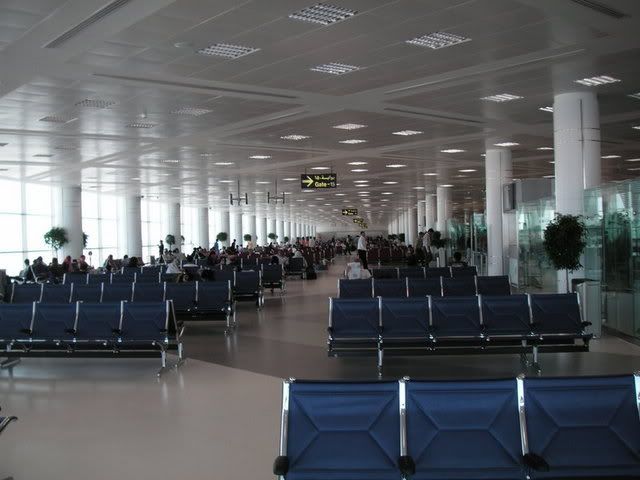 Newly-expanded Doha International Airport passenger terminal building. The airport now has 16 instead of ten gates. As you can see, there is clearly no shortage of seats now. In fact, this new area has unobstructed views of the runway. Magnificent, if you ask me. However, I do not know if overcrowding is still a problem during peak hours. But this was a much, much better experience than my virgin experience with DOH.
Make no mistake - this is Doha, Qatar.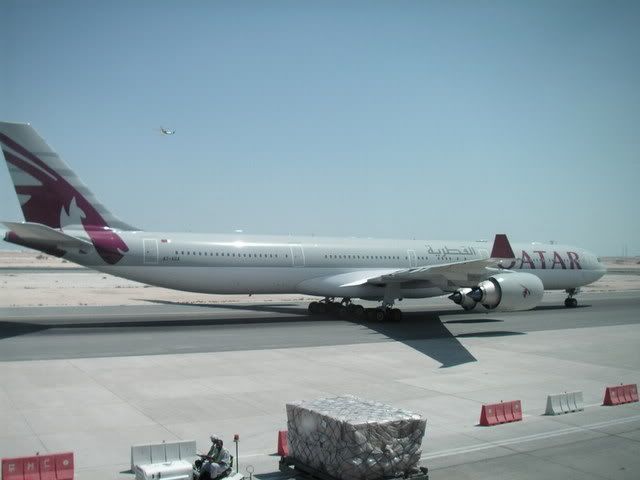 The aircraft that I would later be on - A7-AGA - showed itself off in front of all passengers at DOH. The majority of passengers in the departure hall seemed to take notice. There is a taxiway just in front of the newly-expanded section of the terminal building. The Airbus A340-642HGW was, if I am not mistaken, only in its second day of operation and had just completed a short hop from Dubai as QR101 I believe. Note the engine nacelles that were still blue. This was then Qatar Airways's only four-engine jet and was principally used between Doha and London-Heathrow, although it also made short hops to DXB (how did I know that? Well, there was a ticket stub belonging to a presumably German gentleman in my seat pocket which well, indicated so). I was stopped when I tried to take a photo of this baby on the tarmac. It's such a shame these babies are gonna be retired by the end of 2008. They still have decades left in them! Who's gonna take em? Well, I'm glad to say that I've at least been on three of the four A346s in QR's fleet, all except A7-AGD.
Check-in: 9/10
- Quick and painless. There was no queue at all. I arrived two and a half hours early.
- I was checked-in without any question or comment from the member of the ground staff even though I had 31kgs of checked baggage - 11kgs more than what I was supposed to be allowed (wait, I just realised I AM allowed 30kgs as a Burgundy member!).
- Ground staff helped to fill out my baggage tags. A very nice touch.
Boarding: 8/10
- I felt a little cheated. It was a whole 50 minutes before departure and the screens screamed "Gate Closing". Of course, the gate were not really closing. But being the paranoid me, I left for the airside at around 0700, a whole 45 minutes before departure. I could have spent more time with my Mom and brother.
- Otherwise, I was greeted by a polite security staff.
- I was also greeted very politely by the member of the ground staff who checked my boarding pass. She wished me a nice flight. Once again, SATS ground staff must have learnt from the Four Million Smiles campaign launched in Singapore for the purposes of the IMF/World Bank meeting which drew to an end a day before.
In-flight entertainment: 0/10
- No seatback TV, need I say more?
- The mainscreens screened such movies as "Akeelah and the Bee".
Meals: 8.5/10
- As intimated above, the meals were pretty good. They were at least memorable.
Cabin service: 8.5/10
- I was served mainly by an either Singaporean or Malaysian flight attendant Wan Leng (she must've been Malaysian coz I didn't feel THAT connection with her. Haha...). She smiled everytime she served passengers. And those were genuine smiles. She was at least putting in effort.
- Unfortunately, Wan Leng was undermined somewhat by her colleague - Nada. Nada looked as if she had somewhere better to be. There were only two moments of magic with regards to Nada: first, she was exceptionally warm when serving me my breakfast; second, she was exceptionally kind when I asked if I could still use the toilets as everyone disembarked at Doha. Indeed, she even looked after my stuff. Otherwise, she pretty much pulled a long face throughout the flight.

Overall: 8.5/10
- I was not too bothered with the lack of seatback TVs, only coz I wasn't expecting them on this sector.
- Ground service was fantabulous this time around.
- Meals were fantastic.
- Cabin service a definite improvement from previous flights.
22 September 2006, Friday
Qatar Airways
QR 001
Doha (DOH) to London Heathrow Terminal 3 (LHR)
Scheduled time of departure: 1230
Actual time of departure: 1300
Scheduled time of arrival: 1755
Airbus A340-642HGW
A7-AGA
Seat: 31A
Routing: Doha - along western border of Iraq - Syria - Turkey - Black Sea - Romania - Hungary - Slovakia - Czech Republic - Germany - Belgium - English Channel - Thames Valley - Heathrow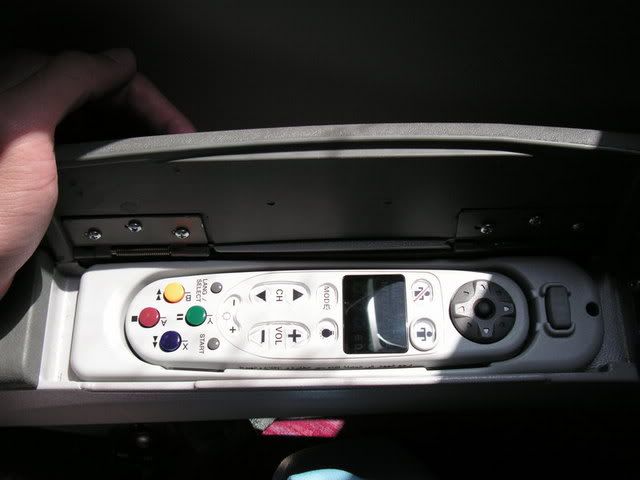 The remote control which doubles as an in-seat phone is cleverly hidden. Love the touch.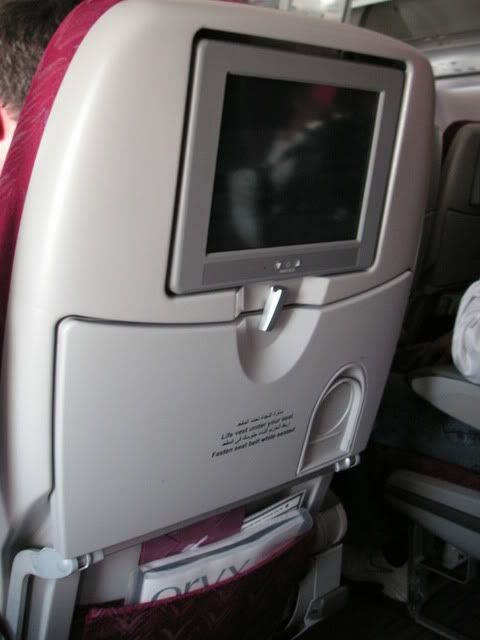 The seatback TV - at least nine inches by my estimate. Air New Zealand uses the exact same seats on its Boeing 777-219ERs, except of course the colour of the seat cushions.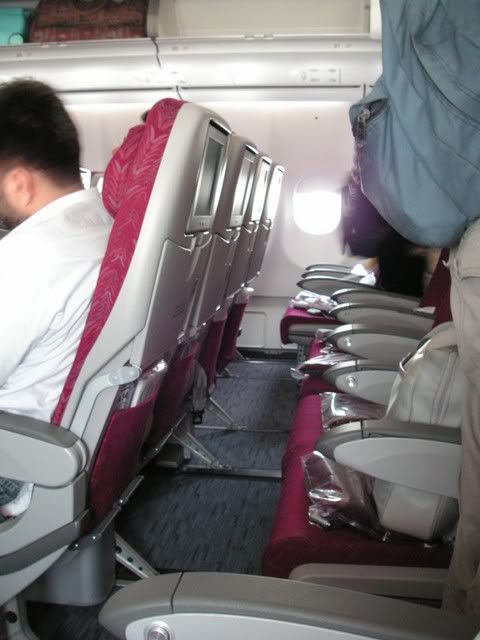 A pretty generous seat pitch if you ask me, made possible partly because of the slim seats. In terms of hardware on this plane and its Airbus A330-303s, I think Qatar Airways definitely deserves its five-star rating. However, there is a severe lack of consistency when I am put on two Airbus A330-203s without seatback TVs.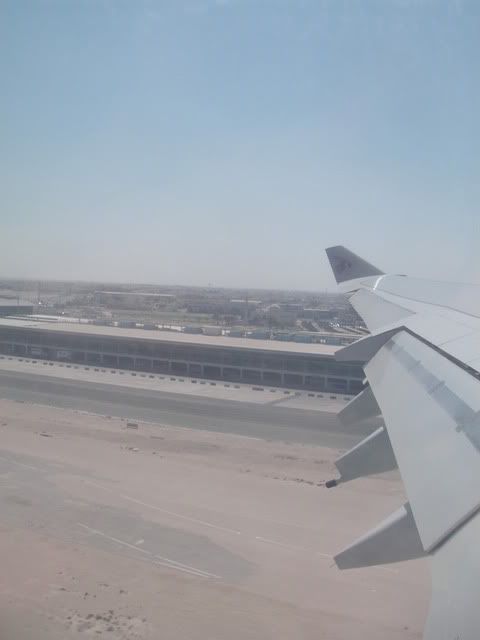 Lift-off from DOH!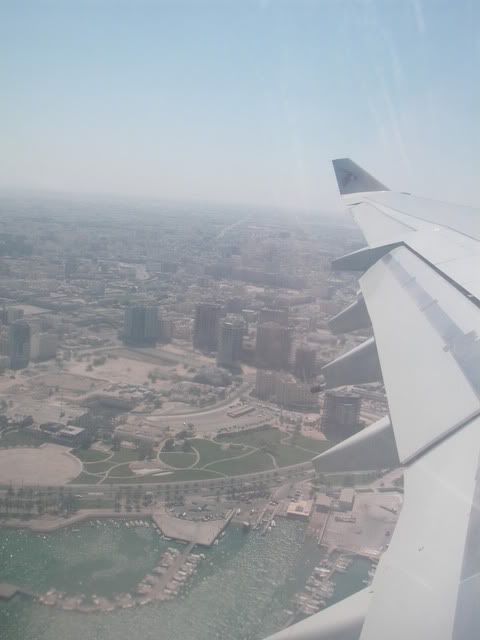 Some greenery amidst all that brown.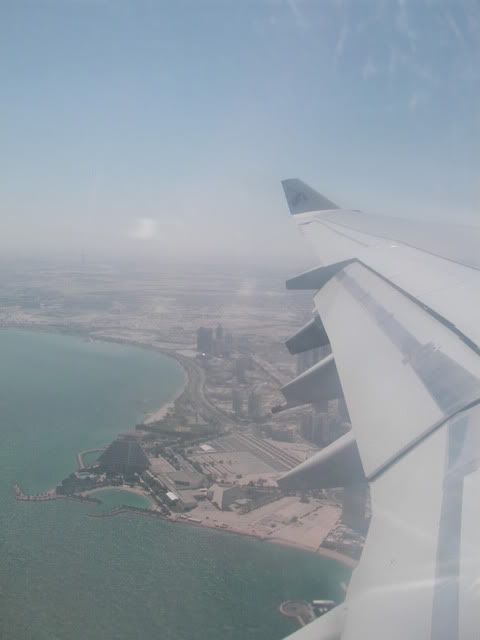 Doha's financial centre - including the building where the well-known Doha round of trade negotiations were held.
MAIN MEAL (LUNCH)
Mediterranean bow tie pasta salad with chicken
Lamb Roganjosh
tender pieces of lamb simmered in an
aromatic gravy served with vegetable Jalfrezi
and pilaf rice
Lemon Chicken
accompanied with sauteed carrots, broccoli
and roasted turned potatoes
Light Option
Paneer korma
served with basmati rice
Delicious chocolate praline gateau
We also offer during our meal service:
Bread roll and butter, cheese with crackers
Your choice of Tea and Coffee
Chocolate
Apologies but I forgot to take a photo of this meal.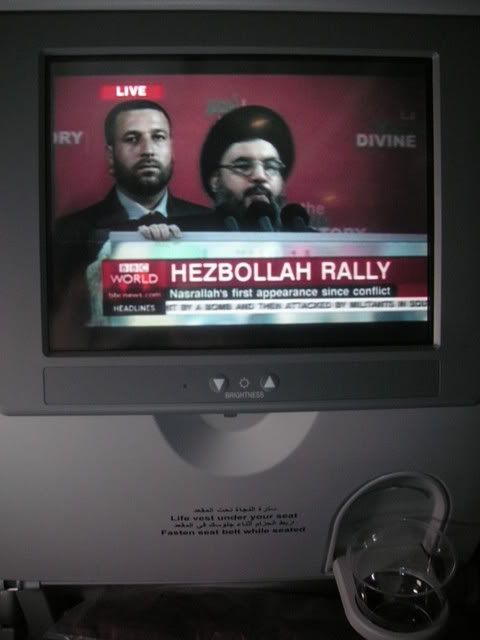 As mentioned in an earlier post, Qatar Airways's new Airbus A340-642HGWs - and indeed some of its Airbus A330s - feature "LIVE" television transmitted via satellite. Here I was watching the Hezbollah leader making his first appearance in public since the month-long war with Israel earlier in the summer. I also watched Bush and Musharraf make a joint news conference as part of the latter's visit to Washington. Unfortunately, I was unable to receive CNN International (my one and only true love!) throughout the entire flight. Reception was non-existent at the beginning. More channels came on as the flight progressed - first al-Jazeera, then TV5 Monde Europe, then EuroNews, then BBC World. I think "LIVE" satellite TV needs a lot more improvement (It did improve, as I can attest to with my later flights).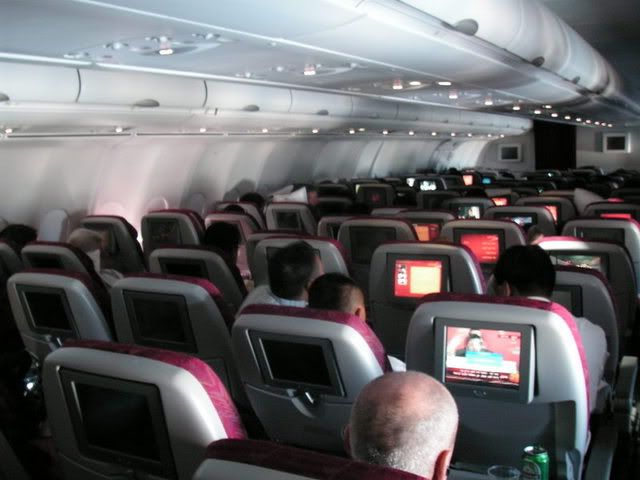 View of the cabin as we were flying over central Europe.
Snack an hour before arrival into Heathrow. This meal was a bit rushed, but I managed to finish my sandwich. It was okay. The cake on the side was not as good as the one I had on the Singapore-Doha flight.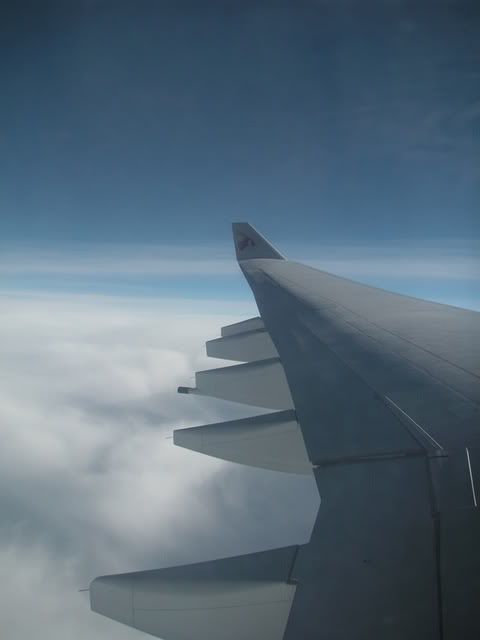 Over western Germany.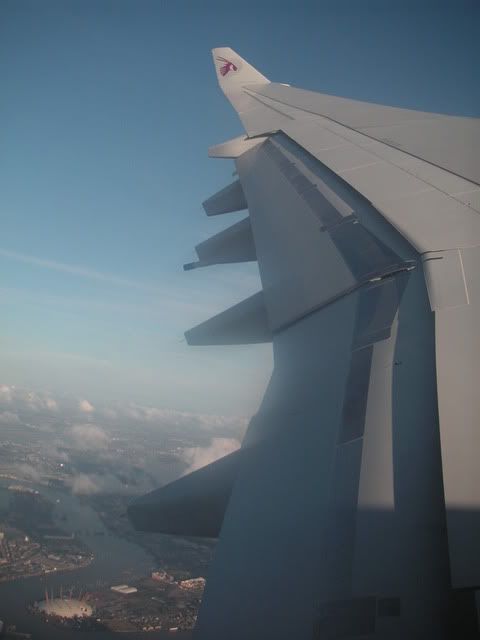 Yes!!! The Thames approach into Heathrow, with the Millennium Dome clearly in the lower left corner. This was my first Thames approach into Heathrow. Needless to say, I was very excited, even though I wasn't seated on the starboard, which would have provided me with a better view. We circled around at least twice. If we weren't in line, we would have landed ahead of schedule at 1733. Instead, we landed one or two minutes behind schedule. I guess that's just what happens when you try to get into the world's busiest international airport.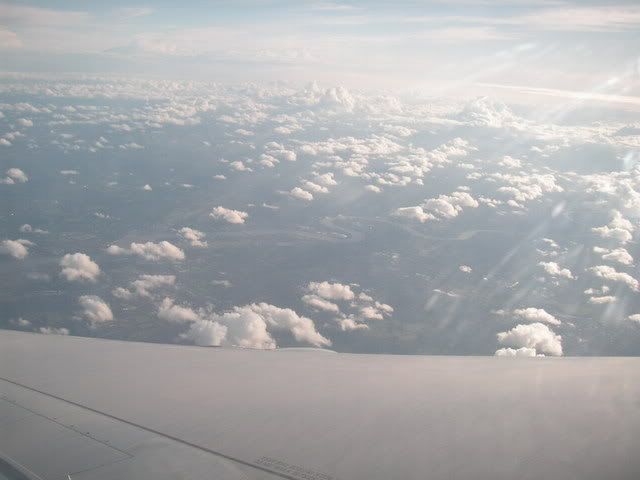 A view of London City Airport (LCY) and the Isle of Dogs. London City Airport is especially popular with business travellers who hop around Europe. It is located very close to the second financial centre of Canary Wharf.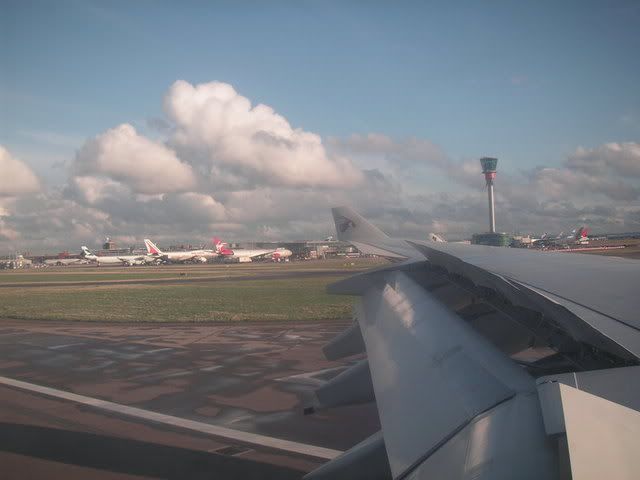 Welcome to London Heathrow. Two Airbus A340-642s in the background - one belonging to Virgin Atlantic and another Cathay Pacific. Air India is in the middle.
Boarding: 6/10
- Definitely better than the last time I departed from Doha. The last experience was a complete nightmare.
- They could use more staff to check passengers' boarding pass stubs as we boarded the buses which took us to the plane.
- I did not particularly enjoy being told not to take photos of A7-AGA, even if the member of the ground staff was very polite.
In-flight entertainment: 8.5/10
- As I am a huge, huge, huge CNN fan, I have to dock one and half points because "LIVE" television wasn't all it was cracked up to be. I had to settle for BBC World. Yes, settle.
- Otherwise, on top of "LIVE" television, there was audio-video on-demand on Qatar Airways's Waves system.
- As usual, the interactive airshows were a tad difficult to manage.
Meals: 9/10
- This time around the meals were fantastic.
- I chose chicken for lunch and it was absolutely scrumptuous. Roasted nicely and evenly. The potatoes were absolutely delish as well. Even the mixed vegetables tasted good. A definite yum.
Cabin service: 5/10
- Very poor this time around.
- I did not fail them this time around was because of Chew - a Malaysian flight steward (I know he was Malaysian coz an Indian-Malaysian passenger asked and they ended up speaking Malay). He was polite and apologised when he forgot my order of water.
- I did not fail them also because I was greeted by name (Mr. Lim) by a British flight steward. That was a very, very nice touch usually reserved for premium passengers. Unfortunately, he did not serve the economy cabin during flight.
- However, Marjetta - a Filipina leading stewardess (I believe. She was wearing black instead of the more ubiquitous burgundy) - was a nightmare. She really had somewhere better to be. When some passengers were confused about their seats, she demanded of them, "So why aren't you seated in your seats?!" When I asked for some water, she actually let out a ginormous sigh in my face. Oh my gosh. I do not know why she was promoted. Whatever it is, I will be writing to the airline to inform them of the appalling service she provided.
Overall: 8.5/10
- Marjetta was a complete nightmare. COMPLETE nightmare. If it was that time of the month, I'd give the entire flight 6/10 just coz of the service she provided, or rather did not provide. But it's not that time of the month, so...
- The food was fantastic.
- "LIVE" television wasn't all it was cracked up to be. I would've like to watch CNN onboard.
- The Airbus A340-642HGW wasn't as long as I expected it to be. But then again, the Boeing 777-31H wasn't either.
That's it for now, guys!