Kobe for 1 Hour: HND-UKB-HND on ANA 763 (non-ER) and Skymark Airlines 763ER
Intro
ANA's 767-300 (non-ER), Skymark Airlines' 767-300ER, Tokyo-Haneda (HND) and Kobe Airport (UKB) are featured in part 4 of my Japan Trip Report series. This trip was a real "quickie" considering that I left Haneda at 06:40 and returned even before 10:00. All users who want to read more about the motivation for that trip or the whole tour (see report no.1), or want to have a look at the other parts only need to click here:
MUC-HEL-NGO on Finnair E170 & A343: http://forums.jetphotos.net/showthread.php?t=41211
NGO-OKA-FUK on JAL 744D & JTA 734: http://forums.jetphotos.net/showthread.php?t=41401
FUK-HND on JAL (ex-JAS) 777-200: http://forums.jetphotos.net/showthread.php?t=41616
Toyoko-Inn Haneda Otorii Honkan
Originally we had wanted to book a room in the Excel Haneda Tokyu Hotel just next to Terminal 2, but the price was more than twice as much as for the next budget hotel. The rather new Toyoko-Inn Haneda Otorii Honkan is only 10 minutes from the airport, free shuttles run regularly. We paid around 50 Euro per person for two nights which is a great deal. Again the room was small, but there were all amenities we needed plus a free breakfast. Restaurants, shops and a subway station are only minutes away. I would definitely stay there again.
Haneda's Terminal 2
Since my flight would already depart at 06:40 I took the first airport shuttle at 05:20. Ten minutes later I entered the modern hall of Terminal 2 and went straight to the check-in counters. They weren't open yet and the (Japanese only) check-in machines were still switched off. Overview: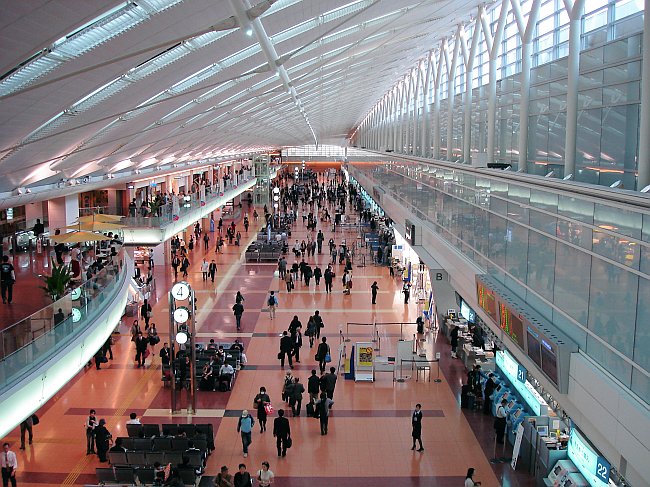 I had a look at the departures chart and discovered with relief that
NH411
would leave on time - I would have only one hour and five minutes at Kobe, so any delay could cause serious problems. Interestingly, different symbols in every line on the chart showed whether the flight was full or whether there were still seats available.
Thursday, 01 November 2007
Tokyo (HND) - Kobe (UKB)
ANA - All Nippon Airways, NH411
06:40-07:50 (06:40-07:44)
Flying time: 00:52 (hrs)

Boeing 767-381
JA8669 (s/n 567), delivered in 03/1995
Economy Seat 43A
Check-in Counter Rituals
Few people were already waiting in line and I joined them. Two other westerners, apparently business travelers, aged between 45 and 55, were standing at the front end. They spoke English and had an "ORD"-tag on their luggage. At about 10 minutes to 06:00 a female ANA agent appeared next to the line, bowed to us and said something in Japanese - I guess it was a general welcome. At five minutes to 06:00 several agents went to their seats behind the check-in desks. They started their computers, prepared other items and then
simultaneously
removed the "closed"-signs. Immediately the two westerners "jumped" to the very first counter - but a female agent kindly advised them to go back in line. They two guys looked irritated and were probably a bit annoyed. A few moments later all the check-in agents
simultaneously
bowed to us customers and then started smiling - which meant that passengers were welcome now.
The agents worked fast and only minutes later it was my turn. The procedure wasn't different from JAL - a very kind welcome, the agent used both hands for taking my stuff. Even though I had booked ANA's lowest available fare, I felt treated like a premium passenger. No extra seat request was necessary because I had chosen my seat online immediately after booking. I got my boarding pass and left the counter only a few minutes later. Again, no lines at the security checkpoint and very friendly officers.
"Servicing"
Gate 59 was just opposite to the checkpoint, no more walking required. JA8669 was parked at the gate, one of the last four 767-300 (non-ERs) delivered to ANA. Seating configuration:
C12Y267
.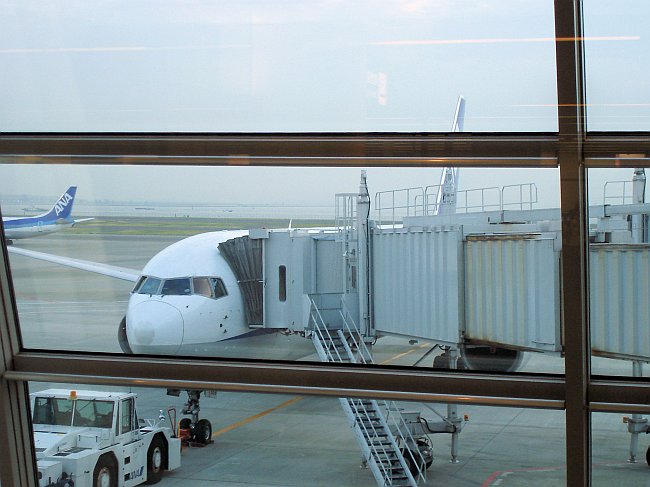 I noticed that the plane's lights at the wing tips were switched on and off. Then I discovered the remark
"Servicing"
next to the flight number on the info chart and I started to wonder - I had never seen that anywhere else before. So I asked the two agents behind the counter about the remark and they explained that the plane would be prepared for takeoff.
"Is the flight on time?"
, I asked.
"Yes, on time"
, they immediately replied and smiled. Somehow it seemed they wondered about such a question...how can anyone be worried about a delay in Japan???
Cabin Comfort & IFE
Boarding was started and a rather small crowd - mostly business travelers - entered the plane - the load was somewhere between 15 and 20 percent. Very friendly F/As welcomed me on board and I walked down to row 43. Cabin view: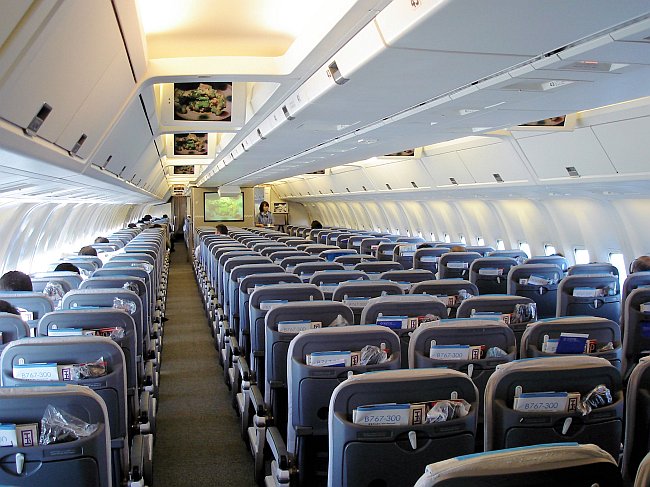 Modern style (and comfortable) slimline seats...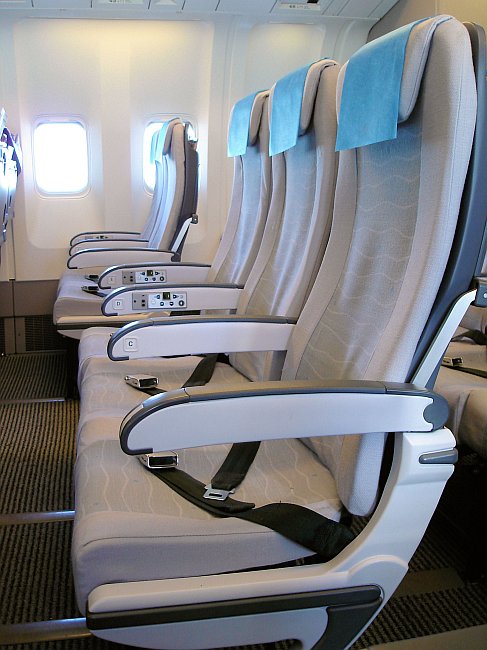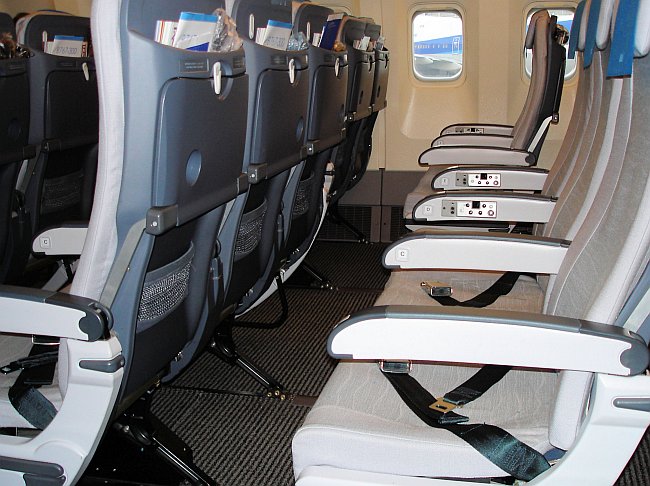 ...which provide for sufficient legroom. Another high-density domestic aircraft which doesn't feel cramped at all.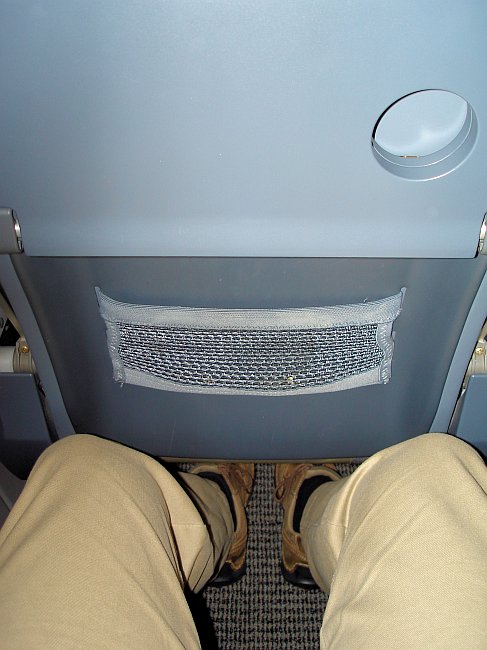 Headphones were available in every seat pocket but I didn't use them due to the short duration of the flight. Large flat overhead screens showed TV features throughout the flight. Before we left the gate, F/As offered blankets to everyone - just like on the JAL flights.
Departure
JA8669 was pushed back exactly at 06:40, so I was very confident now I would catch the Skymark flight without any problems. Taking pictures while still on the ground or during takeoff wasn't a problem - the F/As couldn't see my row from their seats. Sister ship JA8289 parked on the left: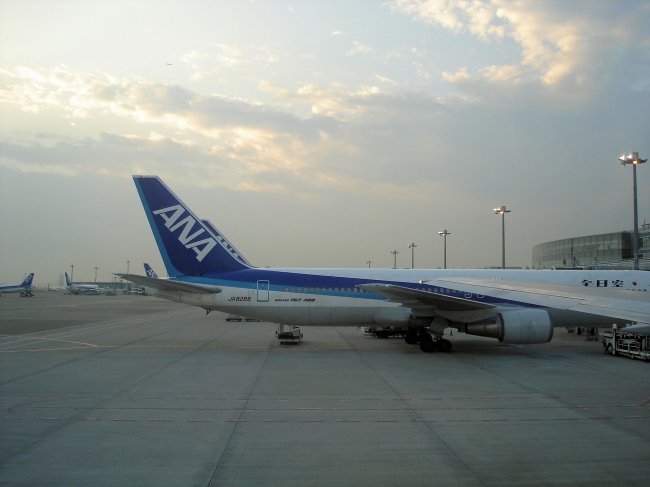 No doubt, the Excel Tokyu Hotel's location (top right) is excellent: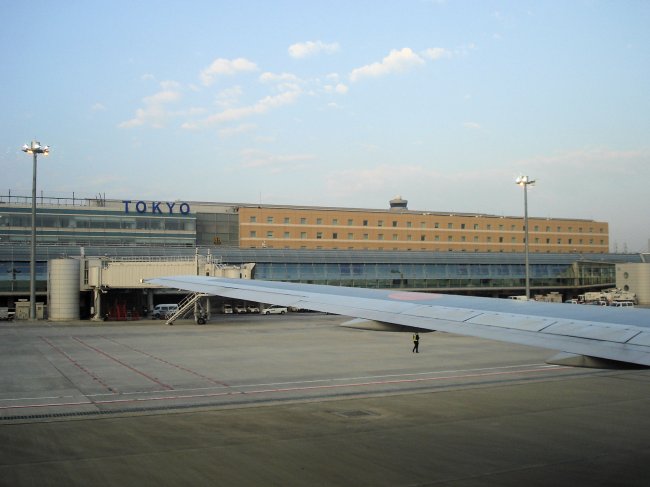 Only few aircraft departed at the same time, a JAL 777 behind us was one of them: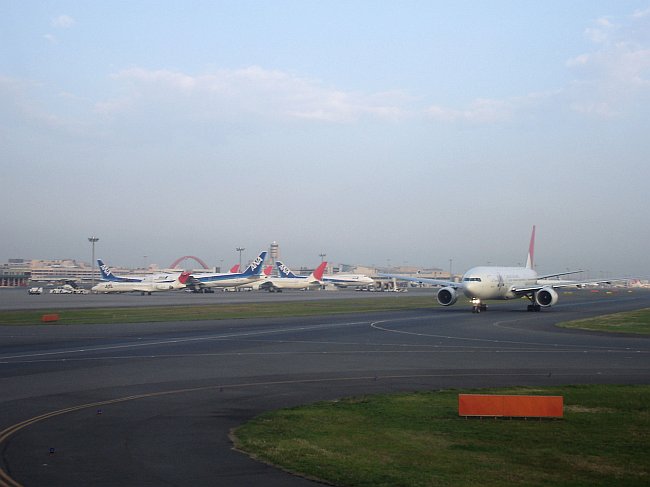 Powerful Takeoff
We entered the runway at 06:50...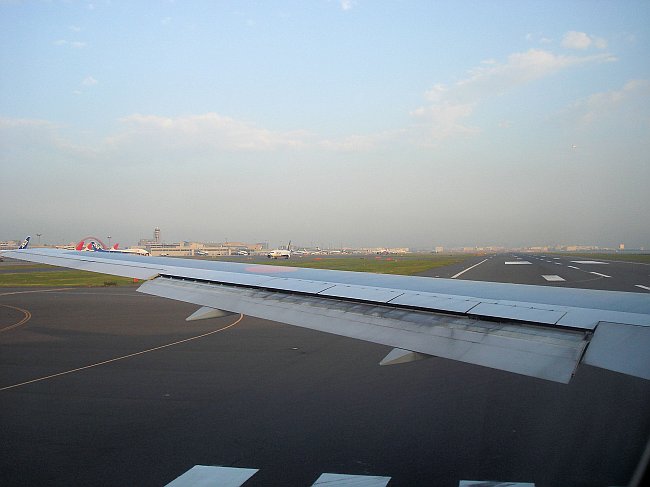 ...and moments later JA8669 accelerated and shot into the air after rolling only for a short time. What a powerful and quick takeoff once again - this time on that rather empty 767!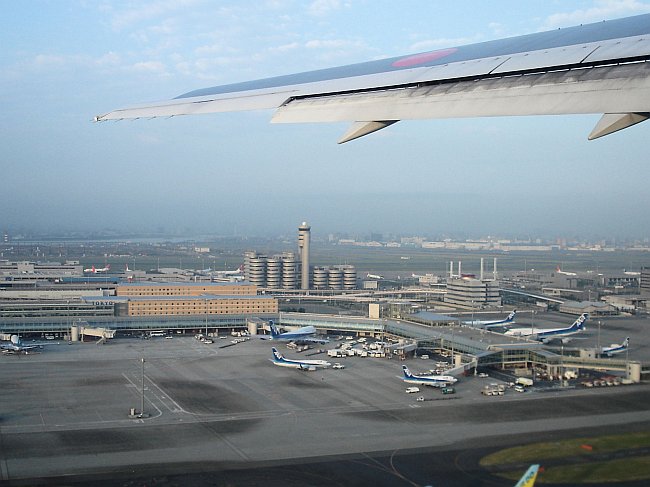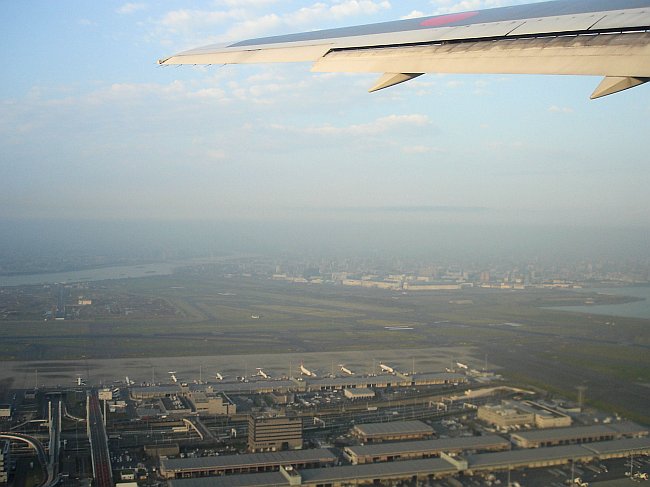 Planes taking off from runway 34R must fly a sharp right turn to avoid the city, so I only got few ground shots...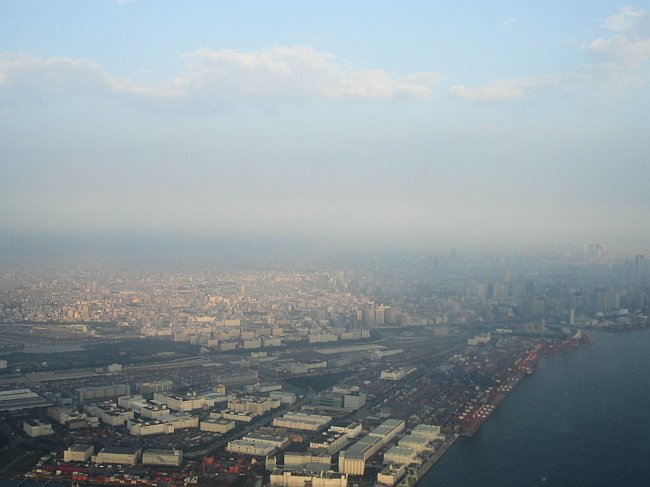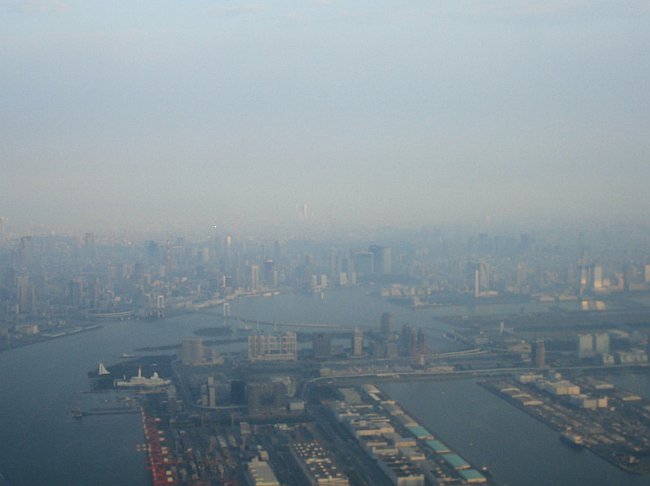 ...before we broke through the clouds.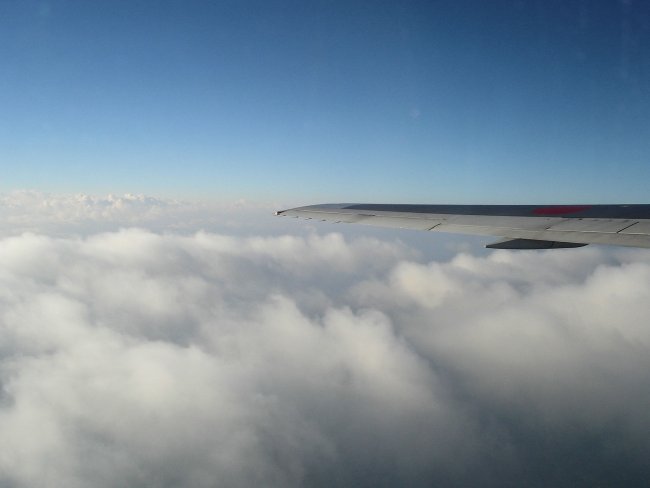 Impressing formations: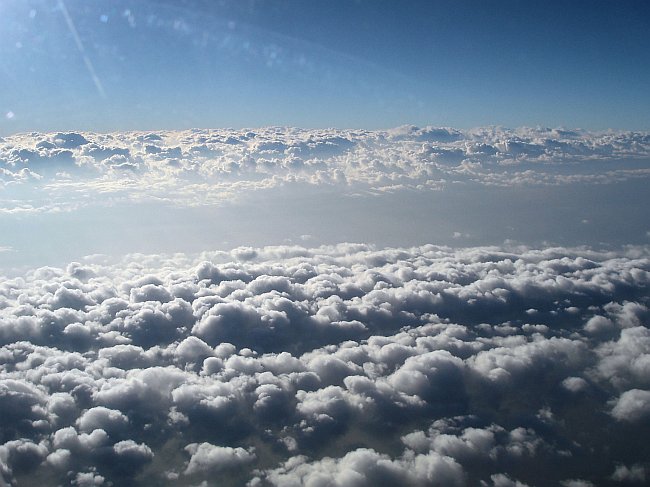 Drink Service & Postcards
Several drinks were offered and I ordered a grape juice which was very tasty: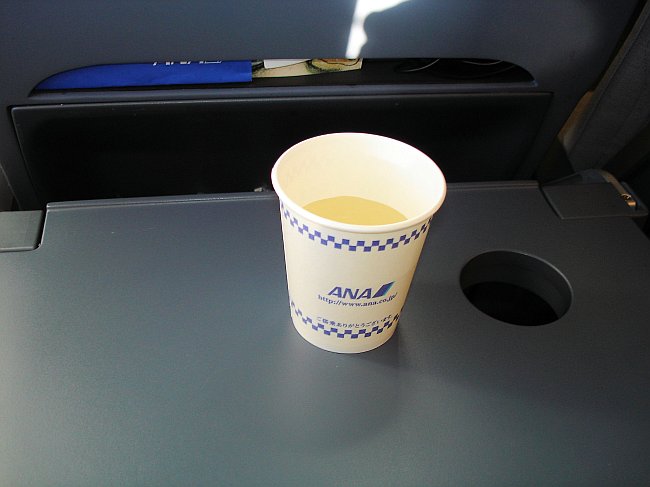 Some minutes later I walked around in the cabin and took some more pics (cabin shots above). As an F/A passed and looked at me I told her about my aviation hobby. I asked her about the return flight's passenger load and she replied that the aircraft would continue to Okinawa. After returning to my seat she appeared again and gave me several ANA postcards showing different aircraft, e.g. the
Pokemon JumboJets
. Nice!
Approach
After only 40 minutes in the air JA8669 started descending: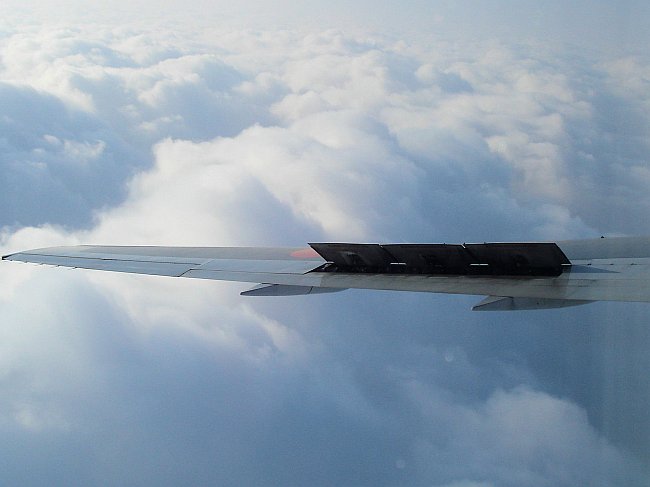 Not the best weather over the Osaka-Kobe-Kyoto metropolitan area: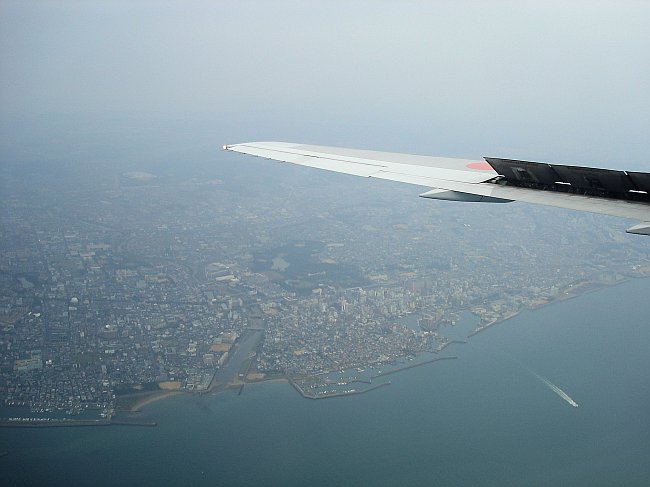 Passing the
Akashi-Kaikyo Bridge
, also known as Pearl Bridge, the world's longest suspension bridge (measure by the length of the centre span of 1,991 metres (6,532 ft). It links the city of Kobe on the mainland of Honshu to Iwaya on Awaji Island by crossing the busy Akashi Strait.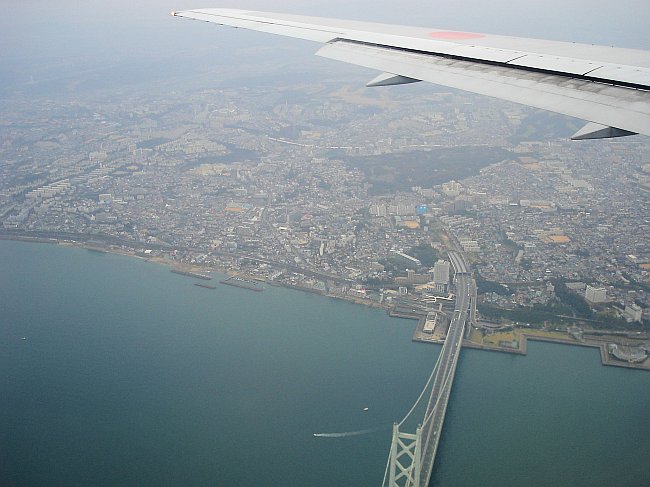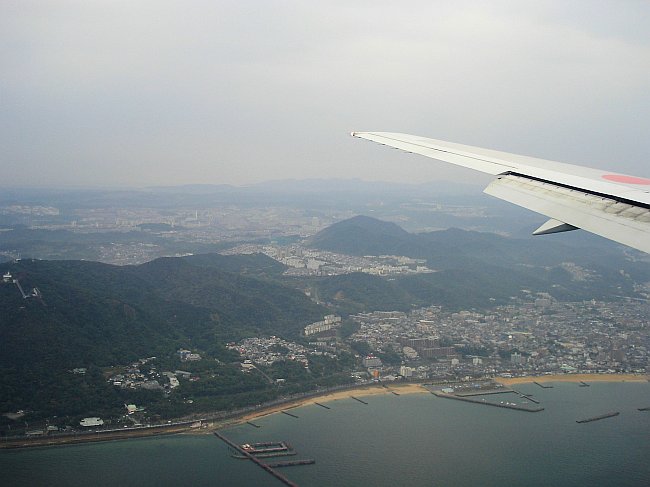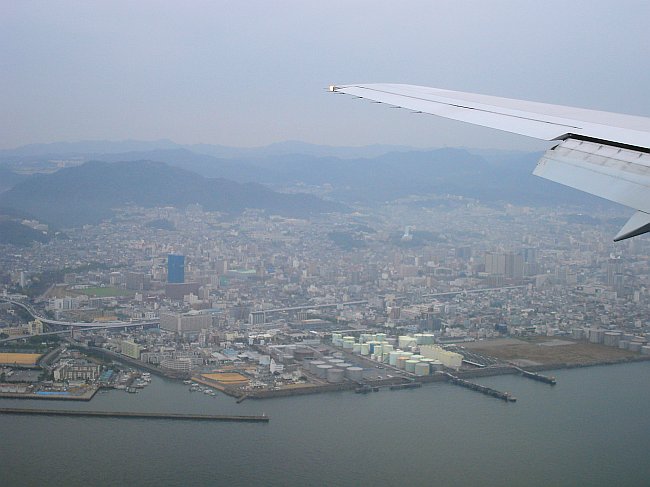 Kobe is Japan's sixth largest city - its port was Japan's busiest and one of Asia's top ports until the Great Hanshin Earthquake occurred in 1995. It has since dropped to the fourth in Japan and thirty-ninth busiest container port worldwide. Only seconds to go: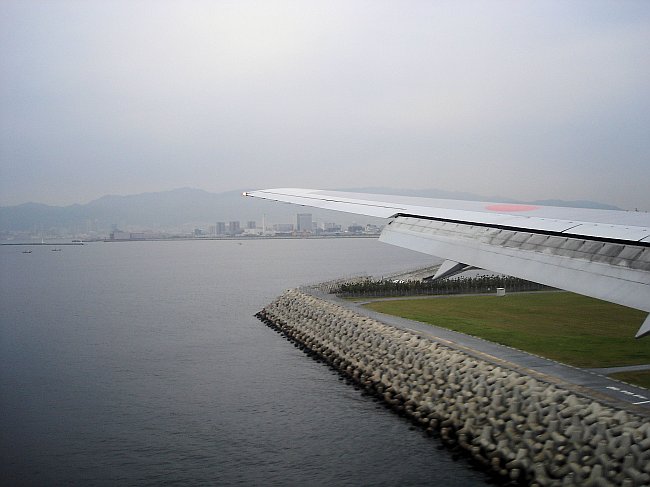 JA8669 touched down roughly on the 8,202 feet (2,500 meters) runway at 07:42...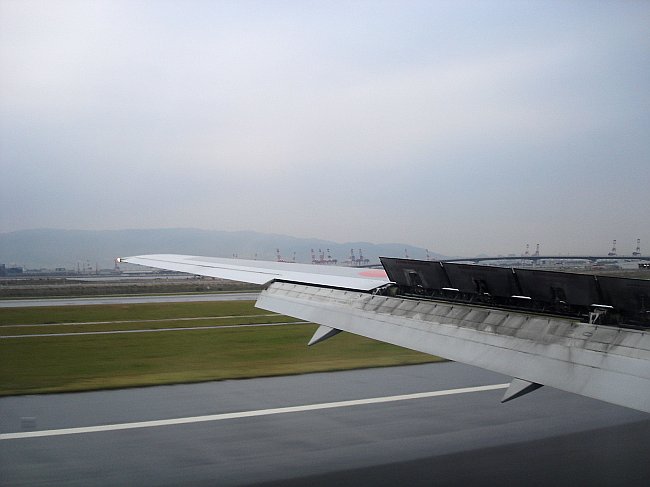 ...and slowed down quickly. Just three other aircraft were around, a JAL 763, a JEX 734 and the Skymark 763.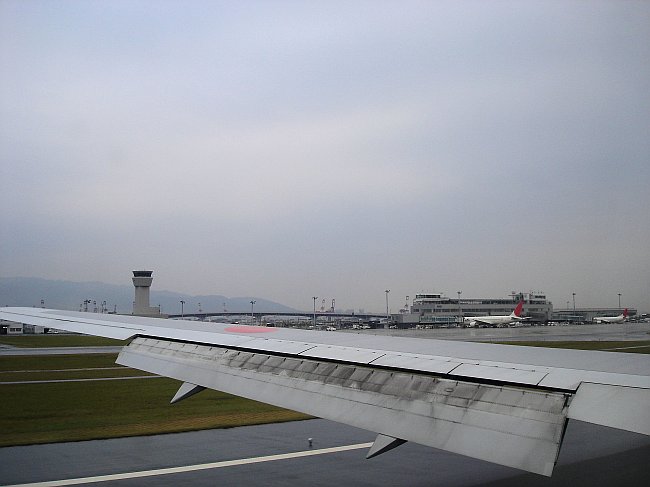 We stopped at the gate at 07:44, six minutes early. The critical part of my "mission" was now completed, I had plenty of time to leave the aircraft and check-in again.
For Info Only: The Worst Case Plan
If I had arrived late and missed the return flight to Haneda I would have been in need of a new ticket. I had checked Skymark's timetable before and knew there would be various later Skymark flights to HND on the same day (in addition to two, more expensive ANA flights). I had bought a non-restricted normal fare ticket (10,000 Yen = some 60 Euro) which was not much more expensive than restricted tickets (9,200 and 9,500 Yen), but offered better conditions (e.g. less cancelation charge). Interestingly, the fare for non-restricted tickets was always 10,000 Yen, even for bookings on the day of departure. Availability of seats would have been a different issue, of course. But chances wouldn't have been too bad, I guess. Well, one negative aspect would have been the different aircraft type on some of the later flights (738 instead of 763)...anyway, everything worked well, no need to discuss that issue any longer.
Kobe Airport
Opened in February 2006, Kobe is Japan's fourth off-shore airport after Nagasaki Airport, Osaka Kansai International and Nagoya Centrair. First year operation results were 2,697,000 passengers at 61.1% capacity.
Kobe Airport (UKB) faces stiff competition from Osaka Itami Airport (16 miles away) and Osaka Kansai International Airport (14 miles away across the bay). Originally, Kansai International Airport was to have been constructed at the location, but the Kobe municipality rejected it because of the proximity to the city. However, the Kobe municipality soon decided to fund the construction of an own airport by itself, despite opposition from the government. Over 300,000 signatures were once collected in an unsuccessful attempt to stop the USD 8.7 billion project.
Not surprisingly, the airport is also equipped with a neat observation deck. However, due to the limited number of movements (by ANA Group, JAL Group & Skymark) it's not the best place for spotting.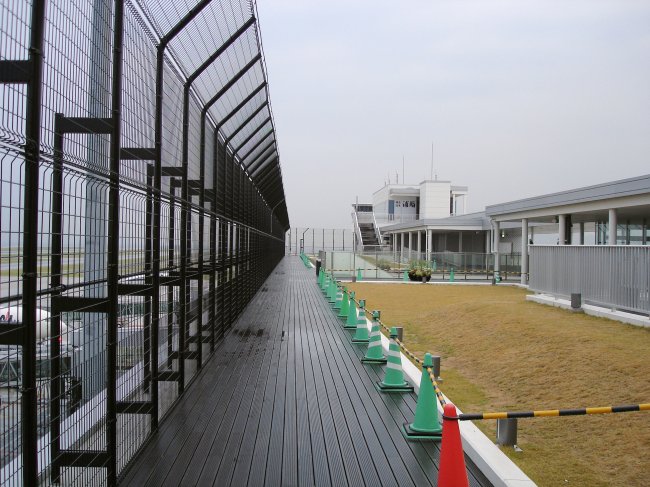 JA8669 being prepared for its journey to Okinawa: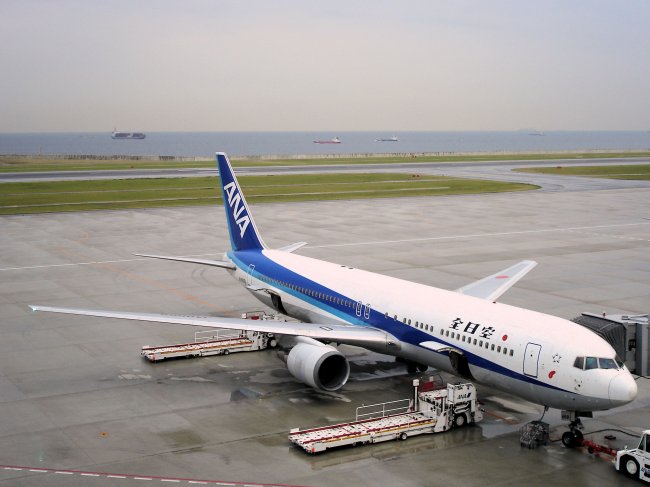 JA767D, the Skymark jet scheduled to operate my flight back to Haneda: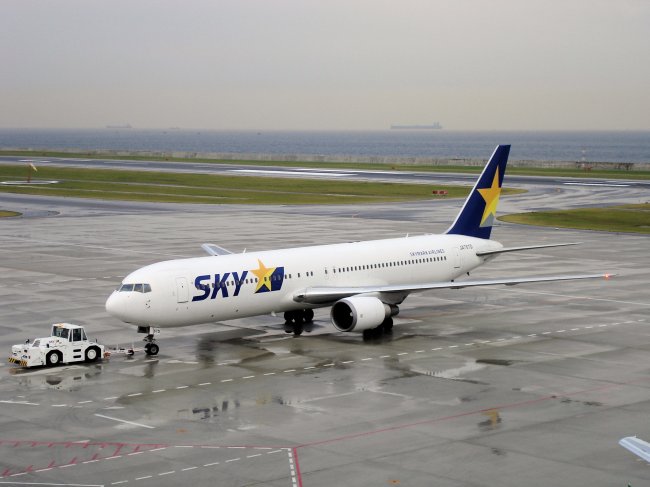 Thursday, 01 November 2007
Kobe (UKB) - Tokyo (HND)
Skymark Airlines, SKY104
08:55-10:05 (08:57-09:59)
Flying time: 00:43 (hrs)

Boeing 767-36NER
JA767D (s/n 902), delivered in 09/2003
Economy Seat 30A
Check-in & Boarding
Five minutes after leaving the aircraft I arrived at Skymark's check-in counters. They were easy to find in the compact and functional terminal hall. No other passengers were waiting at this point of time and only some minutes later the friendly agent handed over my boarding pass. I had requested a window seat in the rear part of the cabin and the agent had picked 30A.
Passing security was a pleasure once again, friendly officers and no lines. The gate was packed - mostly with business travelers - I guess the load factor was around 90 percent. About ten minutes before boarding was started, the captain - a white-haired westerner - came back to the gate area and bought some stuff at the nearby shop. So much for onboard catering...
Cabin Comfort & IFE
After passing the friendly F/As at the door I was very surprised to find a common 2-3-2 configuration. I knew from reliable sources that Skymark does operate several 767s with 2-4-2 high density seating (
C12Y292
) - actually I really had wanted to try out such a high density seating.
Very comfortable dark blue leather seats: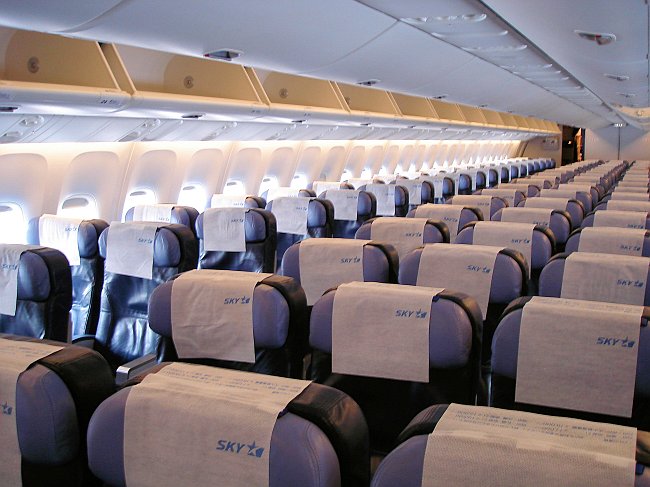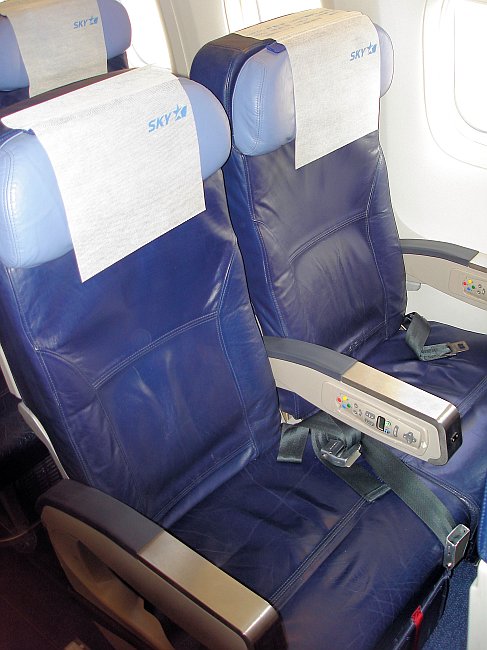 Lots of legroom on this low-cost carrier aircraft: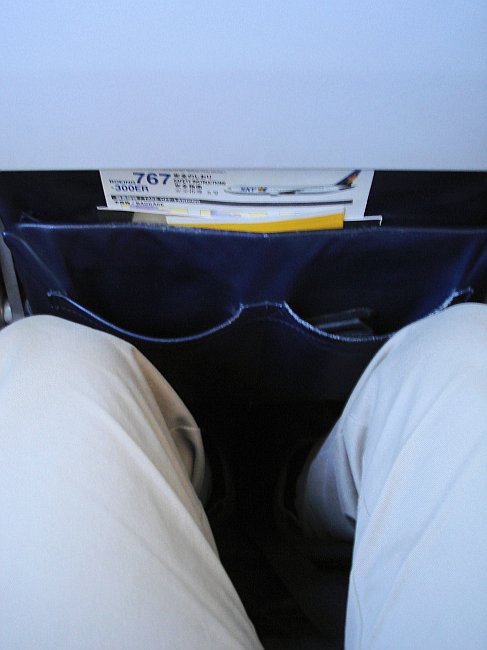 Surprisingly, there were even PTVs in every seat - another oddity on this particular bird.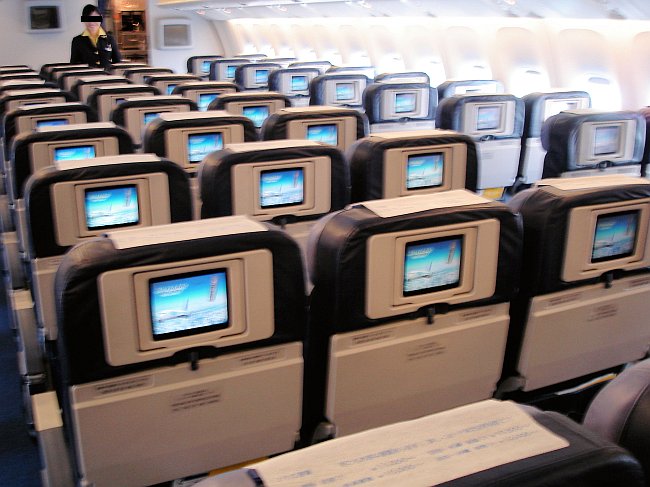 Main menu: Looks fine - but pressing any button always brought up the remark
"Service currently not available"
.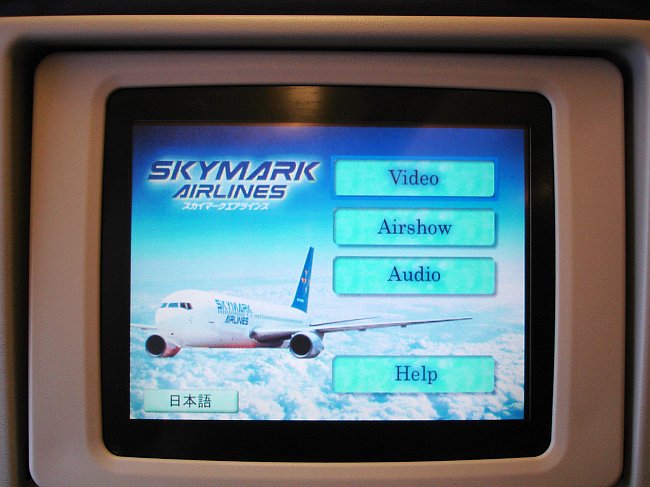 The handset was totally useless: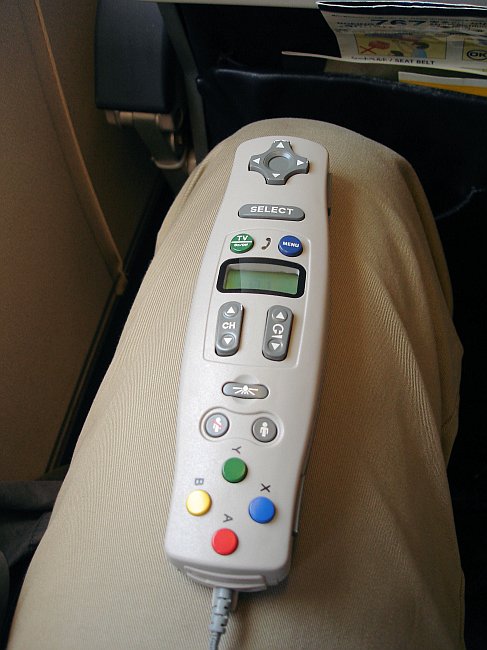 JA767D's History
That particular plane's interior seems to be unique in Skymark's fleet. I found out later that JA767D, a 767-36NER model, had originally been intended for Lequios Airlines. The Okinawa-based carrier had plans to start flights between Okinawa-Naha and Tokyo-Haneda, but never got off the ground. The plane, scheduled for delivery in 03/2003 as JA01LQ, was parked for several months as N847SF and finally taken up by Skymark Airlines as JA767D.
The light blue in Lequios' livery looks very similar to the light blue of JA767D's headrests. Unfortunately I haven't found any Skymark cabin pics yet for a comparison - but it seems JA767D's Lequios interior hasn't been changed since delivery in 2003. Seating configuration:
Y265
.
Departure
JA8669 still parked at the gate: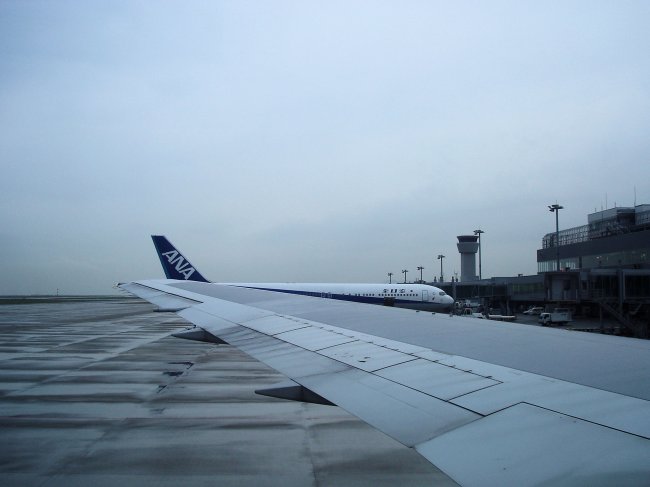 We were pushed back at 08:57 - two minutes behind schedule. Last look at Kobe's modern terminal building: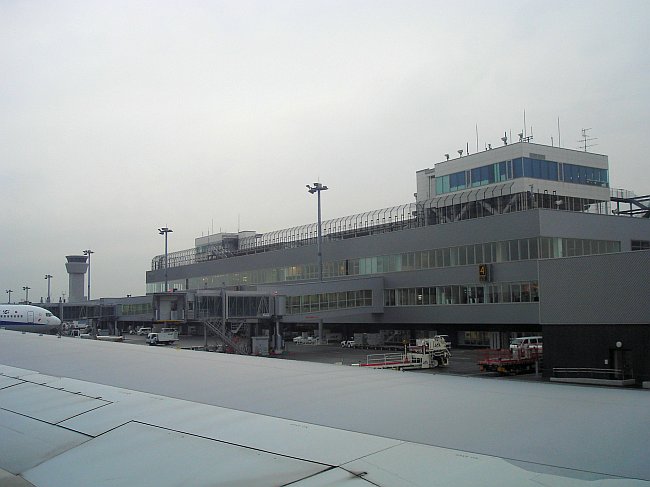 It took seven more minutes until JA767D turned onto the runway and started its powerful takeoff roll.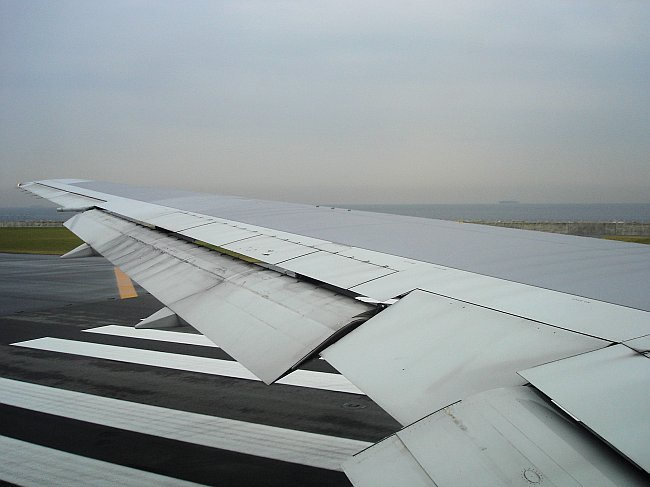 We had landed in east-west direction - now we were taking off in west-east-direction.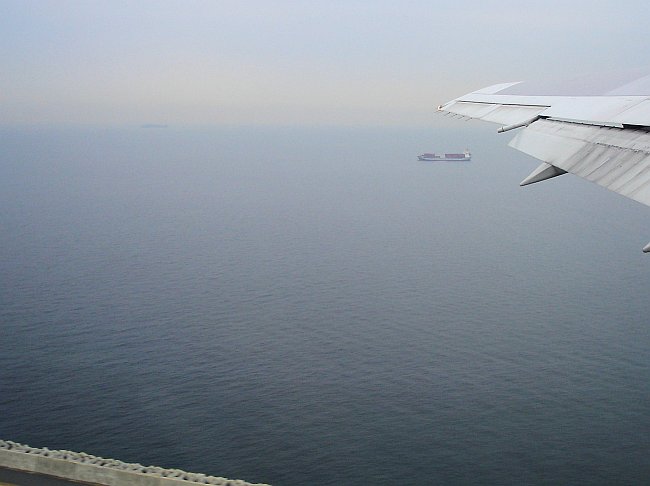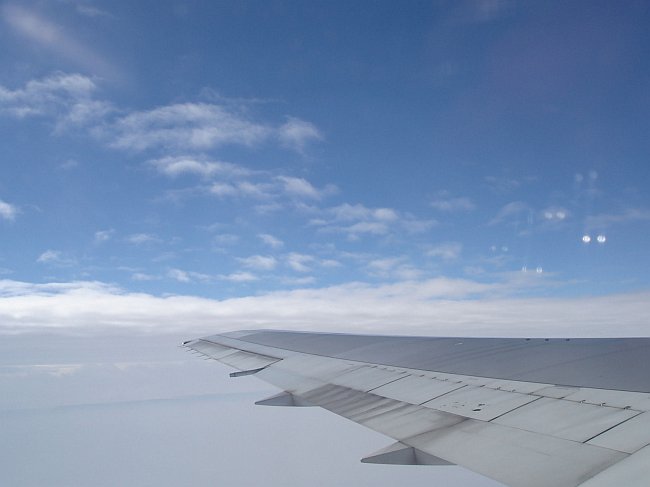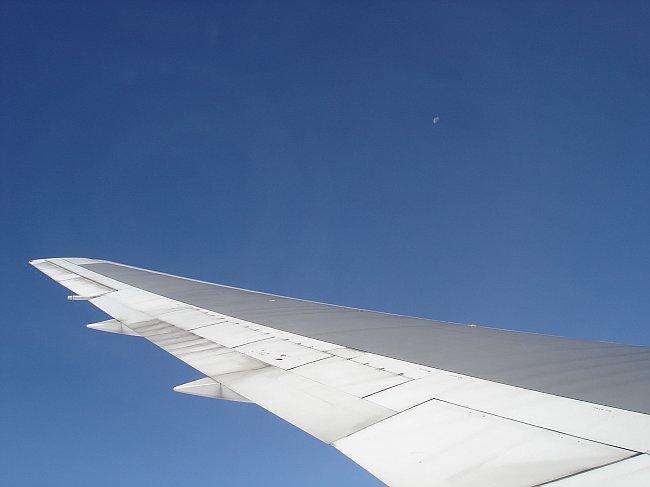 Airshow
The PTVs weren't operational, but the airshow channel was available on the overhead screens. So I could find out that we were cruising at 37,000 feet and as fast as 1003 km/h. Note the (777-style) Signature interior: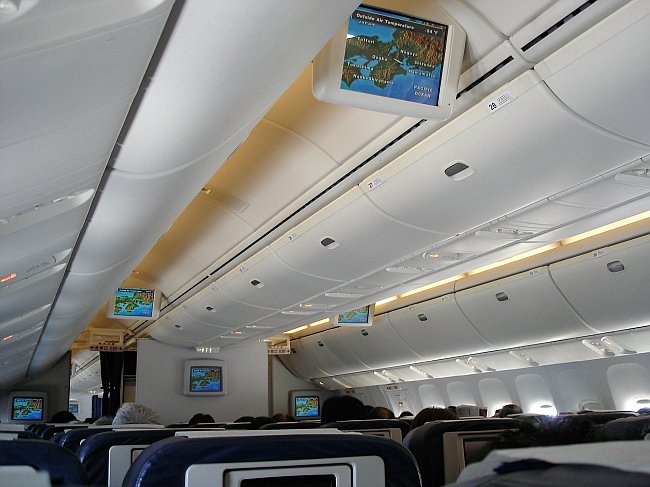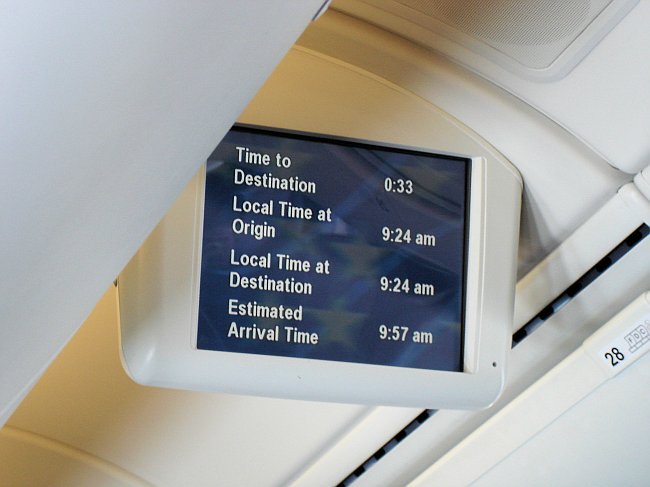 Interestingly, the Skymark airshow suggested a flying distance of 264 miles between Kobe and Haneda - ANA had suggested 280 miles on a data chart at the gate.
Inflight Service
F/As had offered blankets just like on the other Japanese carriers - but the drink service raised questions. Some F/As moved through the cabin with trolleys, but I didn't see them asking anyone or selling anything.
Approach
Before we started the approach to Haneda I wanted to check the condition of the lavatories, but my Japanese seat neighbor was sleeping and didn't react to any questions...
Large industrial sites on the ground: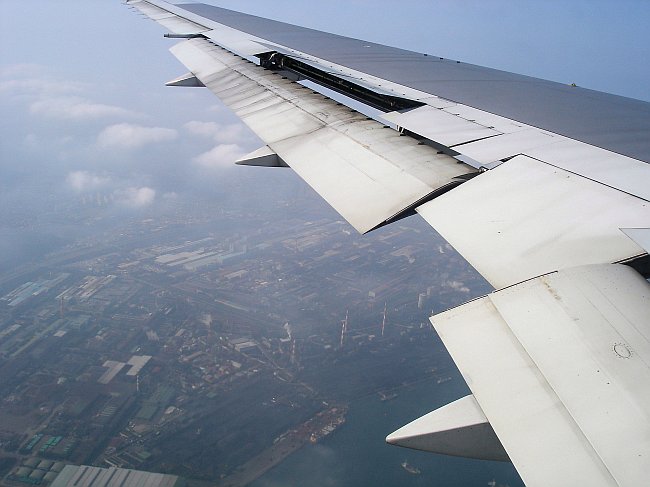 Land reclamation works around Haneda...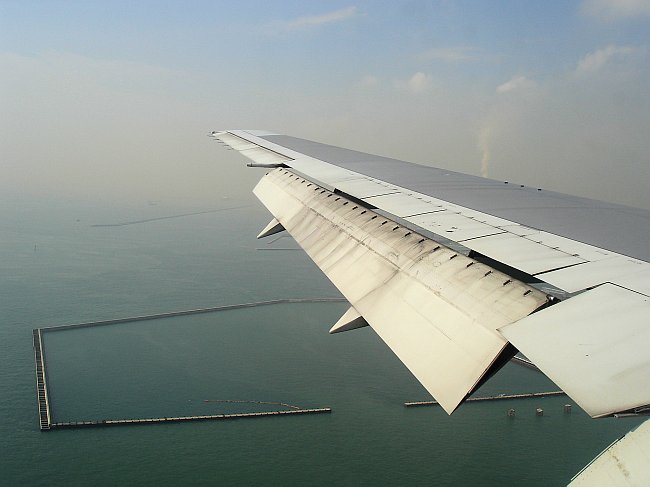 ...futuristic building on the left...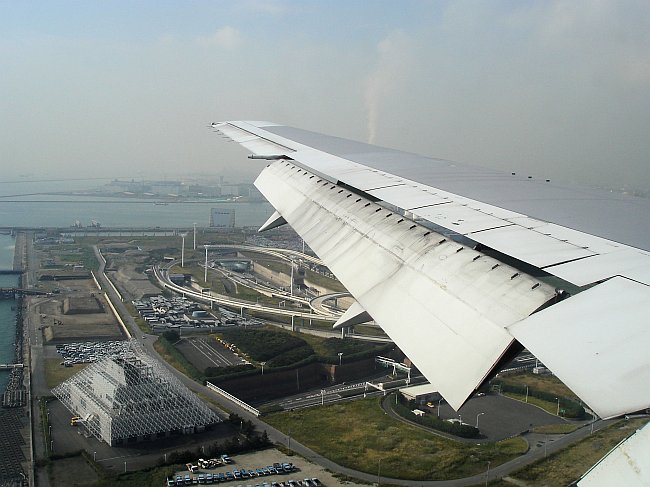 ...and touchdown on runway 34L: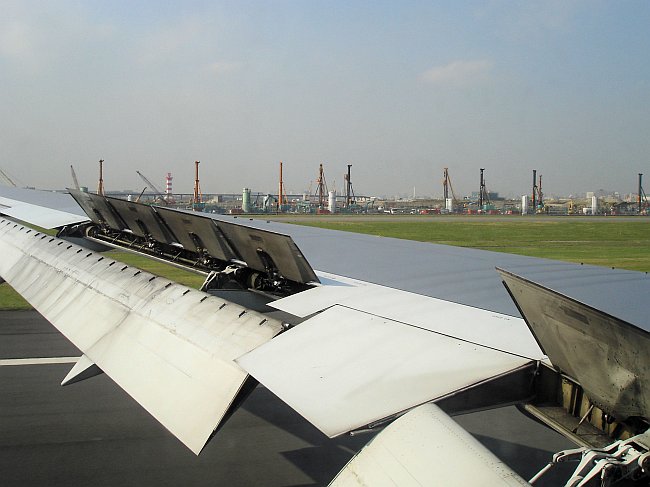 We stopped at the gate some minutes early at 09:59, with Haneda's characteristic tower building on the left. Can you spot the departing ANA 747?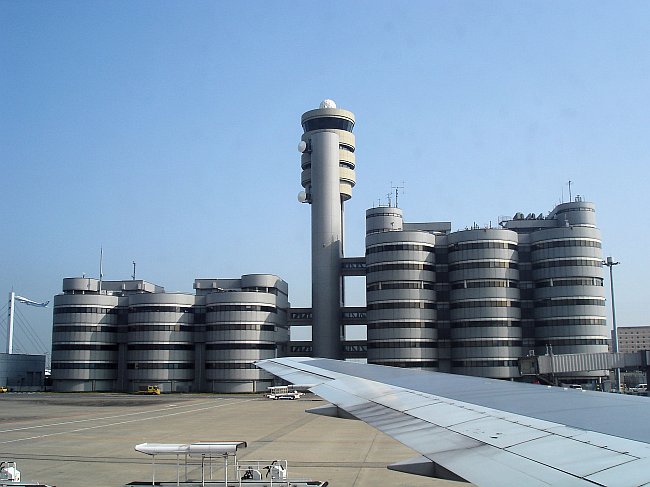 I took some more cabin pics before disembarking (see above) and asked a male F/A about the interior on other planes. He was friendly, but I'm not sure whether he understood what I wanted to know. Well, he couldn't tell me anything specific about Skymark's standard interior. Then a female F/A who had seen me taking pictures asked me to hand out my camera - so that she could take a pic of me and the male F/A. Nice move, considering I didn't ask for it.
Then I finally left the gate area and met
Satchmo
at the Terminal 2 observation deck. Plenty of time left for spotting - mission accomplished!
Tokyo-Haneda Spotting
Haneda is the biggest and busiest airport in Japan. By passenger throughput, Haneda is even the busiest airport in Asia and number four in the world, handling 65.3 million passengers in 2006. It's the ultimate place to catch Japanese domestic carriers and domestic aircraft types. As for variety: ANA Group and JAL Group dominate the scene (with almost any kind of their domestic aircraft types), but you can see nearly all other domestic carriers, too (Air Do, Galaxy, Skymark, Skynet Asia, StarFlyer). Apart from that there are limited international services by Asiana, China Eastern, Korean Air and Shanghai Airlines. Within about 12 hours (spread over three days) I got a total of
105
new registrations.
Of course, spotters find excellent locations at and around the airport. There are large (and free) observation decks, one called 'Bird View' at Terminal 1 (facing runway 34L/16R), and one at Terminal 2 (facing runway 34R/16L). One runway is used for landings, the other one for takeoffs which means you almost don't miss anything when staying on one side. Registration spotting is possible everywhere, photo spotters need to move around depending on the sun. It's quite a long walk between both observation decks - so I recommend to take the free shuttle bus between the terminals.
Modern and clean observation deck (indoor and outdoor) at Terminal 2, opened in 2004: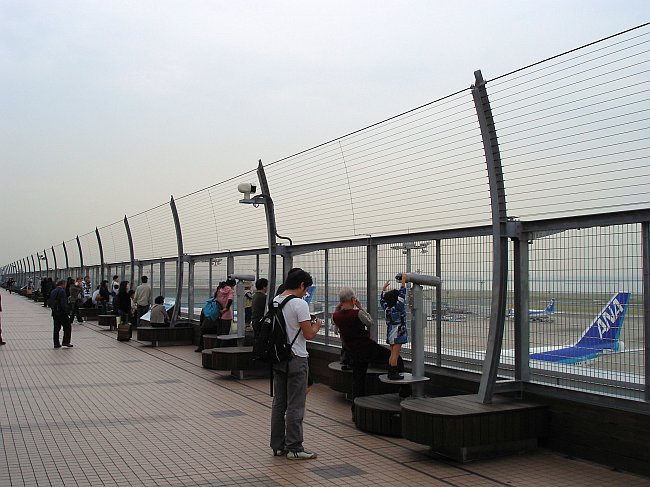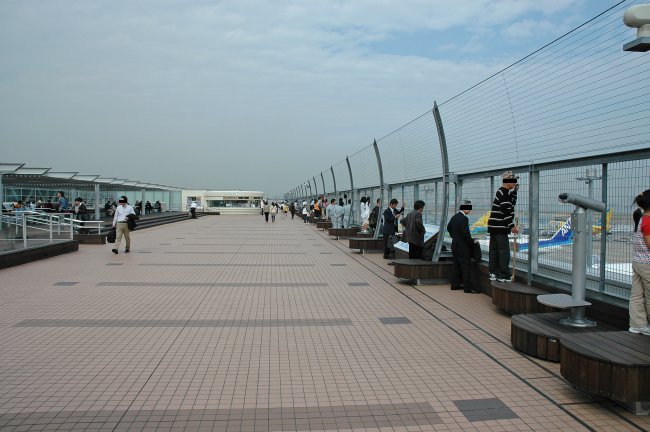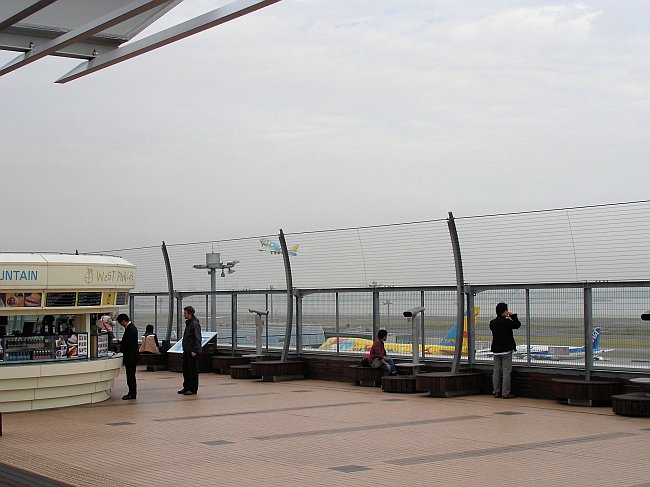 "Family reunification": ANA's
Pokemon JumboJets
: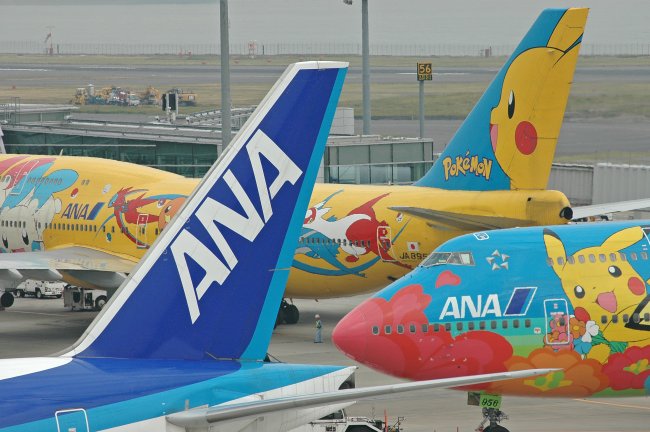 Picture by Satchmo
ANA's
Woody Jet
taking off from runway 34R: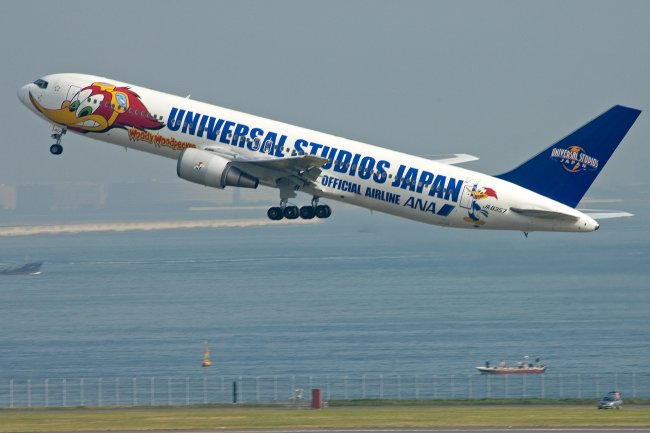 Picture by Satchmo
JA8957 touching down again on runway 34L (view from Terminal 1):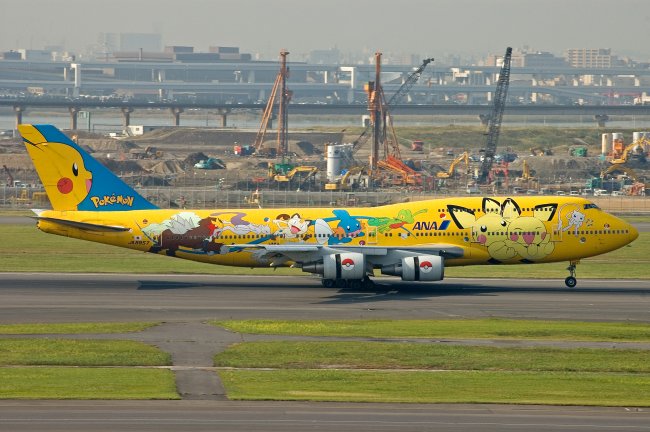 Picture by Satchmo
The well-known waving...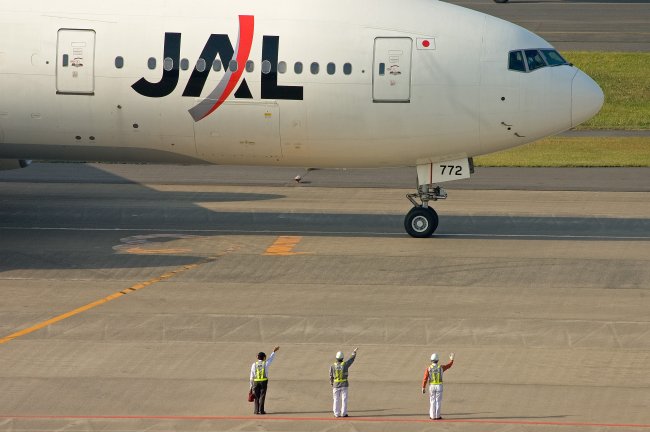 Picture by Satchmo
...and bowing rampers: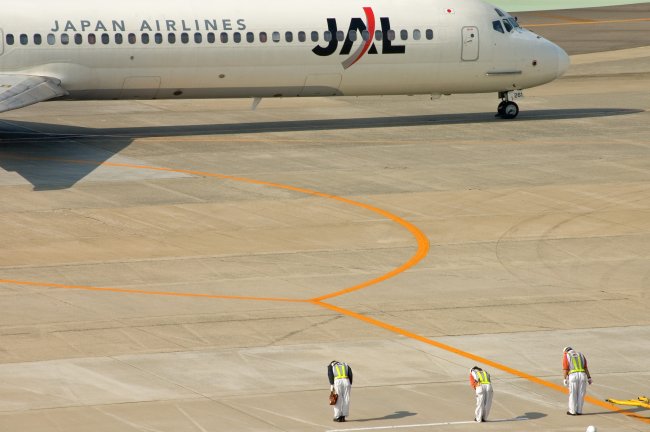 Picture by Satchmo
JAL widebodies dominating the scene at Terminal 1: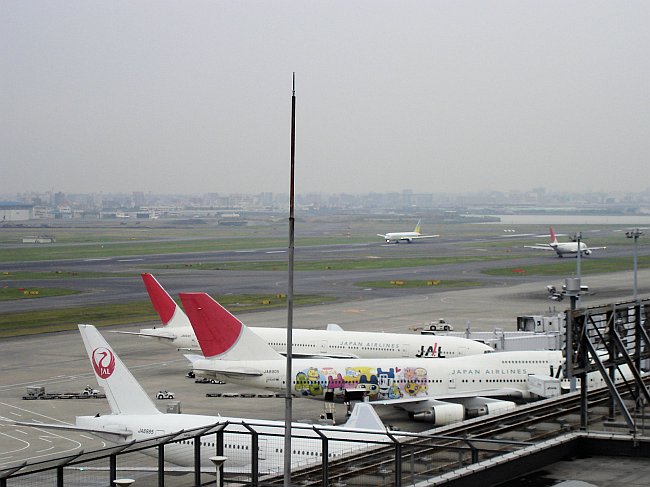 View towards the Terminal 2 apron from the very top of the observation deck at Terminal 1: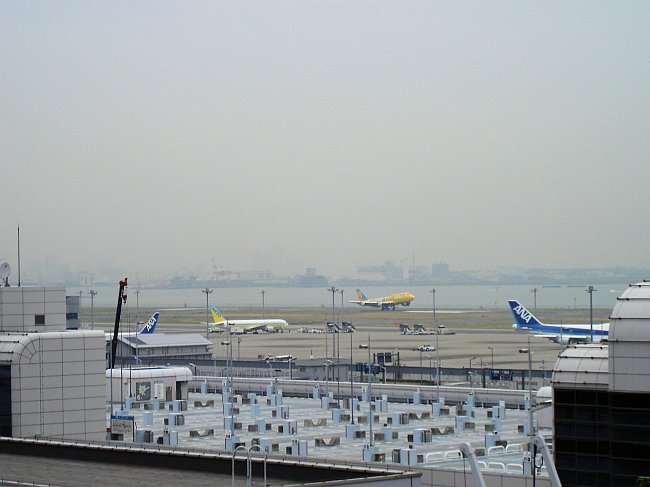 Shops and restaurants in Terminal 2 - the entry to the observation deck is on the top floor.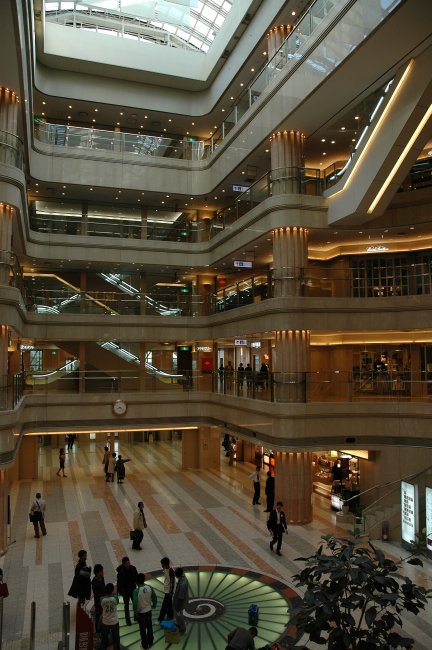 Picture by Satchmo
Exterior view from the bus shuttle parking lot: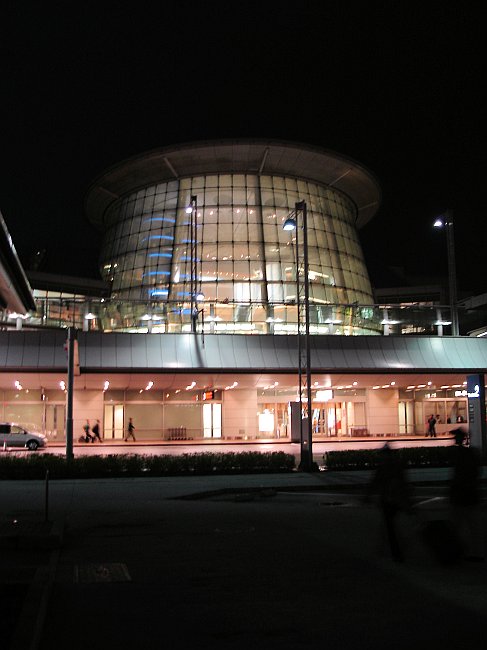 Conclusion
Flying both
ANA
and
Skymark Airlines
was a true pleasure: friendly staff on the ground and in the air, clean cabins, comfortable seating. Though, other Skymark 767s are operated in high density 2-4-2 configuration (upgrades to
Cygnus Class
for an additional 1,000 yen on selected flights). Both carriers offer IFE, drink service only on ANA. However, one drink really doesn't make a difference. Skymark's low fare structure is easy and convenient, but - some time in advance - ANA may offer similar fares, too. I would fly both carriers on domestic routes again - if fares are similar I would choose ANA so that I get Star Alliance miles. Of course I would also check the aircraft type. Skymark will phase out the last 767 in 2009 and standardize on 738s. If fares are similar I would certainly take an ANA (or JAL) 747, 767, 787 or 777 rather than a usual 738...
Next reports:
HND-ITM on ANA 777-300: http://forums.jetphotos.net/showthread.php?t=42945
KIX-HEL-MUC on Finnair MD-11 and A320: http://forums.jetphotos.net/showthread.php?t=43041
Best Regards,
PlaneHunter