Lots of pics, so enjoy! I have a couple vids, also, but they'll come in part two once I get them uploaded.
Well it became that time of the year again. Finals week was the week of December 10-14 which meant the start of a busy Christmas break for me. I had some trouble finding a ride down to the twin cities on that Thursday or Friday because I was done with my finals that Wednesday night and my flight out was on the 15th, that Saturday. I called some of my friends who I know live in or around the Minneapolis/St. Paul area, but none of them were going down when I needed them to, so I decided to give it a shot and see if I could go with my friends who live in Duluth and I succeeded with getting a ride with them.
We decided to leave Grand Forks about 1pm on Friday the 14th, so we packed the van up that morning, went and ate lunch and then headed off to sell our books back from which I got a decent amount for three books and a study guide. We finally got on the road about 3-4pm because you simply can't spend a small amount of time in Barnes and Noble. You just can't. We stopped in East Grand Forks for some gas and then we were off for the trip across Minnesota. We were treated with an amazing sunset even though we were going the other way.
I scraped a hole in the ice on the inside of the window for this one.
Those were taken after we passed Crookston on 2. The drive went pretty well and we got to Duluth about 830pm. We had dinner at their house which is back in the woods away from the city, so it was pretty awesome. It was the first real food I had in a while. After that we watched
The Bourne Ultimatum
which is really good. After that we went to bed to be ready for the long day ahead.
The next day, the 15th, we got up about 730am to be on the road by 815. I kept waking up and looking outside and seeing stars which was pretty cool. We all got our showers, packed our stuff in the van again, and headed off to MSP.
This is just the sunrise from their place.
We took the scenic route along Lake Superior to get to Duluth and Ted stopped for me to grab some shots of the sunrise on the lake. It was so cool with the clouds forming on the lake and the well below freezing temps.
The drive took just over two hours to MSP and it went pretty well. We made the most of it and had fun along the way. We got to the airport about 11am and my flight was at 1:25pm, so I had plenty of time. They dropped me off and went to a friend's house in the cities for the day. I went to check in and had to go to one of the agents because I got my DFW-AUS flight after I got my MSP-DFW flight. Check in and security went quick because practically noone was waiting over at American. After getting through security, I had just turned my phone on when one of my friends called me telling me they had just gotten in from GFK and were taxiing in. So I went down and met her and had a couple other friends on that flight also, so we all just grouped up because we all had some time to kill and wandered around for a bit. We first went over to the G concourse to see what was going on and NWA19 was boarding to NRT and on to MNL.
The walkway is responsible for it looking like this. I think it looks pretty cool, though. I don't care how many times or how often I see a 747, they still amaze me every time.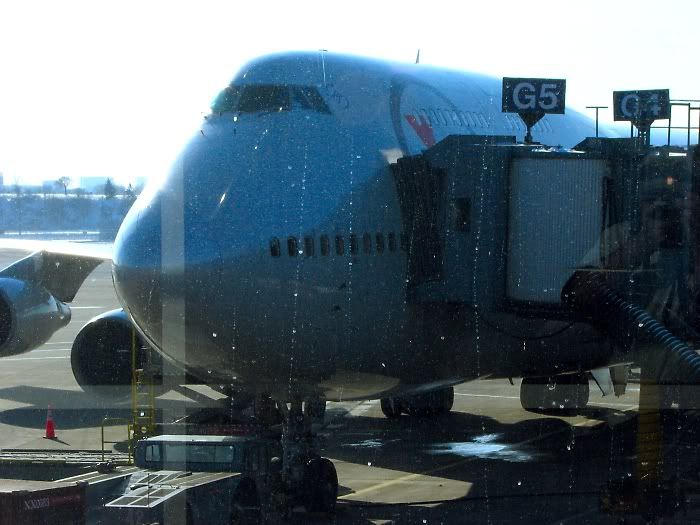 We still had a little while, so we headed toward my gate, E16, and stopped at the food court between E and F to get some lunch. Watched the Frontier A318 taxi to its gate along with Continental express ERJ-145 with winglets.
Saw this EMB-175 at D1. Really my first time seeing one this close. They do look really good.
[photoid=6142209]
Then it was about time for my flight to begin boarding, so we headed down to my gate and said bye and all that.
I was in group 2 so I was one of the first to board and went to my seat, 26A. After a little bit, someone else sat in 26B beside me. There was a little girl, maybe three or four, along with her mom and dad a couple rows ahead of us on the other side of the plane who kept throwing tantrums that weren't that bad, but enough to where her dad told her that if she didn't be quiet that she would never get to ride in an airplane again. Harsh.
Anyways, we were delayed a little bit in pushing back and then had to do an air start for the APU, I think, so we started up as we were pushing back.
N516AM was at E14 next to us doing a flight to ORD. I didn't know it at the time, but I would be on that one 15 days later DFW-SAT.
So we taxiied out to 17 for our departure along with a NW DC-9. Two 744s can be seen in the background at their gates.
I got a good view of the empty Humphrey terminal area just after takeoff.
Plenty of snow on the ground, and it's only the middle of December.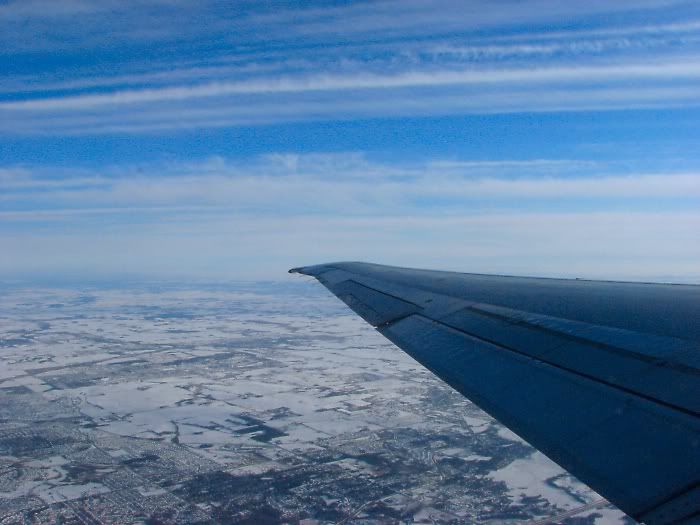 The flight went pretty well overall. I got a Dr Pepper as usual on American and the lady next to me asked if I wanted part of her scone, so she gave me half and it was actually pretty good. She had a sudoku book and was doing a few and so it gave me the urge to do some and so I found some in the
American Way
magazine and started doing them. I finished the moderate and was well into the diabolical when we were about to land.
We were above clouds pretty much the whole way from about halfway over Iowa until we finally descended into them.
About to descend into the clouds.
In the clouds now.
Finally popping out of the clouds, the winds were pretty strong out of the north, so we were going for 36L.
Passing GKY.
As with pretty much all approaches to the north, we passed Six Flags and the ballpark. I'm honestly not sure what it's called now, but I'm still calling it the ballpark in Arlington. Behind it, though, is apparently the new Cowboys stadium being built. I wasn't quite sure what it was at first, but I soon figured it out.
As we got closer to the ground, I could see our ground track and how we were crabbing into the wind. It's actually pretty cool to see ground track without actually being up front. So we finally touched down on 36L firmly and took our time slowing because we were going all the way over to terminal C.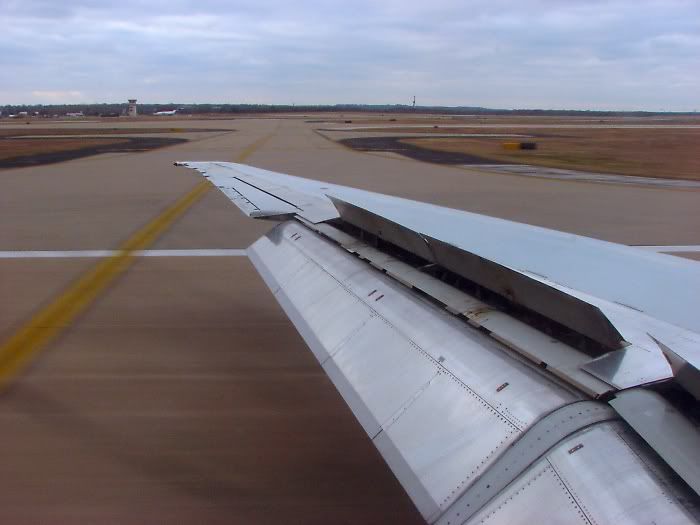 After we got off, I was connecting to AUS on AA479, so I decided to meander over there because I still had a good bit of time to kill. I rode the people mover over to terminal E and watched the LH flight to FRA taxi out to 35L while N705TZ along with two of ATA's L-1011's waited for their next missions.
15 engines total in this shot.
I finally got to my next gate for the flight to AUS, D38. Our plane and pilots were there, but the high winds that day were slowing things down quite a bit so we had to wait on our flight attendants. I met up with one of my friends who works at the Bennigan's there in terminal D for a little while before she had to get back to her apartment because they were making dinner. After she left, I decided to try some shots from the walkway between D and B. I put my hat over my camera to block out as much of the light as I could and it did a fairly good job.
That's our plane sitting there at D38 waiting for our flight attendants while another one blasts off of 36R after the sun has gone down. I chose a seat on the right side to catch the sunset, but the delay didn't help that.
After a little while I went back to the gate and got on my laptop for a little bit before we finally started boarding about an hour and a half late. I didn't mind it, though.
I had seat 28F this time around. The guy next to me, who was probably about 18 or so, sat down in 28E, buckled in, and I looked out the window for a minute or two and when I looked back he was already nodded off. He was out the entire flight up until just before landing.
We finally made our way out to 36R for our departure to AUS.
Climbing away from DFW.
The flight was short as usual and I again got a Dr Pepper and just watched the world go by. It was pretty cool though, because I could see the moon on my side. We finally started to descend for landing on 35R at AUS. Landing was a bit firm, but it was pretty good.
We ended up taxiing all the way down to gate 25 for some reason. Anyways, we all got off the plane and grabbed our bags and I met another one of my friends who was picking me up. She drove me to Bertram where we met my brother who took me the rest of the way home because she was going to Briggs. I wanted to make it home earlier to make Main Street Bethlehem that night, but because of the delay I didn't get home until about 1030pm. It's been a couple years since I've been in it because I've been up here. I was able to be in it the last night on that Sunday and it was pretty fun. I've missed it. If y'all ever get the chance, it's the first two weekends of December in Burnet, TX. I think everyone should at least come to it.
Anyways, me and a couple other guys went and played golf on that Monday because we usually do whenever I get home. I did the usual seeing everyone when I got home over a few days. That Wednesday night I went up to my church and hung out with the youth group. We had a gingerbread building contest and me and the group of guys built a gingerbread airport. It's pretty crude, but I've never seen it done before.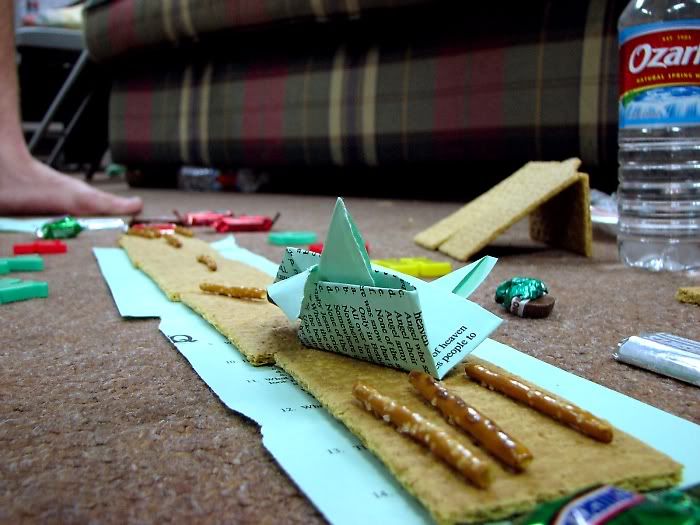 The next day, Thursday the 20th, was when we flew out to Atlanta for Christmas. My dad drove down from Maypearl to Burnet to pick me and my brother up when he got out of school and headed down to SAT for our flight.
We had an evening departure, so no real decent shots, but I tried.
Southwest pushing back from Terminal 1 with a United Express CR7 on short final to 30L and a Citation holding short.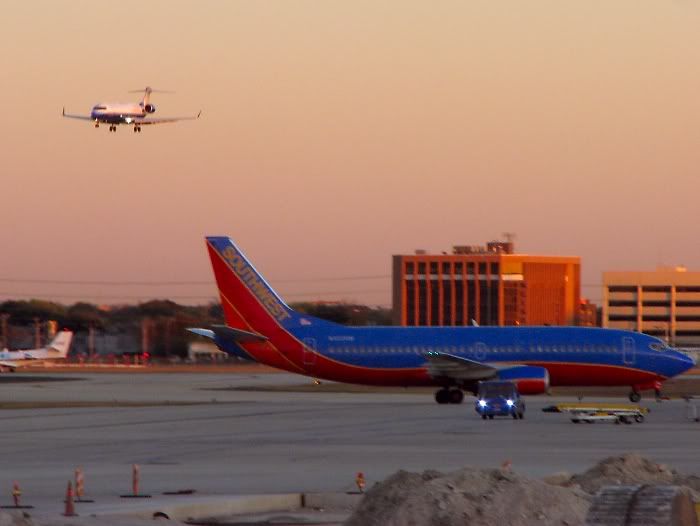 Our ride to DFW.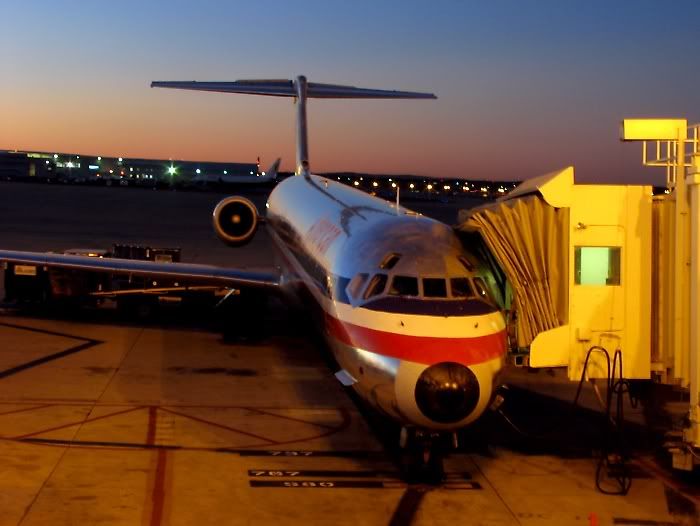 Anyways, the flight to DFW went well although we had a short delay in leaving. Nothing big, though. The flight at the gate next to us had to get everyone rebooked and on other flights because of a screw missing is what I overheard. Not sure exactly, but they all had to get rebooked.
I had 17F for this flight which gave me a good view of the leading edge.
Rolling on 30L.
We landed on 36L again at DFW and held short of 36R for another plane to take off. We started moving just before the exposure ended, so it kinda screwed it up, but oh well.
We got to our gate at terminal C, got off the plane and went to grab some dinner at Dickey's right there. After that we went over to terminal D where our flight to ATL was leaving from and wouldn't you know it, from gate D38, the same gate I was delayed at just five days prior. Lo and behold, we get delayed a little again. It's only about 15-30 minutes this time, though. I originally had 12C, but I switched with my brother who had 27E. We had the mail run to ATL because me, my dad, and my brother watched package after package being loaded.
Our ride to ATL.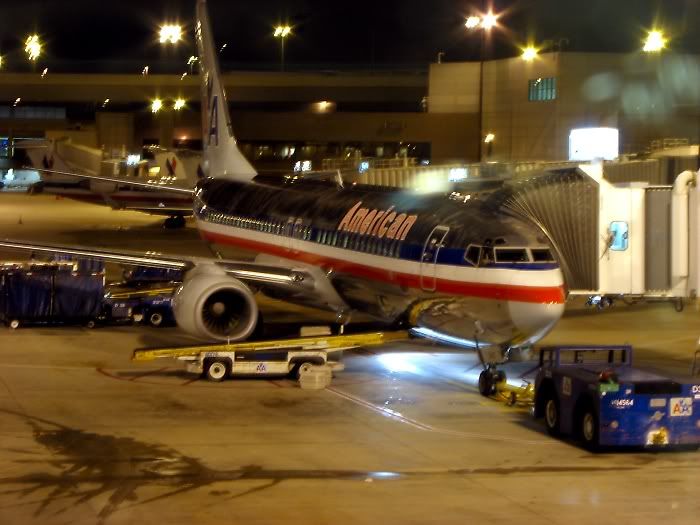 The flight began to get bumpy about Mississippi because of storms there adn eastward. Once we finally began descending into ATL, clouds once again engulfed our plane and the strobes were fairly bright. It was really cool, though. The flight attendants were making their rounds picking up trash when we were lining up for 8L. One of them was still in the aisle when we touched down. I'm pretty sure it was probably LIFR or somewhere close, but I couldn't see the ground until short final. She looked a bit surprised as we touched down and just said "Well there's a first time for everything." As we were taxiing in, I noticed on the FedEx ramp a 727 and a Fokker. I wasn't exactly sure that they had Fokkers to be honest. My dad mentioned he saw some out in PHX and YUM, though. Well we got off the plane just after midnight, got our bags and met my cousin downstairs by the claim. After we got all our bags, we went outside to meet my uncle who was waiting. They then took us to our granddad's house in Austell where we stay. We got there about 1am and talked for a little bit before heading to bed. The next couple of days we did the usual pre-Christmas stuff like wrapping, buying last minute gifts, etc. We went out to see GrannySue's grave out at the cemetery like we do every year since she passed in 2001. After that we went driving around a little bit and looked at one of the lakes. They were in a drought and lakes were way down. I just thought this was kinda funny.
So Christmas Eve rolled around and we went to my cousin's house, again like we do every year, and had dinner, went to the Christmas Eve service, came back, ate some pie...
...and opened presents. I got a tripod (finally) along with some other fun stuff. After that we all went home and waited for Christmas day. I had some fun with my tripod inside and a cross cut filter that my dad has.
This is probably my favorite shot.
We didn't do much over the next couple of days. I went outside and wandered around a little bit taking pictures.
My cousin goes to Georgia Tech so he showed me and my dad around the campus. Oh, my brother flew back early on the 26th because he went with our youth group back home on a ski trip that left the 27th. Anyways, we went to the Varsity for lunch.
Tech Tower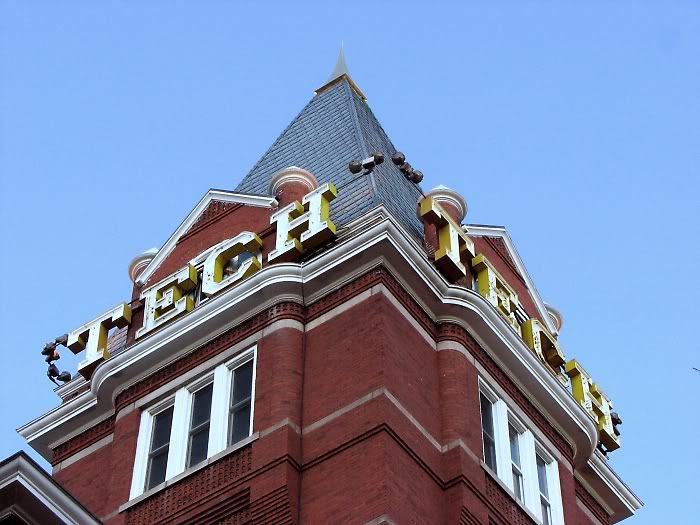 Aerospace building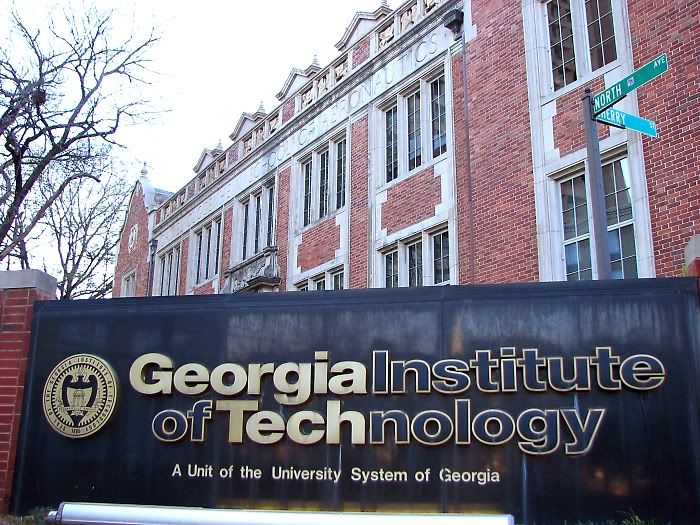 My dad graduated from GT 25-ish years ago and this was the first time he's been on campus since. There was an Atlanta police department MD-369 flying around for some reason not too far off campus. Not sure exactly what was going on.
We mainly were just with family the next few days. My cousin and I saw National Treasure: The Book of Secrets and I have to say it was pretty good.
Well that's it for now. I'll put part 2 up when I can probably tonight or tomorrow sometime. Fitting the entire break into this is a bit tough.