Continuing on from this one...
http://forums.jetphotos.net/showthread.php?t=41902
The day after we went and visited Georgia Tech, I went with my Granddad up to the church and to run a few errands around town. We stopped by the bread store he always gets bread at on Fridays because that's when the fresh batch comes in. So we went in and were checking out when the lady that runs it noticed a truck across the street at the Chattahoochee Technical College. Well the truck was more of in the building itself. About halfway in, actually. She couldn't really tell, but said she had heard a noise earlier in the day when she was out back but didn't really think anything of it. So with me being who I am and having my camera with me out in the car, I got it and took a couple shots. There wasn't anyone over there except for some lady that was parked in the lot over there on the phone, I think with police.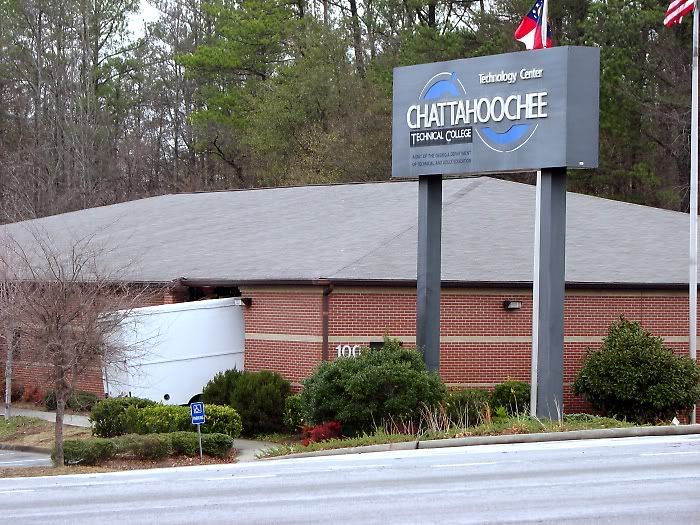 Chattahoochee Technical College: now offering drive-in degrees!
Haha. But really, it was on the news that night and it turns out that the guy that was driving had a stuck accelerator and was headed toward a salon or daycare or something of that sort, so he made a good turn off the road and into that parking lot and eventually ended up there. He was uninjured, and his boss gave him the rest of the day off. And wouldn't you know it, when he got back to his car to go home after that, it had been broken into. Talk about a bad day.
The next day, Saturday, was really a day to just relax and pack up to head home on Sunday, so that's what we did. That Saturday night, though, we got the whole family together to go eat out because it was my uncle's birthday the next day. I don't remember what it was called, but it was an Italian place not too far from Cobb County Airport. So after dinner we went our ways and said our goodbyes. That night I finished packing and watched the Texas A&M - Penn State game. I'm a Longhorn fan, but I'll watch pretty much any Texas team. I'll admit I was going for the Aggies that game. Mainly because I went to high school with Mcgee, their starting quarterback. For one year, anyways. We moved to Burnet just before my sophomore year which was his and Jordan Shipley's senior year. I was on the JV football team (American football for the rest of the world) on scout defense during the playoffs of the 2003 season and got to see both of them in action up close on the field. It was awesome. We ended up losing the state game to Gainesville that year. It had been like that the year before, also, where we lost in the state game. So the 02-03 seasons we went a combined 28-2 with the only two losses being the state games. It was awesome, though.
Anyways, I get sidetracked. Penn State ended up winning that game when Mcgee slipped while he was trying to change direction on a 4th and goal with less than a minute left. Watching that meant I didn't go to bed until about 1145-midnight. I couldn't fall asleep until about 1, though. I didn't really want that to happen because we had to leave the house about 615. So I got up about 540, took a shower, got dressed, did the finishing touches on packing, and we loaded up the car and headed off to ATL about 615 or so. The drive wasn't bad at all because it was a Sunday morning which meant there wasn't that much traffic around. So Granddaddy dropped us off at the curb and we said our goodbyes and me and my dad went in. We used the self check-in like we always do and that went smooth as always. Some people, though, don't grasp the concept of getting in line to wait for one and just stepped right up to an open one. No one seemed to really care, though. After getting our bags checked it was off to the security line. The one by the American counters is usually fairly busy, and it was that way then. It took us about 10 or so minutes to get through and once we finally did we went off to find some breakfast. We still had about an hour or so before our flight was scheduled to depart, so we ventured further into the airport and stopped at a Krystal in concourse A and I got the two sunrisers combo with an orange juice. That turned out to be the only Krystal I had that entire trip. After we ate, we headed back toward T11 for our flight, AA1209, to DFW.
I had seat 19F for this one and sitting next to me was a man in the USAF with his wife and few month old kid going back to Japan after being home for Christmas. The weather wasn't all that great so that meant I was greeted with this view as I sat down.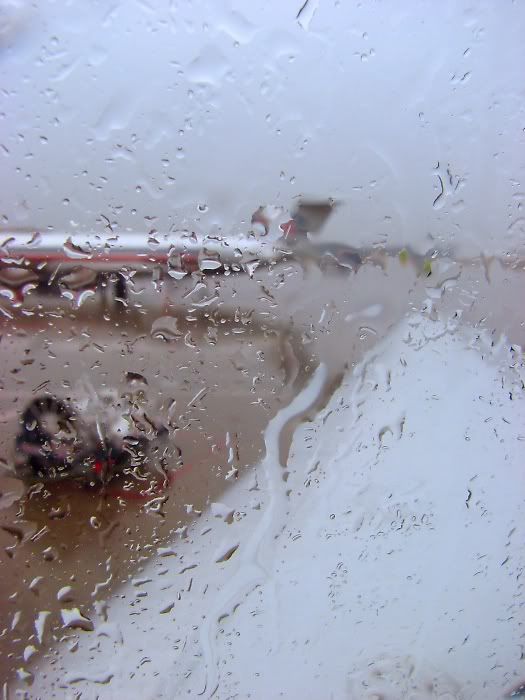 We all got settled in and had the usual small delay on pushback and taxied out to join the queue for 26L.
I had plenty of time to look at all the planes at the concourses, watch the KAL flight land and taxi in in front of us. That was pretty cool. There were plenty of planes parked at Delta mx. A couple of former AA/TW 757s were there still in the bare metal scheme. Also got to see the new Delta colors on a couple of 757s with winglets and I must say those do look pretty good.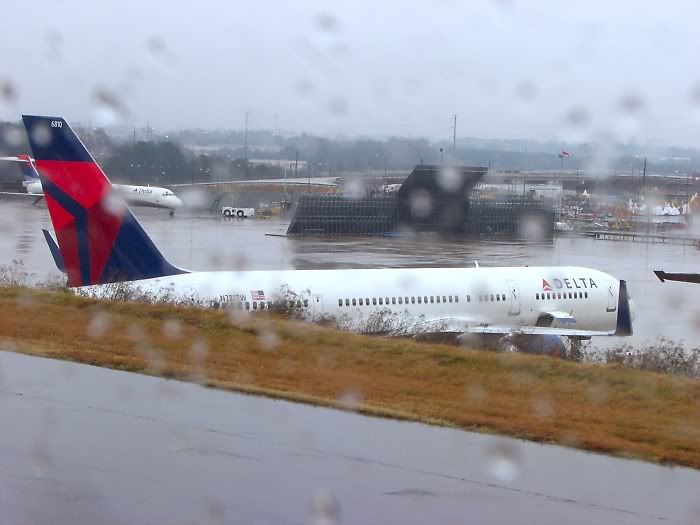 So our turn finally came for takeoff from 26L, and it being rainy and humid as it was, there was an awesome display of condensation forming over the wings. You know, you always see pictures of it from the outside, but not many people really appreciate it from the inside. Well here you are.
Doesn't look like much, and that's because there really isn't, but it was pretty cool to watch it form and dissipate a number of times over a short period. Takeoff and climb were pretty uneventful and we finally popped out above the clouds and skimmed them for a while in cruise.
Over probably western Alabama or Mississippi, the clouds finally gave way to reveal the ground and produced a large shadow.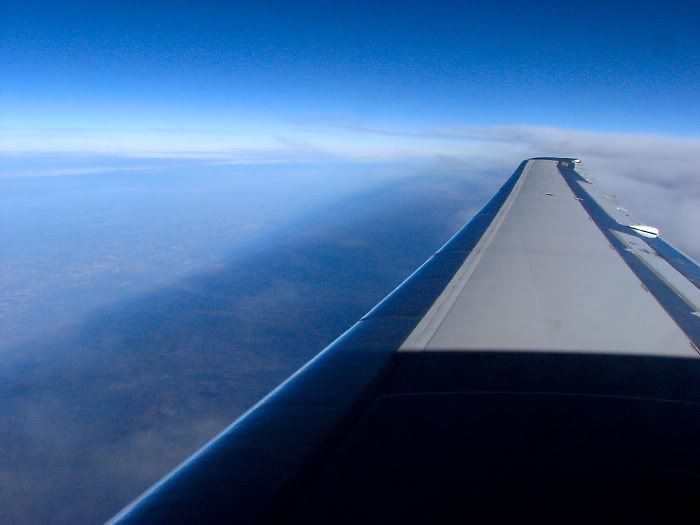 I once again had a Dr Pepper to wake me up a bit because I had really got maybe 5 hours of sleep. That did it for me, and the rest of the flight I watched the world go by beneath us as we headed toward DFW.
On descent I realized it was a perfect clear day over the DFW area. I figured we were going to shoot 35C, and we did, and when we turned downwind, it gave me a spectacular view of one of my favorite airports.
So we kept descending and turned over the old NAS Dallas and lined up with 35C. The landing was a little firm, but it was a good one at that.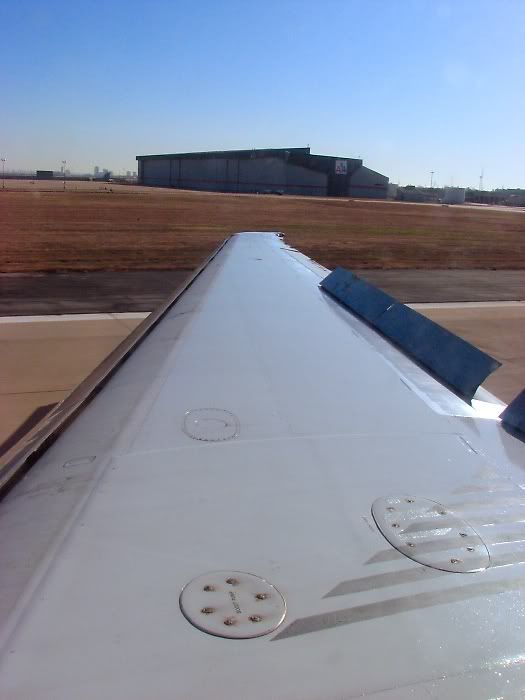 I didn't really realize it at the time, but AA had bought out the old DL hangar on the east side of the field. Just never paid attention to it.
We then taxied in to our gate, C29, deboarded, and decided to take the train the long way around to terminal A for our flight to SAT because we had enough time. Just about the time we reached the second stop at terminal E was when I realized I had left my ipod in the seat pocket in front of me. I had put it in their when I turned it off and put the headphones sticking out so I wouldn't forget it when I grabbed my book out of there, but I somehow managed to. So we got off the train and took the next one back to C. I went up to the gate agent and told her that I had left my ipod in the seat pocket of 19F. It took a couple minutes to get because they were already boarding the next flight, which was going to BWI, and she said I got lucky with that. So I told her thanks and my dad and I took a train over to terminal A where our next flight was out of. I was supposed to possibly meet up with a friend that works in the airport, but I called her and she was feeling sick so she wasn't able to make it.
We finally boarded a little behind schedule and I took 18F, which was my dad's seat, but he had 18E which was my seat, so it didn't really matter. We got everyone on board and ready to go, but we needed one thing: the first officer who was coming in on a flight from ORD. He finally made it about 10 minutes later and we were finally on our way.
The flight at the gate next to us was going to SJC.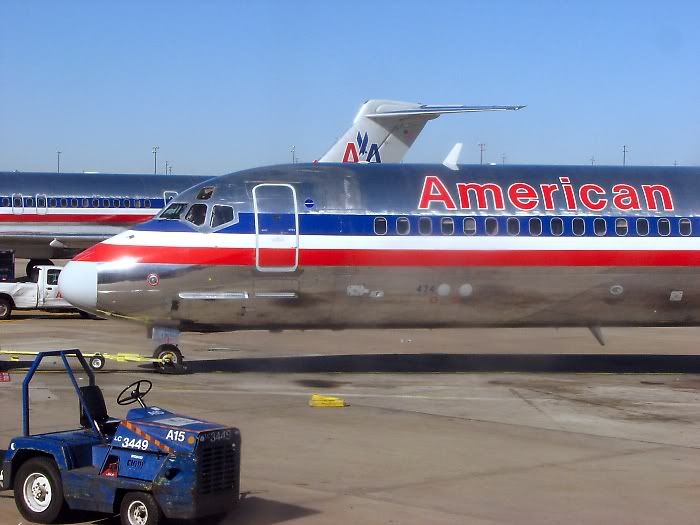 Pushback and startup were normal and we made our way out towards 35L.
As we're taxiing past the E terminal, I notice another plane also heading to 35L.
Turns out it was CX Cargo 744F B-HUH trying to fit in at with the silver bullet scheme. It must have been pretty awesome to see it crossing the bridge from the west cargo area. We were both told to hold short, and it was just a sight to behold of a 744F next to us. I don't really get to see that many 747s up close, so it's really special for me. I really don't care how many times you see one, she'll always turn heads. As you can see, the sun was in my face, so that's about the best I could get. Still pretty sweet, though.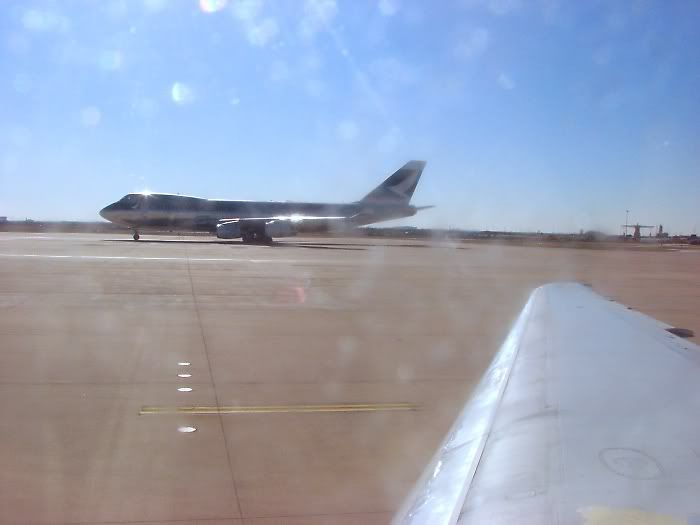 Takeoff was smooth and we made a right turn to again give me a good view of not just DFW, but also of DAL.
It's pretty cool to see two airports that are big players in one area in a fairly close proximity.
As I watched more of the earth slip by beneath us, I soon found that I would be staring straight down at my old hometown of Maypearl, TX. Our old house is just off the right of the frame about 1/3 down. You can easily tell where the school is. The topmost two buildings of the school have been added since we moved back in 2004. I love it when I go back there.
So the view of that passed and I once again got another Dr Pepper on the short flight. We started descending somewhere in between GTU and AUS and I followed Highway 29 west from Georgetown out to Lake Buchanan and could somewhat make out Burnet. Well we ended up passing over AUS and I think this could be the old Austin airport. Not 100% sure, though.
I had a good view of some of the quarries around the San Antonio area and finally a view of SAT as we turned in for final to 30L.
Our shadow riding I-35.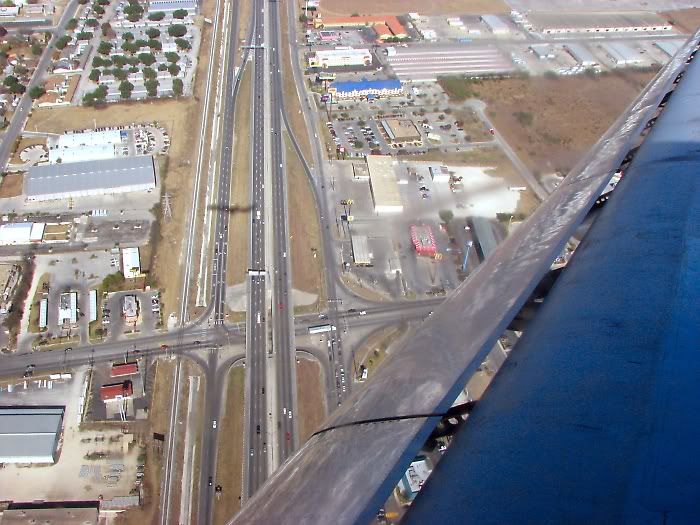 Now this is the fun part. I wish I had recorded it, but oh well. The landing was fairly normal with the normal touchdown, thrust reverse, brakes, etc. until after the thrust reversers were stowed. About that time, I watched the black sign with a yellow 3 pass indicating that we had 3,000' of runway left and though 'ok, we have 3,000' left, we're good.' Boy was I wrong. Not a second after that, one of the pilots slammed on the brakes and we felt the lurch and the brakes wailing before we finally turned off onto taxiway Sierra. I seriously was thinking of the possibility of a blown tire, but just kept it at that, a thought. Anyways, we finally got to our gate and got off the plane. As I passed the cockpit, the FO was standing there saying goodbye to everyone, and he mentioned that the landing wasn't his. We both had a good laugh at that. So my dad and I welcomed in the old style terminal (I use 'welcomed' here fairly loosely, because if you've ever been to SAT, you know what I mean, it's just a little outdated, but hey, we were back in Texas) and then went down to grab our bags.
This was kind of a cool surprise for me to see as we were taxiing in.
After all our bags were grabbed, we went out to ride the shuttle to the parking lot to get the car. We then decided to get some lunch somewhere between there and Burnet. I got a little nap on the ride before we stopped in Fredericksburg and ate at The Feed Mill. It's back in town a little bit, but it's not too bad, just a little family owned place near the old feed mill (hence the name) in town. After we ate we headed on to Burnet where he dropped me off at my mom's house and went up to Maypearl where he lives now. I didn't really do much the rest of that night because I was really tired so I just watched the Sunday night Fox lineup along with a bowl game I think. I'm pretty sure I watched Hawaii-UGA in the Sugar Bowl that night. I don't remember exactly.
Well the next day was new year's eve. I met up with a friend of mine for lunch in Kingsland that day and talked to her mom about Super Summer stuff. I helped with their church with it last year and planning on doing it again this summer. After that we went to her house and saw her cat which has really grown since i last saw him. While I was over there, I saw a twin fly overhead going eastward towards BMQ. Turned out to be N62LL, an Aero Commander 500.
[photoid=6146442]
It was really a good surprise to end the year.
Well that night I took my mom to a house party thing she was playing at in Horseshoe Bay (she plays piano) and headed back home. On the way, though, I decided to stop and go through the walkway of lights in Marble Falls so I could try my tripod out.
The entrance.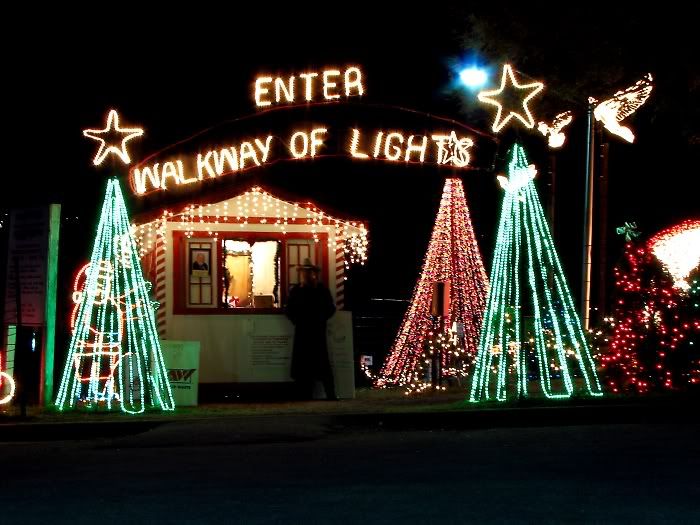 This was only one part of it. Pretty busy.
This one is probably my favorite shot from it.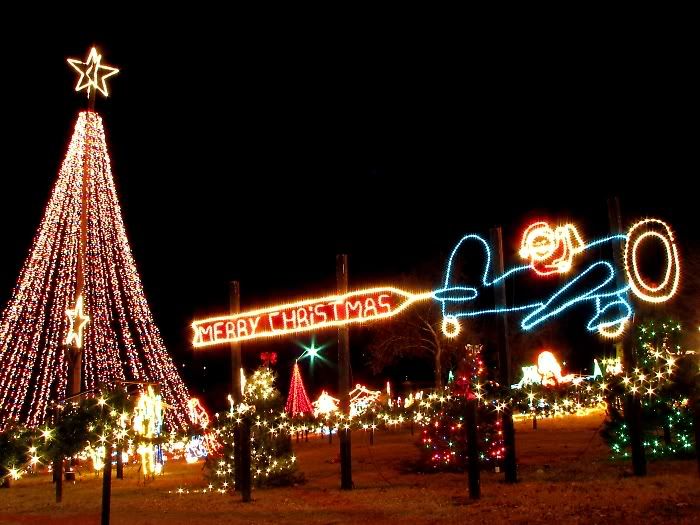 After I went through all of it, I went back home and watched the game that was on that night, forgot which one, then SportsCenter and flipped between that and the network channels about midnight and watched the new year come in sitting on my couch. Yay. Exciting, I know.
Anyways, I didn't really do much over the next few days except get ready for my trip back up here. I would be flying on Sun Country because that was the cheapest at the time we bought the ticket. Well I went up to my dad's place Friday night and spent the night up there because obviously I was flying out of DFW the next day. I got a good night's rest that night and so the next day, Saturday, January 5th, we went and took care of some stuff in town then headed up towards DFW early in the afternoon. We were caught in a bit of traffic on one stretch because of an accident. Someone just rearended somebody else on that part of the road which caused a little snarl in traffic, but nothing that bad. When we got past that, it was pretty much normal to DFW. When we got past the toll booth on the south side of the airport, I saw a plane flying overhead at cruising altitude and realized that was the KLM flight to MEX. Wow. I just realized that's actually the first time I've seen KLM. Ever. Well we were driving up to terminal D parking and I had a couple of surprises waiting for me there. I got checked in easily and through security really quick. Then I headed over towards gate D14 to see N632US, one of the very few remaining NW 742s still in passenger configuration. Before I took any pics of it, though, I wandered around the terminal just to see what was going on. I was a little surprised to hear that the BA flight from LGW was cancelled, so no BA777 for me that day.
LH439 to EDDF pushing back. Don't see many 4-holers besides the scheduled one along with the freighters at DFW anymore.
N757AN resting between flights at D36.
The pilots of N755AN operating AAL50 to EGKK getting ready to depart as they complete boarding while a 767 taxis out in the background.
An AA 738 operating the flight to Panama City.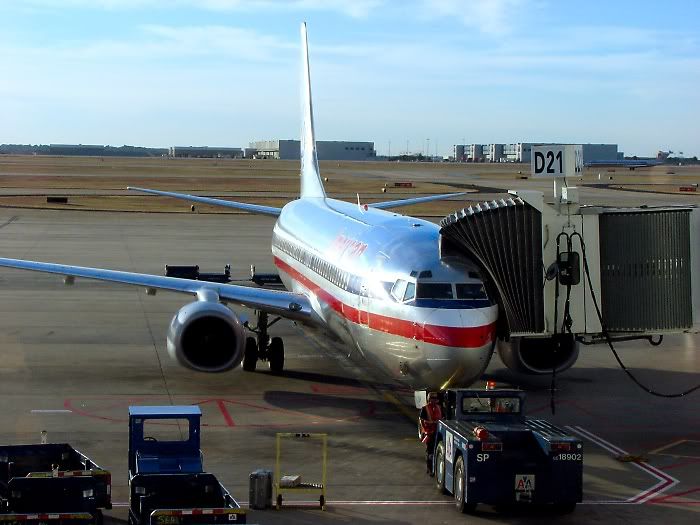 I finally got around to her.
N623US at D14 operating a troop movement to EHAM.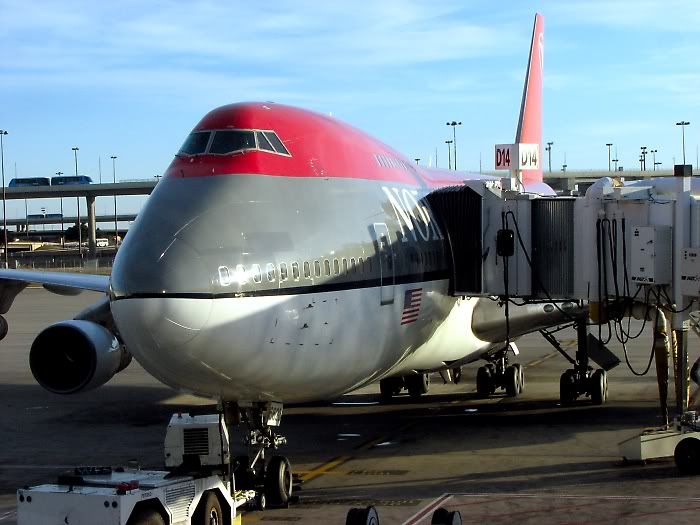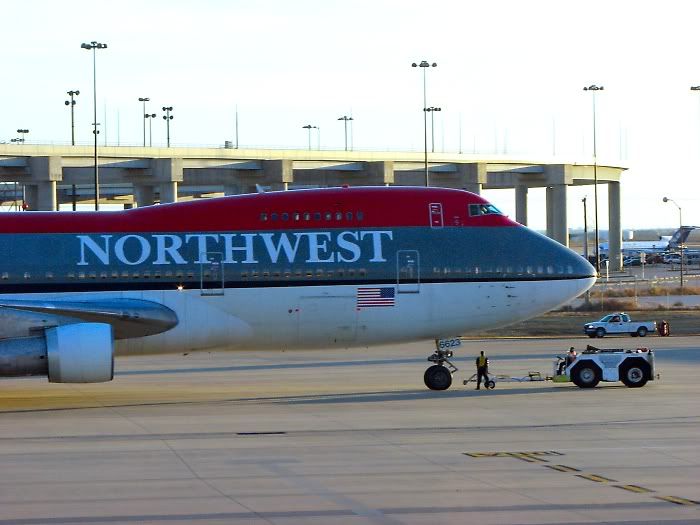 Like I said before, I don't care how many times you've seen one, you'll still look.
Our plane, N807SY, finally arrived from CUN about 10-15 minutes late which pushed us back about 30 minutes. I had seat 19A on this one in order to get a good view of the last light of day. While I was sitting down I kept wondering who was going to sit in B and C, but no one did and the only other person was a lady in 19F. I thought that was pretty sweet having those seats to myself.
We finally pushed back with enough light out for me to be happy. AA MD taking off of 18L as we pushed back.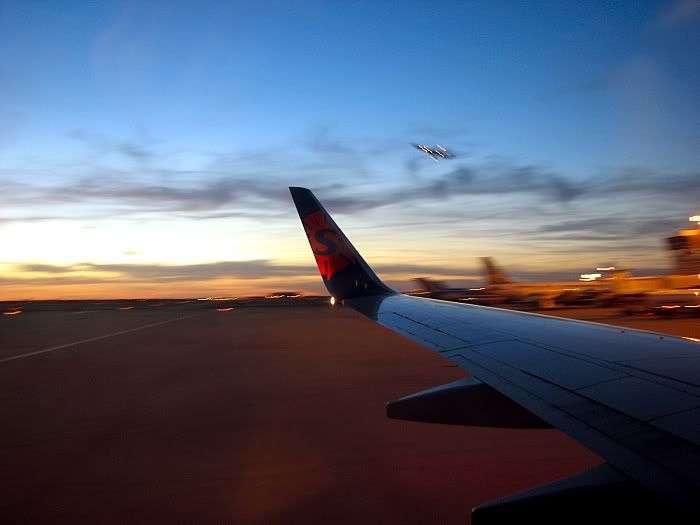 We made our way out to 18L and took off and not long after made a right hand u-turn to head north towards MSP.
This is the view I was greeted with. It was really one of those things where words just can't describe it.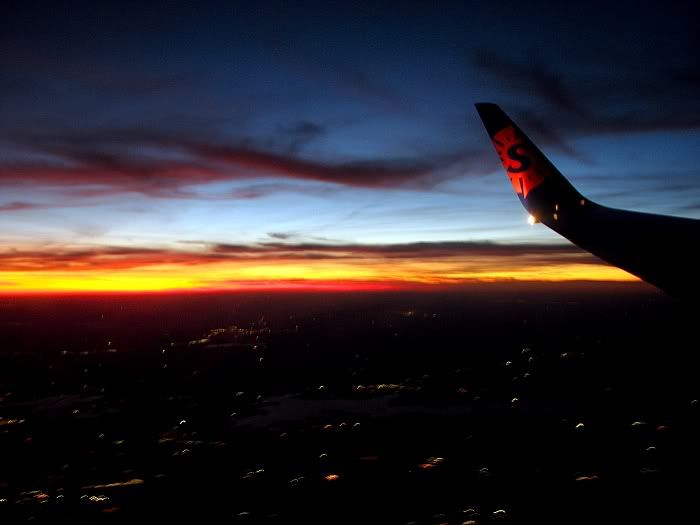 So the service came around and I got a ginger ale this time (they don't have Dr Pepper, but ah well) and a sandwich and a cookie. The cookie was pretty good. Forgot exactly what the sandwich was, but I really needed it. I was hungry. As I ate I was watching the world below slip into darkness as the earth rotates.
They came around again so I got another sandwich. That's one thing I love about Sun Country, they still have free food.
We started our descent what I thought to be fairly early, but it worked out. We finally descended enough to where I could see lights illuminating the low clouds and the snow on the ground beneath them.
Turning left as we make our way towards 12R at MSP.
About to enter the low cloud layer hovering around the MSP area.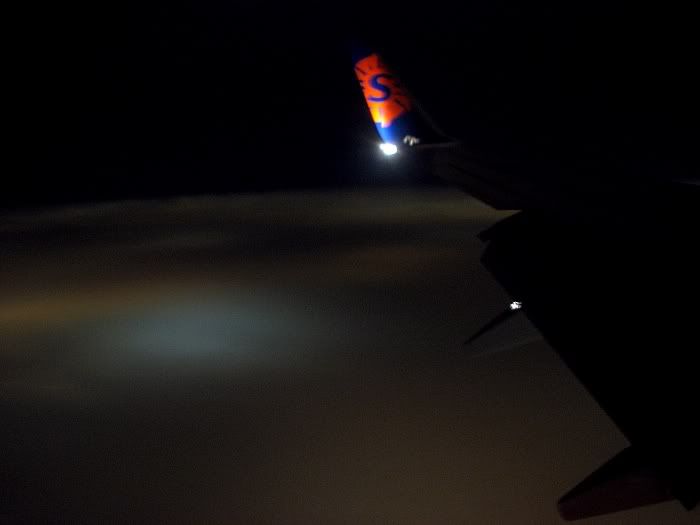 The landing was again a firm but good one. We turned right off the runway towards the Humphrey terminal and passed the GA ramp where I saw a C-130, the Dallas Mavericks' 757, and a BBJ. Apparently the Mavs came to town to put a beat down on the Timberwolves 101-78 the next night. Go Mavs! I'm not really that much of a basketball fan, but it's the Mavs.
Well we finally got to our gate, H2, and pulled up next to N811SY, SY's 25th anniversary plane.
Happy birthday, SY!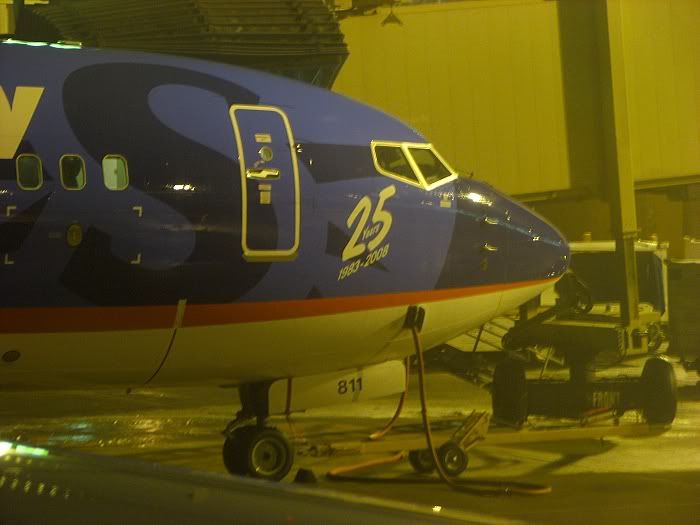 My friend and his dad came and picked me up that night because I was staying at his house that night before driving up to Grand Forks. The next day, Sunday, we went to church in the morning (he goes to church with former Twins catcher Terry Steinbach), ate lunch, then hit the road about 2pm. I drove his truck because he actually just had surgery on his knee so it would save his parents a trip up here and back.
Well now I'm back up here and the first week went by fairly well and ended even better with a sweep over Michigan Tech 4-1 both Friday and Saturday nights. This week it finally began feeling like January.
Well I was going to have this up a little earlier this evening, but as I started it, the fire alarms went off. It was about 7 and I was about to go eat anyways, so I did. Well that's my 2007-2008 Christmas.
Hope you enjoyed!
Oh, and this was supposed to be my 900th post, but I noticed that the counter is screwy again.