**All times are local. Arrival/Departure times are gate times.**
I usually do not include pre-trip information and discussion and such, but prior to this trip, conditions were anything but normal and events actually lead to a change in plans, so I have included a "preface" of sorts. But you can skip directly to the flight review section if you find this part boring.
Preface
My last week at home was quite unusual, having spent three days without power (Monday through Wednesday), thanks to insulation and recently installed new windows though the inside temp hovered around a somewhat comfortable 54F while it was in the 30s outside. Yep, the major ice storm that took out grid after grid of power lines let me know what a real power outage in the dead of winter is like. I really appreciate electricity these days, that, and hot food and other things.
Anyway, so after three days without power, we finally got it back, but we were pretty lucky. We only had to wait 3 days, some people ended up waiting for 7 or more days to get their power back on. Nevertheless, kudos to the army of power crews who worked tirelessly to bring power back on, not only the in-state crews of Oklahoma but those who came from other states as well. To summarize the wrath of the ice storm, there are tree limbs still cluttered all over the city as I type this.
Wednesday of that week, I learned that another system was headed our way for the weekend, in perfect harmony with my departure date. Having had enough of the garbage-like weather I wasted no time in calling American (which I knew all too well has a habit of cancelling flights for even a few snow flakes coming from the sky) and cancelled my OKC-DFW leg for Saturday. The agent said she couldn't do it without re-ticketing me, which meant giving AA a free gift worth $78 plus $15 re-ticketing fee, but at this point I had no other choice. I wondered for a while whether I made the right decision when the official forecast called for a few inches of snow, but I couldn't afford to take any chances. If AA cancelled my flight, that would mean more headaches and a possible trip cancellation (I also had a trip booked within a few days of my arrival in India), and there was plenty of those going around already. So having kept only the return part (thus ensuring a connecting flight back from DFW to OKC), I gave her the green to go ahead and do it.
Next on my plan of action was calling my freind down in Dallas to see if I could stay overnight at his place on Friday in order to catch my LH flight to FRA. He was very welcoming and said he'd be happy to have me over. So the next call I made was to Amtrak. I hadn't forgotten about the train (Heartland Flyer) option that I had, and the break in the weather meant I could actually get out of Norman before things possibly got worse again. Amtrak's reservation process is easy enough. All I had to do was request a reservation for Friday, Dec. 14th on train 821, down to Fort Worth. The agent got me in, gave me a reservation code and a conformation number, said all I needed to do now was show the train conductor my information, a photo ID and pay him some $22 or so. Wow. Ok, so that was done.
On Friday, I got up early to get ready. The weather had reared its ugly face again in the form of freezing fog, which was unwelcome news. I was already a bit anxious and didn't exactly need to know that it had caused a major accident on I-40. I didn't have time to worry about that though, and after freshening up and eating some breakfast, my dad drove me out to the Norman Amtrak Station. At least the roads were in good shape.
The station itself isn't much more than a waiting room, but there is adequate seating and free hot coffee available. The train was supposed to arrive at 8:40a.m. or so, but by 8:45a.m it was obvious that it was delayed. A quick phone call by the lady who was attending that morning got us the information that a freight train was blocking the way of our train. Fortunately, about 25 min later, the train finally arrived. It was a quick process. Once the train stopped, I was joined by about 6 other passengers in boarding the train. The conducor took one quick look at our photo IDs and let us in. Another conductor placed my two big bags in the checked luggage section of the car we boarded. Then we were directed to the second level upstairs via a rather narrow staircase. Once we were all in, the door was closed, and the train started rolling again. I waved to my dad through the window, and that was the start of my first-ever Amtrak ride. I was finally on my way to India!
The 3 and 1/2 hr trian ride was the first time in a long time I was truly able to relax, and the large comfortable seats with footrests and multi-point legrests were an added bonus. I won't go into much further detail on the train ride other than I found it outstanding, and for anyone who has the time and a. doesn't want to fly between OKC and DFW and b. doesn't want to drive either, this is the way to travel between the Dallas-Fort Worth area and Oklahoma City. Besides, it was too foggy to see much out the window so I won't be able to tell you about the scenery or anything like that.
We did arrive about 10 min late at the downtown Fort Worth station, but I didn't really care. I was about to meet my freind (who also likes planes) and have a blast. After a quick stop at his place to drop off my luggage, we went out and ate lunch, and the rest of the day we did some heavy duty spotting around DFW, albeit with continuous rain and low visibility. Later that night after dinner, we went to Love Field and did some spotting there from the garage's top most level. I hadn't done spotting like this ever before, it was awesome!
Flight Review
Saturday finally came around and once I looked out the window, I was pretty happy. A cold front had come in overnight and with much drier air in behind it, the fog and low ceilings had gone, as had the rain. After a quick lunch later on and doing some last-minute packing and making checks, it was time to leave for Terminal D at DFW. Oh by the way, if you're wondering what happened to the OKC-DFW flight I would have been on, it got cancelled. As did three other AA morning departures. Sure there was some light flurry activity in the Oklahoma City area, but the airport was still fully functioning and none of the other carriers had cancelled any of their flights. Need I say more? Needless to say, I wasn't thinking twice about the decision that I made just a few days earlier.
We drove out to DFW at around 12:30 or so, and since it's just a 10 minute drive from my freind's place to the airport terminals, we got there in no time at all. On the way, we caught an Eagle Saab 340B coming in on 36L. It was slipstreaming in the 25-30mph NW winds though, which was pretty cool to watch. After reaching Terminal Ds departure level at the LH entrance, I gave a big thanks to my pal , who is a really swell guy. I had a blast going around and doing spotting the day before and it was really nice of him to accomodate me at the last moment.
I went inside to the LH check-in counters, where there was a short line. Check-in was pretty quick, and I got boarding passes for both flights all the way through to BOM, both window seats
. After security, I was finally on my way to Mumbai. I still had some three and half odd hours to kill before boarding, so I went ahead and called my dad to let him know I was done with all the formalities. With all this extra time, I decided to go for some spotting, and rode around in the new Terminalink to E. Here are some shots.
American 763 parked on a hardstand south of Terminal D, with some Champion 722s in the distance
Eagle 145 climbing out from 36R with a KAL Cargo 744 in the background.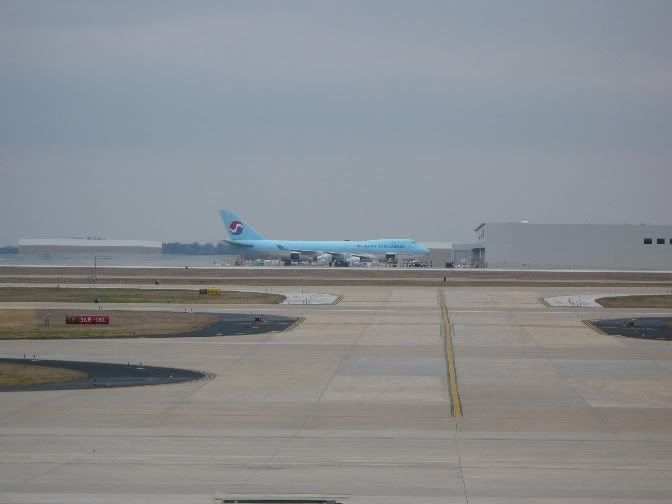 A close-up shot.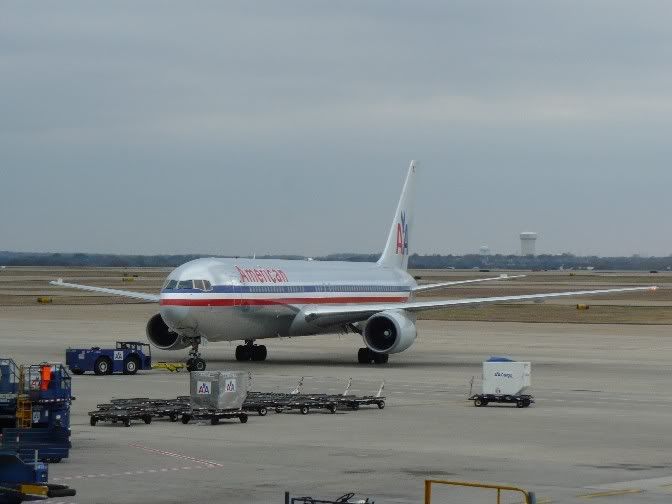 AA 763ER being pushed back for another international flight.
Inside one of the terminalink trains, Terminal D, north station.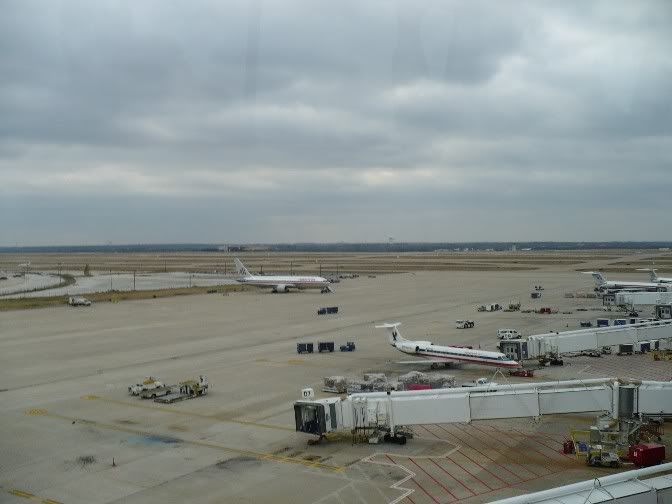 On my way to Terminal E. A nice view of D's south ramp and the west side of the field.
South side gates of D.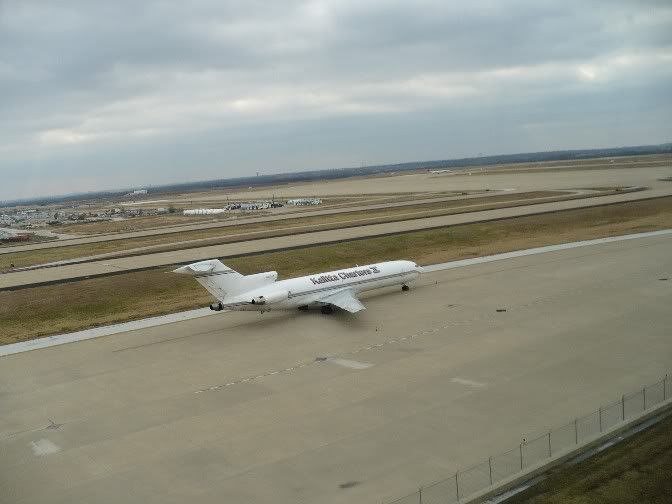 Woot. Nice to see something uncommon.
Another one of NW's old workhorses. Taken from Terminal E at DFW.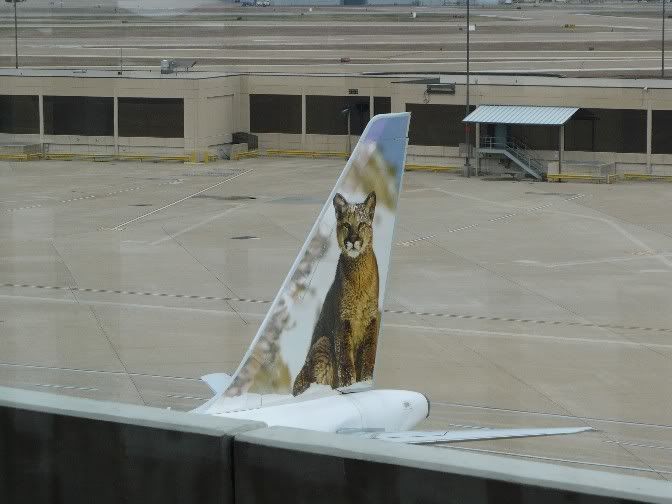 On my way back to D, just before boarding the train. Cougar tail? I dunno, but I got one more!
At around 2:20 or so I decided to go back to D from E, it being a Saturday E was pretty much dead. So once again, I took the Terminalink back to D, and just before reaching the first station for the south side gates, I caught my plane taxiing back, having just arrived from FRA on RWY 31L. I was kind of surprised, but that day, with strong, gusty north winds, ATC was actually making heavy use of 31L for arrivals on the west side. Aircraft would make the 35C approach, make a left turn and land on 31L. Really cool to watch. At first I thought I was seeing things, but after a few arrivals I figured it out.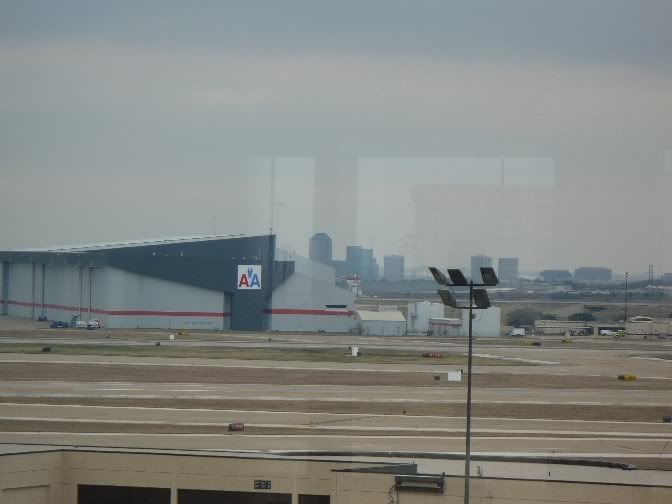 AA's east side hangars and the Dallas skyline in the backdrop.
Onboard the Terminalink to D. LH 438 has just arrived on 31L and is taxiing back to D.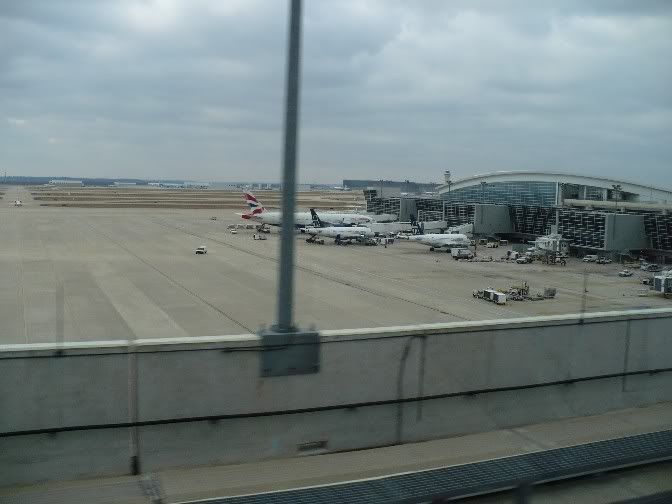 The daily BA triple is joined by the smallest Airbuses.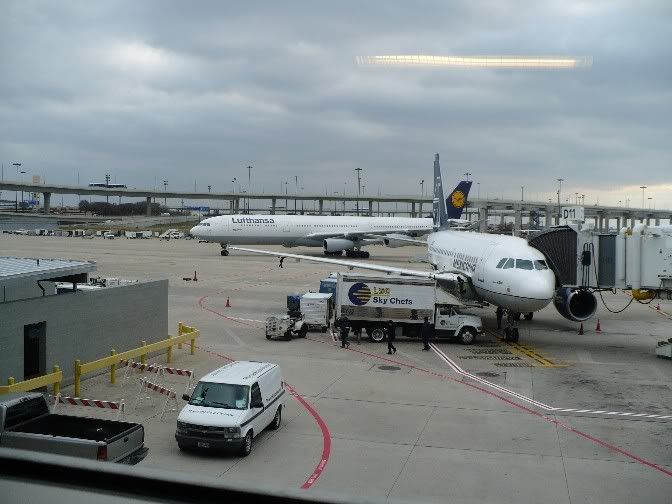 My ride to FRA taxiing in to the gate D10 ramp.
Date: December 15th, 2007
Flight: Lufthansa LH 439
Leg: DFW-FRA
SDT: 4:15p.m.
ADT: 4:25p.m.
SAT: 9:00a.m.
AAT: 9:10a.m.
Aircraft: Airbus 340-300X
Registration: D-AIGW "Gladbeck", delivered Mar. 10th, '00.
Seat: 35A
Dep. Weather: Mostly cloudy, temperature around 34F. Wind NW at 25-30mph, gusting to 35mph. Visbility 10mi.
Arr. Weather: Clear, temperature in the low 30s. Wind easerly at 5-10mph. Good visibility
I decided to get a little food, so I opted to go for a bagel vegetable sandwich, which wasn't that great. Soon enough though, boarding started, albeit a little late. First and Business class along with gold status pax first, followed by economy in batches of rows from rear to front. Once boarding was completed, the FAs came around and served a bottle of water.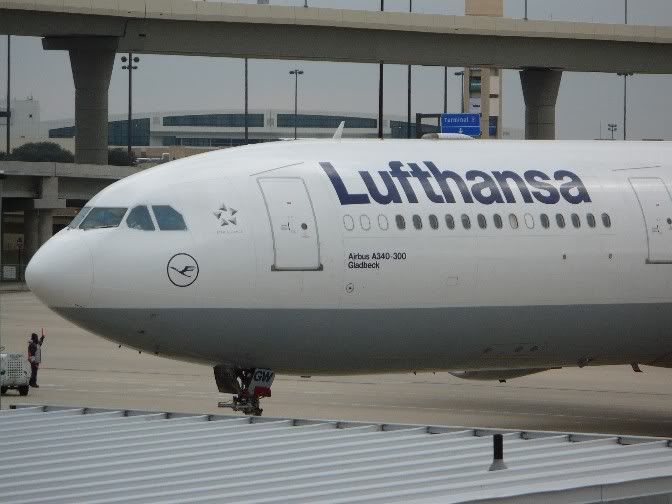 ATA DC 10-30, still in NW c/s, arriving on 31L.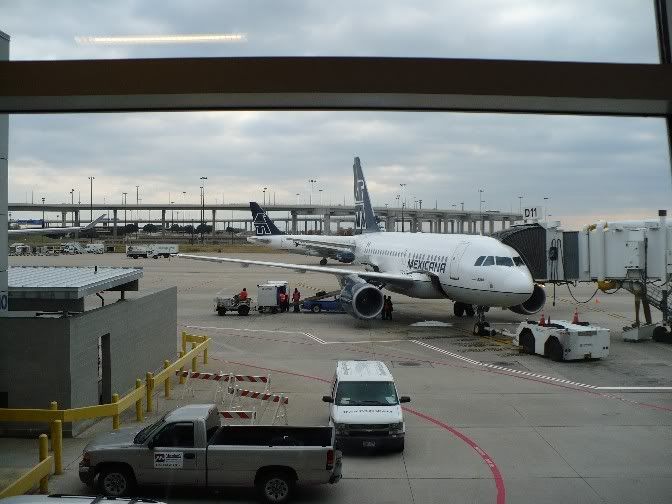 Mexicana gathering of sorts. The 318 in the background was headed to CUN, the one in the foreground to MEX.
Onboard LH 439, DFW-FRA. Looking out from seat 35A.
Pushback, onboard LH 439.
After pushback and engine start-up, the PIC let the plane start rolling on idle thrust, all the way till we reached the Alpha bridge. Let me tell you, the fully-loaded 343X picked up a pretty good pace too by the time we got there. Then it was the Alpha bridge to the east side, where we held short of 35L for a good 15min. During this time, an AA M80 and an Eagle 145 passed by us and took off. Traffic was pretty light it being a Saturday. Finally though, the brakes were released and we started rolling again. After taxiing onto the runway, a rolling takeoff ensued and we rotated right around Terminal C. A good bit of aileron spoiler input was required to counteract the crosswind. My freind got some shots of the 343's takeoff as well. You'll see some shots taken by my freind as well.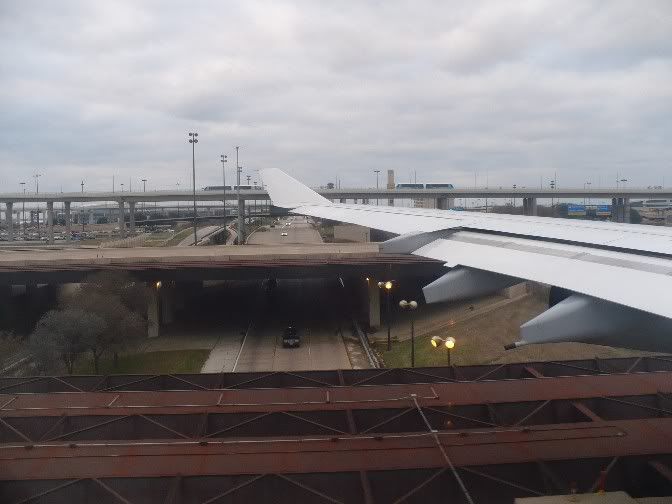 Crossing the bridge to the east side.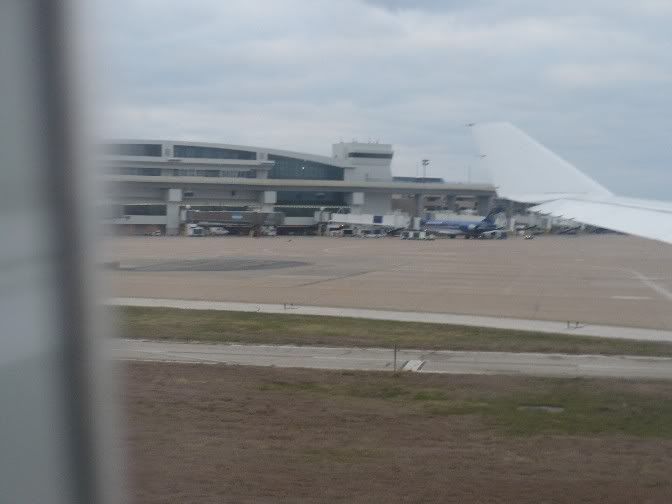 Midwest 712 at E.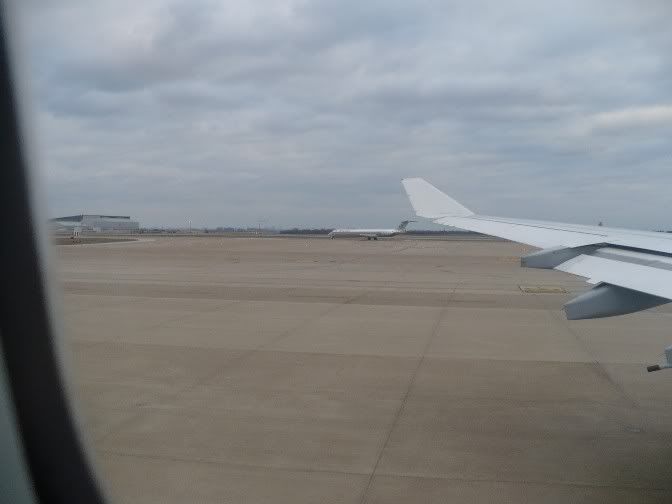 AA M80 about to head on out from 35L as we taxi to the active.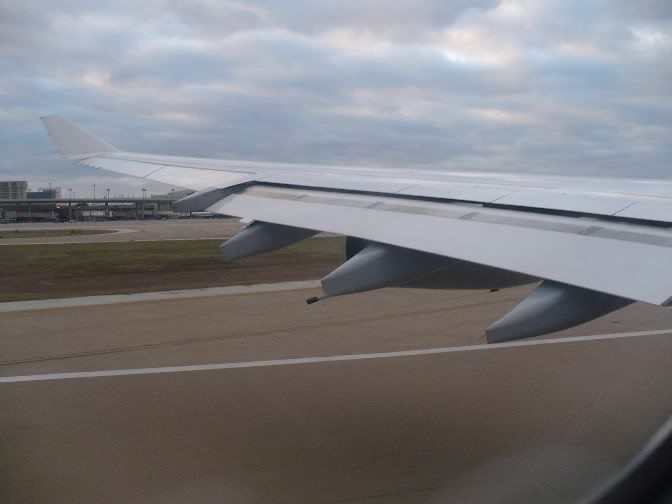 Rotate!
The famous "bridge view" on climbout from DFW.
Shot 1 of 3. My plane as seen from my freind's vantage point
.
Shot 2 of 3. My plane as seen from my freind's vantage point.
Shot 3 of 3. My plane as seen from my freind's vantage point. LH 439 is climbing out from RWY 35L at DFW.
As you can see, we made a slight right turn to start heading NNE, and later on another right turn was made which took us on a NE heading. Today's flight route would take us over Little Rock, then near St. Louis, east all the way to NYC, then NE again to St. John's, followed by a beeline to Cork, London, Brussels and then Frankfurt. Flight time was around 9hr. 35min.
Above the cloud deck with some eye-pleasing colours outside. Onboard LH 439, DFW-FRA.
About half an hr into the flight we were served a light supper. The choices:
Vegetarian: Penne pasta in tomato gravy with mashed potatoes and pureed pumpkin, bread and crackers, butter, jam, and chocolate cake.
Non-veg: Chicken with pasta and the rest was similar to the veg option.
I had the Asian Vegetarian meal which I selected during booking. Here's what it had:
-rice with a goulash of potatoes and cauliflower in a thick tomato gravy along with chickpeas (ok, not too bad, not too good either)
-small, round flatbreads
-a chickpea, onion and tomato salad (one of the better airline salalds I've had, but still not exactly what a salad should taste like)
-soft roll with margarine and jam, crackers (the roll was actually very soft, I was pleasantly surprised)
-a fruit platter with papaya and green melon (the best part of the meal)
We were also gien a bar of German chocolate, very delicious. The rest of the flight was pretty much the usual, except for moderate turbulence over the NE U.S. which rocked the heavy a fair number of times. I browsed LH's Magazin, and mainly looked through the fleet and airport pages. LH has this interesting section in the magazine where it spotlights a certain aircraft in the fleet and highlights that aircraft's features and how it's a workhorse and such. The aircraft highlighted was the BAe Avroliner. It is a cool feature to read for the general public. Movies for this flight were "License to Wed" and "Ratatouille." I didn't watch much of the latter and only glanced once every now and then, but I did watch and hear most of License to Wed. It is a funny movie at times, but when Robin Williams comes into the picture , you know things are bound to go into the "overly stretched" category. It's an ok movie to watch just once, I wouldn't go for repeat viewings myself though.
Ok, back to the flight review. Well, after having slept off and on for most of the "night time" hours of the flight, I woke up to daylight out ahead of us. About an hr and a half before landing, a small breakfast was served. I don't remember much about this one. One really cool thing to watch as we passed over the big cities was the glow of the city lights was easily visible through the low cloud decks. I couldn't see much due to thick low clouds and fog over the UK and north central Europe, but the clouds broke just enough to make the city of Brussels visible.
Just breaking into dawn somewhere over the UK. LH 439, DFW-FRA.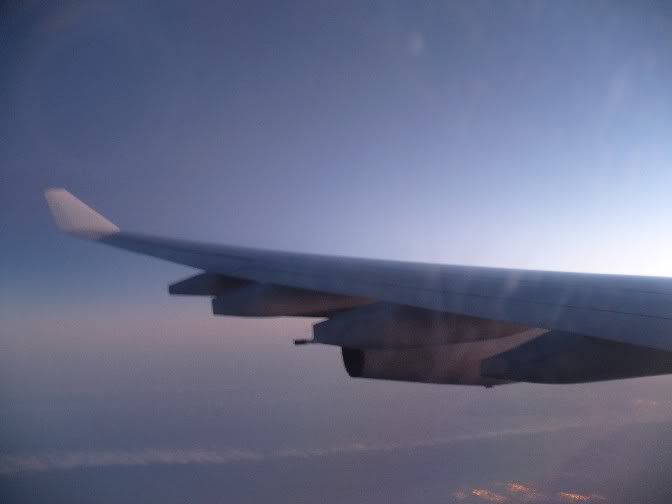 Banking in a hold, with some nice reflections off the wing and clouds below.
We approached FRA from the NW, and had to make one round in a holding pattern. Whether that was due to volume at FRA or us being too high, I dunno. Anyway, soon after exiting the hold, we began to head NE, basically straight to FRA's RWY 7L.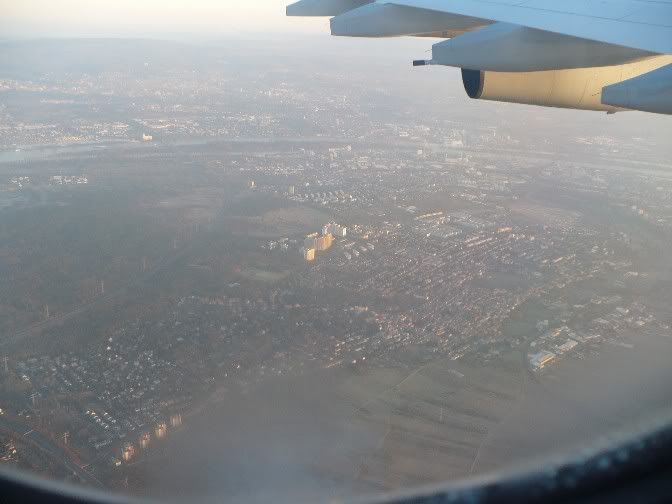 Final approach to FRA, shot 1 of 3.
Final approach to 7L at FRA, shot 2 of 3.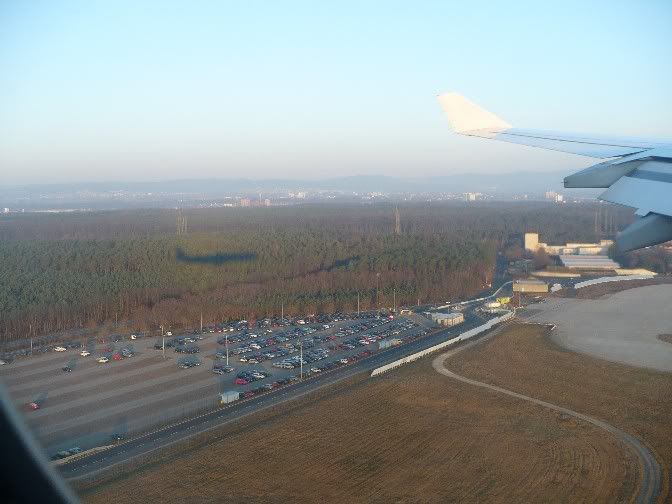 Final approach, shot 3 of 3. LH 439, DFW-FRA. Gladbeck's shadow in the distance.
Spoilers down. Welcome to Frankfurt.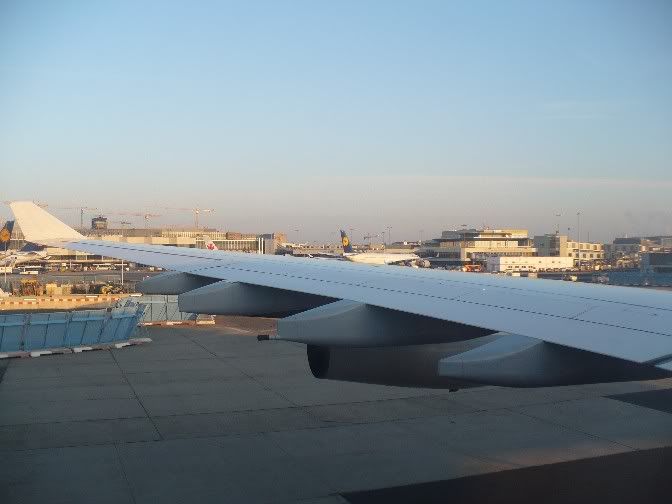 More heavies at Con. B's "V."
After a perfect greaser (the only indication of a landing was the spoilers going up) and full reverse thrust which made sure we remained seated, we exited on Golf, then Alpha followed by parking at gate C23 (I think) right next to a US 333. Once in C, a long walk took me to B's central transfer zone located on level 3. I asked an LH agent who had connecting gate info where my Mumbai flight would be departing from. Turned out to be B22. With about four hours in hand, I had plenty of time to get freshened up and do some spotting. Well, that's Part 1. Stay tuned for Part 2!