**Note: All times are local. Arrival/departure times are gate times.**
(cont'd from Dec. 15th, '07, LH 439/LH 756; DFW-FRA-BOM-Part One)
Date: Dec. 16th, 2007
Flight: Lufthansa LH 756
Leg: FRA-BOM
SDT: 1:30p.m.
ADT: 2:09p.m.
SAT: 1:35a.m.
AAT: 2:25a.m.
Aircraft: Boeing 747-400
Registraton: D-ABVK "Hannover" del. April 19th, '91
Seat: 48K
Dep. weather: Clear and cold, temp. in the mid 30s. Wind northerly at 10-15mph. Visbility good.
Arr. Weather: Pleasant. Temp 78F, light westerly winds. Hazy.
Unfortunately, the restrooms in Terminal 1 at FRA are way below international standards. Inadequate space, nothing to hang your clothes on inside the enclosed rooms and whatís up with the cold, bone-chilling water coming through the faucets? Donít they have water heaters at European airports? I had the same experience at CDG when transiting through there (although I still prefer FRA over CDG). Well anyway, with boarding time coming closer, I decided to head to the gate. It was pretty empty and all I saw outside was LH traffic, so I decided to just camp out. After 40 min or so I looked at my watch, it was 12:25p.m. And no plane. There was no doubt boarding was going to be late. At around 12:50 or so, the aircraft was towed in. LH agents were still busy attending to other passengers and there was one lady who was handing out FF info cards for anyone who wasnít a Miles and More member. Boarding actually began at 1:10 or so without any order. It was everyone all at once.
Well, anyway, after boarding the 744, I looked out at the massive wing. I was really excited to be in a 747 again, it had been quite a while since I last flew in one (í01).
LH heavies at Concourses A and B. Taken from level 3 in B, T1.
Widebody mania...
UAL 744 just in, SAS M87 just out..
D-ABVU, "Bayern."
One of AC's 330's in c/s #5.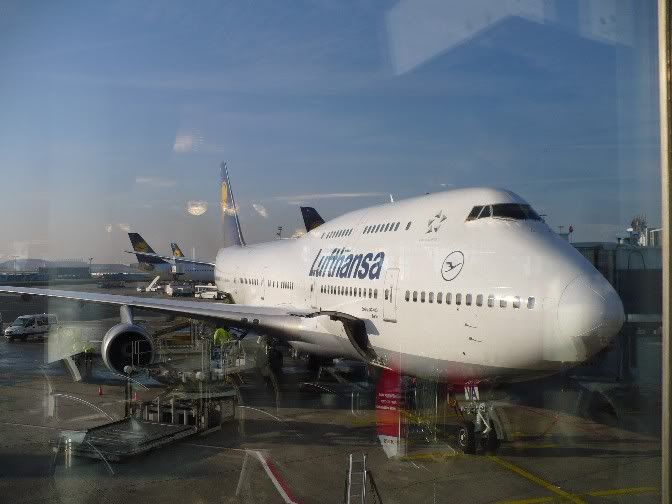 D-ABVA, "Berlin"-LH's oldest 744, del. in '89
NWA 330 headed out to DTW from 7L.
Condor 763.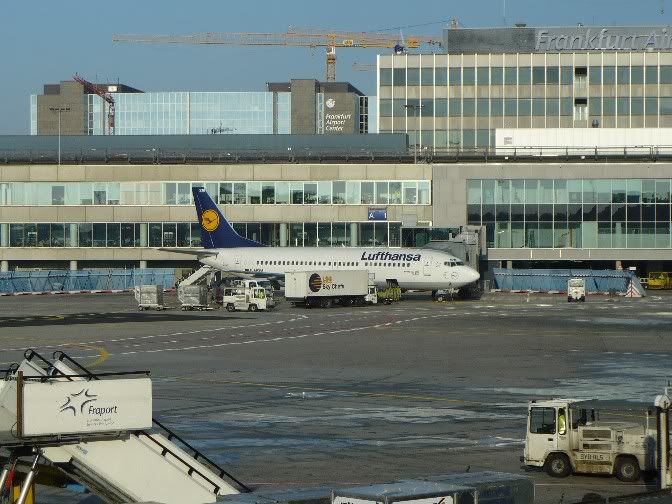 Bayern getting de-iced while a company 343 climbs out.
For some reason I got hooked on photographing Bayern... search me. lol
Tunis Air 320-200.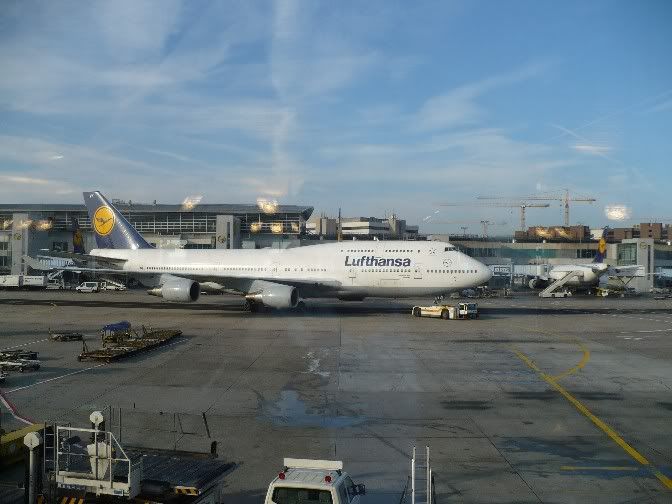 "Hannover" being towed to gate B22.
D-ABVK, my ride to BOM.
On board LH 756 to BOM.
Air Algerie 738.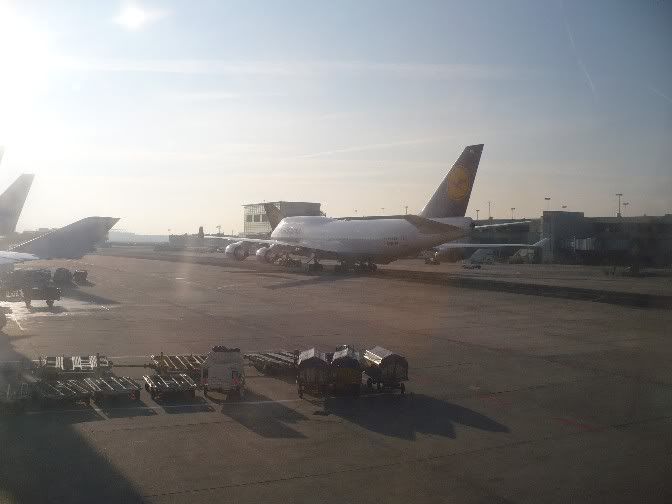 Sun Express 738. I'm guessing this is a charter carrier.
A smoky start-up. Yep, it was cold outside.
After pusback and startup, we started heading out to the active, passing by some interesting stuff.
Aegean 320-200.
Condor 320-200.
Gotta love the mirrored glass at FRA.
JAL Cargo's new bare-metal scheme.
Air Moldova 320-200.
My thinking was RWY 18 for takeoff, since itís the prefered runway for southern and eastern departures, but this time we wouldnít be taking off on 18. Because of stronger than usual northerly winds, no heavies were being allowed takeoffs on 18 (only stuff I saw using 18 was narrowbodies like 319s and 320s). This was my guess because of two things: I observed engine smoke blowing immediately southward after start-up, and the pilot himself said 18 was closed after takeoff (he also apologized for the delay). So we held short of 7L for a while, and after waiting for some jets to land, the throttles were pushed forward and we started heading out to BOM.
Flybe E145 about to touchdown alongside us on 7R, with some cargo 74' on the South Cargo ramp.
Airborne. Onboard LH 756, FRA-BOM. As you can see, RWY 7R is/was in the process of/has been re-surfaced to asphalt as well.
Contrails from the two starboard engines.
That was an awesome takeoff, with some aileron and spoiler input for crosswind correction. Todayís route would take us on an immediate SEstrly heading from FRA to north of Munich, then near Zurich, Istanbul, directly over Tehran, then Karachi, the Arabian Sea (close to the shoreline), before descent and landing at BOM. Total flight time: 7hr 50min. Not much to say about this flight except it was pretty routine, a dinner was served after reaching cruising alititude, I had the Asian Veg again. Unfortunately I donít remember much about the meal itself lol. Movie selection was some Bollywood film and Ratatouille again. I mainly stuck to looking out the window and reading the Magazin, or sleeping.
Heading off into the night with the wing flex clearly showing. On board LH 756, FRA-BOM.
Over the Alps.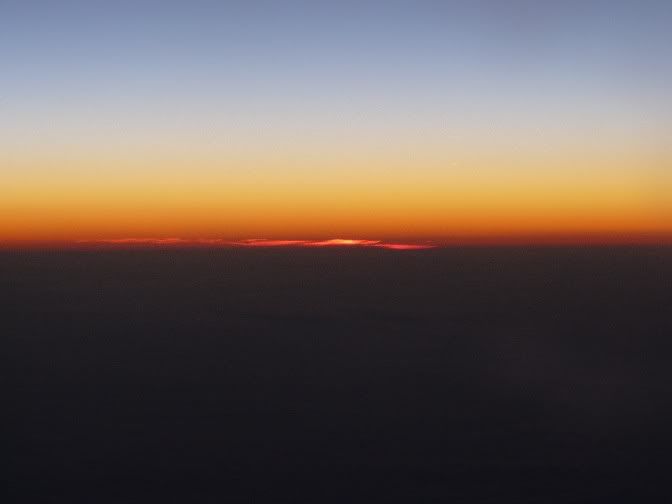 A nice sunset to cap it all off...
About 20 min before landing, a Briton sitting next to me struck up a conversation. He was travelling to India for the first time with a freind of his, nice guy. We mainly talked about how the weather is in India during winter and what he should expect to see, and how it is back home where he is from. Heís one of the ďglobetrottersĒ and loves travelling frequently. Soon enough, after some hefty spoiler deployment during which the aircraft shuddered decently, we were over the northern outskirts of Mumbai. Iíve had the experience of going over the same approach (as a pax of course) many times now, but it never gets boring. Flying to Mumbai at night is quite the experience. One thing I did notice though was that the FAs did not come around spraying insecticide like I had seen on AF before landing at BOM, interesting. Anyway, after coming in from the north, the PIC made the 90 degree turn to align with RWY 27. After a bit of a hard landing and some reverse, we headed back to Terminal 2. Parked a few gates away was one of Jetís new 773ERs, looked really awesome in the new livery. After exiting the jetway, I had some bad news awaiting me. LHís BOM staff had already been notified about some paxís bags which hadnít been loaded due to a mechanical problem with the baggage sorting system at FRA. A list had been posted immediately outside the entrance of the jetway, and wouldnít you know it, my name was on there. One of my bags didnít make it on the plane. Oh well, canít have it all can ya? I went ahead to immigration, which has been housed in section B of Terminal 2 (currently, no aircraft ops are carried out from that section). It took no more than 3 min. for me to get cleared, many lanes have been opened for both, Indian nationals and foreign visitors. The terminal itself has also been renovated quite nicely, with new flooring and ceiling panels, and new, much more clearer signage. Baggage claim was a completely different story though. It took about 20 min for one of the two bags to show up that had made it to BOM. Once I got it, I headed directly to LHís lost baggage desk, where there were several other pax. Once I got all the formalities done, I headed out to customs and I was accompanied by an airport agent, I didnít have to get my bag opened or anything, just passed it through the X-ray machine. After that I went out and met my mom and we headed home. I was tired lol.
Overall, not bad (certainly much better than AF/DL), but FRA officials seriously need to keep the basic facilities in check. IMHO, U.S. hubs are still much better equipped. Lufthansa on the other hand remains as efficient always, of course weather and ATC delays are out of its hands, but its pilots try to make time whenever possible. And I like the no-nonsense PTV-less service much better than carriers Iíve experienced before hand with PTVís.
LHís food quality as far as Asian Veg goes has gone down, LH used to have some of the best food in Asian Veg meals. Thatís it for Part 2.
Up next: One of my favourite airlines and a trip to Aurangabad, India. Thanks for reading!
Happy Flying!