SIN-TPE-SIN on CI (pics)
Hi all,
This is the improved trip report of the SIN-TPE-SIN i took during november. i have removed some images with horrible
quality. I'm sorry for the quality of some of the pictures and also, the spelling of some words.
The SIN-TPE report won't be as detailed as the TPE-SIN as SIN-TPE was somewhat a night flight and my lousy camera
was'nt helping.
well , here goes.
12 November 2007
sitting in the cab on the way to the airport. i was so excited ! This is my first time to taipei and my first time on CI and ALSO
my first time on the A330 ! I''m also very excited on trying the new A330 and of course , the IFE !
anyway, we arrived at terminal 2 as we wanted to get something to eat before proceeding to Terminal 1 to check in.
After getting some nice 'dim sum' at Crystal Jade, we heading towards swensens for some dessert.
The Ice cream walfer was .. the best i have ever eaten
.
We then headed for the skytrain towards Terminal 1.
Terminal 2.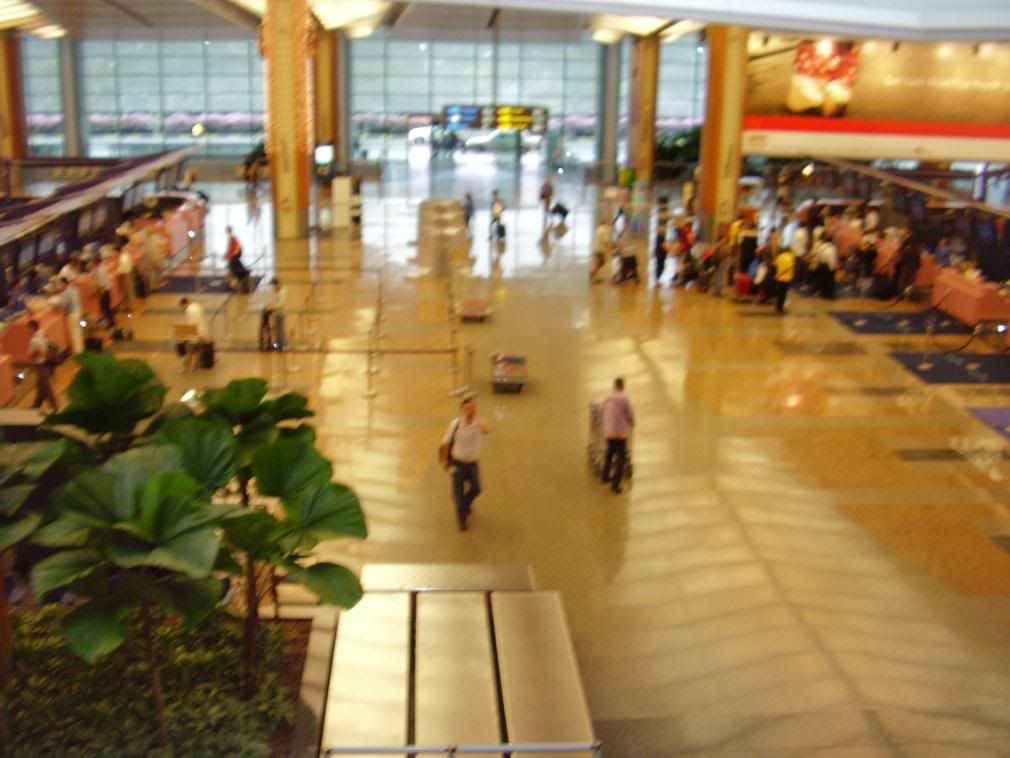 Blurry picture of T2 from crystal jade.
Once we exited the skytrain, we heading towards the China Airlines Check-In counter 12.
A China Airlines staff checked our baggages in and were presented our boarding passes.
i saw , SEAT: 30G. Seat G is in the Aisle so we requested for a windowseat.
There was'nt any so i thought this was going to be a full flight.
Anyway, we headed though immigration and i headed to the rest area which looks over gate D32,D34 etc.
There was a VN A321 sitting at gate D32 with reg VN-A345 while there was a IX 737 behind it. I could'nt catch the
reg but according to anet and wiki , its VT-AXF.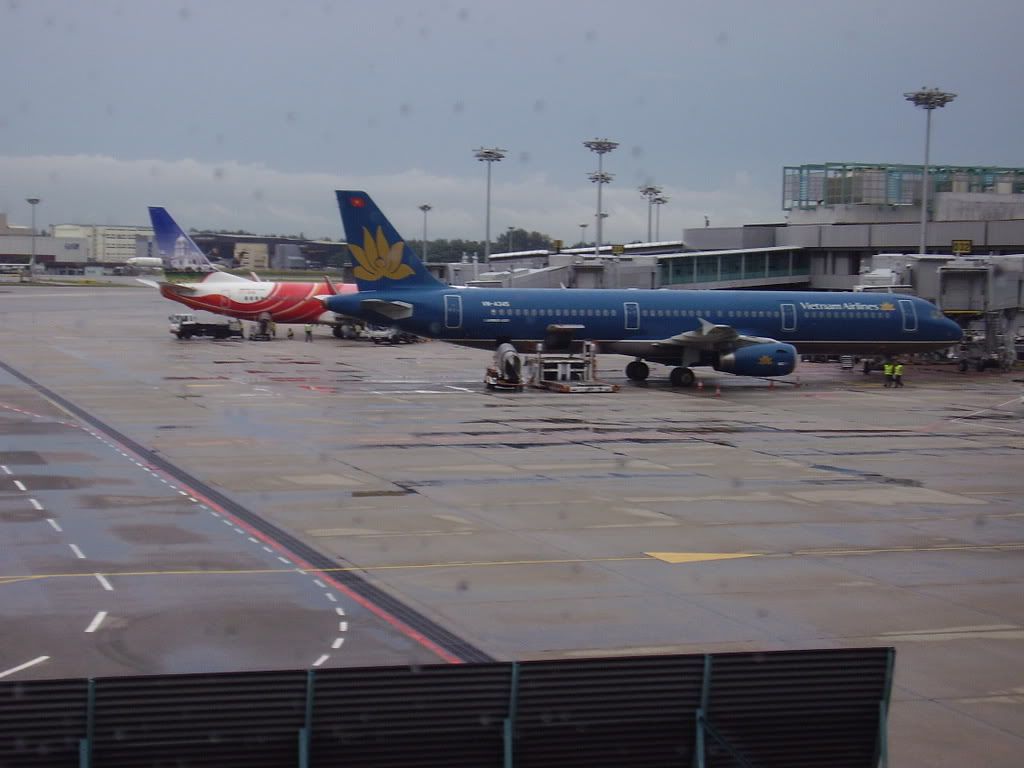 VN, IX
As i was looking, i saw landing lights in the sky heading towards the runway. I look and realised that it was SQ, and it
was the A380. I have a picture of it but the quality is very low if you see the previous version of this report.
After walking around and surfing the net, i decided to test if the changi airport website is accurate.
D41 it was on changi airport website, and so it is on the boarding pass! I also noticed that the remarks was 'Gate open' .
People has been saying that last call means boarding , so i bummed around
We then headed to D41 which was quite a long walk from the immigration . I would'nt say it was as long as gate E1 to E24!
There was already a queue at D41 so we went to the nearby shops to get last minute things . We then went through the check.
the officer stopped me while i was taking my bag and she took out a bottle of water from the bag. i forgot to throw it away!
Oh well, my mother drank it and we threw the bottle away. We walked down the jetbridge and i saw 'B-18310' on the nose wheel door.
12 November 2007
China Airlines
Flight: CI/CAL 662
SIN-TPE
ETD:15:15pm
ETA:19:50pm
Aircraft : A330-302
Registration: B-18310
Departure Gate : D41
Arrival Gate : A6
Seat: 30G
Flight time: 4hr 35min
We entered the aircraft and headed to row 30 .
A look at the cabin which looks like it had just been delivered . The aircraft was fairly new and it was about 1 yr old being delivered on 2006/01/02.
Blurry pic of the seat beside me . The point is still there.
A better picture which was taken later in the flight.
First sign of the taxi began when we felt the plane push back. The safety video was being played on the PTV.
I looked infront of my row and i saw a boy with the front view cam on his PTV, so i turned it on too.
The quality of the cam was not bad and we took off behind a SQ B777. The take off roll was very loud as the engines spool up,
but as we were airborne, it was not as loud.
We leveled off at our cruising altidute, The FA's went around with drinks while i played with the PTV.
The PTV was excellent though, especially the touch screen feature which makes it easier for unresponsive handsets.
Here are some pictures of various stuff ( sorry for the quality but the point's still there)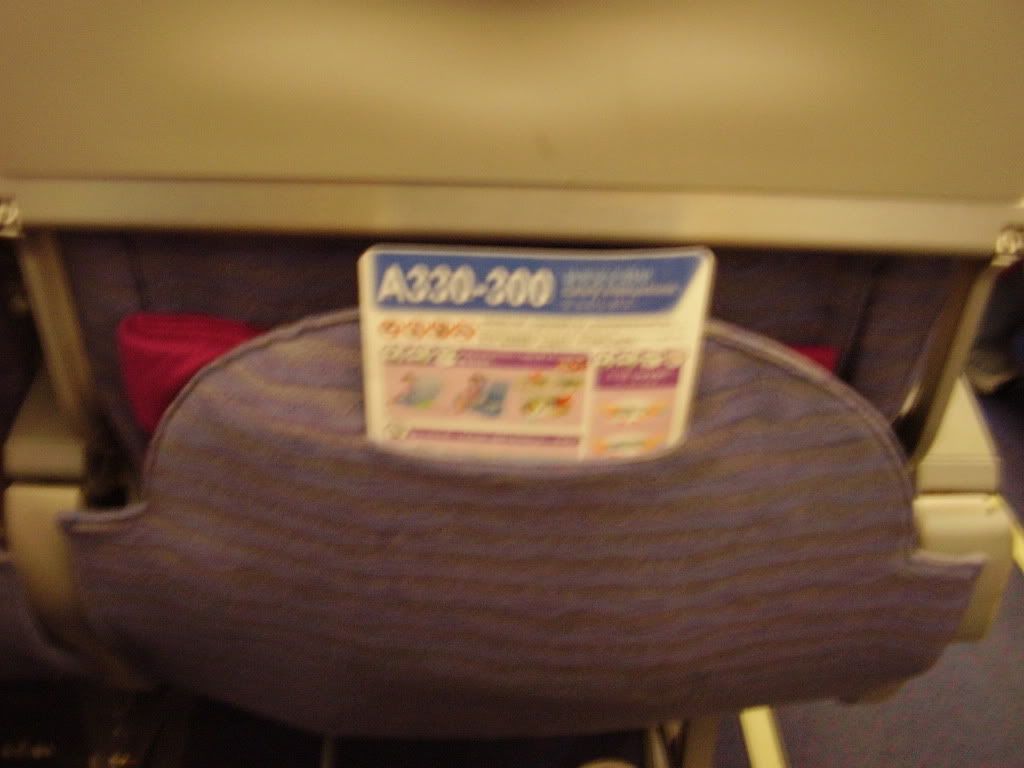 Seat pocket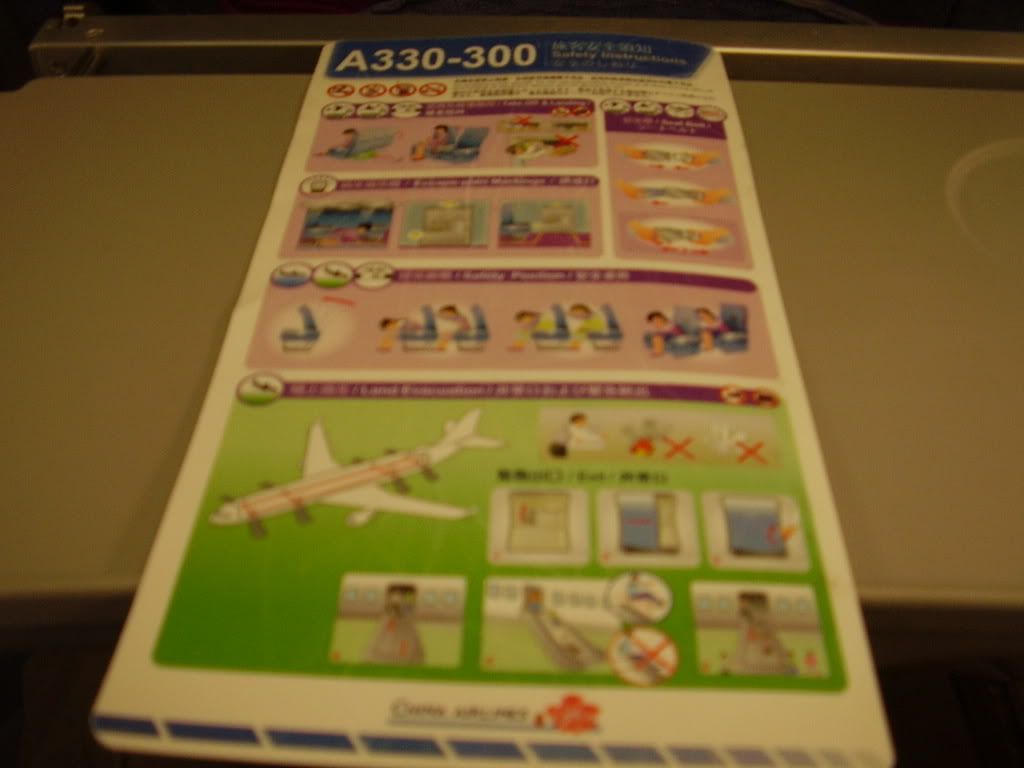 safety card (front)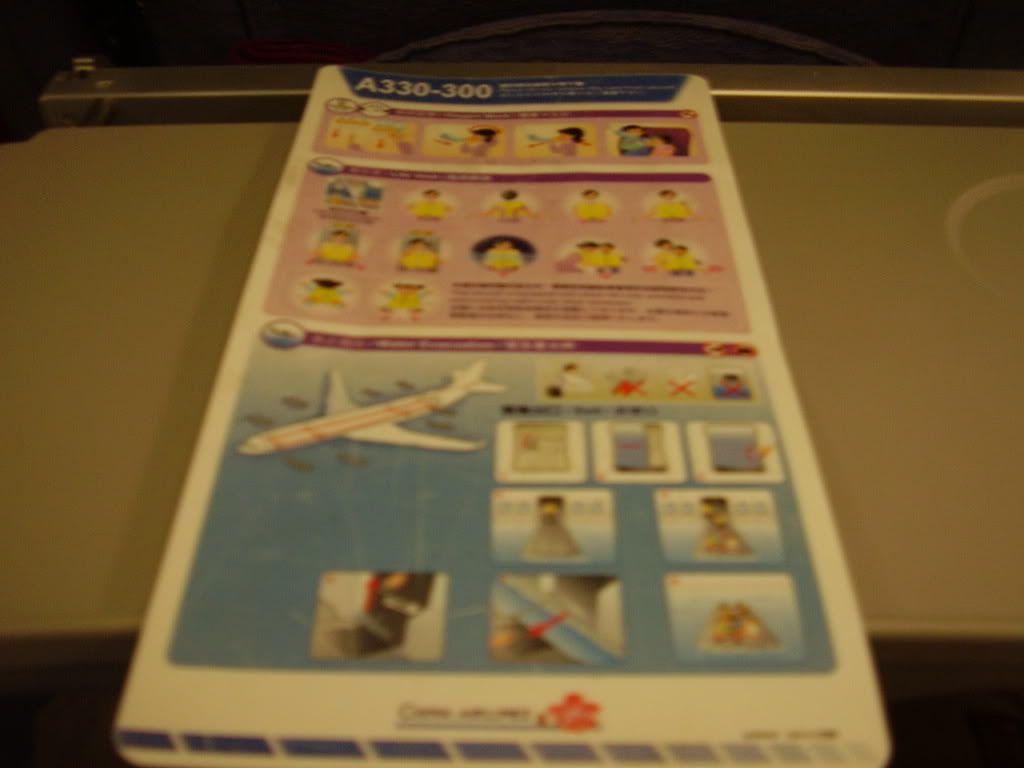 Safety card (back)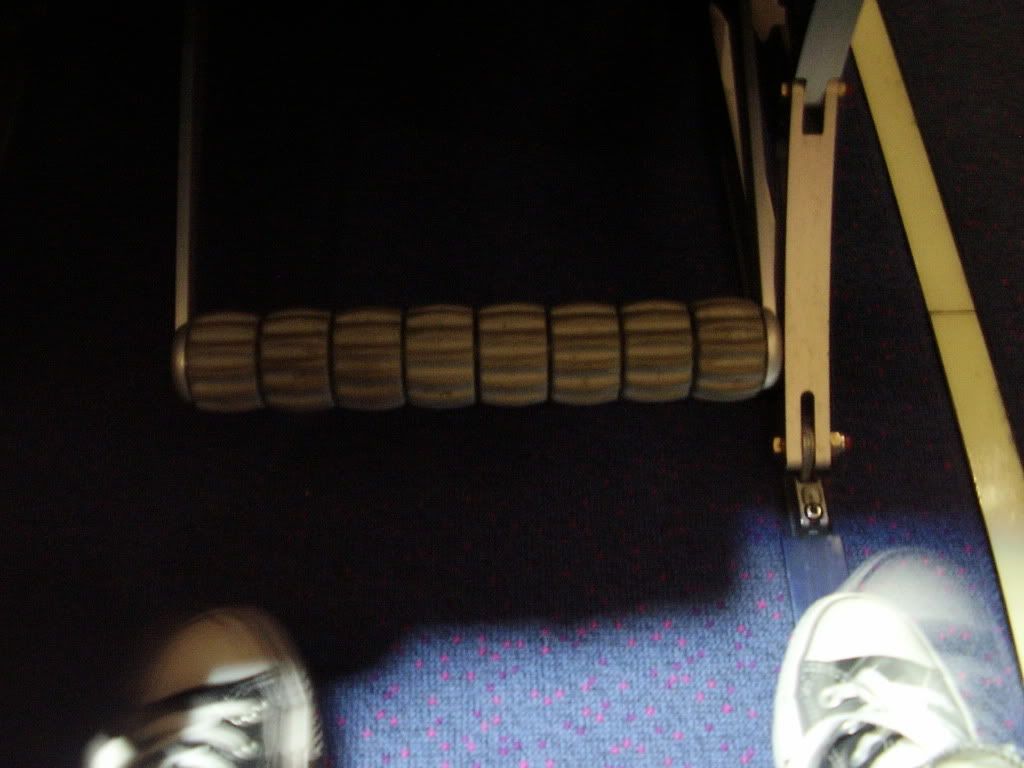 Leg rest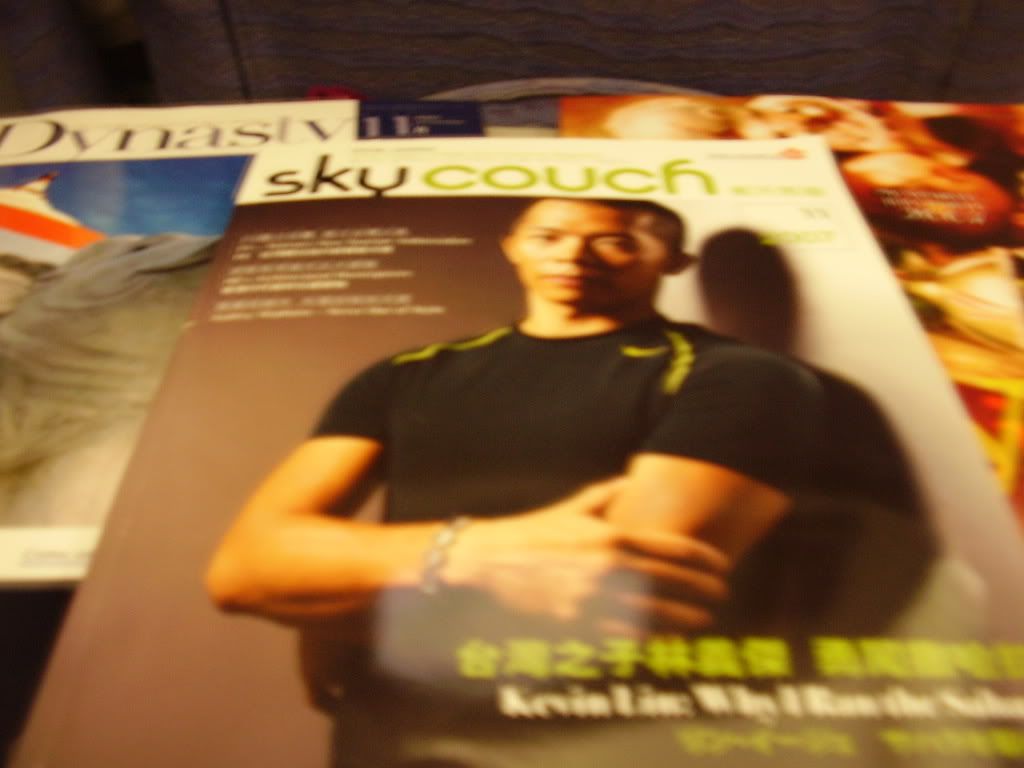 magazines in the seat pocket. (dynasty, Skycoach and something else)
The seats were very creative with a pocket holder maybe for spectacles on the right and a mirror on the left.
The FA's soon came with food ! First experince with CI's food !
Surprised that no menu cards were given anyway we had a choice of Chicken or fish . I have never like fish so i went
with the chicken.
the tray when given.
Well , CI's catering was.. OK.
The tray consists of ,
Chicken with potatos , carrots and beans.
A bun
cheese cake
fruits
something like a starter. something like ' bee hoon'
Cutlery (fork,spoon,knive)
The chicken, potatos were hard but the cheese cake was nice.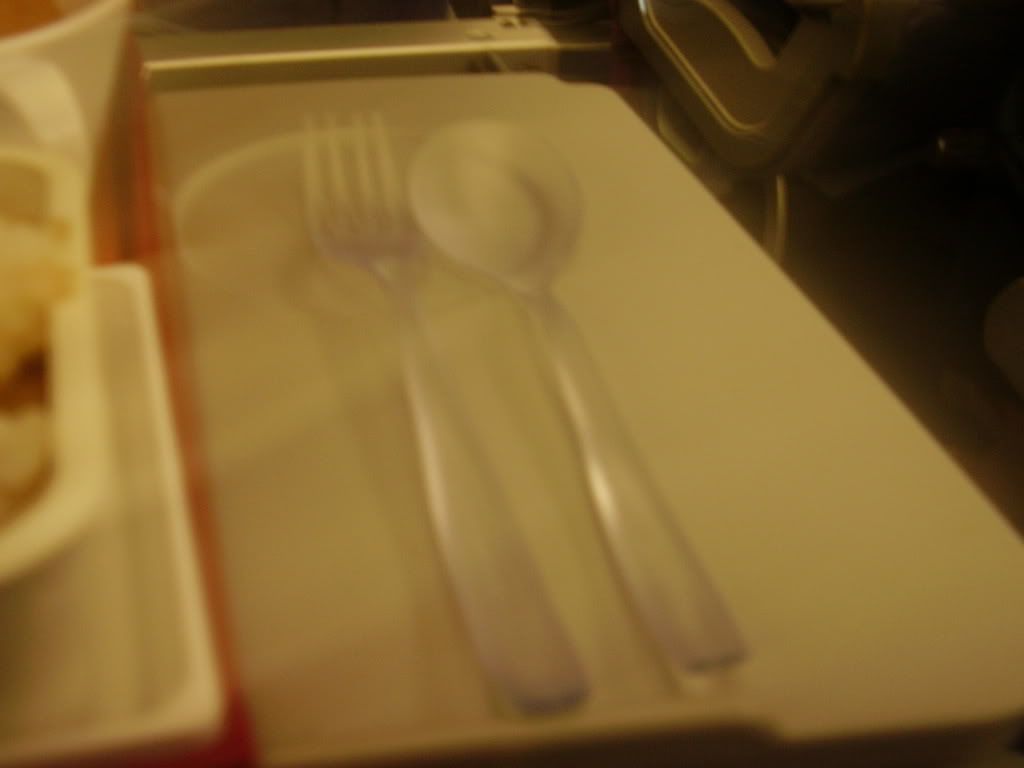 Cutlery (knive not shown)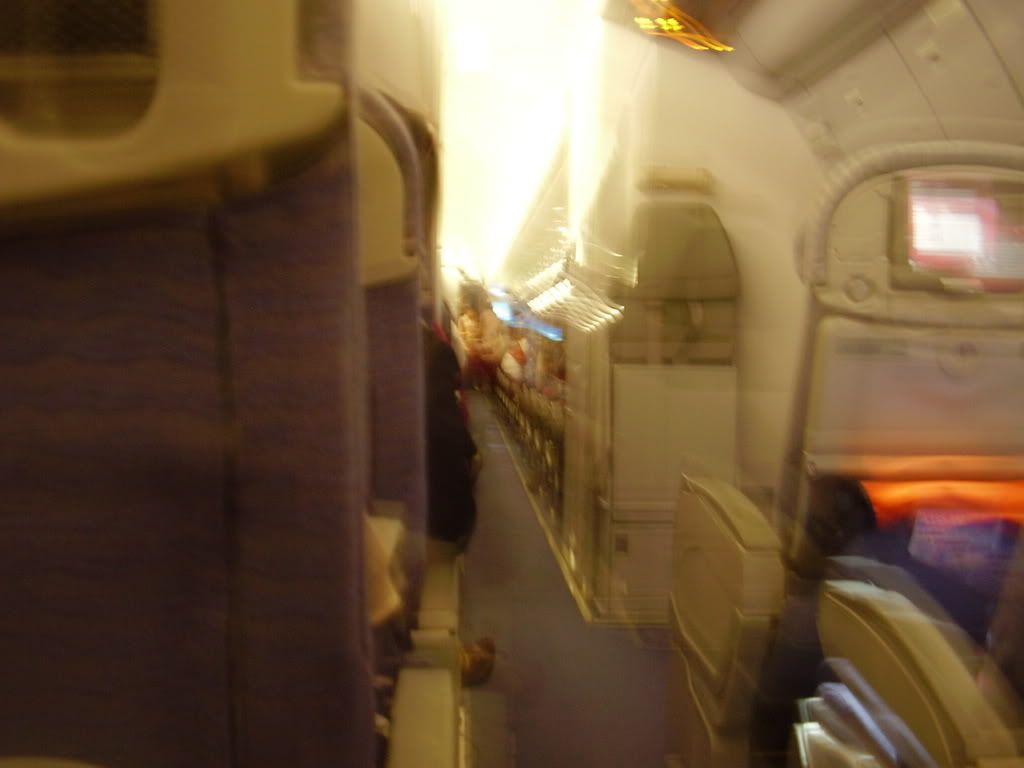 blury pic of the side.
Next stop was the TOILET !
I went to the toilet beside the last door on the right.
The toilet was clean and neat.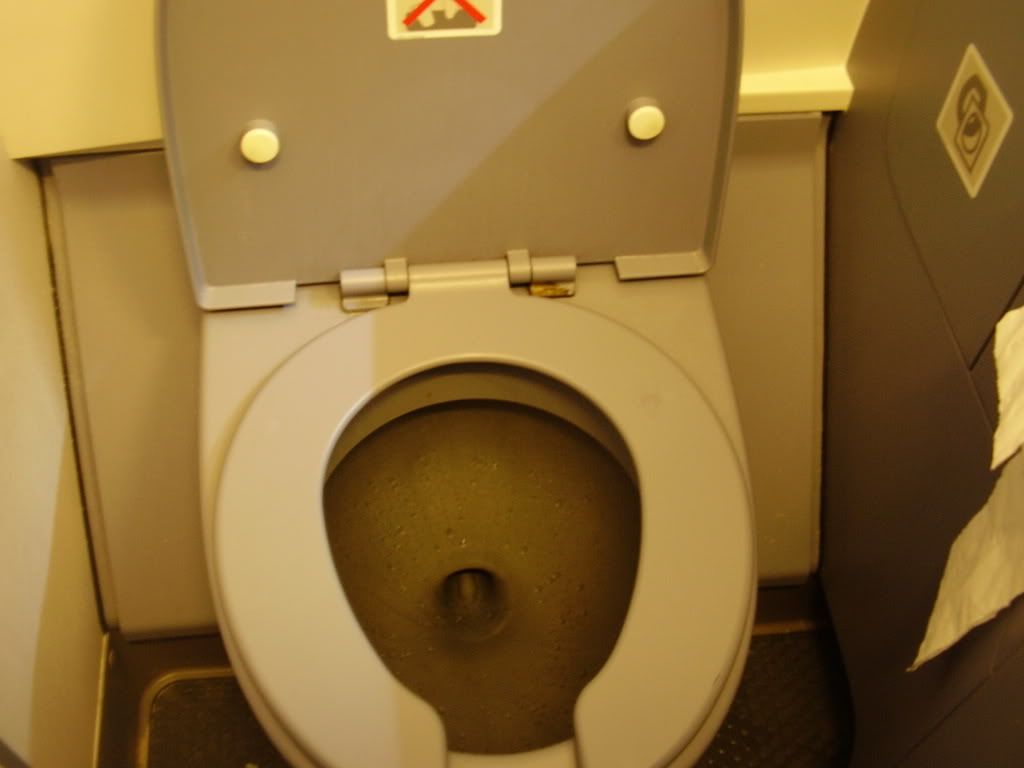 clean toilet bowl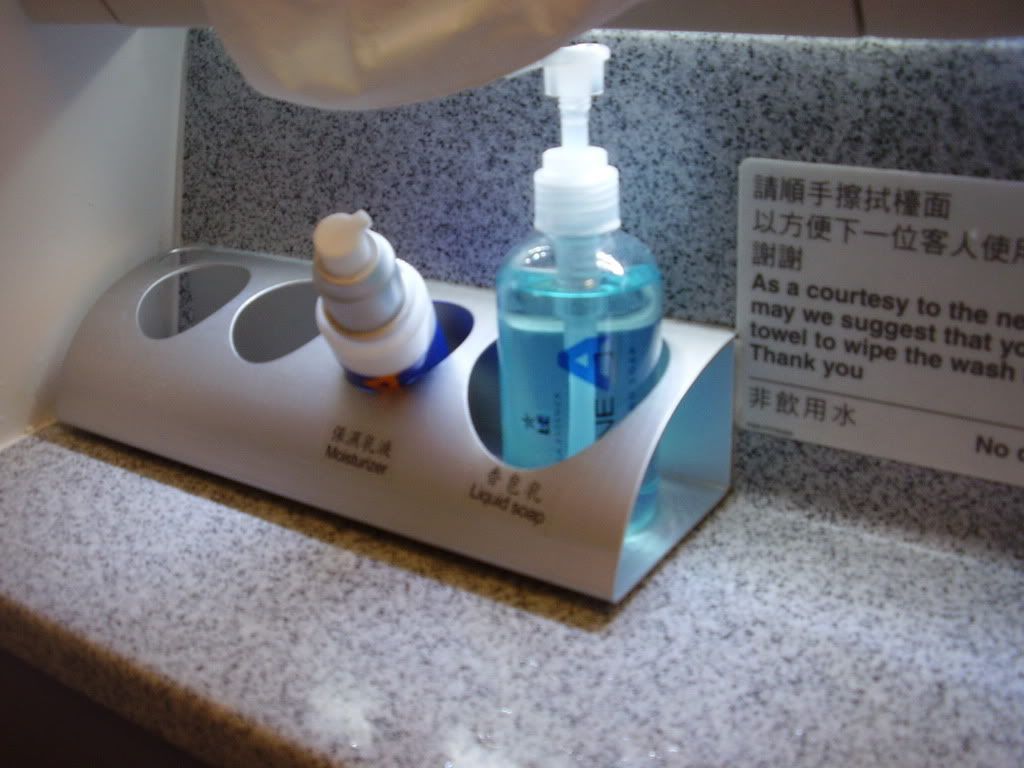 Moisturizer, Liquid soap.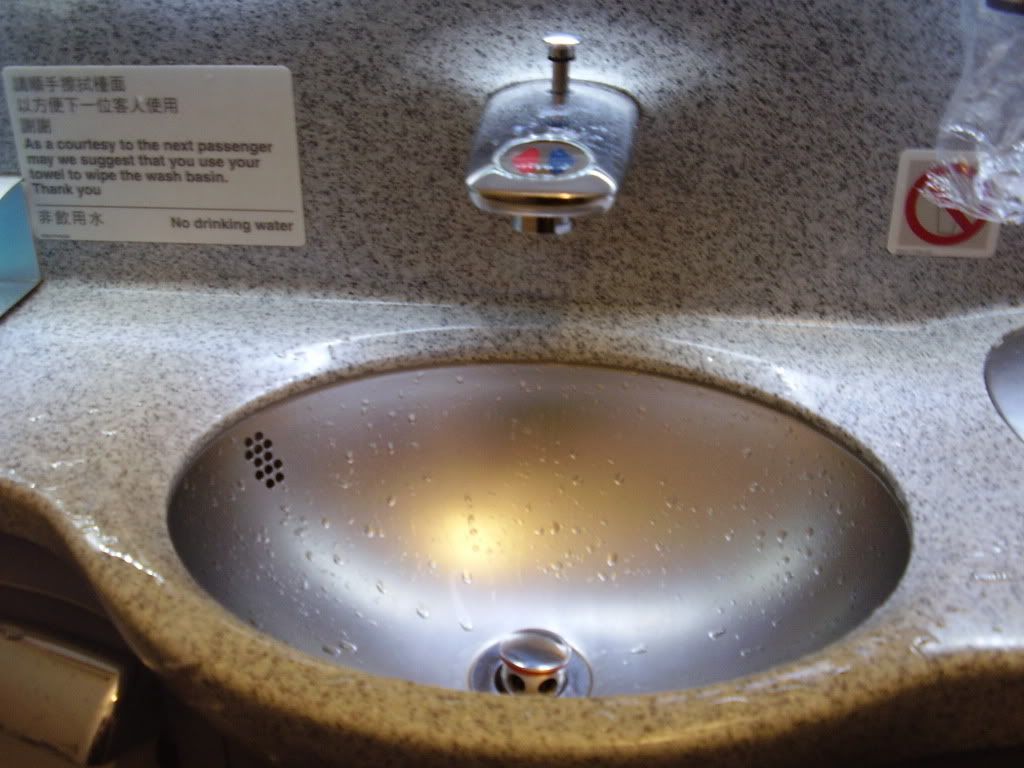 clean sink.
Soon, i returned to my seat as the captain turned on the seatbelt sign as there was turbulence. Damn,
my camera then went out of battries.
Reminder: Always remember to charge/ bring new battries before your board a flight .
I could'nt take anymore pictures but anyway we were near TPE and we soon commenced our descend.
I glanced out of the window on the right and i could see the lights in taiepi. We then landed on the runway and
began our taxi to the gate.
We docked at Gate A9 and deboarded. Immigration line was loooooooooooong and had to wait a long time before
we were cleared. Suprisingly, the bags were'nt out yet .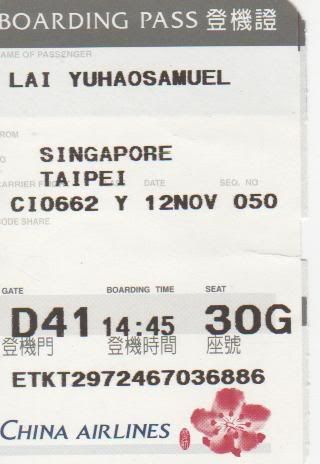 My Ticket.
SIN check-in = 10.0
Boarding = 8.5
Aircraft = 10.0
cabin = 9.0
IFE = 9.0
crew = 10.0
catering = 8.5
TPE immigration = 7.5
Return trip below.
After spending 8 days in taipei (including the 12th and 19th), we were heading back to singapore .
19 November 2007
I woke up at 5.30am , got changed and finished some packing. Checked out of the hotel and head towards the tour bus
that would take us to TPE .
There was a traffic jam and we were worried that we would'nt make it in time but everyting turned out fine.
JL,FAT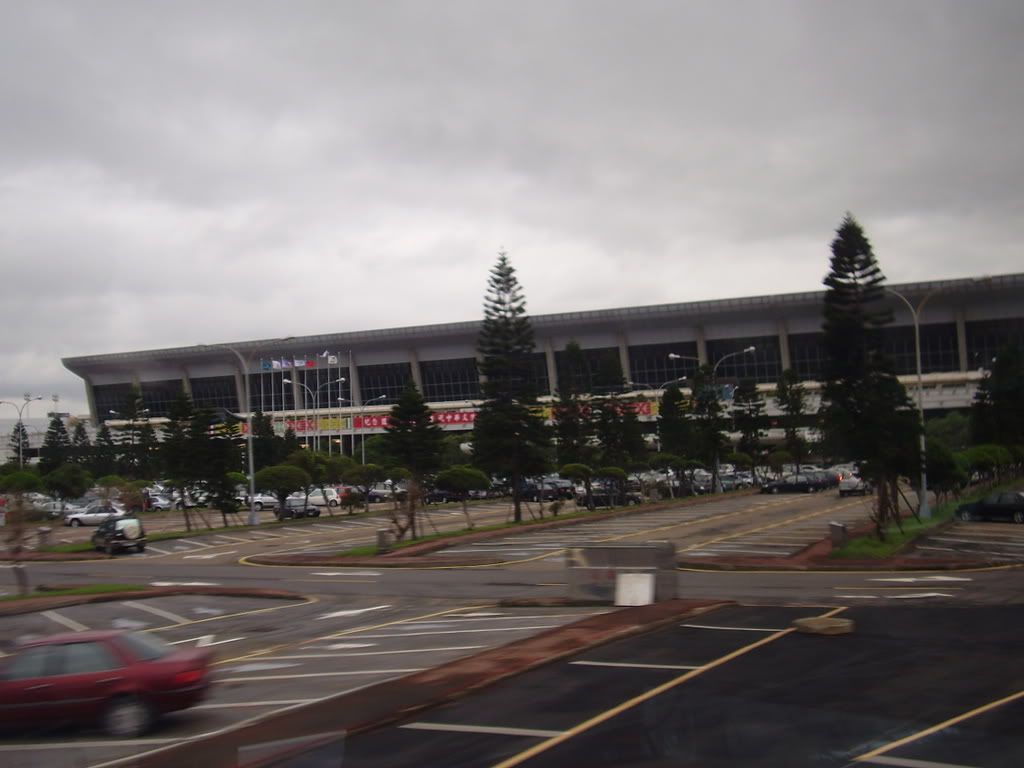 The Terminal from the outside.
We had alot of luggages to check in.
3 pieces of luggage, 2 BIG boxes , 2 Small boxes and a painting.
The tourguide got everything settled for our return trip and we bade farewell.
Flight information.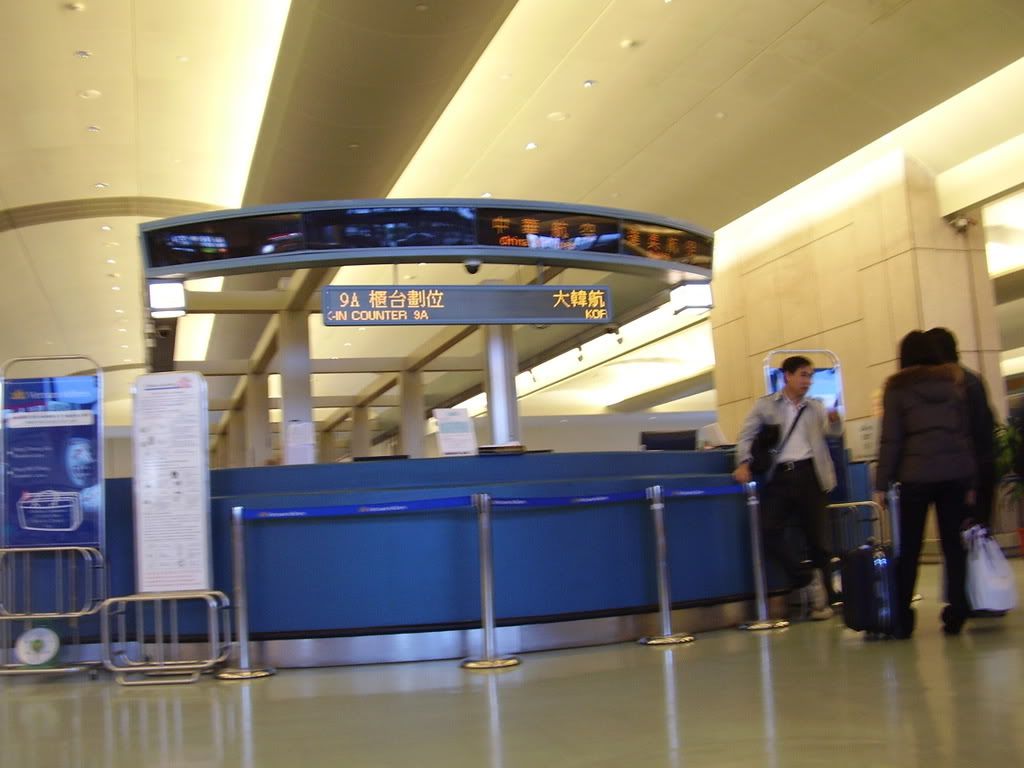 a check in counter
We then headed thru immigration which was light on that early morning.
We went to eat and after eating, we went to shop although there was'nt many shops in T1.
I chose to go to gate A9 straight away as i did'nt like shopping.
There was a CI 747, 333 pushing back from the nearby gates.
our aircraft has not arrived since CI 160 to ICN was still at A9 . I found it boring so i went to find internet!
all the internet kiosk were full and after somewhat like 10mins, i returned to Gate A9 .
CI 160 was gone but the aircraft for CI661 has not arrived. Oh well.
I then went back to find my parents and heading back again to A9. I saw a tail at A9 and realised that the aircraft operating
CI 661 was B-18311, the Fruit Scheme.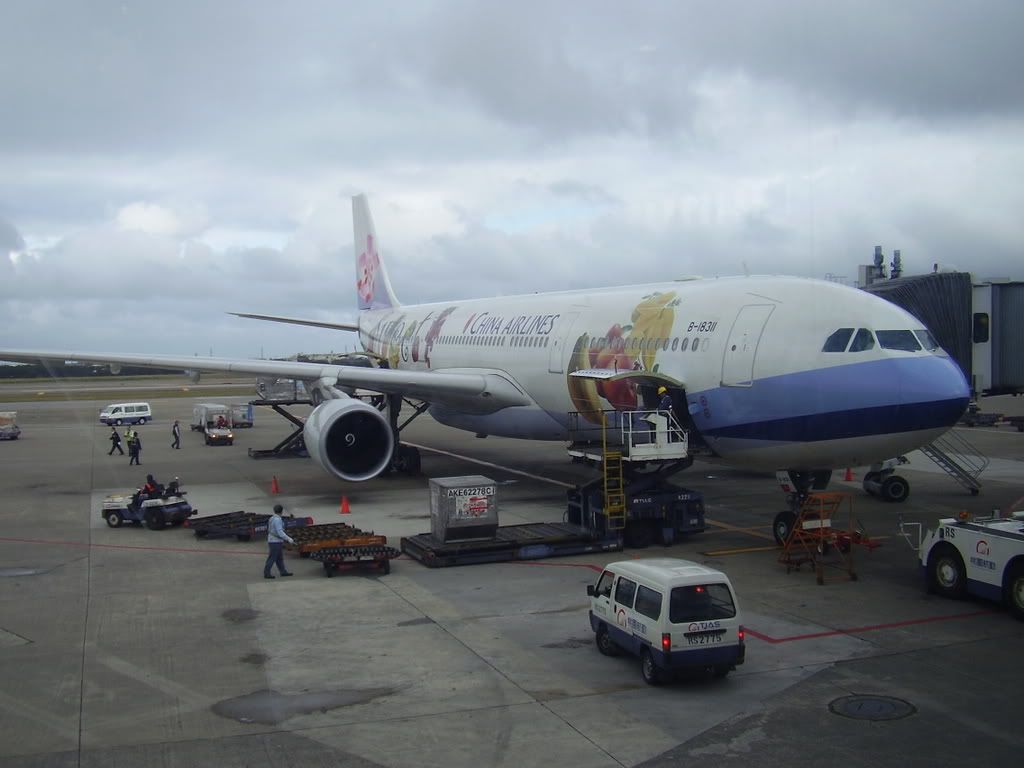 B-18305 beside A9.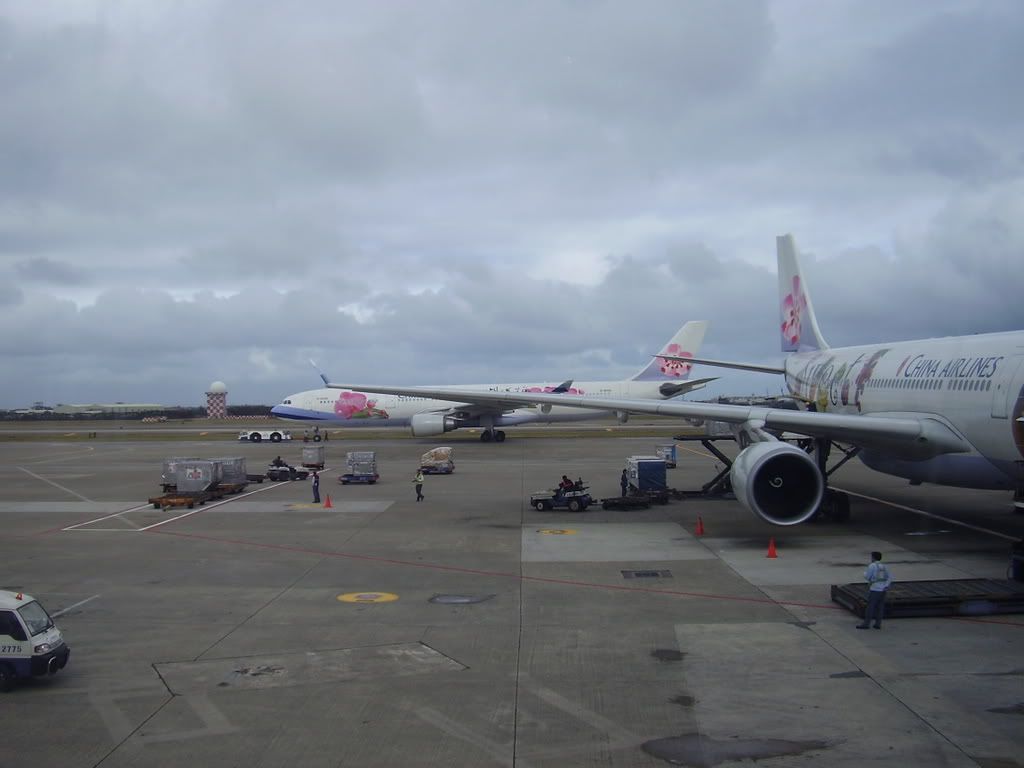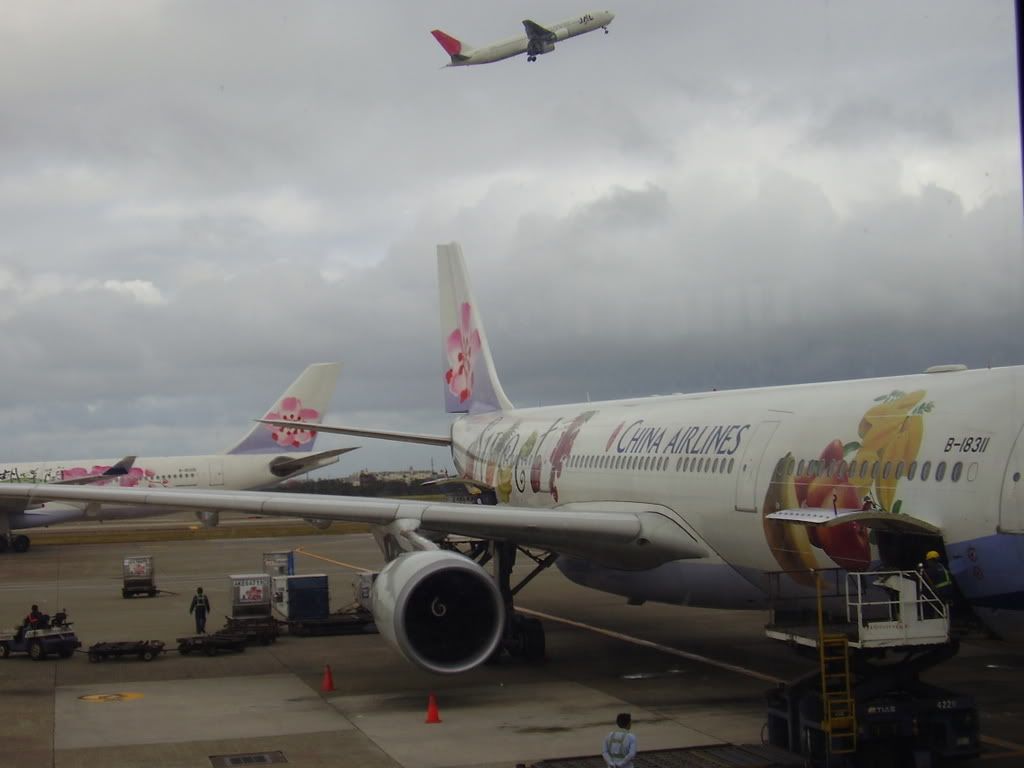 B-18311,B-18305 and a JAL aircraft
Soon, the flight was called for boarding via rows if i'm not wrong .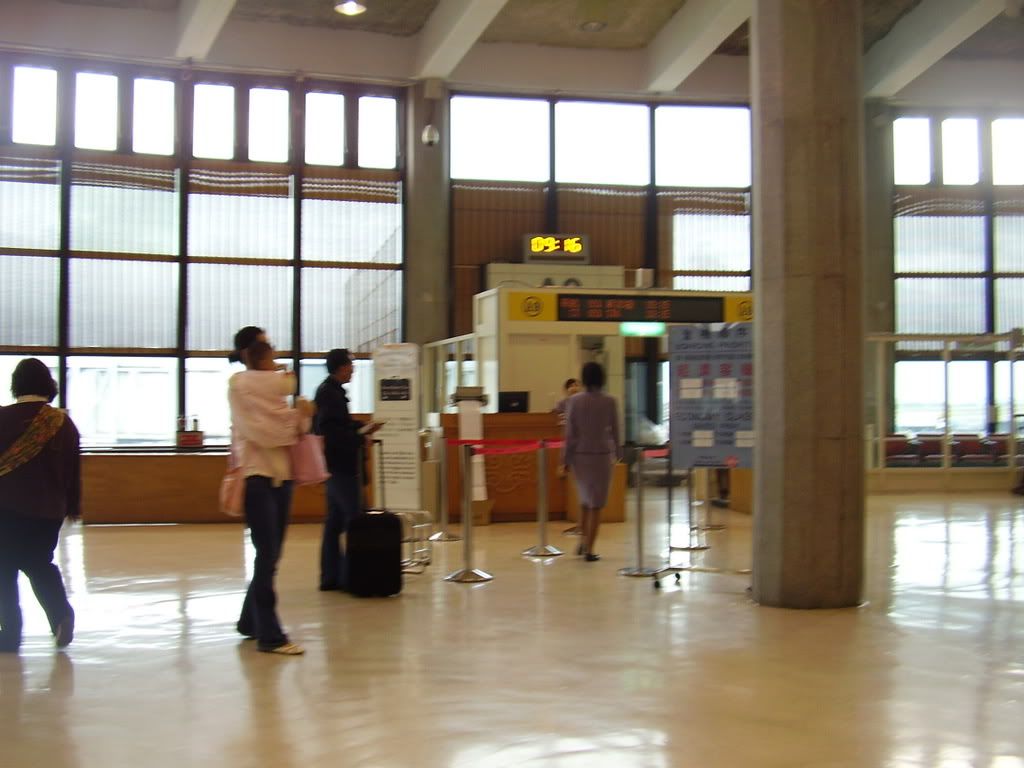 Gate A9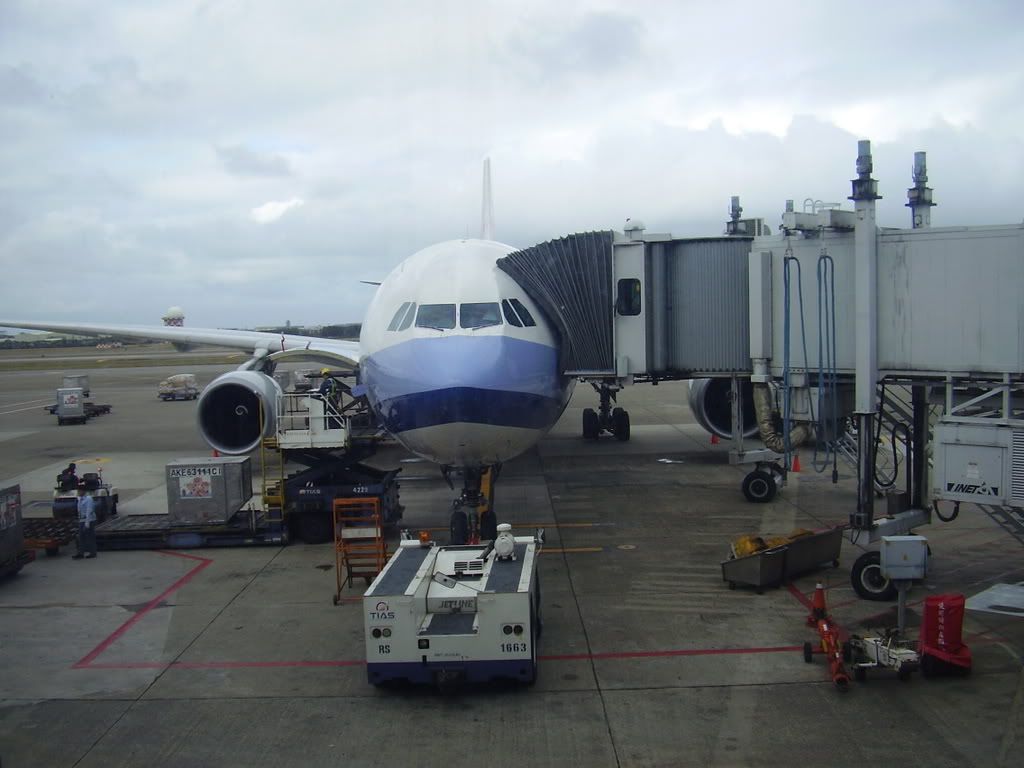 Nose
19 November 2007
China Airlines
Flight: CI/CAL 661
TPE-SIN
ETD:09:35pm
ETA:14:15pm
Aircraft : A330-302
Registration: B-18311 (Fruit Scheme)
Departure Gate : A9
Arrival Gate : D44
Seat: 38J moved to 37B moved to 37A
Flight Time: 4hr 40min
walking down the jetway.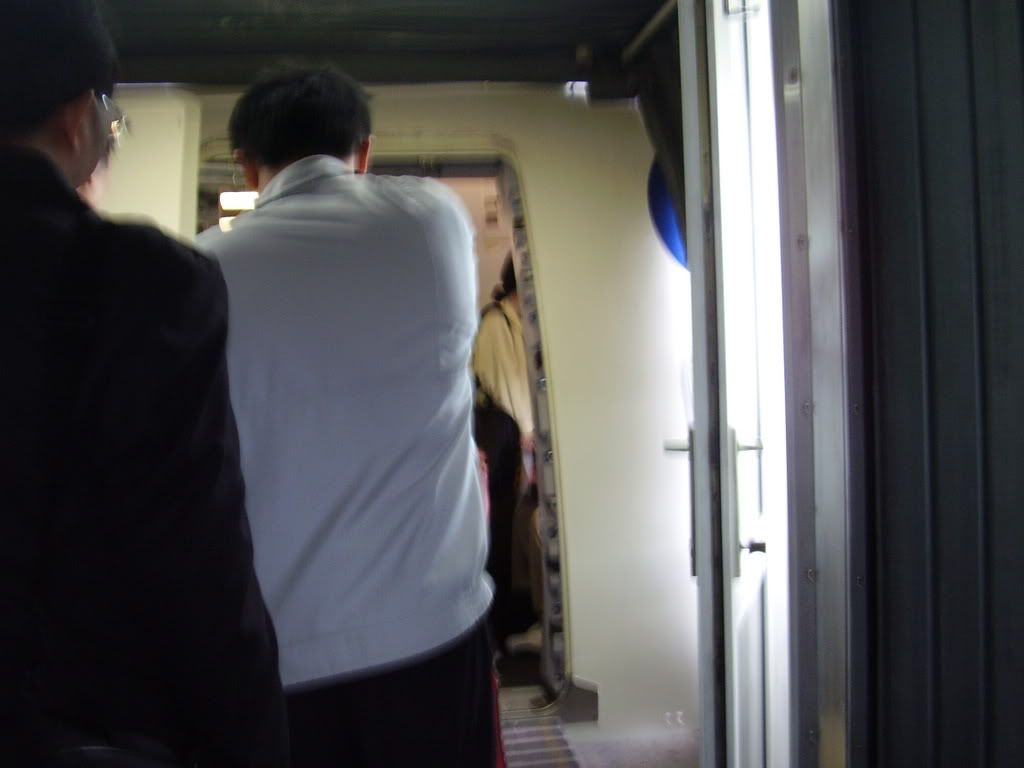 just before entering the aircraft.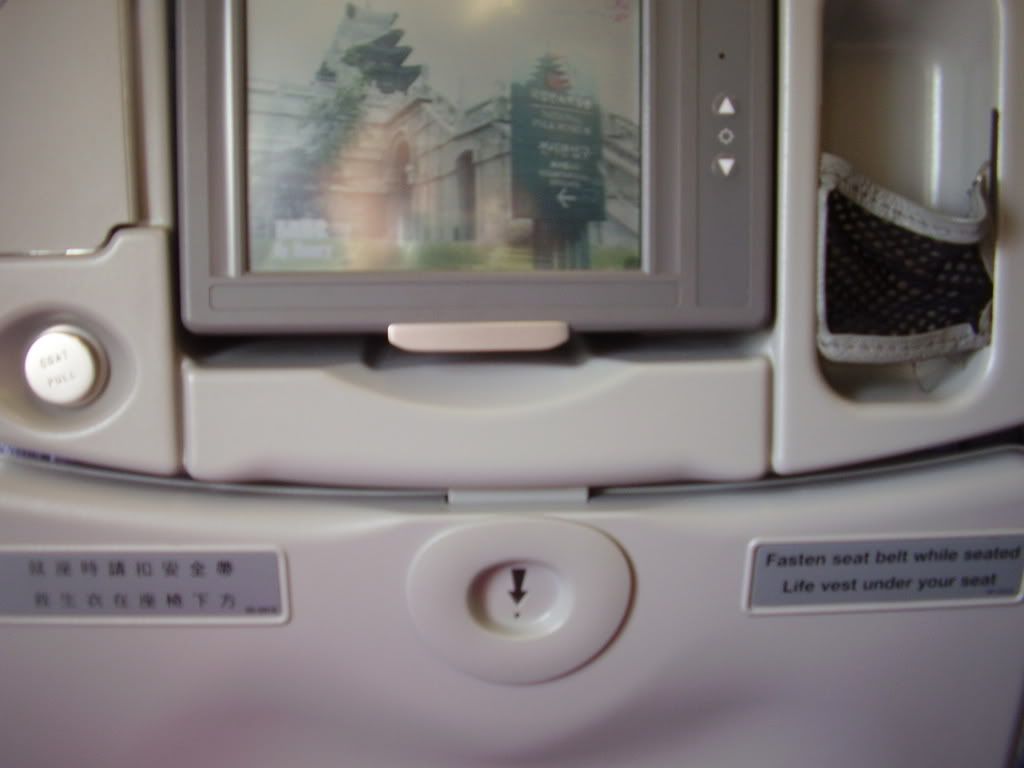 PTV
B-18311 was fairly new too being delivered on 2006/01/02
first shot out of the window.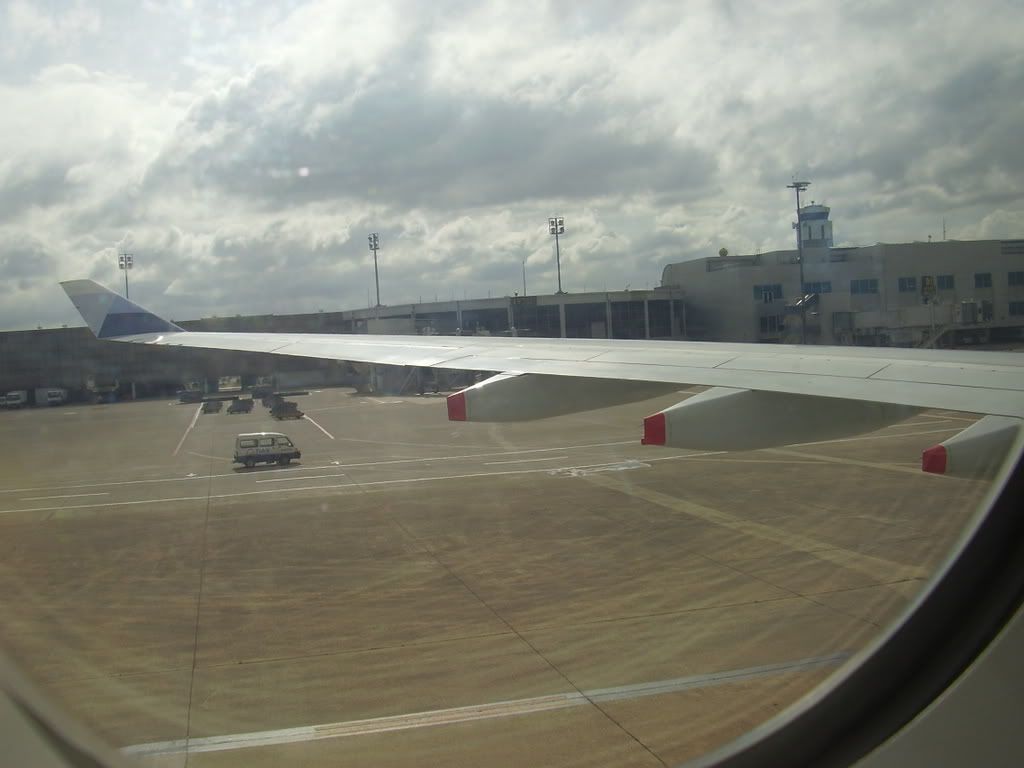 pushback.
taxiing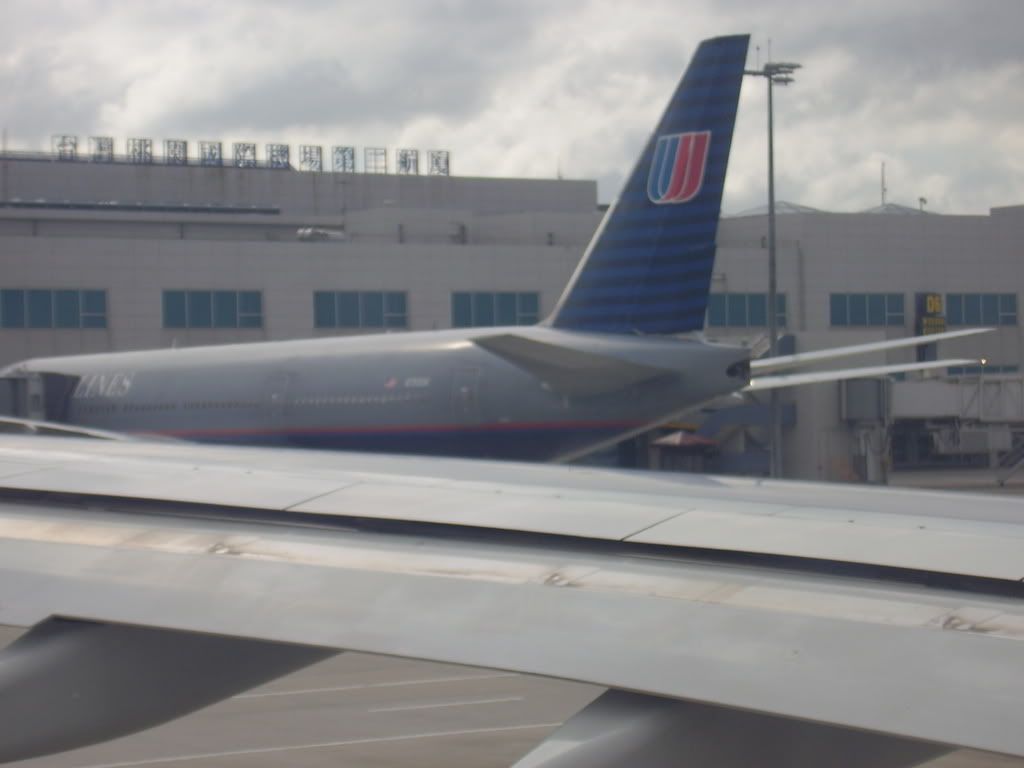 passing by a UA Aircraft.
We then held short of the runway for an EVA Air cargo MD- 11 to land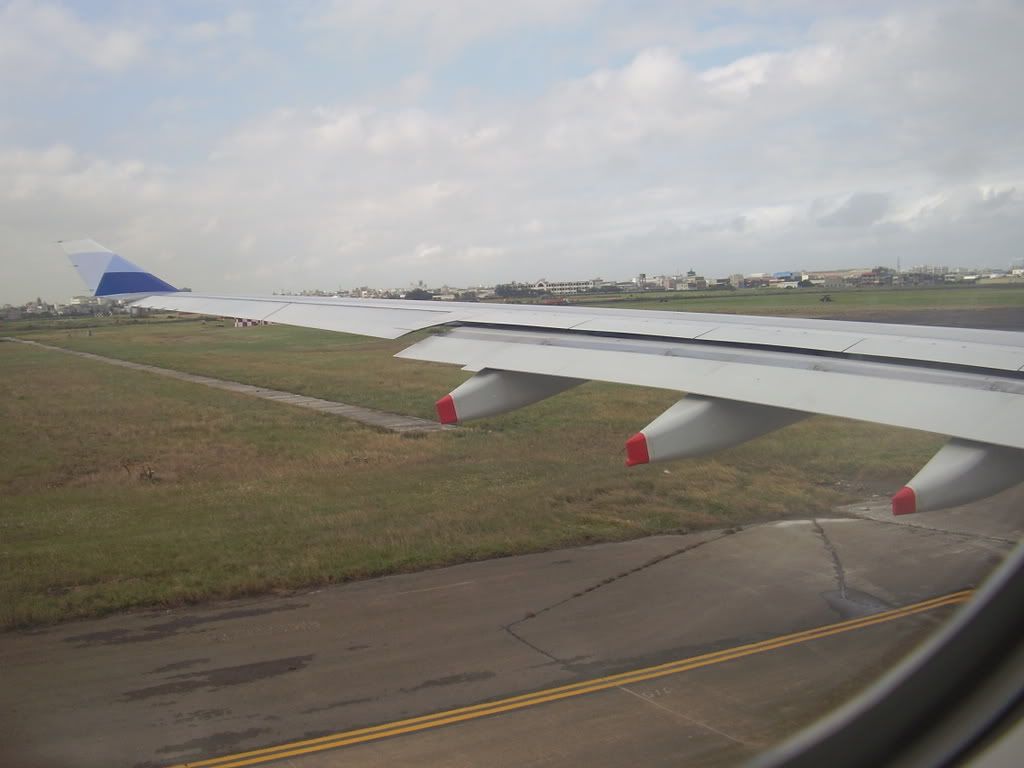 holding short.
EVA air cargo coming in.
We then turned and the engines spool up, soon we were in the air.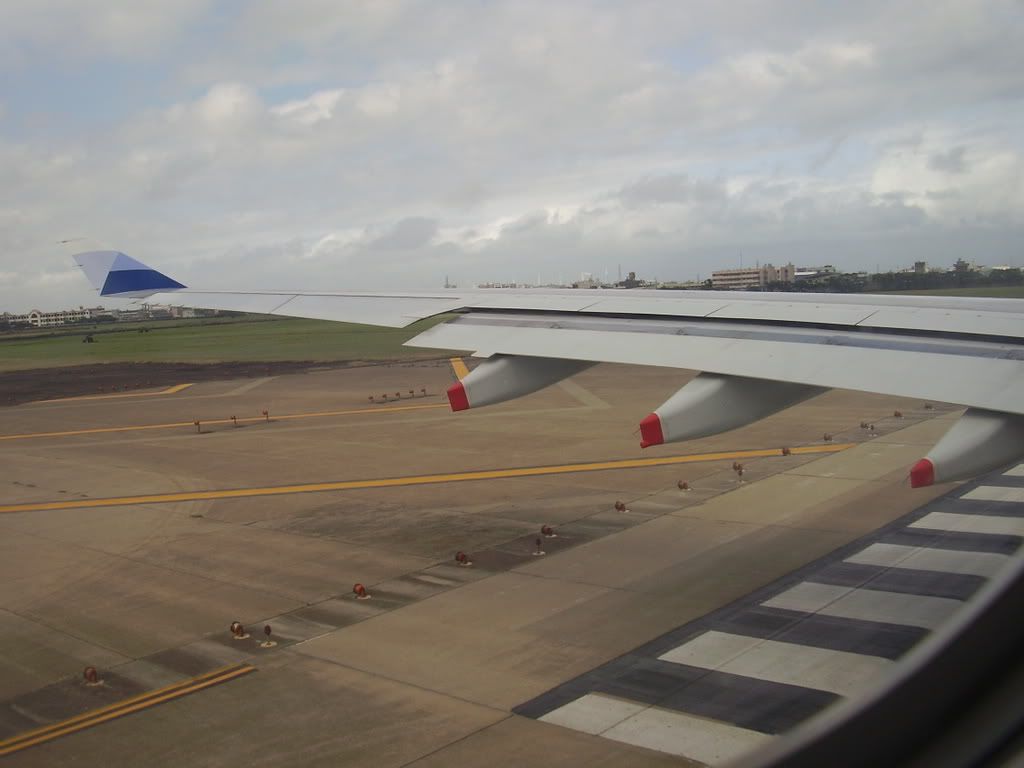 The Take off was'nt as loud as B-18310 but B-18311 seems smoother.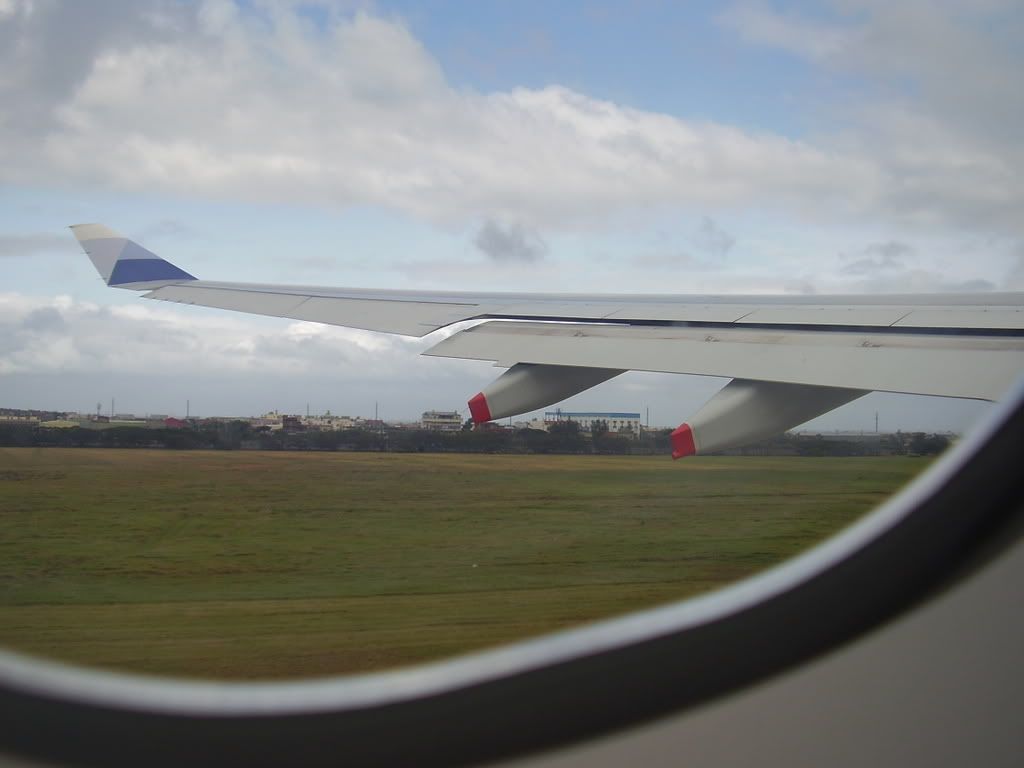 Take off!
off we go
We then made a right turn to head towards singapore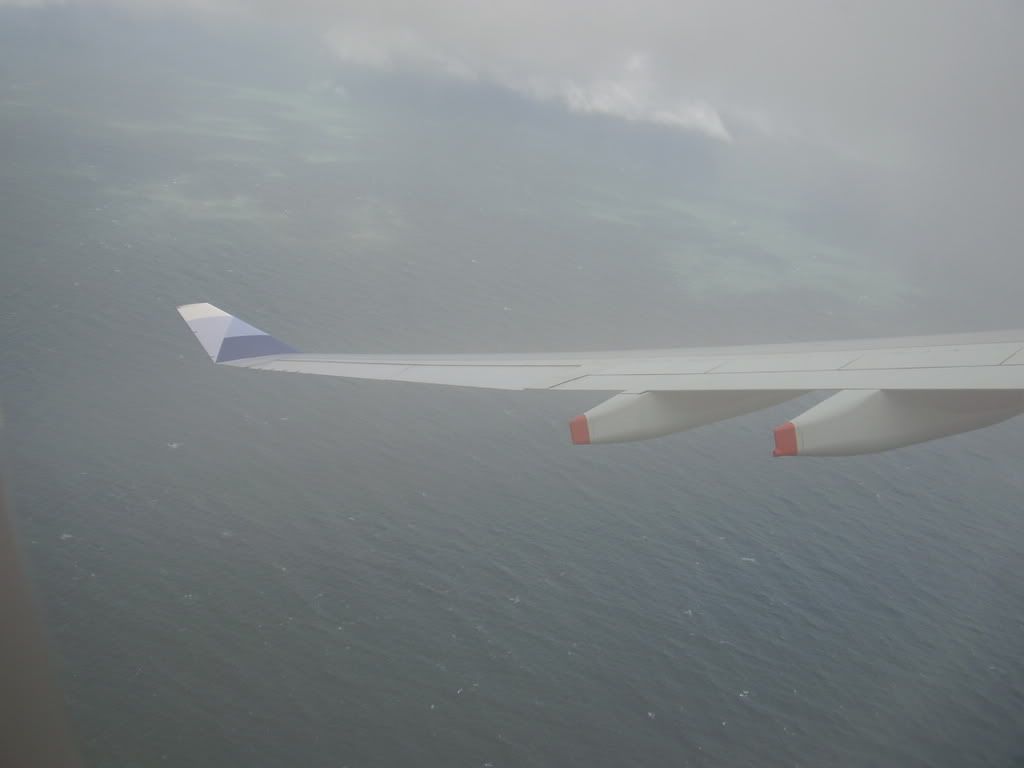 making a right turn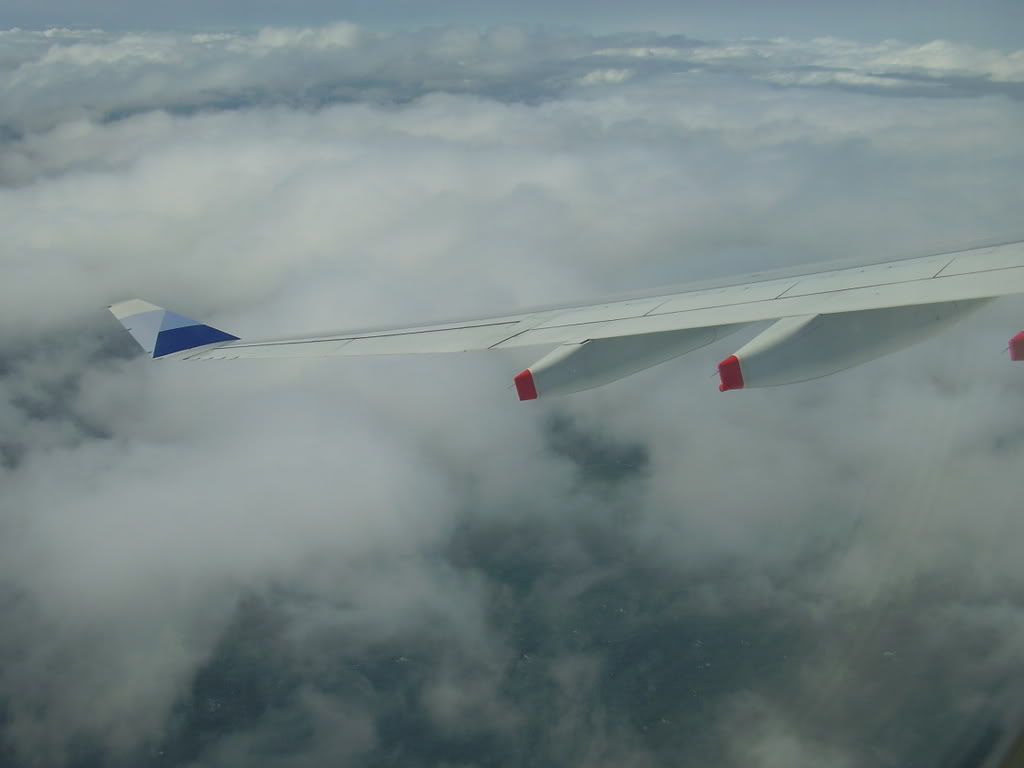 above the clouds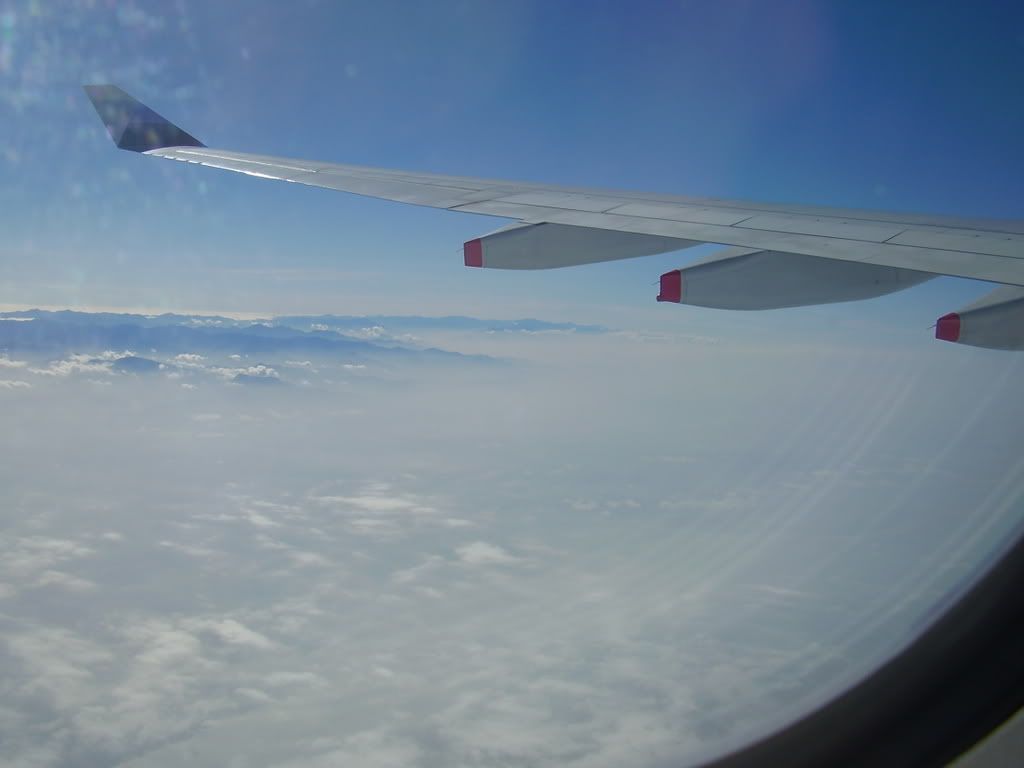 Cruising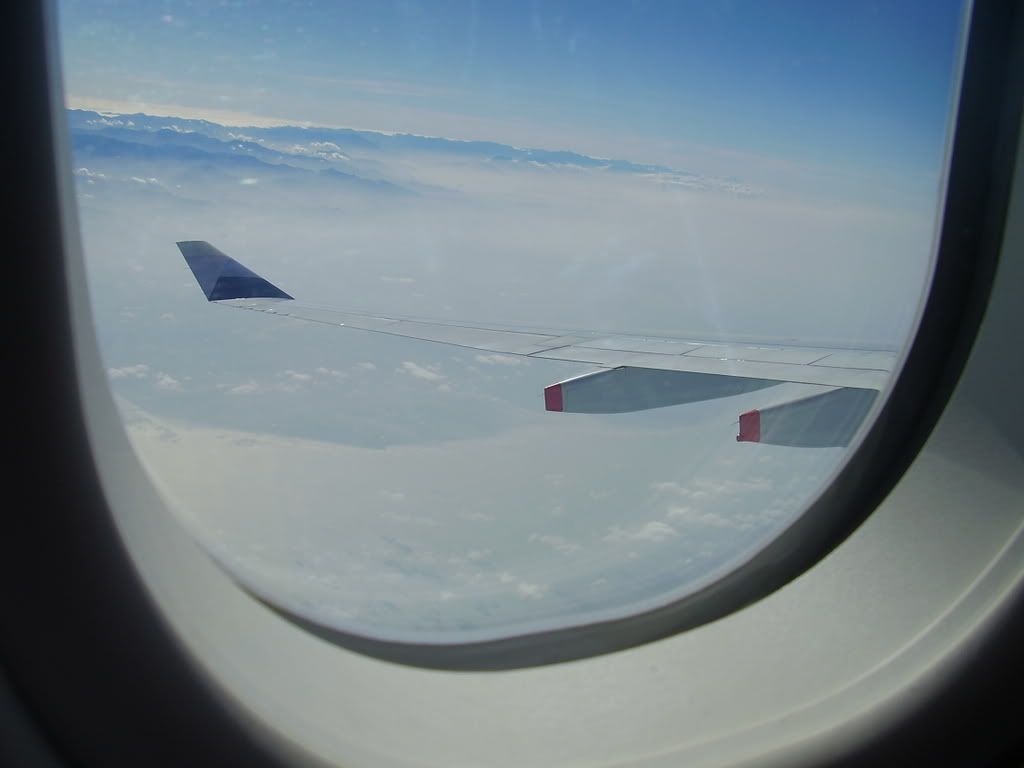 another angle.
Soon the FA's started drink service and after about 1hr, they started to serve food. Again there was'nt any menus and
the choice was chicken or fish. chicken for me again.
tray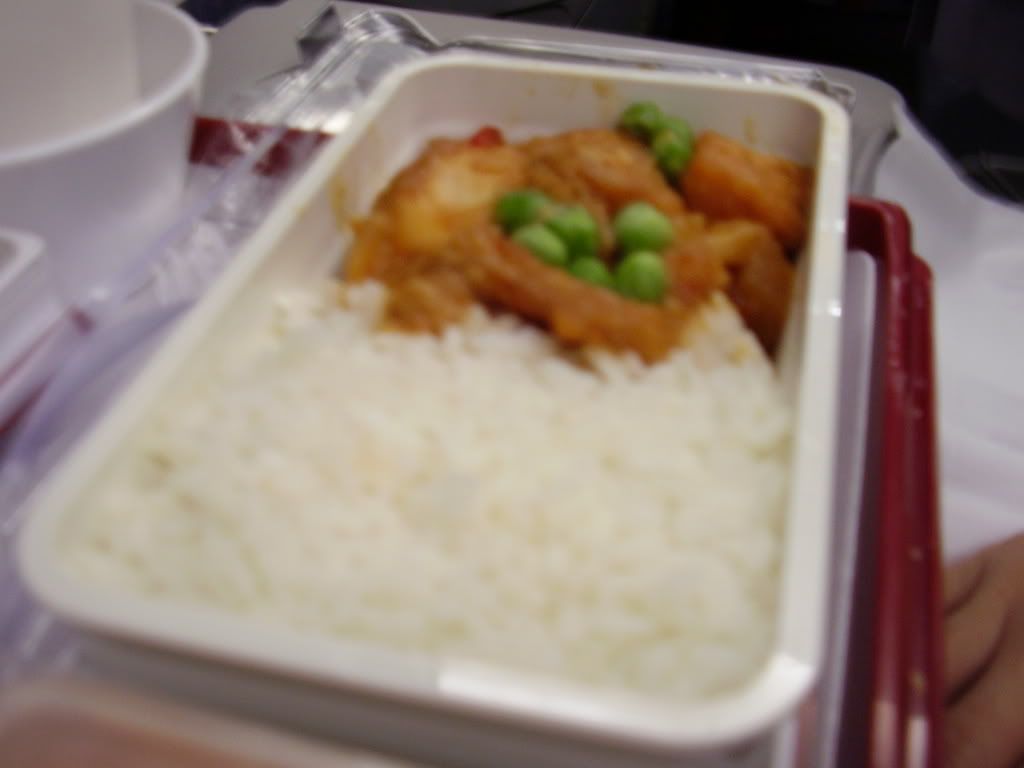 Fish
Chicken.
The tray consists of
Chicken with potatos, carrot with some sort of veg.
Bun
starter
cake
and some sort of jelly.
The food was o.k once again and after eating my lunch, i watched just for laugh gags before i went to sleep.
zz.zzz.zzz.zz
After waking up for my sleep, i walked around the cabin.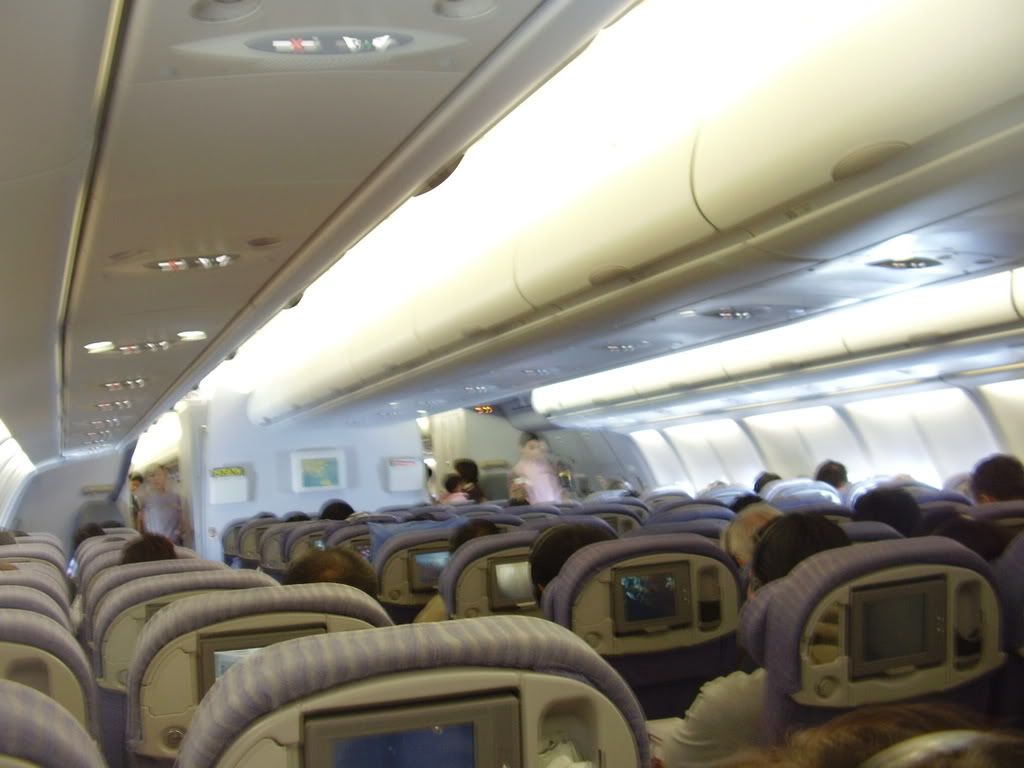 picture of the cabin
After that, i returned to my seat as we began descent.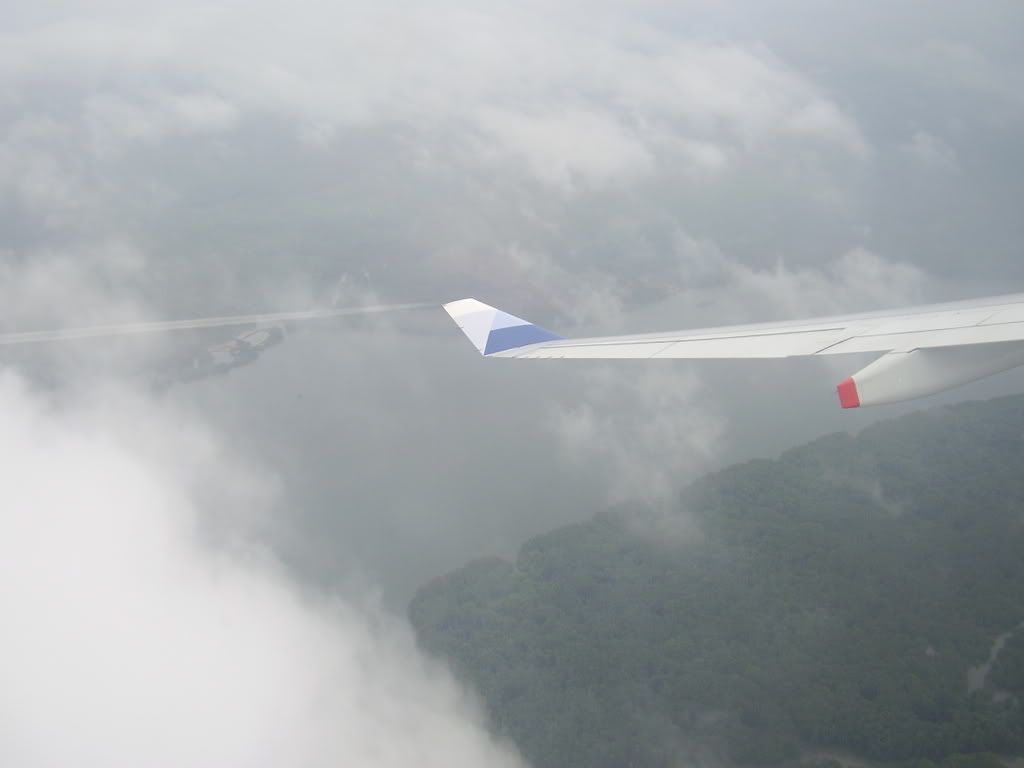 somewhere over m'sia
Raining!!!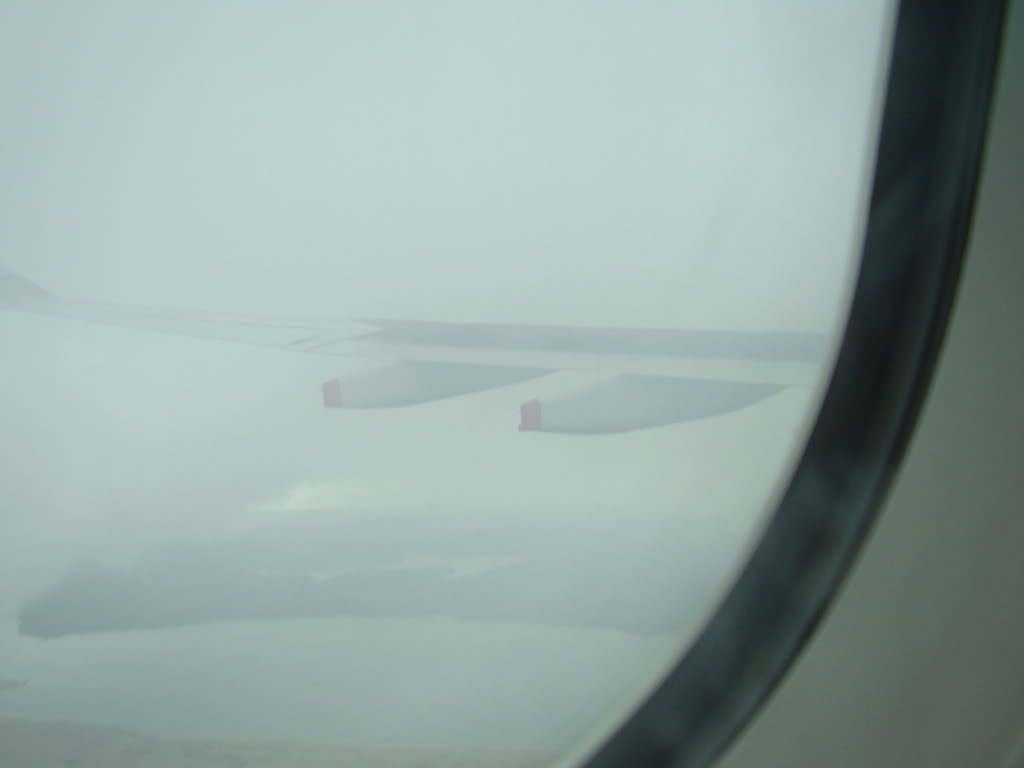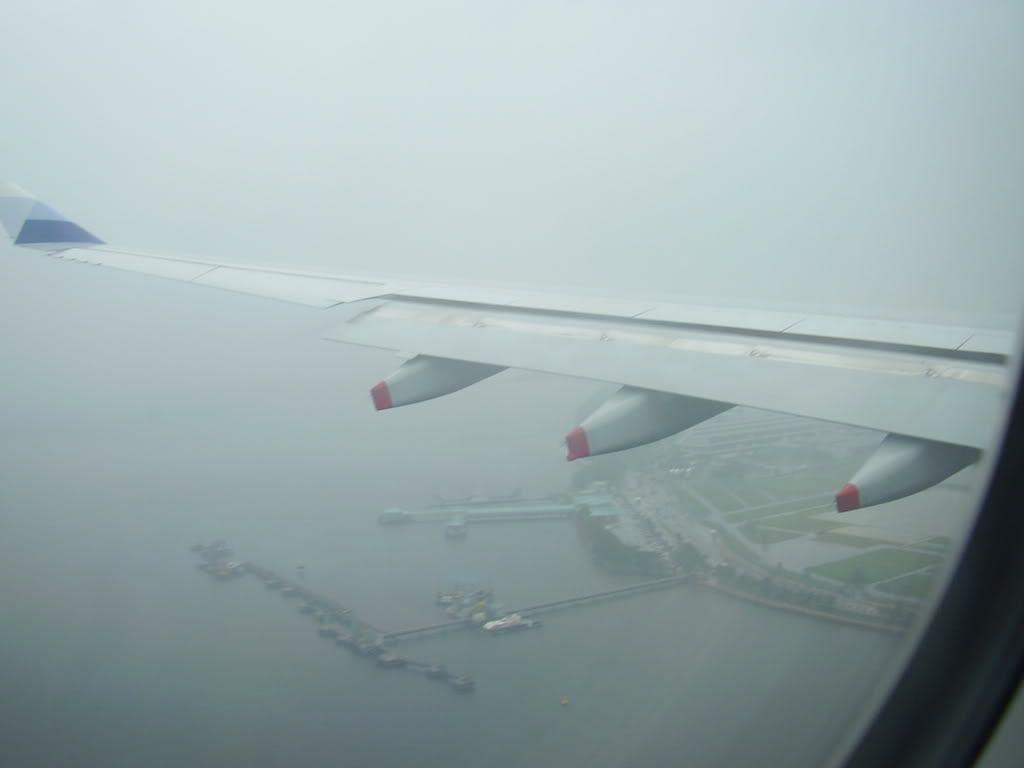 rain.
We landed REALLY smooth and taxiied towards Gate D44 .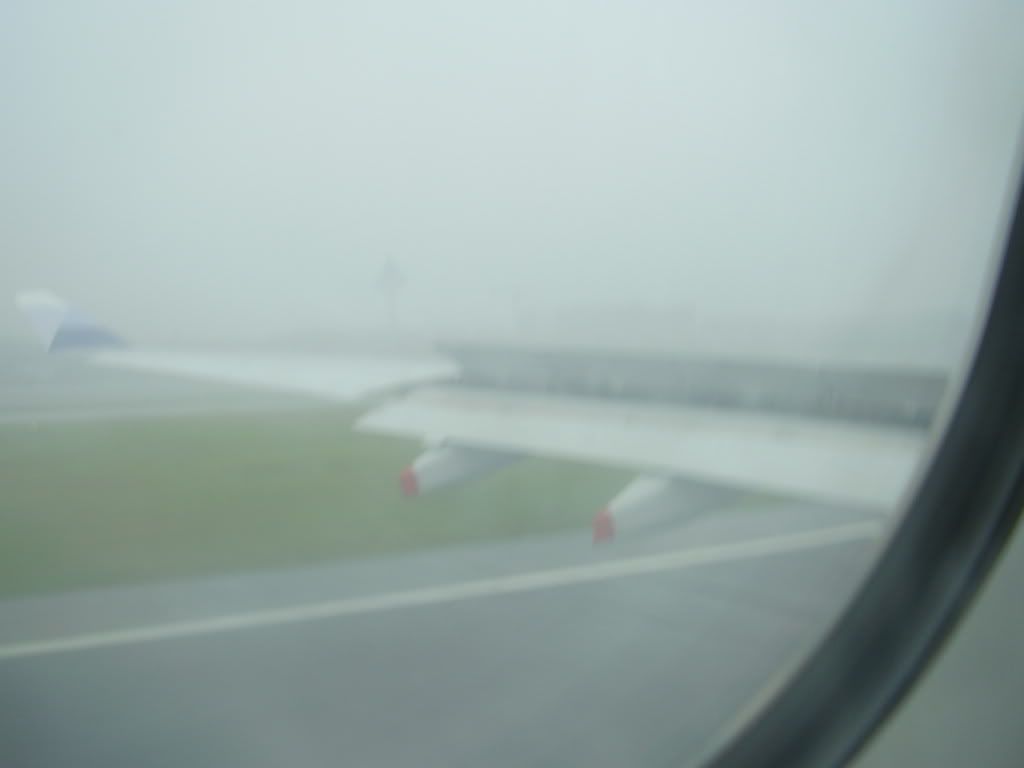 We taxiied past T2 and there were many SQ planes .
We parked next to a QR 330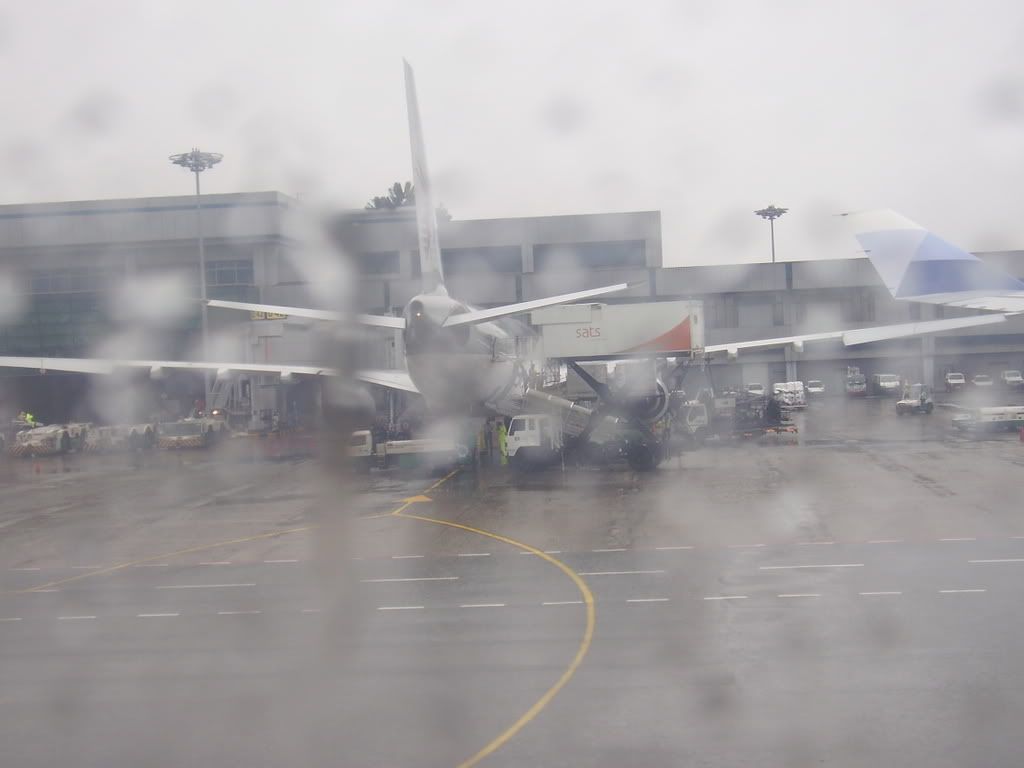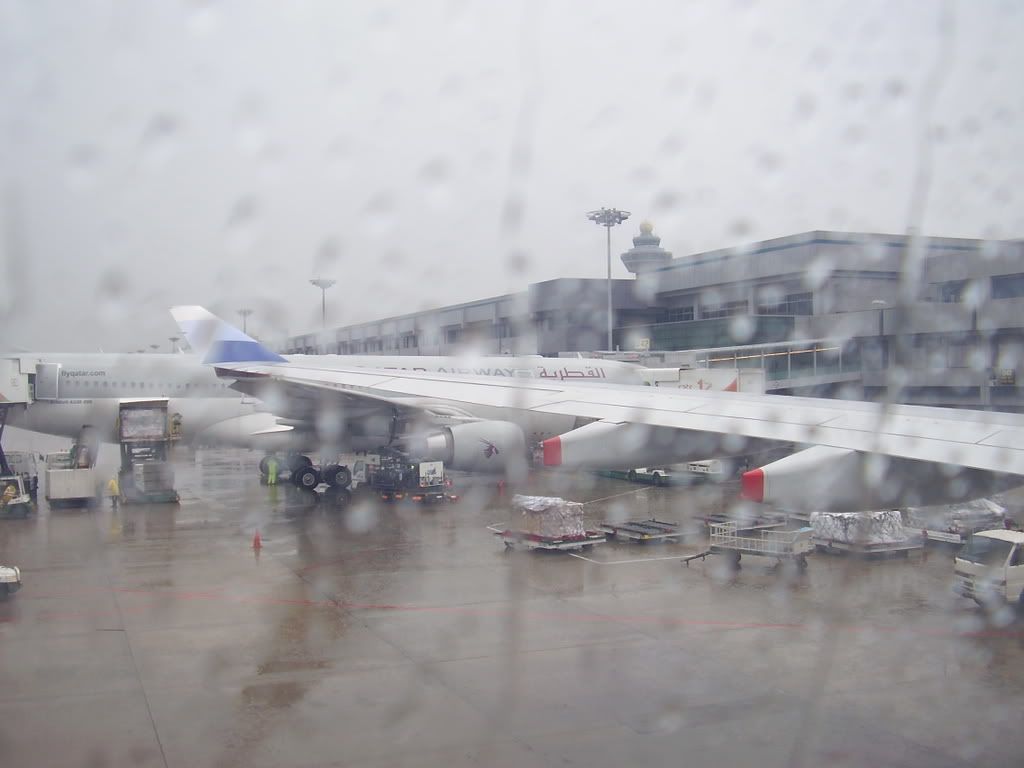 Disambarked the aircraft and went towards the immigration. The lines were quite long and had to wait for a long time.
Anyway , passed through it and went to collect our baggages then we went to the food court .
wow, delicious prawn noddles, laksa !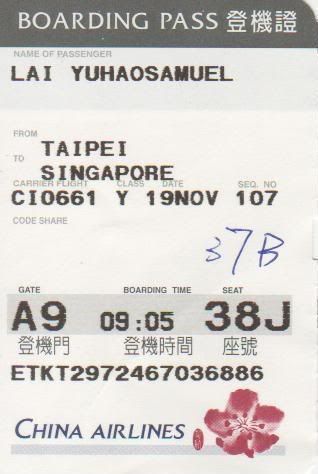 my Ticket.
Overall, it was a good flight .
TPE check-in = 8.0
Boarding = 9.0
Aircraft = 10.0
cabin = 9.5
IFE = 9.0
crew = 9.5
catering = 8.0
SIN immigration = 8.0
My next trip report MAYBE will be SIN-DXB-MLA-DXB-SIN on EK .