**All times are local gate arrival and departure times. All in-flight data has been taken from www.flightaware.com and www.flightstats.com **

Date: January 11, 2008
Flight: Lufthansa LH 757
Leg: BOM-FRA
SDT: 3:25a.m.
ADT: 3:28a.m.
SAT: 7:45a.m.
AAT: 8:02a.m.
Aircraft: Boeing 747-400
Registration: D-ABVT "Rhineland Pfalz"*
Seats: 40H/K
Dep. Weather: Temp in the mid 70s, light northerly winds. Clear skies with haze.
Arr. Weather: Mostly cloudy. Temp in the 30s, light westerly winds.
*I'm not 100% sure this was the aircraft, but having seen a two-part name (without the hyphen) on the aircraft's nose while boarding at BOM, I'm fairly confident that this was the plane that was operating that day.
My month-long stay in India came to an end, and it was time to head back. We put all our bags into a pre-arranged SUV (for you Indians a Tata Sumo), and headed out to the airport. We left a little later than we had planned, but with the traffic being light for a change, we reached Terminal 2 in just over 30 minutes. As we approached the entry gate though, a long, snaking line of passengers was not exactly what we had anticipated. After questioning a few passengers, it was confirmed that all 2A airlines' pax were being allowed in through one entrance only. So we got a couple baggage carts and stood in line. The good thing was it was moving at a decent pace. And we had to inform some people who were seeing their relatives off to not enter the pax queue. Of course, this falls in the category of "things that will never change" as long as Indians are concerned.
Anyway, after about 20 minutes, we finally entered the terminal, but of course, the same line continued till the first security check for checked bags. In the meantime, I took a look at a departure board. On the tabs were some of the usuals plus some new additions. The AZ flight to MXP (which will be suspended in April), BA 139 to LHR, our flight to FRA, the Kenya Airways flight to Nairobi Int'l (Kenya has switched to 772s and 76s between Mumbai and Nairobi), the Swiss Int'l 332 to ZRH, the DL triple to JFK, NW 33 to AMS and SEA, and then one 9W 773ER to LHR (9W's second daily) and another 9W 773ER to BRU and EWR. This was just from 2A, there were more from 2C. Eventually, we got through the first security check and headed off to the LH check-in counters. LH has about eight counters total for all pax, so the queues were not too long. Still, another half hour later and we got our pre-assigned seats, and headed off to immigration. The queue here was long, but was moving pretty quickly. Fifteen minutes later, we were directed to one of the 40 counters, and after a quick document check, we headed off to gate 8. Now this is where I was unpleasantly surprised. On the windows overlooking the ramp was a frosted design etched more than halfway up the floor-to-ceiling windows! This caused the view of the ramp to get totally blocked, what stupidity was that about?! The only spots I could look at planes at were through slivers in the design where the original glass windows were left. I wasn't too happy about that at all, but then again, I didn't expect something like this from MIAL (Mumbai International Airort Limited-the consortium renovating/expanding BOM). I managed to catch a glimpse of the departing AZ 763ER through one of the "slivers" of glass left before we headed down to the mezzanine level.
As for the rest of the terminal, MIAL has done a really good job. The signage is new and much better, and the restrooms are kept in much better shape than before. The flooring and ceiling tiles have been replaced as well. Only thing lacking is the quality and quantity of shops and restaurants in T2, but with on-going construction it was easy to see why. After reaching gate 8, we entered the queue for the second security check, this time for personal checks and carryons. Once through sec. chk #2, we just waited in the gate 9 area (where most of the BA 744 pax had already boarded). Soon enough though, boarding was called, First and Business, followed by Y in row numbers. That's another thing, the PA systems in the lounges actually produce audible sound and the announcements don't need to be deciphered. Once inside the 744, I made myself comfortable (a note to those of you thinking about flying LH in the near future at least-LH's Y-class seating has become really tight seat-pitch-wise. It reminded me of DL's 772ER Y seats). Slowly the entire Y section got full. Sitting between me and my mom was an Indian student on his way back to Charlotte. He said he would be connecting to the US 330 at FRA. He continued chatting with my mom while I peered out the window. This flight was 100% full, no surprise there. I took note of a 9W 738 with winglets which had just arrived at the gate next to ours (gate 9). This may have been the flight from Colombo but I'm not really sure about that.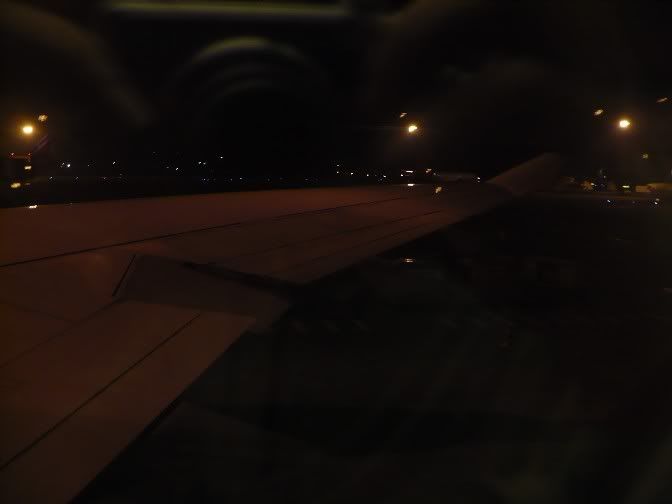 Looking out from inside an LH 744 from seat 40K. Onboard LH 757 to FRA.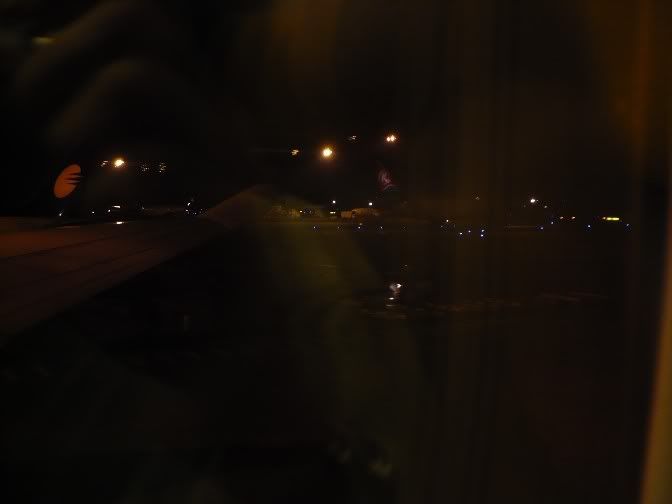 Kenya Airways triple heading out to RWY 27 at BOM, 9W 738 with winglets parked next to us. Pardon the window "graffiti"
Soon enough, the doors were closed, the safety briefing was shown in English, German and Hindi on the ceiling-mounted TVs and after pushback and engine start-up, we headed out to RWY 27. ATC gave us immediate clearance and after taxiing onto the runway, the PIC stopped the 'craft for a second, pushed the throttles forward and off we went. Rotation was conducted after passing RWY 13-31 and we lifted off right at Terminal 1B, with the entire cabin shuddering twice as the heavy seamlessly headed upwards. Once again, the city lights were an awesome sight, and as we crossed over the coastline and headed out over the Arabian Sea, I turned my attention to the GPS map on the overheads.
Today's route would take us on a NWstrly heading after takeoff to Karachi, then over the Iran-Pakistan border, then south of Tehran, then WNW to Turkey, to Ankara, Istanbul, then Sofia, NW to Yugoslavia, crossing the border over into Austrian airspace, then north of Munich before starting descent to the Frankfurt metro area. Flight time was approximately 8 hr. 10min. About an hr after takeoff, the FAs served us a light snack. I chose the vegetarian option, which was fritters stuffed with potatoes and tomatoes spiced with chilies and flavoured with other spices. This was served with ketchup. Not too bad, quite tasty in fact.
After that, the FAs came by again with a light "dinner", which I didn't have much of (and I don't remember too much of it anyway). I passed the time by periodically looking out the window and/or watching the TV program. For the remainder of the flight, I either dozed off or read the Magazin. LH had the "featured aircraft" section again, this time it was the CRJ 700. Of only particular note was some thunderstorm actvity in the distance while passing somewhere over Eastern Europe.
Before I knew it though, about 6 hrs had passed and daylight was coming back again outside. About half an hour later, the FAs came by with some light refreshments, but again I passed on it and preferred to rest instead.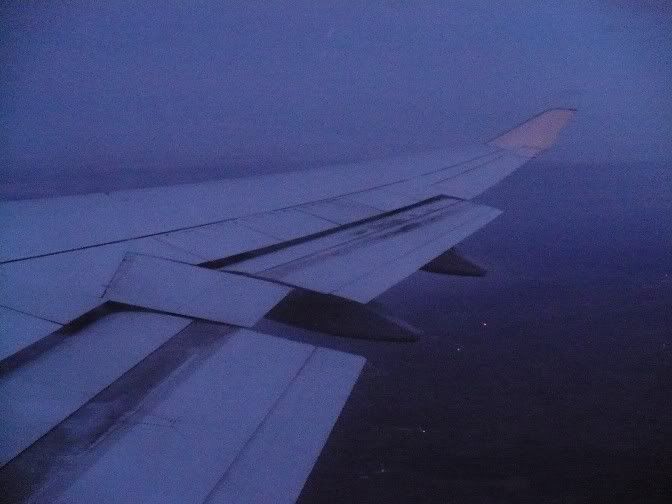 Initial approach to FRA.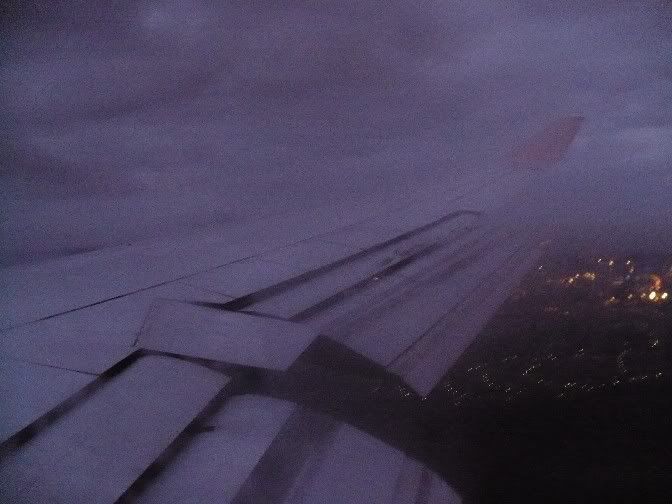 Flaps in final config for landing on 25L. Onboard LH 757, BOM-FRA.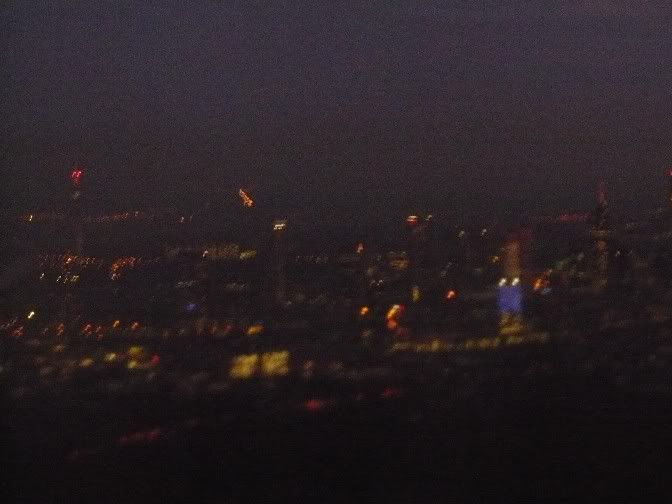 Passing by the Frankfurt skyline.
JL and CX cargo heavies at the south cargo ramp. Kind of fitting watching the sun rise with the JL cargo 74' in front eh?
More cargo heavies.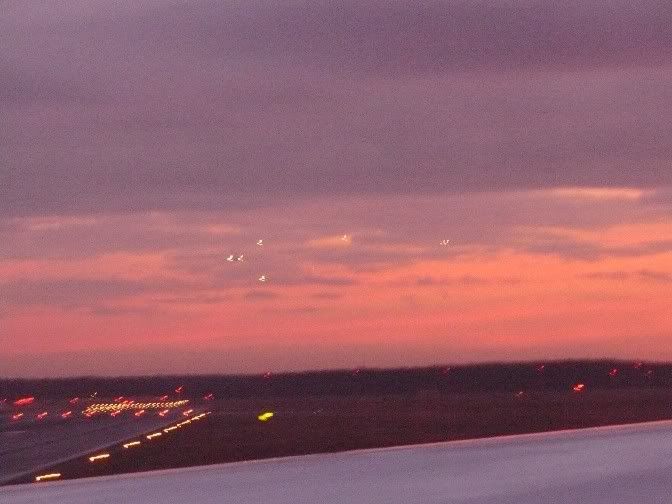 Crossing RWY 25R rather hurriedly as there is actually a Russian cargo jet on short final, part of the arrival bank seen here.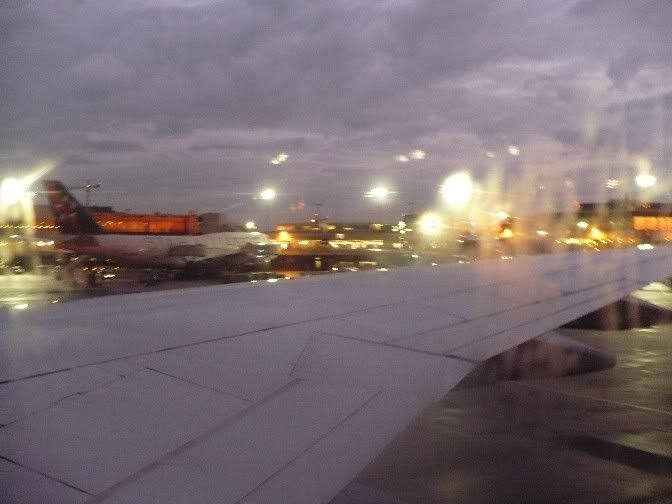 About to head onto the B25 ramp. LH
STAR ALLIANCE
livery plane being prepared for another long-haul.
Initial approach to FRA began soon after passing Munich to the north (we flew very close to Vienna). We approached Frankfurt from the SE and got placed in a hold for a brief period. During the hold I saw about 4 other aircraft either headed in for landing or get placed in the hold as well. After exiting the hold, we got vectored for a 25L approach. Then we passed by the Frankfurt skyline, the city stadium and the A5 autobahn before a little bumpy landing. After that we used the center taxiway to head back to the gate. Arrival gate that morning was B25. After getting out of the plane, we headed to the central area of the west rotunda of B, where an LH agent was ready with connecting gate information. The departure gate for our connecting flight to DFW was A57, on level three of Pier A. So off we went to take the train from B to A. After taking the train, we entered the security checkpoint queue (funny thing is FRA doesn't have a security check for those pax who use the connecting tunnel from B to A, it's only there if you take the train from B to A, which I found rather interesting-I'm guessing it's because the train brings in pax from T2 as well who FRA deems are necessary to be screened again). After about 20 minutes in the queue, we had 45 minutes left before boarding for the next flight started. We decided to get freshened up. Bad idea. Turns out the restrooms (on level three at least) in Pier A are more suited to a 50-seat restaurant than an airport that handles more than 54 million pax/yr. Only one sink (if you can believe that) and two urinals. Not to mention only two enclosed vestibules. I think Pier A wasn't built to handle the number of passengers it now does, with all those widebodies being shifted to A. To give you an idea of how bad the situation is, there were lines forming outside the the few restrooms that were available. This was a first-in 27 years of travelling (and I have traveled a lot btw) I have never seen lines for restrooms.
Of course, the bone-chilling water was an added bonus
I find it amazing that people complain about U.S. airports being inadequate and inefficiently run, but then airports like DFW or ATL which handle way more pax than FRA or CDG are much better managed in my honest opinion.
Privatair BBJ on pushback for EWR, TG 744 at one of the B gates.
Anyway, going back on topic, I managed to find a restroom luckily enough that actually had only a few people standing outside, and I was able to go in rather quickly, only to find out there was already one pax using the sink and another standing there. I was able to get freshened up and stuff but it still took me about 30 minutes. By the time I came out, sure enough, there was a line. Anyway, my mom and I headed quickly to the gate, where boarding had already started. We gave our boarding passes for scanning, and joined the queue. Turned out boarding would be by bus this time. The queue was slow-moving but eventually we got all the way down to the ground level and boarded one of the Mercs. Our plane was parked all the way on the west ramp, close to RWY 18, so it was a pretty long bus ride. Which allowed me to get good views of aircraft on some of the remote stands and cargo ramps. 'Course I'm sure the bus ride itself annoyed the heck out of most other pax lol.
Date: January 11, 2008
Flight: Lufthansa LH 438
Leg: FRA-DFW
SDT: 10:15a.m.
ADT: 10:46a.m.
SAT: 2:25p.m.
AAT: 2:43p.m.
Aircraft: Airbus 340-300X
Registration: D-AIFA "Dorsten"
Seats: 35H/K
Dep. Weather: Temperature in the 30s, moderate westerly winds. Mostly cloudy.
Arr. Weather: Mostly clear with some cirrus clouds. Temperature in the low 60s. Southerly winds at 10-15mph with higher gusts.
Boarding was being done through both, the rear and front doors. We boarded through the rear door as we were in the aft Y section. Once up the airstairs, we had to wait for a few seconds before entering the plane, which allowed me a great view of the tail as well as the plane from the rear point-of-view. About 15 minutes after sitting down I noticed how empty the cabin was still, and shortly afterwards the pilot announced that we would have to wait till one more bus (about 50 pax) came. Adding to that was that some passengers had not shown up and their luggage would have to be removed, so another 10-15 min would be required to take care of that. I didn't really mind since we had a long connection time at DFW anyway onward to OKC. In the meantime I used the opportunity to add some shots to my collection.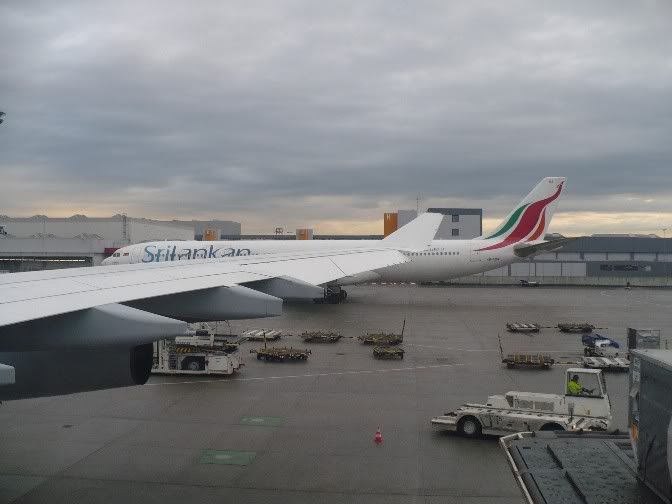 Sri Lankan 343 ready for departure back to CMB.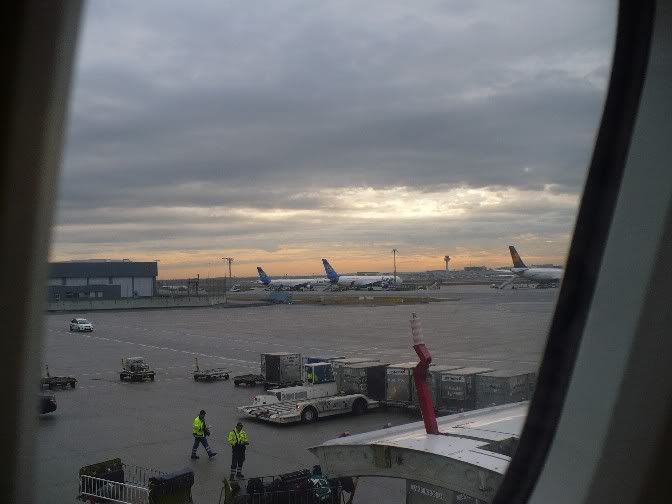 Some Condor 75s and a company 330 on the remote stands.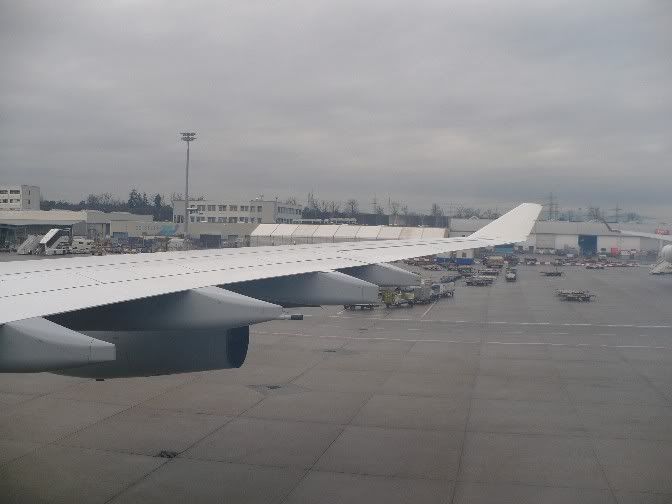 On pushback. Onboard LH 438, FRA-DFW.
The bus came soon enough and by that time the missing passengers' luggage was taken off, and with the doors closed, the FAs welcomed us on board. Flight time to DFW would be around 10hr, 40min. This would be my longest flight ever thus far. The safety video was shown on the overhead screens and we got pushed back. Strangely enough, we headed to RWY 18, which is not usually the runway used for west-bound departures. My guess is that the pilot requested 18 since it's pretty close to the west ramp. One thing I noticed about Dorsten was the idle thrust wasn't loud like you sometimes hear in 340s, in fact you didn't hear anything until the engines were spooled up. I wonder what exactly governs how much sound you hear inside the cabin at idle thrust, besides the obvious sound insulation and such. Taxi to RWY 18 was quick and painless, and soon we were off to DFW.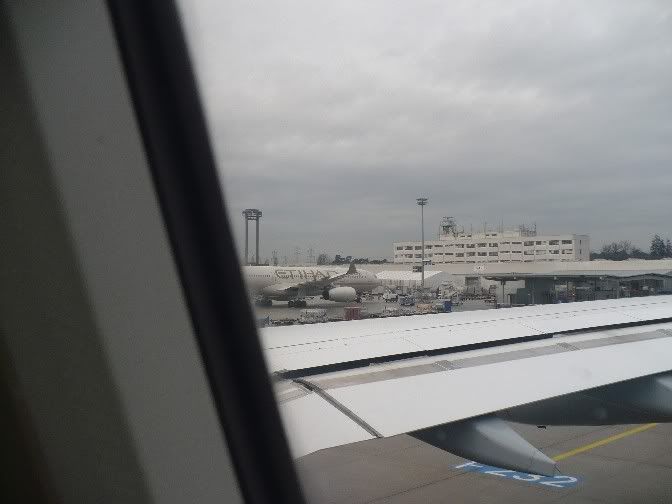 Etihad 332.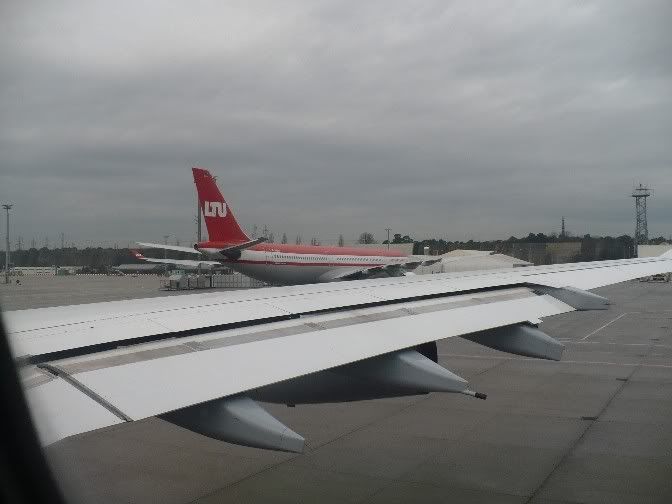 The surprise of the day-an LTU 332. I wasn't expecting to see this here.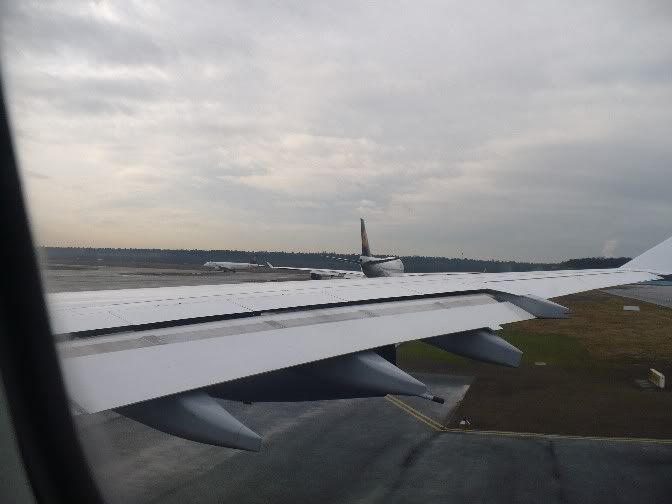 Taxiing to RWY 18, with a company 744 ahead of us and a 320 rolling.
Takeoff, RWY 18. Shot 1 of 3.
Takeoff, RWY 18. Shot 2 of 3. I believe that's the famous spotters area.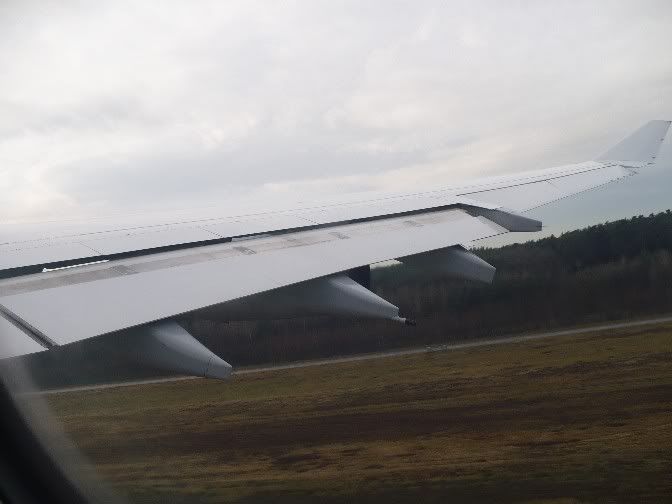 Takeoff, RWY 18. Shot 3 of 3. Onboard LH 438, FRA-DFW. My view for the next 10hr and 40 min.
The flight plan would take us on an initial SW heading from FRA, then turning back to the NW, heading close to the industrial corridor of Germany (including Dusseldorf), then close to Amsterdam, going NW all the way till the northern end of Scotland, turning to the west, then the Atlantic crossing and over the southern tip of Greenland (IIRC) before coming back over land somewhere over the far NE part of Canada, going over eastern Canada, near Chicago, then west of St. Louis, to Springfield, then Branson, then just to the east of the Fayetteville/Bentonville/Rogers area, over far SE OK before starting descent to the Metroplex.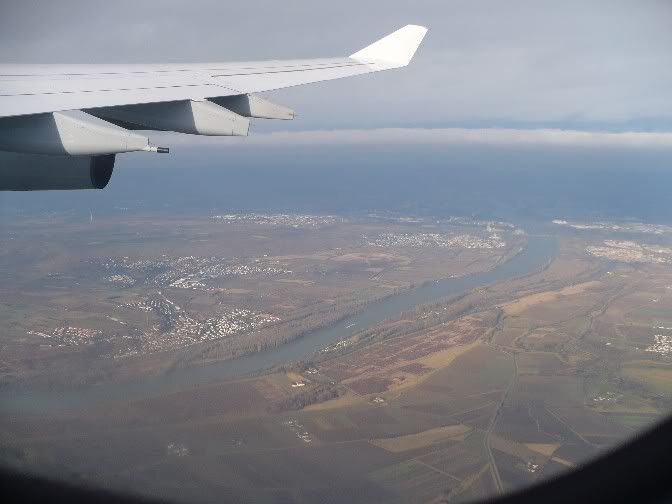 Soon after takeoff from FRA, heading SW.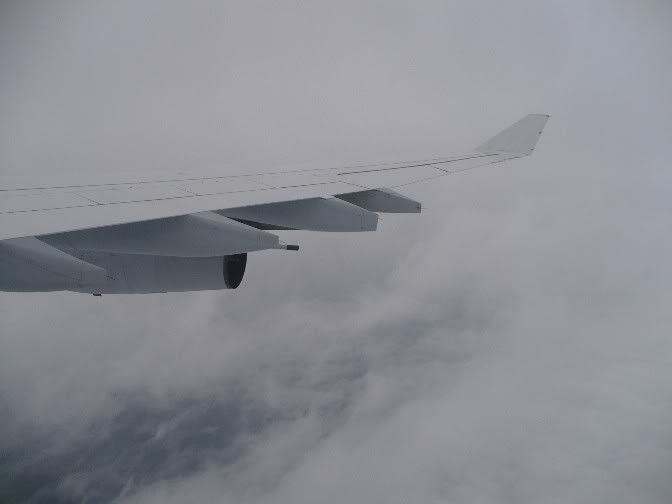 About to climb through some rough weather.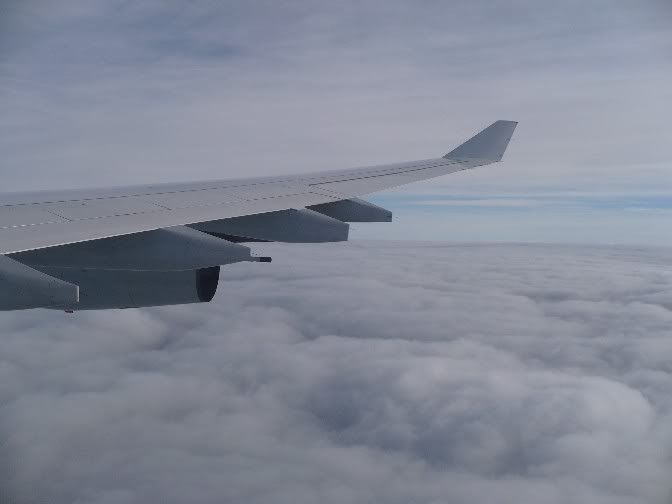 Now in between cloud layers.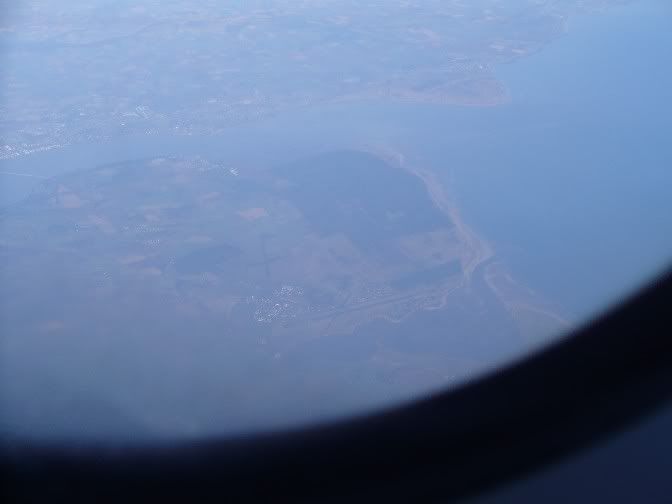 Some airport I snapped along the way, don't know what field it is though.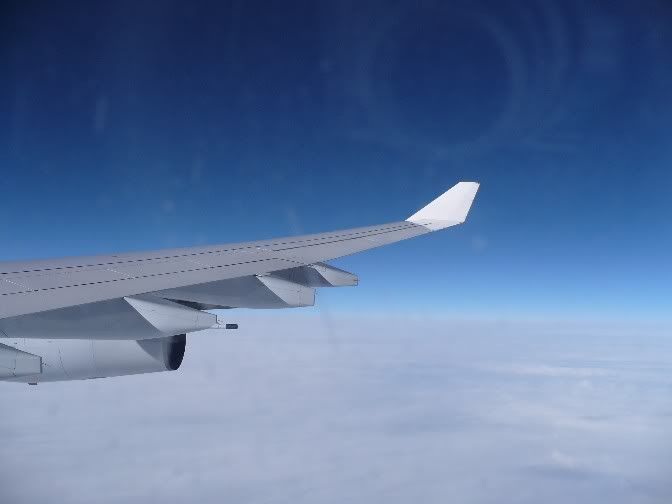 Who needs a PTV?
I didn't have much to eat on the flight since I wasn't that hungry. One announcement that came over the PA though I'm sure got the attention of some pax.. Due to an error in loading, the FA deeply apologized since they forgot to load the Red Wine. It happens, oh well. For the rest of the flight, I just dozed off and on, read the Magazin or took photos. Not much of interest to watch on the TV other than German news and some documentary about LH Technik.
Well, that's all for Part I. Stay tuned for Part II!