(cont'd from Part I) After about 9 hr, I filled out my U.S. Entry card, that we had been given after boarding. The FAs soon came by with some light refreshments. I passed, preferring to look out the window instead. Soon after passing over Springfield, the pilot came on the PA and announced that our descent would be started soon after passing by the Fayetteville area. Weather at DFW was pretty good. Final approach to DFW took us over the far NE suburbs, after which we turned west, then intercepted the localizer for RWY 17C. I scanned to see if I could see any aircraft on parallel approach, but only one was visible and it was on final for 13L, too far away.
Somewhere over the U.K.
Some altocumulus over the Atlantic.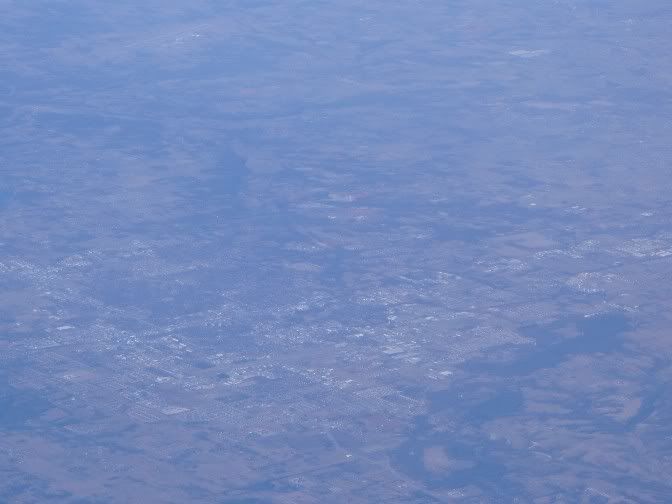 The Faytteville/Bentonville/Rogers area in NW AR.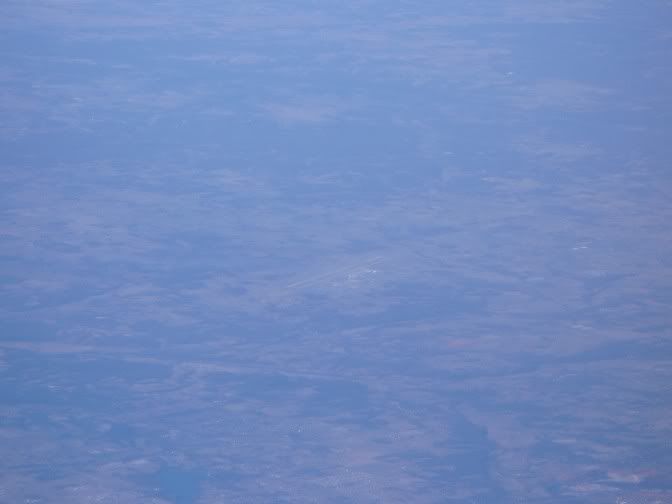 XNA (Northwest Arkansas Regional Airport).
Initial approach to DFW, over northern TX. Onboard LH 438, FRA-DFW.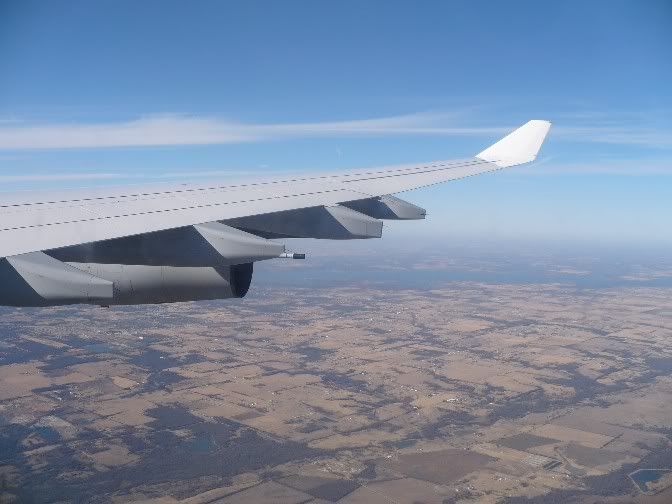 About to start final for RWY 17C.
Final approach, shot 1 of 6.
Final approach, shot 2 of 6.
Final approach, shot 3 of 6. Grapevine Lake in the distance.
Final approach, shot 4 of 6. State highway 121 in the foreground.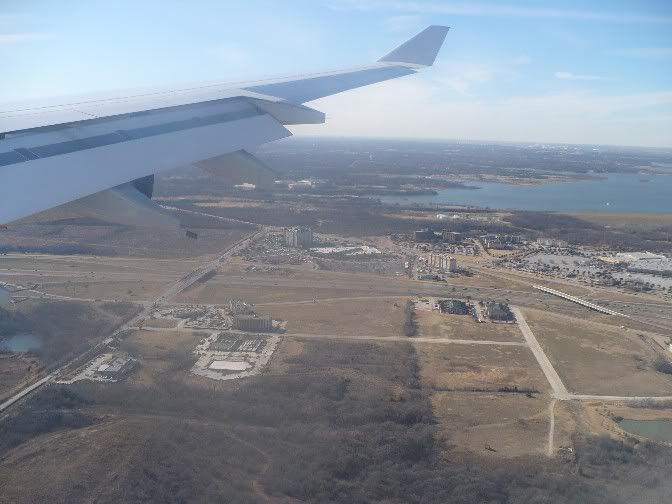 Final approach, shot 5 of 6.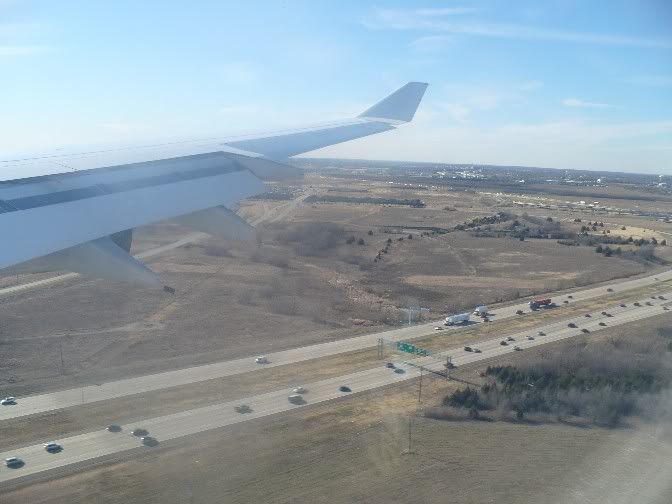 Final approach, shot 6 of 6. About to cross highway 114. Onboard LF 438, FRA-DFW.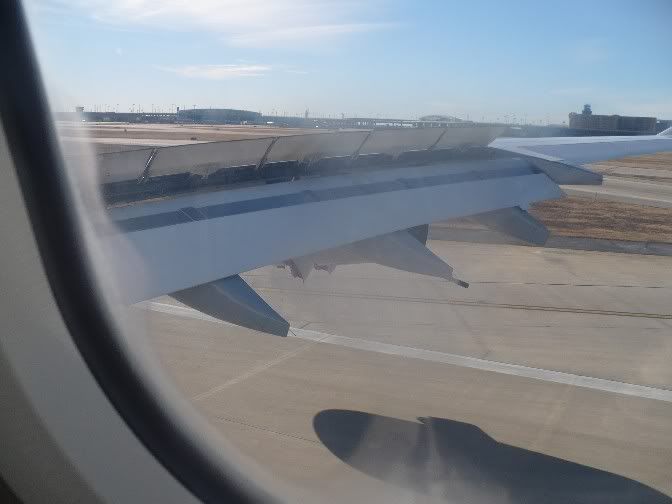 Spoilers up, full reverse. Welcome to Dallas-Fort. Worth.
DFW terminals, east side. Welcome to Dallas-Ft. Worth.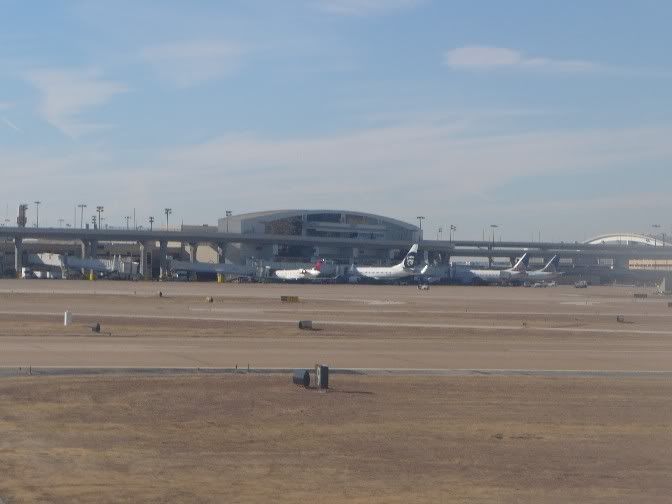 Terminal E aircraft.
One of the ATA DC 10s, ex NW, in the hybrid livery.
One of AA's transatlantic flights, landed before us on 17C.
Some US/USX jets at E.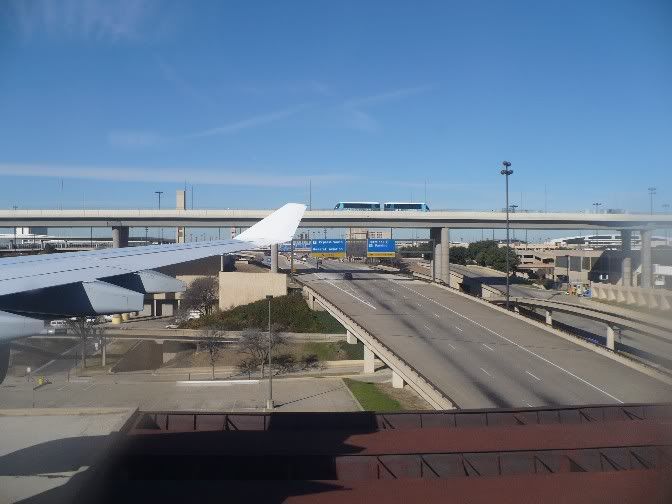 Crossing the bridge...
World Airways M11 in the new livery.
Final was a bit on the bumpy side but the PIC made a really smooth landing. The only indication of the mains rolling on the ground was the spoiler deployment. Full reverse thrust follwed and we exited off the active on Mike seven, followed by Bravo and Bravo bridge to the west side. Then it was Golf to the ramp, and gate D10, where all the "usuals" were already docked to the gates.
A familiar sight on the south side of D.
After exiting the plane, we headed out into Terminal D. D's FIS facility is located in the central part of the terminal, so it requires a long walk (which I always like, especially after such long flights) through an upper walkway, which is separated from another upper-level walkway for departing pax (that other walkway is for upper-level concessions and an AAdmirals Club). Both are glass walled so you can see all the activity going on down in the main departure areas below. Once you get inside the FIS facility, which is basically a huge hall, there are about 30-35 inspection lanes, each with two screening officers. When we arrived, about 10 were closed, and of the rest half were assigned for U.S. citizens and residents, the other half for tourists and visitors. We got into the big line for U.S. Citizens and residents, although being pretty big it was moving briskly. During this time, I got a chance to check out the FIS room, which is big and airy. The ceiling is about 30 feet high and there are sky windows installed (different from skylights). All around on the walls are photos of different people around the world (I guess to symbolize the international status of the terminal). The room's walls are also painted in different colours, definitely not your ordinary FIS facility. From the chatter around me, I heard one guy who had flown in from Kuwait City via my flight, another who had a connection to San Diego in 45 minutes etc. Soon our turn came and we gave our required documents including the entry card to the officer. After that, we headed off to baggage claim, located on the lowest level. I don't recall in detail the size of the baggage claim area and the number of belts but I do recall it was pretty big as well (then again, we were in Texas, so that statement's a "duh" statement). After getting all four of our bags really quickly for a change, we headed off. Seems they have done away with agriculture and bag checks completely at DFW. No one's bag was getting checked, so the only thing that everyone was required to do was submit their entry cards (the entry cards were not collected back at immigration, only checked) and get a check of passports and other stuff, then head to outside to the arrivals pick-up areas or head back up for connecting flights. Turned out our connecting flight to OKC would be departing from D itself, so we were in no hurry to go anywhere. So we headed to the AA re-check counters, dropped our bags off and headed back up.
Date: January 11, 2008
Flight: American Airlines AA 1576
Leg: DFW-OKC
SDT: 7:15p.m.
ADT: 7:35p.m.
SAT: 8:10p.m.
AAT: 8:30p.m.
Aircraft: McDonnell Douglas MD-82
Registration: N207AA
Seats: 17A/B
Dep. Weather: Clear, temperature in the 50s. Wind south at 10-15mph.
Arr. Weather: Clear. Temp. in the low 50s. Wind south at 10-15mph.
Once back up on the departure level, we had to go through security again. The line was fairly long but it was moving pretty quickly as well. After security, we decided to check our flight again just to make sure which gate it would be departing from. It was listed as departing from gate D27, so we decided to go there and get freshened up. It was a nice, refreshing change using the large, spacious restrooms of Terminal D, what a difference! There wasn't much to do for the remainder of our stay at DFW, so we just hung around in the north zone of D and waited, watching planes. I wandered around the terminal to see if there was anything interesting at the gates, but only the lone AC 175. Most of the other international stuff had long departed by now. Only the announcements for the second daily flight to LGW and some Mexican destinations kept ringing up the PA system.
AA 763 heading out to some Latin American destination.
AC 175 heading back to YYZ.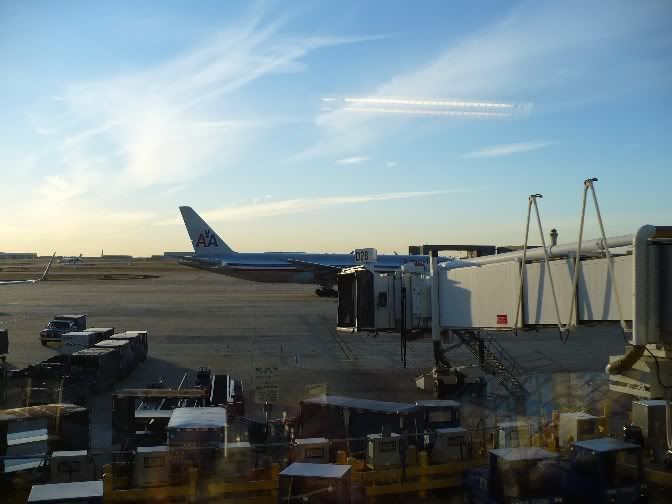 The second AA Gatwick flight pushed back and ready to go.
So anyway, I just stared out the window looking at the endless stream of AA M80s with the occasional different aircraft mixed in. Dusk soon became night and about an hour away from our departure, I took a look around at the rather empty gate area, with no AA agents at the podium. So I looked at the departure screen once more. Our gate had changed, now to D16. So we headed down from the north zone to the south zone, where we found a packed gate area. On the way, we heard the gate change announcement for our flight. Once in the gate area, we found some empty seats and plopped down. Our flight was definitely overbooked, with about 22 stand-bys. The gate agents announced a voucher for $400 and a free-roundtrip ticket for anyone who volunteered for a later flight (there were two more to OKC that same night after ours). I saw a few pax volunteer but not too many. About 35 mins before departure, the gate agent made another announcement, this one not really what people like to hear. A mechanical problem had developed and tech staff was on the plane trying to solve the problem, so there would be a delay. At this point I didnt really care, I was too tired lol. It fortunately didn't amount to much as about 15 minutes later, boarding was initiated. First class followed by Y, by group numbers. We were in group 4. I was kind of looking forward to this flight, only my second time in an M80 model.
The flight was packed of course, but boarding was completed fairly quickly. I took a look around and the cabin was showing a dated look, with the old 80's-style bins and ceiling panels still there. The M80 is a spacious plane for being a narrow body airlner though, and the seat pitch in AAs M80s isn't too shabby. I peered out the window at the leading edge of the wing. Still lots of other traffic around with both parallels busy as usual. The FA welcomed us aboard and did the usual spiel, flight time would be around 45 min. once airborne. Soon after, the FAs did the safety demo (the demo instructions are actually recorded and not announced) and we got pushed back. Engine one followed by two. The startup of the 82s engines is the classic air compressor startup, followed by a quick rev up to idle. And that characteristic metallic whine, really cool. After engine startup was complete and flaps and slats were deployed, we headed out to RWY 18L. Takeoff was a rolling t/o, with the distinct buzzsaw coming from the engines. The M80 is definitely an aviation enthusiast's plane.
About 6000 feet later the PIC rotated the 'craft and we headed off in a SSWtrly direction. The view out the window was great, it was a clear night with no visibility issues. After a few minutes we turned back to the north, pretty much going parallel to Interstate 35. Not much about this flight other than it was the basic routine short hop to OKC, with pretzels and drinks (water, soda, beer etc) being served. Descent started soon after crossing the Red River. Our initial approach took us over Norman, south Oklahoma City (crossing I-240), then I-40 and downtown. Downtown Oklahoma City appeared in plain sight on the left side of the aircraft, and just as we were about to pass it, the pilot started a left turn for the airport, which offerred a fantastic view of the skyline and surrounding areas. One more left turn was made to align with 17L (which I could clearly see-centerline and edge lighting and all), and soon thereafter, I heard the mains deploy, with full flaps. Touchdown was a bit abrupt, and the PIC used idle reverse, mostly braking though. We exited the active on Echo 11, then back to Golf, then off on Johan before ramp and gate 4. On our way back a Southwest 737 came in on 35R (yes, OKC allows it during non-peak hours). OKC's terminal was pretty quiet at the time, but a late-night bank of arrivals actually make the place rather busy. Most of the shops and restaurants were closed when we arrived however. Anyway, from te gate it was a quick walk to the main terminal, then we headed down to baggage claim. I got two Smarte Carts and once more, all four bags arrived in succession. Once outside, we headed out to the transportation plaza, which is for all ground transportation and the airport's blue Airport Express van parking. The driver got our bags into the back (along with a suitcase from another pax who was joining us) and we headed home.
Overall, not a bad experience with LH, its service is to the point and efficient. I think the FRA hub is straining under the pressure from the increased traffic and I bet LH knows that, hopefully the new T3 solves the issue before it gets out of control. The quality of the food has declined though, hopefully LSG goes back to getting good chefs for special meals. Thanks for reading this review, hope you liked it.