Sardinian Sun, TUIfly's Shiny New 737-700s & Meridiana's Cramped Mad Dog
Intro
With rumors about a TUIfly and germanwings merger increasing during the winter, I realized it was time to take a flight on the former - which was still missing in my log. So when X3 announced the next round of specials in early January I checked numerous flight options for a weekend break. I found a MUC-CAG flight for 19,99 Euro on a Saturday morning and tried to find an appropriate return flight. With only few weekly flights on that route I checked other cities and found 19,99 Euro services to MUC from various Italian cities on the following Sunday. Now I only needed a connecting flight and finally discovered a well-timed CAG-OLB hop on Meridiana for only 27 Euro - operated by a Mad Dog! Within a relatively short time I had convinced my girlfriend to spend a weekend in sunny Sardinia with me and I booked the flights.
X3 charges 6 Euro (per booking) for credit card payment and 8 Euro (per person) for a seat reservation. While I rejected the former, I decided to reserve seats 26 A and B on the MUC-CAG daylight sector.
Saturday, 23 February 2008
Munich (MUC) - Cagliari (CAG)
TUIfly, X3 3134
11:55-14:00 (12:04-13:47)
Flying time: 01:28 (hrs)

Boeing 737-7K5
D-AHXF (s/n 2465), delivered in 12/2007
Economy Seat 26F
Check-in
Since we had one bag to check in we didn't print out boarding passes in advance - I assumed we would have to wait in line anyway. And my guess was correct, even those already checked-in had to wait in line until they could drop off their stuff. After some 20 minutes we were welcomed by a very friendly male agent. Some days before I had found out it's better to sit on the right side when flying into CAG - because an approach from the south allows for good views. So I asked whether row 26 on the right side was still available - which the agent confirmed. He was curious to know why we'd like to change and I explained it to him. He seemed to be bit surprised about a passenger talking about approach directions, but whatever, we got the seats that I wanted.
TUIfly's Newest 737-700
Waiting in line at the security checkpoint took quite a long time, as so often in Europe (or the US). Well, I guess I'm still spoilt by the fast and efficient procedures in Japan...I soon realized we had to take a bus transfer to a remote position - at least it would increase chances to take some nice pics. By checking various online sources I knew we would get a 737-700 - of course I hoped for one of the newer ones delivered in late 2007. Boarding was started early and soon we were offloaded next to
D-AHXF
- actually the newest of X3's 73Gs, delivered in mid-December 2007.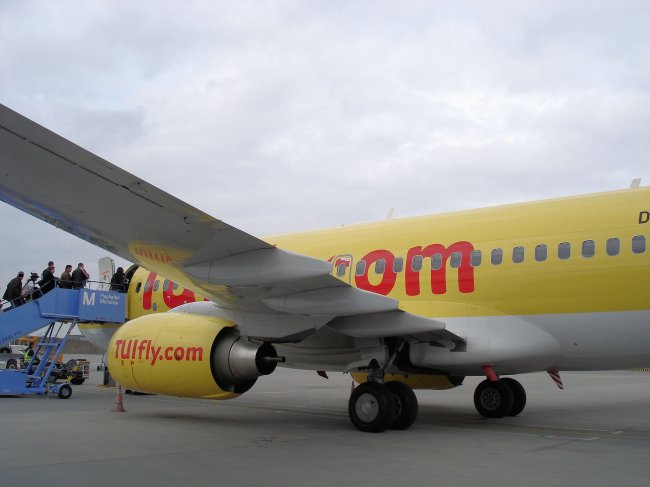 Red logo on a yellow tail - or to quote some critics:
"The Sickle and the Eye"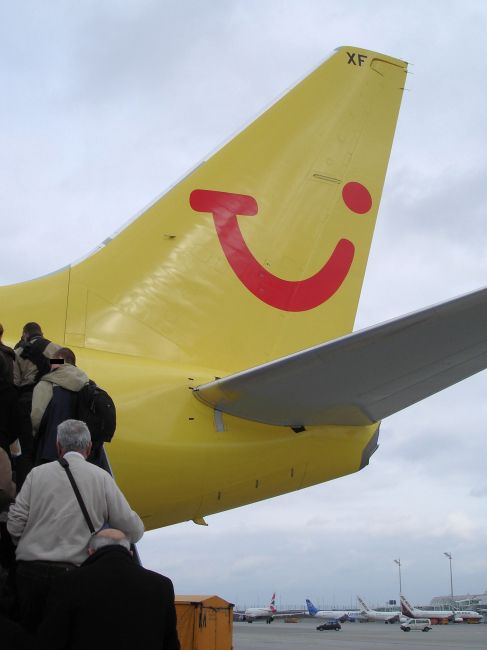 Shiny fuselage: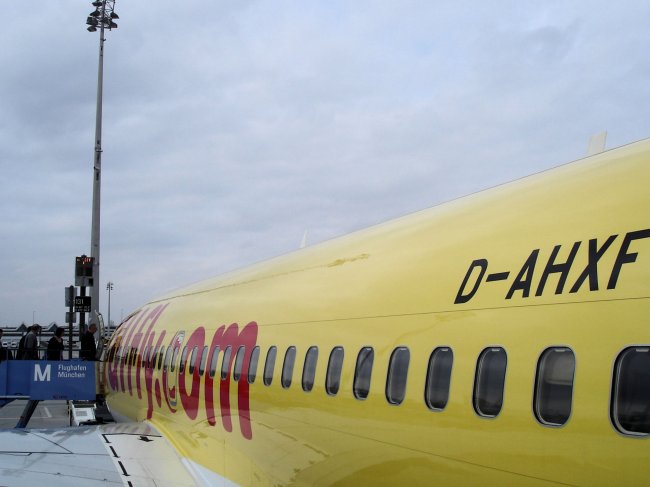 Cabin Comfort & Seating
We were welcomed by a friendly male F/A in the 50s and took our seats in row 26. The flight was quite packed (load factor some 80 percent) but we were lucky and the aisle seat remained empty. X3 is using modern and comfortable Recaro slimline seats, enabling a sufficient pitch even despite the plane's 148-seat-configuration.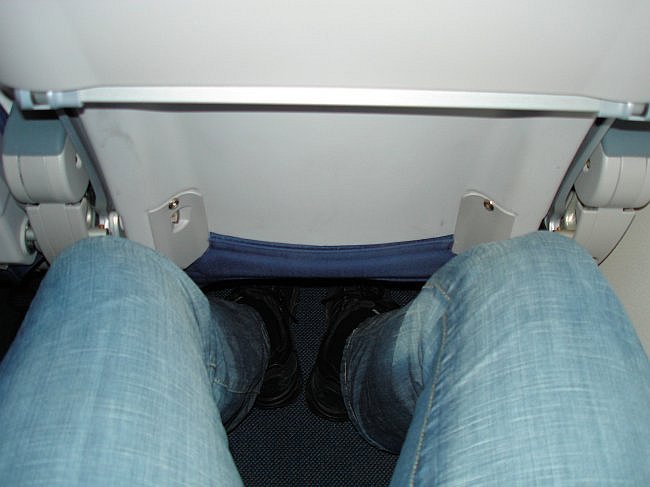 The cabin is equipped with flat and relatively big foldout screens - which weren't stowed during takeoff. Note the Google Earth-style view of MUC: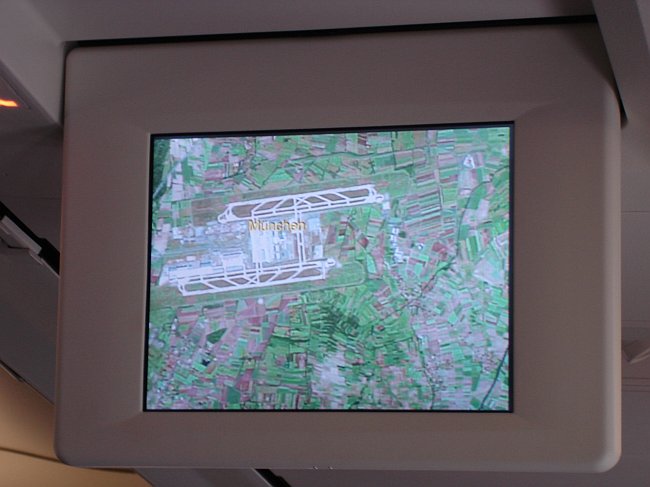 We left the gate at 12:04, passed an EL AL 747-400...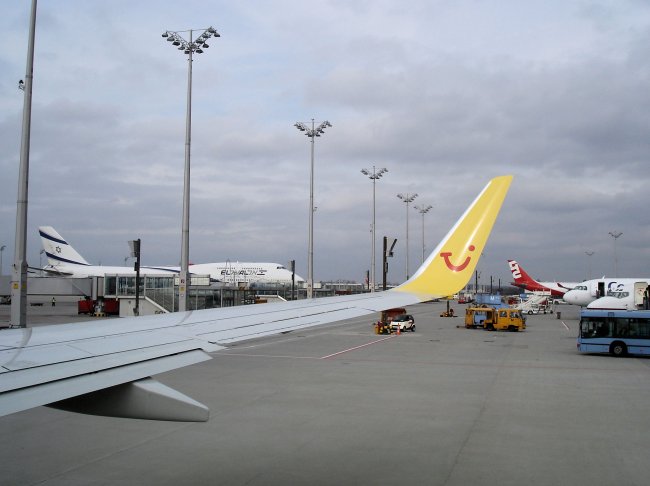 ...taxied to runway 26L...
...and took off into a cloudy sky. Note the plane taking off from 26R - it's germanwings' D-AKNI, the
Hamburg Shopper
.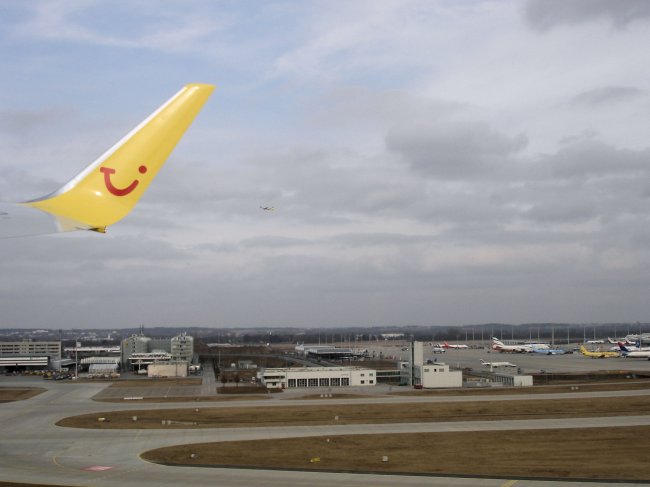 Lufthansa A340-600 and two stored ex-VIM 757-200s: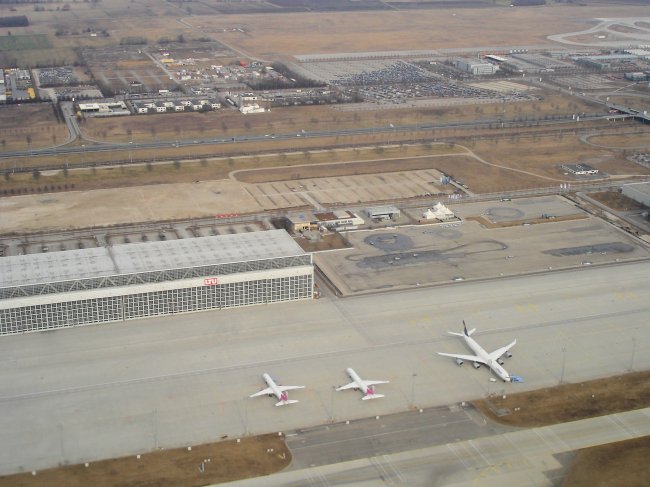 Virtual Views & Flight Info
TV features weren't shown (advertised to be available on flights longer than 1,5 hours), but I didn't mind at all - the alternative was much better: a flight info channel with various maps and virtual views, e.g. window view...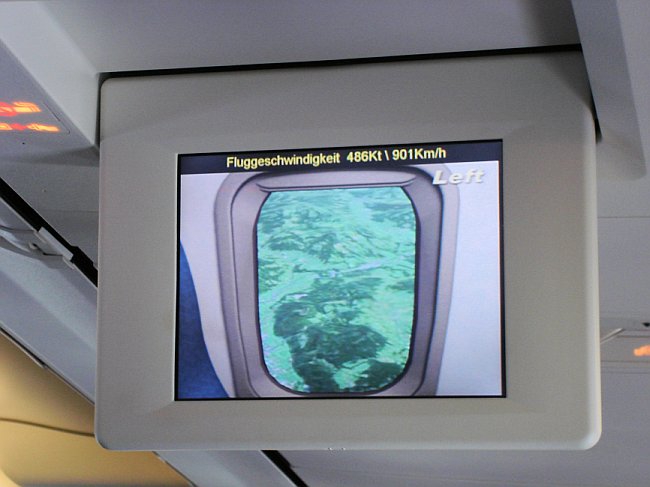 ...and cockpit window view. Not bad, especially for those without a window seat.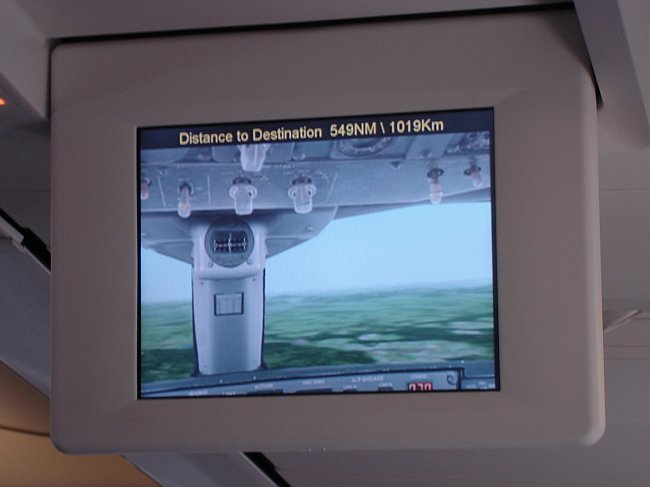 Flight information page - even showing the aircraft type. Now they only need to add the registration.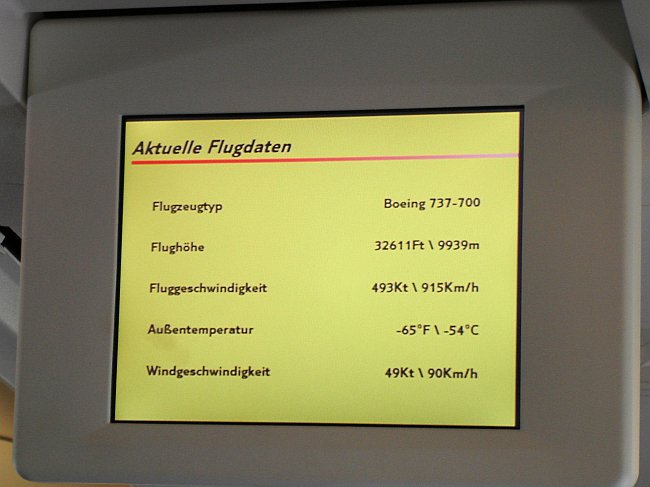 Crossing the Alps
Soon we had reached the foothills of the Alps. Here's the Tegernsee: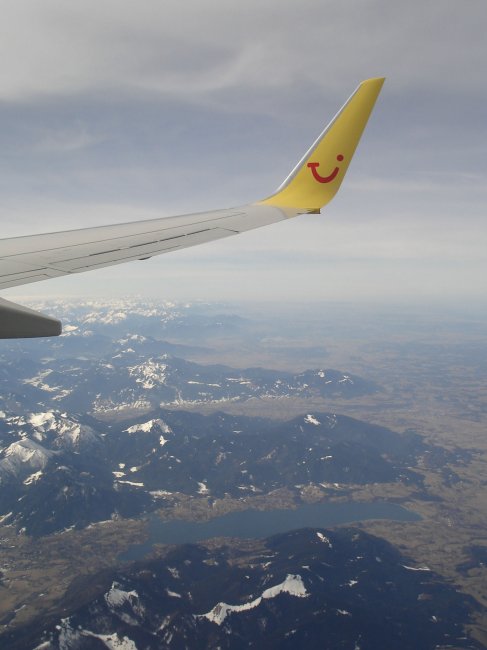 Beautiful scenery: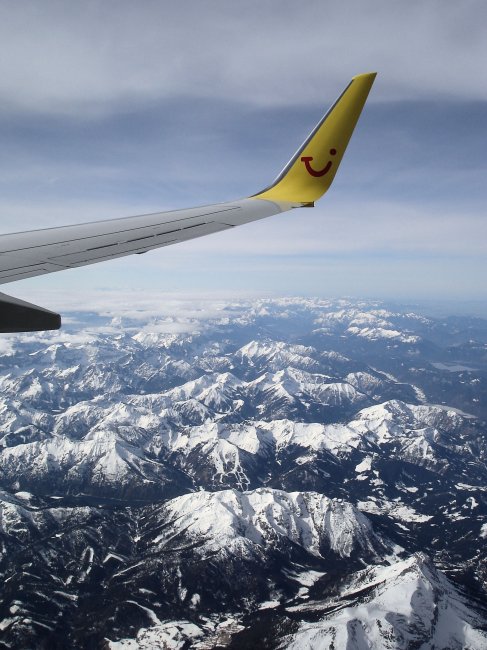 The city of Innsbruck: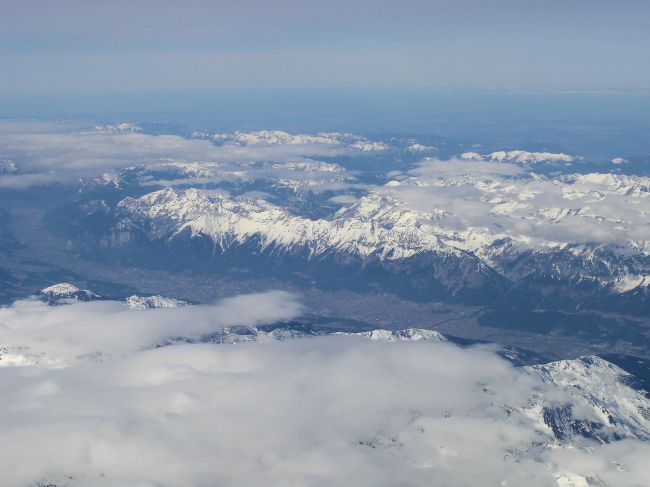 White peaks...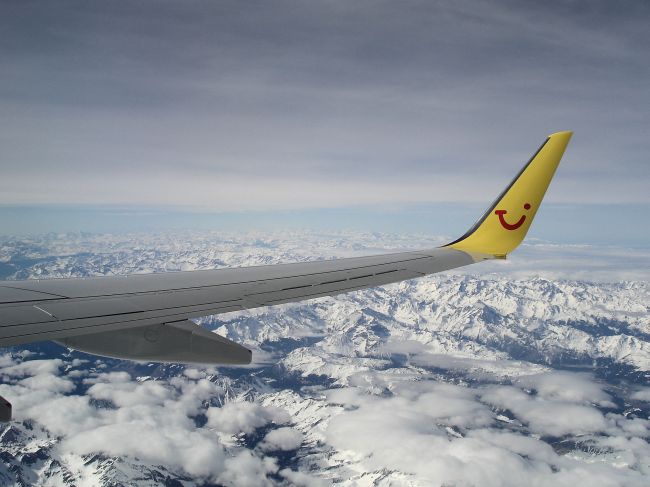 ...and foggy valleys: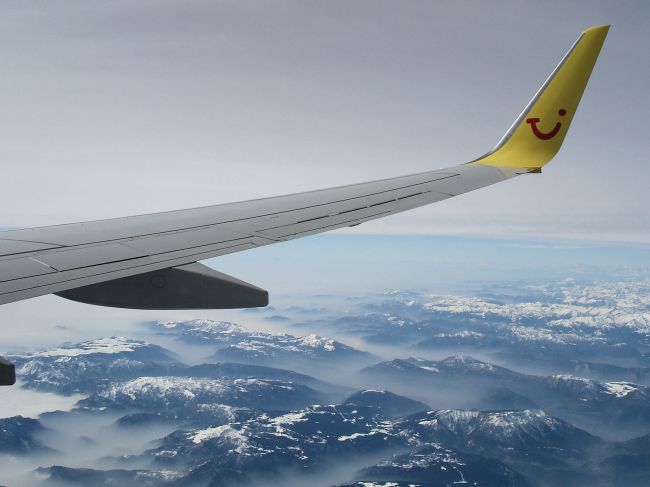 Map with countries in different colors: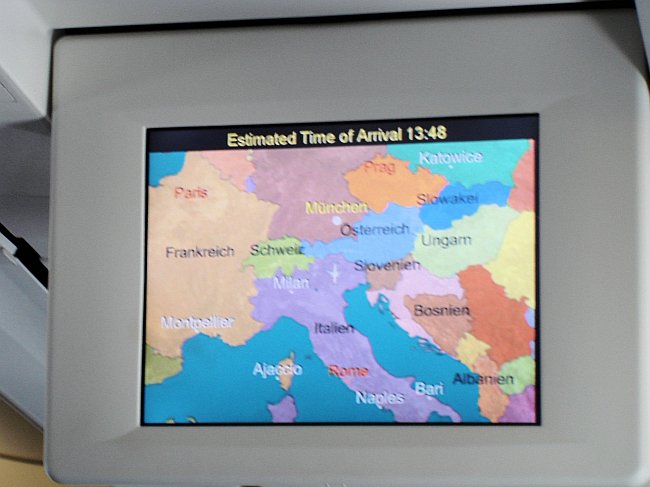 TUIfly Catering Policy
Seatback pocket packed with safety card, airsickness bag, X3's rather attractive inflight magazine...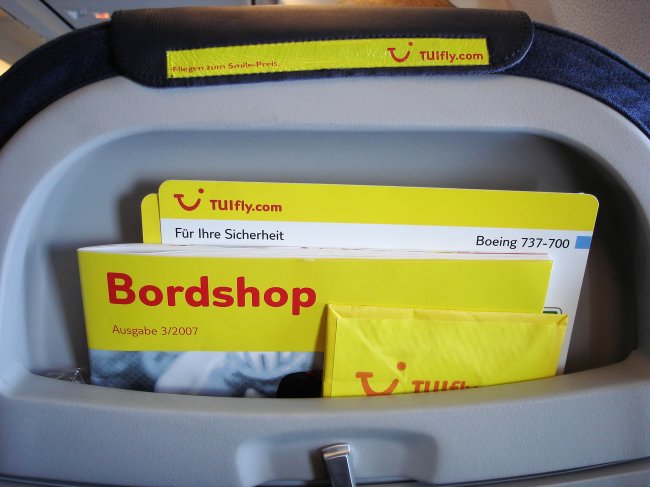 ...and menu cards. Page 1, valid on all flights (including those with free catering)...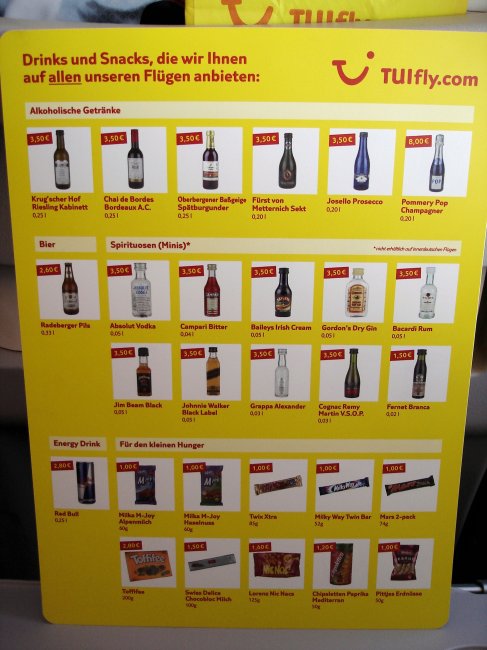 ...and page 2, valid on city shuttle flights in Germany and to/from Austria, Croatia, France, northern Italy, Sweden, Switzerland and the UK (without free catering):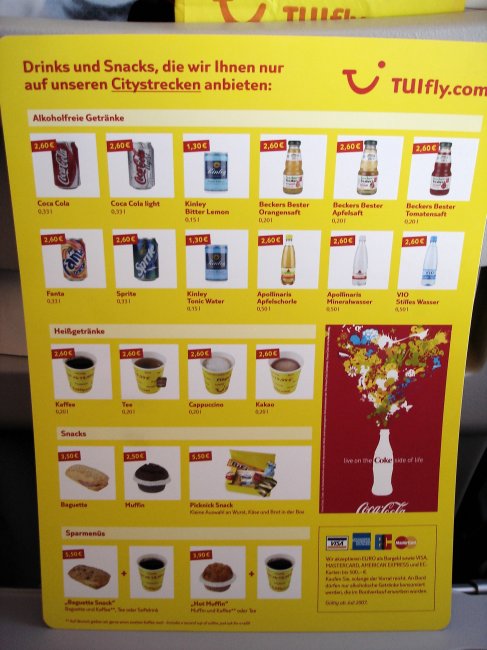 Free Snack
Flights to Sardinia belong to X3's "longer flights" (to/from the Canaries, the Cape Verde Islands, Egypt, Greece, Israel, Morocco, Portugal, southern Italy, Spain and Tunisia) where drinks and food, ranging from baguettes to hot meals, are served free of charge. We were offered bagels with cheese and sausage cold cuts, both of which were quite filling. While I considered the cheese bagel to be the tastier option, my girlfriend liked the other one better.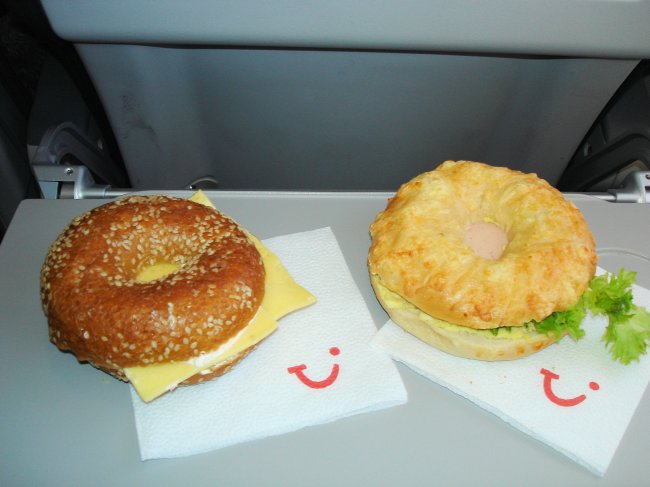 The friendly F/As offered cold and hot drinks and later handed out small Mars chocolate bars: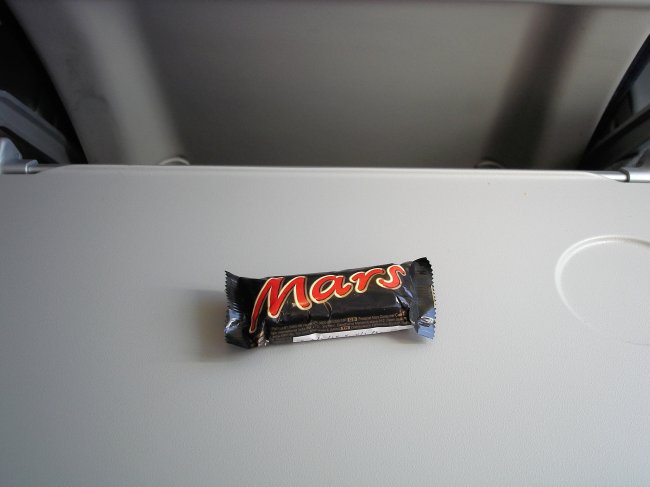 Menus on Demand
X3 also offers the option to pre-order various snacks and menus (on longer flights). Here's a link for more details (pics and descriptions only available on the German version of the website):
http://www.tuifly.com/de/service/bordmenue.html
Pax were permanently hanging around in the aisle, not the best conditions for cabin shots: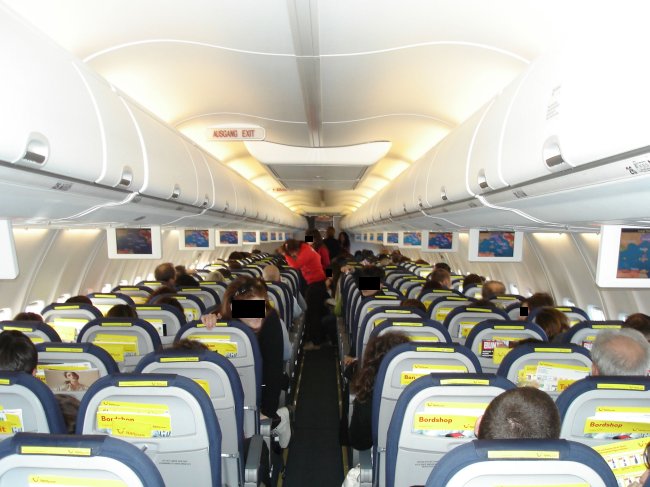 Passing the peninsula of
Monte Argentario
at 39,000 feet: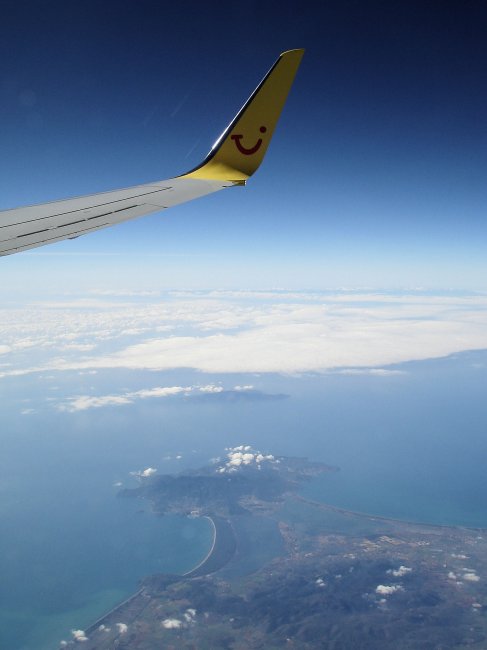 Another route map version: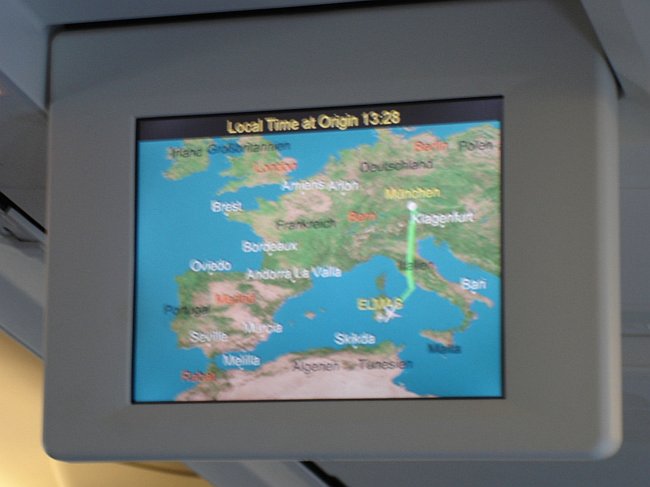 Approach
We descended along Sardinia's coastline...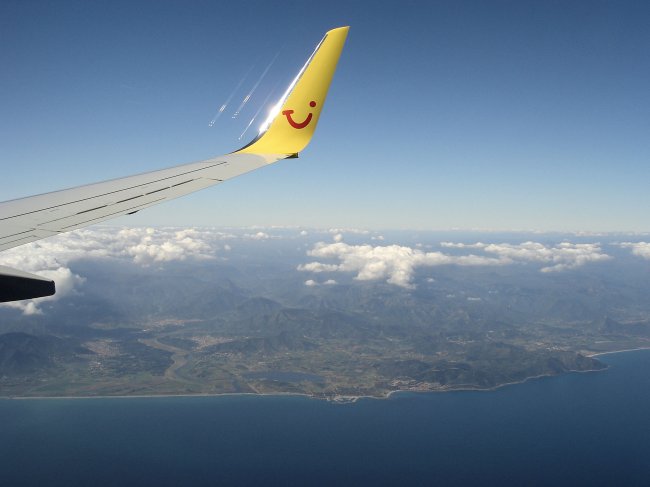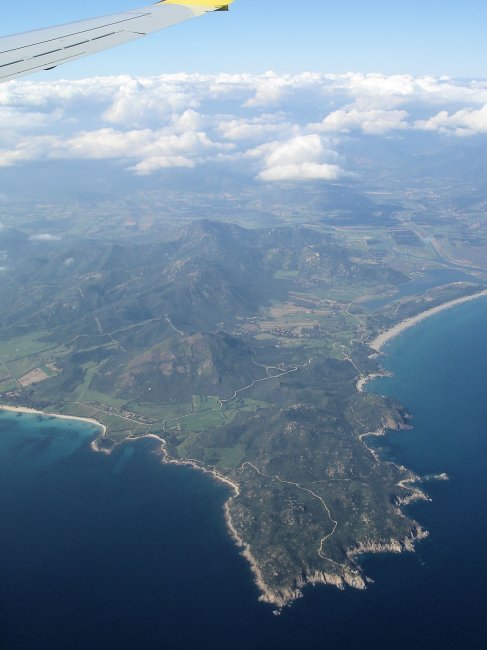 ...turning right for an approach from the south - so changing to the right side was a good decision!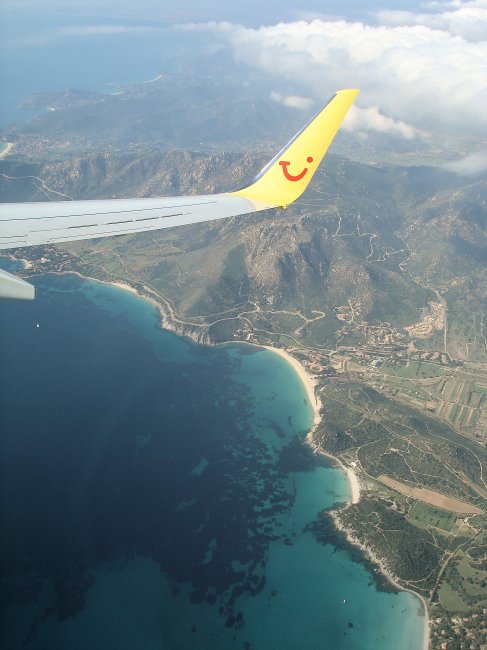 Only moments...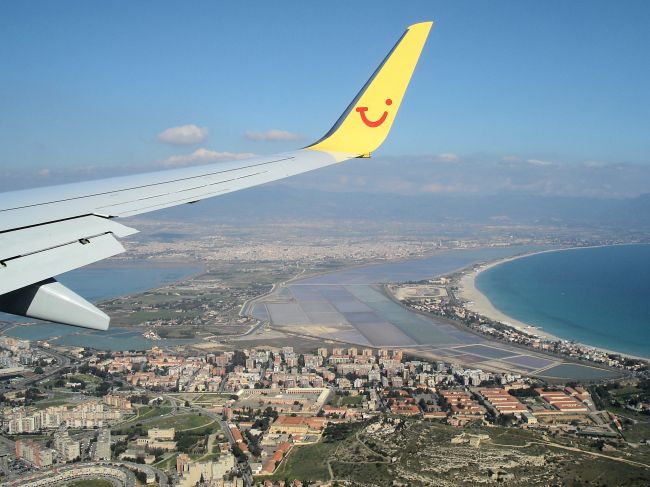 ...from the
Stadio Comunale Sant'Elia
, home of
Cagliari Calcio
...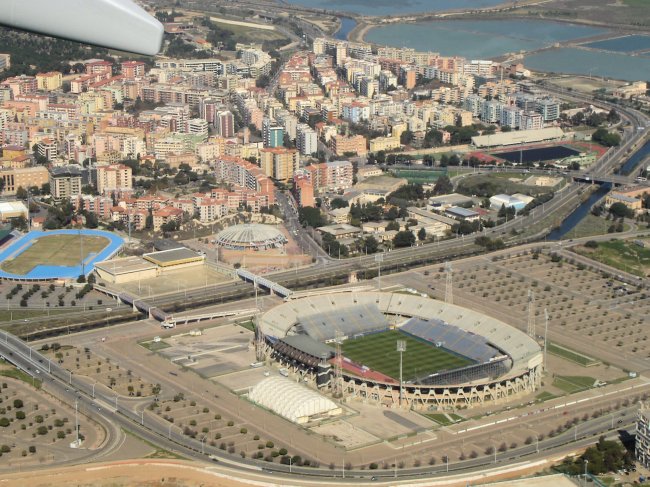 ...and the city center of Cagliari.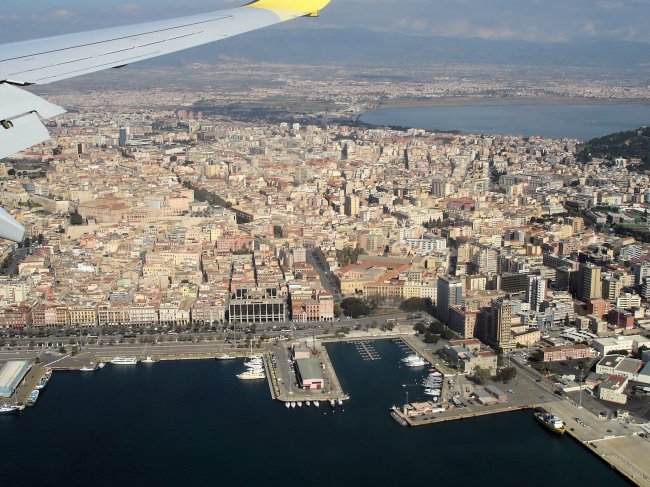 The
Via Roma
(where our Hotel Miramare was located)...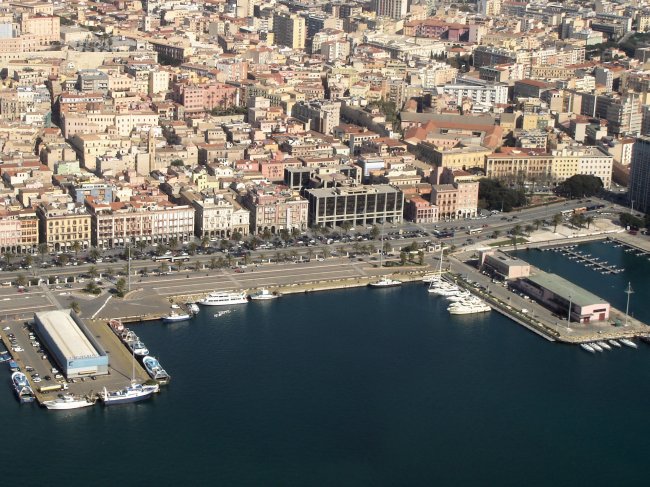 ...a part of the harbor...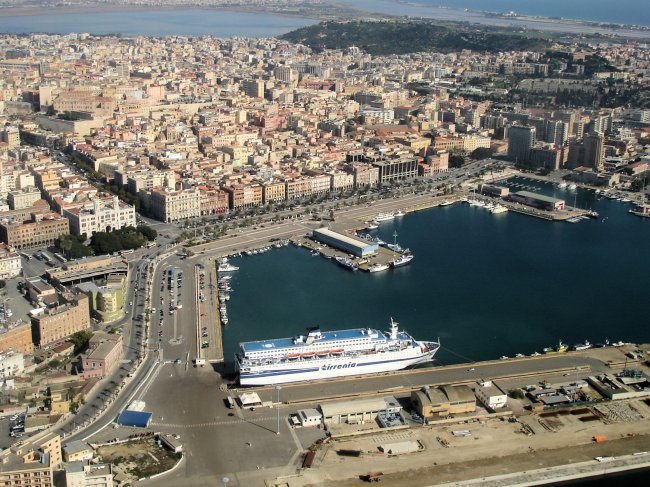 ...and the train station as well as the central bus station at the
Piazza Matteotti
: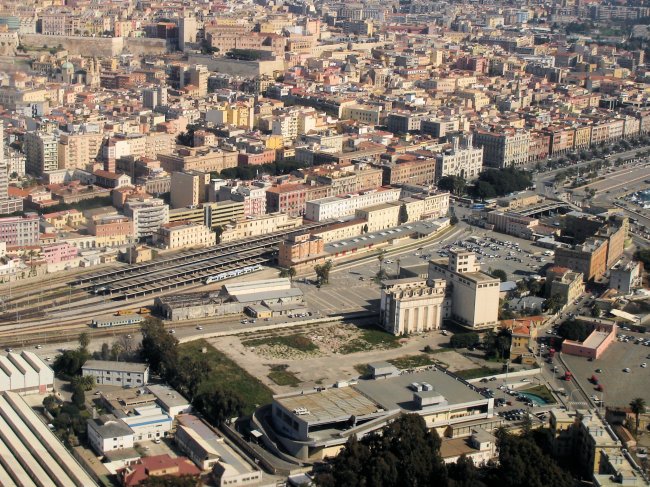 Only few more moments...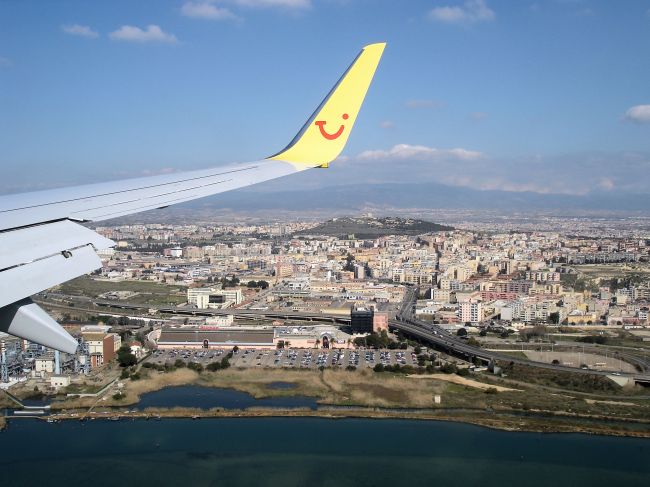 ...until we touched down at runway 32. It wasn't very busy at Elmas Airport in the early afternoon - there were a Meridiana MD-80, an easyJet A319 and an Air One A320.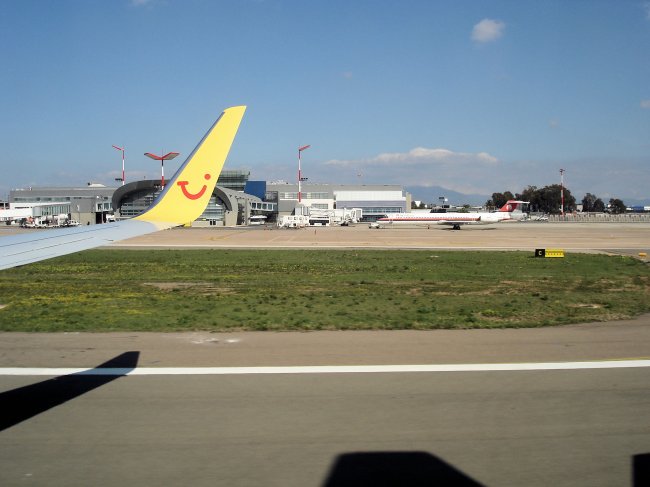 Goodbye,
D-AHXF
: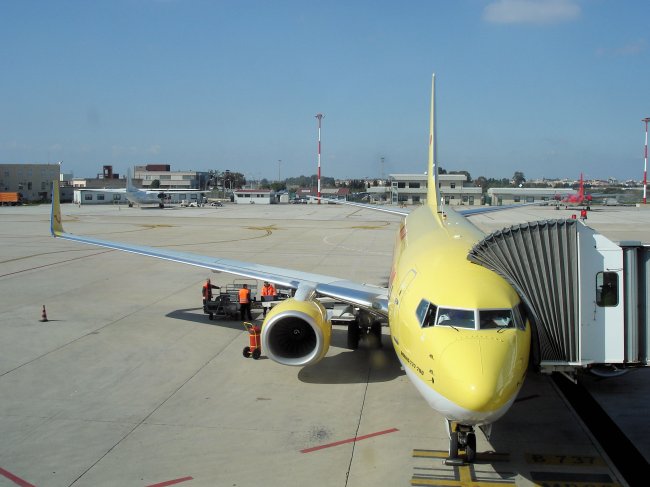 After grabbing our luggage it took us a while to find a bus ticket machine - it's located far away from the the bus stop area. Who knows which logic's behind that...
Anyway, we managed to catch the next bus to the central station at the
Piazza Matteotti
(running every 30 minutes, 2 Euro one-way).
Cagliari
Cagliari (Sardinian: Casteddu) is the capital of Sardinia and has about 160,000 inhabitants, or some 500,000 including the suburbs. Under the name of
Karalis
the city was already established around the 7th century BC as a string of Phoenician trading colonies.
Hotel Miramare
From the central bus station it was just a ten-minute walk along the
Via Roma
to the stylish and charming
Hotel Miramare
, located on the third floor of a noble old building, called the
Palazzo Devoto
. To sum it up: very friendly staff, great location just in the middle of the city, fair price (79 Euro per double room, including breakfast) - I can fully recommend this hotel which ranks on 4th place out of 48 Cagliari hotels on
www.tripadvisor.com
.
Sightseeing
There's a lot to discover in Cagliari - and almost everything can be reached by foot. Whenever you need to rest, just sit down in one of the many coffee bars, bistros or small restaurants and enjoy Italian delicacies.
Palazzo Civico
- Cagliari's city hall: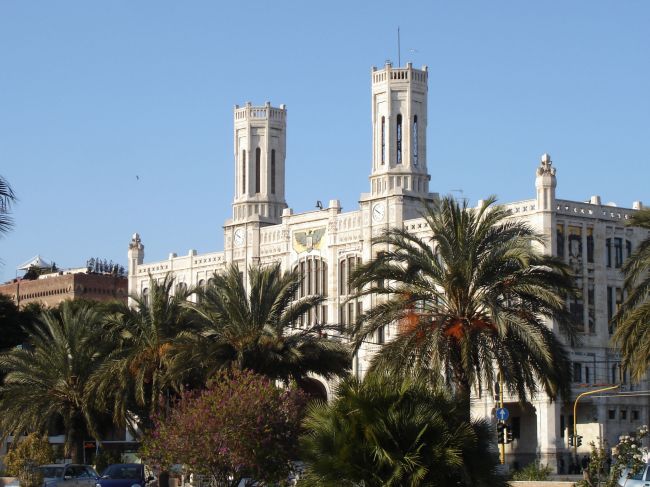 La Rinascente
- Cagliari's largest (and exclusive) department store: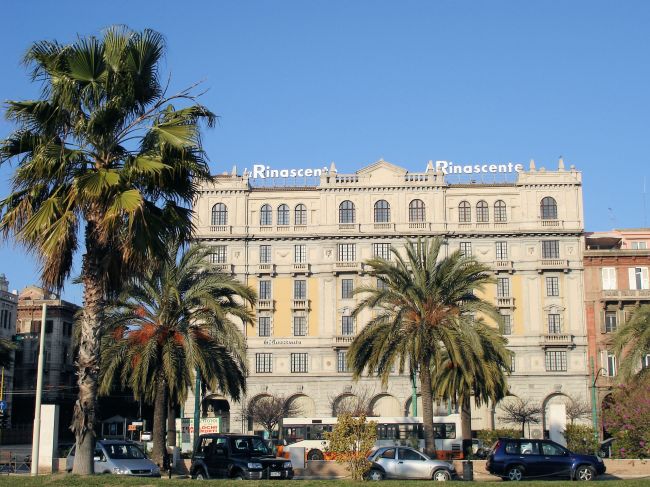 Bastione di Saint Remy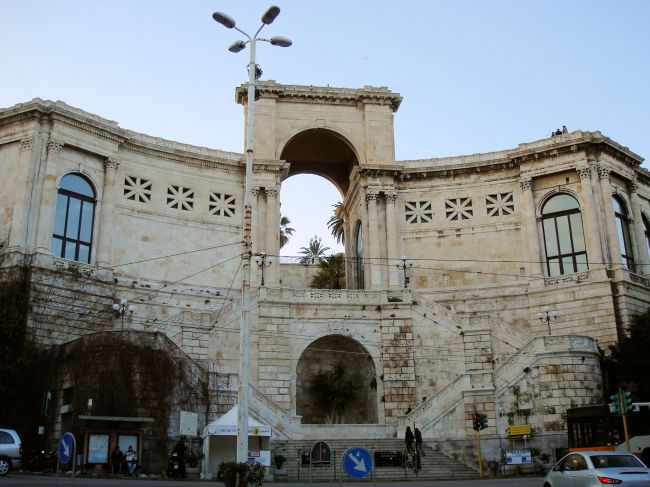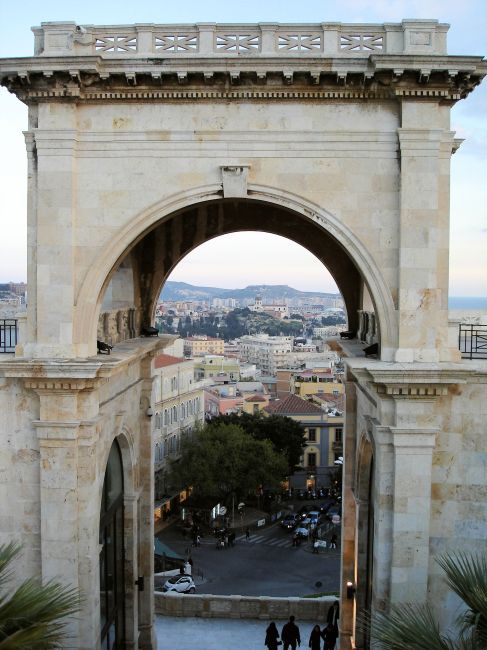 Piazza Umberto I.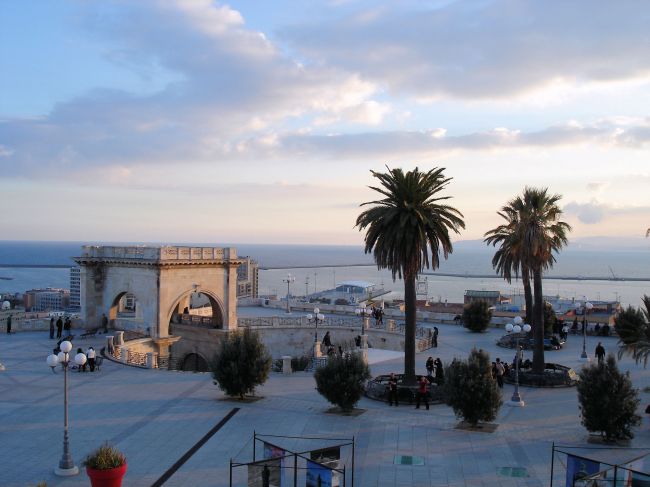 La Cattedrale di Santa Maria
, located in the city's oldest district, called
Castello
: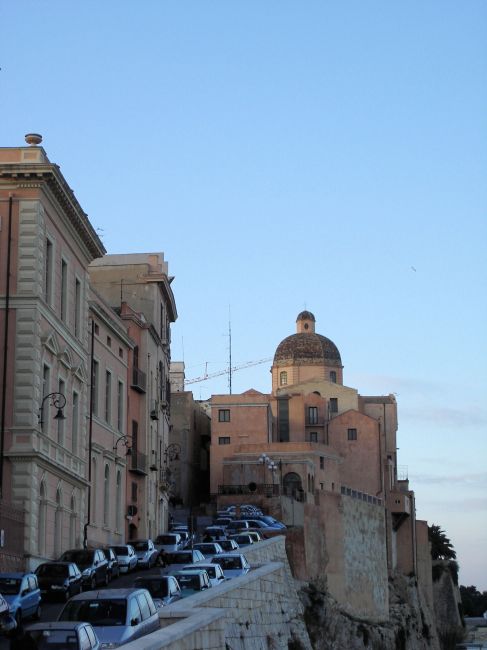 City views during sunset: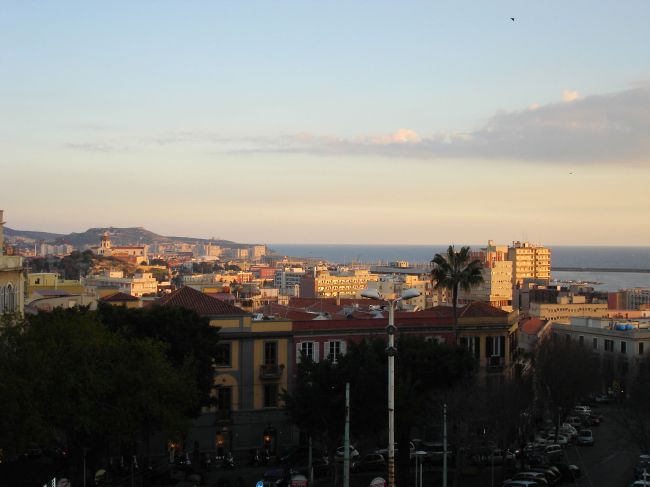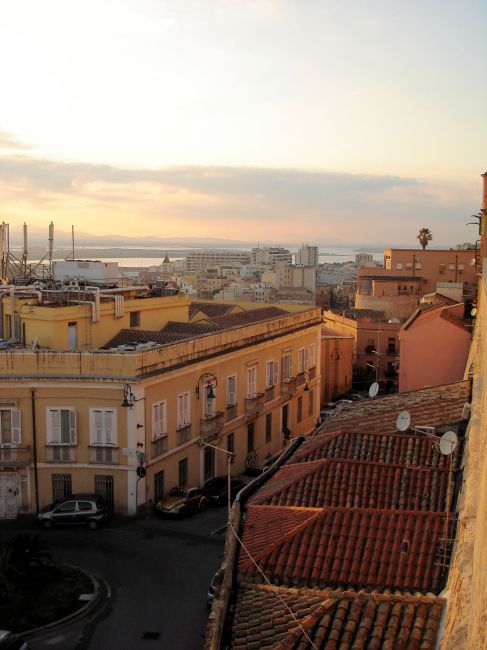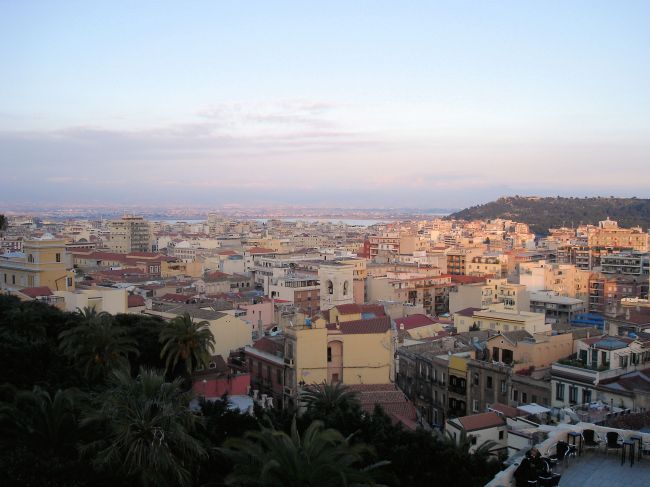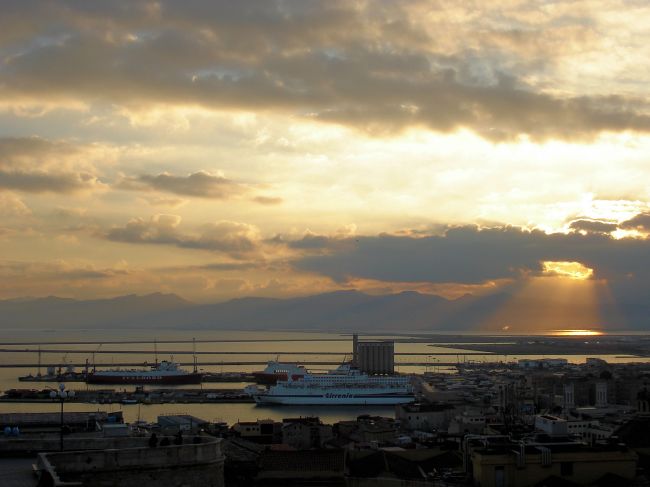 Via Manno
with many exclusive stores: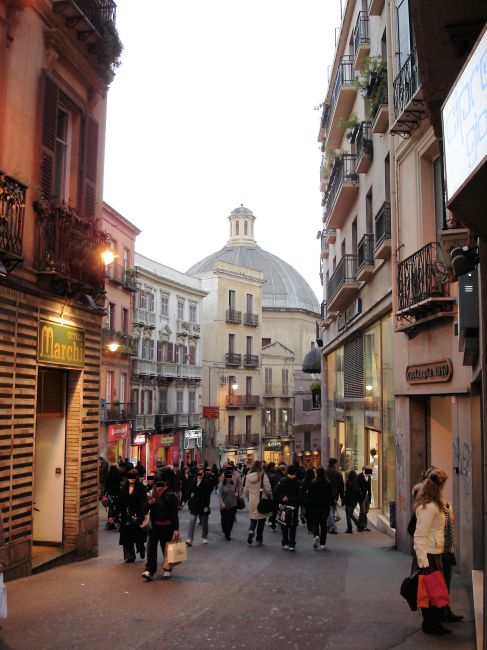 Fiat 500 - far from its home Roma.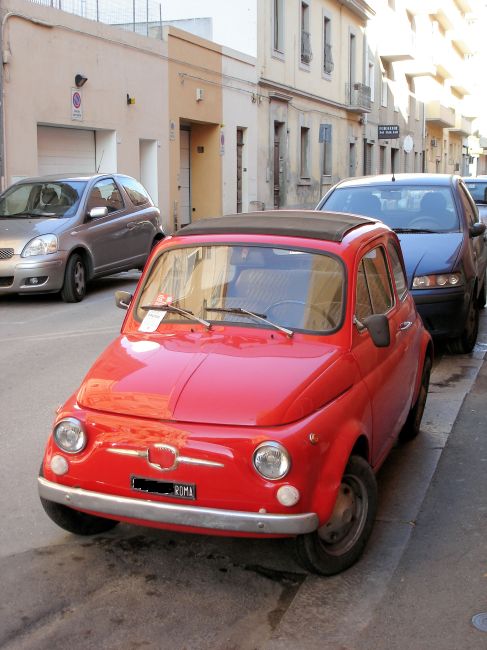 Outstanding parking skills: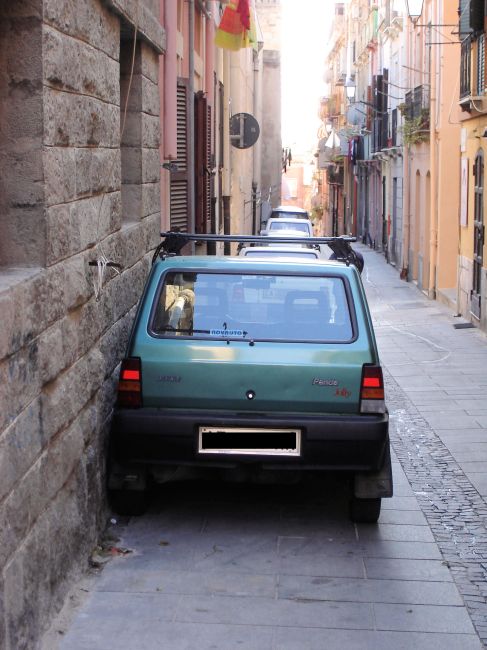 Orto Botanico
- a large botanical garden with many exotic species of plants and flowers. Very recommendable for everyone who likes plants of any kind. Just some examples: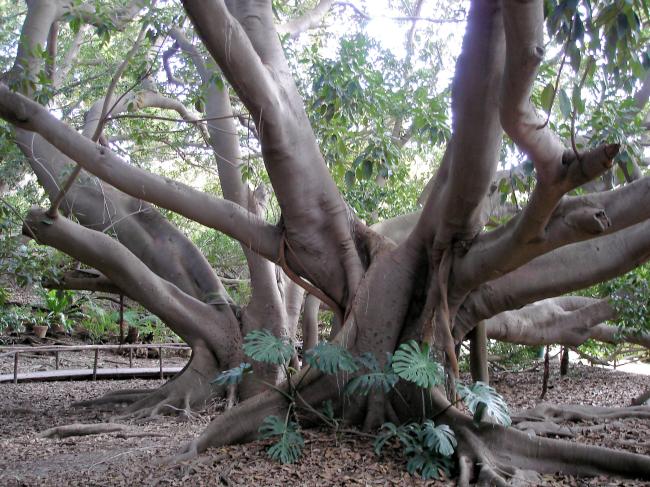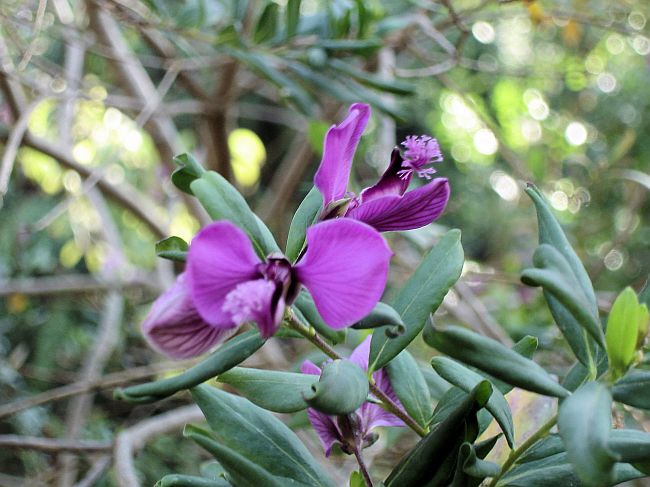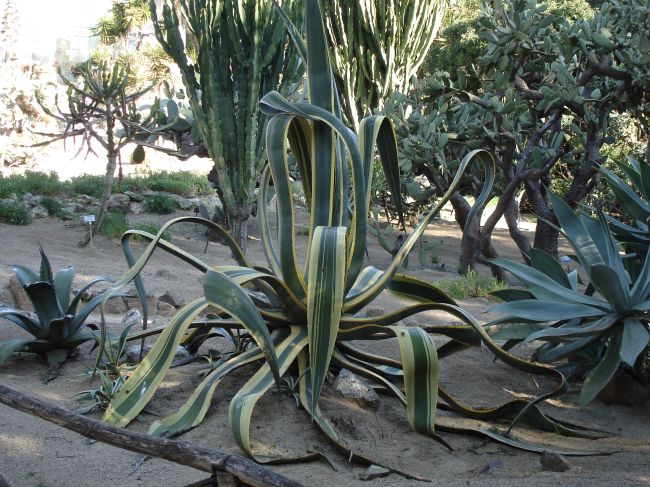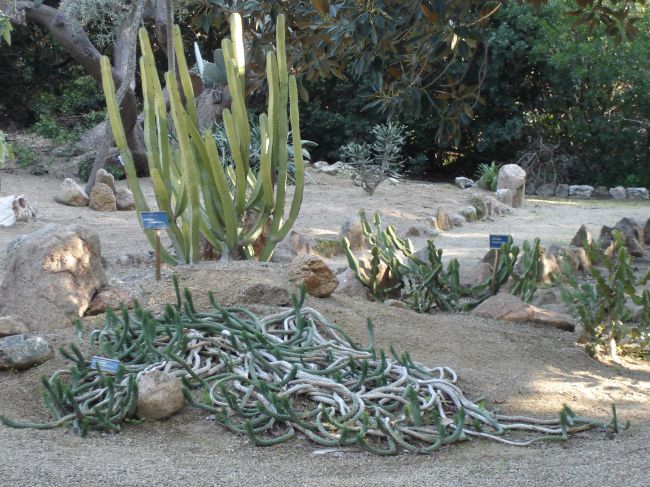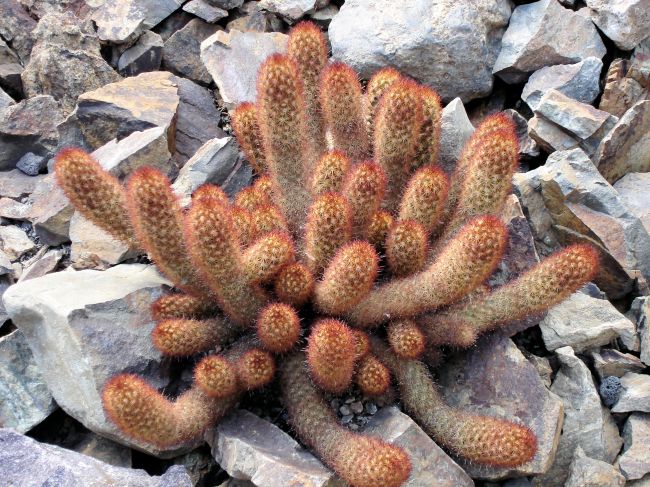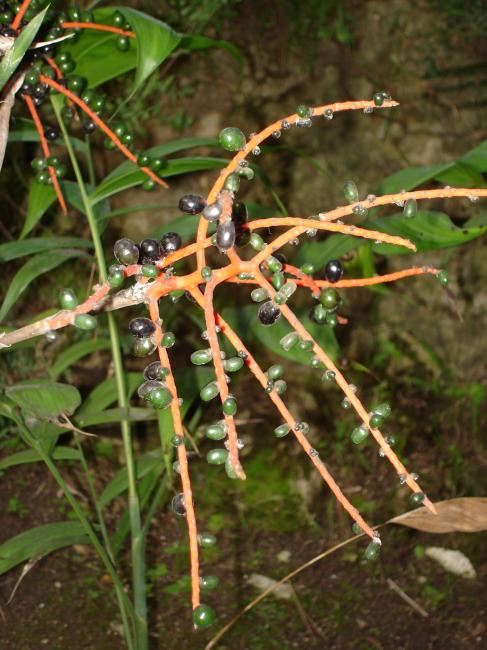 Sunday, 24 February 2008
Cagliari (CAG) - Olbia (OLB)
Meridiana, IG 633
17:20-18:00 (17:25-17:56)
Flying time: 00:23 (hrs)

McDonnell Douglas MD-82
I-SMEB Parco di Baia (s/n 1908 ), delivered in 08/1991 to Far Eastern Air Transport as B-28001
Economy Seat 15A
Quick Check-in
After more enjoyable hours of shopping, sightseeing and dining we took the bus back to Elmas Airport in the afternoon. In contrast to what I have heard before, the busses seem to run regularly and on time even on weekends. Again it was not very busy at the airport and only few pax were waiting at the Meridiana counters. A friendly female agent welcomed us and replied
"of course"
after I had asked about a window seat behind the wing on the left side. This time we had an opposite takeoff direction so I expected to see the city on the left side. Later I found out she had picked row 15, but at least it was on the left side.
Emergency Plan
We passed through security and took a seat in the gate area. It wasn't a busy time for a spotter, with only one TUIfly 73G, a Meridiana MD-82 and an Avanti Air ATR 42 around. I was glad when our plane arrived on time - a cancelation or some hours of delay and we would have been stranded. In such a case we most likely would have tried to purchase a ticket for the TUIfly OLB-STR service on Monday, plus a train ticket to MUC...
Anyway,
I-SMEB
, a 1991 model once delivered to Far East Air Transport, was ready to operate the service to Olbia and further to Bologna.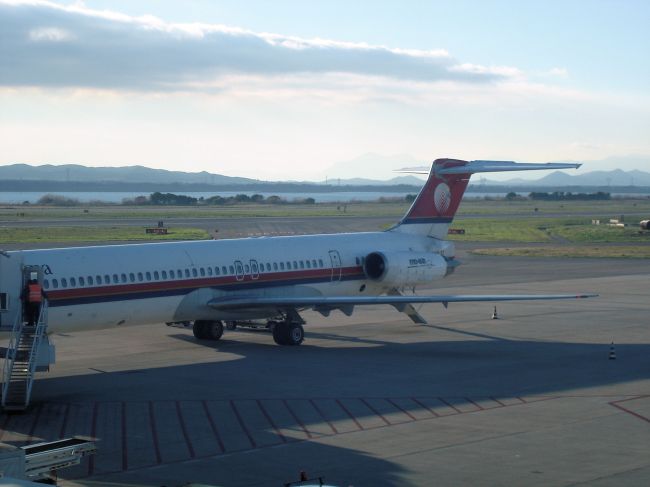 Cramped Seating
I had expected a light load, but the flight was packed, probably not a single seat remaining empty. As we stepped on board, a hefty painted female F/A with a disdainful face expression didn't even look at the pax but stared somewhere else - not the kind of welcome you expect as a passenger. At least some others knew how to say hello. We walked down to our row and I was "impressed" by the cramped seating on this plane - never had experienced such a limited pitch on a Mad Dog before. With 165 non-slimline seats on the MD-82 Meridiana's doing it the hard way.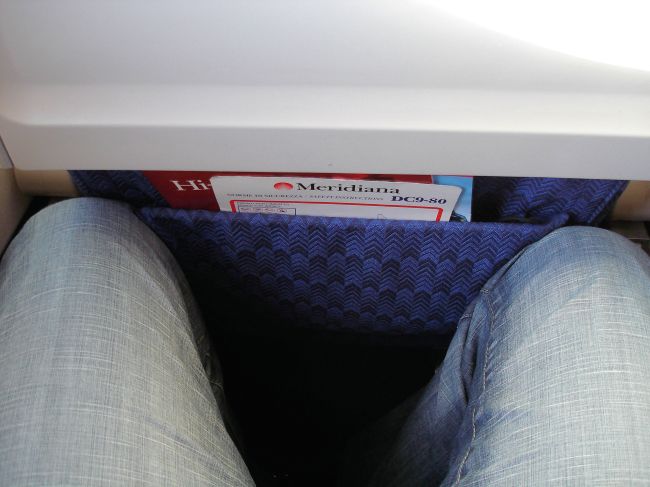 Opposite row: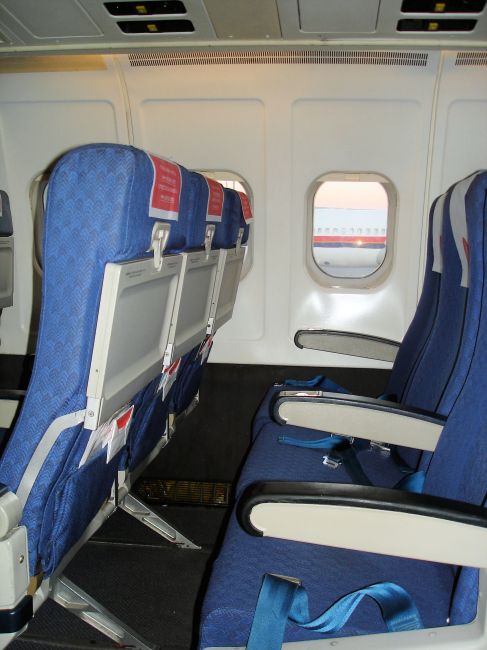 Airborne for 23 Minutes
Just like all other aircraft before,
I-SMEB
took off from runway 14.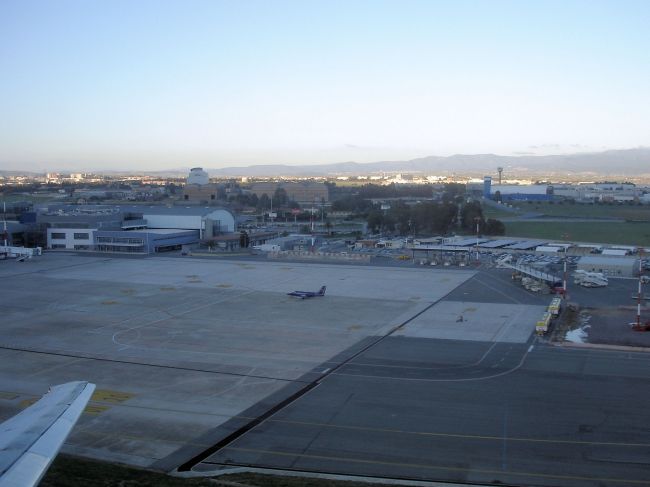 We enjoyed some nice views - but we couldn't see the city center.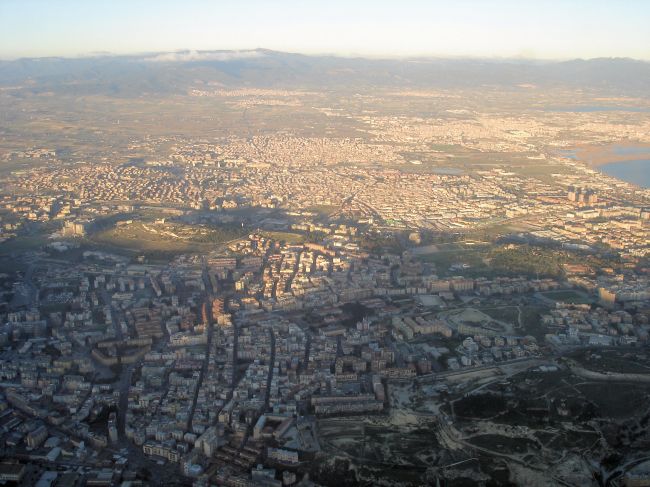 Note the runway on the top left corner: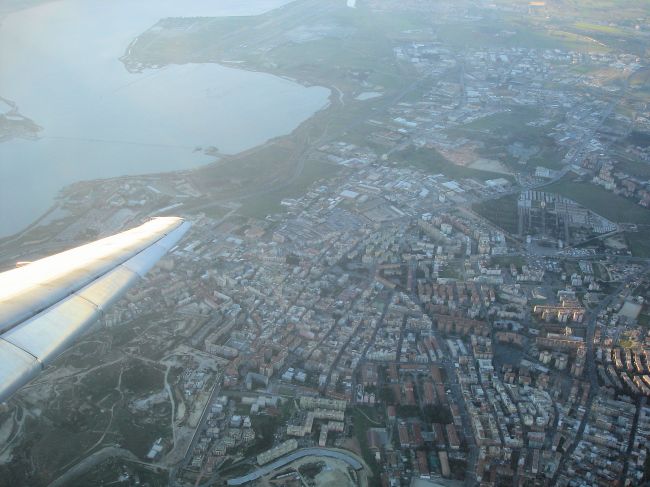 The plane cruised for a while after a steep climb and soon started descending again. Mountainous terrain on the left: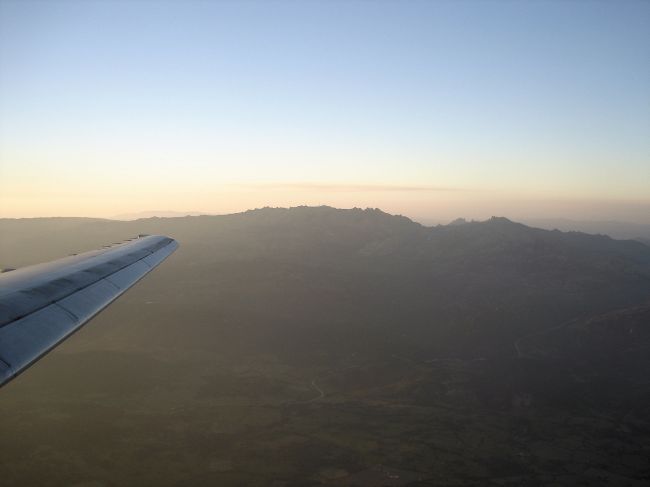 Final approach into Olbia Costa Smeralda Airport: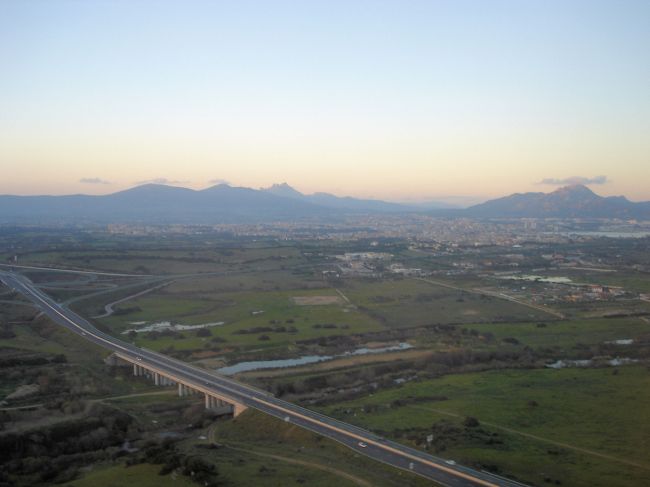 We touched down at 17:53, only 23 minutes after takeoff. Sister ship
I-SMEZ
parked next to us: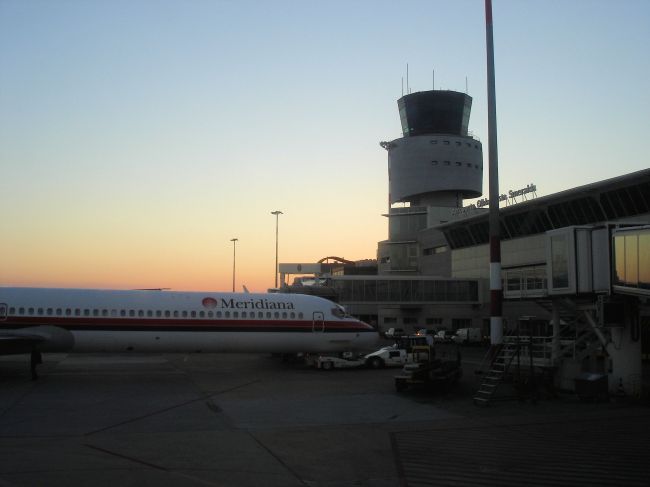 Sunday, 24 February 2008
Olbia (OLB) - Munich (MUC)
TUIfly, X3 3159
20:55-22:50 (20:45-22:18 )
Flying time: 01:21 (hrs)

Boeing 737-7K5
D-AHXE (s/n 2451), delivered in 12/2007
Economy Seat 25B
The Airport Dog
Most passengers continued to Bologna so there were only few people waiting at the baggage claim. We grabbed our stuff and walked straight to the TUIfly counters in the departure hall. The counters weren't supposed to open until two hours prior to departure but two friendly agents started working earlier. Row 25 on the left side was still available and we got our boarding passes two minutes later.
We spent some more time in the departure hall and noticed a dog which was apparently running around without an owner. Then he/she stayed for a while with a group of policemen who seemed to know him/her. Some minutes later the dog started running around again - and peed on a plant in the terminal hall.
Another New 737
We had dinner at a reasonably priced restaurant, passed through security and went to our gate. Because of intensive light reflections on the windows I couldn't see almost anything on the apron. Finally a TUIfly plane arrived and I couldn't read the registration until it stopped at the gate. I had been prepared for getting D-AHXF again, but it was
D-AHXE
this time, delivered two weeks before its sister ship.
Talkative Pilot
Again a friendly crew welcomed us on board. The load was around 60 percent, so boarding was completed quickly. The general welcome announcement was the same as on the MUC-CAG service (
"ladies and gentlemen, boys and girls"
), including a welcome by
"your tour operator"
. We left the gate ten minutes early and while we were heading to the runway, apparently the First Officer started talking, introducing himself as not as FO but as
"your pilot"
. He gave us some interesting details about the flight, referring to runway 06, a takeoff weight of 55 tons and a takeoff speed of 260 hm/h. Then he promised to keep us updated about the flight and the routing.
IFE not Available
The screens were stored for takeoff and weren't folded out again later. Some 30 minutes after takeoff I asked an F/A and she said there was a problem with the system.
"It's still a quite new machine"
, she added, trying to indicate some teething problems. The FO kept his promise and informed us about flight details (cruise altitude 40,000 feet) and sights on the ground, e.g. the city of Rome (and later the Allianz Arena at Munich). He also added:
"We hope you feel good on board."
Snack
Drinks, bagels and Mars chocolate bars were served again, this time with yellow napkins.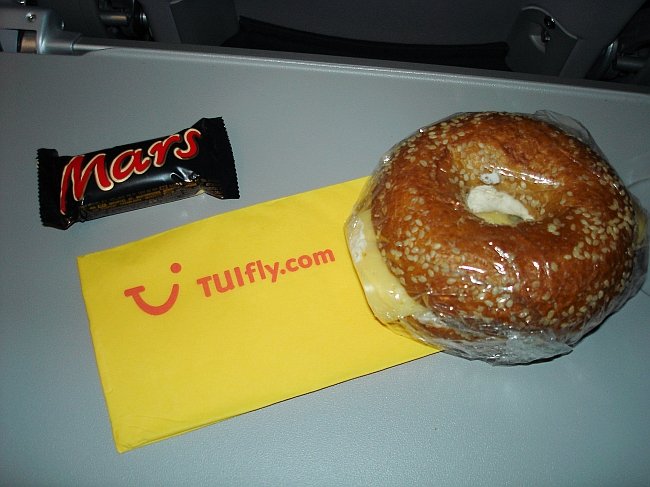 Seats & hlx.com
The flying time was only 1:21 which passed quickly. We touched down at 22:14 and taxied to a remote position. Time for two more cabin pics. The new-style Recaro seats: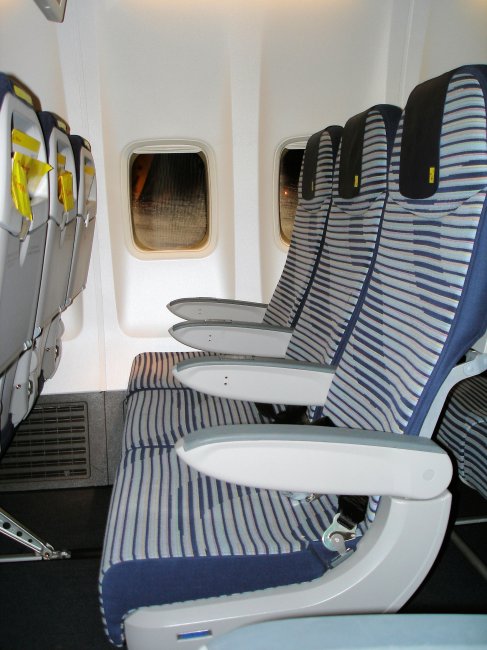 Interesting to see some
hlx.com
markings in the cabin of a plane delivered in December 2007...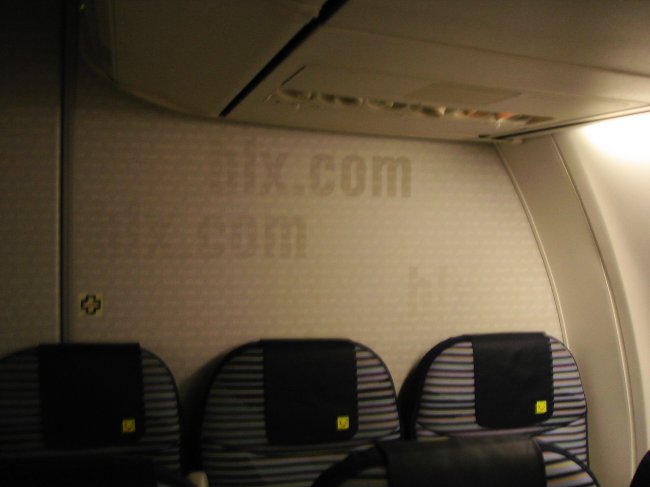 No-Camera Policy
There weren't any inflight magazines available in any seat pockets on that sector so I asked to get one before disembarking. No problem, of course. Later I read in that magazine that TUIfly prohibits the use of digital cameras during takeoff and landing. When did they introduce that policy? Hopefully there's not a general trend among airlines.
Conclusion
Both sectors on
TUIfly
were a pleasure, I wouldn't hesitate to fly the airline again. Ground staff and flight crews were friendly, seating comfort was sufficient, quantity and quality of the (free) catering were all right, cabins were clean, booking process and check-in were convenient. And not to forget: X3 has an innovative airshow and flight info channel. It would be a real pity to lose that carrier in consequence of a merger with germanwings.
The flight on
Meridiana
was very short - and I'm glad about that because the seat pitch on the MD-80 was awful. The booking process was easy and convenient, check-in agents were friendly, but the F/As' appearance was inconsistent. I would definitely fly the airline again and try its product (e.g. catering) on longer flights - as long as it's not an MD-80 with 165 seats.
Best Regards,
PlaneHunter