Hey, this is my first trip report at JP. Its from my trip with my family to London over spring break. I've never really done sumtin like this before and I only joined JP recently, so i might not have that much experience with the trip report thing but i tried to make it as least boring as possible for you guys...hope you guys like it! I didn't take too much pics of the planes rather than pics of the city in London but I still hope you guys will like it.
NOTE: This thread will be seperated in two posts cause its long and has alot of images...so here's what you can call "part one", or the leg to London
Date: March 14, 2008
Route: IAD-LHR
Duration: 7 hours
Airline: United Airlines
Aircraft: Boeing 767-300ER
Seat Type: Economy Class
Aircraft Registration: N644UA
In the early morning of March 14, 2008, me and my family left for Washington Dulles Airport to get to our flight to London, which took place just after 11 that morning. I was pretty excited cause it was my first time ever going to London. When we got to the airport I was able to wait in the United Business Lounge there because although I was sitting in Economy my mom got Business class, so I got to enjoy the pre-flight experience very nicely. They served a lot of really nice refreshments in the Business lounge and I also stole a lot of free chocalates! Yay me!
Alright. So the trip is about to happen. The boarding had been delayed about 20 minutes due to some large bird flying around the plane's engines, but after that we boarded and we took off. I got a window seat in the plane and I really got a wonderful view of how powerful the 767 can take off. I saw all the cool engine flappy movements and I saw the line of air running over and under the wings like we were in a wind tunnel! Cool stuff!
After take off the aircraft slowly climbed above some thick gray clouds (typical here at Washington DC) and we soon got to cruising altitude. About 15 minutes into the flight a small snack of a bag of pretzels were served. Meanwhile I took a shot from my window shown below....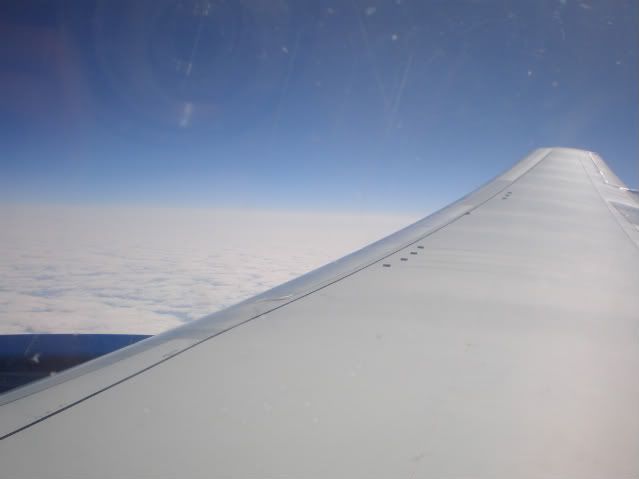 About 5 hours in flight, dinner was served, and it consisted of some hot pasta with tasty red sauce, salad with dressing/garlic, and a delicious piece of carrot cake!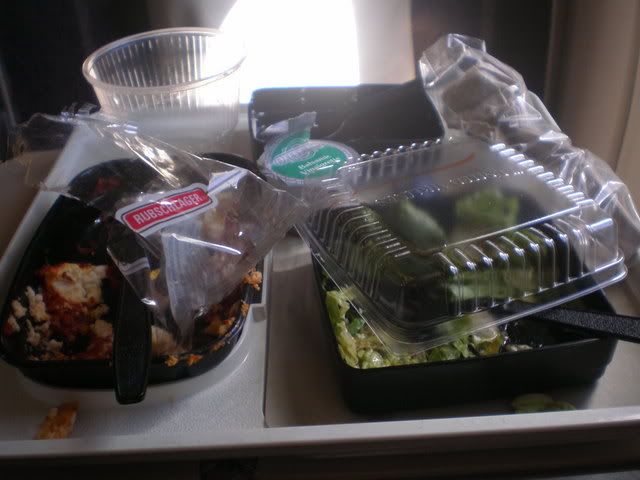 Soon after a tiny snack of a turkey sandwich and some chips were served, we slowly descended in altitude about the city of london at night. My first view of London was a gorgeuous one from 15.000 feet in the air and all the night lights gleaming below. I was gonna take a pic from my window, but my sister was being an angry moose and didn't let me use her camera for the rest of the flight (i was using her camera the entire time since i dont have my own yet)
After we landed, I got my first whiff of how Heathrow was like. We parked next to an Air India 777 before the pax left the plane. When we entered the aiport, one thing we noticed that LHR was a bunch of small building with not a small amount of people. Below is a pic of the conveyor belt @ LHR my sister took at around midnight-ish.
When we finally arrived at our hotel after midnight, we all plopped into bed inside our hotel. From the next day on, we spent almost a week in London exploring the cities and doing touristy activities like going to mueseums and eating local foods and so on.
Among these things I personally loved the food in London! The old English and Irish pubs were one thing but the steak houses there are out of this world! It was there where I possibly had the best bbq ribs and chicken of my entire life...wow...and i still have that tangy taste in my mouth...yay
I was also somewhat observant about other things about the city, like the buildings, the way people act like and so on....me being a teenager makes this a lil hard for me but i did my best to absorb everything from the trip for the good of my knowledge and for the good of this trip report..
Meanwhile, below are some photos of our stay in the city:
Below is the London Eye. It's sorta like a ferris wheel, but for a more touristy purpose. Me and my mom went on it (the rest of my family is scared of heights) and it was a fantastic experience! The thing takes you up in a transparent capsule hundreds of feet in the air! I took quite a bit of photos from about 50 meters in the air from that thing of the river Thames and other buildings in London, but I'll add those pics later cause I used an old non-digital cam for those)
..and here are some more pics including the river thames and the buildings...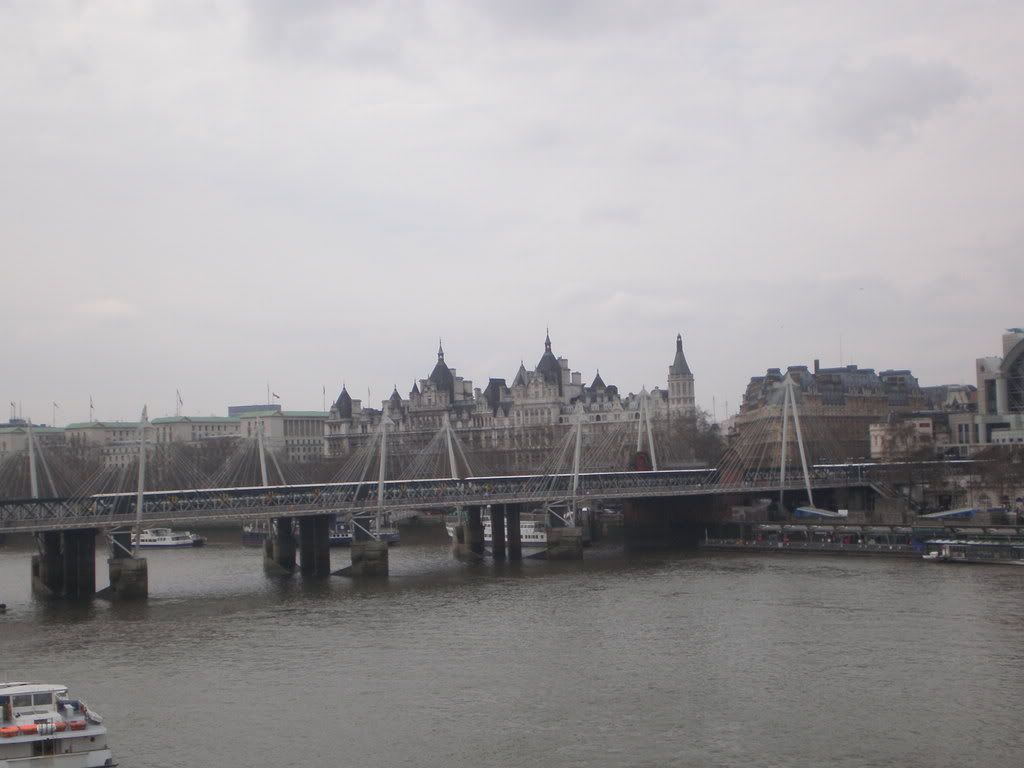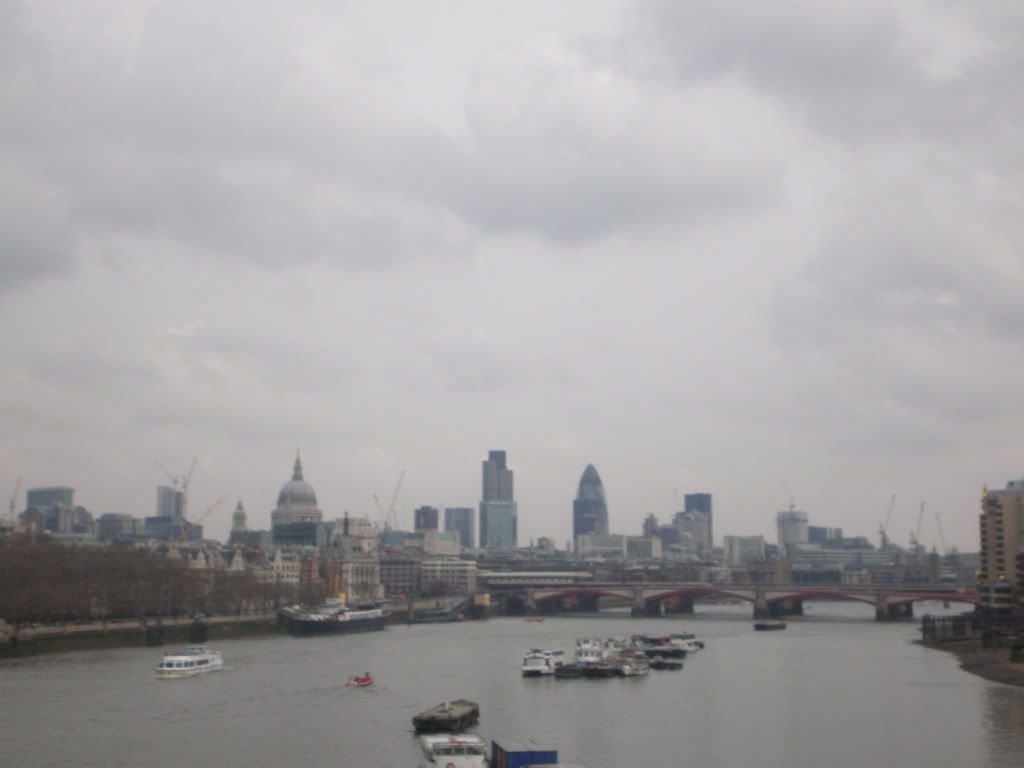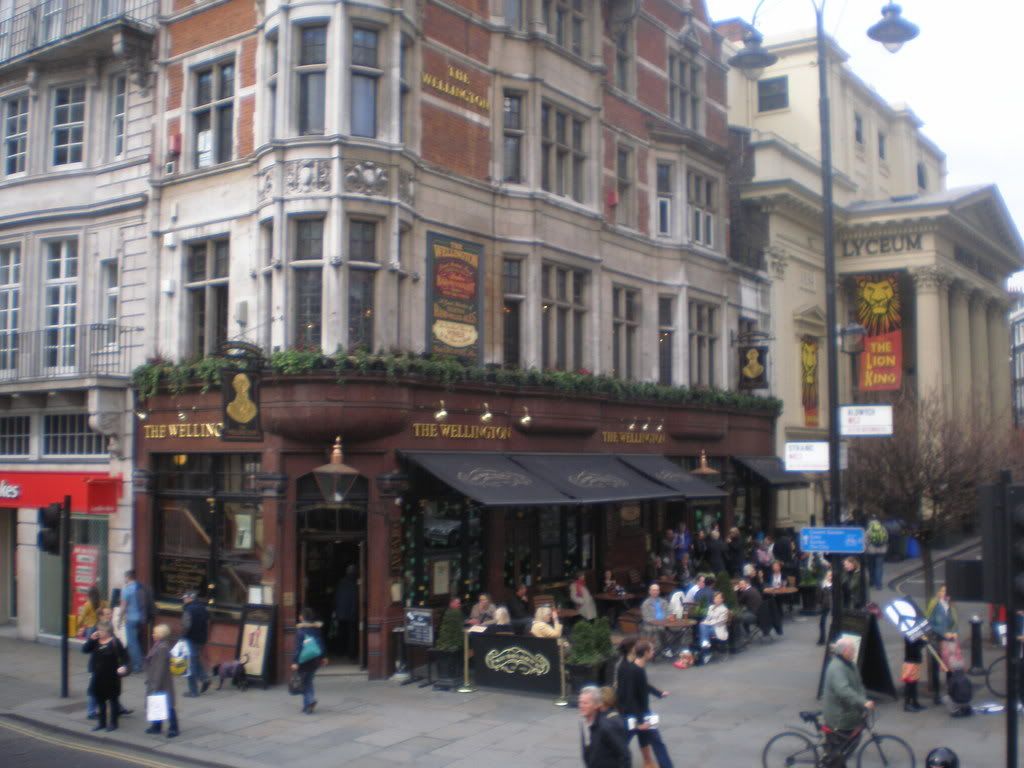 ....pic of big ben from behind...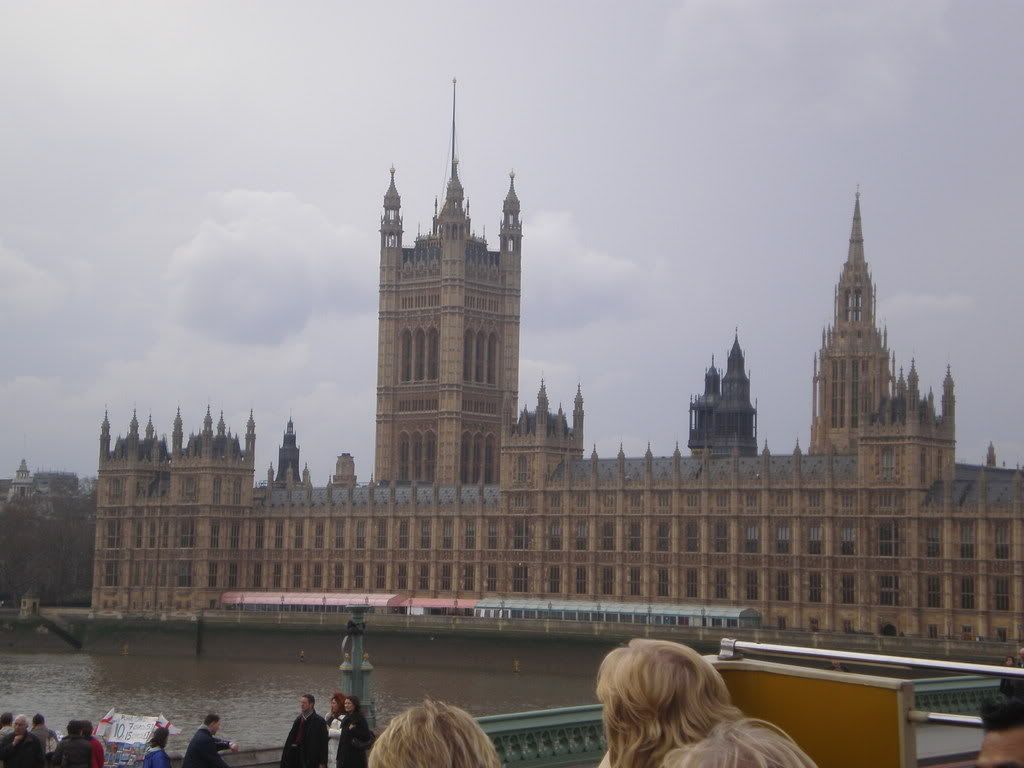 ...and saved the best for last...
Overall, I thought of London as a really wonderful city. The weather was horrible, but despite that point I really loved it. A funny thing is that before the trip my mom told me that British people can be very reserved and are usually not very open people. But this trip really proved to me something else. All the locals at London were always happy, open, singing, drunk (at night only, rarely in the day), and were in general really nice. People would always show us the way around when we asked for directions. it was really great. I love surprises!
nevertheless, our days in London passed very quickly...and thus began our leg back home at IAD..