JFK for 1 Day: Transatlantic Hop on CSA's A310-300
Intro
When the year had just begun I started to work on my 2008 itinerary. After my enjoyable Japan journey I was hoping to find attractive fares for another fun trip to Asia, though just a very short one this time (Saturday until Monday or Tuesday). After not being successful I checked some US destinations and soon discovered a
338,62 Euro offer
to New York (incl. tax) - even some cent cheaper than the US Airways trip to DCA in 2005. But not just the price was attractive: the routing would be MUC-PRG-JFK and JFK-FCO-MUC on CSA (AT5/313) and Alitalia (777/319) = two new carriers, two new airports, plus the A310 on a long-haul/overwater sector which is hard to find in these days.
Interestingly, the combo sold by avigo.de was an offer by Delta airlines - but not available on Delta's website. Some weeks later I checked my reservation on delta.com, called them and a friendly agent reserved the seats I requested (24H on CSA and 38A on Alitalia). Only a few days prior to departure my reservation code was changed and the allocated seat numbers were lost. I called Delta again and they told me that the agency apparently hadn't issued the e-ticket on time, so the airline cancelled the old reservation and set up a new one (with the booking class on Alitalia changing from L to K). However, the (very friendly) agent ensured the e-ticket had now been issued and accepted my new request for seats (25A on CSA and 38A on Alitalia).
Saturday, 05 April 2008
Munich (MUC) - Prague (PRG)
CSA Czech Airlines, OK555
08:51-09:42 (08:50-09:55)
Flying time: 00:41 (hrs)

ATR 42-500
OK-JFJ "Namest nad Oslavou" (MSN 623), delivered in 05/2004
Economy Seat 04D
Check-in Mess
CSA's counters were opened at around 07:00 and I had to wait in line behind some travellers with numerous bags and excess luggage. Finally it was my turn - and it should take me almost 30 minutes to get my boarding passes. First of all, the lady told me she had found my name twice in the system. So she cancelled one entry and suddenly couldn't get access to the remaining data file. Her colleague tried to help and both of them had trouble with my reservation. The lady then explained that the computer system had been changed not long ago and that they hadn't been familiar with the new one yet...
When they couldn't find my e-ticket number they first called the supervisor. When she arrived the trio discussed a bit and decided to call Delta ticketing - which could provide the requested data. So my agent could print a boarding pass for the PRG flight, but not for the transatlantic sector. I mentioned that my reservation code had been changed once - and the agent suddenly asked whether I had always wanted to fly today. I was getting confused and answered
"Of course!"
In the next moment she noticed that she had confused me with another passenger whose complete reservation had been changed.
She then continued trying to check me in for the long-haul sector, but always failed. The supervisor suggested I should pick up my boarding pass for JFK flight at Prague. I expressed my concerns and referred to the short connecting time, so they started trying again. They said it wasn't possible to get access to the JFK sector and so they couldn't enter the personal data required for USA flights. I was slowly getting annoyed but then her colleague on the other counter happily reported she had got access - by using OK050 instead of the codeshare flight number. So my agent could finally enter the data required and print the boarding pass - that lady was visibly tuckered out. They suggested I should go to Delta ticketing and ask for a printout of the e-ticket itinerary - in order to prevent similar trouble again.
Interestingly, I now had 24H again on the transatlantic flight - the seat originally allocated before the reservation code change...what a mess.
"Ice Man"
I had hoped to get the last remaining ATR 42-300 in OK's fleet, but as we were heading to the plane by bus the propeller shape revealed it would be a newer version. It was
OK-JFJ
, the first of seven ATR 42-500 delivered to CSA in 05/2004, named
"Namest nad Oslavou"
.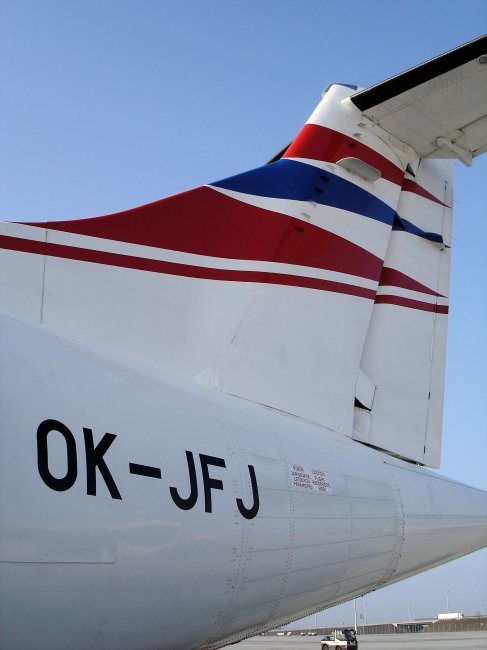 A male flight attendant (F/A) welcomed me in German, but I found it a bit strange that this "ice man" would never attempt to smile throughout the whole flight. Different Czech newspapers were available, the "Prager Zeitung" was the only German-language one. However, a friendly female F/A later offered "Die Welt".
Seat Surprise
During the check-in procedure I hadn't asked for a specific seat, so I had 1D now. However, when I arrived at the front end of the cabin (Business Class in the rear part on the ATR) I was surprised to find row 1 on the right side being installed opposite to the other rows. I didn't like the idea of facing other pax - and the friendly female F/A at the front end apparently registered my concern. She immediately told me that the flight wouldn't be full and I could choose another row once boarding is completed. Two minutes later she came back and nodded to me from a distance so I knew I could move. There weren't many empty rows left and I ended up in row 4, just next to the propeller.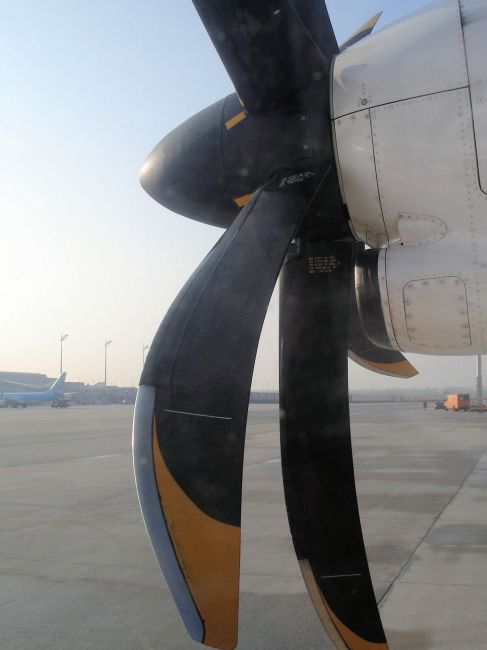 I had planned to sit down in row 3, but a man allocated to row 2 (exit row) had refused to store his bag in the overhead bins, so he had already been sent to row 3 instead.
Cabin Comfort
With its modern cabin design, the ATR 42-500 appears to be even roomier than various regional jets. The cabin was clean and equipped with modern-style dark blue leather seats...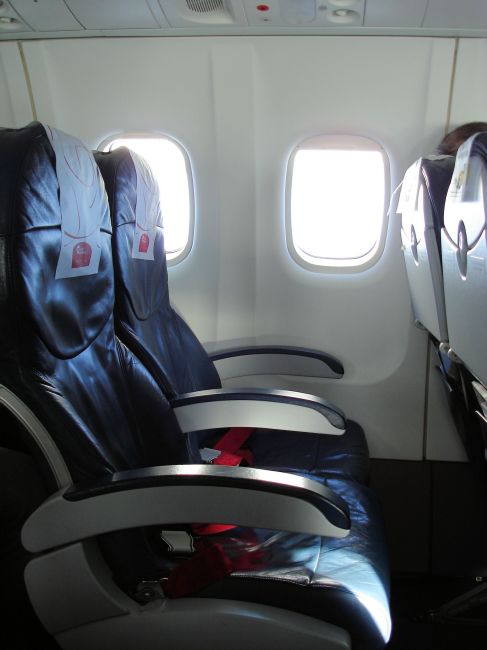 ...which aren't slimline seats, though. Pitch is sufficient on such a short haul plane, but the metal seat frame can be disturbing if you want to store a bag under the seat in front. Luckily, the aisle seat remained empty.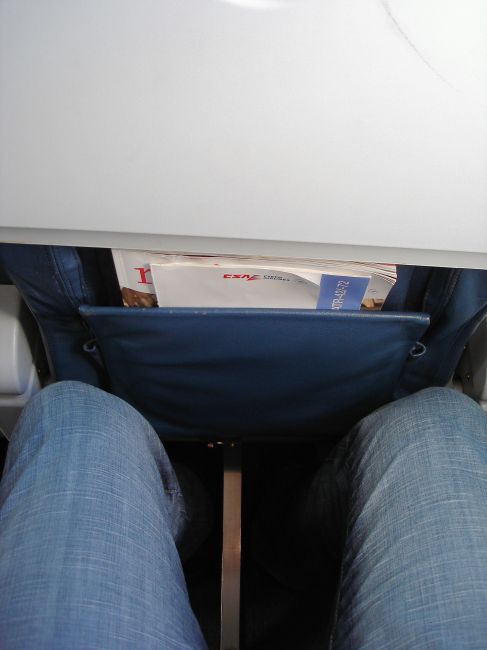 Ads for the new Skoda Fabia at every seat: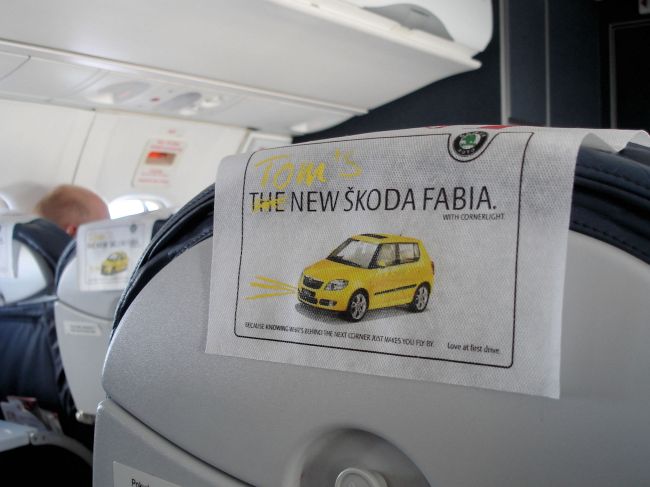 Takeoff Noise
We left the gate almost on time and soon turned onto runway 26L. Some time had passed since my last ATR flight so I was surprised about the loud roaring engine noise during takeoff. I still remember it was loud last time but sitting next to the propeller made it worse...
Breakfast
The F/As soon started serving cold and warm drinks and handed out traditional Czech yeast cakes with quark and jam toppings - very sweet, but not bad, though.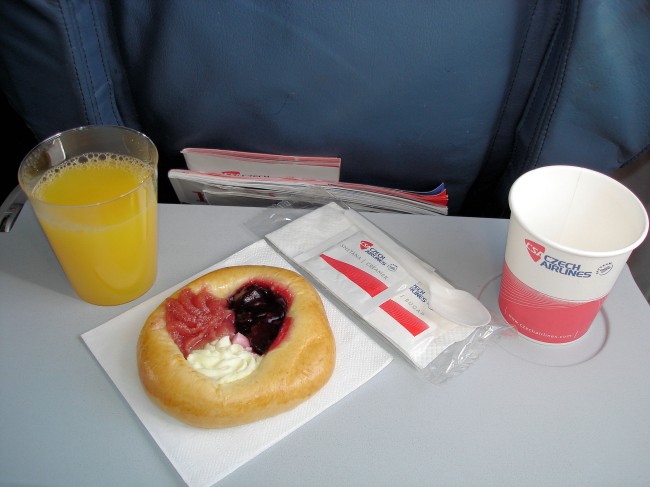 Approach
After service was finished it didn't take very long until the plane started descending. Passing the Vltava: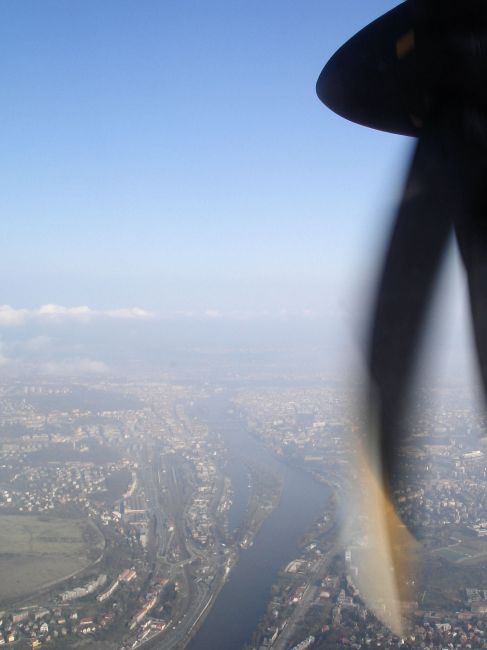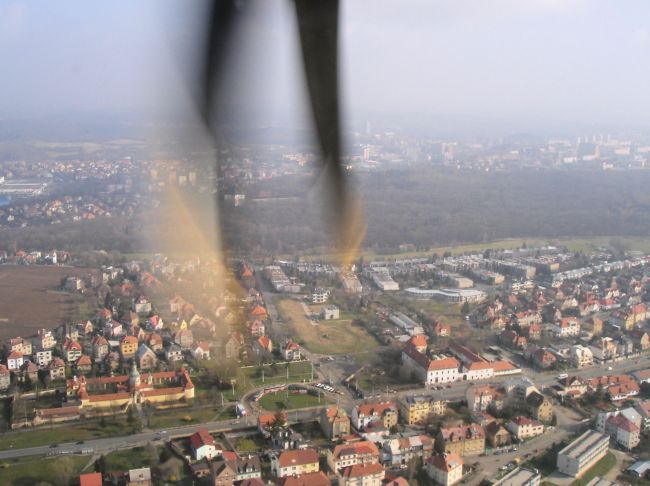 This building looks liks a prison: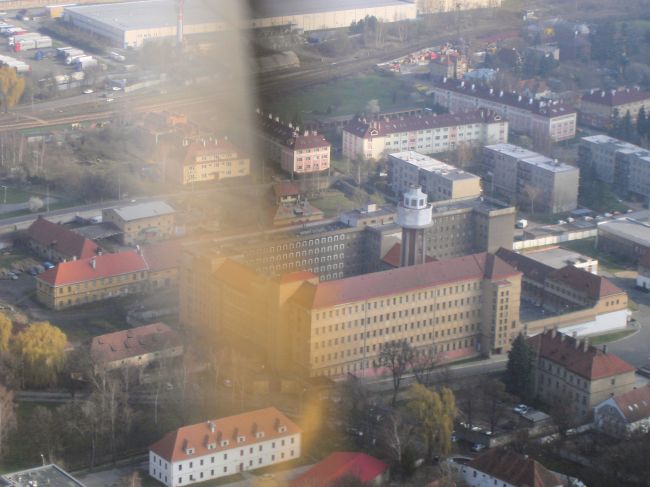 Prague Ruzyne Airport
The plane was parked at a remote position next to other ATRs and we were taken to Terminal 2. It was only a short walk to the passport control counters where I left the Schengen Area. Only two minutes later I headed to Terminal 1 and logged some registrations through large windows. It took me about 15 minutes to get to my gate - so PRG is really convenient for connections. There are also plenty of nice shops and bars/restaurants for any kind of taste. Not surprising that PRG was named the best airport in Central and Eastern Europe by Skytrax in 2005 and 2007.
Saturday, 05 April 2008
Prague (PRG) - New York (JFK)
CSA Czech Airlines, OK050
11:05-14:18 (11:00-14:15)
Flying time: 08:52 (hrs)

Airbus A310-304ET
OK-WAB "Bratislava" (MSN 567), delivered in 03/1991
Economy Seat 24H
Just One Night?
Before entering the security checkpoint in front of the gate I had to pass a counter for a passport and boarding pass check. Not knowing my nationality at first, the friendly agent welcomed me in Czech, English and German. Then he asked for the return flights. I showed him my e-ticket itinerary and he seemed to be a bit irritated by studying the data.
"So how long will you stay in the United States?"
, he asked.
"One night"
, I replied.
Just one night?
, he asked again, visibly surprised.
"Yes"
, I said. Fortunately he didn't ask any more questions and I could pass the counter. The security check was fast and efficient and two minutes later I spotted
OK-WAB
being prepared for OK050. The plane, named
"Bratislava"
, was delivered to CSA in 03/1991. I will miss that outstanding livery...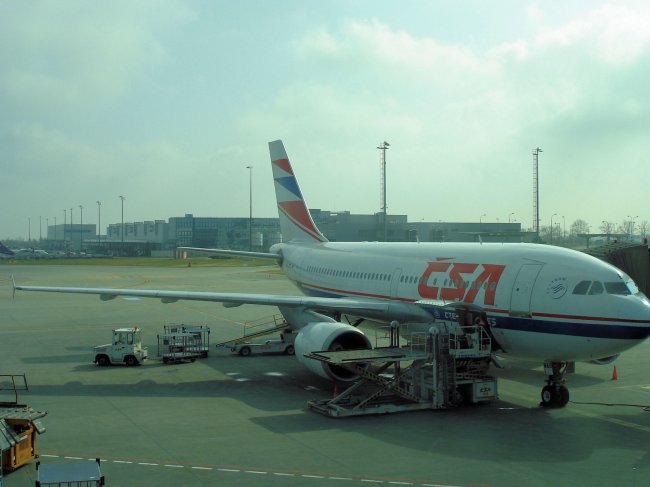 Cabin Comfort
As expected, comfort on CSA's transatlantic veteran is limited. The old-style seat's cushion was tolerable for a few hours, but my back started hurting somewhere between Ireland and Newfoundland. Not to forget, the seat width is limited by bulky armrests. Whenever my seat neighbor, an American lady in the 60s, didn't use the left armrest, I pushed it a bit upwards in order to gain more space for my leg. But at least two times, when she came back from a walk, she slammed her arm down unintentionally and the armrest into my leg...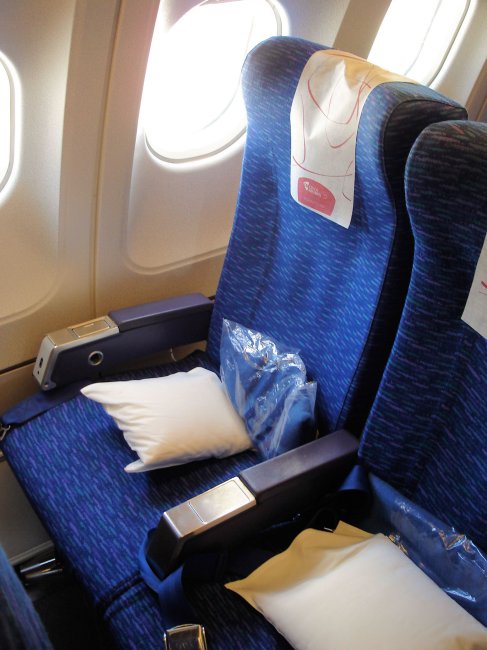 Seat pitch was sufficient, I can't complain.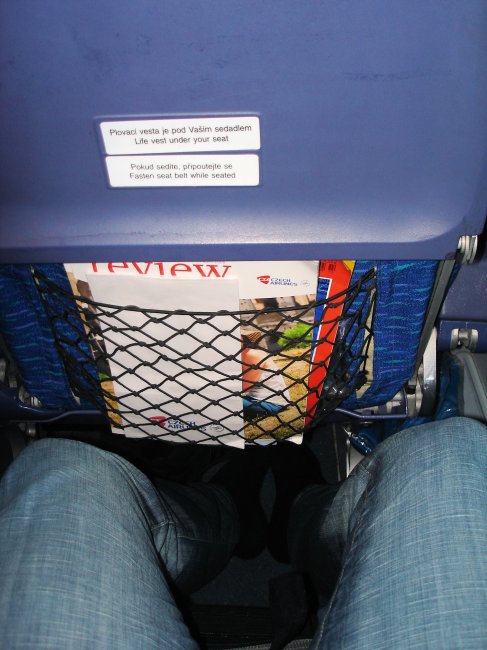 After boarding was completed (load factor circa 85 percent in Economy) I noticed that two seats in the middle section of our row were empty - I hoped the lady next to me would move over to her husband at the other aisle seat, but it didn't happen. It seems they had reserved their aisle seats intentionally.
Cabin view (pic taken later in the flight):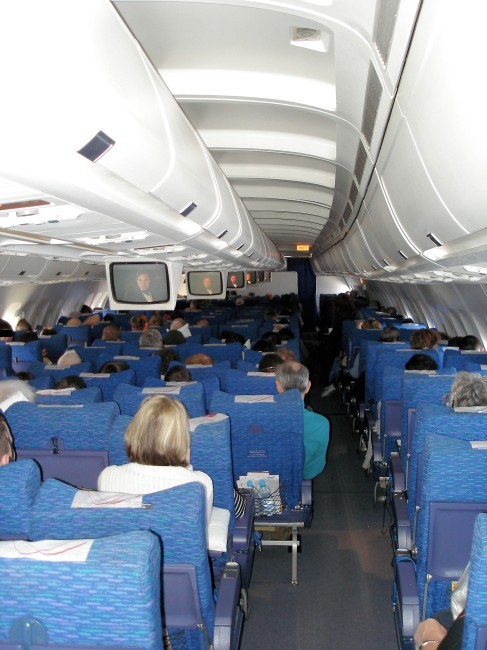 IFE
Overhead screens are placed throughout the cabin, but the next one was quite far away from me. The mainscreen programming included the airshow, the movies "Shadows in the Sun" and "The Legend of Zorro" as well as TV features and advice for immigration. I didn't watch anything except for the airshow and didn't try the audio programming (five channels) either, relying on my MP3 player.
Departure
We left the gate at 11:05 and started taxiing to runway 31L. Ongoing construction work: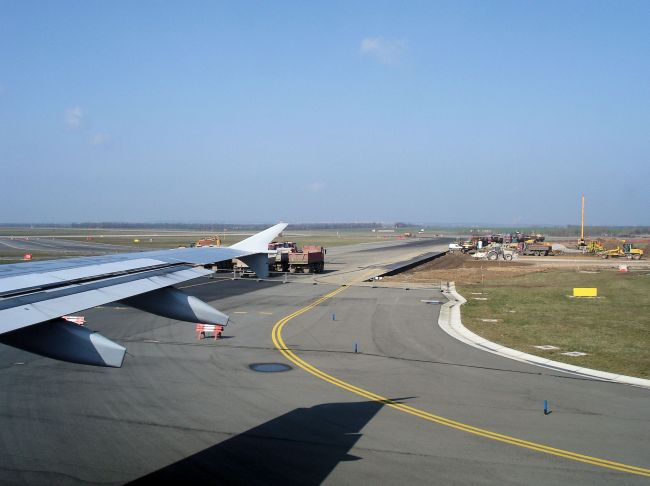 No other aircraft on approach, so we rolled onto 31L without stopping.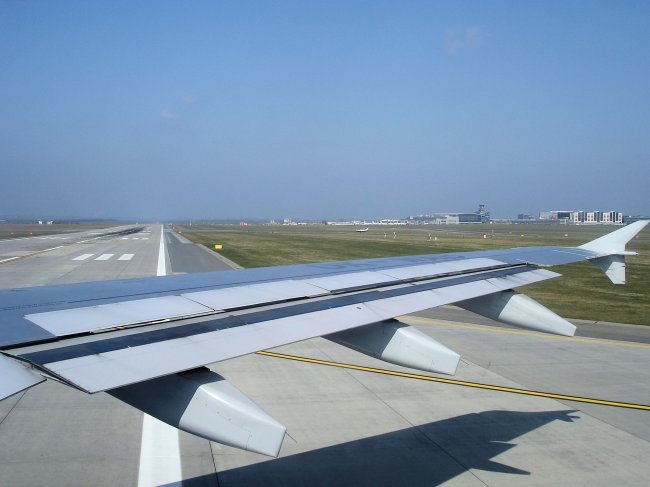 As soon as the plane stopped I noticed liquid dropping quickly from the wing - never seen that before in this particular way. I wasn't sure whether it was just water or kerosene from a kind of overflow outlet. According to numerous posters on another tech/ops forum it's water, though there are different opinions among them on its origin.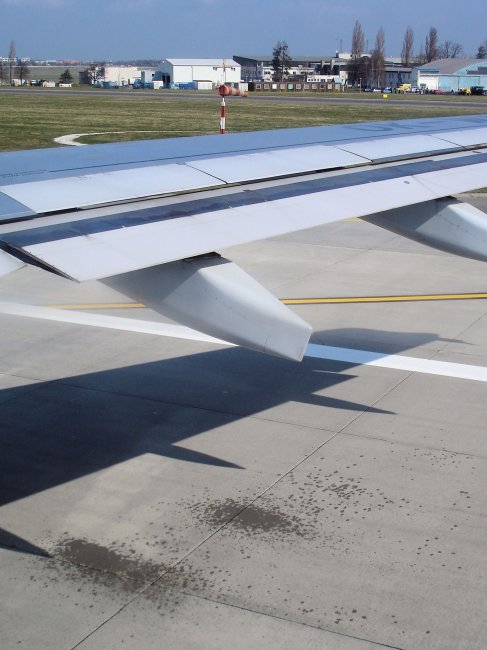 The plane was sitting on the ground for about five minutes and then finally started accelerating. Not surprisingly, the takeoff roll was quite long as the A310 was heavily loaded for its long journey.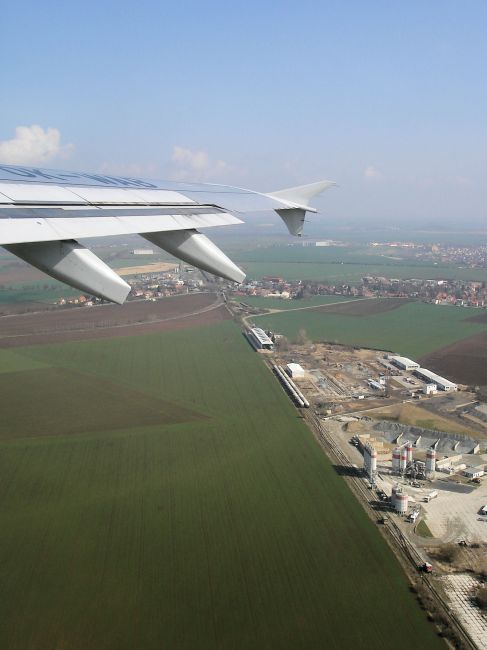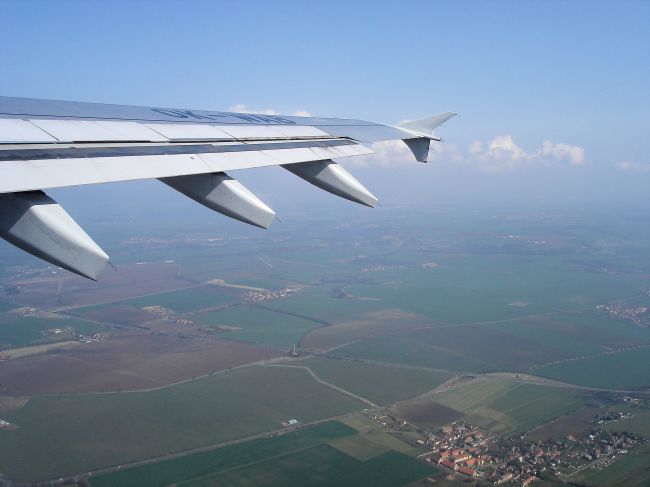 We passed the Northern Bavarian city of Hof shortly and headed towards the North Sea. Cruising altitude was 10,700 meters most of the time, increased to 11,000 after reaching Newfoundland.
Snack
Some 30 minutes after takeoff drinks were served and pretzels handed out by the friendly F/As (all of them female, at least what I saw in Economy). They also offered the famous Becherovka (herbal bitters) and Gambrinus beer, but I decided to stick to Tonic with ice and lemon.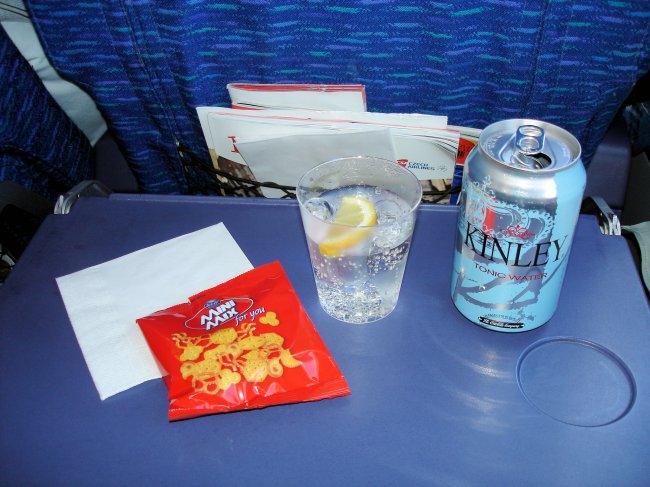 Lunch
Another 45 minutes later lunch was served. I don't know whether there had originally been a choice, but when the ladies arrived at my row they didn't ask, gave me a tray and just said
"goulash"
.
The design of the small bowls with salad and dessert looked nice, but the first impression didn't last. When I opened the main course bowl and tasted the sauce I was immediately reminded of these cheap goulash soups sold in cans at the supermarket. The few pieces of beef were ok, but the thin sauce was unflavored and the five slices of potato were totally softened in the brown mess. The cabbage salad was excellent - it's actually a Czech delicacy - but the mushroom salad in a kind of sweet and sour sauce wasn't to my taste. The dessert, a pastry filled with vanilla cream which is also common in the Czech Republic, didn't taste bad, but it was too rich. To sum it up: the whole meal wasn't a culinary delight.
My seat neighbor told an F/A that she wouldn't eat any meat - and it seems she hadn't requested a special meal in advance. So after some time she and her husband got a large black food box - which contained a selection of bowls with kosher food. Apparently there was a certain stock of these boxes on board just in case. What I found interesting was that while the lady and her husband refused to eat "meat", they didn't mind about the chicken pieces in their main course...
Traffic on the Right
As we were crossing Ireland my seat neighbor's husband suddenly said loudly:
"Oh look, there's another airplane really close!"
Not just the lady tried to see it, but I was also alarmed and grabbed my binoculars. It was a US Airways A330-300 climbing to cruise altitude: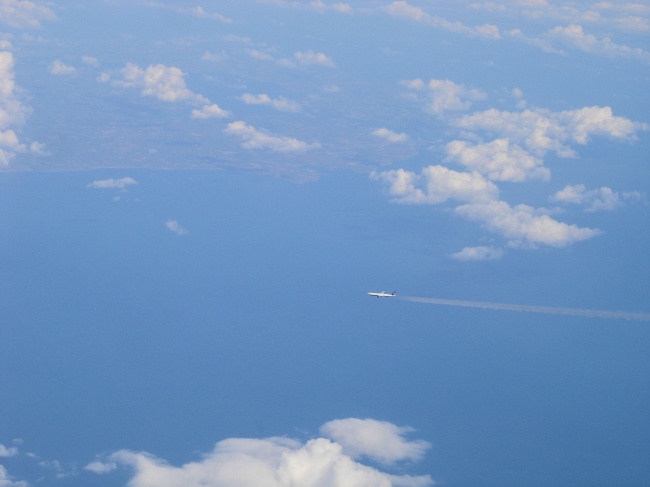 "Look at the exhaust!"
, the man told his wife: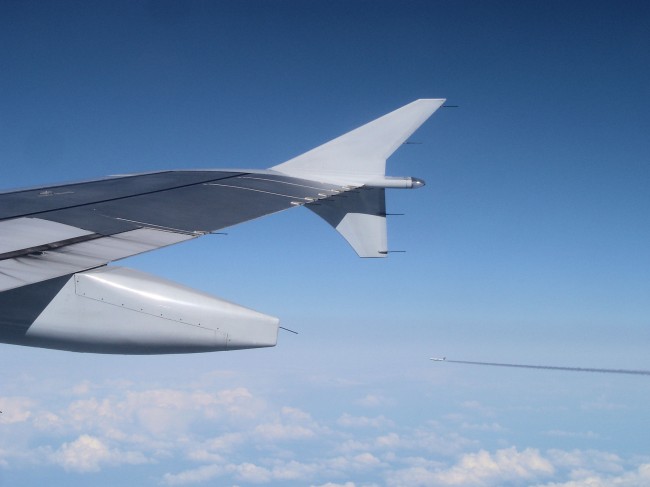 The plane was close, but not close close - so it wasn't such a great surprise. But the man still seemed to be amazed by the sight and suddenly added:
"That's close. In American airspace they would never allow that."
I preferred not to start a discussion about that issue...
Ice Formations
The next few hours weren't a pleasure, with my back starting to hurt on that seat and the airshow channel mostly unavailable. I decided to stick to my book until I noticed a welcome change - beautiful ice formations on the ground...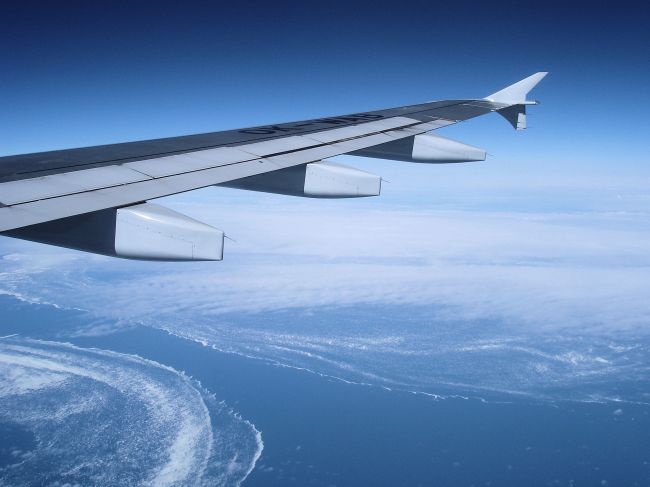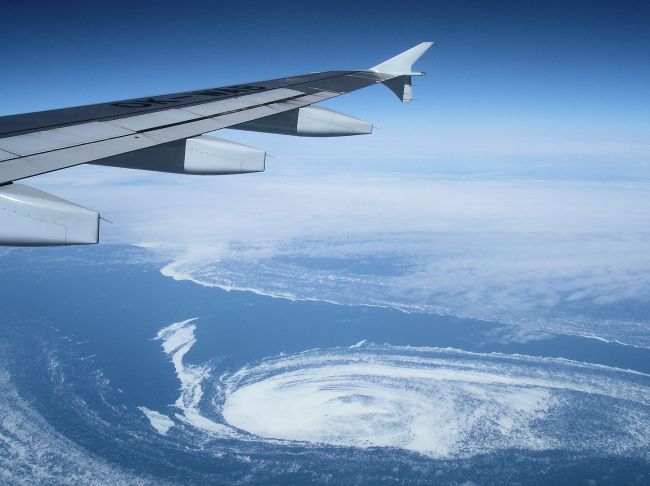 ...soon to be replaced by a dull scenery again: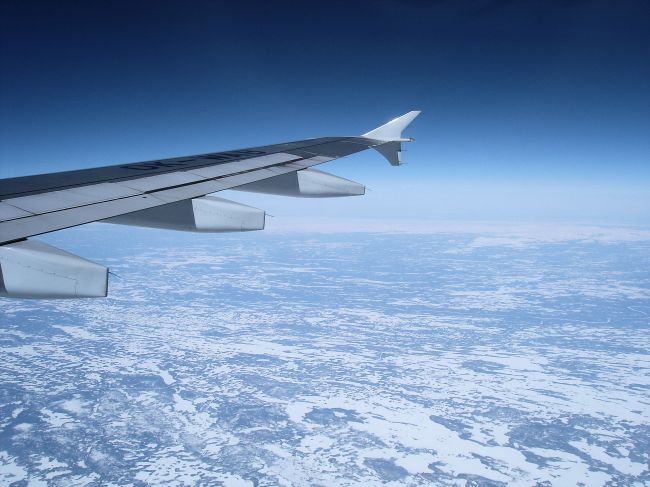 Snack
About 90 minutes from landing F/As handed out snack boxes...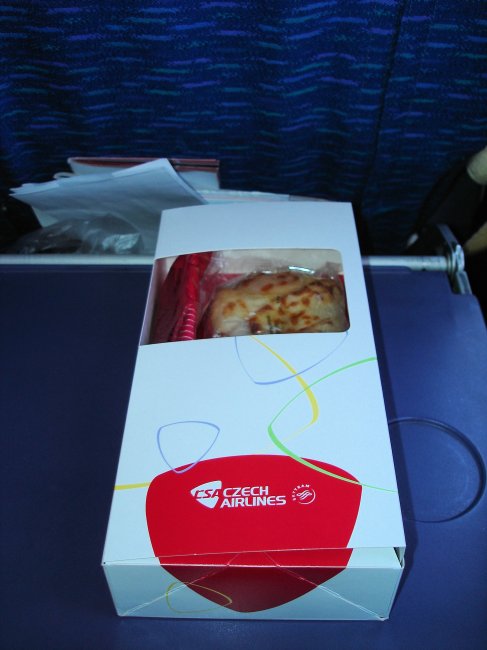 ...containing a hot yeast pastry filled with ham and cheese, a mixed salad with cucumber, green and red peppers as well as a milk chocolate bar. Even though the pastry felt greasy on the touch, it tasted excellent - and so did the mixed salad. Well done, CSA. However, the chocolate bar was quite rich - why not replace it by similar bars containing tasty waffles the Czech Republic is famous for?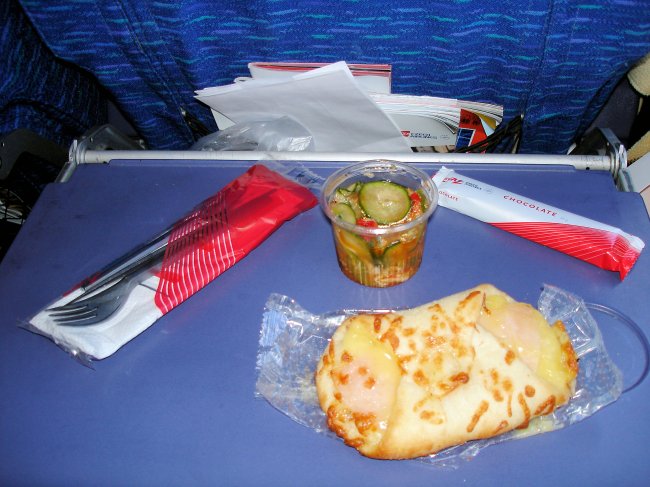 Approach
I killed the remaining time with reading and was glad when we finally started the descent into JFK Airport, passing this tiny island...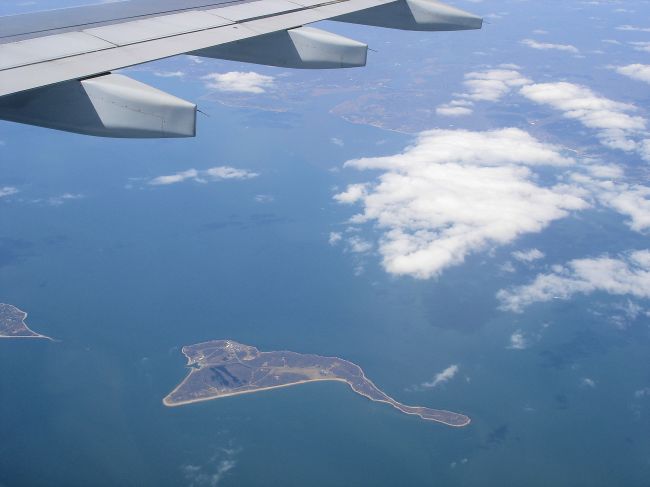 ...and larger parts of Long Island...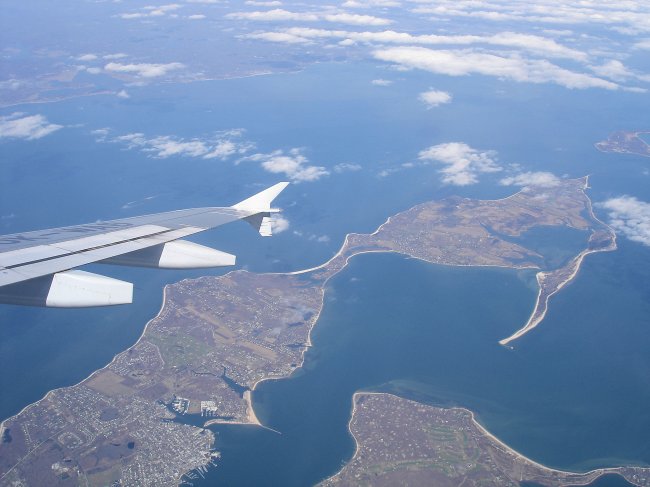 ...together with its long coastline.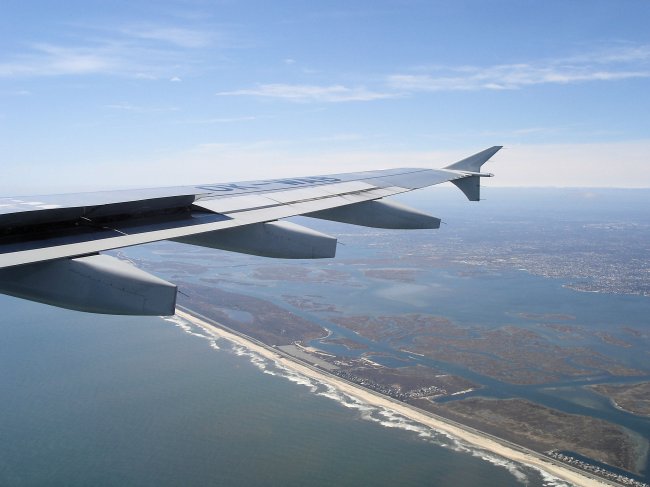 Right turn and final descent...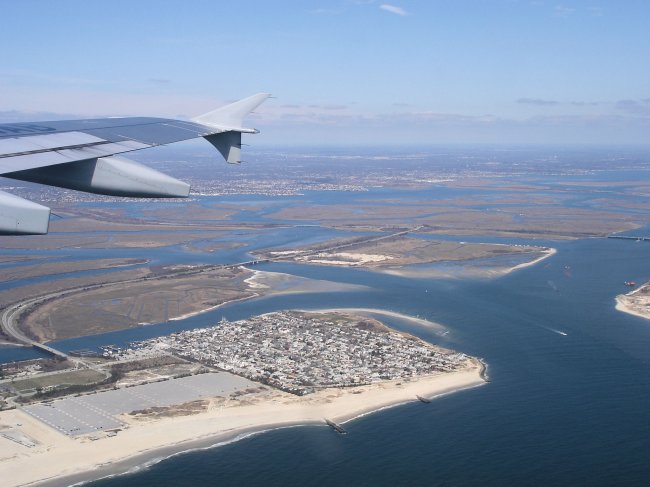 ...over some very nice housing areas.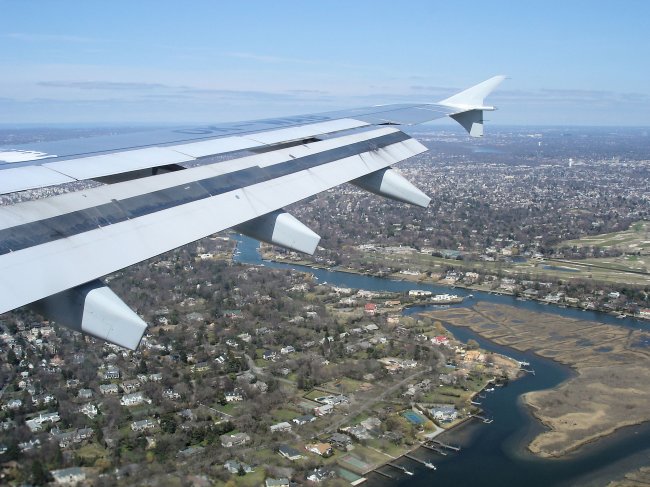 We touched down at 14:10...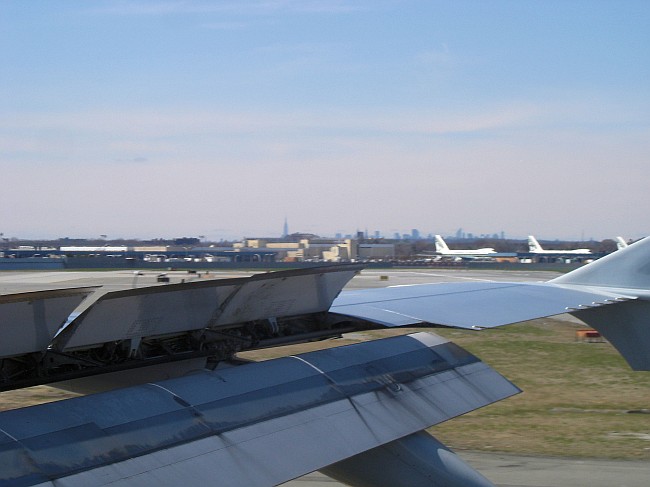 ...and already arrived at the gate eight minutes later.
JFK Airport - Immigration
No other plane had arrived at Terminal 4 at the same time, so all CSA passengers were quickly allocated to the numerous immigration counters throughout the hall. Waiting time was less than ten minutes, not bad. Fingerprinting has always been an exciting issue in my case due to some missing fingertips - all the officers had so far handled that differently at different airports: same thumb twice (JFK), both thumbs (PHL) or the regular method with forefingers (MEM).
This time, the officer's first question was how long I would stay in the US - actually this had never been the first question in all the years before.
"One Day"
, I answered and wasn't sure about the reaction. The officer, who turned out to be a very friendly guy, looked a bit surprised.
"Just one day?"
, he asked. I had the impression he wanted to hear some more details and simply referred to my aims of accumulating miles and flying different airlines as part of my aviation hobby. I was glad he was satisfied with my explanation. Then it was picture and fingerprinting time and the officer was unsure about what to do with me. He asked about previous visits and the procedure at other US airports. I told him that it had been handled differently and then he first tried the regular method. When it didn't work he decided to scan my left thumb twice. Then he entered some more data for a while and finally showed me a picture of me taken last year, asking whether that was me. I confirmed and finally got my passport stamped. It took me about 20 minutes from the plane to the luggage carousel - probably a new record.
JFK Airport - Spotting Spots
I grabbed my luggage, took the AirTrain and went to the station "Terminal 5/6" where I had found a nice place for registration spotting some years ago. There's a corner with elevators - and with stairs located directly behind, almost out of sight for people heading to and from the terminal. Most travellers use the elevators so only few people walk around the corner. Due to dark green glass, nobody can see you from the street level or from the walkway to the terminal. The place used to provide great views of one runway, a part of jetBlue's Terminal 6 and many aircraft taxiing to other terminals...these days are gone now. Due to the construction of a new walkway between jetBlue's Terminal 6 and their new facilities at Terminal 5 the runway and ramp view is blocked. It is still possible to see a part of the ramp and taxiways between Terminals 5 and 4, but the view is quite limited. Depending on the takeoff direction it's also possible to see and identify some departing aircraft.
A similar place can be found above the AirTrain station "Terminal 2/3" - actually it's the better one now:
(picture taken on the next day)
Of course these are places where the airport authority doesn't want to see spotters hanging around - there's even one sign saying that
"loitering is prohibited"
. If registration spotters want to stay there without being hassled after a few minutes, it's necessary to be discrete. Whenever I assumed people could come too close or even head to the stairs, I put my binoculars into my bag immediately. No, it's not a great pleasure to hunt planes under these conditions, but there aren't any alternatives at JFK if you don't have a car.
I stayed there for a total of 1,5 hours in the afternoon (with breaks in between) and took the shuttle to the Holiday Inn Express in the early evening. Time to rest before flying back on the next day...
Conclusion
Flying
CSA Czech Airlines
was neither remarkably good nor remarkably bad - I would rate the flight experience to be rather average. Of course their long-haul equipment (along with cabin comfort and IFE) is totally outdated, but the plane and its cabin seemed to be in good shape and well maintained. Many negative aspects I mentioned should be gone once CSA introduces newer long-haul aircraft - which is likely to happen not far away in the future. While the catering needs improvement, the F/As are mostly friendly and service-orientated. The product offered on the short MUC-PRG sector is actually very competitive. As for the check-in: I'm not sure who exactly was responsible for the issues with my reservation - but the handling agents didn't act professionally. Last but not least: Prague Ruzyne Airport allows for easy and fast connections - definitely a strong argument for choosing CSA.
Next report: JFK-FCO-MUC on Alitalia 777 and A319: http://forums.jetphotos.net/showthread.php?p=474639
Best Regards,
PlaneHunter