First time and last time? JFK-FCO-MUC on Alitalia 777 & A319
Intro
Alitalia's 777 and A319 are featured in report no. 2 about my recent weekend transatlantic journey to New York. All users who want to read about the background of the tour or want to know details about CSA's A310-300 long-haul or ATR 42-500 short-haul service only need to click here:
http://forums.jetphotos.net/showthread.php?t=43476
JFK Holiday Inn Express
Hotels around JFK tend to be quite expensive in comparison, but some 85 Euro for the Holiday Inn Express (including breakfast) seemed to be reasonable. The hotel is still quite new, with clean floors and rooms. Friendly staff welcomed me at the front desk and checked me in quickly, offering two free bottles of water and cookies (I'm not sure whether this is only for Priority Club members). The rooms are well-equipped, e.g. with flat TV screens...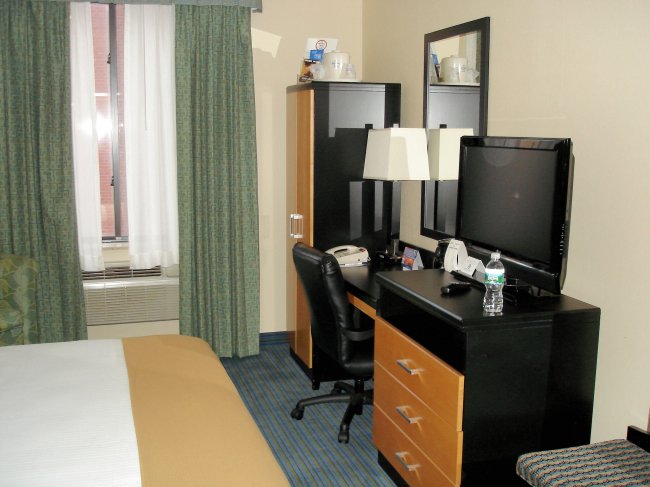 ...and a really large bed.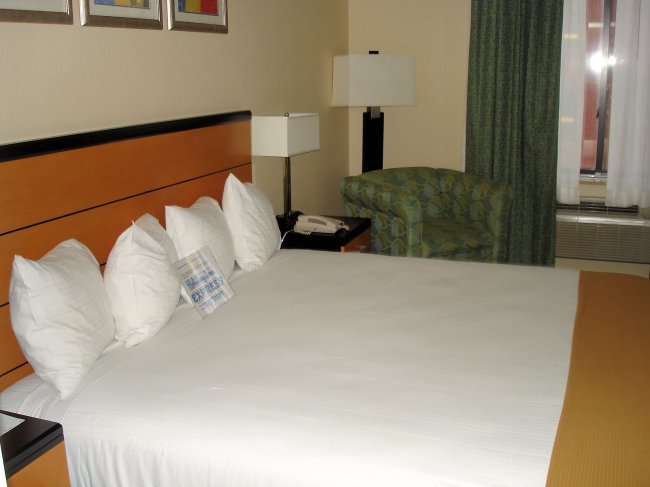 The breakfast even included warm omelets and hamburger meat, not bad for a budget hotel. However, the location next to a highway can be annoying at night because the windows aren't soundproofed. So anyone who isn't really tired may have trouble to find any sleep. Anyway, the hotel is much better than the JFK Radisson where I stayed some time ago. Next time I may try the Days Inn.
Sunday, 06 April 2008
New York (JFK) - Rome (FCO)
Alitalia, AZ609
16:01-06:20 (16:05-06:15)
Flying time: 07:36 (hrs)

Boeing 777-243ER
EI-DBK "Ostuni" (s/n 455), delivered in 10/2003
Economy Seat 42A
Check-in Concerns & Empty Seats
I checked out at around 11:00 and took the shuttle which dropped me off at Terminal 1. According to some Alitalia staff, check-in was supposed to open at 12:30, but the counters were used by JAL until at least 13:00. Then all the JAL signs were replaced by Alitalia signs and the AZ agents started working. After some 20 minutes in line I was welcomed by a friendly female agent. I had decided to switch from my pre-reserved double-excuse-me-window-seat to an aisle seat for the night flight and expressed my request. She nodded but suddenly seemed to face some trouble after entering my data. After two minutes she contacted a male colleague who grabbed my passport and my e-ticket itinerary and walked away.
"Is there a problem?"
, I asked and the agent replied that
"apparently the connecting flight to Munich is cancelled"
. What a great start with Alitalia, I thought...
However, the male agent came back shortly and said everything would be alright. Then he continued the check-in process and asked again about my seat preference. At first he offered me an aisle seat in row 17 but I asked for another row in the back of the cabin, probably the second last row. The he replied:
"You can sit where ever you want because there are more than 100 empty seats on the flight."
So I chose 43C and hoped to get a whole row for me alone.
Free Seating
Since there was plenty of time left, I spend another hour at the spotting spot at AirTrain station Terminal 2/3 before passing security. The check-in agent hadn't added the infamous
SSSS
-code to my boarding pass so I didn't expect a special treatment. The officer at the security lines entry point immediately said
"Guten Tag"
and
"Gute Reise
when he saw my German passport. Then he told me to turn left towards the checkpoints with all that "special treatment equipment", but I was glad they opted for the standard check. At the gate
EI-DBK
, a 2003-model, was being prepared for flight AZ609: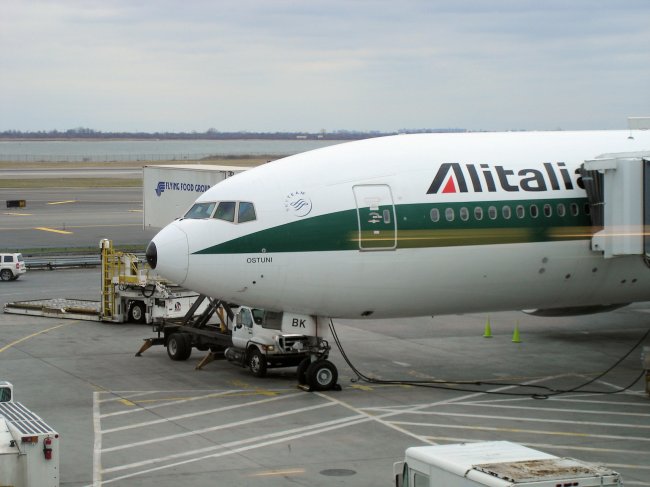 After a short walk I returned to my gate, not even ten minutes after boarding had been started. No more queues, thanks to the light load. A friendly female FA welcomed me at the door and I walked down all the way to row 43 - the last window row on the plane. While most Economy pax were seated in the front Y-cabin section, the rear section was almost totally empty. When I headed to my seat another friendly female FA in the late 30s smiled and looked a bit surprised, apparently because I didn't stop walking.
"Row 43"
, I said and she asked:
"Row 43???"
Before I sat down she had kindly offered me to choose another seat as soon as boarding would be completed. And about three minutes later she came back, smiled again, reached out her arms over some empty rows and said:
"You can choose whatever seat you want."
I decided to switch to row 42, stored my hand luggage under the middle seat in front and moved into the window seat. Three seats for private use in the second last row of a 777 - what else do you need?
Cabin Comfort
One major difference in comparison to other carriers' birds is that you won't find a row with only two seats in the rear section on AZ 777s - there are even three seats in the last window row (43). While the grey color of the seats looks somehow elegant, you can easily detect even tiny dirty spots on the cloth seat covers. My original seat 43C (below) was a bit dirty, but row 42 looked much better.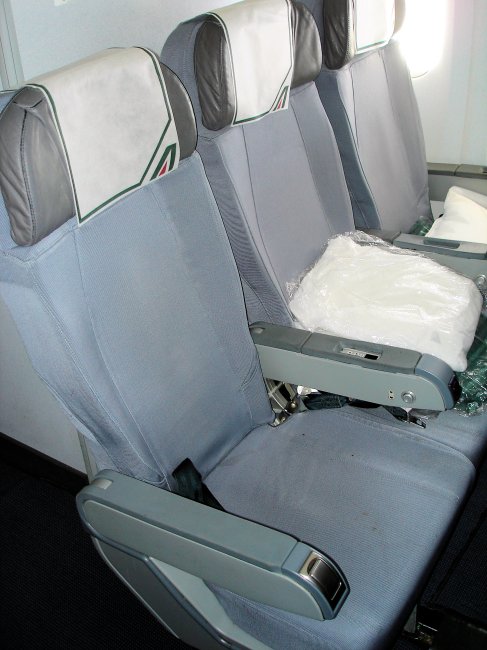 Another bad surprise is the relatively large IFE-box under the window and aisle seats. I was glad that I got a whole row for me alone - it wouldn't have been a pleasure on a full flight.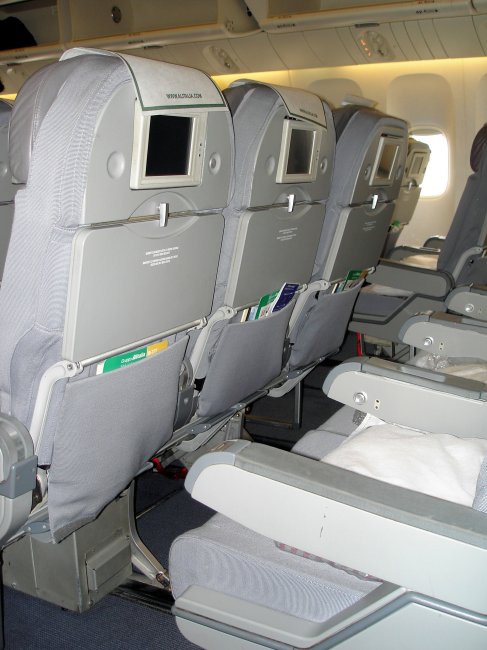 Seat pitch itself was absolutely sufficient: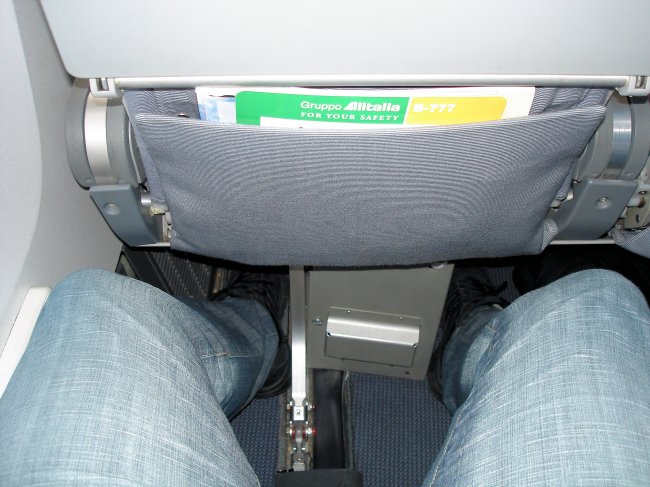 Empty cabin, load factor was probably some 40 percent or less in Eco (pic taken later in the flight):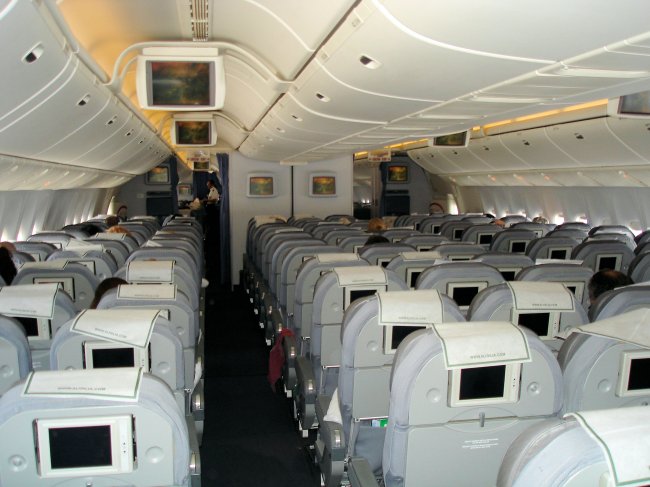 IFE
Alitalia's 777s are equipped with an Audio/Video on Demand (AVOD) system which offers a range of 16 movies (new ones and classics, e.g. Forrest Gump), three TV short programs, 15 video games, 10 audio channels, inflight shopping, destination and company information pages as well as an airshow channel. Here's the main menu: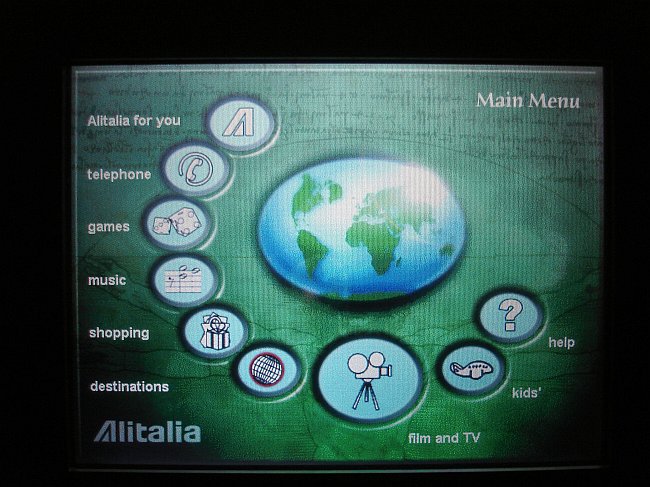 First of all, the handsets weren't in good shape, with one or two buttons being defect, and it wasn't easy to get them out of the armrest storage bins. Additionally, the operability of the system partly lacked some logic. Another issue is the choice of languages: Most movies were available in Italian and English, some of them also in Japanese, Portuguese and Spanish, but not in German. In contrast, both Air France and KLM do offer movies in German. As for the games: the all-time favorite Tetris wasn't available and the Inflight Trivia didn't work. Last but not least, the low-quality headseats didn't help to improve the overall impression of the IFE either...Anyway, the airshow channel worked which was most important.
The Endless Line-up
Shortly after cargo doors had been closed were pushed back some minutes early at 16:01. Sistership I-DISE (on the very left) was scheduled to depart as AZ605 to Milan in the evening.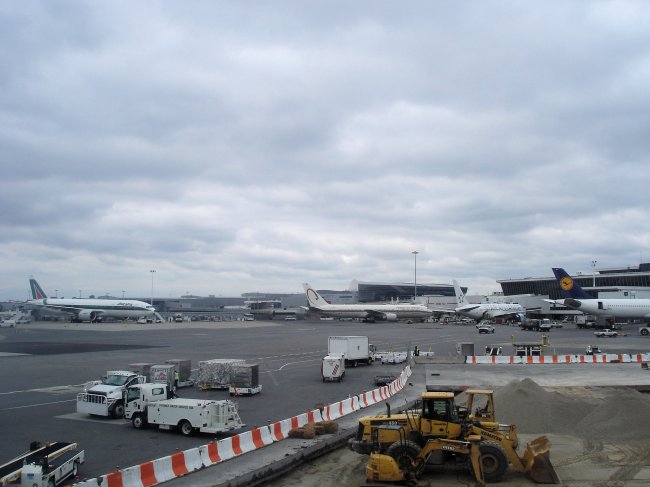 Another troubled carrier...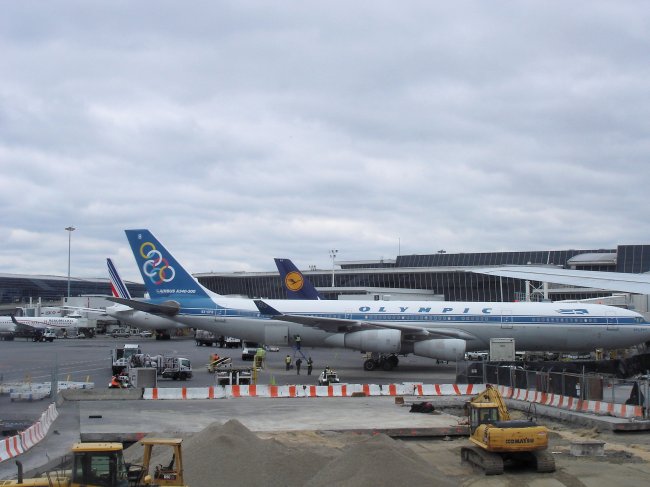 Just after the (enjoyable) GE90 start-up with noise, vibration and black smoke the captain welcomed us on board.
"As usual at JFK it is a very long way to the runway",
he said. And indeed, we would spend the next 30 minutes on the taxiway, followed by a Lufthansa 744...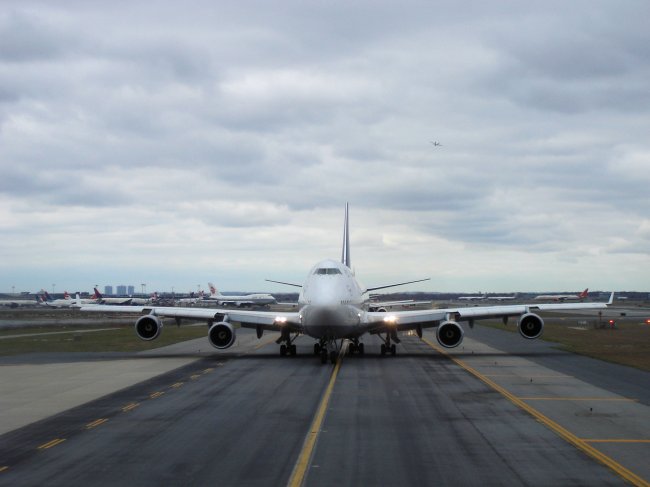 ...and various other aircraft...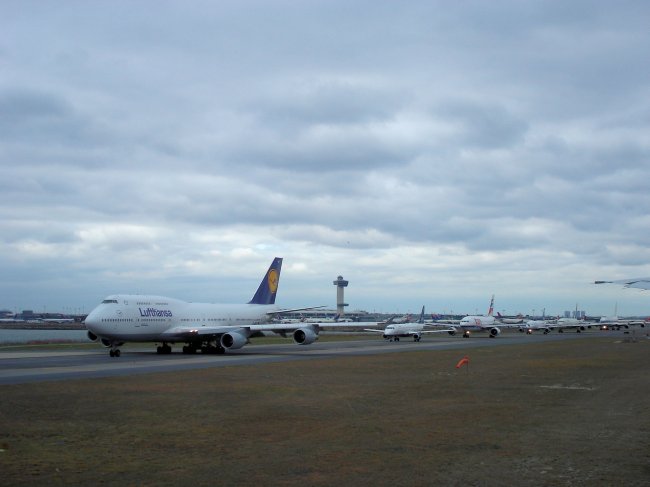 ...including CSA's A310-300 OK-WAB which had flown me to JFK on the day before: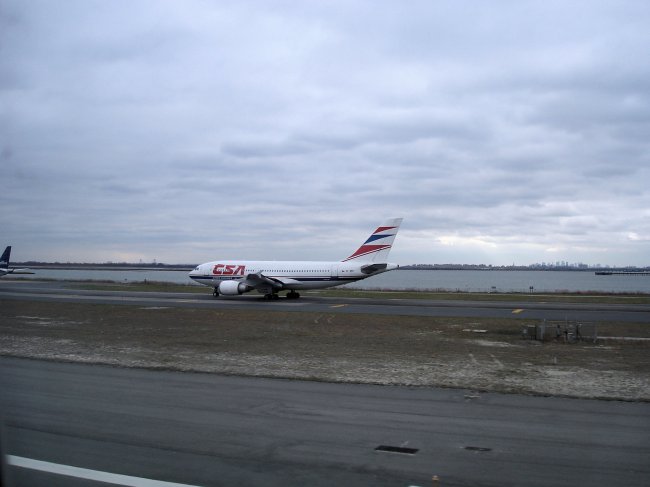 Finally, exactly 40 minutes after pushback it was our turn and the two GE90s accelerated the 777 for a powerful takeoff on runway 04L. The mighty twin lifted off shortly and I enjoyed some good views of the airport and Manhattan in the background, even though the weather wasn't great at all. Busy time at JFK with interesting birds from around the world, e.g. Aerolineas Argentinas A343, Air Berlin A333, EL AL 744, Emirates 77W, Israir's new A332 (in Eurofly colors), Kuwait Airways 777, South African A343, Swiss A332, Virgin Atlantic A346...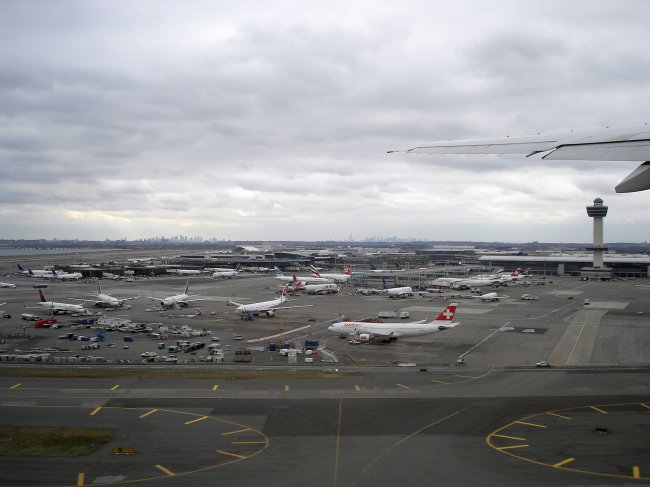 ...Aer Lingus A330s, Air India 77L and 77W and Royal Jordanian A342.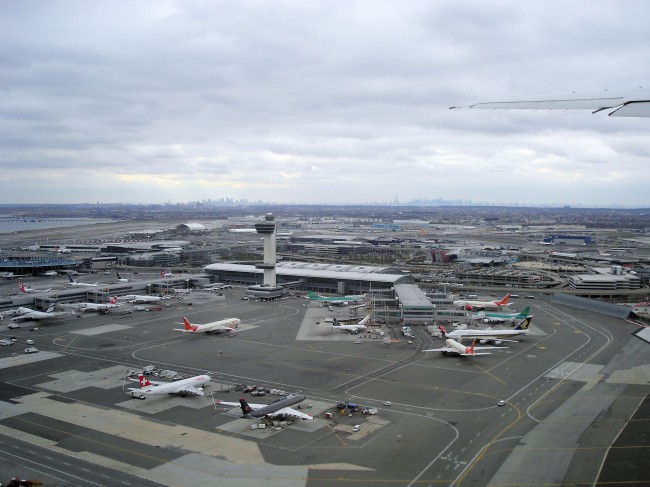 The new jetBlue Terminal, quite a large building: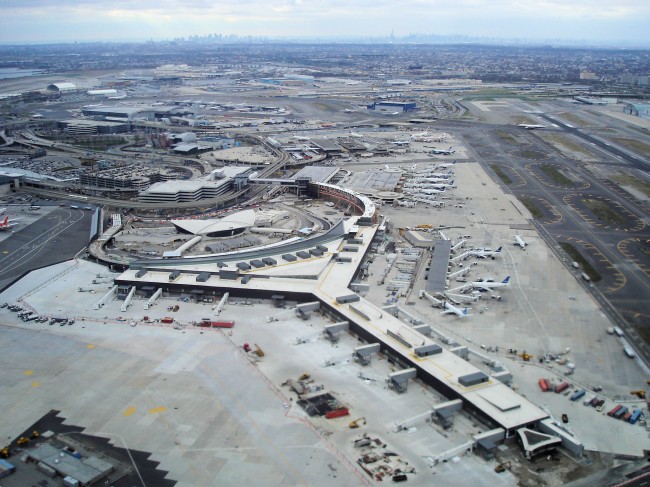 Last look at JFK...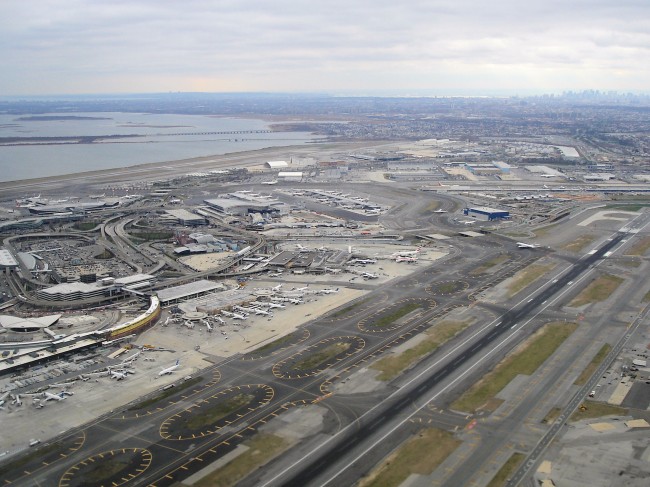 ...and some housing areas...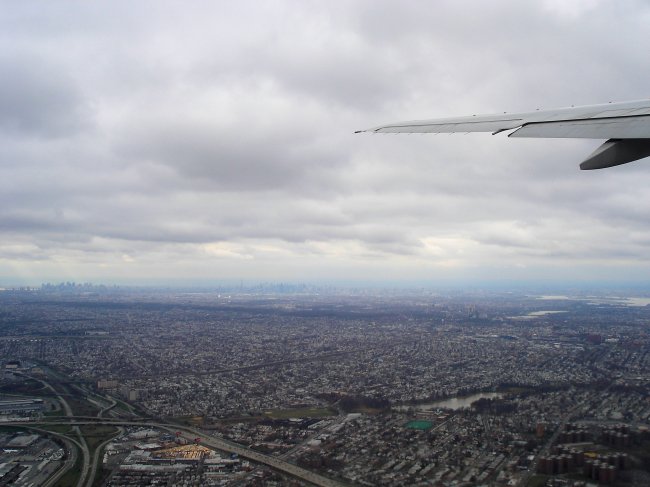 ...before breaking through dense clouds.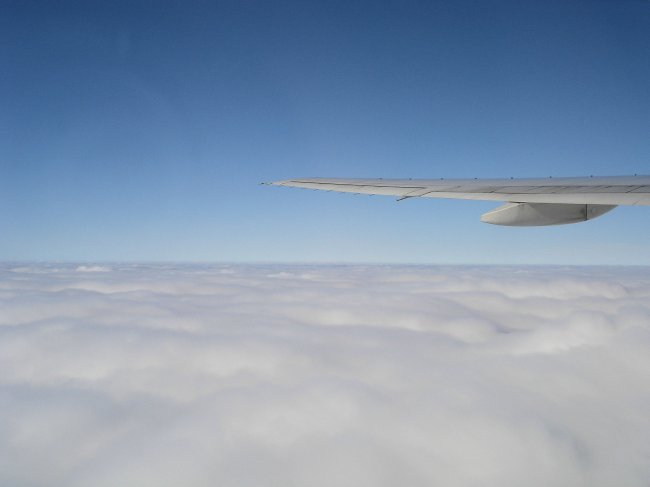 The Ginger Ale-Test
FAs started offering drinks shortly and I decided to do a Ginger-Ale-test: It's one of my favorite soft drinks and definitely NOT available on many carriers - usually it's available on certain carriers famous for good service in general. After I had expressed my request a yound and friendly male FA intensified his smile, opened one of the trolley's compartments, took out a green can, showed it to me while smiling even more and handed it out to me together with a cup, filled up with ice. Well, it was Canada Dry and not Schweppes like on SriLankan, but hey, it was Ginger Ale! Well done, Alitalia.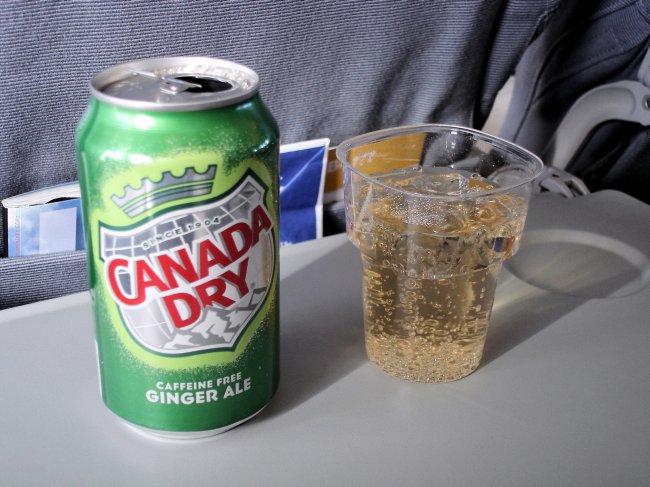 Delicious Dinner
Dinner was served some 60 minutes after takeoff. There was a choice of meat/veal and fish and I opted for the former.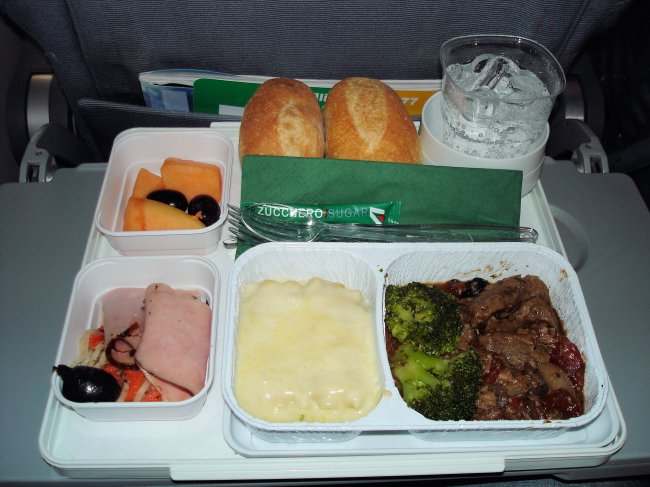 The main course was a kind of veal goulash with pieces of tomato and broccoli - the sauce as well as the tender meat and the vegetables tasted delicious. In addition to the goulash, there was an extra plate with tasty scalloped cannelloni. I wasn't sure about the filling, I guess it was a mixture of spinach and ricotta cheese. I also liked the slices of ham on top of the carrot and celery salad. The two bread rolls weren't bad either, not as hard as the stuff available on numerous carriers. Dessert consisted of some fresh pieces of melon and two grapes. I would have preferred a piece of cake, e.g. Tiramisu or Tartufo, but nevertheless, it was a very good meal - much better than most of the food I have got on various European and American long-haul carriers.
Joking FAs
The friendly male FA offered wine for dinner, but I ordered Tonic this time. After he had already handed out the cup to me, I requested some ice. He took it again and asked his colleague, the female FA in the late 30s, to put some ice into the cup. Apparently she misunderstood and filled the cup with water. When the male FA told her about the mistake, she quickly took a new cup and entirely filled it up with ice. The male FA then returned the cup to me and humorously said:
"She's new."
Into the Night
After dinner I admired the scenery, with the sun slowly going down. It's always a pleasure to watch the own plane's contrail: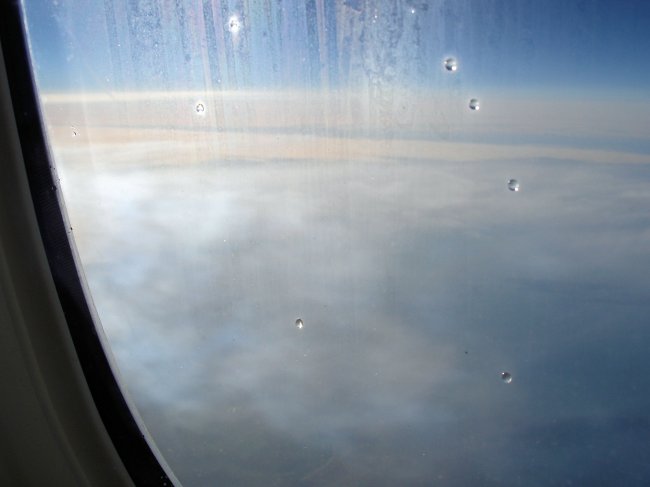 Seen so often, but never getting boring - beautiful light effects during sunset: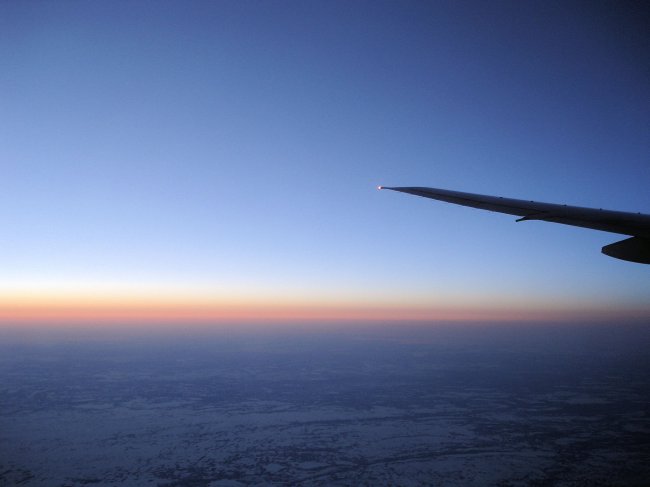 Last look at the sun: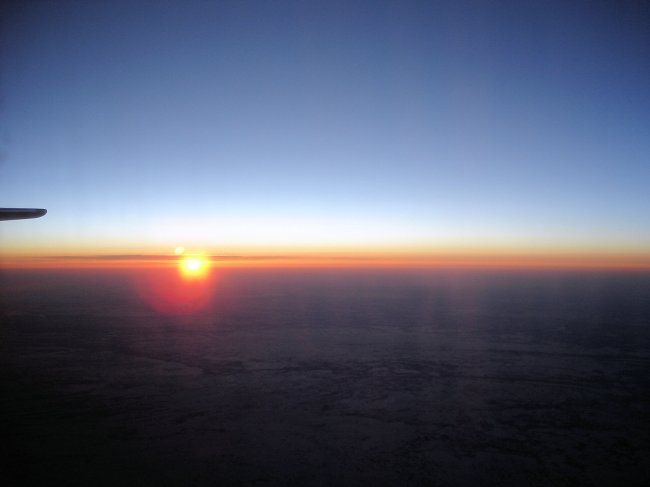 I tried to find some sleep and killed some time by exploring the AVOD system. Other than expected, FAs passed through the cabin frequently and offered cups with water. They had also placed a tray with water and juice for self-service in the galley. Airshow check some hours later: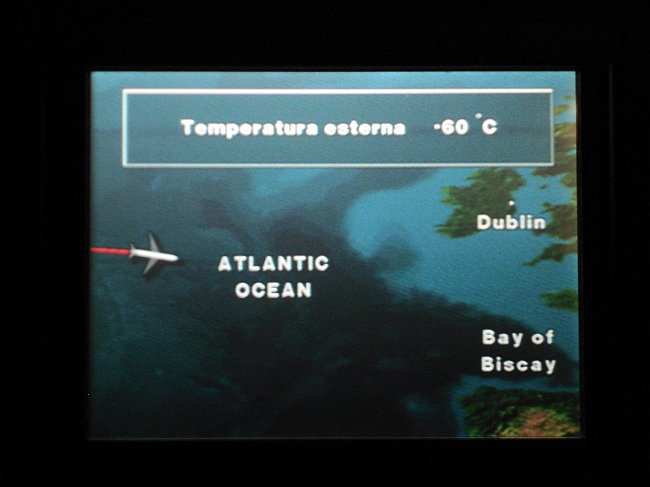 Back in European skies: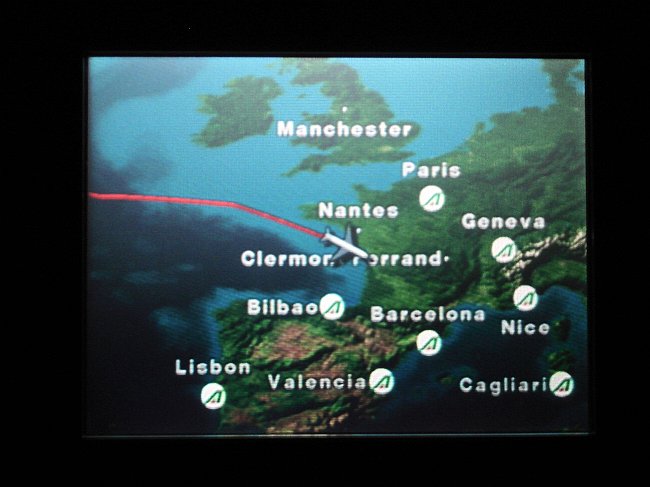 Breakfast
About one hour prior to arrival a small breakfast was served, consisting of a ham and cheese sandwich and a pastry filled with chocolate. The sandwich was quite hard - but both the blood orange juice and the coffee tasted excellent. It was probably the best coffee I have ever got on a plane - good to see Alitalia takes care of brewing coffee which Italy is so famous for.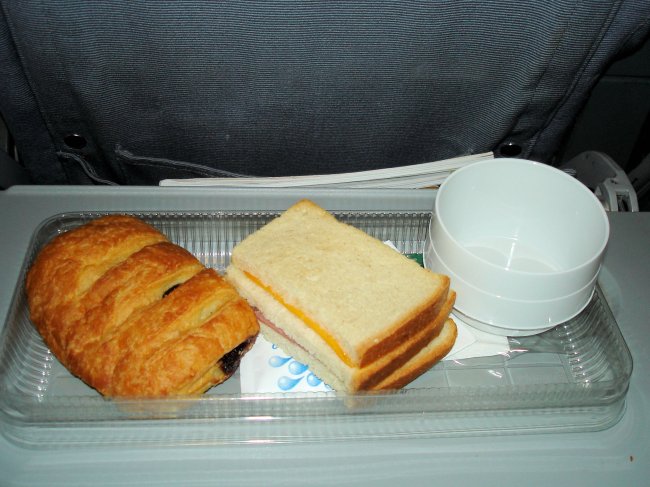 Approach
After passing Bastia on the island of Corsica it was just a short hop into Italian airspace. Minutes from touchdown I wanted to take one or two more pics, but had forgotten to switch off the flash - one FA then immediately told me to switch off the camera. Well, at least I switched off the flash.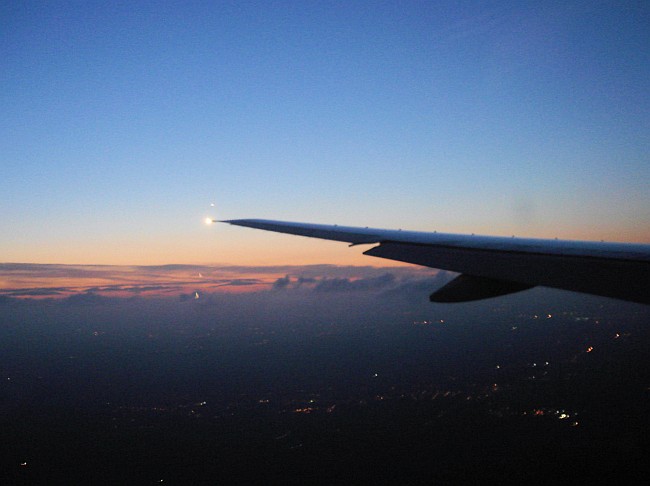 EI-DBK
touched down gently and was stopped slowly without using reverse thrust. We taxied to a remote parking position, where busses were already waiting. While walking down the stairs I thought about taking a pic of the huge GE90 powerplant, but there were simply too many ground crew members around. And I had heard before that Rome-Fiumicino is not a really spotter-friendly airport...
Rome Fiumicino Airport
While Terminal B is not a fancy new building, it's still easy to find the right way. Not beautiful with rather dark floors and low ceilings, but functional. I took me about 15 minutes to reach the gate area where my flight to MUC was supposed to depart from. Unfortunately, the check-in agent at JFK had not only reserved an aisle seat for the long-haul flight, but also for the short-haul sector. So I went to the agent at my gate and asked for a window seat in the rear section. The friendly agent explained that the printer wouldn't work, but he immediately changed my seat in the computer and wrote down the new seat number on my boarding pass. Then he said that there would be many empty seats on the plane anyway. Another half-empty AZ flight?
There aren't many areas which are recommendable for spotting, but I found a place at a glass front and got some taxiing aircraft. In the end, I added 25 new registrations to my collection (68 new regs at JFK).
Monday, 07 April 2008
Rome (FCO) - Munich (FCO)
Alitalia, AZ432
09:11-10:42 (09:00-10:40)
Flying time: 01:14 (hrs)

Airbus A319-112
I-BIMA "Isola d'Elba" (MSN 1722), delivered in 06/2002
Economy Seat 23A
A319? A320? A319!
My original itinerary showed an A319 on the FCO-MUC sector, but only weeks prior to departure it was switched to an A320. No big deal because I hadn't flown on an Alitalia Airbus before, but in general I prefer the A319 due to its (usually) better takeoff performance. However, when our bus stopped at the aircraft's remote parking position, I was surprised to see
I-BIMA
would operate the flight, Alitalia's first A319, delivered in 06/2002.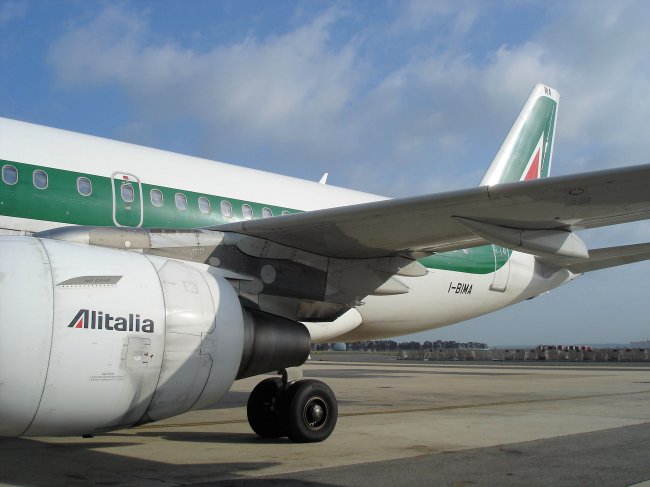 Cabin Comfort
The welcome at the door wasn't as pleasant as on the 777. Just a short "Buongiorno" without a smile. Instead, the FA was intensively chatting with one of the pilots. The other two FAs (both between 40 and 50) in the back of the cabin were chatting with each other, too. Again just a short and distanced - almost a bit arrogant - welcome, without a smile. The green seat color looks quite attractive - not the common grey, dark blue or black used in these days.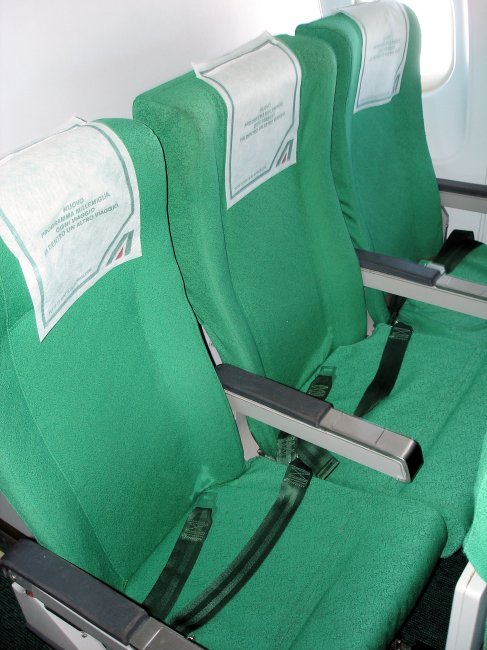 Though the seats aren't the latest models, they were quite comfortable...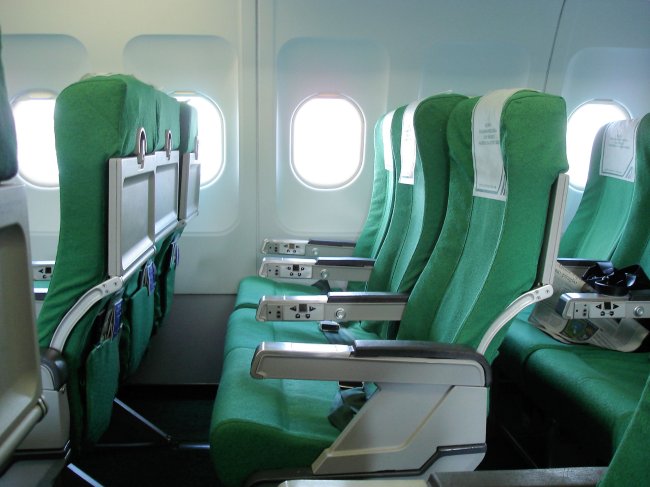 ...and pitch was sufficient, too. However, the seats and the cabin in general looked worn and weren't as clean as on the 777.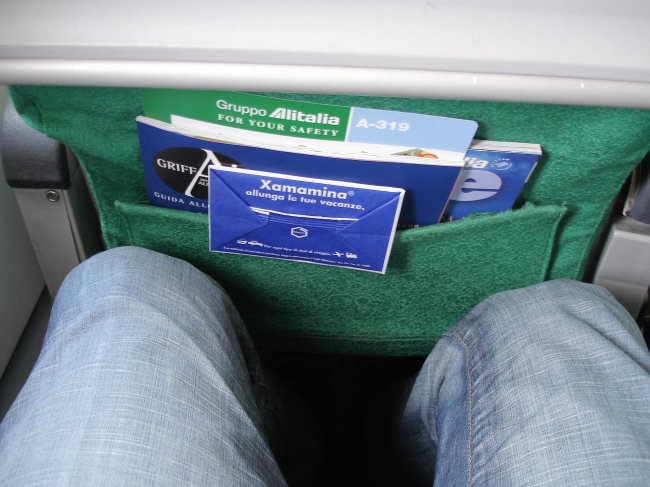 Light Load
Both airshow and TV features were shown on the foldout screens. The load factor was very low, even worse than on the long-haul flight. I guess there were some 40 pax on the plane - the ERJ145 which was used for so many years to and from MUC would have been sufficient. Anyway, I was glad about having the much more comfortable A319 than the tiny Brazilian tube.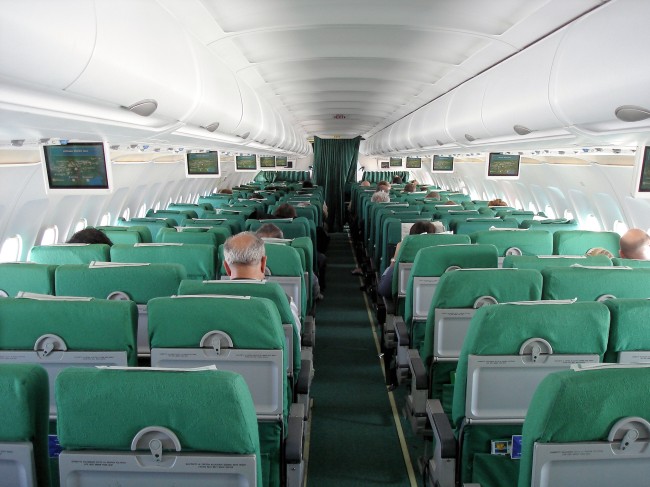 Powerful Takeoff
We were pushed back eleven minutes late and then didn't move for a while before finally lining up for takeoff at runway 25. While an AZ A321 was just getting airborne, our A319 turned in and was severely accelerated just some seconds later. It was probably the most powerful takeoff I have ever experienced on an A32X series aircraft, and a shaky one, too.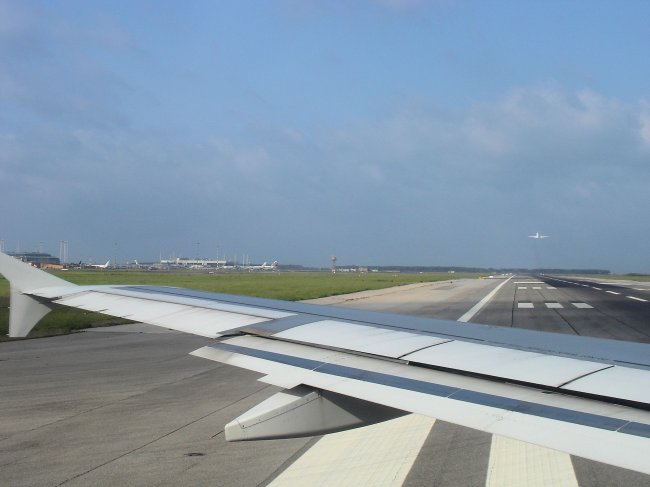 I-BIMA
lifted off quickly...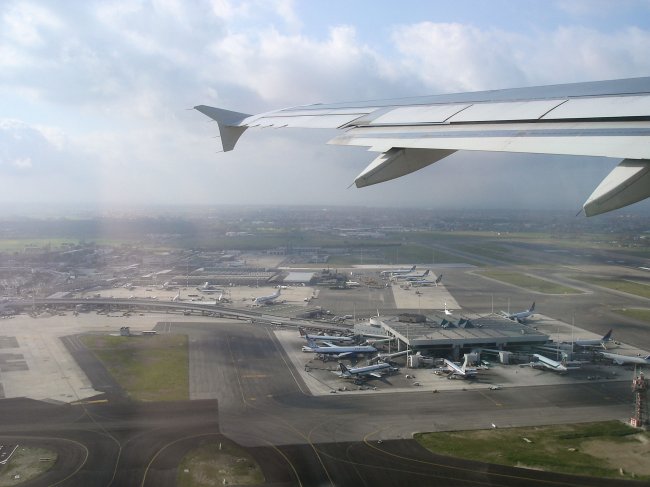 ...and later turned right over the sea.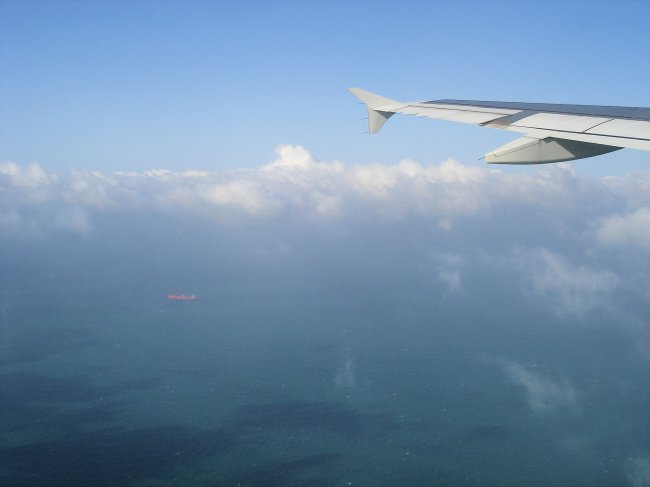 Snack & Turbulence
FAs offered cold and hot drinks as well as a quite tasty almond cake.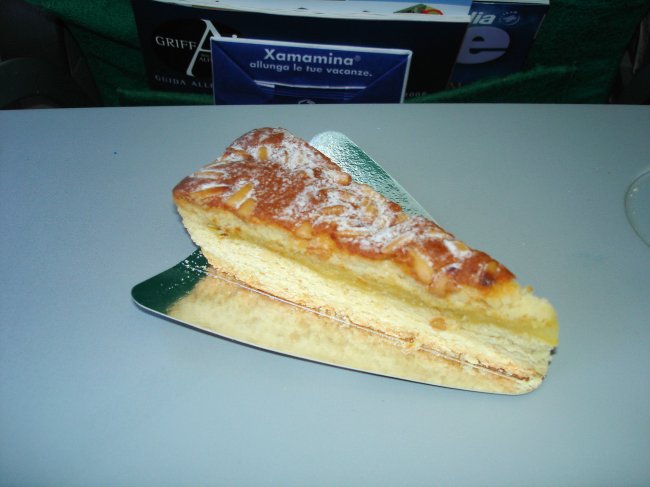 Again, AZ served a good coffee, but I had to drink it very fast because we were hitting an area of turbulence over the Alps.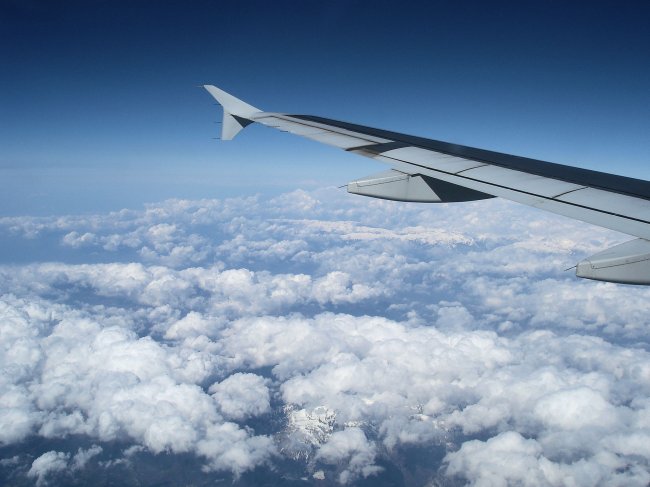 Approach
The sunshine over the Alps was soon replaced by the common screens of fog around MUC...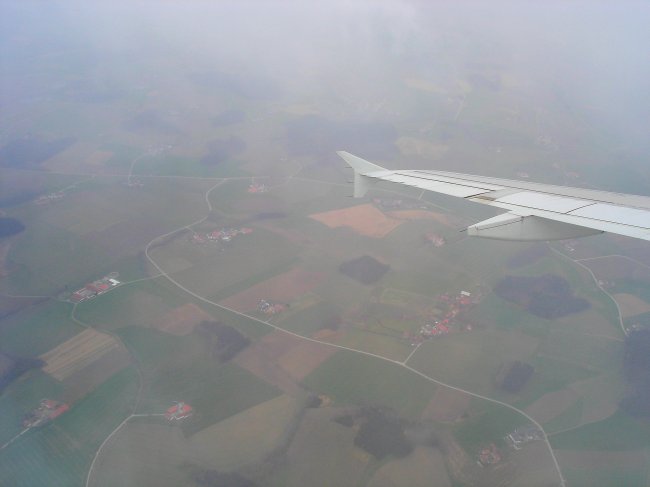 Erding Air Base, the home of the 5th Air Defense Missile Squadron and the 1st Air Force Maintenance Regiment: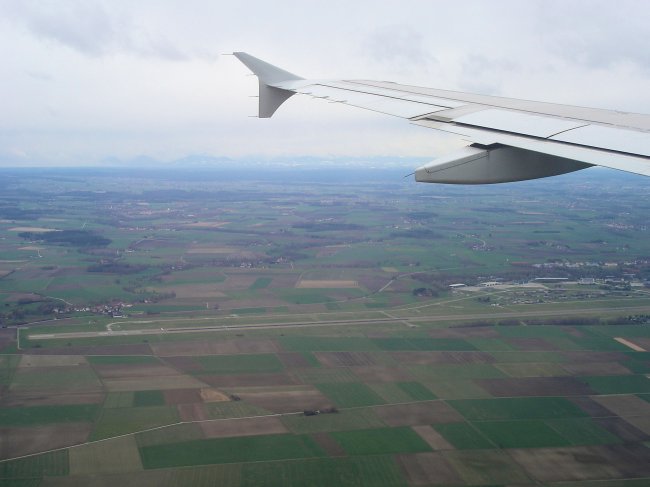 Three minutes after passing the air base we touched down on runway 26L and arrived at the gate at 10:42, almost on time.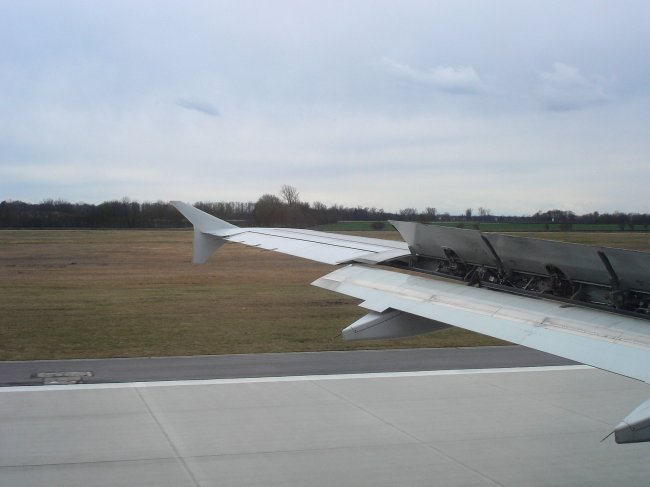 Conclusion
Flying
Alitalia
was a positive experience - actually better than expected. Flights were on time, ground staff at both JFK and FCO and most FAs on the long-haul flight were friendly and service-orientated. Well, it was a bit different on the short-haul sector. Catering on AZ609 was good, with a large choice of drinks and partly delicious food. Breakfast was traditional Italian style, so I don't complain. The almond cake on AZ432 was a welcome change in the world of ever-identical sandwiches. Seating was comfortable on both flights, but the big IFE boxes on the 777 can be a torture on full flights. The AVOD system can't match the ease of use and programing of other carriers' products (e.g KLM, NWA and of course Emirates) and may not be in best shape, but it still helps to stay entertained on long flights. The 777 cabin was mostly clean and in relatively good shape, while the A319 cabin was worn and partly dirty.
In the end I'd rate the long-haul flight to be more important than the short European hop, so my my overall impression of Alitalia is mostly positive. I wouldn't hesitate to fly on AZ's 777 again - but only after the airline has been stabilized again. After the latest cash injection it seems AZ keeps flying for the time being - and hopefully a new investor will be able to turn Alitalia into a profitable carrier again. But who knows, probably it was my first and last time on Alitalia.
Best Regards,
PlaneHunter