4 Stars or 5 Stars? FRA-KUL-FRA on Malaysia Airlines 777s
Intro
Malaysia Airlines' Economy Class long-haul product is in the focus of this report about my recent FRA-KUL-FRA flights on MH's 777s. I have also included a selection of pictures from Kuala Lumpur. In order to provide for more thematic clarity I will write a separate report on what was just in between the FRA-KUL-FRA sectors - flights on Air Asia A320s and a weeklong visit to the beautiful island of Langkawi.
Background
Malaysia, Thailand or Vietnam - my girlfriend and I had checked numerous options for our summer holiday this year. In the end we chose Malaysia, or to be precise, a combination of Langkawi and Kuala Lumpur.
Malaysia Airlines
offered attractive fares on the FRA-KUL route and we found a special offer by
Casa Del Mar
- a hotel constantly ranking on first and second place among more than 50 Langkawi hotels on TripAdvisor. All we needed was a connection between KUL and LGK.
MH's long-haul special wasn't valid for an extension to LGK and return fares on that short route were rather high. So we chose
Air Asia
which offered much cheaper flights. We picked a KUL-LGK departure scheduled some four hours after the planned arrival at KUL - which would be enough to deal with the transfer to the Low Cost Terminal and even with a possible delay. And even in case - it wouldn't have been a disaster to purchase a new Air Asia flight if necessary. Of course it's a different story when you need to catch a MH long-haul flight. So we decided to fly LGK-KUL one day before finally returning home. One night at a hotel in Kuala Lumpur would also give us the chance to see some famous parts of the city. Our choice was the
LeMeridien
conveniently located at KL Sentral Station.
Saturday, 14 June 2008
Frankfurt (FRA) - Kuala Lumpur (KUL)
Malaysia Airlines, MH005
12:30-06:25 (12:29-06:17)
Flying time: 11:19 (hrs)

Boeing 777-2H6ER
9M-MRB (s/n 075), delivered in 05/1997
Economy Seat 36A
Check-in
We arrived at FRA's Terminal 2 some 3,5 hours prior to departure and had to wait less than 10 minutes in line. The friendly female agent quickly handed out the boarding passes with the reserved seats in row 36. Immediately after booking on Expedia in January I had called MH's reservations office and a friendly agent reserved the requested rows.
Boarding
It was neither possible to see the plane's registration from the McDonald's at T2, nor from the boarding gate, so I had to wait for boarding until I could spot "RB" on the gear door.
9M-MRB
is Malaysia's second oldest 777, delivered in May 1997.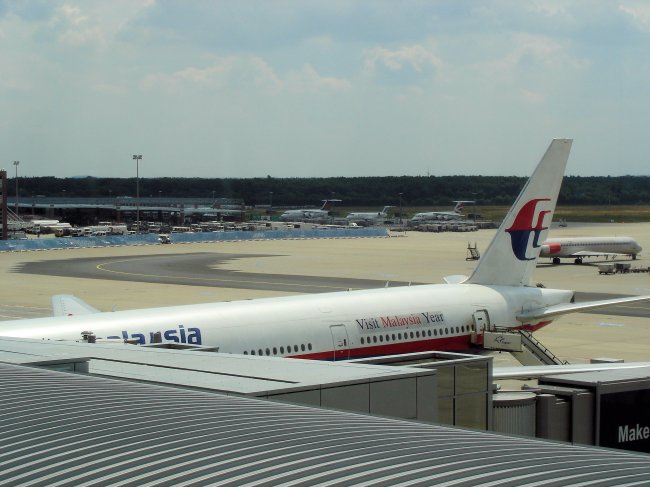 Cabin Comfort & Seating
Friendly FAs in nice green uniforms (male) and so-called
Sarong Kebayas
(female) welcomed us at the door and in the aisle while we headed to row 36. The seats (with adjustable headrests) in different colors aren't just an optical delight - they are actually very comfortable. Unlike on other long-haul flights before, my back didn't hurt in the end, not even after 12 hours on the return flight. The cabin was perfectly clean and everything looked well-maintained - no signs of age on this bird.
MH has installed a 2-5-2 configuration which is my favorite on the 777. It's perfect when traveling as a pair - and if not, you can only end up next to one stranger. Of course, you have to ensure in due time not to be stuck in the dreaded middle seat...
Seat pitch is also generous (34 inch), I could stretch out and didn't feel uncomfortable even with my hand luggage always around. The footrests could be moved into only one position, so I didn't use them. The IFE box is not as large as on other carriers and not entirely fixed on the floor, so it wasn't a major disturbance.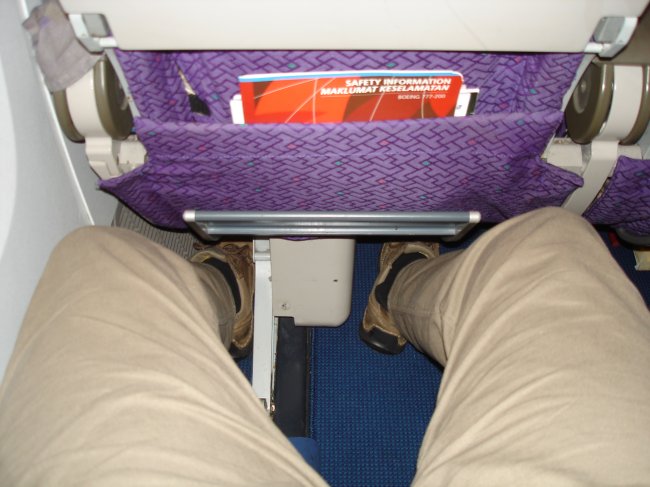 Hot Towels & Monologue
After boarding was completed FAs offered hot towels - quite a nice touch not common in these days. We left the gate on time at 12:29 and soon started the (rather long) journey to
Startbahn West
(runway 18 ). Load factor stood at about 80 percent, with many German tourists in Economy. Just behind us, a German traveler gave his new seatmate a high-end-nonstop-briefing with his insider knowledge about Malaysia - actually we learned so much by (involuntarily) overhearing that monologue so that we considered leaving behind our travel guide in the seat pocket...
Oh, I was really looking forward to the upcoming 777 cabin noise in flight...
At 12:53 it was finally our turn...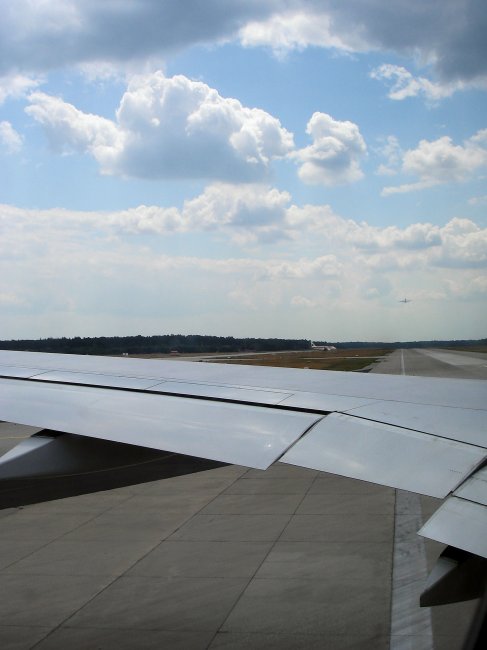 ...and the two RR Trents accelerated the heavy twin-jet for a powerful takeoff roll. Left turn shortly after liftoff: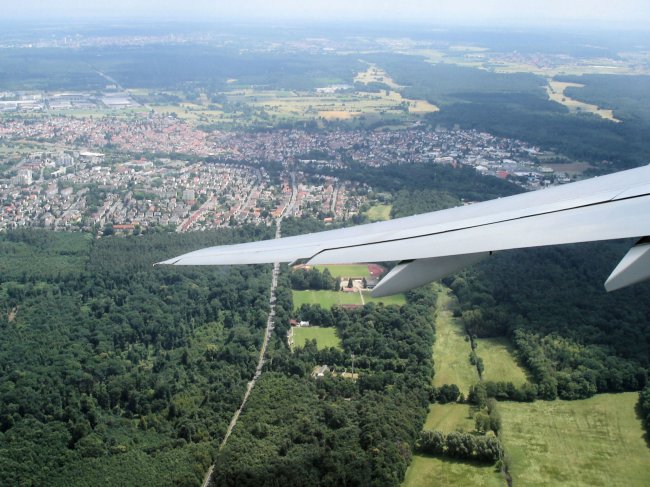 Juice & Peanuts
Service was started soon and FAs offered peanuts as well as cups filled with water, orange juice and (I guess) guava juice. I chose the latter which wasn't bad: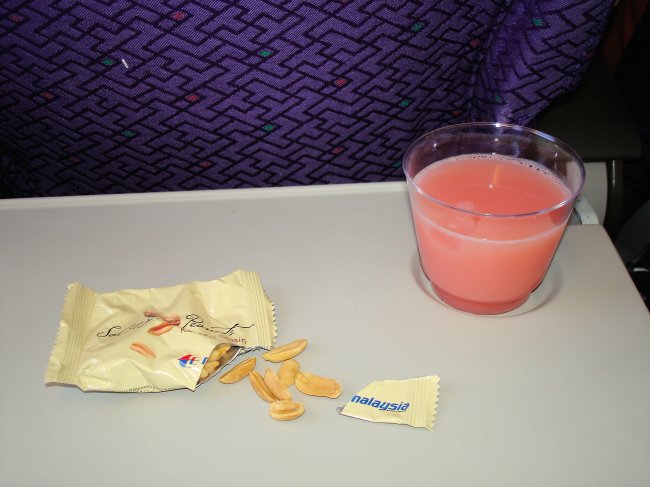 Lunch
About an hour after takeoff the FAs commenced lunch service. No menu cards were distributed - instead the choice of main courses was displayed in "cabin announcement letters" on the video screen. Never seen that before. I decided to try the beef with potato mash, while my girlfriend opted for the chicken with rice and vegetables.
First of all I was a bit surprised by the relatively small portion and the lacking presentation - not as generous and well-decorated as on EK, EY or SQ. There were only a few pieces of beef which didn't taste bad, though. The sauce and the potato mash weren't a culinary delight and the spinach tasted a bit stale. However, both the salad (zucchini, cucumber, paprika) and the red berry cake tasted good, even though there was just one piece of ewe's cheese in the salad bowl.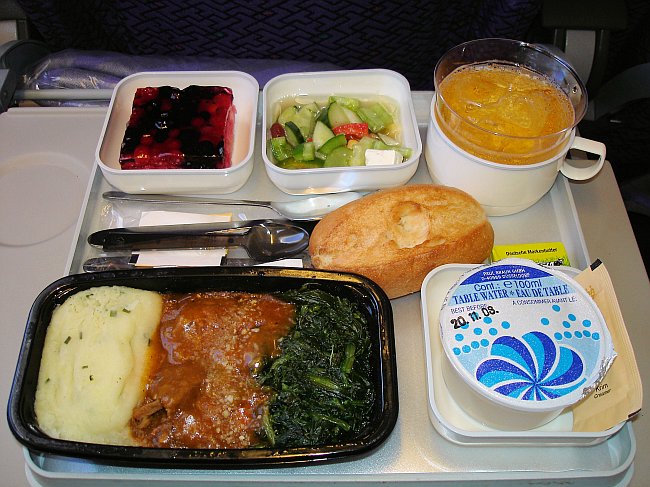 There weren't much more pieces of chicken in my girlfriend's meal, but her sauce, the rice and the vegetables tasted good - definitely the better choice.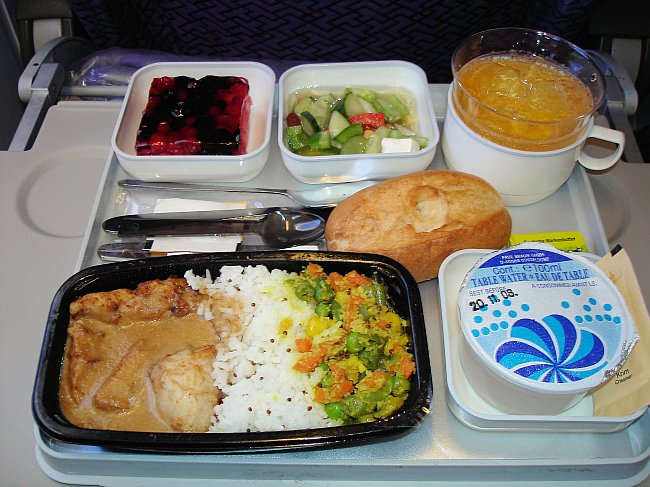 Drinks
Wine and beer were available - which is a standard feature - but I missed the offering of aperitifs like e.g. on SriLankan Airlines. I also noticed that the orange juice served on MH is quite a thin concentrate - that's not what you would expect on a prestigious carrier. A list of drinks wasn't available in the inflight magazine, so I tried my luck and ordered a ginger ale - one of my favorites. Indeed I got it - but the FA had to order it from a colleague in the galley. Finally it was served in a cup, without the rest of the can.
IFE
After lunch it was time to explore MH's Matsuhita 3000i AVOD entertainment system, called
"Select"
. Main menu: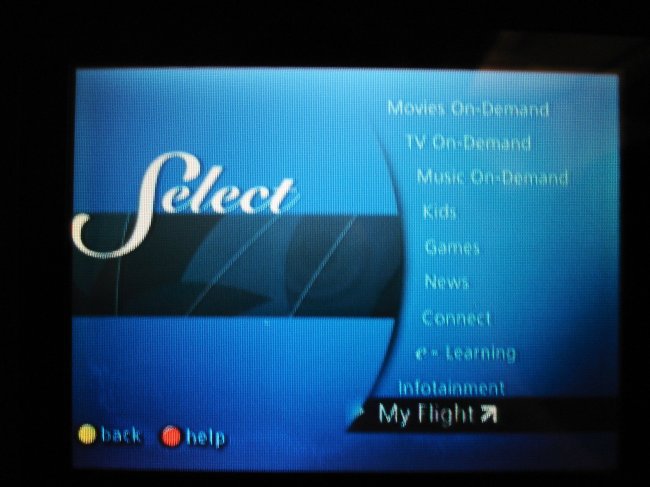 It's not the latest system used by AI, EK or SQ, but it offers a huge choice of options, actually over 300 hours of entertainment. Here's an overview:
- 55 Movies on-demand (a mix of Hollywood & international films, possible to stop and rewind; several movies available in German)
- 19 Channels with more than 90 different TV features on-demand (e.g. comedy, drama, sports, travel, science, kids, religion etc.)
- 70 Video games (leisure, puzzle, board, arcade, kids)
- E-Learning: worldwide travel guide, 23 different language courses, business practises (local culture, history, etiquette), summaries of business books
- 200 Audio CDs on-demand plus 12 radio channels
- Airshow with advanced mode for details
The handset worked well, again no signs of age. However, when stored in the armrest you often touch a button involuntarily and the channel may switch. It may also be difficult to return the handset along with its cable back to the armrest - you need to press a button inside the storage bin in order to do so which is not always easy to find. Anyway, with such a great choice of options, I wouldn't have a problem to keep entertained on several MH long-haul flights in a row.
Overtaking a 767
One hour after lunch another plane showed up close to us and even by using my small binoculars this time I could identify it as an Uzbekistan Airways 767-300ER heading to its home base at Tashkent.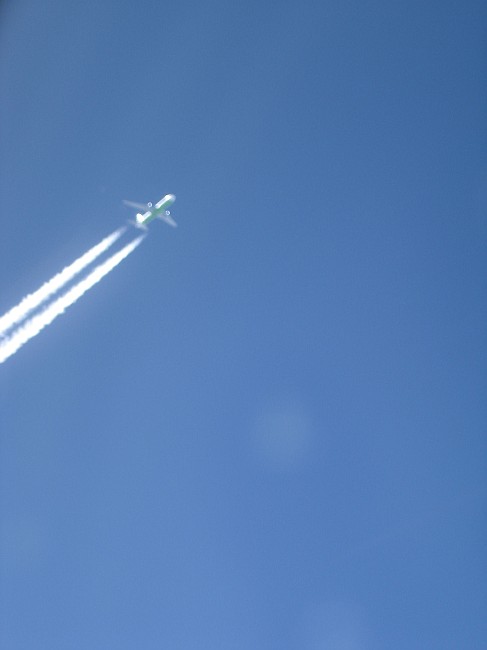 Most likely it was VP-BUZ which departed from FRA some time ahead of us. No problem for our 777 to overtake the slower 767 inflight!
Crossing Afghanistan
Some hours later I switched to the airshow again and checked the flight data.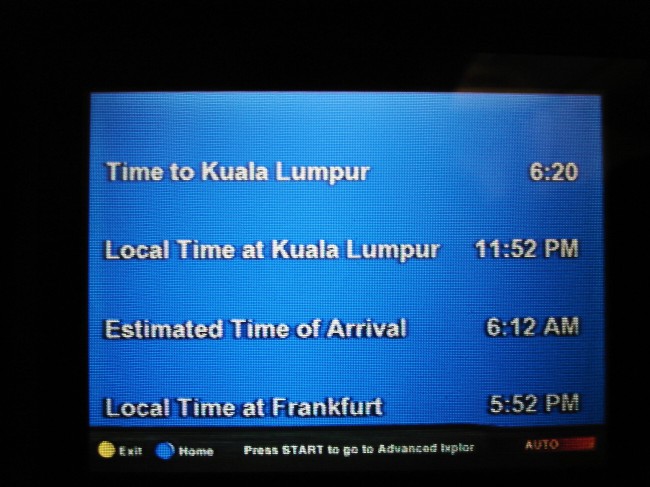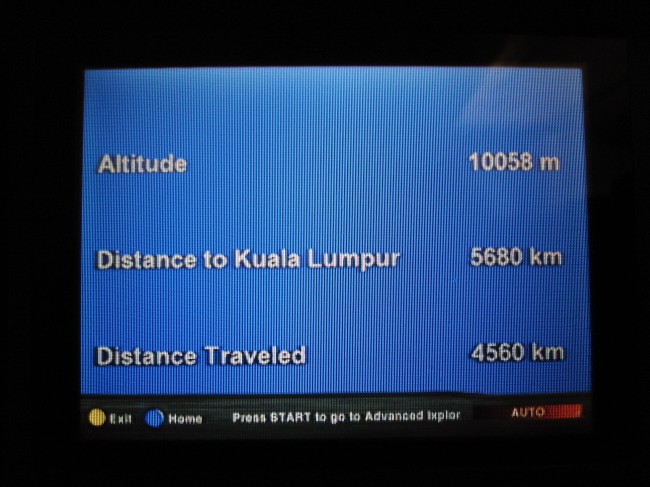 Interesting routing: Turkmenistan, Afghanistan, Pakistan, India...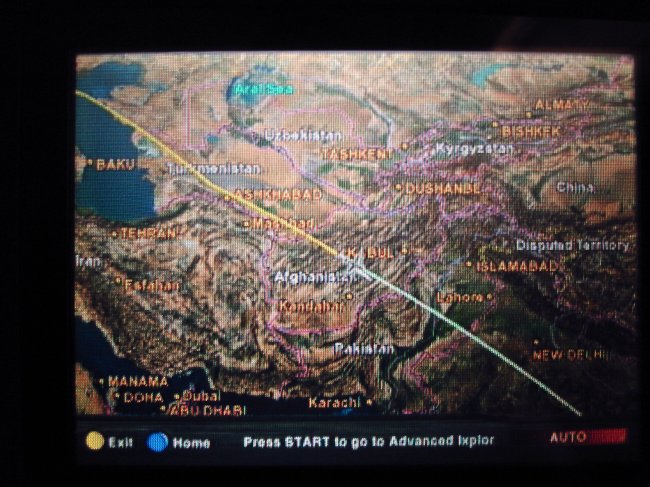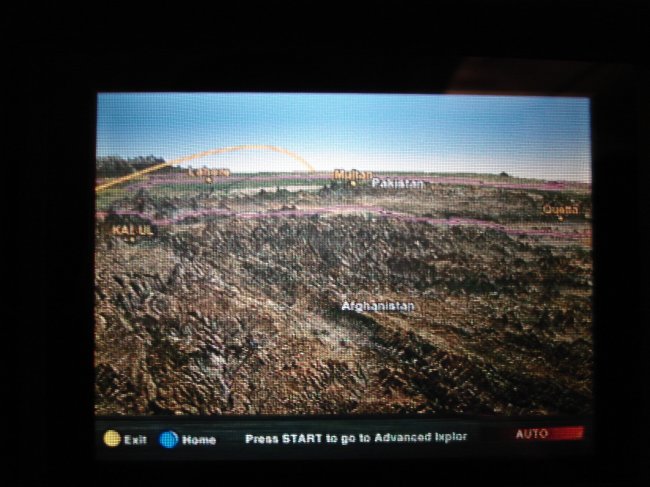 Snackpack
FAs constantly passed through the cabin with water and juice and after some time cruising in the darkness we got a snackpack, consisting of quite good crackers, a tasty fruit cake, pieces of dried guava and a bitter sweet chocolate. Just right at night.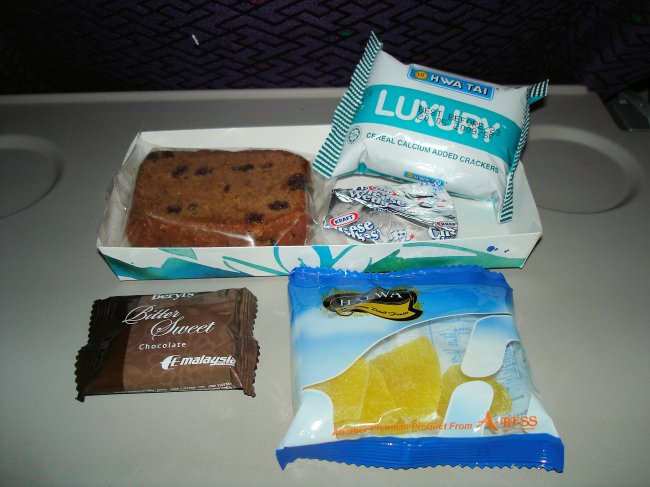 Turbulence
Over northerneastern India we would enter shaky skies for the next 1,5 hours. It started slightly and became more serious over the Bay of Bengal. First of all there were announcements that people should remain seated, later we heard the captain speaking:
"Flight attendants, please be seated."
I didn't mind at all and continued playing some games. After some heavy "impacts" a guy seated next to our row at the aisle seemed to have enough and his girlfriend advised him to
"breathe in and out slowly"
. The rollercoaster-like ride continued for a while and the guy finally disappeared in the back of the cabin...well, I can't deny that I felt a certain relief that "it" didn't happen at his seat...
Breakfast
About 1,5 hours prior to landing breakfast service was started. When the F/As had distributed a number of meals, the captain asked them to be seated again due to further turbulence fields ahead. There was an apology that service had to be stopped, but it would be resumed soon. This time I chose the omelette with beef sausage, roast potatoes and beans. In addition there was a fruit salad (pieces of apple, melon, pineapple), a blueberry yogurt, a croissant, jam and orange juice. Everything tasted fine and this time the portion was absolutely sufficient.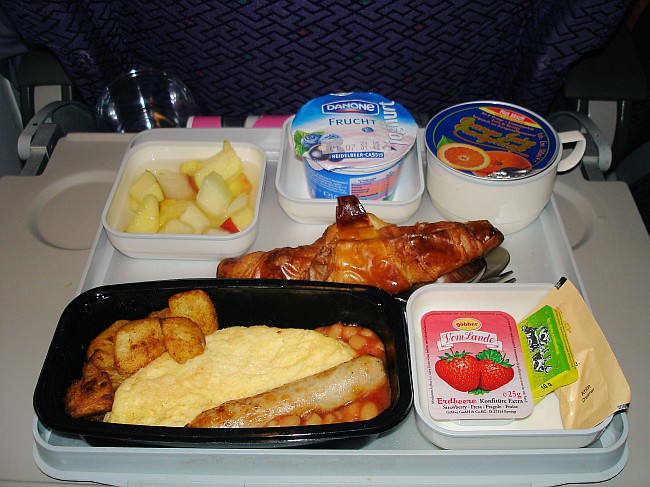 My girlfriend had opted for
Nasi Lemak
, a common dish in Malaysia. It was beef stewed in coconut milk and spices, accompanied by rice, a hard boiled egg, pickled vegetables and a hot spicy sauce. She liked it and indeed, it didn't taste bad, but I was quite satisfied with my choice.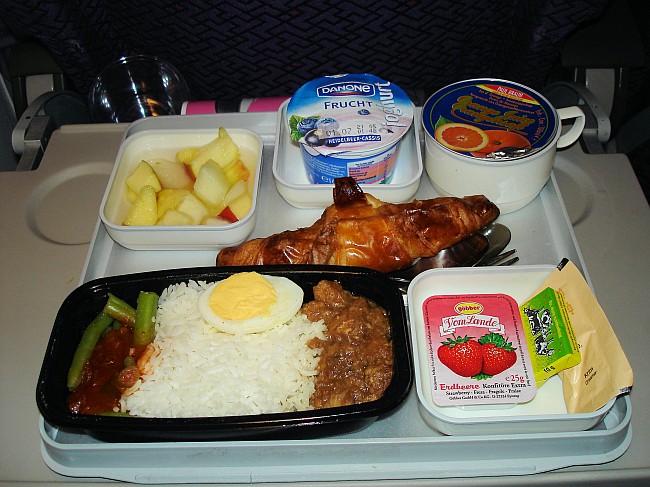 Customer Survey
After breakfast, FAs handed out sheets of paper to certain passengers - I thought it would be time to fill an immigration form, but it was a customer survey. While I got one, my girlfriend didn't - the same happened in other rows. I have no idea about the logic of that selection process.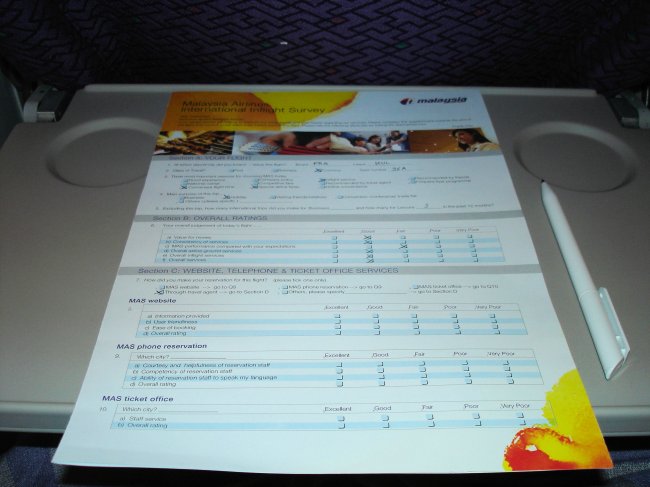 Anyway, I completed the form, mentioned all the positive, but also the negative aspects. I praised the seating and the IFE, but criticized the catering. They also asked for the top three international carriers based on personal experience and I referred to SQ, EY and EK. The survey is a good idea in order to improve service - hopefully MH will draw the right conclusions.
Arrival
The remaining time passed quickly and after an approach from the south and a total of 11:19 hours in the air we touched down at Kuala Lumpur International Airport (KLIA). It was still dark so I couldn't see much, spotting any registrations was impossible.
KLIA - Kuala Lumpur International Airport
After leaving the aircraft we walked for about five minutes through the state-of-the-art satellite terminal building and entered the Aerotrain to the main terminal. The planners have done a good job with the combination of design elements, the extensive use of glass and the lighting. Just like everything else, the floors were clean - or better spotless. Since its opening in June 1998, the airport has won numerous awards - several times even rated "best airport in the world" in its category.
Warm Welcome
The train ride took less than two minutes and we headed to the immigration counters. Queues weren't long and we soon got our passport stamps by a friendly officer. Actually the passport is all you need - entering Malaysia doesn't require to fill long forms, answer questions and leave fingerprints or anything similar as it is common in certain countries today. We truly felt welcome in Malaysia!
Only a few minutes later we could grab our luggage from the carousel and we walked to the arrivals area. Now we would have almost four hours to transfer to the Low Cost Terminal and check-in for the flight to Langkawi on Air Asia. Everything worked as planned and we spent a great vacation on this beautiful island.
Watch out for the separate report, following soon!
Kuala Lumpur
After returning from Langkawi we took the Air Asia SkyBus from the Low Cost Terminal to KL Sentral Station (one hour-journey), the city's most important rail transportation hub. We checked in at the LeMeridien Hotel just across the street from the station. While it's a nice hotel, we missed the sincere and personal service we had just experienced at Casa Del Mar Langkawi. Though it's a quite new (and rather pricey) hotel, we found several items malfunctioning in the LeMeridien room. And not to forget, some staff seemed to be a bit confused with the advance payment of the room plus extra charge for late check-out...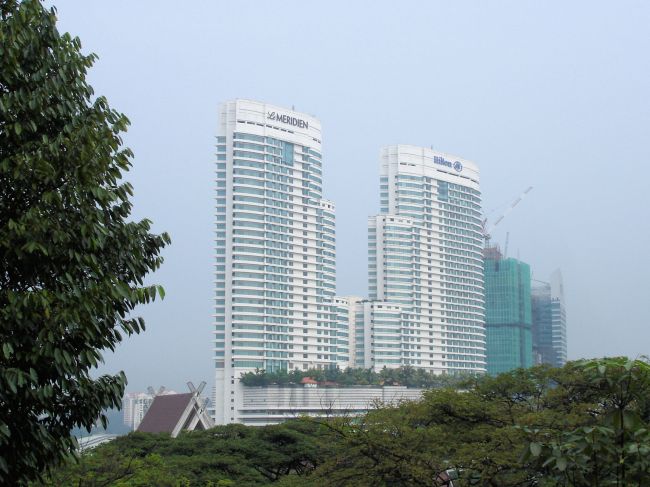 Views from our room: the giant
KL Sentral Station
...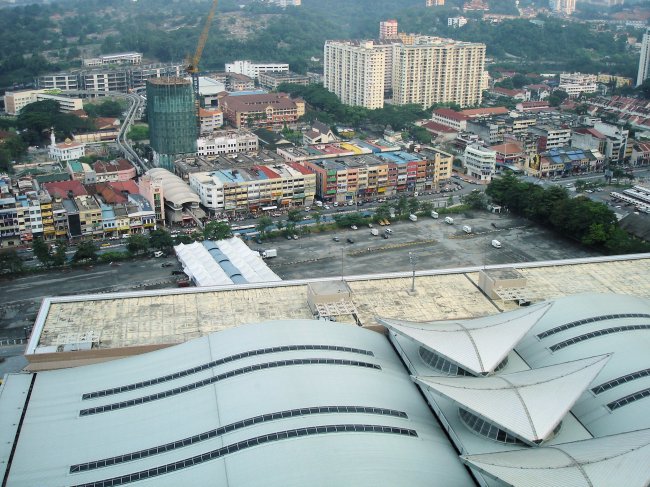 ...and some modern buildings to the right: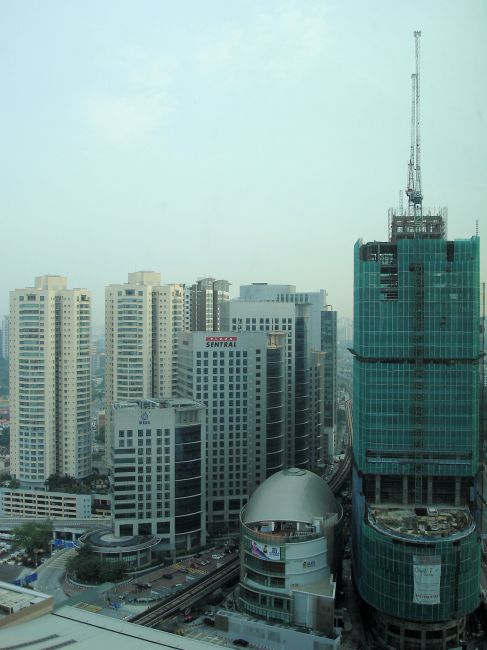 First of all, we walked to the
Orchid and Hibiscus Gardens
located at one corner of
Lake Gardens
(Taman Tasik Perdana), with thousands of species of exotic orchids and hibiscus flowers.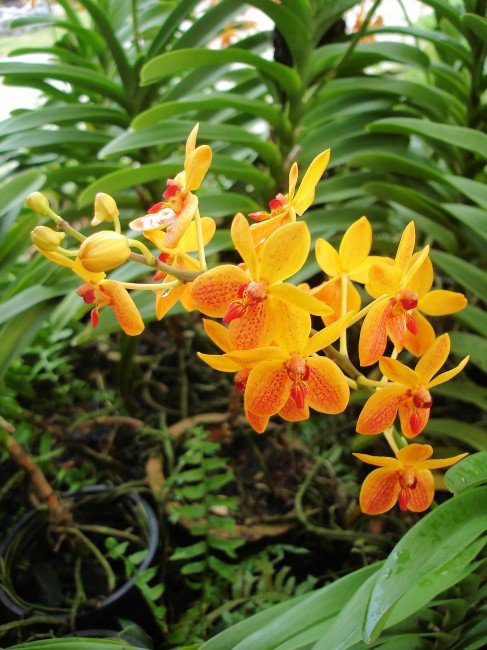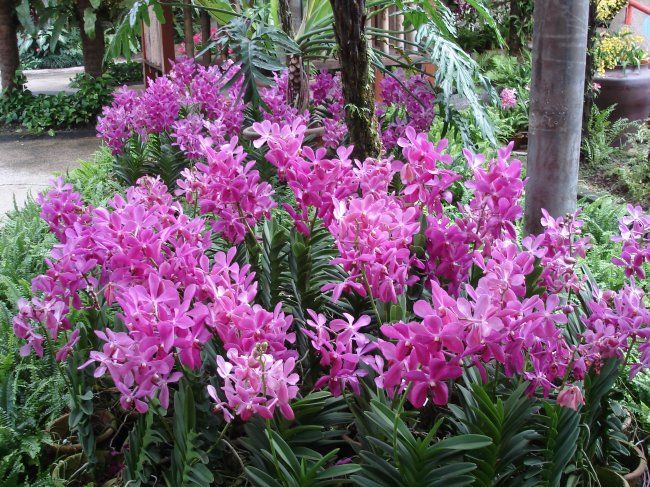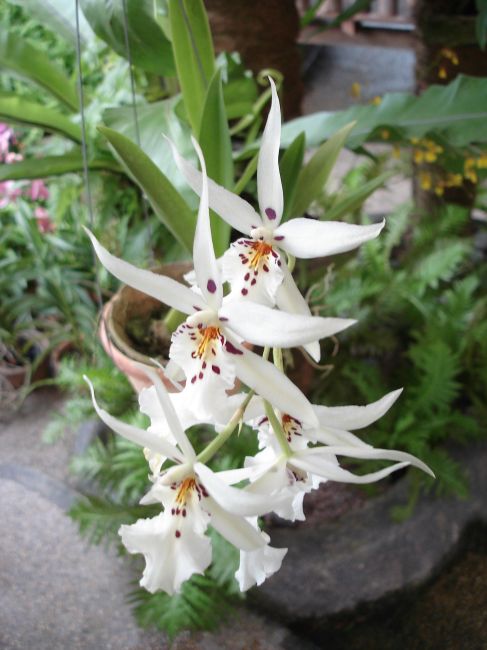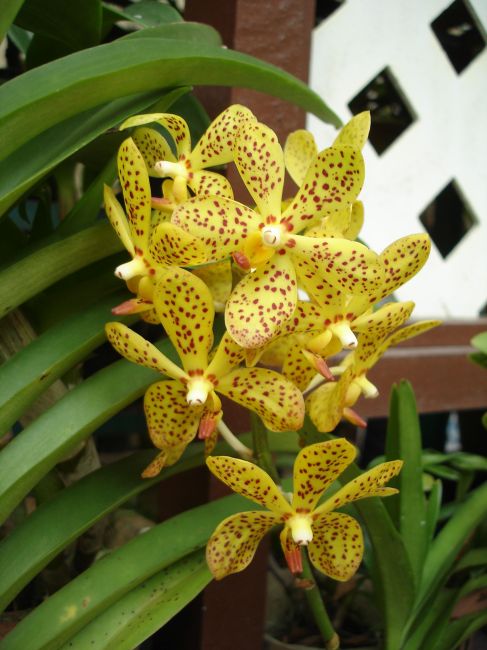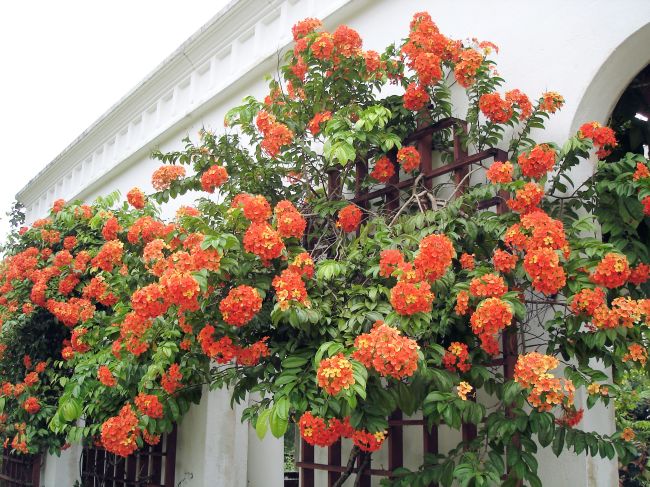 The
National Museum
located on the fringe of Lake Gardens.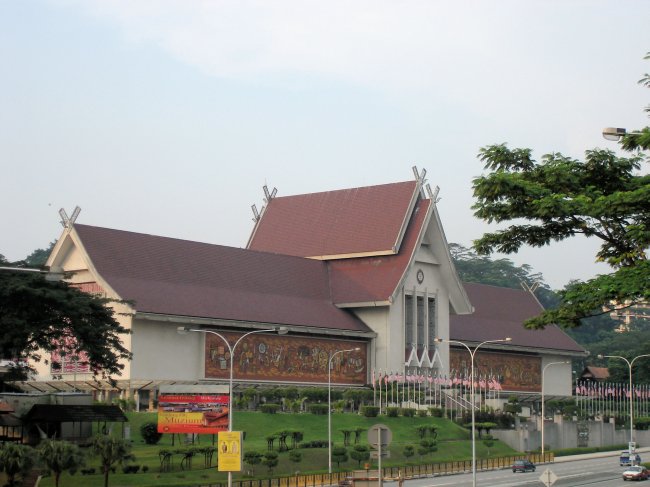 Menara Kuala Lumpur
- with a height of 421 meters it is the fourth tallest telecommunication tower in the world.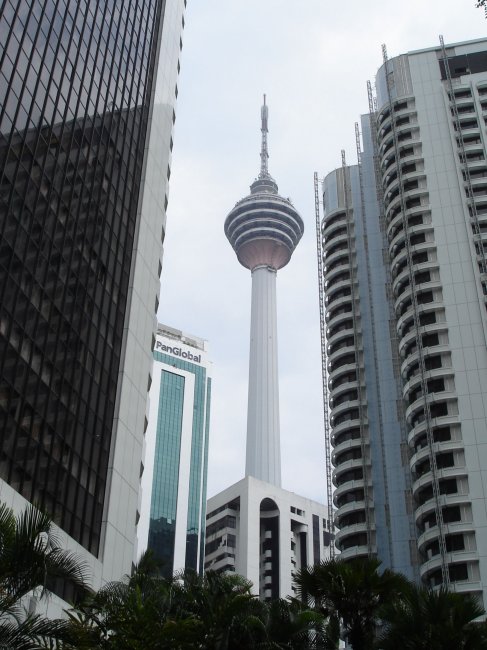 Stunning views from the tower's observation deck at a height of 276 meters above ground level - and there are the famous Petronas Towers: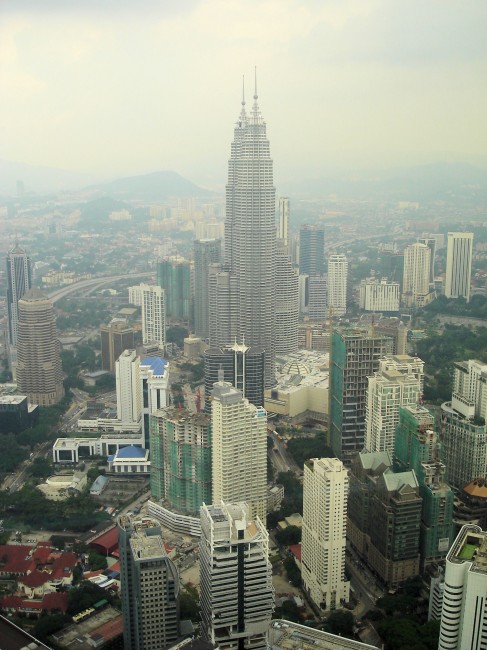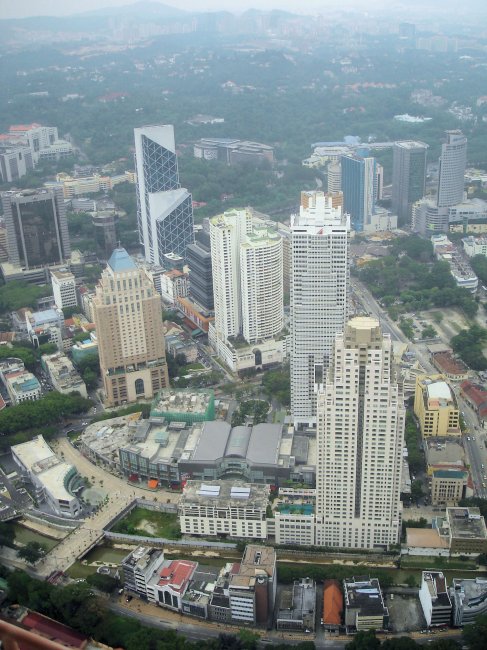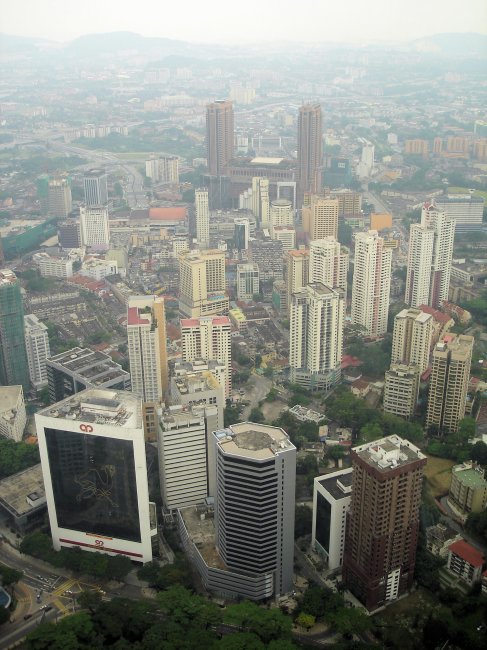 The
Lake Gardens
(straight ahead) at Jalan Perdana is the city's most popular park area and includes a bird park, a butterfly park, a deer park and the mentioned flower gardens. KL Sentral and our hotel are on the very left.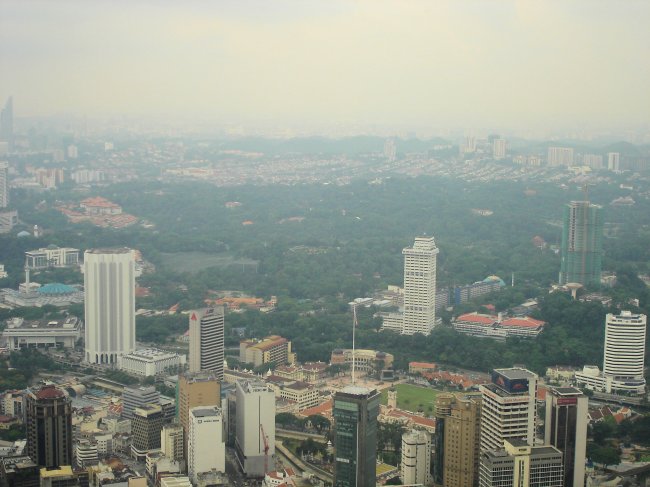 On the way to the Petronas Twin Towers, with a height of 451,9 meters the tallest twin buildings in the world.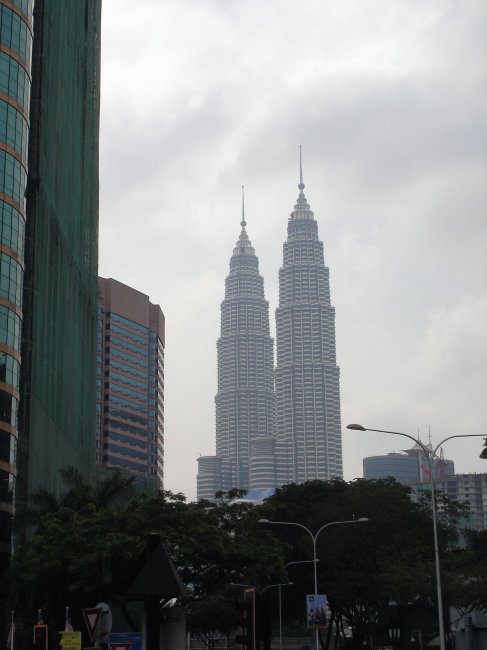 The skybridge located between the two towers on the 41st and the 42nd floors is the highest 2-story bridge in the world. It's 170 meters above the ground and 58 meters long.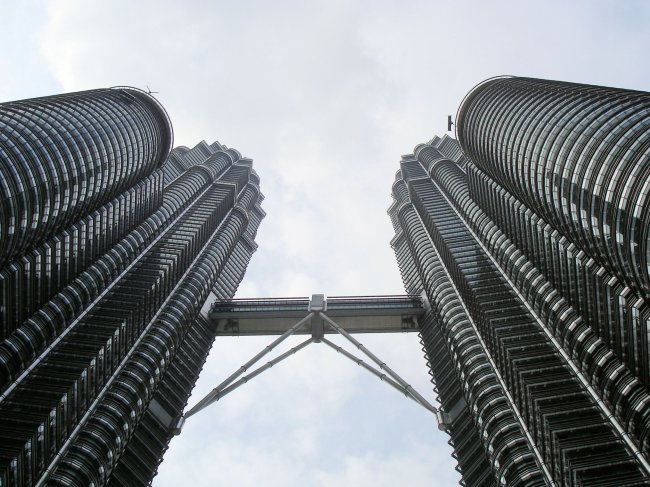 We had to wait in queue for about 1,5 hours to get two of the (free) tickets for the skybridge walk. Those who don't want to wait can still go shopping in the giant and exclusive Suria Mall located below the Twin Towers. Views from the middle of the bridge: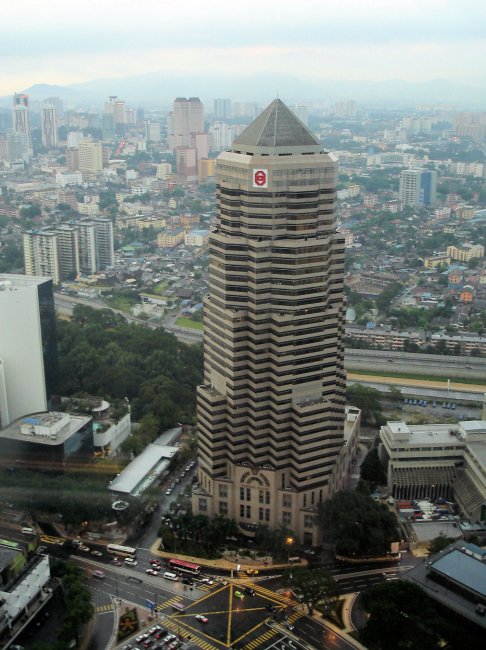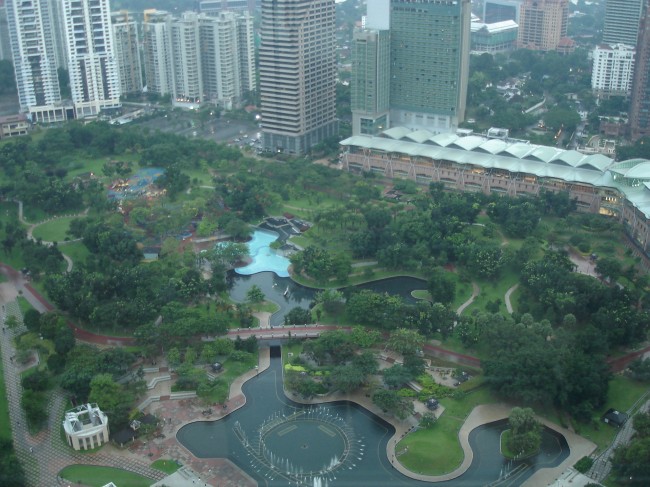 Last but not least - the
KL monorail
, one of several excellent rail-based transit systems in the city.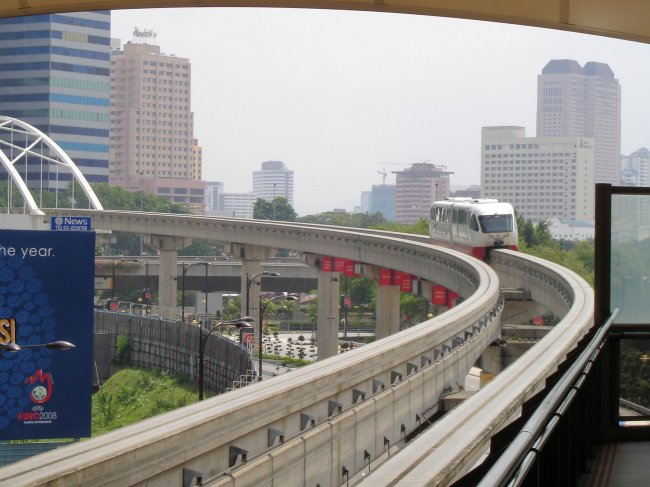 There's so much to see in KL and we will visit the other attractions once we come back...
Sunday, 22 June 2008
Kuala Lumpur (KUL) - Frankfurt (FRA)
Malaysia Airlines, MH006
23:50-06:30 (00:45-07:10)
Flying time: 12:04 (hrs)

Boeing 777-2H6ER
9M-MRQ (s/n 498 ), delivered in 12/2004
Economy Seat 36J
Check-in - but not at the Airport
After our late check-out at the LeMeridien and the evening visit to the Petronas Twin Towers' skybridge we checked in for our flight home - well, not at the airport, but directly at KL Sentral Station. MH and a few other airlines offer check-in here which is very convenient, as you can leave your luggage, just enter the KLIA Express train and go straight to the gate. Friendly staff handed out the boarding passes quickly. Then we took the KLIA Express and arrived at the airport just 28 minutes later. We entered the main terminal departure hall for the first time and again I enjoyed the building's great design. Then we went straight through security and took the train to the satellite terminal. The central area: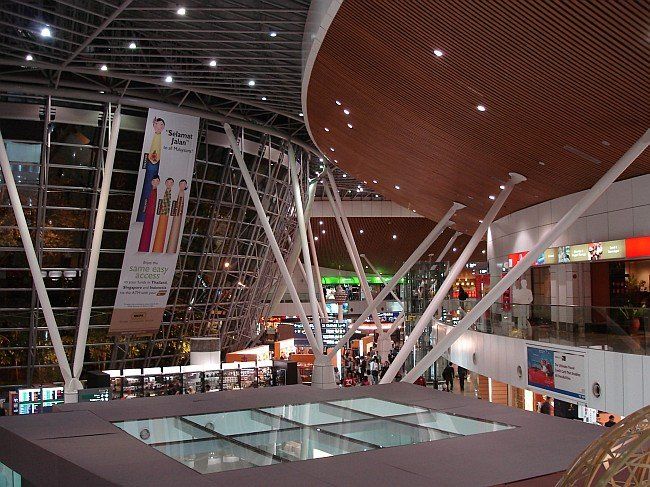 Our way to the gate: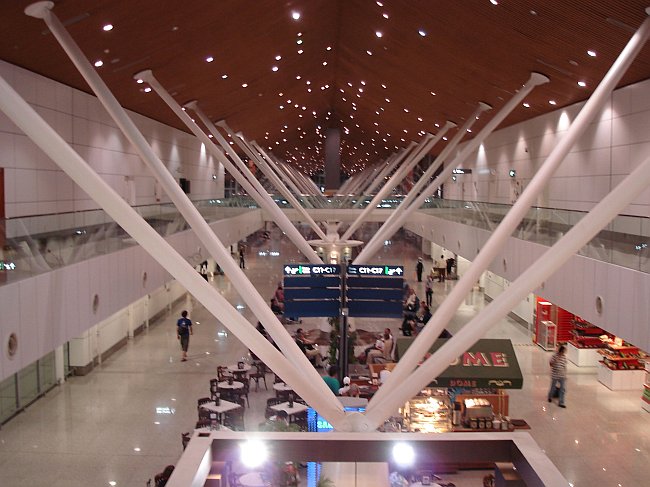 MH006 delayed
A quick look at the departures screen showed that our flight would depart at 00:30, 40 minutes behind schedule. At that time it was about 21:00, so I assumed our plane would arrive late from another destination. However, a plane was already parked at C14 - it was
9M-MRQ
, the latest 777 in the fleet, delivered in December 2004.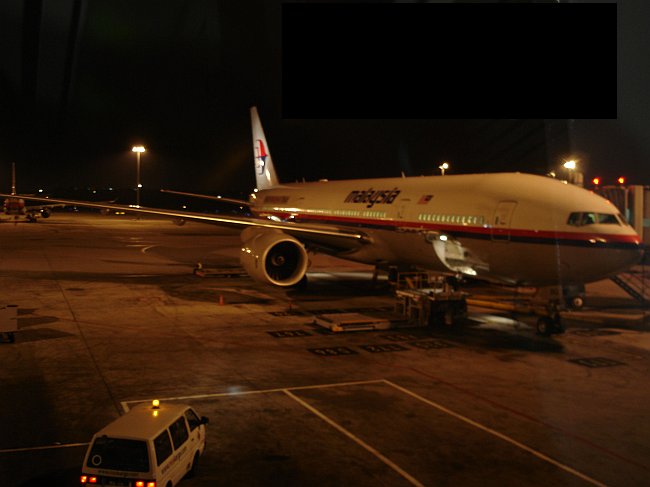 ATC Requirements
We had dinner at an Italian restaurant and killed the remaining time by reading - spotting was absolutely impossible at night. I got exactly one registration - the very 9M-MRQ. Boarding was started earlier than expected and we were welcomed by friendly FAs. Again, load factor stood at about 80 percent in Economy. We sat down at 36J and 36K at about 00:15 and were surprised by the captain's announcement. He said we wouldn't be able to leave the ground earlier than 01:00 due to ATC requirements. Who knows what exactly that meant - at least they knew about the delay already hours in advance. Again FAs offered hot towels - as well as orange juice and water due to the delay. 9M-MRQ was finally pushed back at 00:45 and we lifted off from runway 32R 12 minutes later.
Late Night Dinner
Dinner service (chicken or fish curry) was started less than an hour in the air. And while cruising over the Bay of Bengal FAs had to sit down again due to turbulence. When the service was resumed, the meals had already cooled down a bit. Anyway, what we got was very tasty - and the portion was bigger than on MH005. But it makes no sense to serve a bigger portion in the middle of the night when people tend to eat less than during lunchtime. The pieces of chicken breast, the potato wedges and the slightly spicy sauce were really good, but I didn't like the vegetables. The green salad with crabs wasn't a culinary delight either, but I loved the caramel cream cake. Again, the orange juice served was the thin concentrate.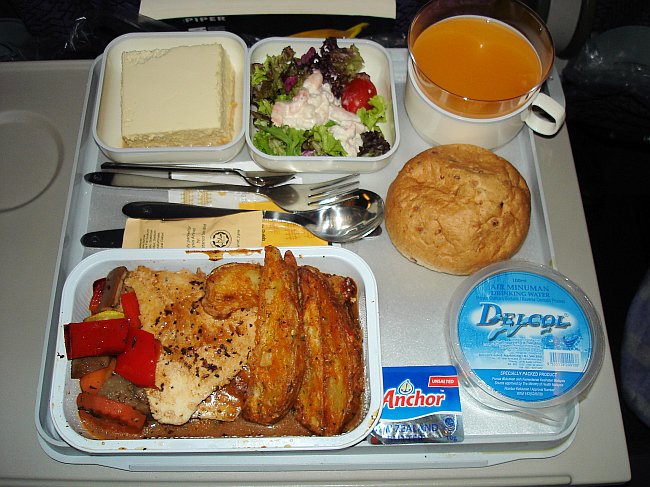 After dinner I reclined the seat and surprisingly managed to sleep for a few hours. When I woke up we had already passed Afghanistan and I decided to use the IFE again. Just like on 9M-MRB, the system worked well, so no reason to complain. Entertainment outside - a beautiful sunrise: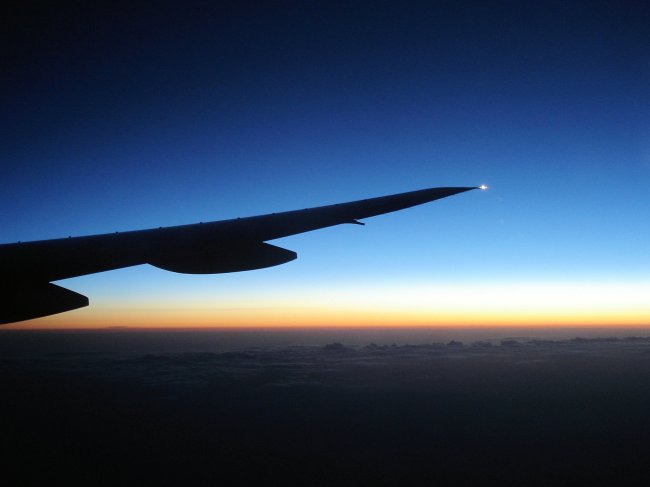 Snacks
While most people were sleeping FAs didn't serve a snack during the night. However, snackpacks (similar contents as on MH005) and peanuts were available in the galley. I had a short chat with the friendly female supervisor and she spontaneously offered me a small bag of good candy, apparently from her personal stock. Later when she passed our row and served drinks she asked me and my girlfriend whether I had shared the candy...
Breakfast
Two hours prior to our arrival at FRA a hot breakfast was served. We chose the omelette with chicken sausage, hash brown, mushrooms and green beans over Nasi Lemak. Again, it was a good and filling meal together with the fresh fruit and the croissant, even though the banana smoothie wasn't to my taste. Not to forget - I cannot recommend MH's coffee with its strange aftertaste.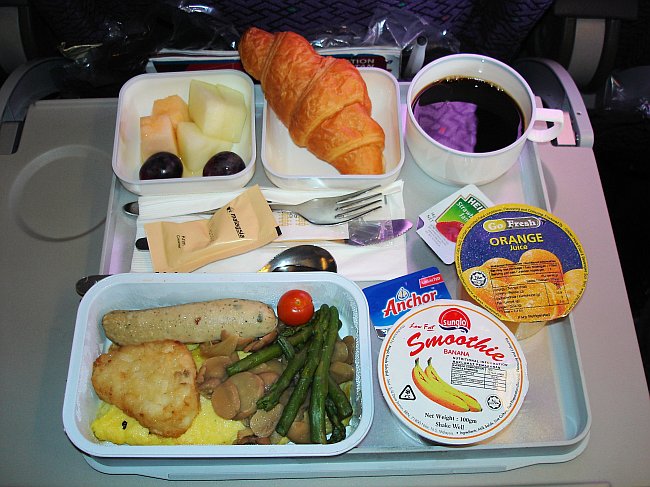 After breakfast we were already cruising in full daylight and I used the chance to make a cabin-shot: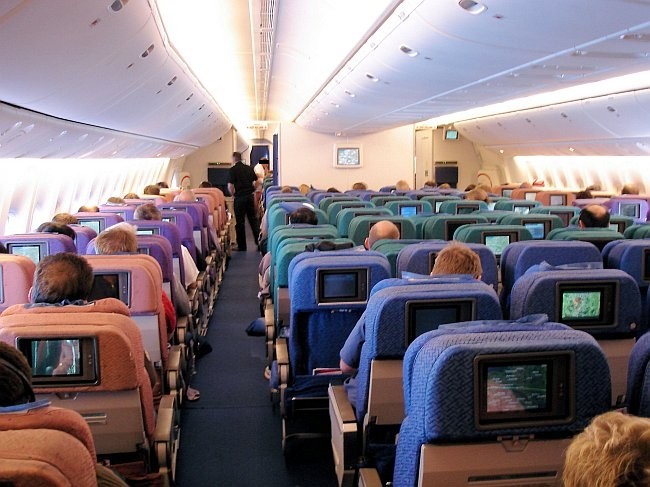 Approach
The 12 hours in the air had passed relatively fast and shortly before 07:00 we were on final approach to Frankfurt Airport's runway 25R.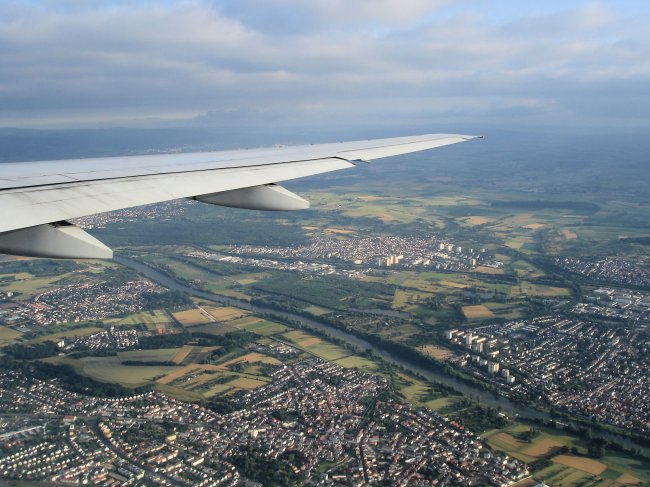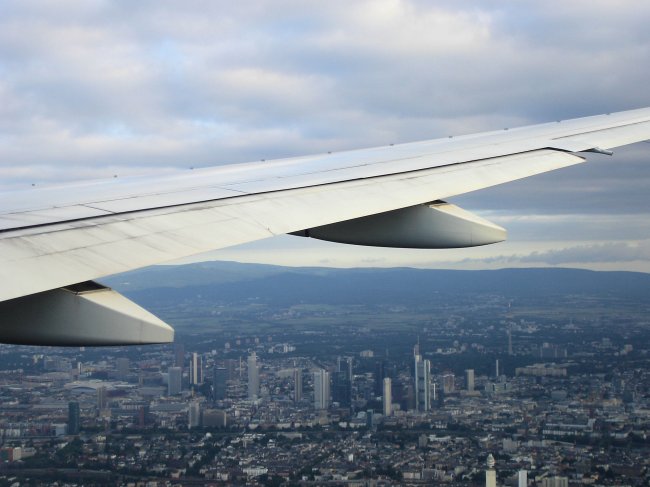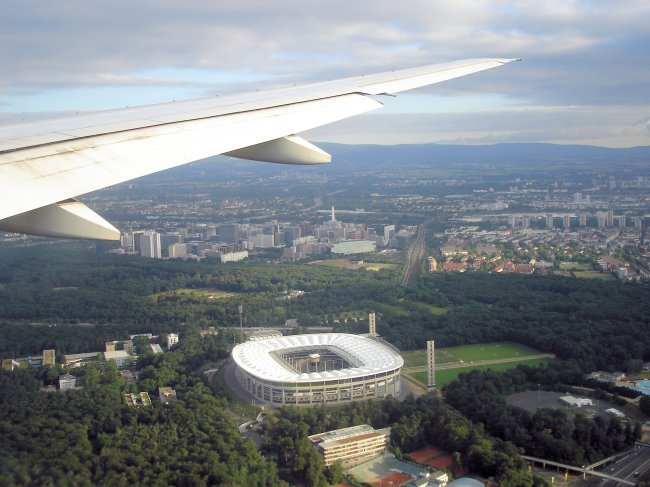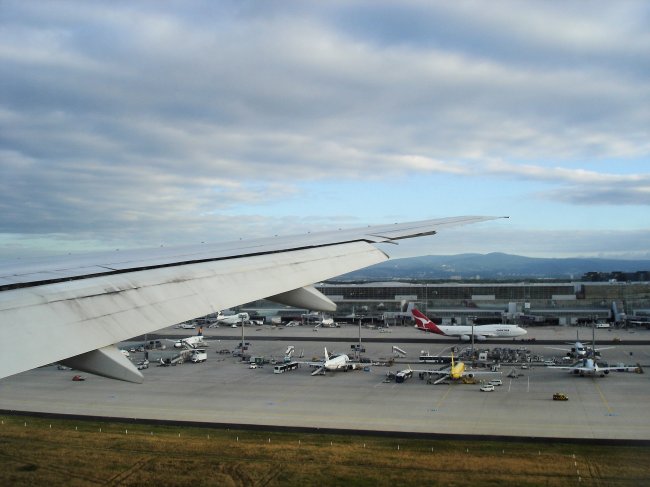 Pass Control Confusion
We stopped at the gate at 07:11 and said goodbye to 9M-MRQ. Some of the FAs in the front part of the cabin didn't look very friendly when we passed them, but well, that can even happen on MH. Only two counters were open for passport control - and numerous people including us were confused by the signs. There was one large illuminated "non-EU" sign in the middle between the two counters - while rather small "non-EU" and "EU" signs were placed on the respective counters. Many people couldn't see the tiny signs from behind and therefore lined up in the wrong queue. And as usual when I travel from FRA, the arrival area was a construction site...anyway, our luggage arrived soon, so we could head homewards.
Conclusion
Flying
Malaysia Airlines
was a pleasure, we can honestly say we were satisfied with our choice. Seating, IFE and facilities at KUL were excellent, cabins were clean and in good shape, service in the air and on the ground was really good. The vast majority of FAs and ground staff was very friendly. However, the overall experience wasn't much better than on other Asian, Arabian and even some European carriers.
Based on a Skytrax rating, Malaysia belongs to a small number of 5-Star-Airlines. Apart from the fact that these ratings should be taken with a grain of salt anyway, the detailed listing on Skytrax shows that MH has 5 stars in total - but only 4 for long-haul Economy class. And I think that the 4-star-rating is absolutely satisfied. First of all, in order to deserve the 5-star-rating in Economy, the main meal service should be improved - bigger portions at the right time (e.g. during lunchtime) and an improved meal presentation would be appropriate. The selection of drinks could also be improved. MH also lacks a few details which are part of other (mostly Asian and Arabian) airlines' long-haul products. Examples are amenity kits with socks, eye patch and earplugs, menu cards, aperitifs, ice cream or a self-service bar with a variety of snacks.
However, as I said, these are details - even without those I would certainly fly MH again and I can truly recommend the airline to anyone. As for Kuala Lumpur: It's a great modern city with many attractions, definitely worth a visit.
Next report: KUL-LGK-KUL on Air Asia, including a selection of pics from Langkawi: http://forums.jetphotos.net/showthread.php?t=44515
Best Regards,
PlaneHunter