Due to the on going Qantas strikes/delays/go-slow, I decided to give Virgin Blue a shot. The last time I flew on a single aisle aircraft was on a BA B737 in 2002!
30 June 2008
Sydney (SYD) – Melbourne (MEL)
Airline: Virgin Blue Airlines
Flight: DJ838
Aircraft: B737-800
Registration: VH-VUA "Bondi Babe"
ETD: 1215
ATD: 1230
ETA: 1345
ATA: 1400
Flight Time: 1.5 hrs
Seat: 30A (Economy)
Took a cab with my girlfriend to the domestic terminal 2 from our apartment at 10.30 am. Ride was smooth and we were there in 20 minutes. Upon arrival, we headed straight to the bag drop where the queue was shockingly long but the wait for only a mere 10 minutes. Strangely, our IDs weren't checked at all! Security check was fast and we just browsed a couple of shops before heading to Gate 39 for boarding.
Bondi Babe taking us to MEL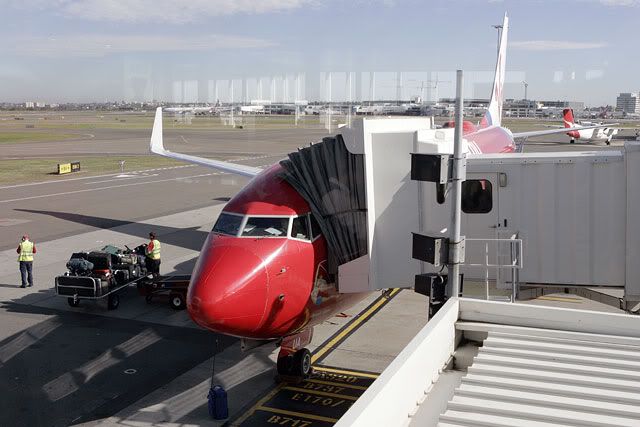 DJ838 was under the command of Captain Paley (She's pretty!). Row 30 was the last row on the 737 and to my horror the seats couldn't recline!! (For a 1.5 hrs flight, 31" pitch with no recline is still bearable) Seats were rather dirty too! Someone obviously had a biscuit party on the inbound flight and crumps were everywhere!
Cramped cabin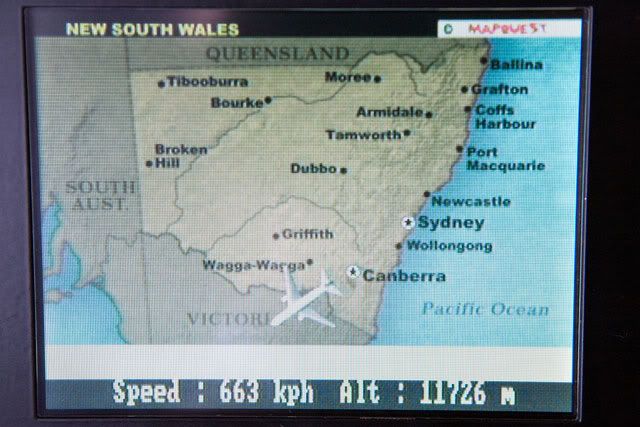 Legroom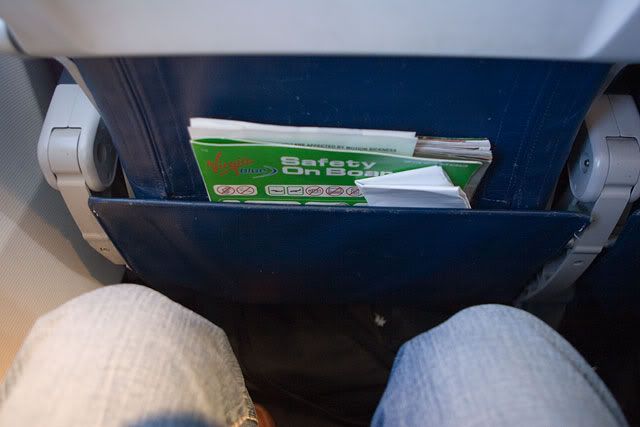 PTV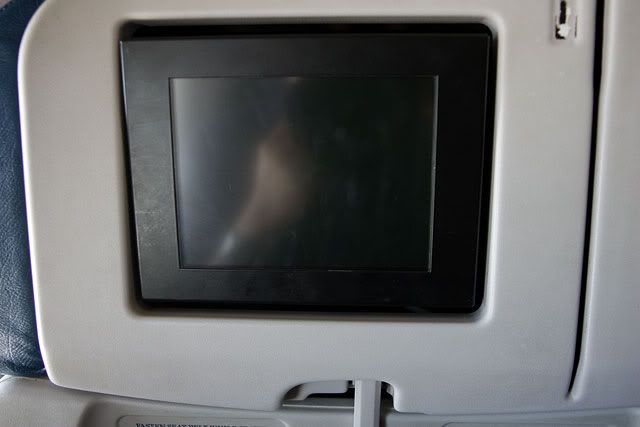 Crossing 07/25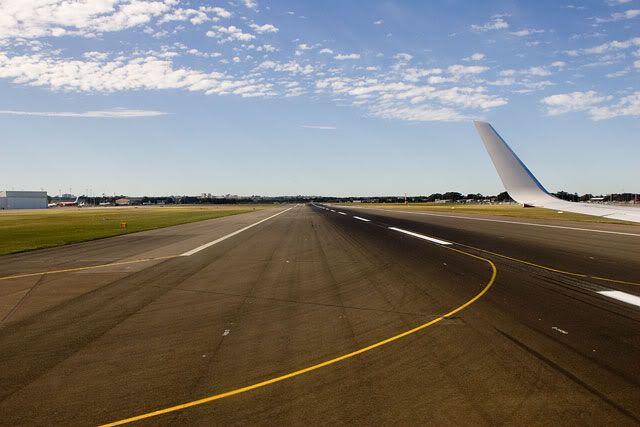 Spotters at the tower mound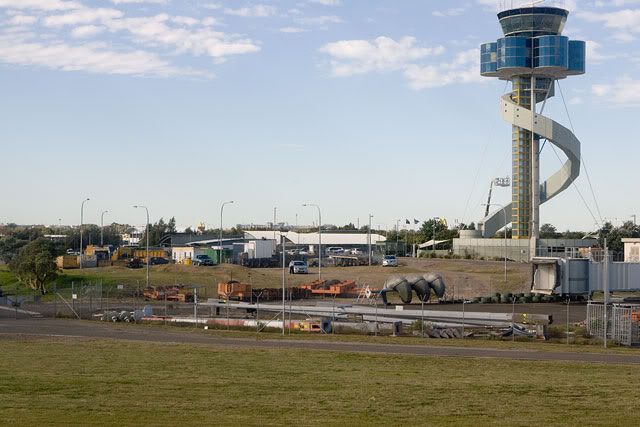 Taxiing parallel to 16L/34R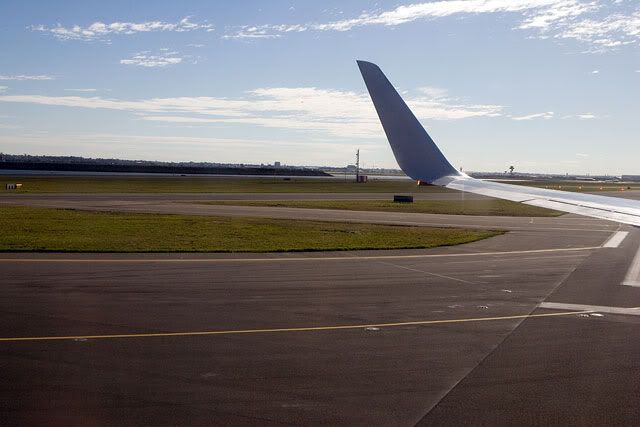 Just after rotation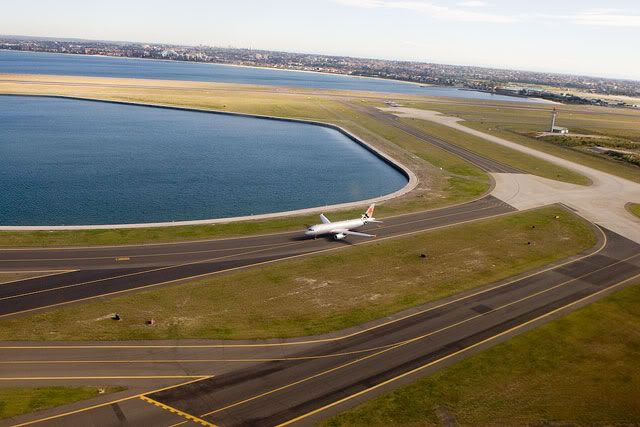 Over UNSW & surrounding surburbs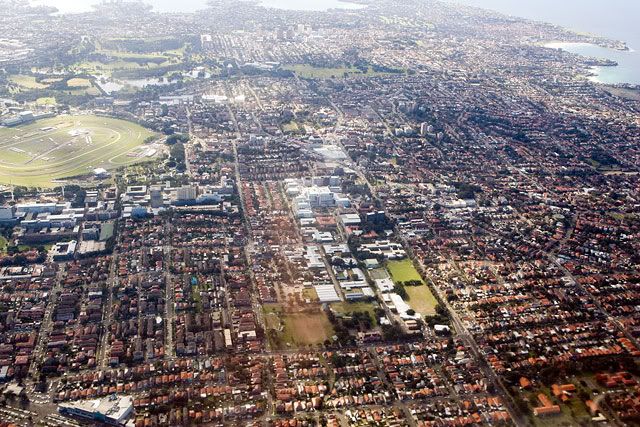 Over the Tasman Sea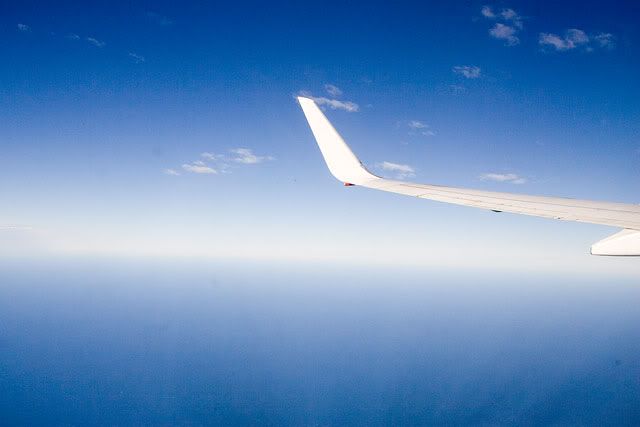 After take off, the in-flight sales service commenced. Service was fast and I ordered a Chicken Caesar Wrap from the v-licious menu. Wasn't really appetising but it settled the hunger pangs.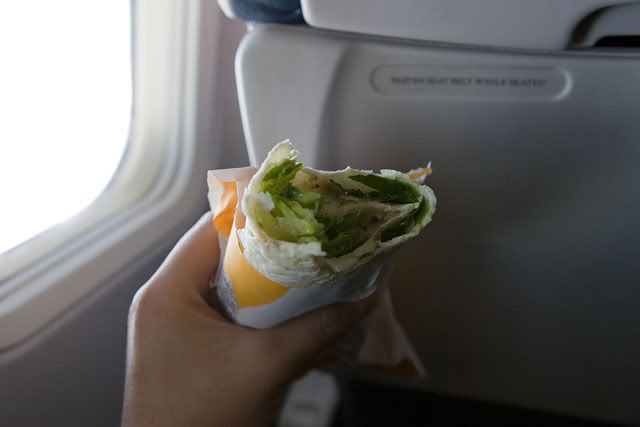 After being in cruise for 30 mins, we started our descent into Melbourne.
East of Melbourne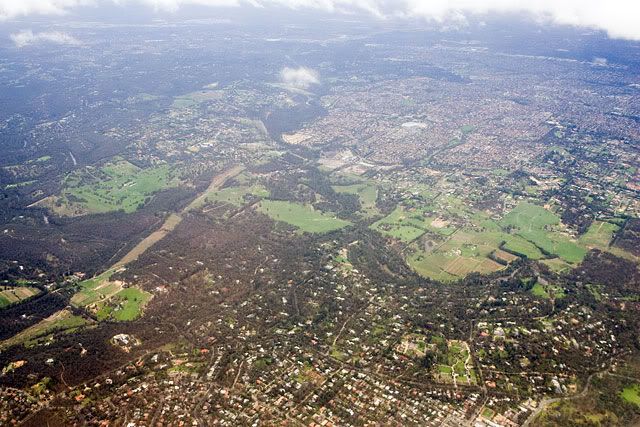 Melbourne City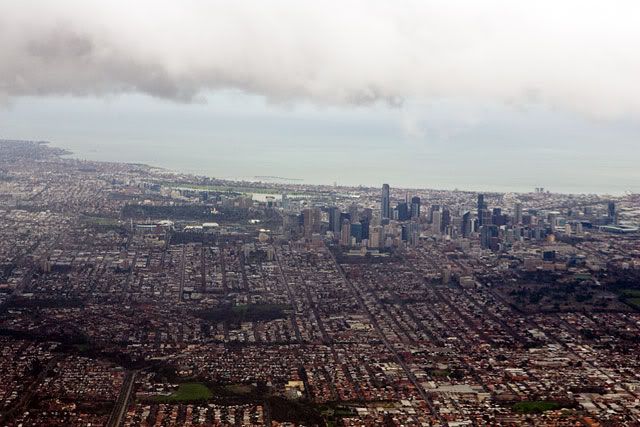 Not very accurate flight map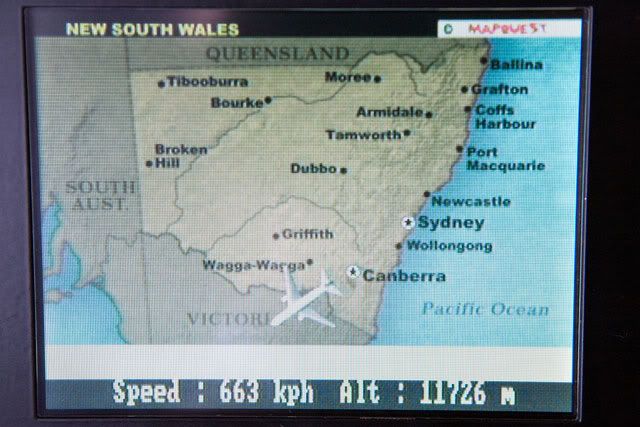 Approach was rather turbulent with 70km/h winds but Captain Paley did a good job bringing the aircraft to touchdown on Runway 34. "Bondi Babe" docked at Gate 4, baggage claim was fast as my suitcase was one of the first out on the carousel.
Service: 9/10 Food: 6/10 Aircraft: 7/10
2 July 2008
Melbourne (MEL) – Sydney (SYD)
Airline: Virgin Blue Airlines
Flight: DJ877
Aircraft: B737-800
Registration: VH-VOG "Misty Blue"
ETD: 1815
ATD: 1915
ETA: 1945
ATA: 2030
Flight Time: 1.25 hrs
Seat: 18B (Economy)
No pictures from the return sector.
After 3 fabulous days of eating and shopping we made our trip back to over-rated Sydney.
We were originally booked on DJ881 but just before we headed to the airport, I received a SMS from Virgin Blue about the cancellation of the flight and to contact customer service. After 5 mins on hold, I was put through to a very helpful Mike who assigned us new seats on DJ877. Apparently, the winds were pretty bad in SYD till only 16R/34L was operational.
The cab ride to the airport was a frightening one! Lots of swerving and changing of lanes plus hard braking! We reached the airport in good time and proceeded to the bag drop counters. We were asked for our passports this time round. Security check was fast but I got pulled aside for a random explosives search. We proceed to the Gate 5 lounge area to sit out the delay of DJ877. All the flights inbound/outbound SYD were delayed.
The inbound flight, DJ858 was delayed for almost and "Misty Blue" arrived at the gate at 1845. After a quick turnaround, boarding started at 1900 and we pushed back at 1915. Captain Riley was in command of this flight. After a quick taxi to Runway 27, DJ877 thundered down runway at 1930 and headed to SYD.
Load was 100% and the Y+ section was converted to normal Y seats make up for the shortfall of seats due to the cancellations. Descent into SYD started at 2010 and touched down on Runway 34L. Docked at Gate 35 and baggage claim was fast too.
Service: 8/10 Food: -/10 Aircraft: 9/10