Low Fares, Lovely Island: KUL-LGK-KUL on Air Asia & The Best of Langkawi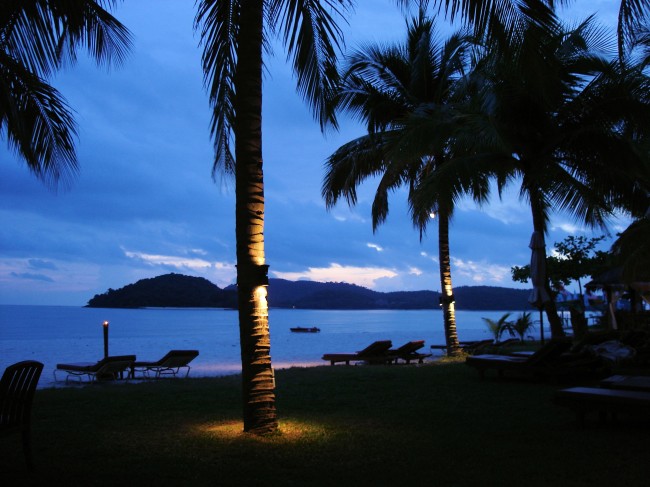 Intro
Air Asia short-haul flying in Malaysia and Pulau Langkawi are featured in my latest report. Again, the focus is not just on the flights, but also on the destination - therefore I have included a wide range of pictures from that lovely place in the Andaman Sea.
All those who are interested in the background of the whole trip and the FRA-KUL-FRA flights on Malaysia Airlines' 777s simply need to click here:
http://forums.jetphotos.net/showthread.php?t=44252
Sunday, 15 June 2008
Kuala Lumpur (KUL) - Langkawi (LGK)
Air Asia, AK6304
11:25-12:25 (11:25-12:21)
Flying time: 00:56 (hrs)

Airbus A320-216
9M-AFI (MSN 2842), delivered in 07/2006
Seat 30E
Check-in = Counter Guessing
Transferring from the main terminal to the low cost carrier terminal (LCCT) after our arrival wasn't a big deal. Signs showed the way to a bus stop and some drivers kindly told us which bus to take. After carrying our heavy luggage into an old bus and paying 1,50 Ringgit (= 0,30 Euro) we started the journey all around the airport to the LCCT.
The building itself doesn't look very attractive in comparison but in general it's not as bad as often described. While the departure area was very crowded, there were enough empty seats in the arrivals hall. The area is air-conditioned and there are shops and a restaurant. So we killed some more time until returning to the check-in area again. There was a screen which showed all destinations and the respective counters. However, even some 90 minutes prior to departure it was still unclear where to check-in. Counters for nearly all other flights were displayed, ours was missing.
So we walked by the counters again and again, those showing all kinds of destinations, but not Langkawi. Finally we discovered two counters without displays and yes, we guessed correctly. A friendly agent soon handed out the "receipts" and added
Xpress Boarding
stickers to them. Our luggage weighed some 31 kilo in total, but they didn't charge anything (15 kilo per suitcase is the limit; luggage fee is 10 Ringgit per extra kilo).
Avoiding the Boarding Rush
We passed security quickly and sat down in the gate area which is not much different from what you find at European airports. After reading reports about the allegedly chaotic boarding on Air Asia flights we had opted for Xpress Boarding (10 Ringgit = 2 Euro per leg). I was glad about that when I watched people boarding at the adjacent gate. As soon as Air Asia staff showed up, almost all people jumped up and formed a long queue. Then boarding was started and even some people standing somewhere up front pushed and shoved - can that be real? There are 180 seats on the A320, is it such a drama to have maybe ten others in front?
Anyway, some time later we were asked to stand in a small Xpress Boarding queue at our gate and then could walk to the aircraft without being pushed by a crowd. The aircraft was
9M-AFI
, a 2006 model.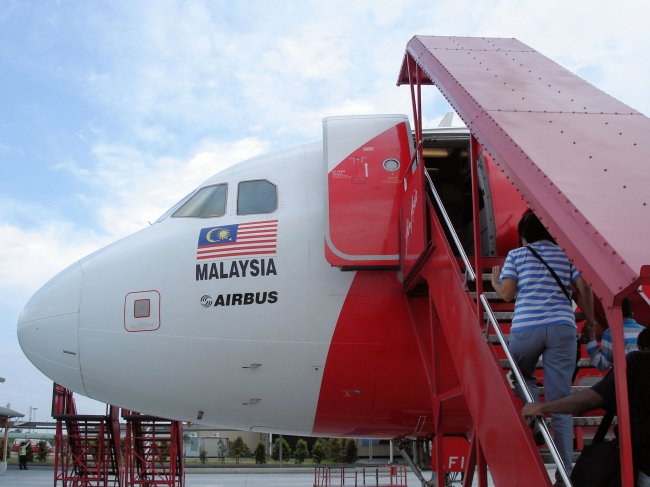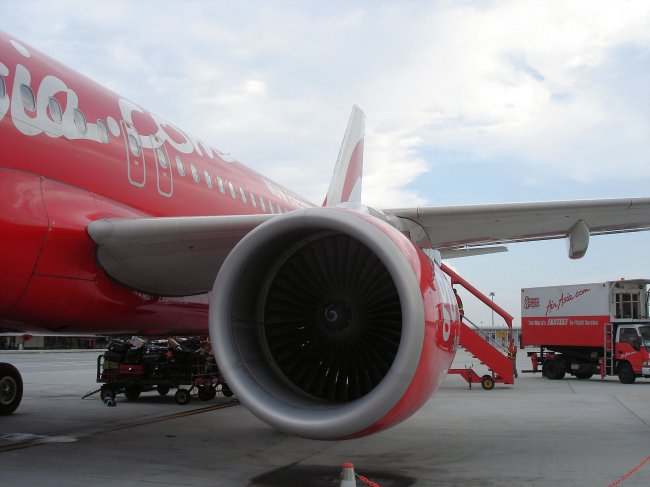 Cabin Comfort & Seating
Ground staff on the way to the aircraft and FAs at the door welcomed us with a smile. The clean cabin was equipped with black leather seats - as usual we took the second last row.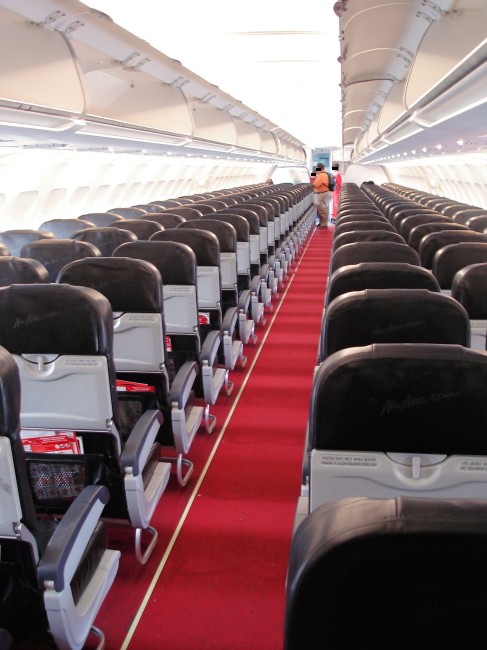 The slim seats were quite comfortable...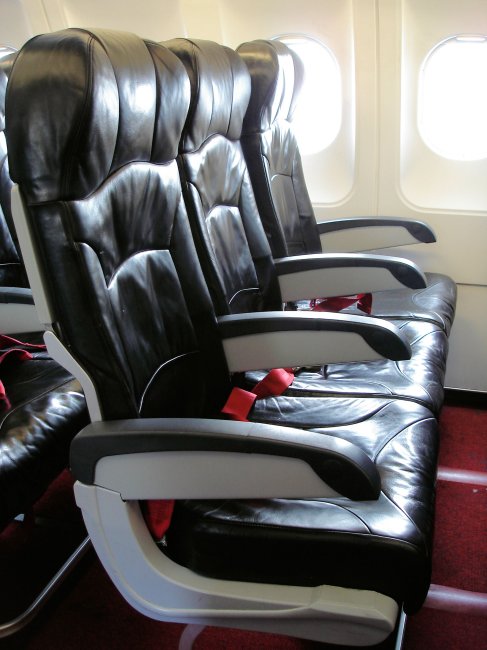 ...but pitch was rather limited. However, it wasn't worse than on certain European LCCs.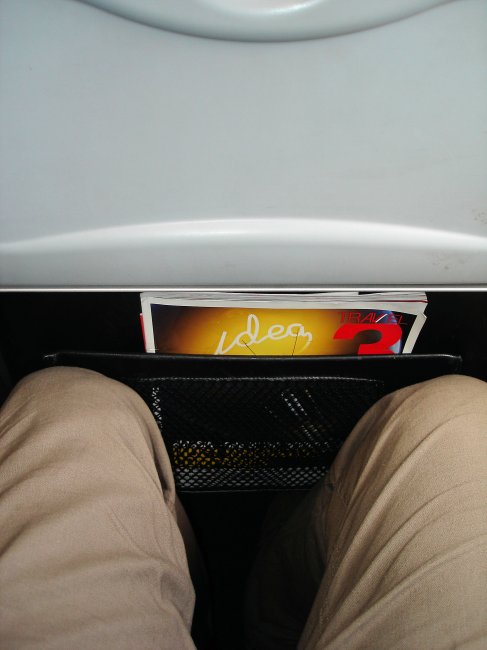 Boarding was completed soon due to a load factor of only some 50 per cent. Yemenia A332 and Gulf Air A343 parked at the main terminal: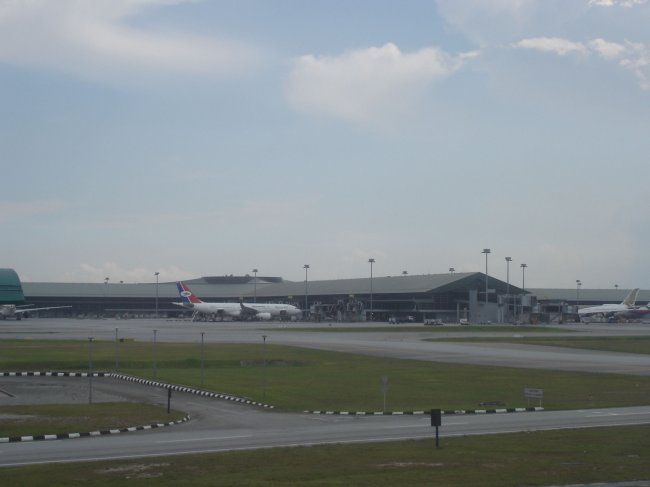 Takeoff into grey skies...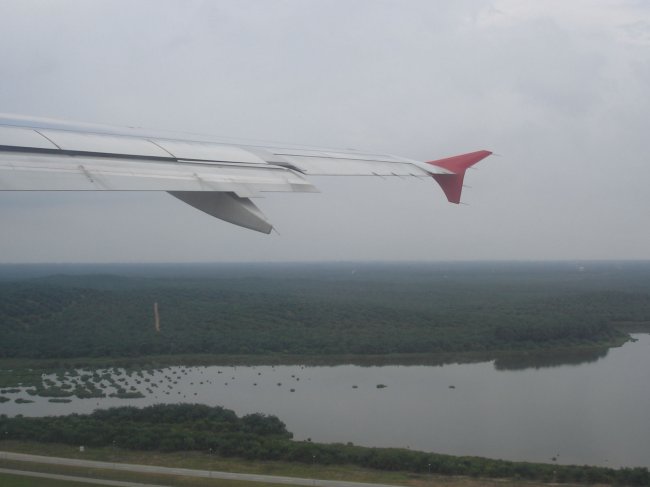 ...some minutes later it looked slightly better: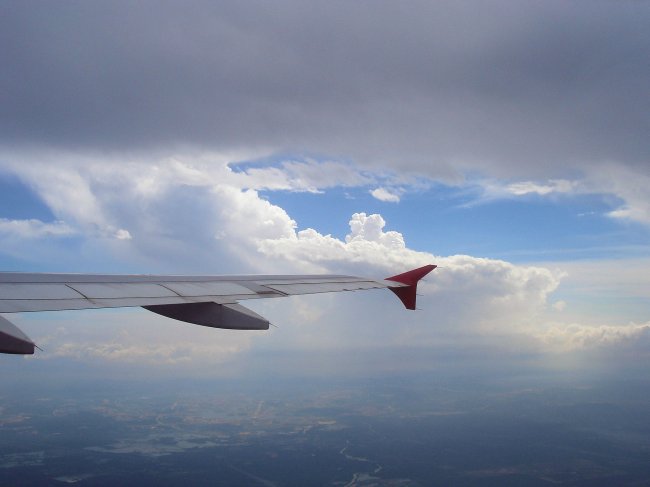 Nasi Lemak - Air Asia Style
The FAs in their tight red dresses soon started selling food, drinks and merchandise. When I had booked the flights in February I hadn't only added Xpress Boarding but also
Nasi Lemak
, a traditional Malaysian dish available for 7 Ringgit. Actually I just wanted to see what meals on AK would be like. Well, some 20 minutes of the flight had passed and I wasn't sure how the pre-ordered meals would be distributed. There hadn't been any announcements so I finally asked an FA and showed her my receipt with a kind of meal code. She just nodded and two minutes later I had the mouth-watering Nasi Lemak on my table, served in an exclusive carton bowl...
Ok, this is how it looks like in Air Asia's
Snack Attack
menu card. Delicious, right?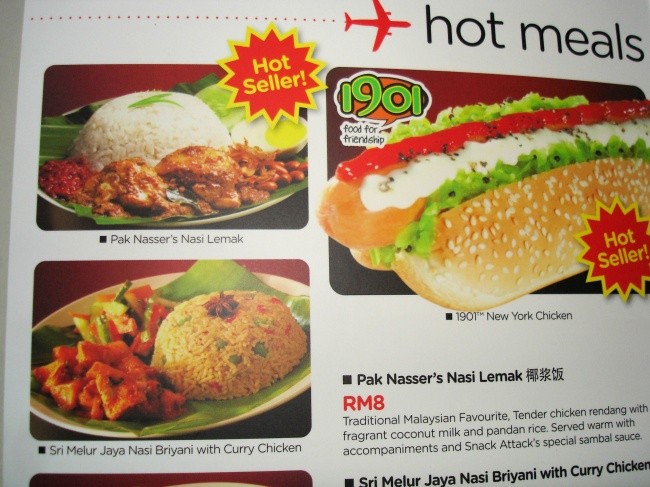 ...and here is what I actually got.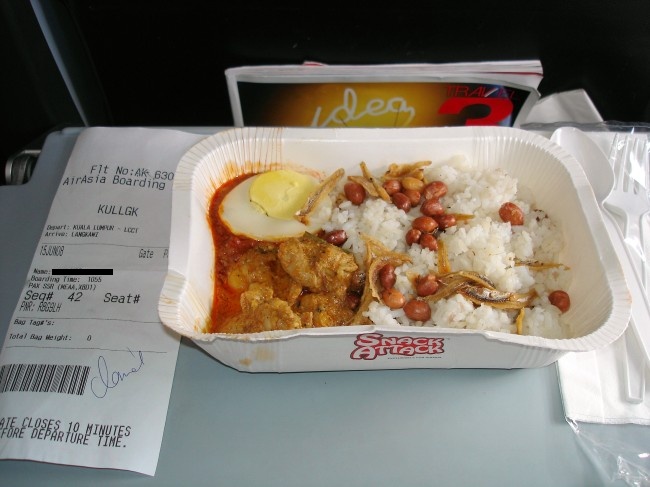 I must admit I wasn't happy about seeing that bowl, and my girlfriend wasn't either. But if you believe it or not, it didn't taste as bad as it looked. The rice and the pieces of meat were ok, the peanuts were a nice addition. However, I haven't been able yet to identify these thin beige and partly silver pieces - probably pieces of fish? That stuff was a bit tasteless and quite dry. Anyway, I had to hurry with eating because we had already begun the descent. In the end the "Mission Nasi Lemak" had been accomplished when we just passed Penang: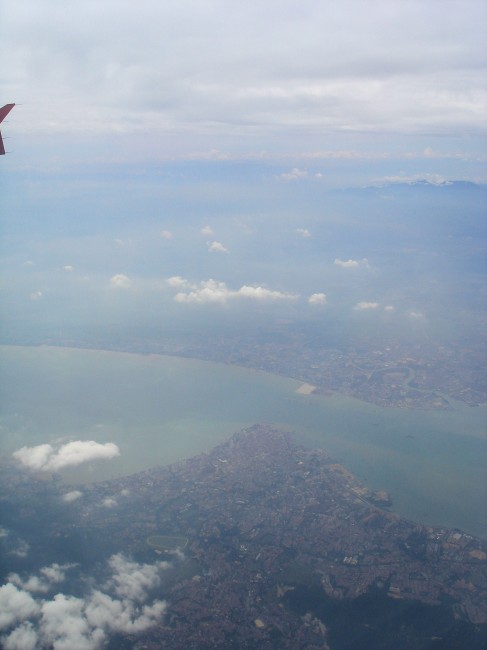 The weather forecast hadn't been great for the next days, with thunderstorms and rain mentioned frequently, but it didn't look too bad when we passed the first islands...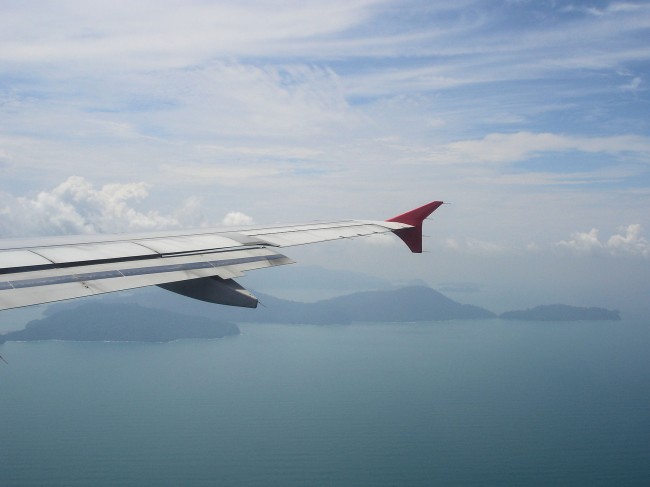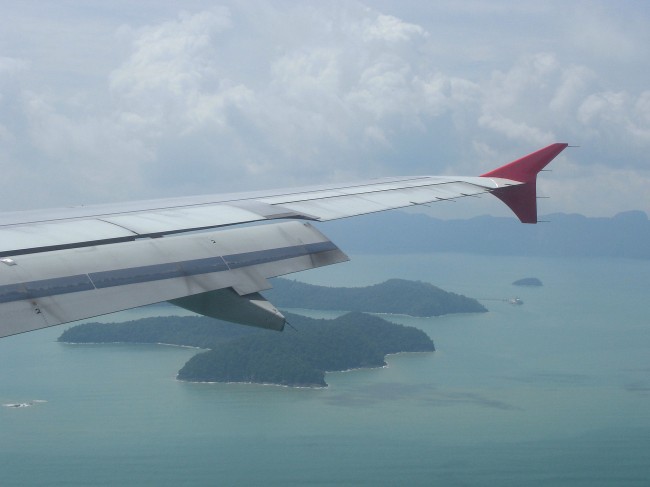 This is the famous
Pantai Cenang Beach
...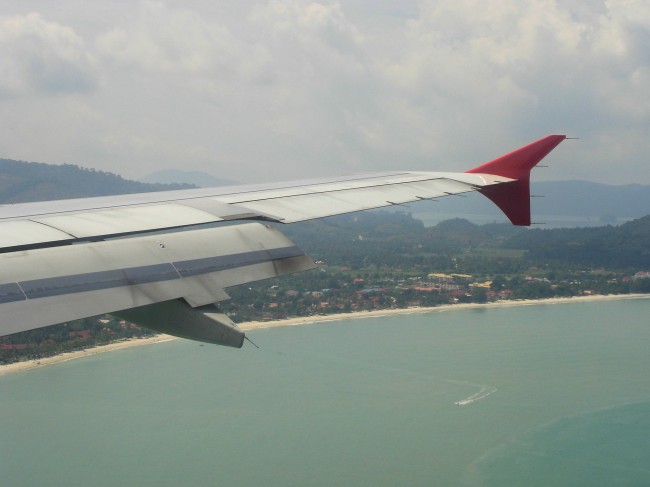 ...with our hotel,
Casa del Mar
, hidden between palms on the very right: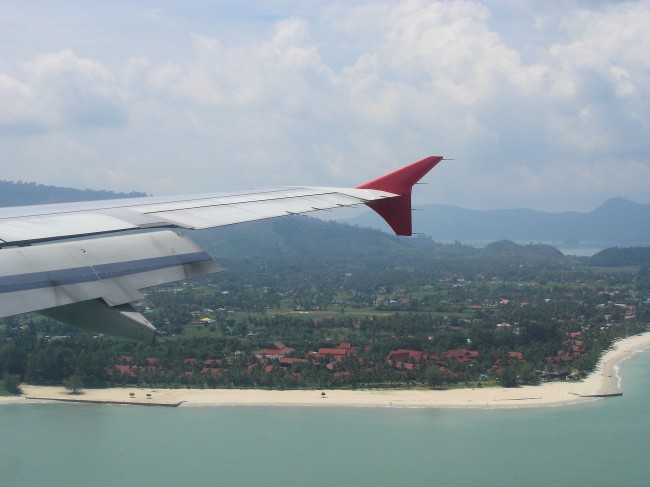 Only few moments to go: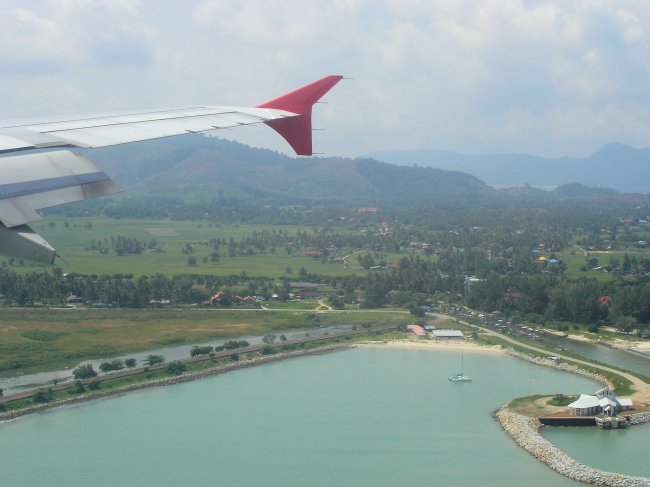 Welcome to Langkawi...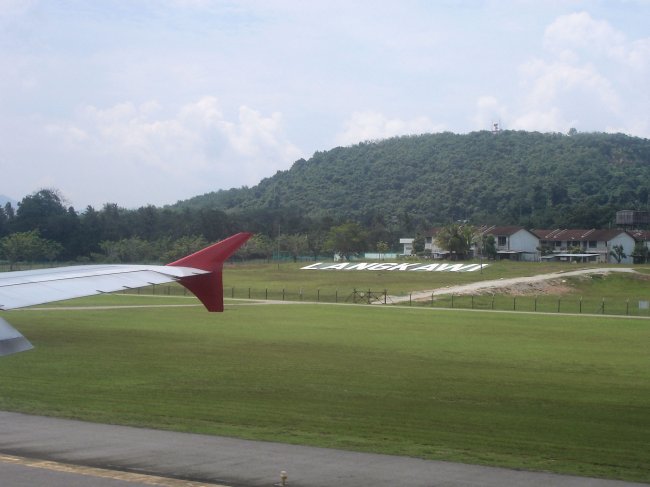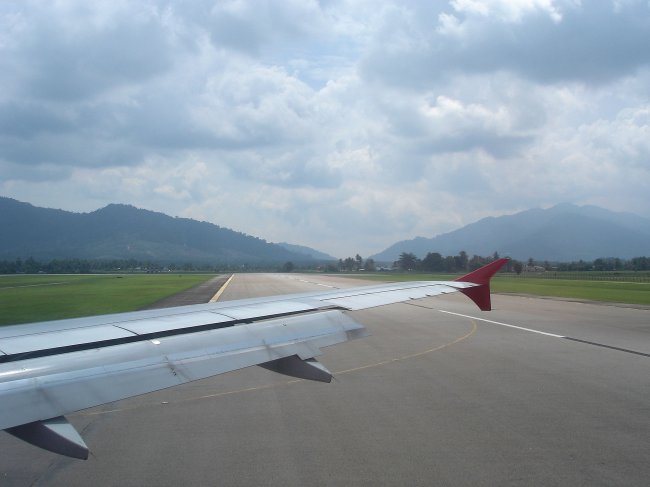 Langkawi was accorded
World Geopark
status in June 2007 - actually the first Unesco National Geopark in South-East Asia.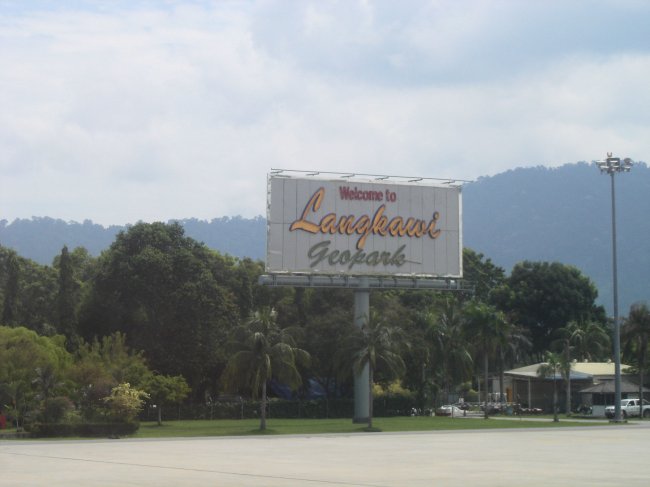 MD-80s are quite rare at LGK...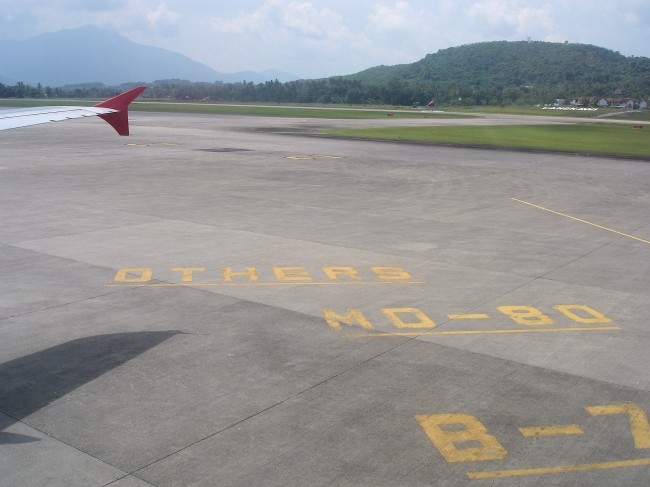 15 minutes after disembarking we grabbed our luggage in the small, but modern arrivals hall and followed the waiting chauffeur to his car.
Lovely Langkawi...
We soon realized that Langkawi is a fantastic place to spend a holiday - you get a pretty landscape, beautiful white beaches, clean water, lots of sun and very friendly people. You can also choose from a long list of activities (nature tours, water sports) and not to forget - prices in general are reasonable.
There's also a variety of nice hotels, but some of those are quite expensive. We picked the
Casa del Mar
located at Pantai Cenang Beach - rated number one out of 55 Langkawi hotels on TripAdvisor. It's not cheap, but not as pricey as some of the chain hotels on the island. Location, facilities, service, food and staff were great - actually we didn't find anything to complain.
This is a part of
Pantai Cenang Beach
: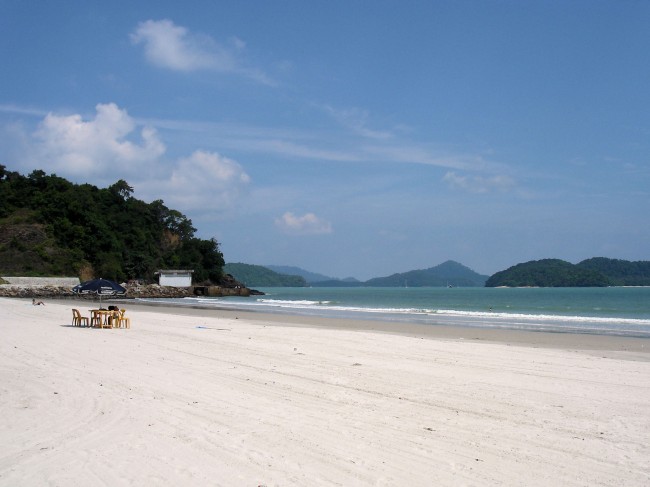 Nice pavilion on the hotel ground, just a few meters from our room: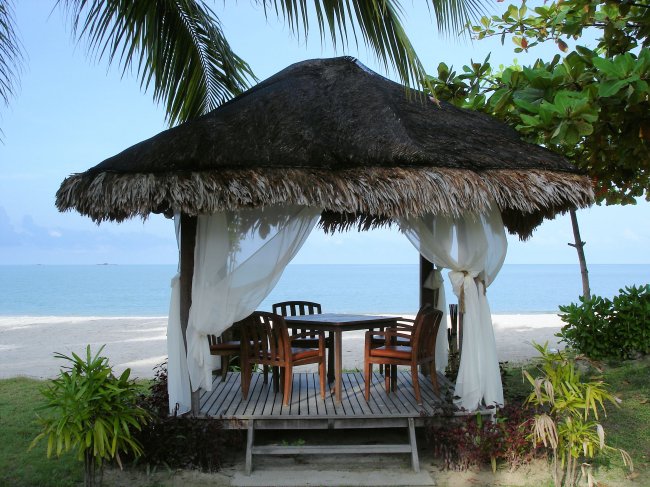 Sit down and relax...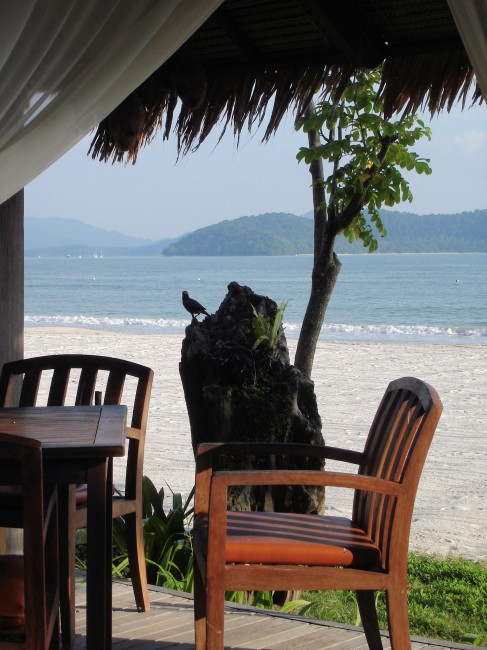 Hotel pool area and main building in the morning: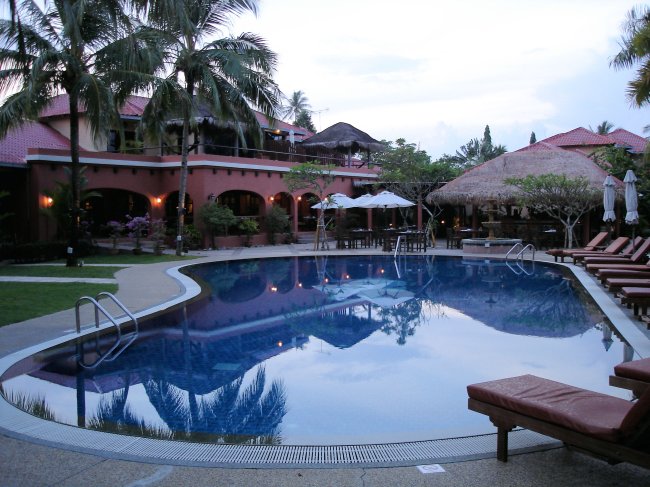 The
Common Myna
is, as the name says, a common bird on Langkawi. They walk elegantly, their song includes croaks, squawks, chirps, clicks and whistles - and they were really interested in our breakfast every morning...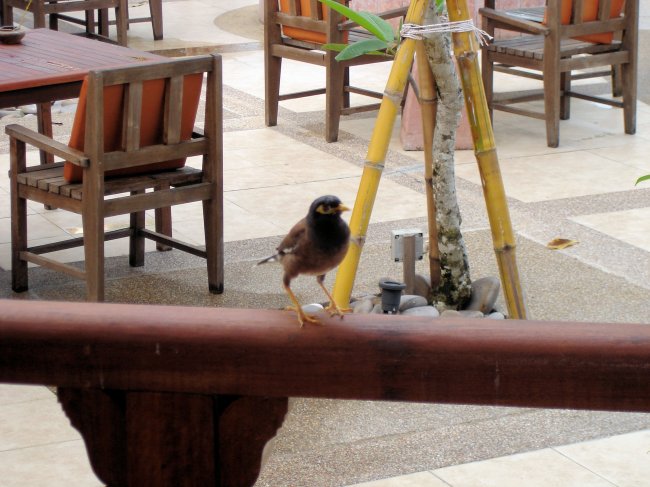 On the second day we decided to book a dinner cruise around the archipelago. On a schooner with only about 20 people on board you can enjoy the scenery...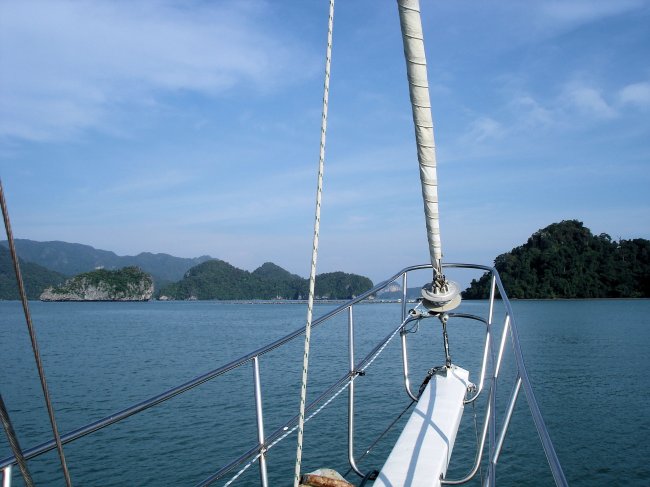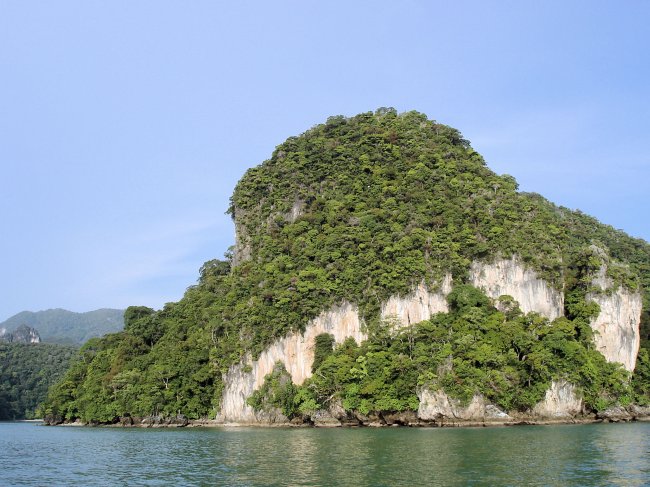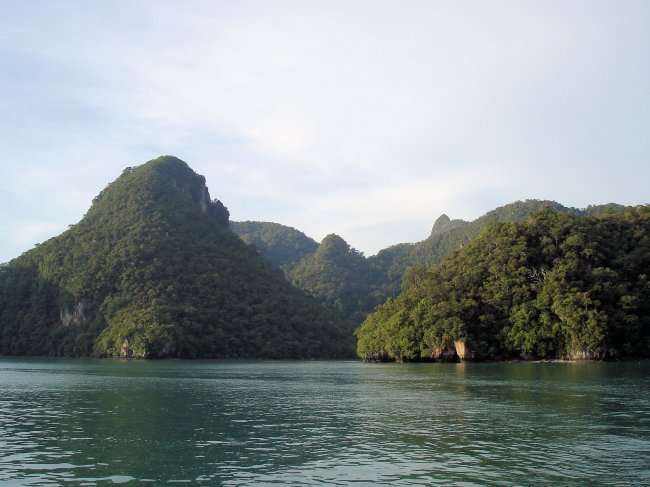 ...drinks and barbeque are included.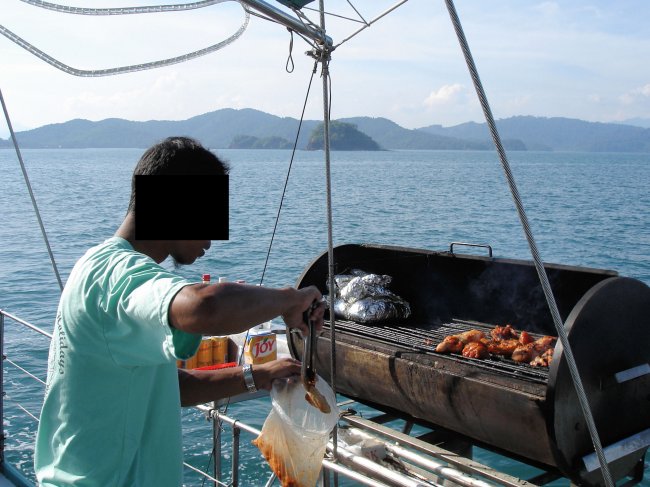 Langkawi is famous for beautiful sunsets...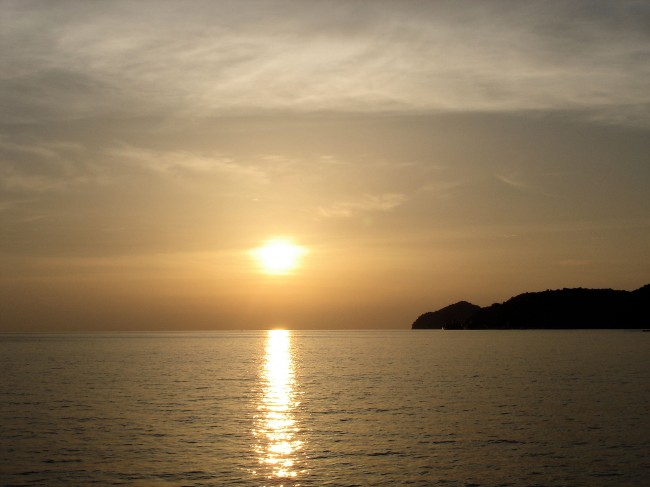 Evening sky with ever-changing colors: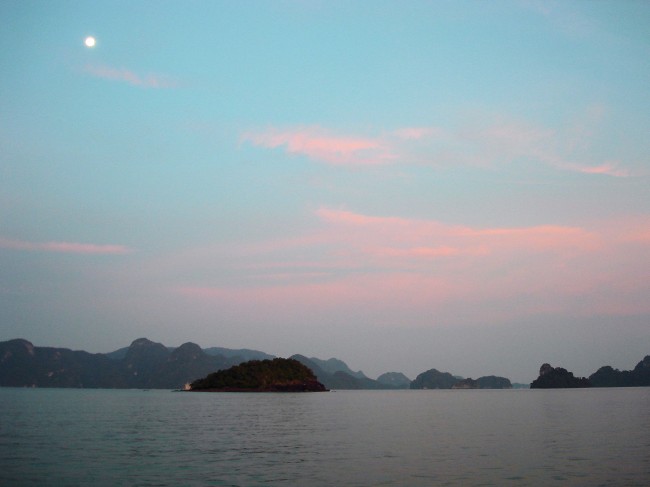 Another Langkawi speciality we can recommend is a mangrove boat tour (or a kayak tour, for those who like it). Starting point: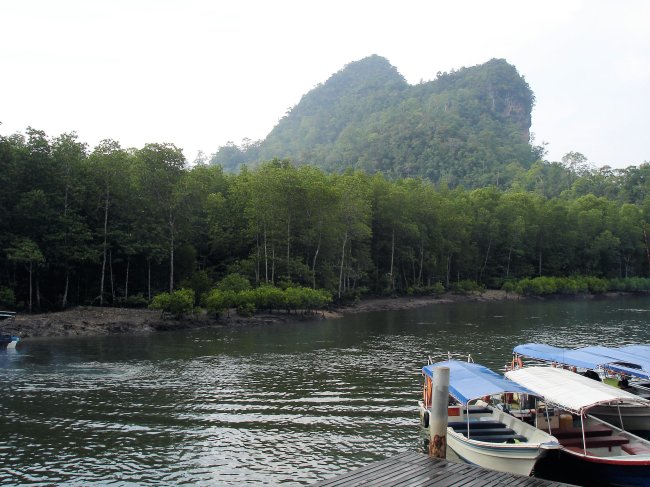 We booked a tour by Devs Adventures - we were only four tourists plus tour guide and boater which means we could ask many questions and learnt a lot about Langkawi's flora and fauna.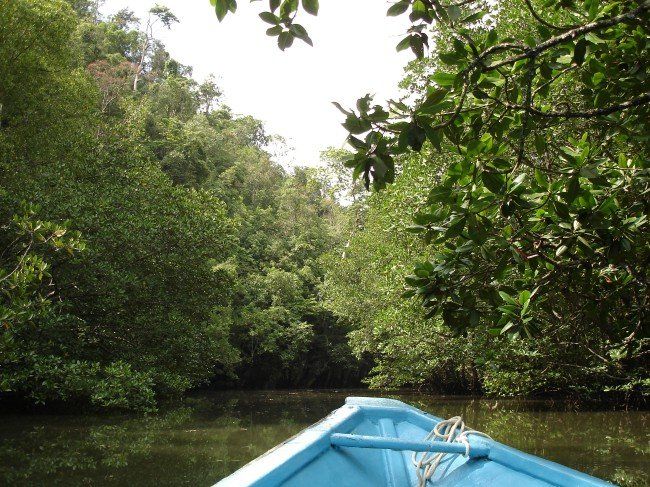 We also met some wild monkeys while walking to a bat cave - and you really need to watch your stuff. One monkey grabbed a woman's (orange) flashlight and fled onto a tree, but our tour guide reacted quickly, jumped onto that tree almost like Tarzan and shook it until the monkey threw back the flashlight...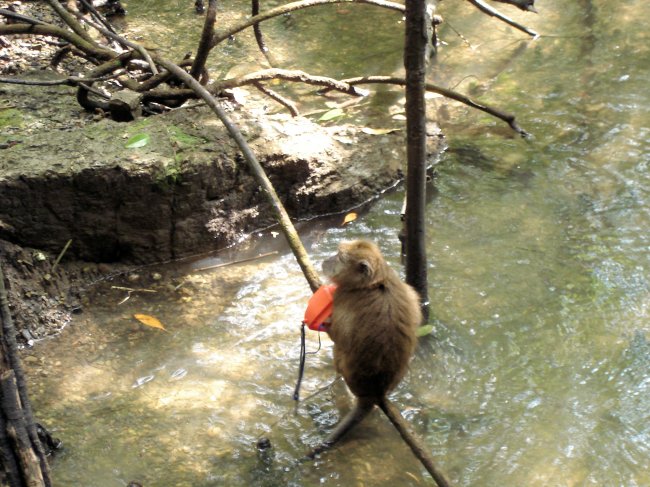 Well-camouflaged...and still a baby, according to our guide...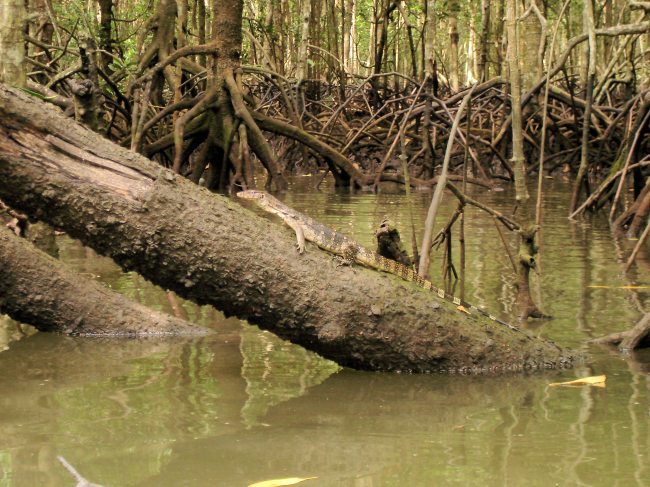 Big, but not as dangerous as some of its conspecifics: a brown jellyfish.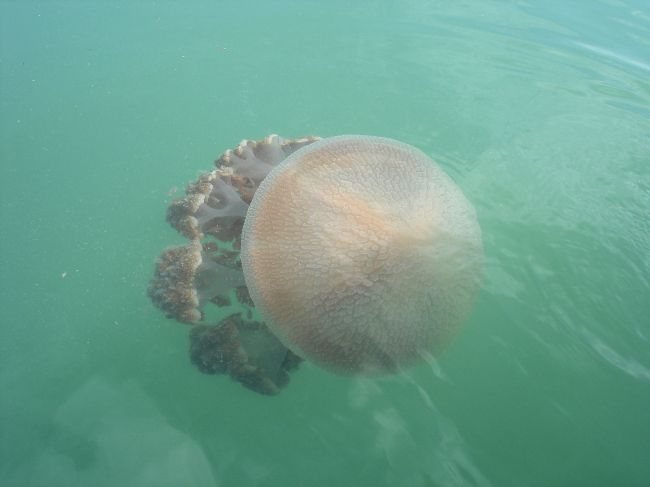 These are wild eagles hunting fishes. There are different theories on the origin of the name Langkawi. One suggests it's a combination of "Lang" and "Kawi": "Lang" comes from the Malay word "helang" which means eagle. In the past, innumerable eagles used to live on the island. "Kawi" is Sanskrit for marble, which is found in excess in this part of Malaysia. Both words formed "Helangkawi" which ultimately became Langkawi.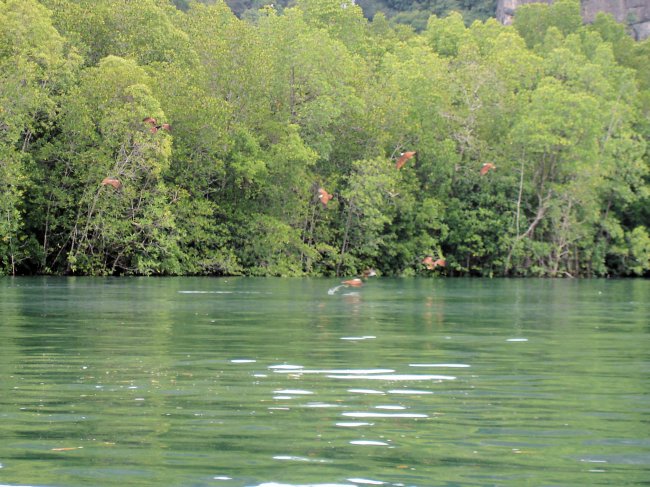 Ever wanted to feed a stingray? That's possible at a fish farm in the mangroves.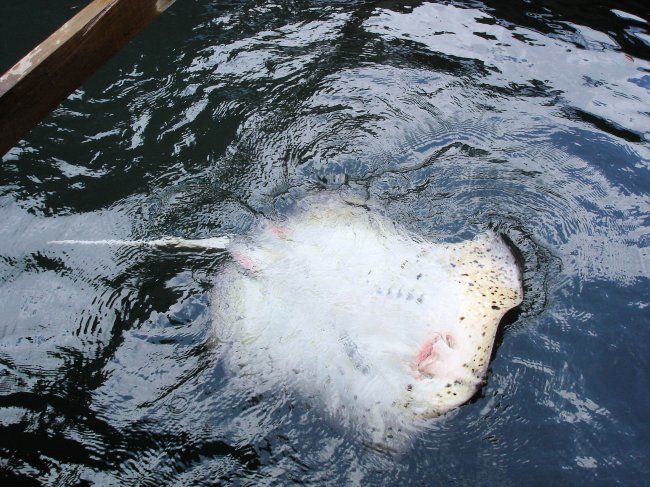 Nice trail into the mangrove jungle: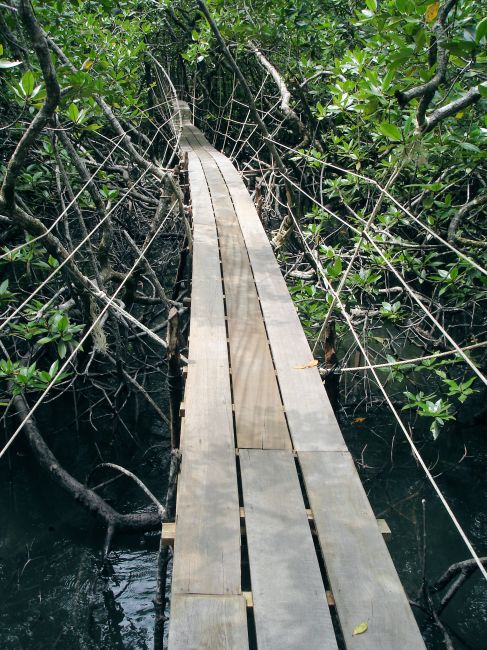 Over 5000 fishes and other marine life, presented in more than 117 specially designed tanks, can be seen in the
Underwater World Langkawi
. Examples are sea dragons...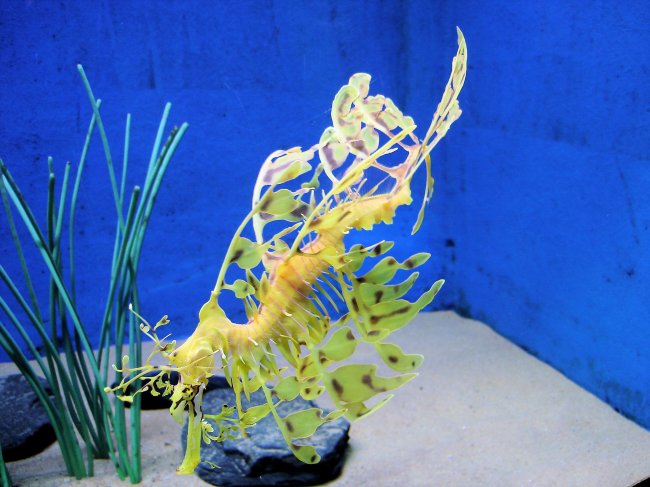 ...and sea urchins: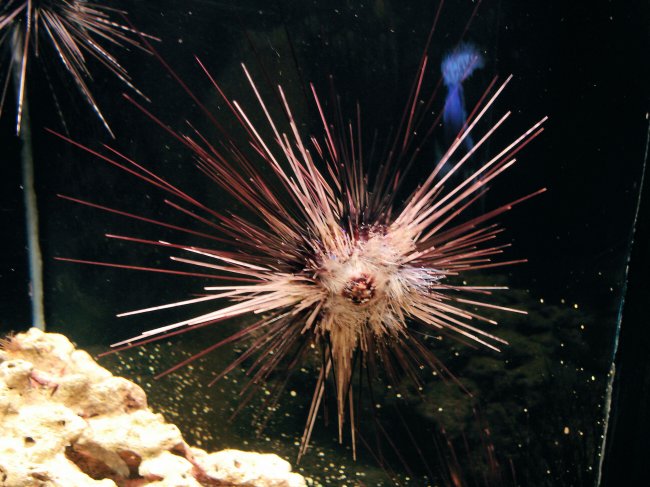 Definitely a must at Langkawi: the cable car ride to the top of
Gunung Mat Chincang
, Langkawi's second highest peak.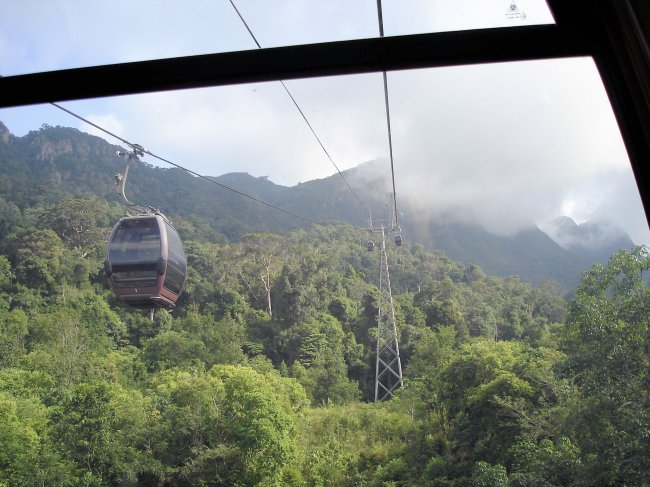 The cars climb at an angle of 42° to the Middle Station at 650 meters above sea level. Views of surrounding green forests, the Telaga Tujuh Waterfall, the sea and the part of the 99 islands are indeed breathtaking.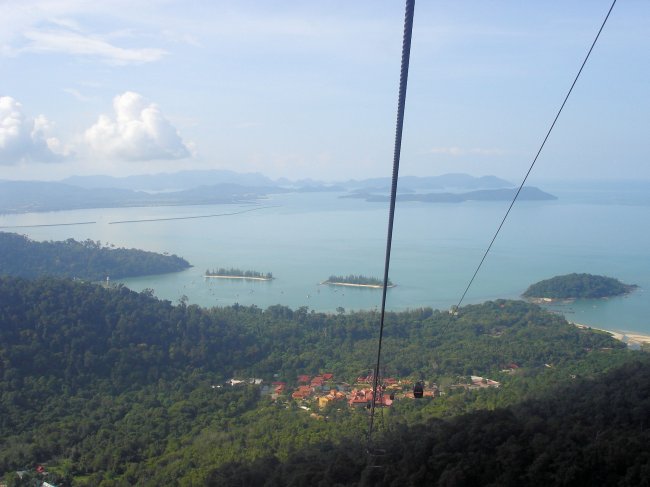 View through a layer of clouds from a Middle Station platform. Our beach section is visible right in the middle: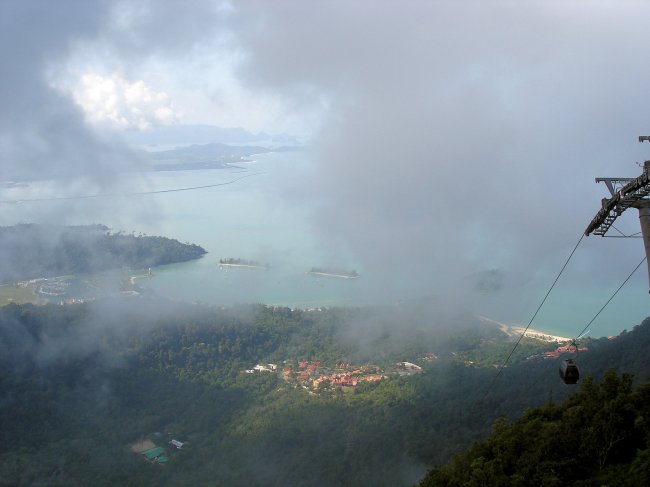 View of the Top Station at 709 meters above sea level, equipped with two viewing platforms and a walkway to a 125 meters long suspension bridge.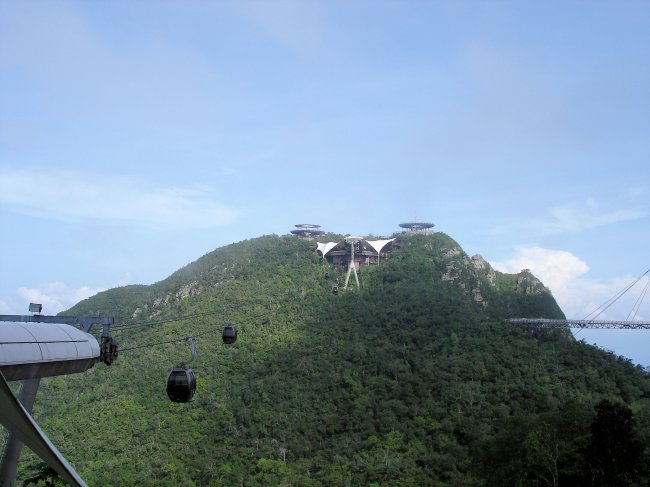 The suspension bridge crosses a deep chasm and links the Top Station to the Machincang mountain range.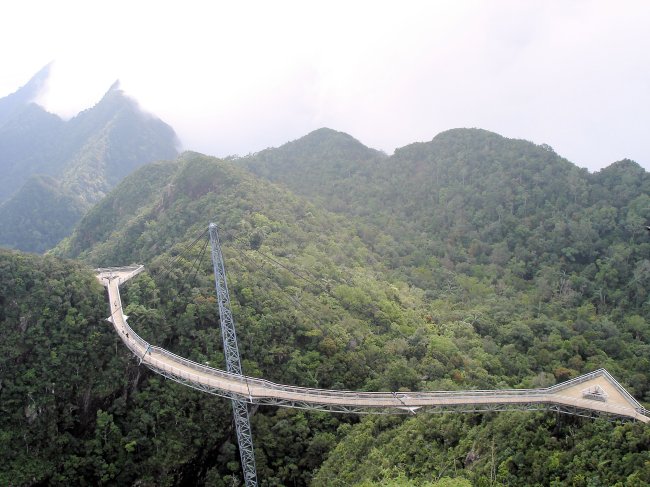 Views from the Top Station's main building...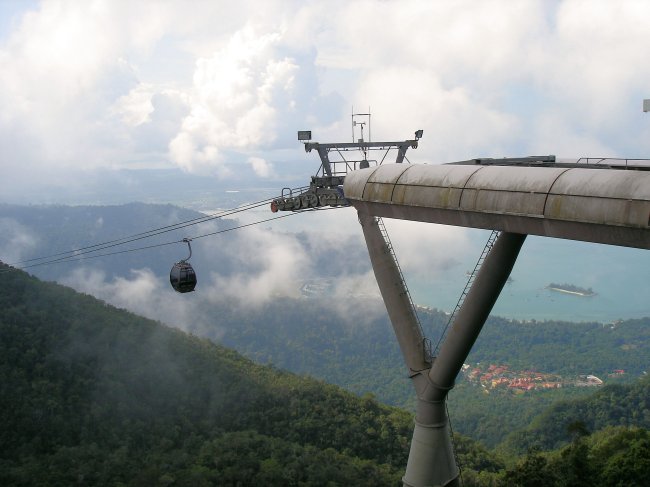 ...and one of the platforms. Lovely scenery...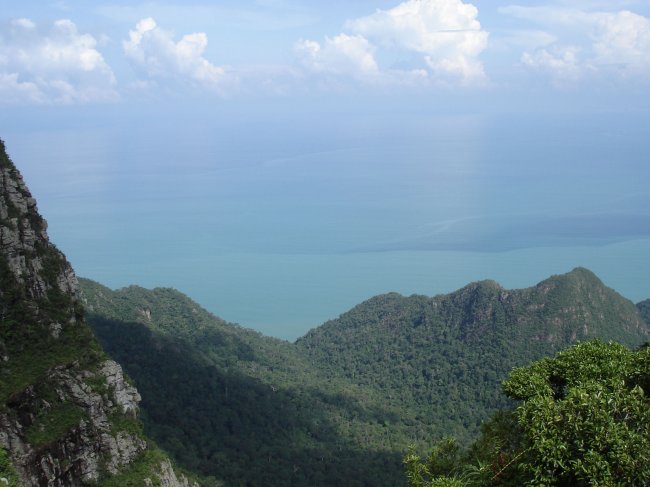 There are many nice restaurants at Langkawi, but the best place to have dinner was our hotel's palm garden at the beach front. One evening we tried the table barbecue...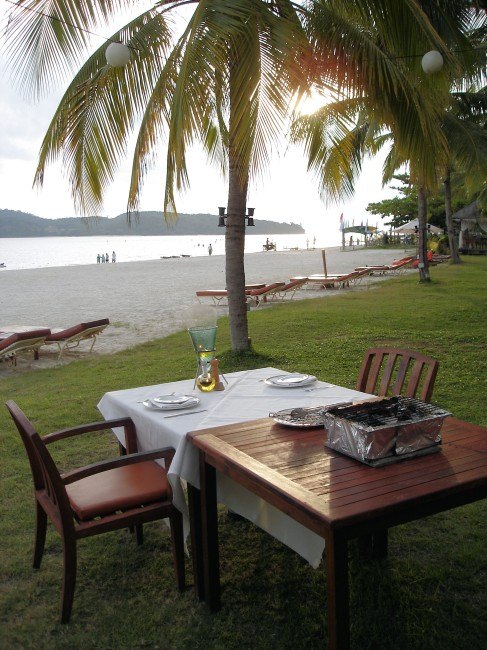 ...which is an amazing experience during sunset.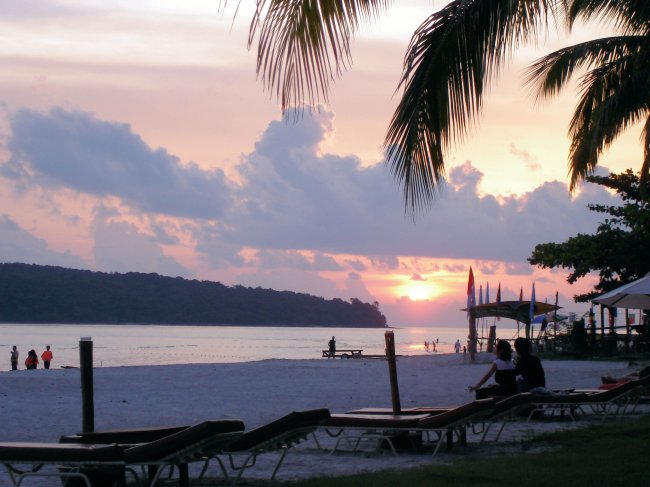 On the last morning at Langkawi we concluded that time had passed too quickly - six days weren't enough. No doubt, our next stay will be longer...
Saturday, 21 June 2008
Langkawi (LGK) - Kuala Lumpur (KUL)
Air Asia, AK6303
11:45-12:45 (11:30-12:26)
Flying time: 00:56 (hrs)

Airbus A320-216
9M-AFZ (MSN 3201), delivered in 08/2007
Seat 30A
Back to Reality: The Loud Crowd
Check-in in LGK's modern terminal building was fast and efficient. However, we had to pay 30 Ringgit because our suitcases were 3 kilos overweight. The check-in hall with numerous shops and restaurants: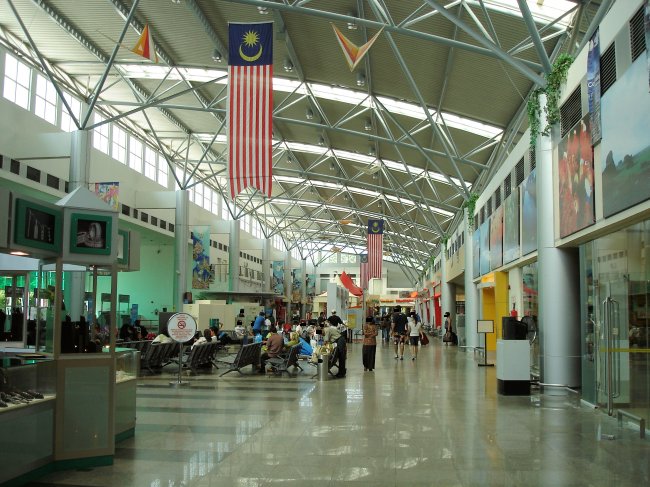 Passing security was only a matter of a few minutes and we took a seat in the gate area. Spotting possibilities were very limited - there was just one Silk Air A319 movement prior to the arrival of our aircraft. Just when the first Air Asia agents showed up, many people queued up immediately. Again, we were glad about choosing Xpress Boarding. The aircraft was
9M-AFZ
today, a 2007 model.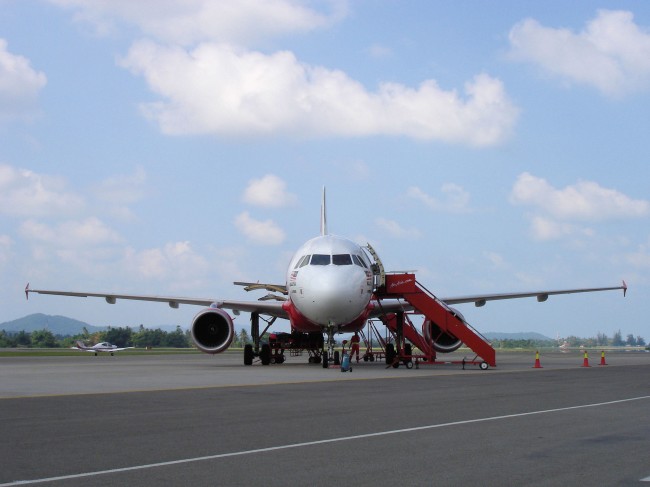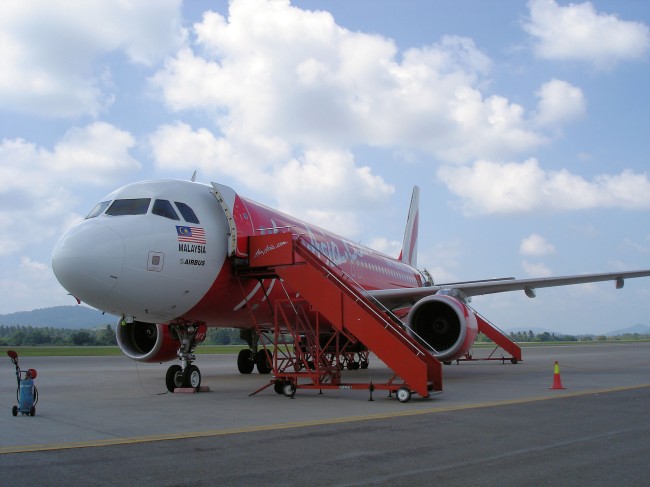 Friendly FAs welcomed us on board and we walked through a dense vapor streaming out of the air conditioning system: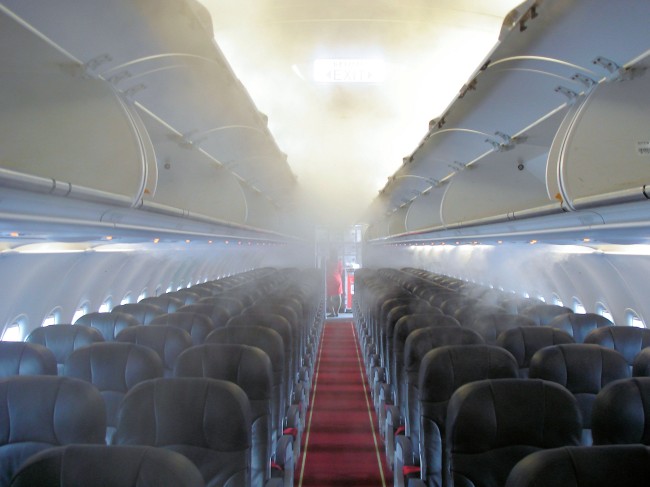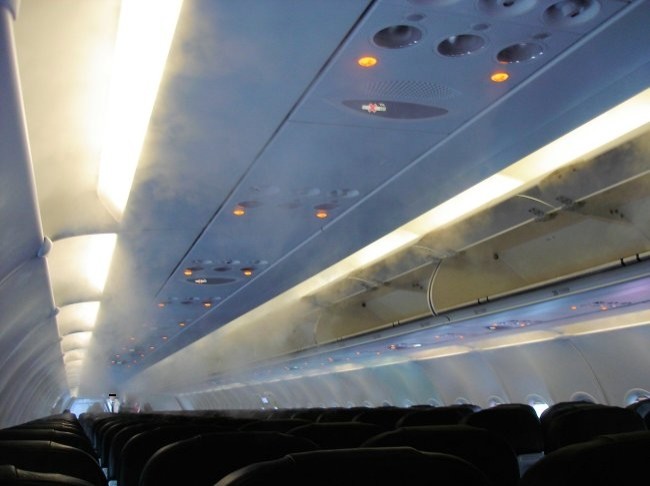 Shortly after we had taken our seats in row 30, "the crowd" stormed into the cabin. We had the pleasure to be immediately surrounded by a group of about ten pax. They didn't just chat and laugh annoyingly loudly, but also carried a large number of plastic bags and other stuff - which they had to somehow store in the overhead bins. I'm not sure about the dimensions and weight of all these bags, but you have to wonder whether AK inspects hand luggage as carefully as checked luggage...
Goodbye, Langkawi
Boarding was completed soon despite a load of about 90 percent and we started moving 15 minutes early. LGK's control tower: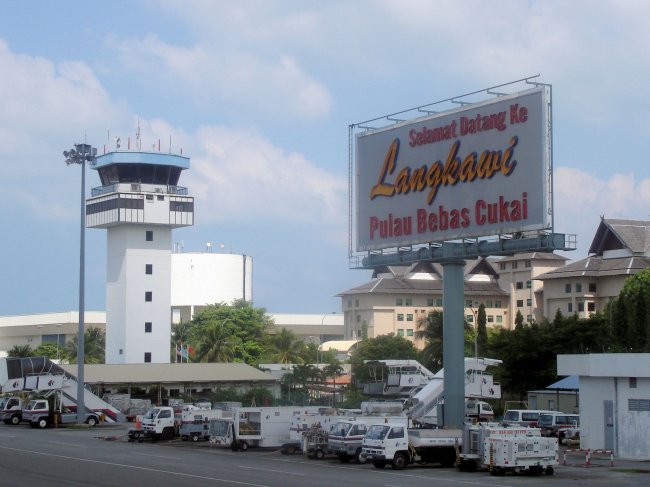 Usually MH flies 737-400s to LGK, but depending on demand it may be an A330 sometimes. This is 9M-MKV, a -223 model formerly active with Sabena: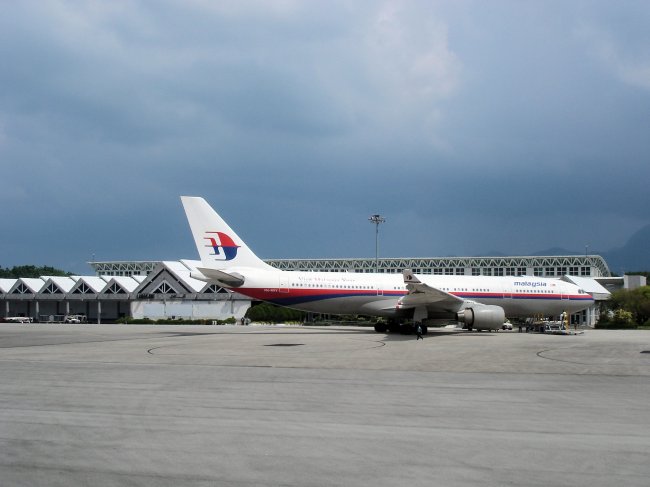 We lifted off after a rather long takeoff roll...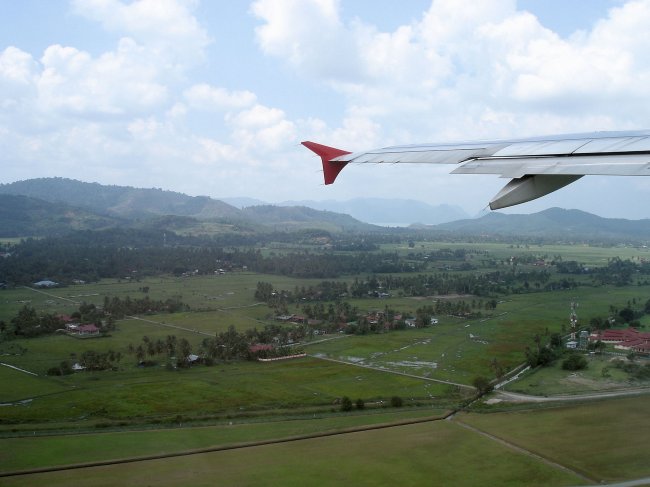 ...and passed the
Pantai Cenang Beach
...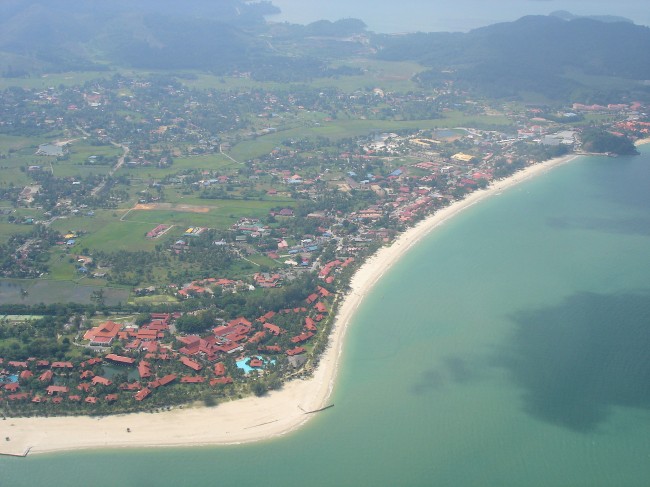 ...before breaking through the clouds.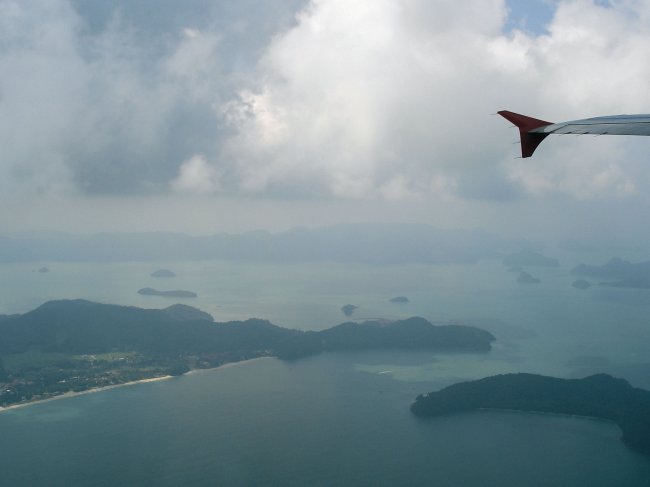 Nice scenery as we were returning to mainland Malaysia: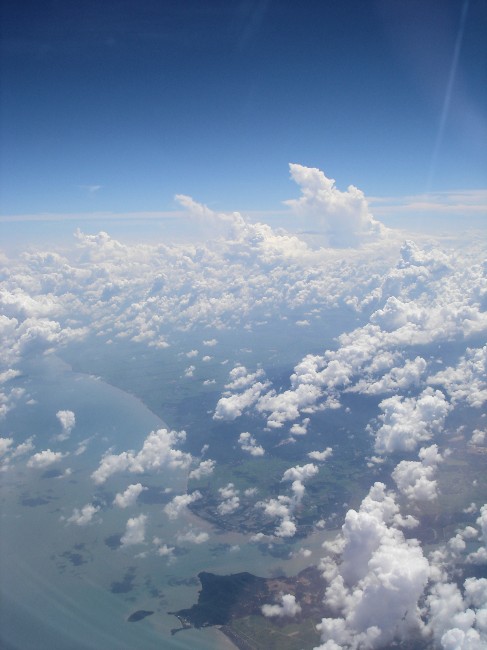 Going for a Walk...
The remaining flight was uneventful - this time we had decided not to be
Snack Attack-ed
again...
Approach under a thick layer of grey clouds...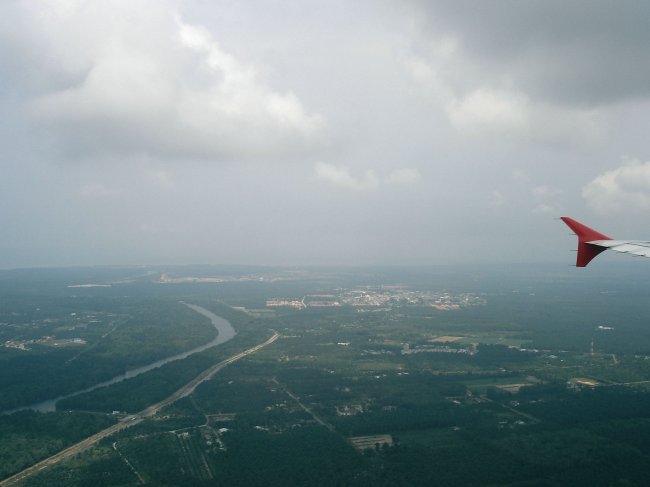 ...and over countless palm trees: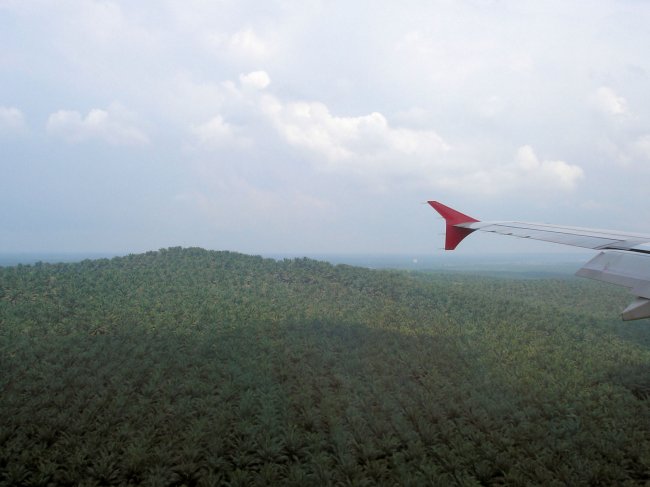 As soon as we stopped at our parking position people rushed into the aisle. However, both front and rear doors were used, so we were out fast. This time the aircraft had been parked further away from the terminal entrance so we had to walk in the heat for a few minutes - actually it was the longest ramp walk ever. At least the walkways protect from rain: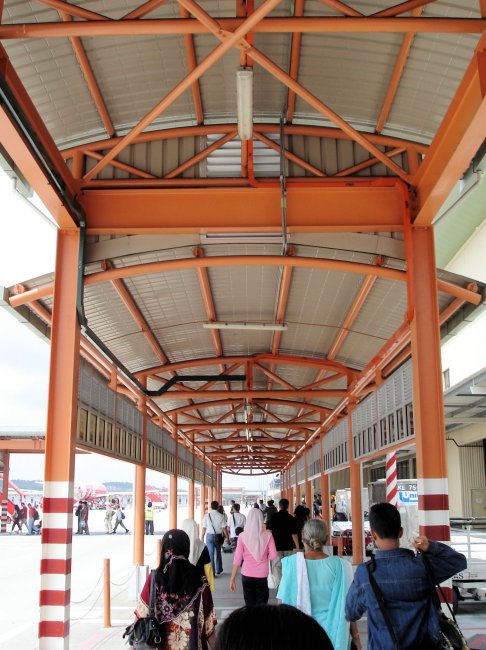 There were large crowds in the arrivals hall, but our luggage arrived quickly and we soon headed to the bus stop area to catch Air Asia's Skybus (painted in Air Asia colors) to KL Sentral station. We were lucky to get two remaining seats in a bus just about to leave, so we didn't have to wait another 30 minutes. The bus was equipped with comfortable seats and air condition, not bad for a one-way price of 9 Ringgit. About one hour later we arrived at KL Sentral and checked in at the LeMeridien.
If you want to read more about our stay in Kuala Lumpur, simply click here:
http://forums.jetphotos.net/showthread.php?t=44252
Conclusion
Air Asia
flew us to and from Langkawi on time, using modern and clean aircraft - for a total of some 42 Euro (return) per person. Ground and flight crews were friendly everywhere which is not a given in the industry. Seating comfort is acceptable for short flights and the prices for food and drinks on board are very reasonable. However, in order to boost sales, food quality and presentation should be improved. The LCCT at KLIA is not a place where it is enjoyable to hang around for hours, but it's a temporary solution anyway. It's enough to be there two hours prior to departure, so anyone who needs to connect from the main terminal shouldn't go too early. Overweight luggage fees aren't great, but common among LCCs in these days. In the end, Air Asia's low fares outweigh the few negative aspects, so I wouldn't hesitate to fly the airline again.
Best Regards,
PlaneHunter