MUC-MAD-BCN: Spanair's Short Mad Dog & The Joy (Pain) of Vueling
Intro
Some months ago, reports about a possible demise of Spanish LCC
Vueling
were increasing - so I decided it would be about time to try that carrier. I had always found the airline somehow appealing: a LCC serving major airports, being creative with individual aircraft names and emphasizing high standards.
After checking VY's route network and fares I decided to focus on the MAD-BCN run. Some days later I found an itinerary which would include even three other new carriers (Air Europa, Swiss & Swiss European), one new type (RJ100) plus a rather rare type (MD-87): MUC-MAD (JK MD-87), MAD-BCN (VY A320), BCN-MAD (UX 738 ), MAD-ZRH (LX A320) and ZRH-MUC (LX RJ100).
Saturday, 12 July 2008
Munich (MUC) - Madrid (MAD)
Spanair, JK154
13:26-16:11 (13:15-15:45)
Flying time: 02:26 (hrs)

McDonnell Douglas MD-87
EC-KJE (s/n 1569), first delivered to SAS in 03/1989 as SE-DIF
Seat 20A
Web Check-in
After booking the MUC-MAD and MAD-ZRH-MUC combo on Expedia I received a Lufthansa reservation number so I could check in online on the evening before departure. I picked seat 20A on the MD-87 and printed the boarding pass - fast and easy. On the next day I could go straight to the gate at Terminal 2.
Star Alliance Bird
Out of 12 MD-87s in the Spanair fleet, only three ones are painted in standard colors - two planes wear SAS' livery and no less than seven birds are painted in Star Alliance colors. One of the latter ones showed up this afternoon - EC-KJE, a 1989 model once operated by SAS.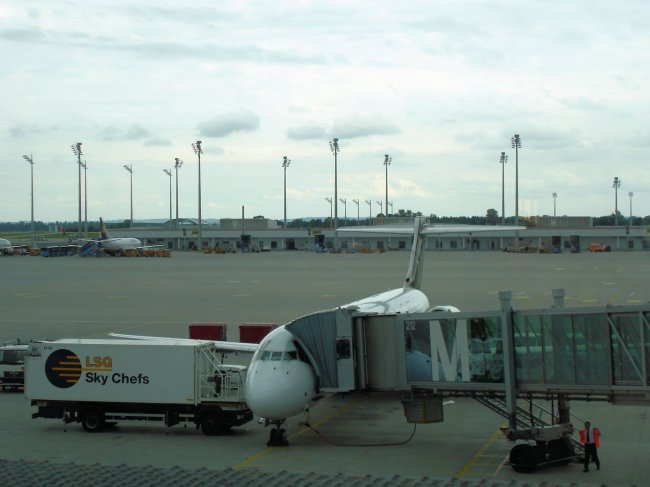 Cabin Comfort & Seating
Flying on Spanair's A320 and A321 wasn't a pleasure last year - mainly because of the cramped seating. So I hadn't expected anything better before entering the MD-87. For all those who want to compare:
http://forums.jetphotos.net/showthread.php?t=40705
http://forums.jetphotos.net/showthread.php?t=40836
What I first noticed was that the seats on the Mad Dog aren't bad. I particularly liked the leather cushioned armrests.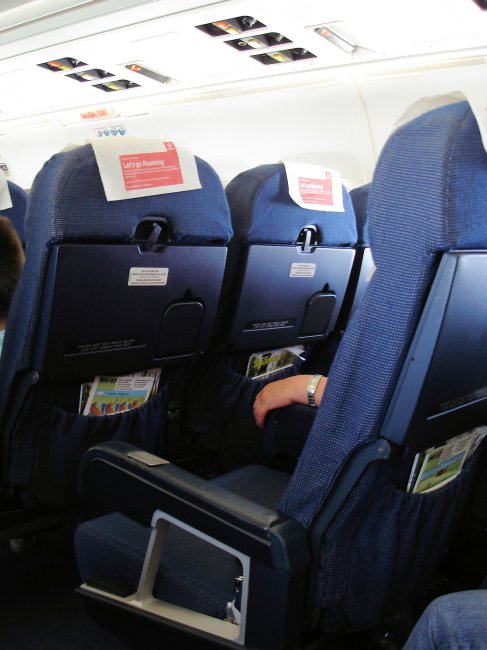 Legroom wasn't generous - but still better than on the JK Airbus planes. And you even get a cupholder!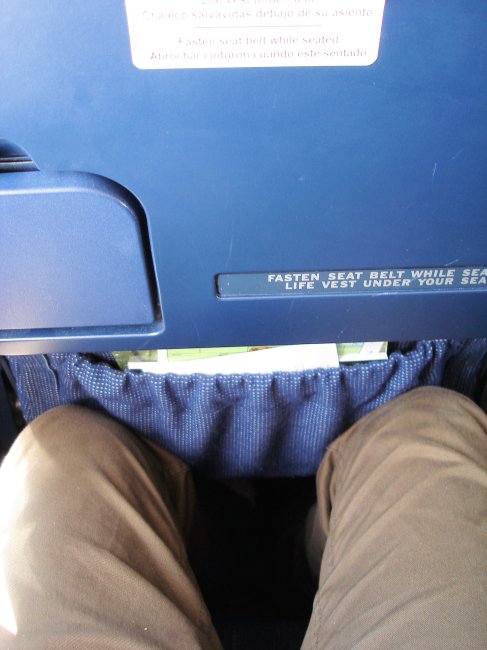 Cabin view (picture taken later in the flight):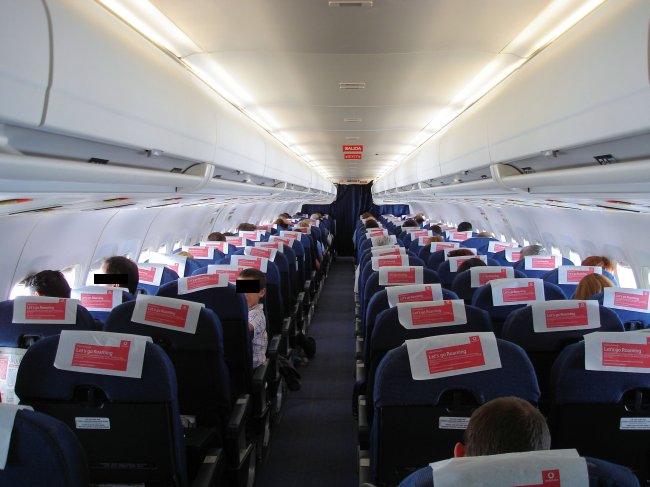 The MD-87's cabin was quite clean (in contrast to the A321 last year) - and another positive aspect was the friendly crew: All FAs smiled a lots and seemed to enjoy their jobs (in contrast to some FAs last year). After doors were closed I knew the aisle seat would remain empty and I could stretch out (load factor some 85 percent).
Into Gray Skies
We were pushed back a bit late and taxied through the rain to runway 26L...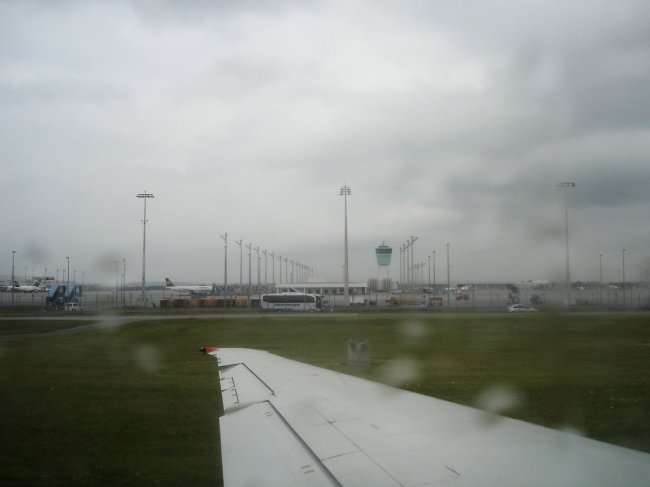 ...where we finally took off powerfully at 13:36. No doubt, I will miss these Mad Dogs in a few years!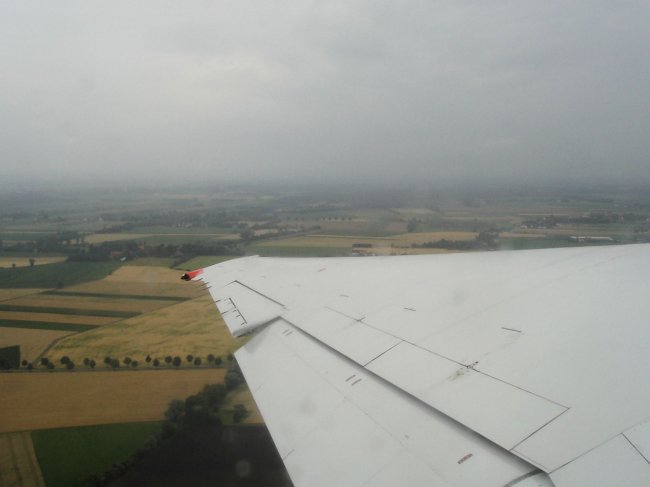 Engine right behind: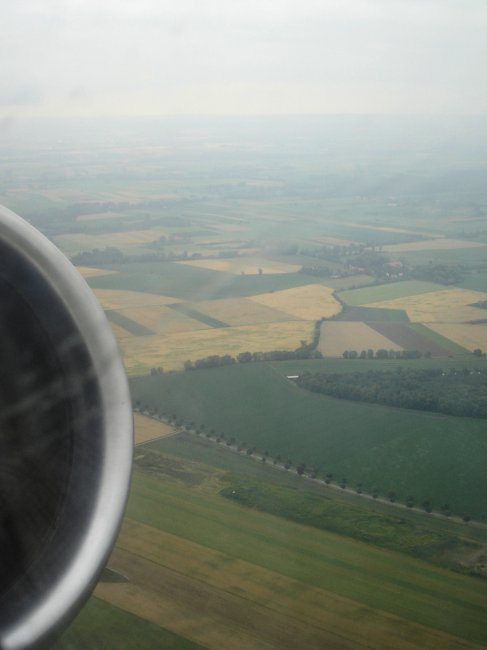 While the plane was still climbing one FA made a longer announcement, but I couldn't understand anything because of the engine noise. Not a good timing...
Only some 20 minutes later I could enjoy pretty views of the Alps: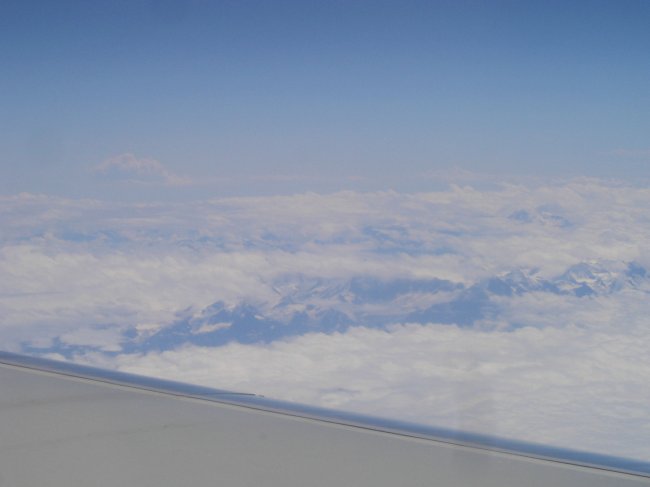 Snack & Drinks
Last year Spanair had still offered free drinks and a snack on the international sector (BCN-MUC). I was interested to see what would happen one year later - and I wasn't too optimistic when I discovered the menu with prices on the last page of the inflight magazine. But surprise - the friendly FAs handed out free sandwiches and offered cold and warm drinks. The sandwich with ham and cheese wasn't a great culinary delight and the coffee tasted a bit strange - but still better than nothing (like on Iberia).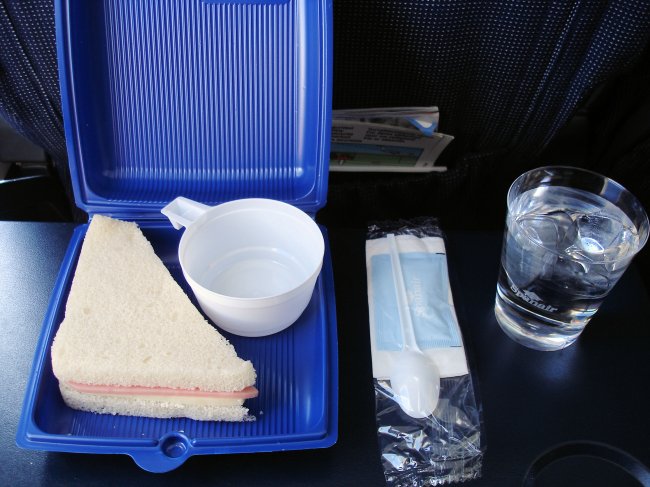 The remaining flight was uneventful until we passed some stunning cloud formations on approach to Madrid.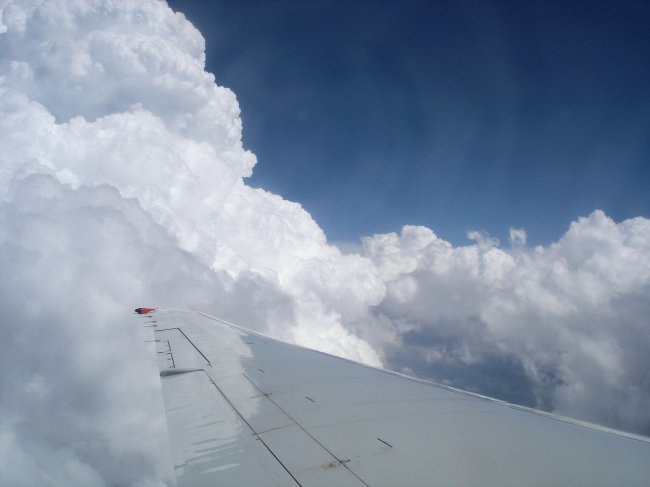 After the usual bumpy approach...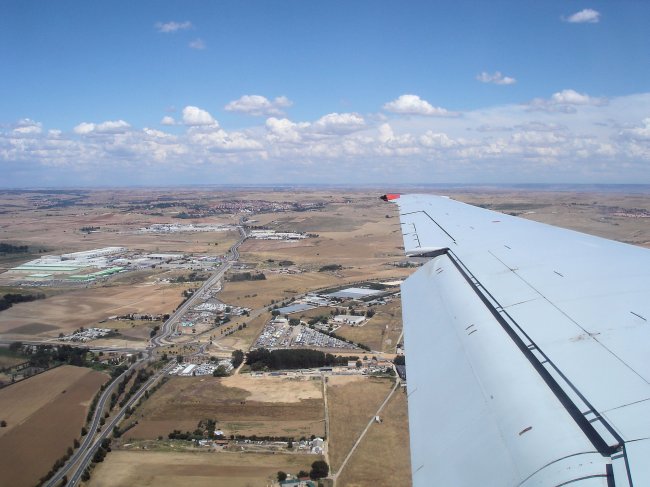 ...we touched down after 2 hours and 26 minutes and taxied to our gate at Terminal 2.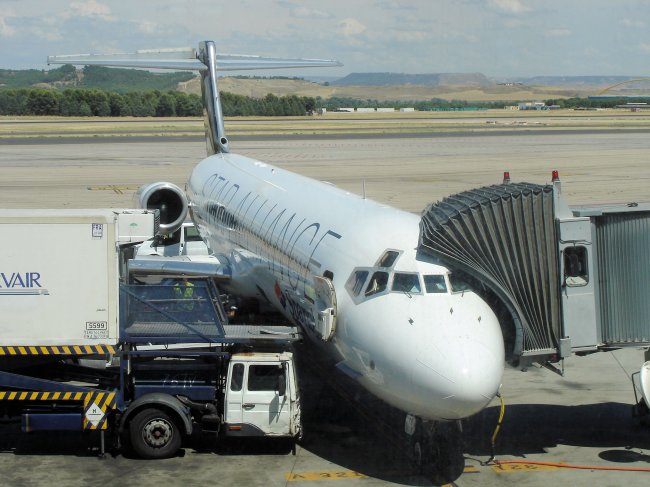 Transfer to Terminal 4
Most aircraft landed on the close runway 33L so I preferred to stay at the old Terminal complex for a while. I spotted some interesting birds, e.g. Swiftair MD-80s, Pullmantur 747-400, MK Airlines 747-200F. Some 2,5 hours prior to my departure I decided to move over to Terminal 4 - unfortunately you can't stay in the transfer zone to do so. After a quite long walk I arrived at a bus stop where I had to wait some 20 minutes. The journey took about 10 minutes, so in the end it lasted about 40 minutes to switch to terminal 4. It was my first visit to the new terminal and I was quite impressed by the architecture. I'm not so sure whether it was a good decision to use lots of orange and yellow, but tastes are different.
There weren't long queues at security, but it took quite long, nevertheless. The problem is that many people still aren't aware at all of the "no liquids" rules...
Anyway, I finally made my way to the gate area and found out that my flight would from the main building and not from the satellite, called T4S. Views were limited, I missed many aircraft landing on 33L and even numerous planes going to and from T4. That airport is simply too large for spotters!
Saturday, 12 July 2008
Madrid (MAD) - Barcelona (BCN)
Vueling, VY1021
19:19-20:21 (19:25-20:35)
Flying time: 00:46 (hrs)

Airbus A320-214
EC-JGM "The joy of vueling" (MSN 2407), delivered in 04/2005
Seat 24F
Web Check-in, Volume 2
Vueling offers to check-in online seven days prior to departure which is outstanding - actually I had checked in about 24 hours in advance. I had pre-reserved a seat at the time of booking for 2€ which is a reasonable price.
The joy of vueling...
From my spot in the Terminal I hadn't noticed any Vueling plane arriving, so I was surprised to discover two of them parked next to each other while walking to my gate. The aircraft bound for BCN this evening was
EC-JGM
, a 2005 model named
"The joy of vueling".
The picture quality could be better - but I can tell it's not easy to take a picture through a dirty window.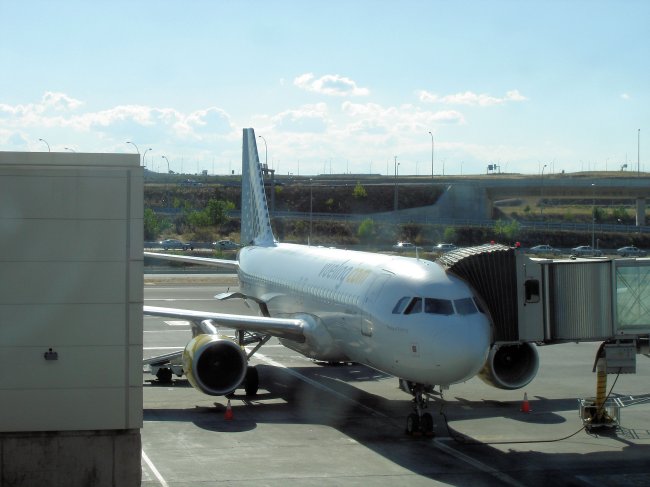 Smiles not Included
The crowd at the gate was quite large so I concluded the flight would be full. Shortly after boarding was started, one of the gate agents stopped a passenger with a large carry-on. After a short test by the agent it was clear the bag would have to go into the belly but the passenger didn't want to accept. He took out a sheet of paper and after a loud argument he was finally allowed to proceed with the bag. The two agents apparently hadn't been in good mood even before - I'm quite sure their motivation was even worse now...
As so often, passengers with seats in the front of the aircraft slowed down the whole boarding process and the queue was stuck for a while in the jetway. When I finally entered the cabin, the male FA next to the door didn't even bother to say ANYTHING, he simply looked somewhere with a neutral face expression, but definitely not at the (unwelcome?) pax. Another (female) FA didn't bother to behave differently...
Cabin Comfort & Seating
The plane was equipped with gray leather seats and colorful headrest covers - that was the first and last positive impression on that aircraft...
When I finally arrived at my seat in row 24 I was shocked about the minimal legroom - actually that seat pitch is one of the worst I have ever experienced.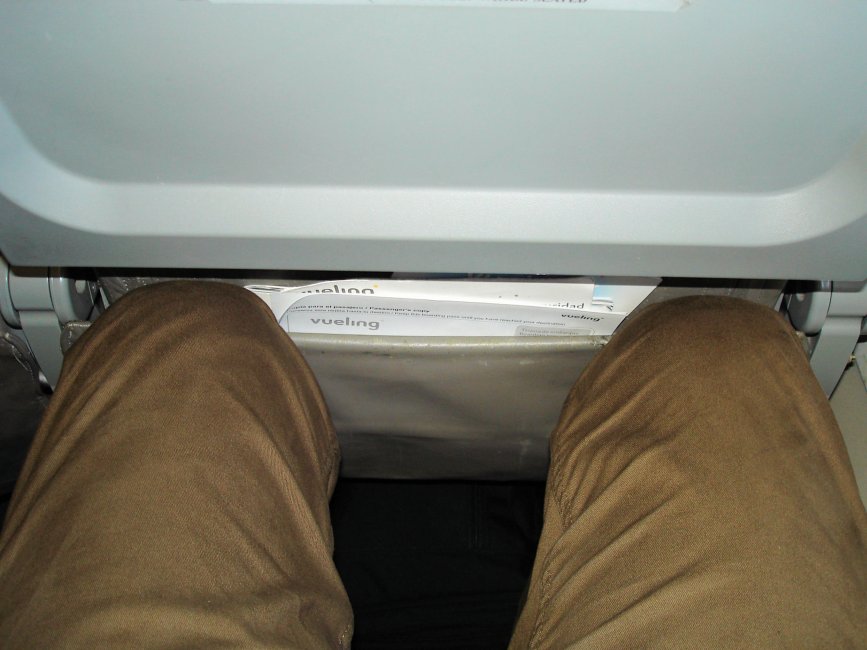 One problem is the conventional seat design - certain kinds of slimline seats really make a difference. The question is how the
XL seat
rows (10 Euro extra per seat) with slightly more legroom affect the pitch in the regular rows - considering that Vueling has installed the maximum of 180 seats on the A320s.
The flight wasn't completely full, some seats remained empty - including the middle seat in my row. Actually Vueling charges an extra fee of 25 Euro if you want to book a so-called
Duo Seat
(middle seat empty). I got that for free, but it still felt terribly cramped in that row - and the leather cover of the seats already looked quite worn.
"The joy of vueling"
? I'm sorry to say that
"The pain of vueling"
would have been a more appropriate name...
The Missing Flap Hinge Fairing
When I had just found a somehow acceptable seating position I discovered this - a missing flap hinge fairing on the wing: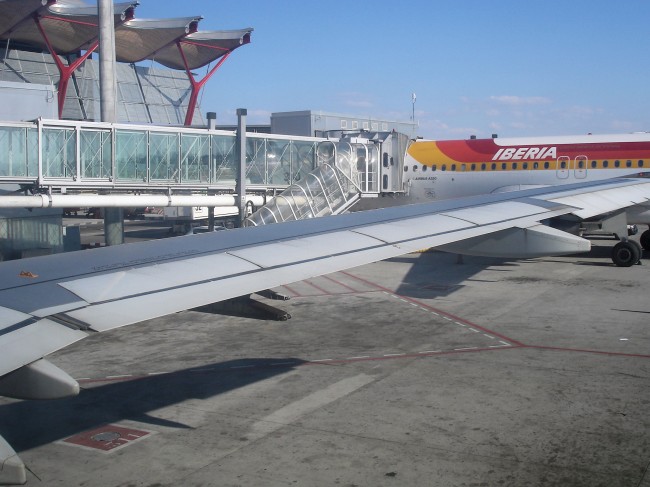 As an experienced flyer I couldn't care less about such a missing cover, but I'm not sure how unexperienced travellers or even people with fear of flying react to that...
Crew Introduction & the Stream of Music
Pop music from the charts had been played all the time since I had boarded the plane - actually not the best choice of tracks, in my opinion. Finally the music was stopped when the purser introduced the crew to the passengers. I didn't hear the whole speech, but according to her, the first officer was from Toulouse and most FAs from Madrid. Nice idea, I must admit. The safety demonstration was done manually due to the lack of video screens on that aircraft. Some minutes later
EC-JGM
turned in and lifted off into bumpy skies after a rather long takeoff roll.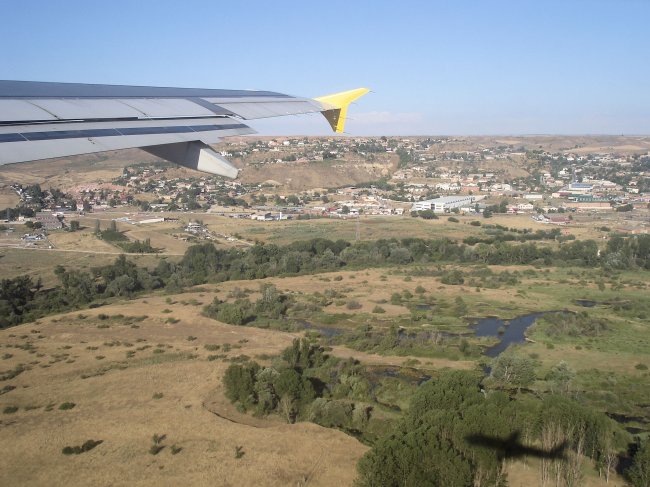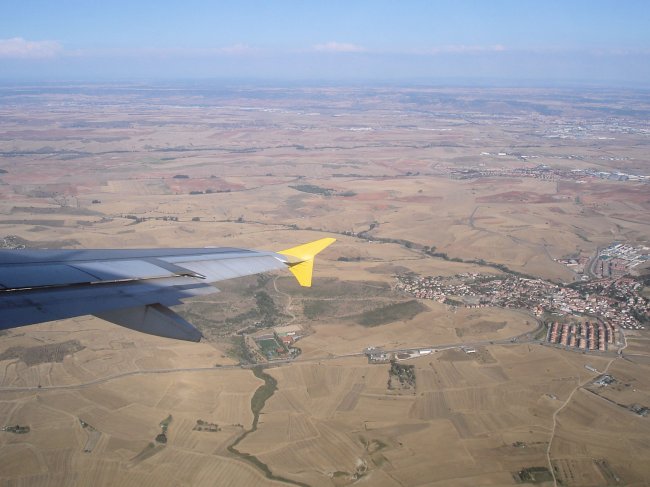 That looks like a nice neighborhood: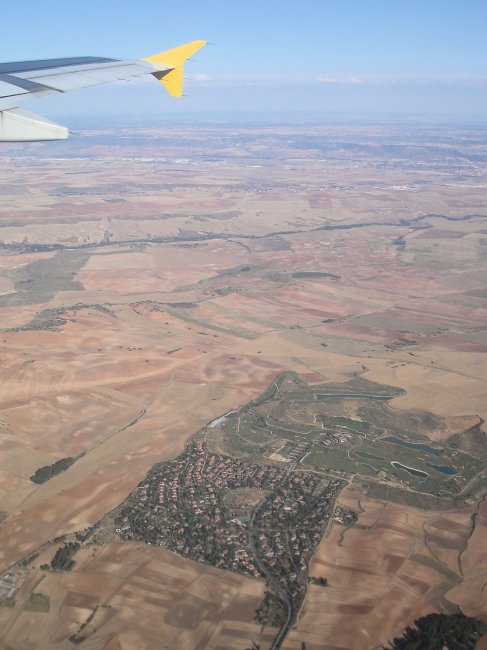 Short Inflight Sale
Like many LCCs, Vueling offers a wide range of food and snacks for sale. I would rate the prices as average, not cheap, but not overprized either. Anyway, the inflight sale only lasted a few minutes until the captain announced turbulences for the rest of the flight.
Goodbye, blue skies - there was a layer of thick clouds ahead on approach to Barcelona: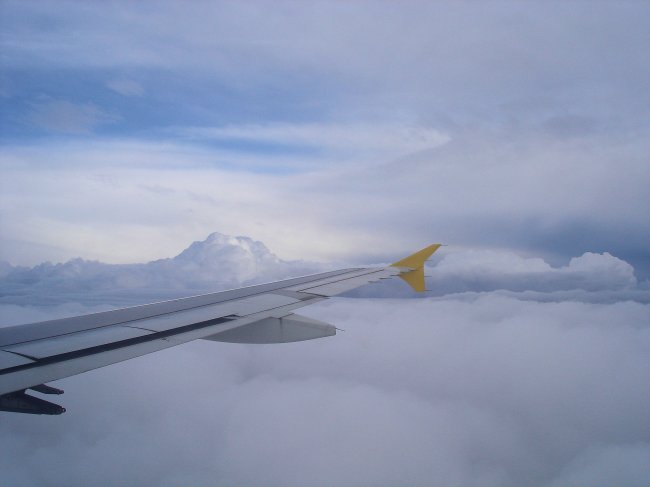 What a scenery: Dark sky over the sea…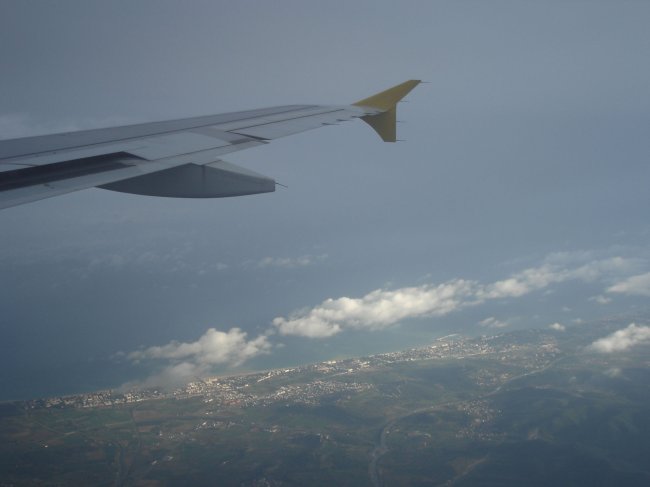 …and a few sunny spots: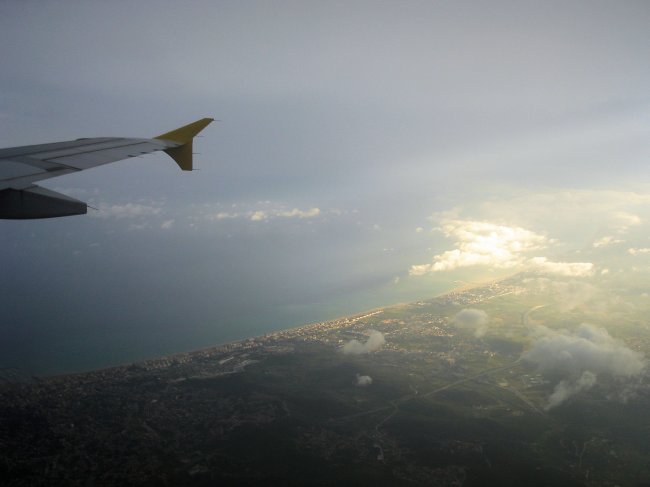 The final descent was not as bumpy as expected - it seems we touched down just moments before the thunderstorm really got started.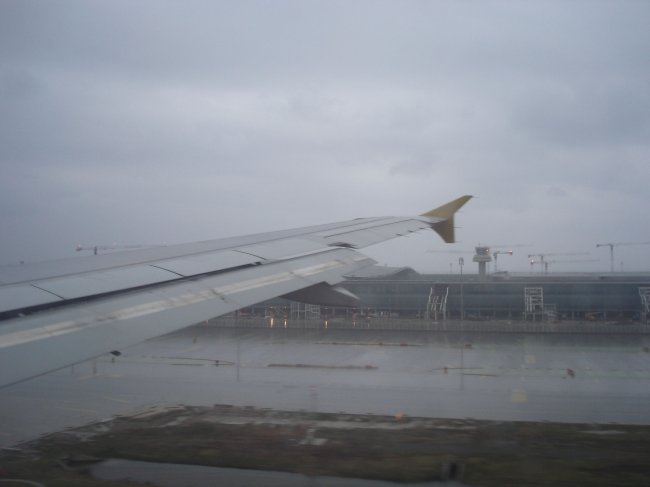 We reached the gate more than ten minutes ahead of schedule and while the crowd was blocking the aisle I could enjoy listening to the chart hits again...
Anyway, I got off soon and quickly walked to the exit - where I was surprised about the very heavy rain and the masses of water on the streets. What a thunderstorm - not the kind of weather you would expect on a short trip to Barcelona...
Frontair Congress Hotel - Surprise Included
When searching for hotels in April I found the new Frontair Congress hotel in Sant Boi de Llobregat (opened in June) - actually quite cheap (60 Euro) compared to many others - and it offered a free shuttle service. I booked a room after I had been told via e-mail that they would pick me up - even though they said the shuttle timetable wouldn't be finalized yet. One day prior to departure I had written again to remind them, also mentioning flight number and arrival time...
Well, after seeing the masses of people waiting in front of the terminals, with endless rows of cars moving slowly through the rain I wasn't very optimistic about finding the shuttle. First of all, after asking at an info desk, I walked to the shuttle bus stop in front of Terminal B (Vueling flights arrive at Terminal C). It wasn't a long way, but enough to get totally wet in the heavy rain. I finally called the hotel and they promised to be there in ten minutes - which actually happened. At the front desk I asked about the shuttle on the next morning - and the answer was priceless:
"The shuttle doesn't run on Sundays because it's the driver's day off."
Of course I was prepared for such a case and had a printout of the e-mail conversation ready - but I didn't need it. I told them about the front desk manager's promise and after a short discussion in Spanish one of the two ladies said:
"We will call a taxi for you and pay for it."
Good news, considering that the taxi journey costs about 15 Euro.
Finally, after the first key card hadn't worked, I entered my room. I must admit the interior was not to my taste...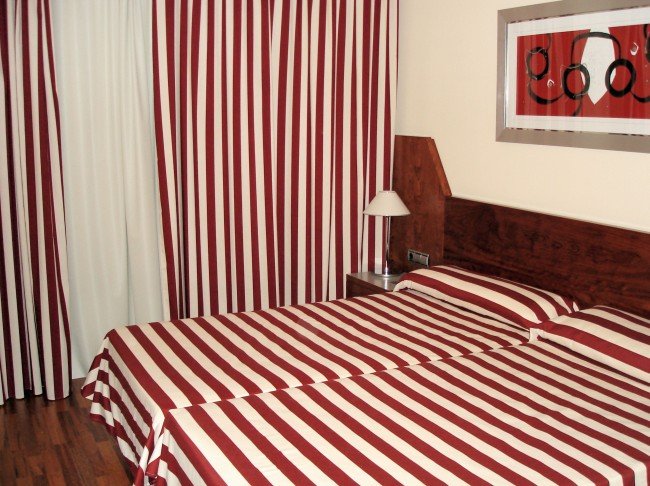 Even though there was a non-smoking sign on the desk, the smell indicated it was a smokers' room. Anyway, instead of complaining again I went straight to the supermarket some minutes before closing time - due to the lack of a minibar and vending machines in the hotel.
Conclusion
Flying
Spanair
was better than expected - friendly crews, a clean cabin and free snacks and drinks are good arguments in these days. Of course, the quality of catering could be better, but as I said before - the large rival Iberia doesn't offer anything on European flights. The lack of sufficient leg room is a negative aspect, even though it was better than on the company's A32X models. I don't mind much about the lack of IFE on European flights - and that is even less important to me when flying on a Mad Dog.
Other than expected, flying on
Vueling
wasn't a pleasure at all. Booking flights and checking in is very convenient - but that's about it. The cramped seating is terrible - and unfriendly crews can make the overall experience even worse. Vueling is not a special LCC as it may seem - it's just another very average one in the LCC crowd. I once read that Vueling has been treating passengers well after cancellations, but I can't comment on that. It will be interesting to see what happens to the product after the merger with clickair.
Next report: BCN-MAD-ZRH-MUC: Air Europa Shuttle Meets Swiss Quality
Best Regards,
PlaneHunter