Hello all! This is my third trip report ever so please don't be too harsh on me! However, comments are always welcome!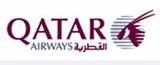 Booking the flight
In the summers of 2006 and 2007, I traveled between London and Singapore on Qatar Airways. This year, I thought I would shake things up a bit, especially since Singapore Airlines was going to introduce the Airbus A380 between London and Singapore. I had a look at the fares on expedia.co.uk as well as lastminute.com a couple of months before and was pleasantly surprised that the A380 flight outbound (but with the old, tired B744 afternoon departure inbound) would cost only 10 pounds more than a return ticket on Qatar (a little over 800 pounds return, including taxes). I didn't go ahead with the reservation as I was still unsure of my departure date.
A couple of weeks later when I had my departure date confirmed, Qatar Airways, for some inexplicable reason, decided to shave 200 pounds off their return ticket and I thought, "Why not?!" Yes, I know the A380 is probably worth the 200-pound premium, but I wanted to maintain my Burgundy status with Qmiles (Qatar Airways' frequent flyer program), especially since those people are nice enough to give me an extra 10kgs of baggage allowance. Besides, the A380 is gonna be there for a long time to come.
Pre-departure
Although my flight didn't leave until 3 in the afternoon, I got up way before 8 in the morning as my family was visiting me in London and they were flying to Singapore via Bangkok on a Thai Airways flight that was scheduled to depart at 12.30pm. Needless to say, I was in charge of bringing them to Heathrow.
So we left my apartment in the Docklands area and took the Tube to Paddington where my Mom, my brother and I met my Dad, my Aunt and my Uncle who were staying at a hotel nearby. We decided to save some money and picked Heathrow Connect over Heathrow Express. Heathrow Express costs about twice as much and is only 10 minutes faster than its slightly slower counterpart (6.90 vs approximately 15 pounds).
The check-in area Thai Airways was using was completely packed when we got there. As is usual at these check-in areas at Heathrow, the queue was divided in two. While the rest of my family was checking-in, I decided to try my luck and see if Qatar Airways would accept my baggage this early (it was barely 10 in the morning). But of course, it was way too early and they were only accepting the last bags for the earlier flight to Doha. In any case, because my Mom is prone to hitting the panic button indiscriminately, I told them to go ahead and enter the departure area without me. After which I wandered round the check-in area a couple of times before finally settling down by the entrance to the Virgin Atlantic check-in area almost an hour before check-in was due to open for my flight.

Check-in
I was told that check-in for my flight would begin at 11.30am so I moved my bum five minutes before that so that I could be among the first to check-in (I finally got Sequence Number 001 for my flight between BCN and LGW on BA a couple of days earlier!). But surprise, surprise, there were already at least eight individuals/groups who were standing in line when I got to the check-in area. I barely made the first part of the queue.
After a ten-minute wait, the check-in agents finally decided to grace us with their presence. They were certainly in no hurry to get things moving along as the second part of the queue (behind the escalators) began to swell slowly but surely. The groups ahead of me were processed relatively quickly and before long, I was checking in and getting my boarding passes for my next two sectors.
To my great surprise, my bag weighed only 16kgs! That means I was 14kgs under my allowance! That was surprising because I'm not a person who knows how to pack. I usually chuck a gazillion things I don't need into my bag. Proof: I had 15kgs for a five-day spring trip to Barcelona and 21kgs for a nine-day summer trip to France and Spain. So as you can imagine, 16kgs for a month-long trip was VERY surprising.
Anyways, the lady who checked me in was friendly and confirmed my seat preferences for the window. Just as I left her desk, I realized that I was assigned an aisle seat for the LHR-DOH sector, despite the fact that she had already confirmed my preference for a window seat before! I immediately returned to her and was met with the most apologetic response. Problem solved and off I went into the departure area.
Pre-boarding
I wandered around the chaotic mess that was Heathrow Shopping Mall before enquiring at the Qatar transfer desk (I went to the transfer desk because I couldn't even find an information desk. What's up with that, BAA?) if I could buy access to any lounge. The agent suggested either the Virgin lounge (which was obviously a no-no so I wondered why he suggested that in the first place) or the Servisair lounge. While airport signage suggests that you stay in the crazy waiting area before proceeding on to the concourses, my experience suggested to me that my flight would depart from the concourse with gates 23 to 30-something. Besides, since I was in search of the Servisair lounge, I decided to leave the shops way earlier than usual.
The Servisair lounge wasn't too difficult to find, even though I had to climb a couple of stairs and negotiate a number of obscure hallways before I found the entrance. I was greeted by a friendly assistant upon entering (she was probably judging me. But oh well, as well she might coz I was in a pair of shorts, a silly tee-shirt and flip-flops) and was told that I could enjoy a three-hour access to the lounge for 18 pounds. While that seemed pretty enticing, I was disappointed to hear that there were no shower facilities nor was there free Internet access. Shrugs, I decided not to part with 18 pounds in the end as what I really wanted was to have a quick shower (I like to stay clean. After all, I was gonna be canned like sardines for the next 14 hours or so).
Boarding
So I went back to "earth" and proceeded to walk around the concourse before finally settling down in the new-ish extension where the Virgin Atlantic flight to IAD and the SK flight to ARN were boarding. Ten or fifteen minutes after the designated boarding time, I headed back down the concourse to Gate 27 where my flight was boarding (this was the same gate as the one I used for my LHR-DOH flight two years ago!). I entered the holding room after most of the other passengers did as I'm not particularly fond of those windowless gates. Fortunately, boarding commenced relatively quickly and I finally got up from my seat in the far corner of the room and boarded the plane with the remaining five or six passengers.
QATAR AIRWAYS QR0012
London Heathrow Terminal 3 (LHR) to Doha (DOH)
21 July 2008, Monday
Scheduled time of departure: 1505
Scheduled time of arrival: 2359
Airbus A330-303X
A7-AEB
Seat: 20K (Economy Class)

I don't have a single picture for this sector. In fact, if not for the little surprise later in the trip, I might not have done this trip report at all. So if you wanna see some pics, please have a look at my trip report for the same sector from summer 2007:
HTML Code:
http://forums.jetphotos.net/showthread.php?t=41459
I know this thread is useless without pictures but I promise you, I'll have lots of pics for the next sector!
In any case, I was greeted at the door in the usual Qatar-esque way: friendly, but still a sense that the flight attendant would rather be somewhere else. Like I said, this is very Qatar. While the airline has received a five-star rating from Skytrax (which a lot of us think is crap), I've never received really outstanding service on Qatar like I have on Lufthansa inter-continental flights, British Airways intra-European flights and of course, Singapore Airlines. Even the service on Northwest felt a lot more personalized (the FA remembered that I chose to drink nothing but water!).
As I approached my seat in the forward section of Economy, the Japanese guy sitting close to me in the boarding room had already occupied the aisle seat next to mine. A little later, a quick peak at his second boarding pass confirmed that he would be transferring at Doha onward to Osaka (Qatar's only Japanese destination). As I started reading my newspaper, FA Xiaocun from China began handing out candy as is the norm on Qatar Airways. While I have no need for candy to deal with my ears popping, I've always thought it a very nice touch.
As boarding commenced way before the scheduled departure time, we left the gate on the dot even though a family of four decided that Heathrow Shopping Mall was too fabulous a place to shop for them to board with the rest of the plane. Taxiing didn't take long and we soon took off after an Air Canada A330 that was due to hop across the pond.
Xiaocun would be the only FA assigned to serve my section of the plane, despite the fact that the other sections were always served by at least two members of the cabin crew. However, it has to be said that Xiaocun did a wonderful job of keeping the passengers happy, even though she didn't depart significantly from the Qatar I-am-friendly-but-I-don't-really-wanna-be-here norm.
The inflight entertainment system Waves was AVOD and featured quite a number of movies. Not being much of a movie buff, I opted for LIVE TV only to find out that it wasn't working. It wasn't working the last time I was on A7-AGA (Airbus A346) flying between DOH and LHR either. I can't remember if I watched anything else, sorry!
I've also forgotten what I had on the plane for dinner but suffice it to say, it was nothing much to write home about. My seatmate, in between the boisterous laughter watching some comedy on Waves, decided that it was a good idea to stay dehydrated by constantly piling up on the alcohol. His order for G&T was forgotten. The snack before arrival was some chicken wrap and while I found it acceptable (I am a glut, no doubt about that), my seatmate obviously thought it disgusting as he didn't touch much of it.
Even though I had gotten up before 8 in the morning, I didn't catch any shut-eye on this sector. Soon enough, we were on approach to DOH and Business Class passengers were let off the plane first.
Check-in: 7/10
- It was relatively painless.
- The check-in agent assigned me an aisle seat even though she had confirmed my request for a window.
- She was however very apologetic for the error.
Boarding: 7/10
- Much less chaotic than previous experiences, possibly because it was an A333 instead of an A346 this time around.
- Hate the windowless holding rooms.
- They did not board by row numbers.
Inflight entertainment: 7.5/10
- AVOD.
- I'm sure I watched a couple of movies but I honestly can't remember which.
- For some reason, LIVE TV wasn't working and I wasn't able to get my CNN fix.
Meals: 7/10
- I'm being generous.
- Portions on QR have never been something to complain about.
Cabin service: 7.5/10
- Was really only served by FA Xiaocun.
- She would have been perfect if she had only been a little more genuine with her smile. It just didn't feel warm.
Overall: 7/10
- I've done this sector quite a number of times and I'm not usually looking forward to it. But it was relatively painless this time round.
- Clean cabin.
- Marks deducted for the fact that my armrest had some metal thing poking out. I could've cut myself if I wasn't careful. They should have replaced that armrest a long time ago.
Transit in Doha
Anyone who has been to DOH knows that this is an airport without any jetbridge. Thankfully, A7-AEB parked not too far away from the main terminal and we were soon bussed to the transit and arrival area. If anyone tells you that Singaporeans are
kiasu
(afraid to lose out), then the transit area at DOH serves as a painful reminder that this syndrome is not exclusive to Singaporeans. As soon as the bus opened it doors, EVERYONE rushed out like there was a fire on the bus. Apparently everyone had a tight connection to make.
I can never complain enough about the transit security checks at DOH. When I was first there, there was no queue management at all. Even though things have since improved dramatically, the security crew can still take a lesson or two on queue management. You are going to piss people off really badly if you allow people who join the queue ten minutes after the first guy to cut in line by passing through another metal detector as they open up one by one. Also, I'm not sure if the security crew at DOH are really taking their jobs seriously. They always seem to have their minds somewhere else.
After clearing security, I proceeded upstairs where my flight would be boarding from Gate 12. Even though I had a tight connection of 40 minutes, boarding still had not commenced by 0030, which was why I decided to have a walk around the little terminal building that is DOH. There really aren't a lot of facilities at DOH, even the Internet terminals at the Samsung-sponsored booths weren't working. And unsurprisingly, the bathrooms at the airport were a huge shame. The floors were wet and dirty.

Boarding the second flight
Boarding finally commenced just before the scheduled departure time. From the looks of it, it was going to be a really full flight. The line was forming well past the boarding area and was made up of quite a number of Indonesian labor immigrants (although not as many as I had expected), as is usual on a flight that continues on to Jakarta. Service usually takes a beating on this sector because of that. In fact, the last time I was on this sector, an Indonesian FA practically ordered a passenger - who looked like a labor immigrant - to close the window shade. I don't speak Bahasa Indonesia but I know when there's no "
terima kasih
" (thank you).
When the line was about to clear, I finally joined in the fun. There were three readers at the gate, and since an Indonesian man was taking a really long time with the agent, the Singaporean businessman in front of me decided to pop over to the next reader. I then decided to pop over to the last reader where I was greeted with a tired smile.
"How're you?"
"Good", replied the African agent (who, by the way, looked good enough to be a hot, chart-topping rap star)
"Long day huh?"
As he smiled, the reader flashed "CHECK PASSENGER RECORD". Oh no, was I being blacklisted as a boardshort-wearing terrorist? No wait, maybe the Upgrade Fairy has decided that it was my turn! So I waited for the agent to fiddle with his keyboard and for a good 40 to 50 seconds, I really wasn't expecting anything fantastic to happen. Then he scribbled on my boarding pass and said, "Okay, Mr. XXX, you're now in Business Class. Your seat is 5-Juliet." "Are you kidding? Thank you!"
I tried very hard not to scream out loud as I was going down the escalators to the bus waiting to take us to the plane. Sure, I didn't have the chance to use the Premium Terminal but who cares? I was gonna be in Business Class! That's all that mattered! BUSINESS CLASS!
As I approached the Arabic agent at the bus, he had a look at my boarding pass and pointed me towards the seats by the door, "Business class wait!" I didn't even care if he was a little curt. I really didn't. I was gonna be in Business Class!
After a five-minute wait, the next bus came to pick up Business Class/upgraded passengers and the remaining Economy Class passengers. I'd thought Business passengers would be at the premium terminal, but for some reason, there were at least eight or ten of us waiting to board the last bus.
When we got to the plane, our bus had to wait for two buses in front of it to clear before we were allowed off at the rear door. It turns out that the bus had stopped at the rear door only for the remaining Economy passengers, a fact lost on me and a couple who were also in Business (well there were no announcements!). The rest of the Business Class passengers alighted at the front.

QATAR AIRWAYS QR0638
Doha (DOH) to Singapore Changi Terminal 3 (SIN)
22 July 2008, Tuesday
Scheduled time of departure: 0040
Scheduled time of arrival: 1350
Airbus A330-302
A7-AEO
Seat: 5J (Upgraded to Business Class)
As I boarded through the rear door, I was greeted by another Chinese FA who said, with a smile, that I should have boarded from the front. So I took my "victory lap" down Economy and popped over to the forward section of the plane.
When I got to my seat, my Qatari seatmate dressed in white, flowing Arabic dress was obviously surprised that a shaggy-looking boy-man dressed as if he was going to the beach was seated in Business. I popped my laptop to the overhead lockers with absolutely no help at all and took my seat.
As soon as I took my seat, FA Shubham from the Subcontinent came over to me with a tray of drinks and offered me a welcome drink. I opted for some sparkling water (I'm a teetotaller so the temptation of free-flow, at least in principle, alcohol in Business really doesn't do much for me). The drink was promptly finished.
As the crew around me went crazy preparing for take-off (Cabin Services Director Joy from the Philippines also distributed landing cards for Singapore), I took the opportunity to explore my new, unfamiliar surroundings.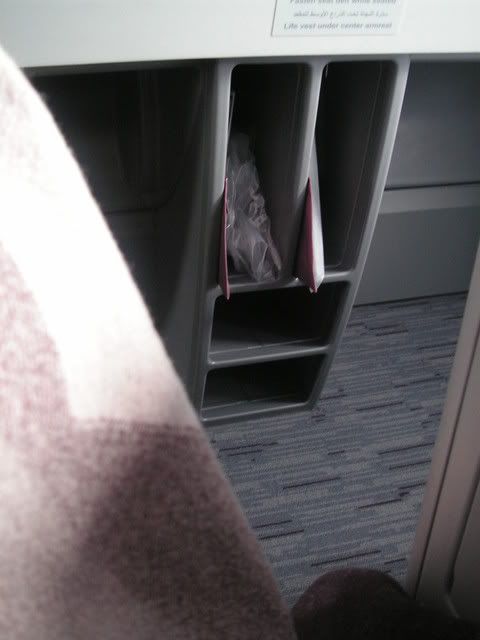 The two little storage areas under the IFE screens was shared by the inflight magazine as well as the menus which had already been placed within a leather folder. If you leave your shoes in the space immediately in front of you and then recline your seat, they will be "swallowed up" by the seat as you re-adjust it toward the upright position.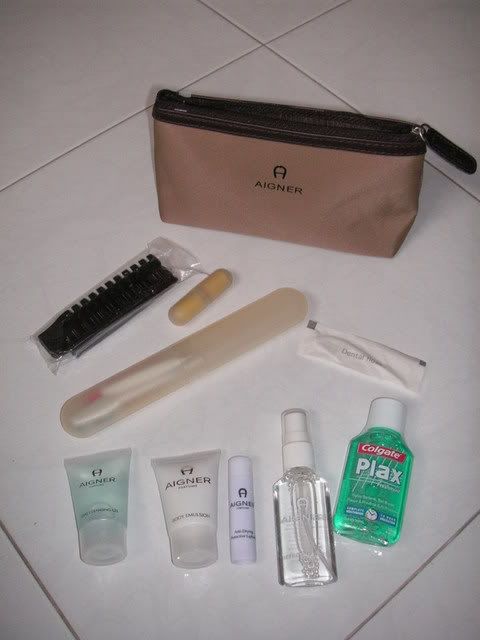 There were two separate amenities kit that had already been placed on my seat as I arrived. The first one was a grey Qatar Airways Business Class kit containing eyeshades and socks. Beneath the area for the magazines was the area for your shoes. The second, more luxurious one (above) came in a camel-colored bag complete with an Aigner logo on it (and Qatar Airways' old logo on the other side). In it came a set of earplugs, toothbrush and Colgate toothpaste in a yellow-colored plastic case, Colgate Plax freshmint mouthwash, dental floss that came in a packaging which made it look like a toothpick, Aigner Parfums facial cleansing gel, Aigner Parfums refresher mist, Aigner Parfums body emulsion and Aigner Parfums anti-drying protective lipbalm. Now, for a someone who usually flies Economy like myself, THAT was what I called an amenities kit.
The seat controls were on the left armrest. Note the button for the inbuilt massage function. While it was nowhere as relaxing as a Thai massage, it was definitely greatly appreciated. As the seatbelt signs were turned off, everyone started to recline their seats. It was actually kinda funny as you could hear motors going off all over the cabin as people were trying to find the most comfortable position.
My glass was collected promptly and soon enough we were on our way to Singapore Changi. As the plane was taking off, one of the lockers by the front galley popped open. CSD Joy decided that she would get up and ensure that the locker was safely locked. In any case, Joy, as you would see in a later picture, was very young for a cabin services director. While I don't doubt her credentials, it just felt like she didn't have the gravitas of older cabin services directors. While helping my seatmate out with the IFE controls, she seemed to me like any other FA. Funny thing about my seatmate: it seemed like there was no FA onboard who could speak Arabic as both Joy and especially Shubham, who served my section, had to communicate with the Qatari man using a mix of babies' English ("Dinner? You want?") and sign language. I thought this was really surprising for Qatar Airways, especially since there were announcements in Arabic on this particular flight. Anyways, I digress.
Cabin services swung into action as I decided to see if LIVE TV was working on this sector.
And yes it was! With LIVE TV working on this sector, at least in the Middle East (LIVE TV does not work outside Middle East and Europe. I'm not sure if it works in North America, now that Qatar flies to EWR and IAD and soon enough IAH), I was able to watch the EMEA feed of CNN International, which was then broadcasting The Situation Room with Wolf Blitzer LIVE from D.C. as well as Breaking News about the arrest of Karadzic in Serbia. Anyways, the size of the screen was definitely large enough for me. Also, it turned out that the little rectangular storage area immediately below the TV screen was really handy for storing my glasses and watch.
As soon as the seatbelt signs were turned off, I was offered yet another drink by Shubham. This time, I opted for some apple juice. As you can see, I was also served some nuts. The pistachios were great. Can't go wrong with pistachios!



Refreshment was served as soon as I had finished my nuts. Shubham came up to each and every passenger and asked if we would like to be served refreshments before taking our options down in his leather folder.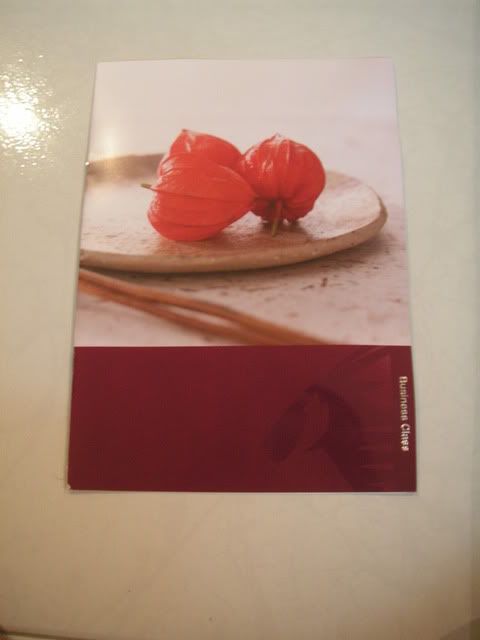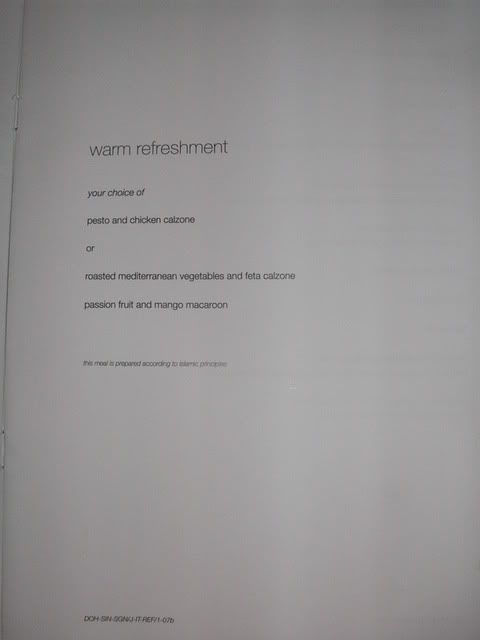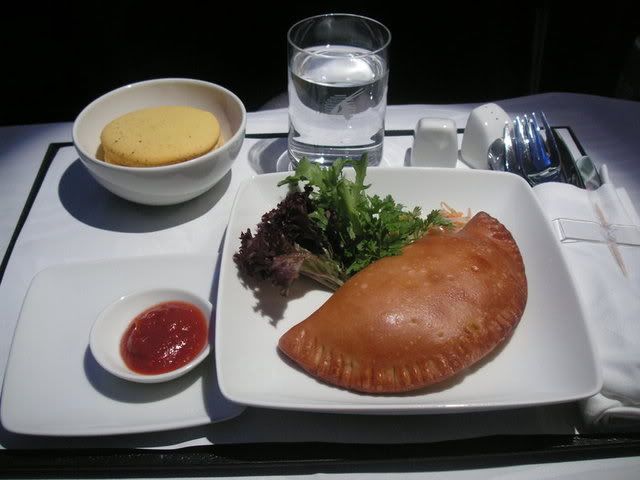 I decided to go with the chicken calzone as the idea of a vegetarian calzone just didn't appeal to me, even though I usually choose lighter, healthier options. The calzone was a little cold. It felt like it was left out at room temperature for too long. The mango and passion fruit macaroon was really good though, even though I'm not the biggest fan of passion fruit or mango. Some might have found it a little too sweet for their liking.
As soon as I was done with my meal, I reclined the seat fully and was ready to go to bed. Now, let's talk about seat comfort. Of course, unlike the new Business Class seats on Qatar's B77Ws, these seats do not recline to a fully flat position. It is a flat seat, but like the SQ SpaceBeds and CX Business Class seats before the herringbone design, it is at a small little angle.
Now, I'm 5'9 and I thought the seats were comfortable enough for me to sleep in on my back as well as on my side. While I did feel like I was slipping downward a couple of times, I didn't think it was too much of a hassle as the bottom of the seat had an upright flap which prevented me from hitting the seat-shell in front of me all the time. While they were not SQ's latest offerings in J nor EK's on their A380s, they were certainly comfortable enough. I didn't think that even the regular business traveler had any reason to complain. In the end, I must have managed at least two hours of sleep, even though my seatmate was fidgeting all the time and woke me up when he had to use the bathroom (he was a very heavy man so there was no way he was gonna get out of his seat without me getting up when my seat was fully reclined. In fact, he had to step on the bottom of my seat to get out).
One thing I did not like about the seat was the fact that sitting in 5J, I had people running up and down the aisle and FAs running to and from J and Y while I was trying to get some sleep. I know some of you out there are conscious about how you look when you are sleeping, especially since you're not exactly in a private space. Anyways, I'm sure Etihad's J offering, BA's NCW as well as EK's on their A380s provides the passenger with a lot more privacy than what QR can come up with now. Still, as an upgrade passenger, I'm not gonna complain any more than that.
Mood lighting, not exclusive to Business Class.
About two hours into Singapore, I got up and used the bathroom. It was still in great condition and was one of those with a window.
As I returned to my seat, I was offered a drink. This time, I went back to basics and opted for water. It was later promptly refilled by Joy straight from a 1.5-liter Evian bottle.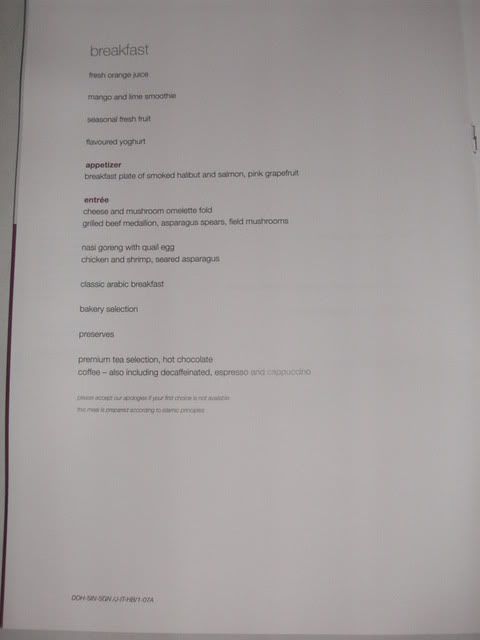 As you can see, everything was offered on a tray from a trolley that was wheeled to our side. Shubham was meticulous enough to ensure that everything - including the little jar of jam and the little cup of yoghurt - was facing me. An large assortment of bread was offered from a basket. Now, I only realized that I wasn't served a mango and lime smoothie as I was writing this trip report - three weeks after the flight! My seatmate must have found the halibut, salmon and grapefruit starter a little unconventional (for breakfast, at least) as he didn't touch any of it. I, on the other hand, being the glut that I am, finished everything. Although the halibut and the salmon wasn't the freshest, it didn't have any offensive odor to it. The nasty-looking yellow sauce in the center was actually pretty good. It was kinda sweet. The yoghurt was nasty though.
When I finished my first course, Shubham followed with my second course. My tray was not cleared. Shubham simply removed the first plate and placed the second down on my tray. I chose the first option with the beef medallion as I wasn't in the mood for
nasi goreng
(Malay fried rice), even though it was already afternoon in Singapore. While the beef medallion itself was absolutely scrumptious, the omelette just tasted weird. I mean, there was just a lot more cheese than egg. It felt like cheese with egg rather than egg with cheese. Now, I'm a big fan of eggs (fried, scrambled, boiled - you name it) and I have absolutely no idea how one can screw eggs up.
So, as I finished breakfast, the FAs again went crazy preparing for landing. I had a couple more glasses of water before we had to belt up for landing.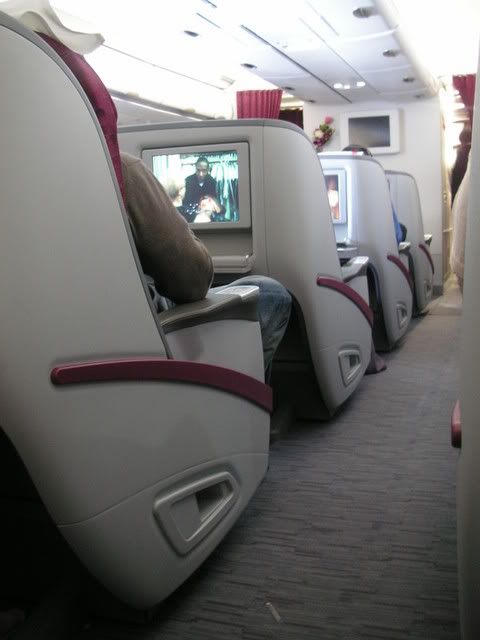 Picture taken before landing preparation began.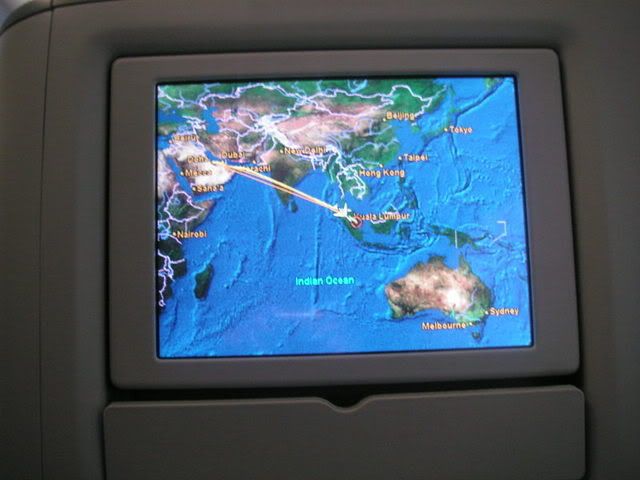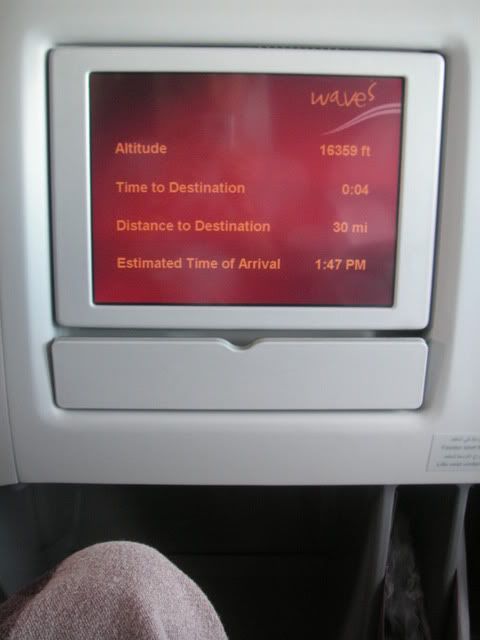 Flight information.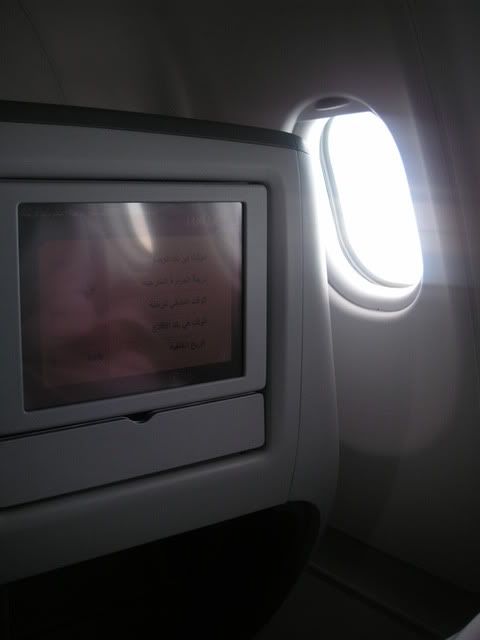 A peek out my neighbor's window.
Yes, this looks like one of the last photos. But there's CSD Joy in the background getting ready for landing. It's not just the bob that made her look young. She really was young.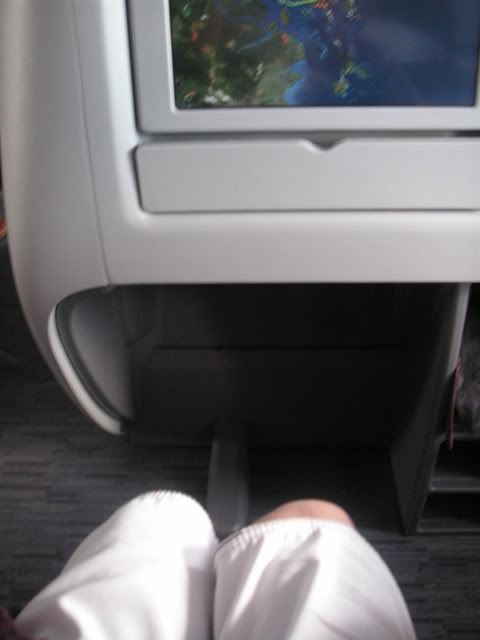 The "mandatory" knee/legroom shot.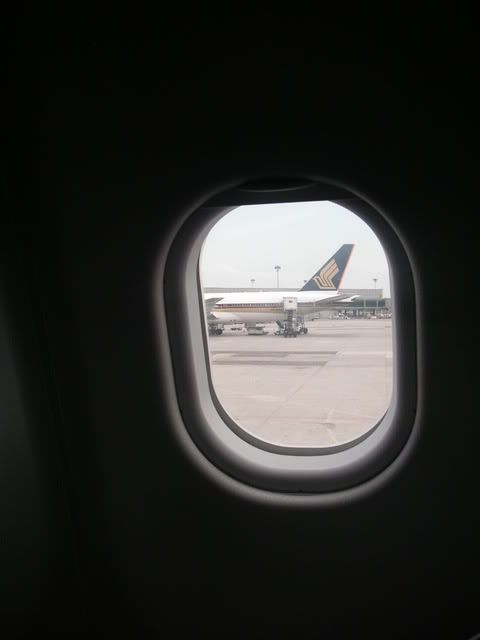 Welcome to Singapore.


As soon as the plane came to a halt, the curtains between J and Y came back on and Business Class passengers were allowed to leave the aircraft first. As I left the aircraft, another set of QR crew were already waiting at the holding room.
Qatar Airways has a habit of checking the boarding passes of Singapore-bound passengers again upon disembarkation, probably to avoid confusion by ensuring that no Jakarta-bound passengers leave the aircraft. The inspection is done at the end of the jetbridge by CIAS (I think it's CIAS?) ground staff. After a gruelling minute or two, the agent finally gave up trying to find my name amongst the list of Economy Class passengers. Her supervisor had to intervene by pointing out that it was Business Class passengers who disembarked first! Ah, the joys of flying Business! Haha...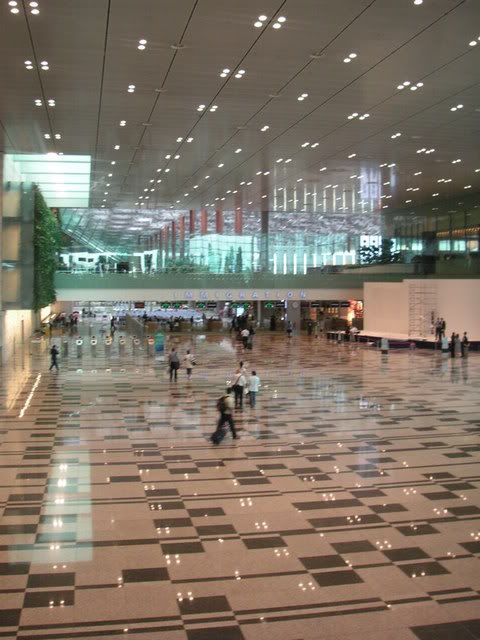 Even though Terminal 3 is said to be different than the other two terminals, it still has that unmistakable Changi feel to it. Maybe it's the carpets? Here you see a picture of the Immigration Hall upon arrival.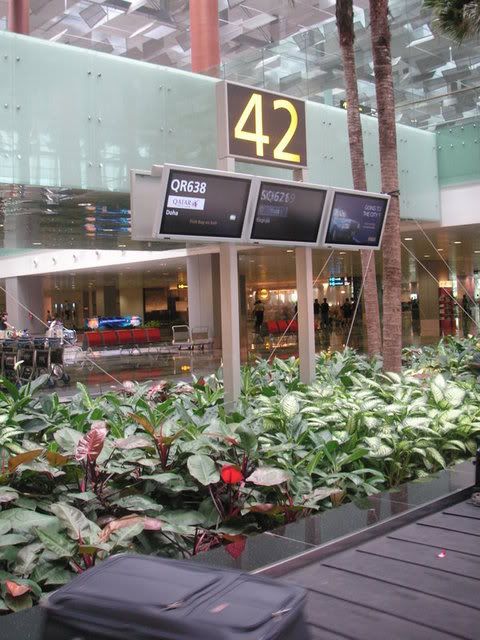 Baggage claim. The baggage claim area at the new Terminal 3 is really impressive. In addition to a feature waterfall, the green wall is sprayed with mist every now and then.


Boarding: 6.5/10
- They were late and took quite a while.
- The whole process was relatively painless though.
- I know the upgrade was a great surprise but I'm trying to look at things from the point of view of a Business Class passenger!
Inflight entertainment: 9.5/10
- AVOD.
- Enough for me really. I don't need EK's ICE to satisfy me. But it is not EK's ICE, so 0.5 points docked there.
Meals: 7/10
- It was pretty average for Business Class.
- Some passengers might have preferred the yoghurt to be served in a bowl instead.
- Trolley service on a medium-haul Business Class?
Cabin service: 7.5/10
- They were professional but I expected more personalized service from the crew in J.
- Joy, despite her age, ran a tight ship.
Arrival: 8/10
- My bags were one of the first to pop on to the carousel, probably only because it had a big, orange "Rapid Transfer" tag on it. Most Business Class bags came out at least three to four minutes before mine.
- While my folks' place isn't that far away from the airport, the fact that it took less me than an hour between stepping off the plane and knocking on my parents' door still impresses me.
Overall: Between 7 and 7.5/10
- The upgrade was a good surprise, don't get me wrong. But as a Business Class flight, I don't think it deserved an 8.

THANKS FOR READING!