**All times are local gate arrival and departure times. Some flight data is from www.flightstats.com and aircraft history from www.airfleets.net**

Date: August 8th, 2008
Flight: Southwest WN 1609
Leg: OKC-DAL
SDT: 10:50a.m.
ADT: 10:53a.m.
SAT: 11:40a.m.
AAT: 11:44a.m.
Aircraft: Boeing 737-300 (Canyon Blue livery)
Seat: 19A
Registration: N328SW, del. Mar. 24, 1988
Dep. Weather: Mostly sunny and humid, scattered cumulus. Wind ESE at 10mph, visibility about 10mi. Temperature around 78F.
Arr. Weather: Mostly sunny. Temperature in the upper 80s, wind SW at 10-15mph. Good visibility, with scattered clouds.
Remarks: I'm not sure about the seat number, but somewhere around that row if not that row itself.
I was pretty excited to go down to Austin again for a family visit, and of course to fly again. Having checked in the day before right on schedule, I had spot A22 locked in. So I got up early and my dad dropped me off at OKC on his way to work. I was expecting the terminal to be busy, it being a Friday, but on the contrary. There weren't too many people at all in the check-in lobby. So I just went up to one of the WN counters, where it was all kiosk check-in only. The gate agent asked me where I was flying to, I replied to Austin via Dallas Love Field. After using my itineary code to check in my only bag (free, of course
) and showing my ID to the agent there, I headed off to the east checkpoint, no later than 4 minutes afterwards. After security, which included a brief check of my ticket and ID, by a TSA agent who looked and smiled at me in a rather strange, peculiar manner, I was in the airside of the terminal. No more than 3 minutes, this definitely was THE fastest I've been through security at any airport. I was told by that same TSA agent that I had come after a pretty big rush, good for me eh. I wouldn't have been there earlier anyway lol.
At any rate, I now had plenty of time to do some spotting. I went and checked my flight's status first, on time and departing from gate 16. So here are some shots from the terminal.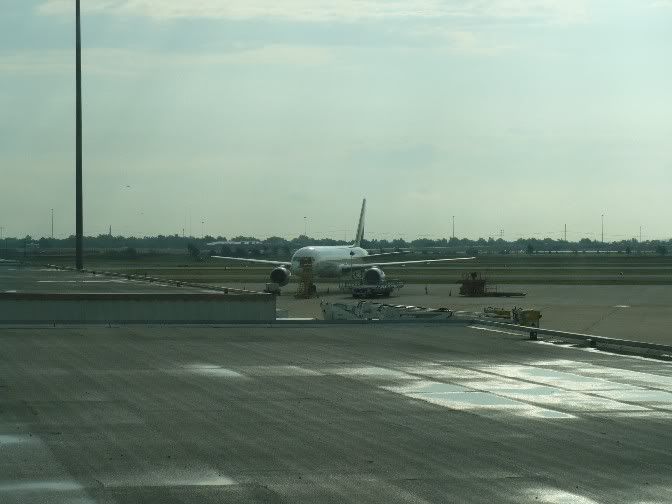 The daily UPS 752F in from SDF, spending the day at OKC before returning back at night.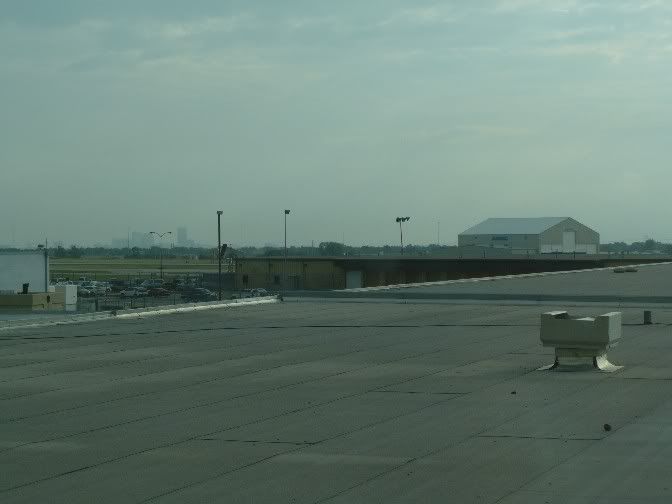 The Oklahoma City Skyline (to the left) in the background with the new ARINC hangar on the east side of the field.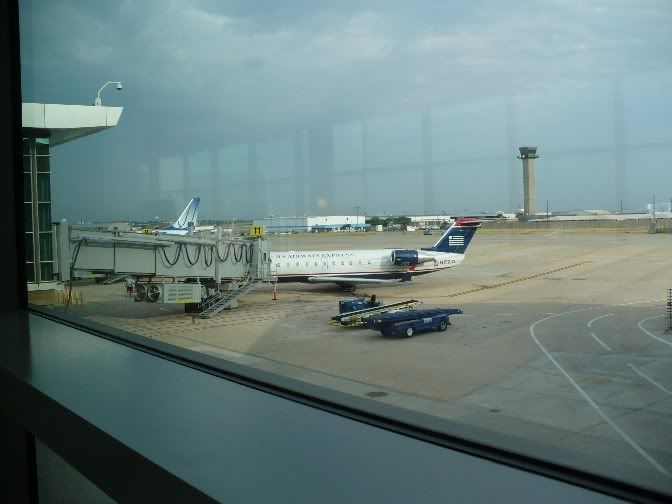 Probably my last shot of a USX CRJ at OKC before its shuts down all ops here.
UAL 735 to DEN
All three WN gates occupied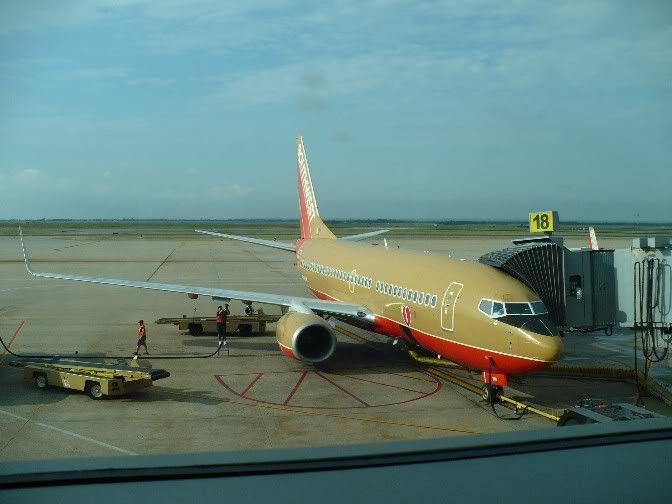 Still some Desert Brown c/s planes hanging around, this one is ship #748.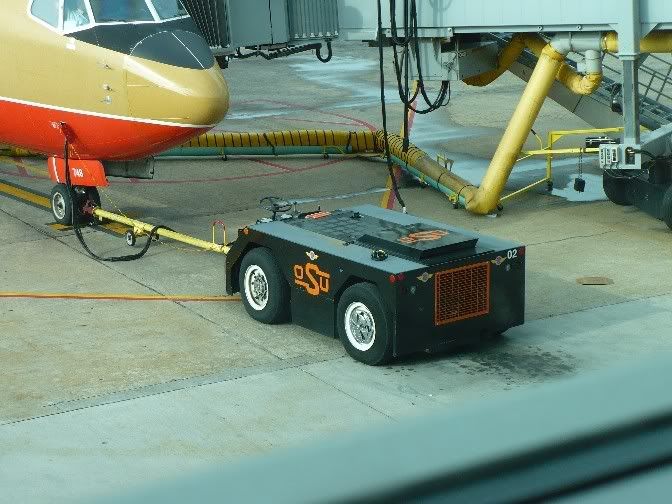 WN has tugs painted after the state's two largest universities. This one is in the Oklahoma State colours.
N328SW coming in from DEN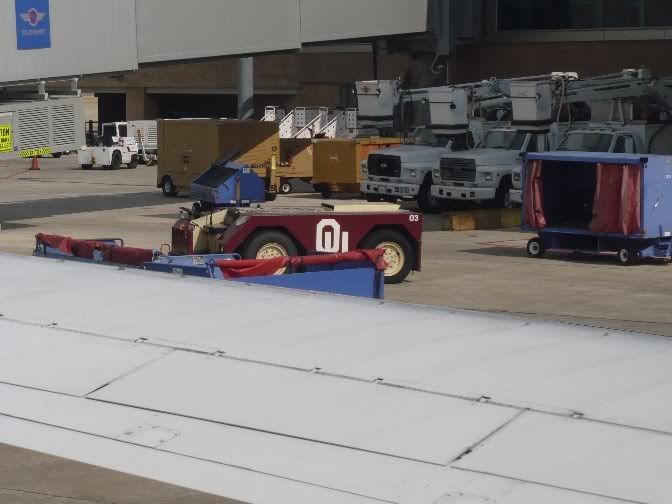 And this one of course is The University of Oklahoma's.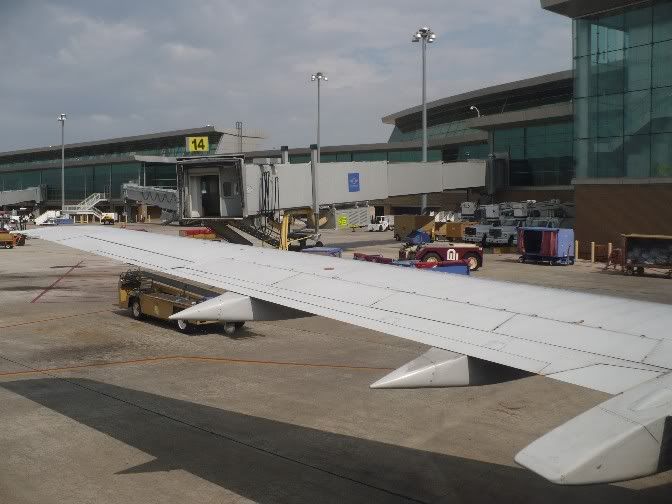 This flight was on the DEN-OKC-DAL-AUS-HRL run. Eventually the aircraft came in from DEN, and in about 10 minutes, pre-boarding was started, followed by the Business Select pax (which are spots A1-A15). The new boarding system implemented by WN is fairly straightforward. There are 6 "poles" if you will, on the very first pole nearest to the jetway entrance/exit, there are two electronic screens on both sides of it. All passengers stand facing the screens to see on which side of the poles they should stand. For the A group, A1-30 is the left screen (left as in standing facing towards the jetway door), and 31-60 is the right screen. Now each pole is clearly marked in increments of five, so on the left side, you have 1-5 on the first pole (so pax with A1-A5 tickets stand between that and the second pole), 6-10 on the second pole, 11-15 on the third and so on, until the last one which is marked 26-30. The same thing is repeated on the right side of each pole, except that the first one begins with 31-35 and so on. The same is the case for those in groups B and C. So anyway, I headed inside when A16-30 were allowed to board. There were a lot of empty seats in the back, which is where I immediately headed. There were quite a few pax headed down to DAL from DEN as well, mostly up front though. So I took A19, I believe, and glued my face to the window (like I always do). WN's new slimline leather seats are very comfortable, and legroom is better than in most other airlines' 737s I've flown in. Some more shots: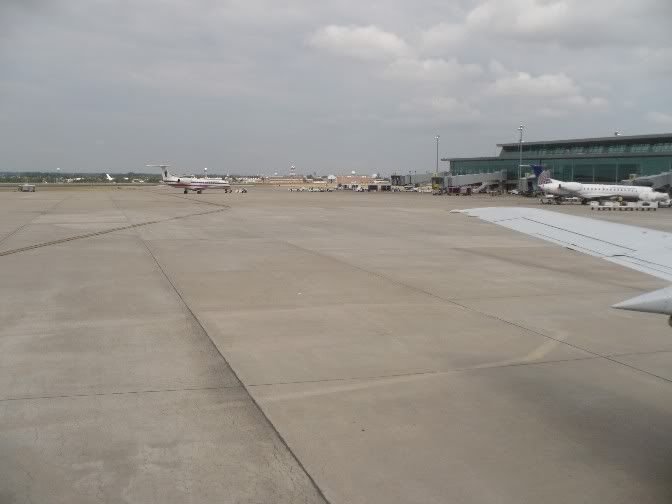 Getting pushed back along with an Eagle 145.
Pushback got a delayed a little, but since flight time was pegged at only 34 minutes it wasn't a big deal. This was a completely full flight, so I was pretty happy I didn't happen to be in the B or worse, C group, most of those only had the middle seats left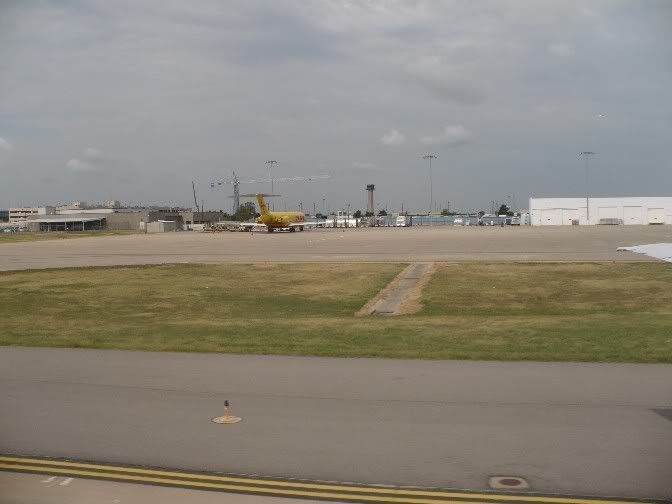 DHL DC 9-30F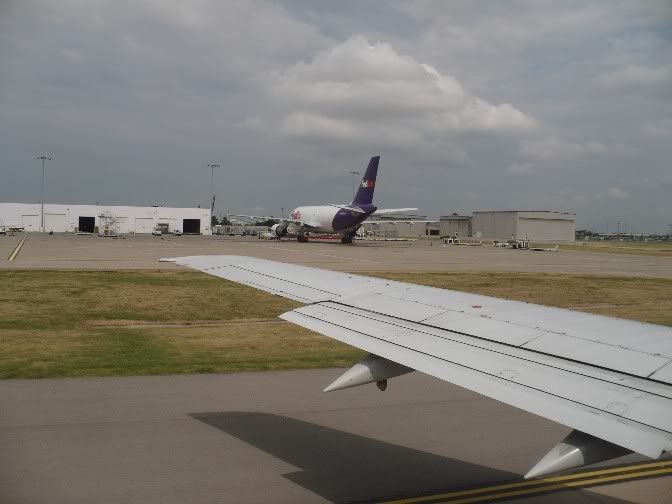 Fedex 310F
After pushback and startup, we headed out to RWY 17L for t/o. I noticed this wasn't the usual WN rapid-taxi I had experienced before, it definitely was slower. Takeoff went pretty quickly, and the FA at the front made a funny comment about 20 seconds after takeoff, something to the extent of now we're at the altiude of 10,600 feet and six inches, so you can go ahead and turn on your electronic items
(I'm not joking). So anyway, here are some more shots.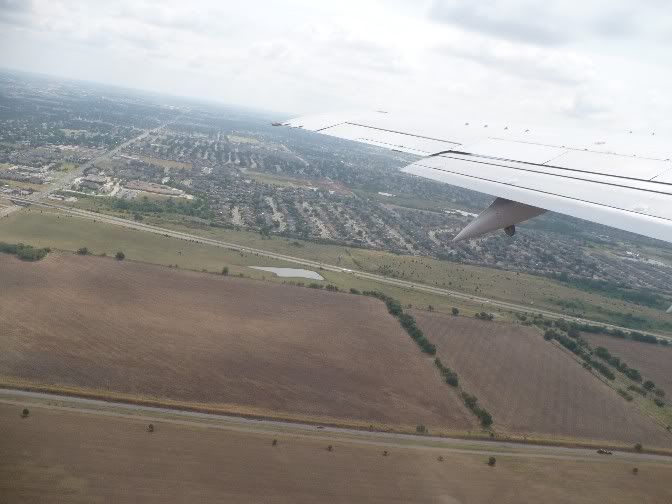 Airborne
Passing through some cumulus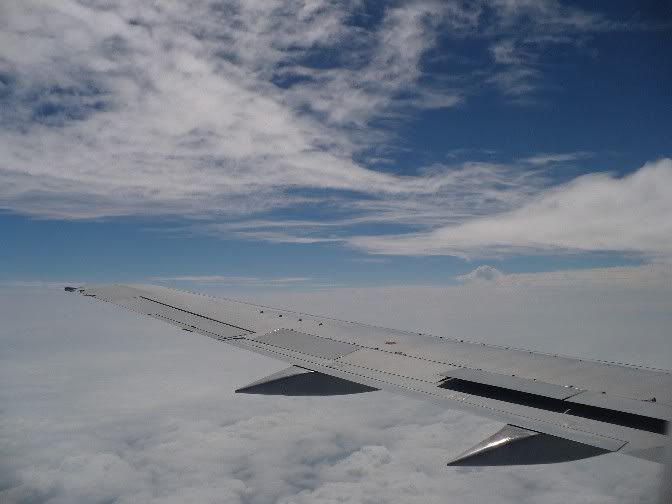 Onboard WN 1609, OKC-DAL. On the descent after about 20min.
Over the northern suburbs of Dallas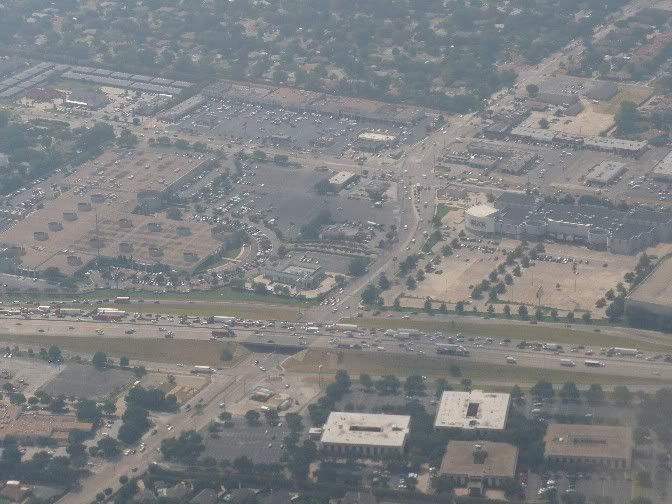 Another one of Dallas's famous traffic jams. This one's on I-635 I believe, and from what I saw was at least two miles long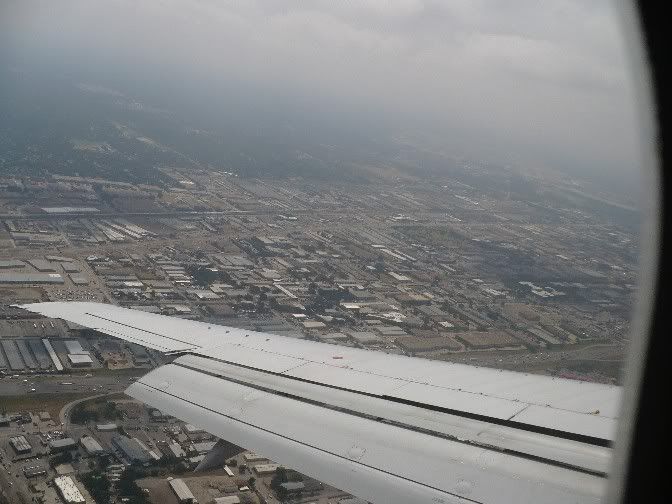 Turning for short final to RWY 13R. Note the field towards the top of the photo, RWY 13R-31L is the one to the right.
The Love Field parking garage. Welcome to Dallas Love.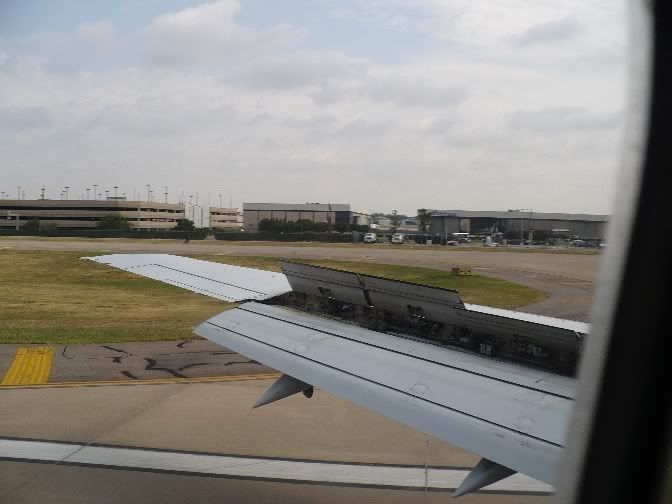 Gulfstream building in the distance.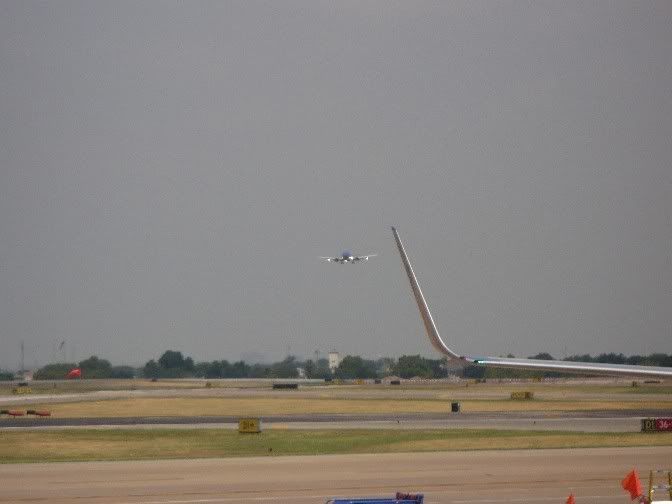 Traffic on approach, hmm, yep, another WN 737.
The FA's came around to take drink orders to save time, so only those that wanted something would need to be served. After peanuts and coke (which I had), we were already on descent to DAL. The final approach to DAL took us over northern suburbs of Dallas and after going SW for a while we turned left for a short final to RWY 13R. Full reverse thrust followed soon after touchdown, which was a little bumpy. After that, it was a quick taxi to the gate. The FA at the front welcomed us to the Dallas area and mentioned "...the safest part of your journey is over, be careful out there, crazy traffic..."
Then while approaching the gate, "...home of Ross Perot, the Cowboys, the Mavericks, the Stars..." and then the lady FA at the back announced "Also the home of your flight attendant here at the back" to which most everyone laughed. About 90% of the pax got out at DAL either for connecting flights or to head back home. I relaxed a bit while the FA's came around and did a continuing pax count for those headed onward to AUS. I should mention that the FAs on this flight were pretty cool and freindly, chatting with other pax as well.
In no time at all, other passengers were coming in for AUS or HRL. So I put my seatback up again and waited till pushback.
Flight: Southwest WN 1609
Leg: DAL-AUS
SDT: 12:05p.m.
ADT: 12:05p.m.
SAT: 12:55p.m.
AAT: 12:53p.m.
Aircraft: Boeing 737-300 (Canyon Blue livery)
Seat: 19A
Registration: N328SW, del. Mar. 24, 1988
Dep. Weather: Mostly sunny. Temperature in the upper 80s, wind SW at 10-15mph. Good visibility, with scattered clouds.
Arr. Weather: Mostly sunny. Temperature in the mid 90s, winds SW at 10 with higher gusts. Visbility 10 mi., partly cloudy.
This flight was 100% full also, so again most of the C group coming in had no choice left but middle seats. After the usual anouncements and pushback, the engines were started and we headed out to 13R again, the "Southwest Runway."
I noticed we held short of the runway on Charlie 6, which isn't at the full length of the runway, so there was apparently some work being done further up which I couldn't see. Takeoff was pretty quick again, and we headed south to Bergstrom.
The skyline and a WN jet, guess there's no doubt about where we are! Holding short of 13R. Note the wind sock.
Off the runway again for AUS.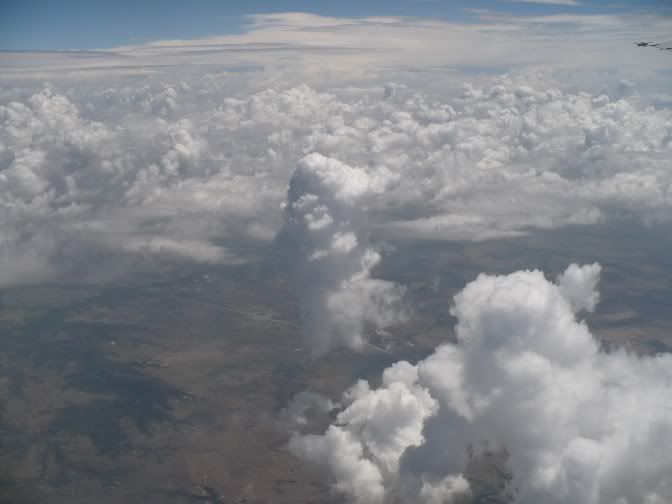 That's one funky-looking cloud, looks as if though it's got some legs below there.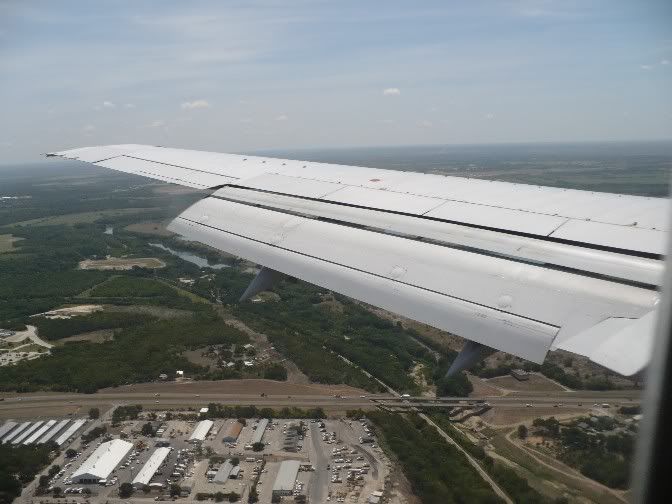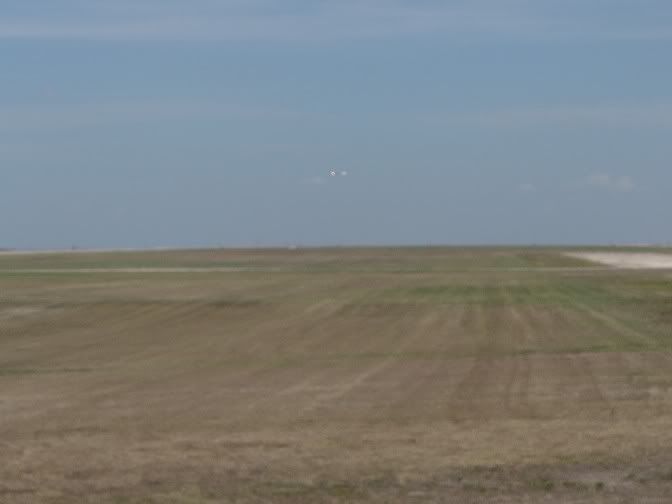 This AA M80 was behind us on final as well.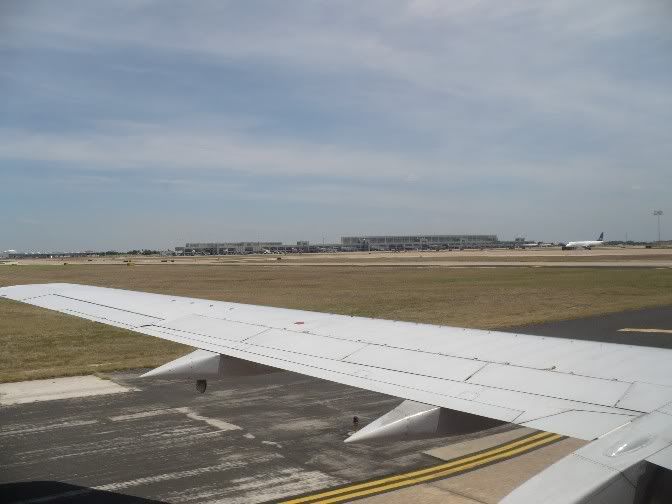 A pretty quiet AUS terminal on the rampside, inside though it was busy as usual.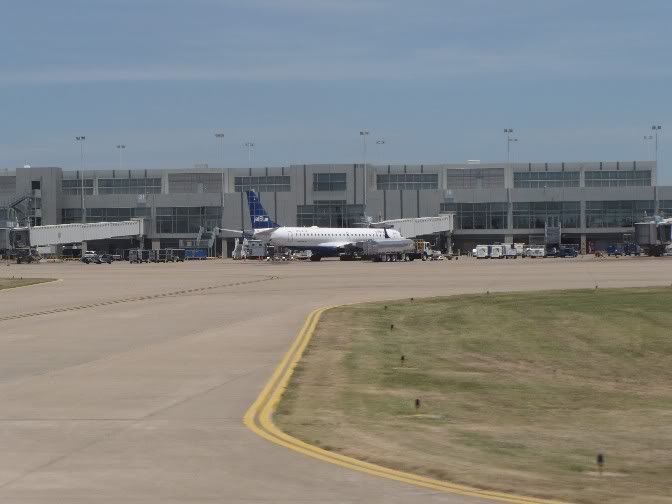 Approach to AUS was quite bumpy with some moderate chop in areas. It smoothed out once the gear and flaps were deployed for a 17R landing. Landing was pretty decent considering the heat and wind conditions. Having heard AUS ATC transmissions online a few months back, I already knew which runway was in use by all airliners. 17L-35R was being worked on, and only the first 5,000 feet were available from the 17L end, so that effectively changed it into a GA-only runway. Just some FYI. Anyway, after exiting RWY 17R at Tango, we headed to the WN gates. My bag arrived within minutes of getting to belt 4, and I met my sister and brother-in-law, and we headed on out.
Overall, another good experince with Southwest, no complaints here.
My next flight review will cover the return flights. Happy Flying. Feel free to leave questions or comments.
Happy Flying!