**Note: All times are local gate arrival and departure times. Some inflight data is from www.flightstats.com and aircraft reg data from www.airfleets.net This is the return flight review for my trip to Austin, if you're interested in reading the outbund review, just click on this:
http://forums.jetphotos.net/showthread.php?t=44775

Date: August 10th, 2008
Flight: Southwest 1191
Leg: AUS-DAL
SDT: 2:40p.m.
ADT: 2:44p.m.
SAT: 3:35p.m.
AAT: 3:34p.m.
Aircraft: Boeing 737-700 (Canyon Blue livery)
Seat: 19F
Registration: N428WN, del. Nov. 14th, '02
Dep. Weather: Mostly sunny with scattered cumulus. Wind westerly at 10-15 mph, visibility about 10mi. Temperature around 95F.
Arr. Weather: Mostly sunny. Temperature in the mid 90s, wind SW at 10-15mph. Good visibility, with scattered clouds.
So the weekend went fast but it was pretty fun, and I just chilled out for the most part. My sister and brother-in-law dropped me off at the AUS terminal a little after 1:00p.m. and after a little chat, I went into the terminal to check in my bag. It was kiosk check-in again, and after getting my bag tagged and through-checked to OKC, I headed to the center checkpoint, which is directly across from WN gates 8 and 9. I looked at a departure board, my flight was to depart from gate 7. Plenty of other traffic was headed out from AUS in the next hr and a half as well, including AA M80 departures to DFW, SJC and ORD, and WN flights to MDW, HOU, FLL, SNA, and then some other traffic as well, including a NW Airlink CR2 to IND and a DL CR7 to CVG. I headed off around the terminal to get some spotting done.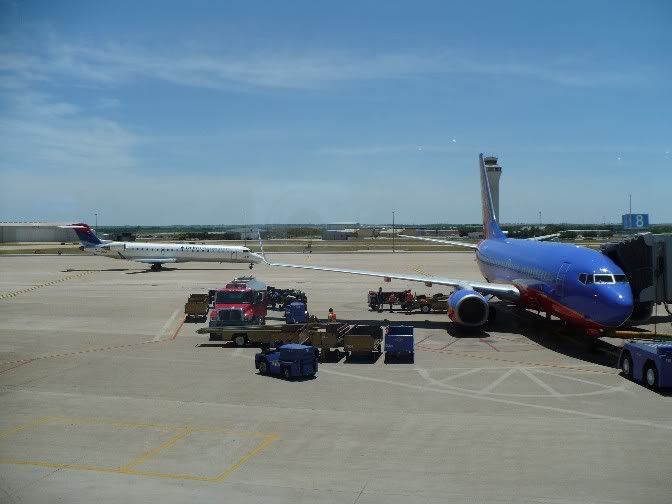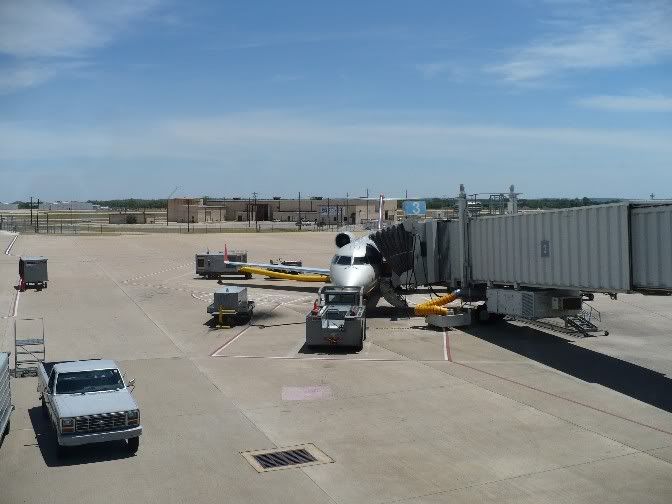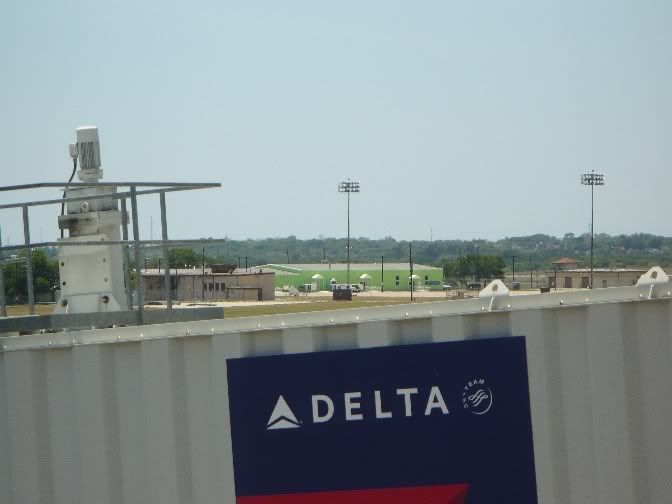 The new South Terminal at AUS, the only ultra-LCC terminal in the U.S. Only being used by Viva Aerobus for now.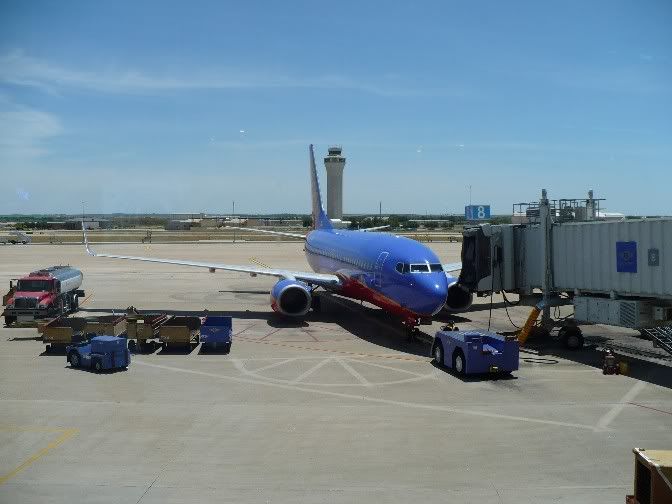 Soon it was time to board, so I headed back to the departure gate and waited. A WN 73G was already there. This meant me having been in all of WN's fleet types and my 19th 737 flight.
This flight was on the PHX-AUS-MSY-TPA-PHL run. Pre-boarding was started first, followed by Business Select again, A1-A15, then A16-30. I had spot A20 for this leg. It's interesting to note (and funny at the same time) that WN's boarding pass scanners make the exact same DING! sound each time the barcode is held under the scanning light. It's basically an approval that you are now indeed free to move about the country! There were a fair number of pax continuing onwards to DAL (and some maybe even to MSY) sitting in the front part of the cabin, so I just made my way over to the rear part and took seat 19F. I noticed that in WN's 73G, the seat rows are staggered, and not aligned like in the 733 and 735. After the usual intro and safety briefing, we got pushed back. The FA doing the announcements mentioned that the runs between AUS and DAL are on the second shortest route in the entire WN system (app. 30 min once airborne in either direction). I wonder which is the shortest then? Somewhere in the northeast? Anyway, after startup and flap deployment, the PIC taxiied the plane to RWY 17R.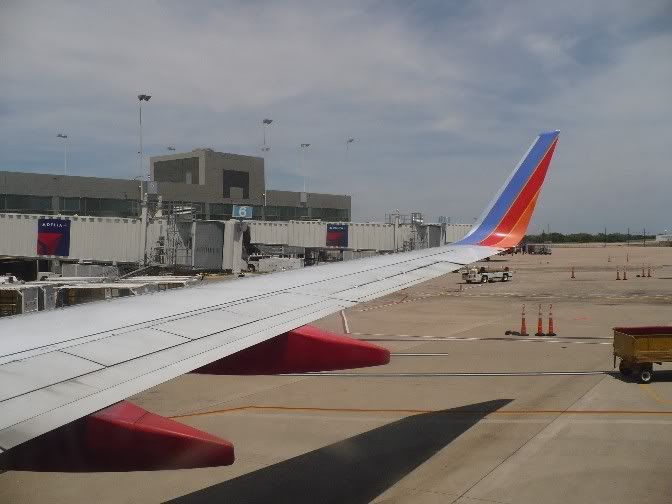 Looking east. Onboard WN 1191, AUS-DAL.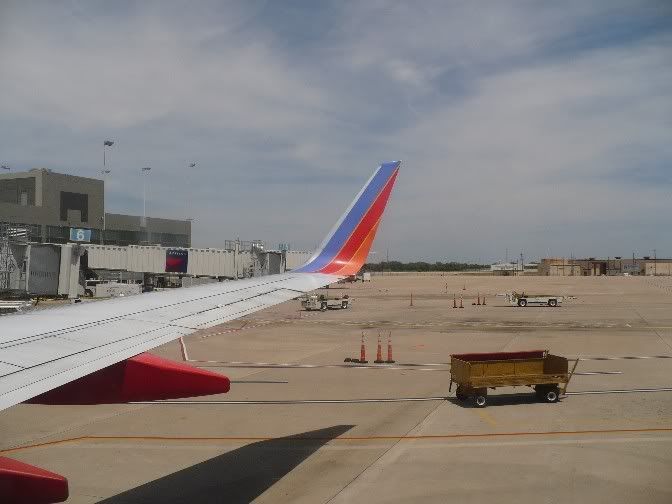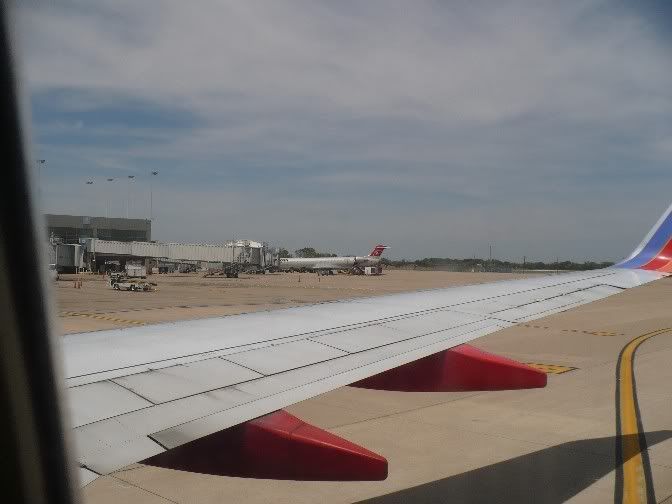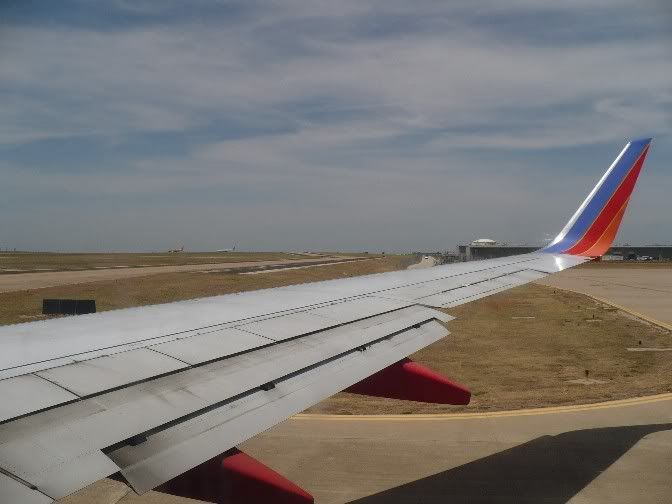 There were a few jets ahead of us holding short as you can see, namely another WN 737 and a B6 190 behind it, and there were also some arrivals coming in as well. We had to hold short for a while, but it was pretty interesting to watch a DL M88 "cut in" ahead of an M80 on final. We got clearance for takeoff while that second M80 was about 2 miles out, now that was cool. After an obvious rolling takeoff we headed back northbound. The FAs came around to take drink orders, I didn't have anything since I had eaten a big lunch and was still full.
I'm guessing this is the swan tail, not sure though.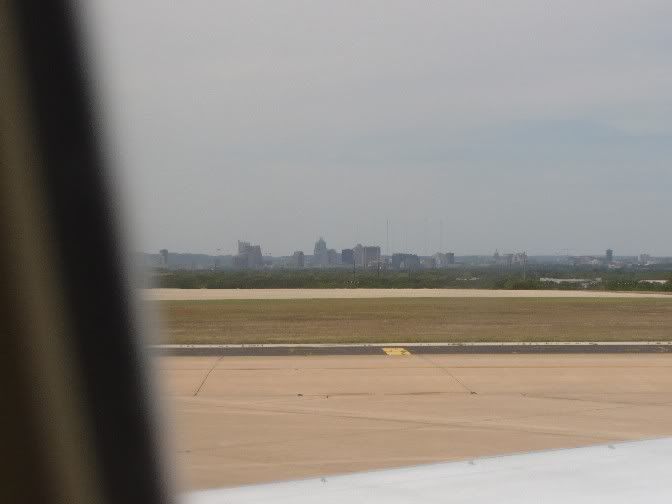 Downtown Austin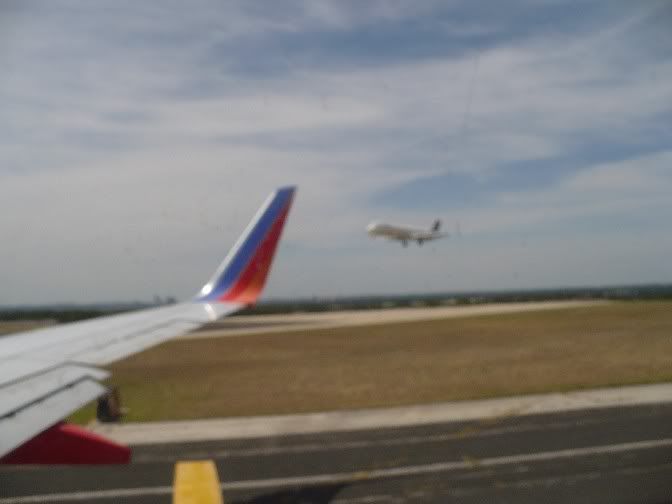 Sorry, camera screwed up.
Most likely a grass fire. It was another 100-degree day in Austin.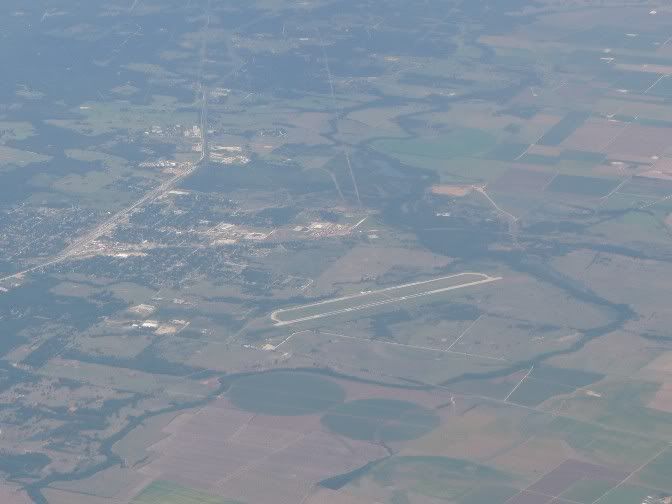 I don't know which airport that is, if you can identify it, props to you!
What's with all these "lots" dotting the landscape?
After coming in from the north side of the field, we made a RWY 13R landing. The PIC really powered the engines hard after deploying the reversers, I actually felt a nose-down pitch and had to lean back in my seat and grab the handles
That definitely was some of the hardest braking I've experienced as well. After a short taxi to the gate, I got off and headed into the west concourse.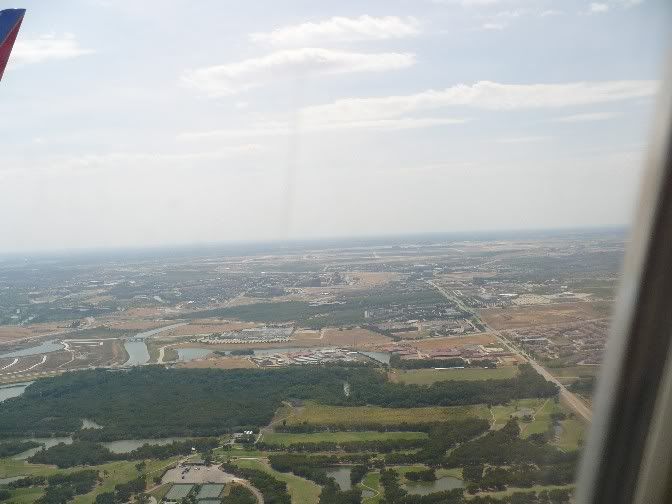 That is DFW in the distance.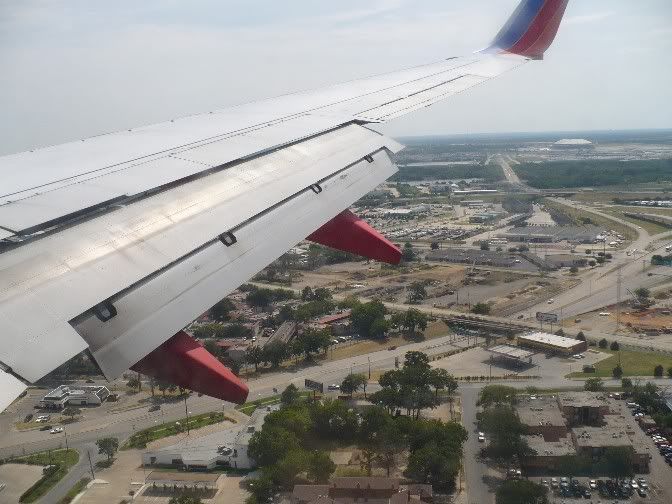 Short final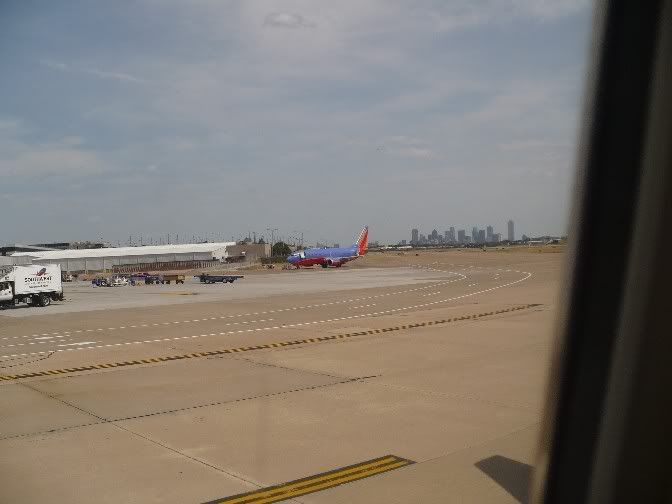 Flight: Southwest 1469
Leg: DAL-OKC
SDT: 4:40p.m.
ADT: 4:50p.m.
SAT: 5:30p.m.
AAT: 5:33p.m.
Aircraft: Boeing 737-700 (Canyon Blue livery)
Seat: 19F
Registration: N498WN, del. Jan. 21st, '05
Dep. Weather: Mostly sunny and humid, scattered cumulus. Wind westerly at 10-15 mph, visibility about 10mi. Temperature in the mid 90s.
Arr. Weather: Partly cloudy. Temperature in the upper 80s, wind N at 10mph. Good visibility, with scattered clouds.
I wanted to go into the main terminal but the west concourse has its own security checkpoint, and with a short connecting time I didn't want to venture out of there and come back to see a long security line. So I just hung around and made my way up and down the concourse taking some photos.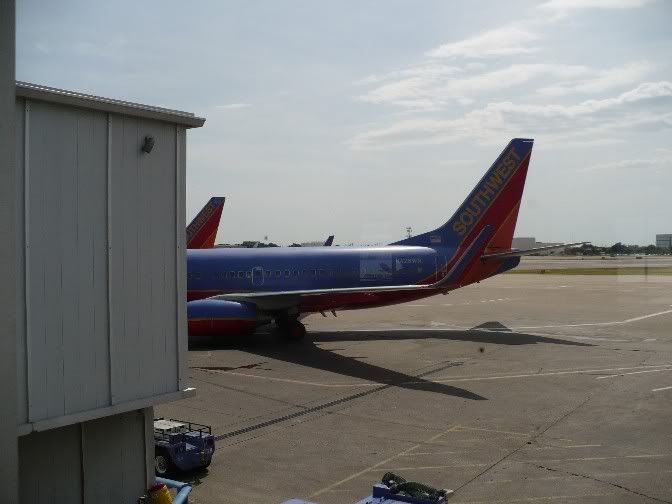 My plane from AUS, now being prepared for MSY.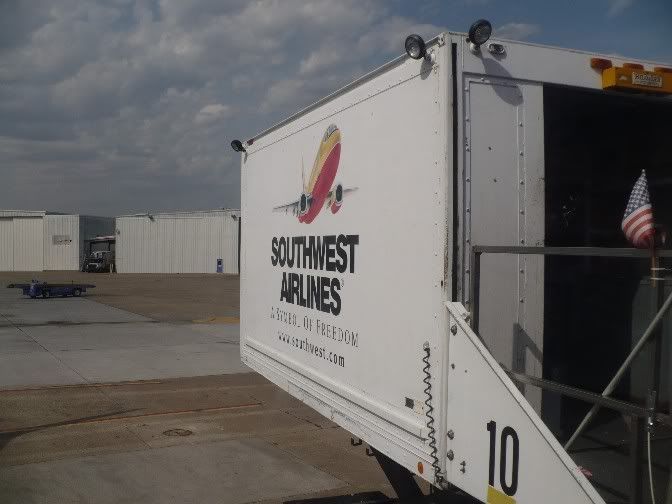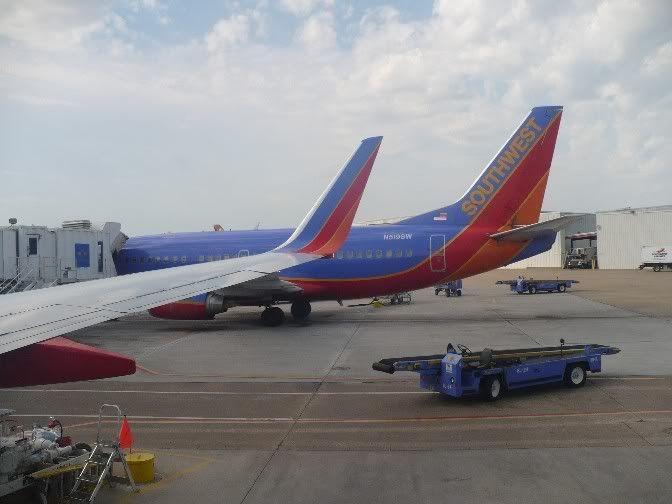 Hmm, do I see what I think I'm seeing?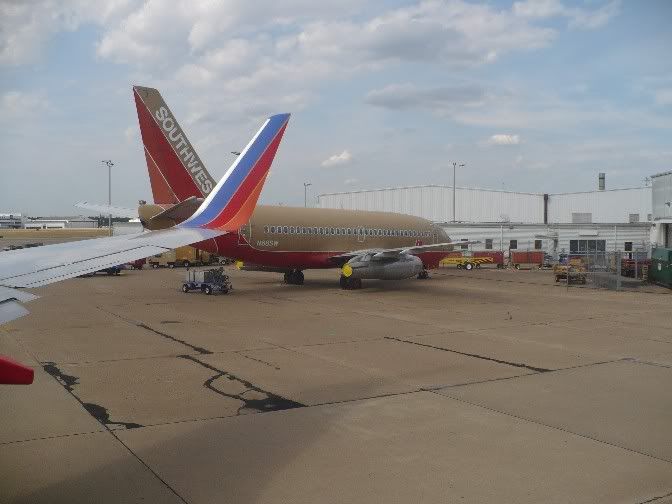 Yes, it is! I was elated to see a WN 73Q this long after the fleet retirement. Definitely the surprise of the day.
Gate 10, the departure gate for my flight to OKC has a holding room too small for a full load of pax anyway, so I went to the holding area about 15 min before boarding. The aircraft didn't arrive until 4:25 though so boarding started at around 4:34. So obviously the flight would be a bit late departing but what followed soon after boarding was efficiency only WN can manage (then again being at an airport like DAL helps also). There were some pax already in their seats continuing on to OKC or DEN, so all of us "new " passengers were allowed to board rather quickly. This was yet again another 100% full flight. Boarding was done in about 10 min. We got pushed back at 4:50p.m. After engine start and flap deployment and all that jazz, the 'craft was taxiied to RWY 13R, this time though, the WN-style rapid-taxi was evident
We got immediate clearance for takeoff, and at 4:55, the CFMs were spooled up. Amazing.
Dallas skyline, again.. lol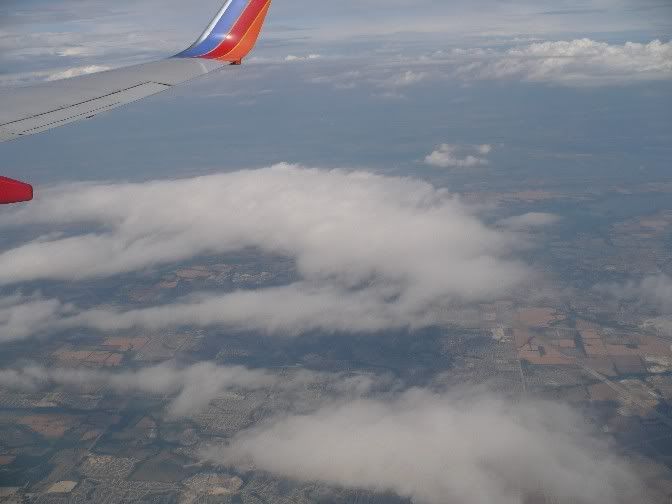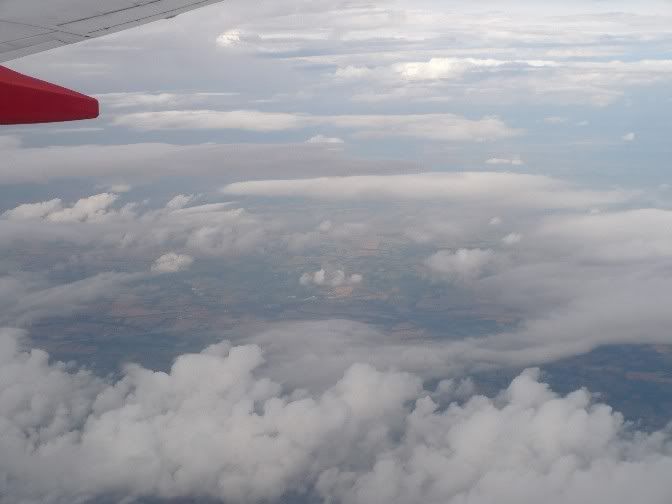 Heading towards some storms. Onboard WN 1469, DAL-OKC.
After getting airborne, we flew the runway heading for a while and then banked left and looped around for OKC. This time I had a coke since I was pretty thirsty. About 10 minutes after takeoff we started heading towards some summer-type storms, and dodged some particularly heavy cores near the Red River over southern Oklahoma.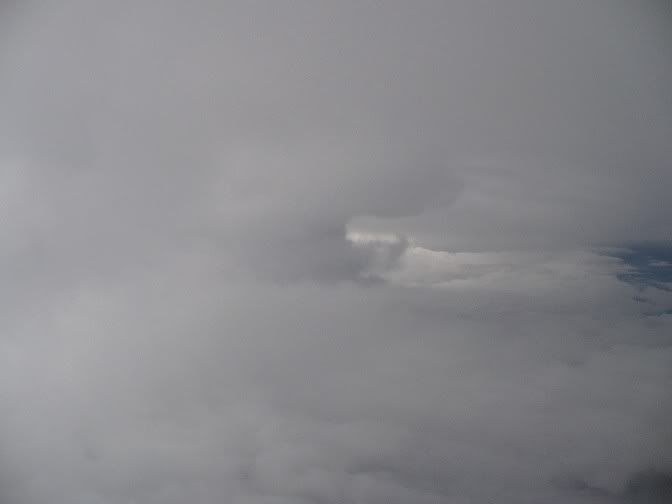 Dodging some cells over southern OK.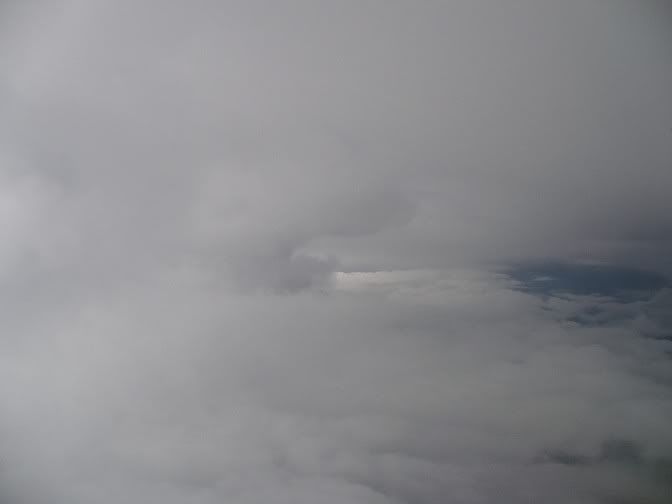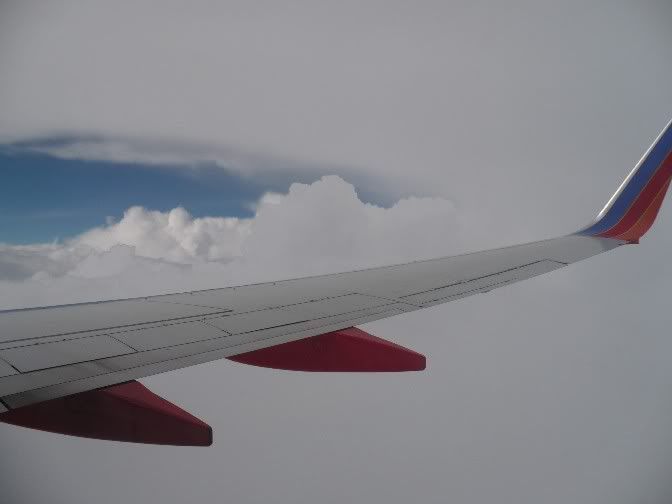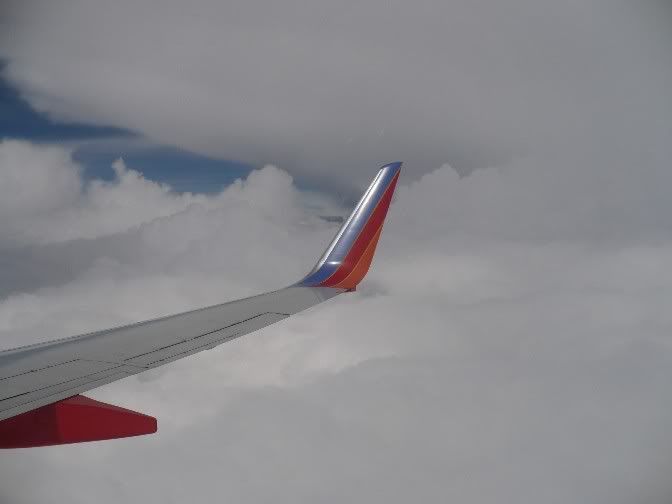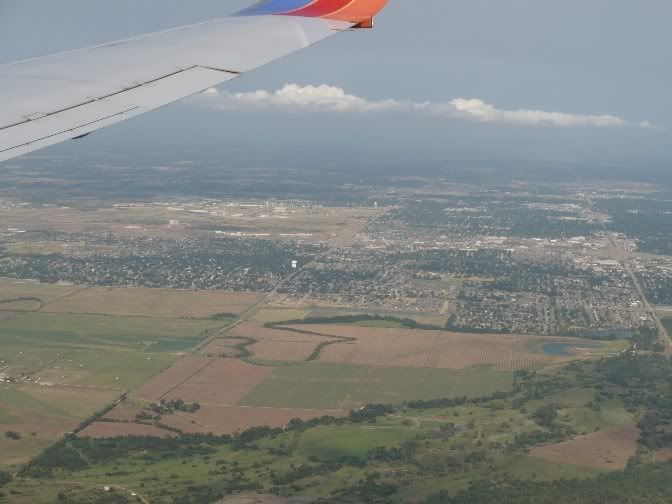 City of Norman and Westheimer Field, left center.
Three-Hundred!
Soon after, descent was started and I gulped down the rest of my coke. Initially, the pilot told us that winds were out of the south, but on getting closer to Will Rogers he said they were out of the north at around 10mph. Drat, I was hoping to get some overhead shots of Norman and the OU Campus. Next time maybe. Anyway, the approach was a little bumpy again, and after a hard landing on 35R, we taxied to gate 16 after exiting on Golf. I headed out of the plane and down to baggage claim, where my bag was out in minutes, and then outside to wait for my parents.
Overall, another great set of flights with WN, no complaints.