After tax return with a bit of spare money left over it was time to head back to Tassie again. My last trip down there was late June but never posted a trip report on that one as it was only a quick trip (BNE-SYD VH-VOU, SYD-LST VH-VOV, LST-SYD VH-VOM, SYD-BNE VH-VXH) So this time i planned to go on one of the Embraers for the first time. So my booking for the way down was OOL-SYD-CBR-MEL-LST on both the E170 and the E190 as part of the trip.
August 16 2008
OOL-SYD
Virgin Blue
DJ500
737-800
VH-VUO
Seat 7A
The first leg was a OOL-SYD on the 737-800, and as usual webchecked and had all my passes already. Boarding finally called and the walk out to the aircraft imedidatly seen it was VUO from a distance as she has no Live-2-Air. Good to get a ride on the new girl.
Onboard in Seat 7A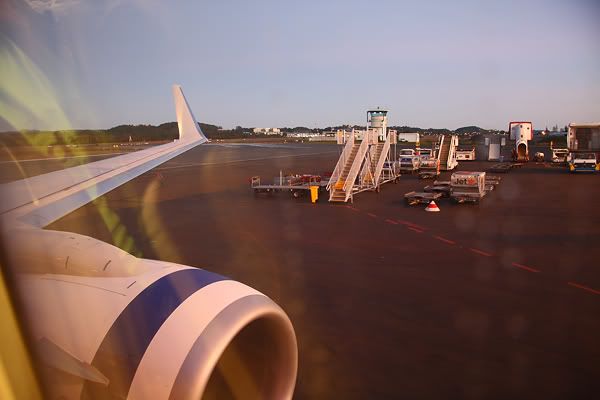 We taxied to runway 14 and took off fro SYD. Here passing the Tweed River on Take off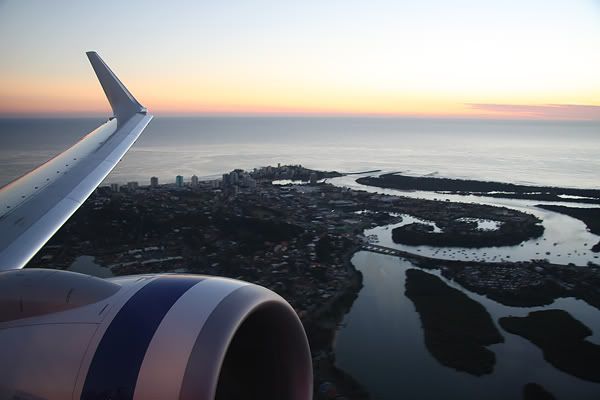 Uneventful flight into SYD. Decending past Bondi.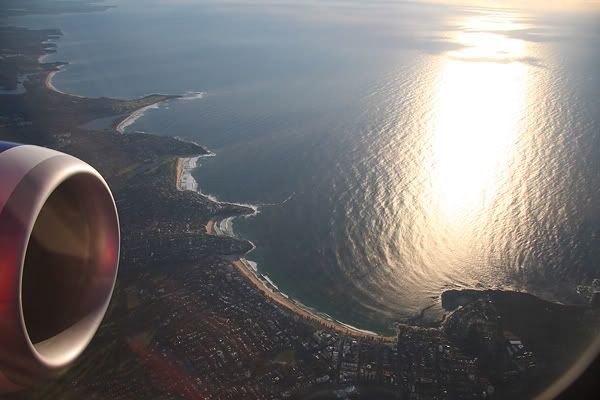 On finals for Runway 34R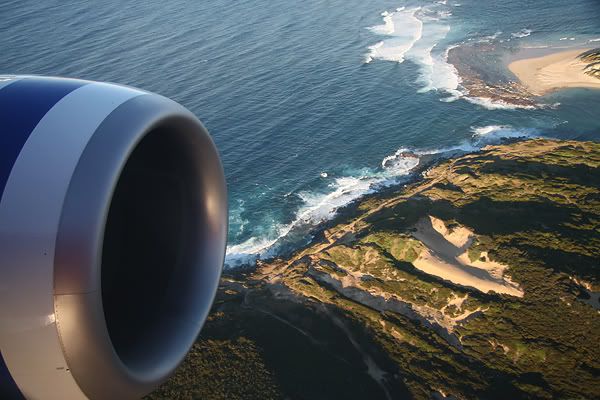 About to Touch down 34R
August 16 2008
SYD-CBR
Virgin Blue
DJ910
E190
VH-ZPF
Seat 18F
After getting off VUO i went to grab some breakfast then headed to the end of the Virgin Terminal to await my next flight. Originally this flight was meant to be operated by the E170 but ended up being changed to the E190, it was a little dissapointing but im sure ill survive
The E190 arrived and it was the brand new VH-ZPF only her second day in service which was a fantastic bonus. Boarding call was made and i made the short walk to gate 38 were to my surprise i was last to board, i step foot onboard my first Embraer in the mean time ducking my head so i didnt hit the roof
i noted around 20 pax already onboard amongst the first few rows and i made my way all the way to row 18. I had around 14 rows to myself which was great!
ZPF being sparkling new was nice and clean and the seat pitch was pretty good also.
Seats onboard the E190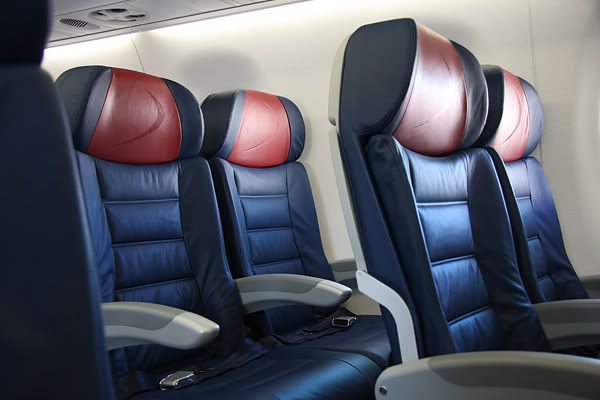 Parked next to VH-VUN
Passing by VBZ who will be doing SYD-LST and were i will eventually end up later this afternoon
Holding short of 34R as VBL is landing. VBL was parked next to us in OOL and was the second OOL-SYD flight for the day.
Took Off 34R and made the quick right turn for the quick 25 mins flight and gave us a good view of Sydney airport.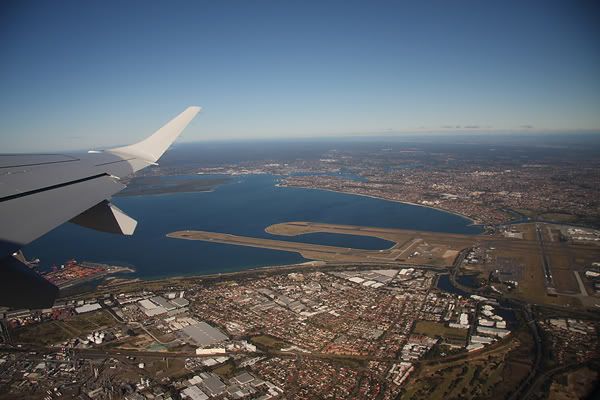 In cruise to CBR.
On finals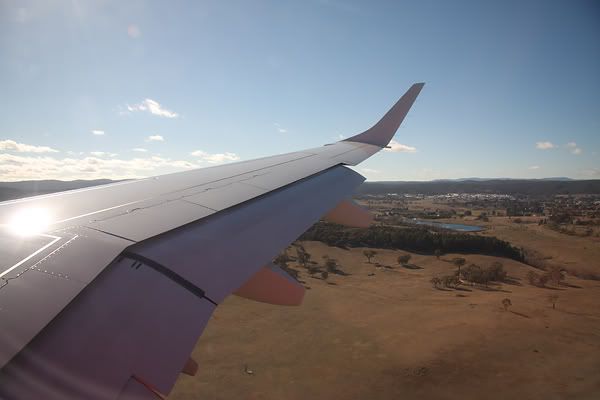 Touchdown my my first flight into Canberra
Welcome to Canberra
Arriving next to ZPD...
A shot of the E190 cabin after arrival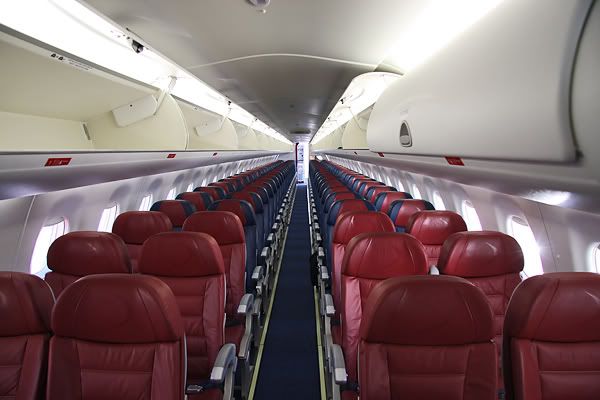 August 16 2008
CBR-MEL
Virgin Blue
DJ714
E190
VH-ZPC
Seat 6F
After getting off the plane and not finding much in the terminal, infact it was quite boring
i found myself just watching the footy (Port V Pies) awaitng my next flight. After some time she arrived and i noted it to be ZPC. This flight i will be seated in 6F which i can tell you is not very photo friendly, infact all the seats infront of the emergancy rows are very difficult for photos as the seats are positioned to cover the window, but i made do.
Pushback from the gate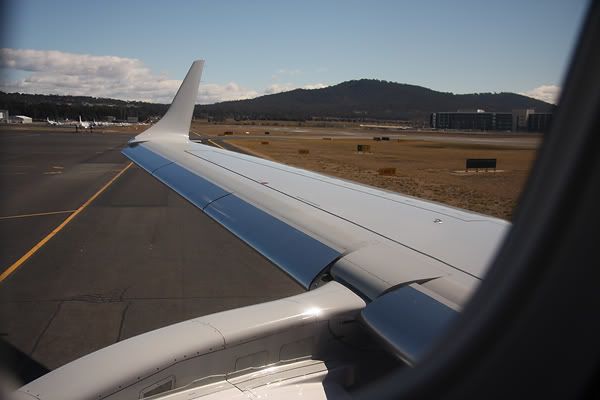 Lift off
On decent into MEL
It was a terrible day in MEL
We landed Runway 16 and taxied straight to our gate
August 16 2008
MEL-LST
Virgin Blue
DJ606
737-800
VH-VOQ
Seat 18A
Again i grabbed somthing to eat and took a seat at gate 9 where the was no one around. I didnt really get the camera out as it was a pretty dull day. I sat around awaiting my aircraft which was meant to be a -700 which i was so pumped for as i have managed not to get a -700 since December 07!!! So as time passed my plane arrived and would you belive it has changed to a -800
and to make things worse it was VH-VOQ again!!! so will be the 5th time on "Peta Pan"
Not so nice day in MEL
As we pushed back the sun came out for some time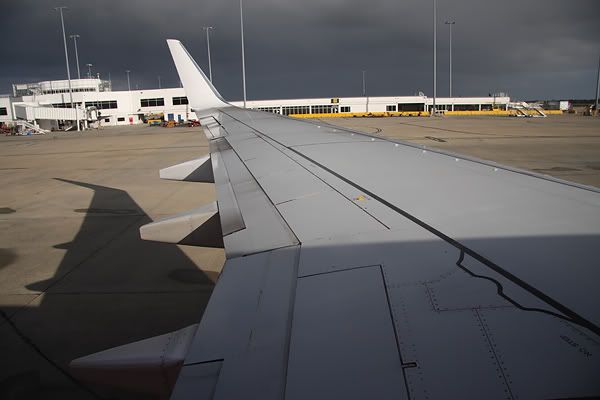 Taxing to Runway27 as a rainbow pops up
Lined up on 27 as dark clouds loom over Melbourne
Lifting off 27 with some large deflection just to keep us going straight down the runway
In cruise to LST
We got very high for such a short flight, i timed our cruise which lasted 1min 15secs
This is were we are just as we reach top of climb, basically just about in Tassie
We made a straight in arrival for Runway 14, here passing Launceston City
Touchdown Runway 14
Taxing back to the terminal i spot Mr Joel Austin spotting my arrival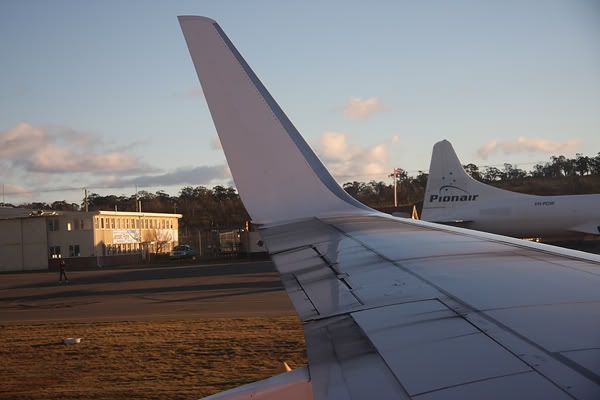 As i jump off the Back stairs JQX taxied right past so i grabbed a quick shot
JQX pulling in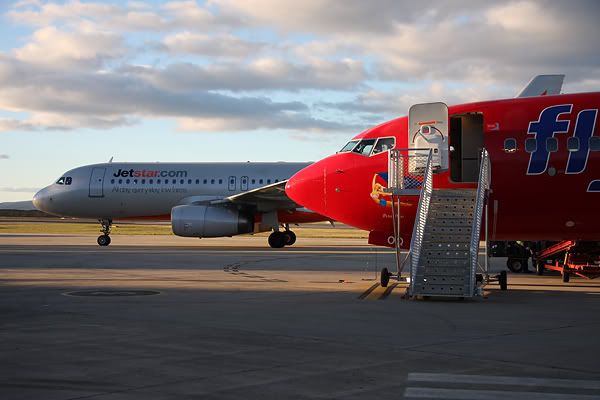 I headed into the terminal and met up with Joel and headed to the Aeroclub to get some shots of the departures on such a lovely afternoon
VOQ rotating back to Melbourne
TQM also back to Melbourne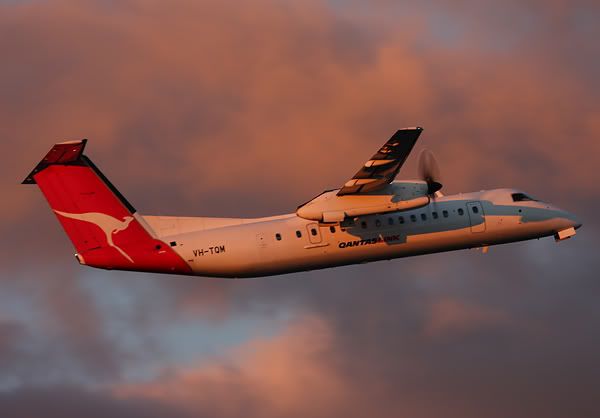 The fantastic scenery surrounding Launceston, you can see why i always some back here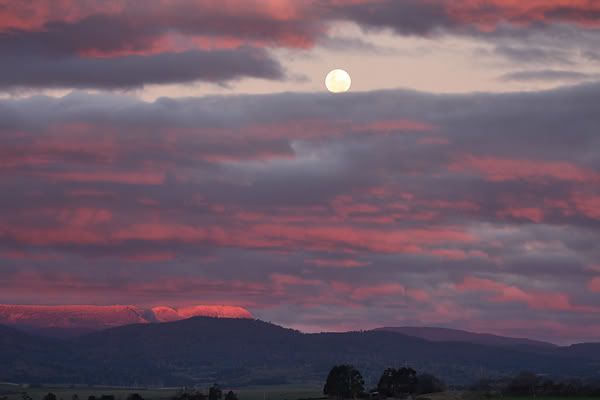 JQX departing after the sun had set and passing the moon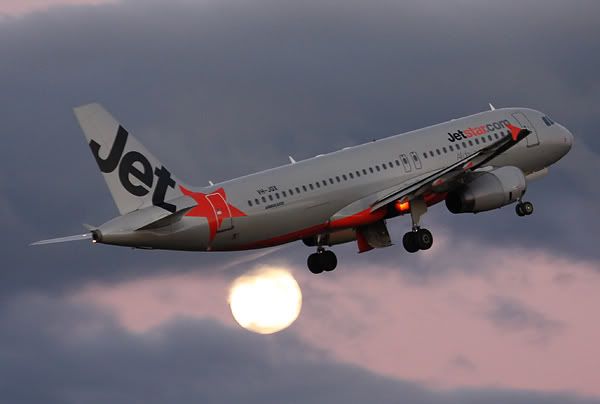 After 4 days it was time to head back again.
August 19 2008
LST-MEL
Tiger Airways
TT7137
A320-200
VH-VNF
Seat 19A
On the way home i had picked a couple of Tiger Airways flights just to see if i could get my last remaining aircraft to complete the fleet (VH-VNB) Plus they were only $29 anyways
On my 3 previous flights on Tiger i had got VNC,VND and VNF. So i arrived at the airport and checked in then headed to the railway with Joel for some spotting. My Tiger finally came in infact it was early. It was VNF, oh well maybe next time. So we headed back to the terminal and i headed to the gate. I was meant to be seated in 19F but the flight was near empty so i moved across to 19A to see if i culd see Joel below
My Tiger Arriving
Good Bye Launceston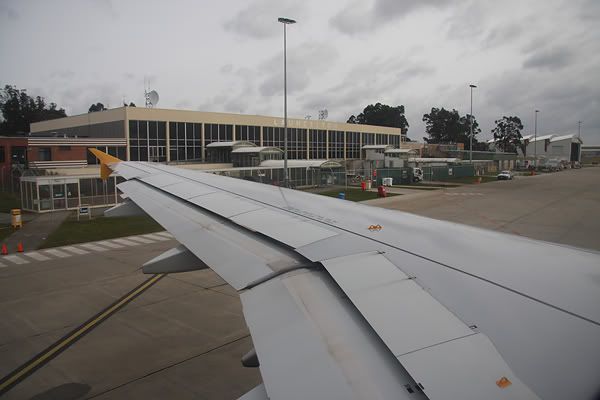 Lining up 32L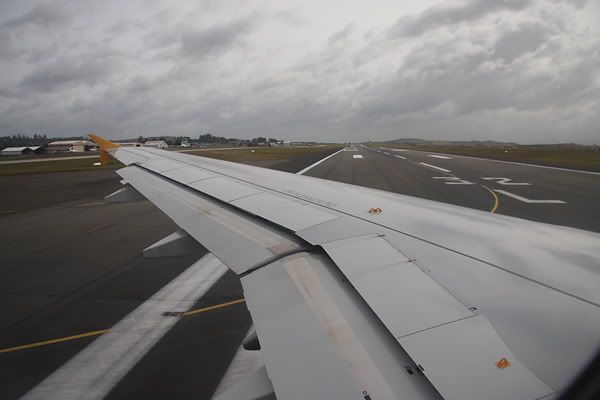 An empty flight meant we lifted off very early, as usually we are rotating around were we are now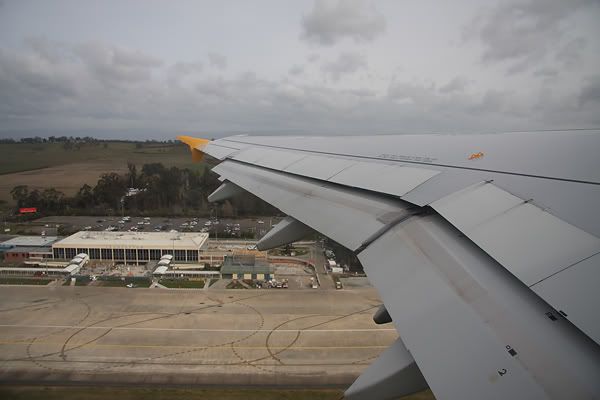 Crusing past the suburbs in Melbourne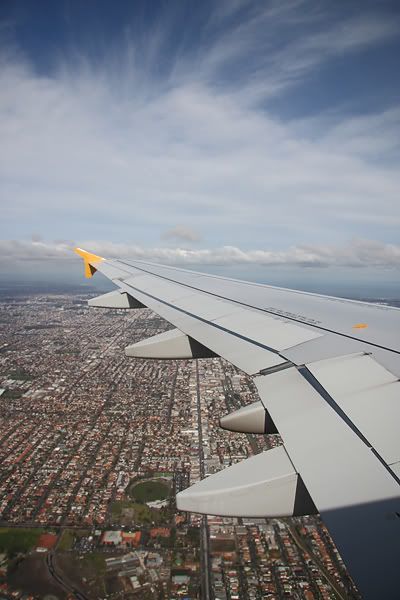 Melbourne CBD in the distance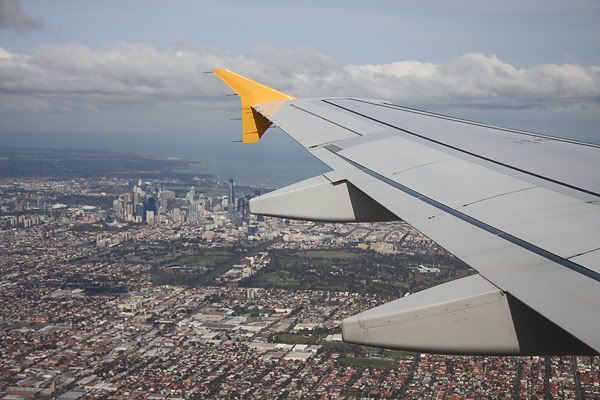 Touchdown 34
Spotting myself in the reflection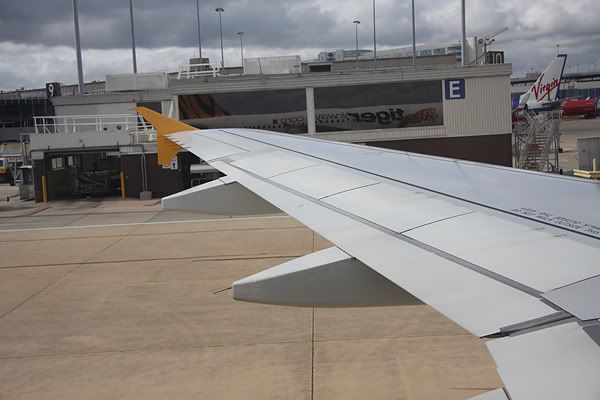 August 19 2008
MEL-ADL
Tiger Airways
TT7306
A320-200
VH-VNB
Seat 8A
As i jumped off i checked in for my next Tiger flight to Adelaide this time. I just hung around in the Tiger terminal and figured my next flight was to be VNF also, there was one flight arriving 30mins before our departure but i didnt think that it wuld do the ADL leg also. Boarding was called and i made my way out to see VNF deserted (Must have the day off) and would you belive VNB!!! i was so happy, now i have comleted the fleet, what luck! All 4 in only 5 flights.
Onboard and parked next to 3 747F!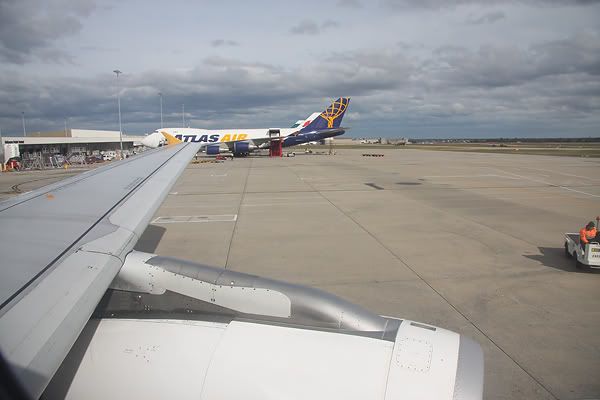 The 3 747F's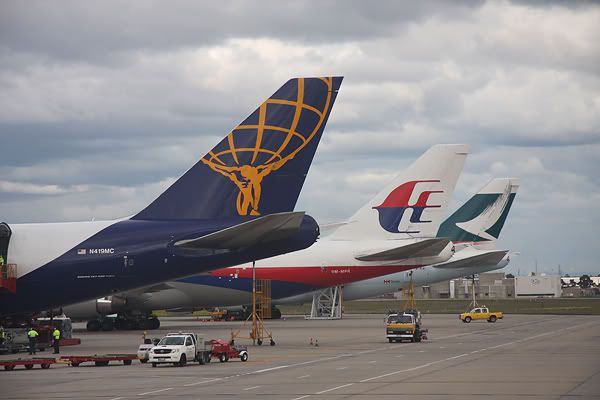 Lift off 34 passing 09/27
Tiger cabin
On decent into ADL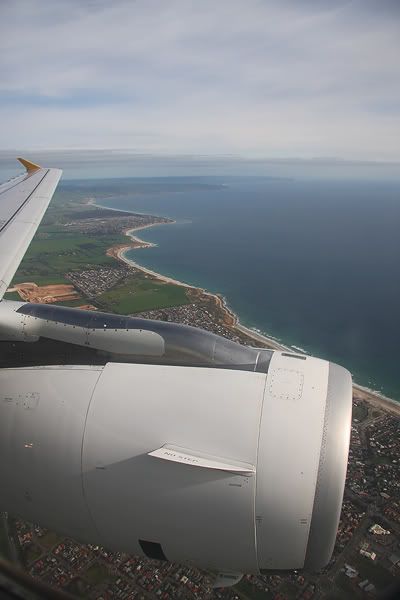 On finals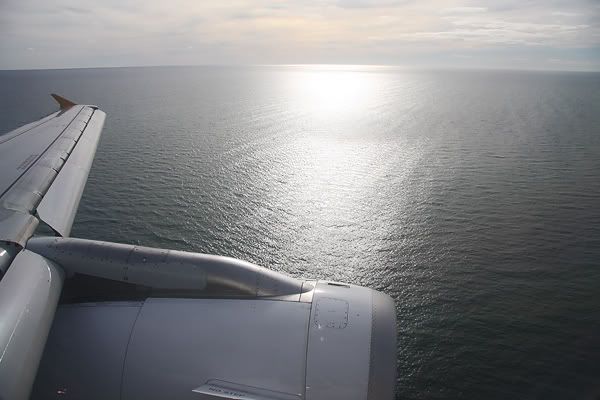 Made a shocker of a landing but made it to the gate. ADL terminal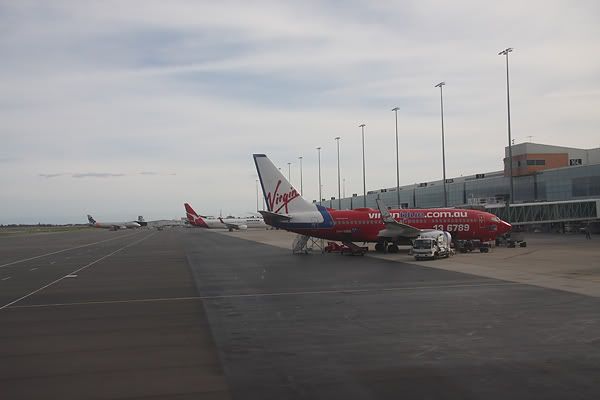 My Tiger on her way back to MEL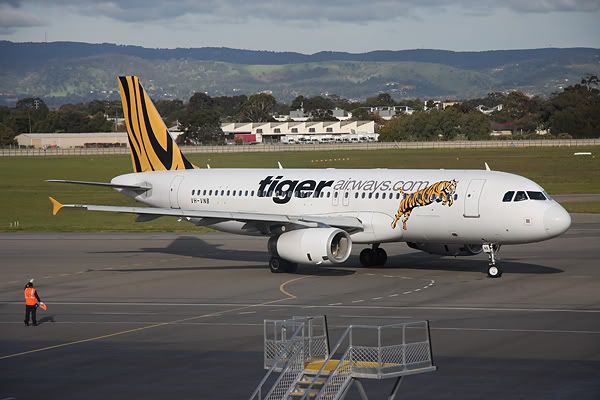 August 19 2008
ADL-SYD
Virgin Blue
DJ413
737-800
VH-VUG
Seat 24F
It was now back to my trusty old Virgin Blue for the remainder of the trip. It was only a short wait before my aircraft turned up which happened to be VUG
not again :cry: I had got her just on my last trip as well as VOQ from on the saturday. So 3rd time on "Jasman Tasman" now.
Seat 24F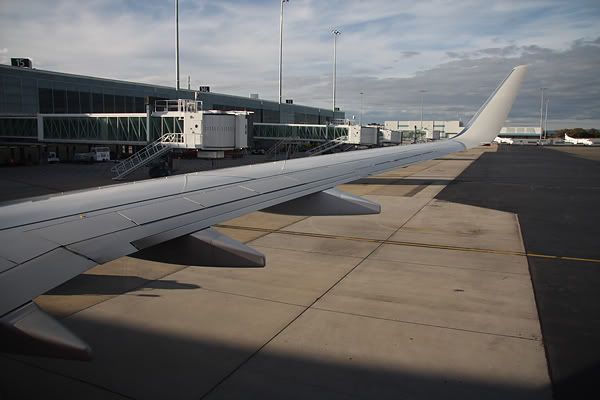 In the short time i was there the runway was changed so we took off back over the water
In cruise to SYD with our contrail seen on the clouds, i could also see the start of the contrail starting to form right under the horizontal stabiliser
Sun slowly going down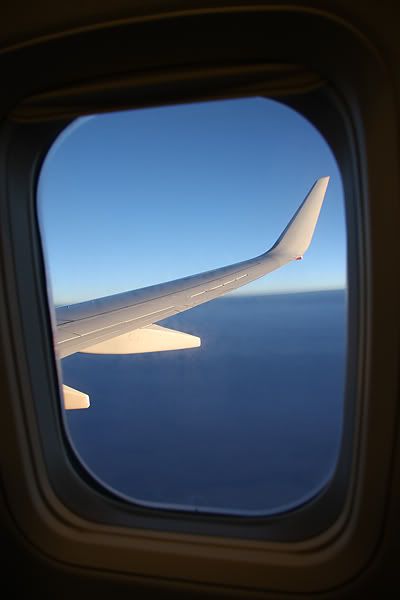 The sun finally fell in the most boring sunset i have ever seen :cry: Here passing by Canberra on decent into SYD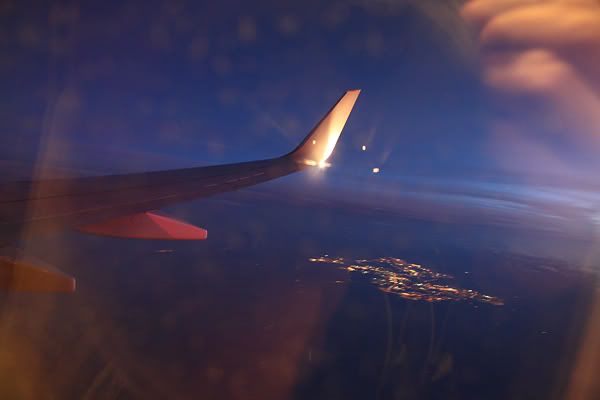 Arrived next to ZHB and ZHD, VUM was to our left. Just after i took this shot VOV pulled in next to us also.
August 19 2008
SYD-OOL
Virgin Blue
DJ527
737-800
VH-VOV
Seat 13A
After a quick look at the departures screens i noted again that i would be going on VOV
not having any luck latlely
So 4th time "Alluring Alice"
Seat 13A as VUG pushes back on her way back to ADL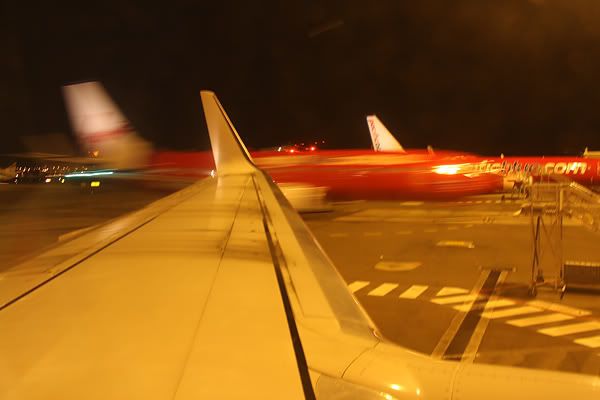 Crossing the cross runway 07/25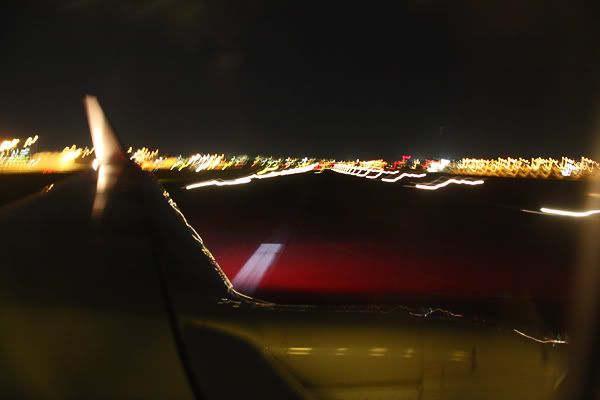 Ready on 34R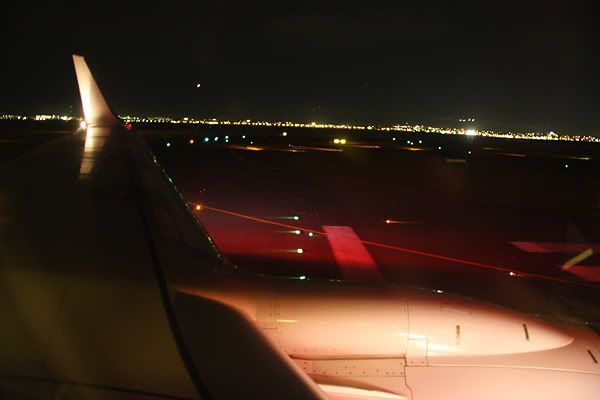 On take off a bunch of girls from some sporting team thought they were at Dreamworld raising their hands and screaming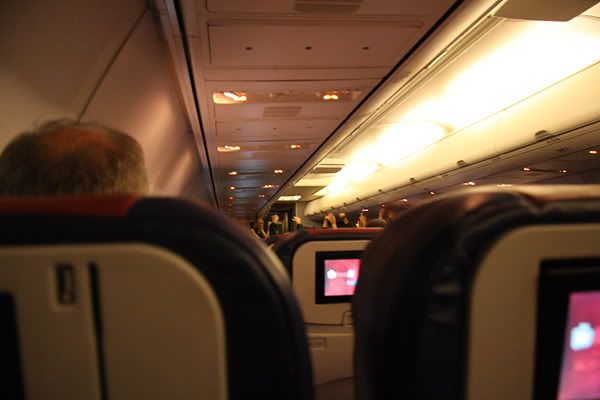 Sydney lights
Heading over the city
In cruise on a clear night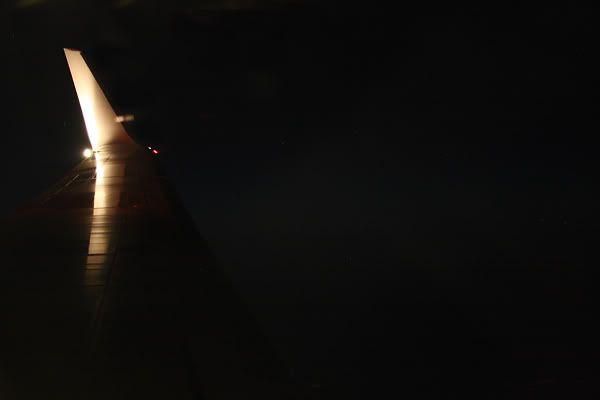 finals for Runway 14 with the moon glaring off the water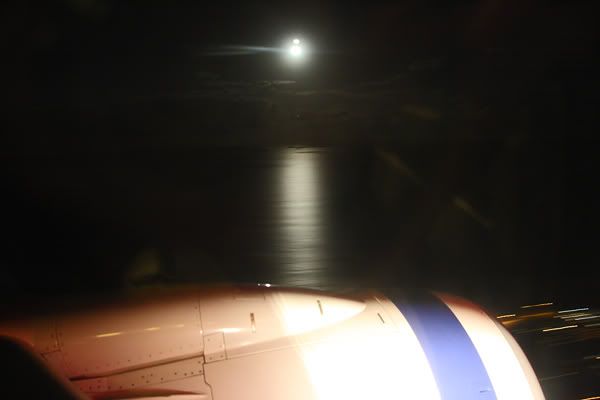 finally back in OOL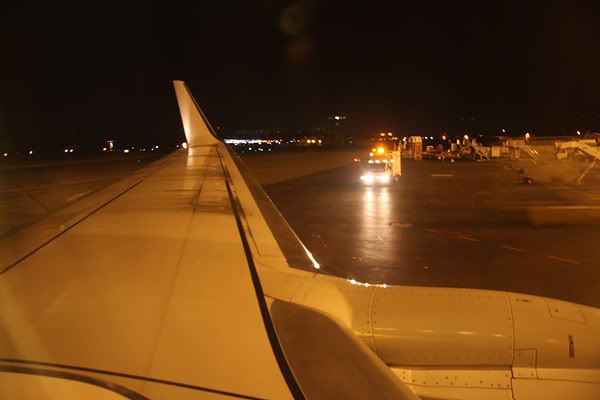 Jumped off the plane paid my parking ticket
and met up with Matt Coughran for a quick chat, then it was time to head back home for some sleep.
Enjoy!