Well here's my next part of my trips at the end of this summer.
Following up on this thread:
http://forums.jetphotos.net/showthread.php?t=44928
The next day, Monday, August 11, my cousin, Granddad, Aunt, Uncle, and I went to the Georgia Aquarium. My Aunt had thrown the idea out there before I came down and we agreed that it would be a fun idea. So that morning I got up about 9am and me and my Granddad had breakfast (I love his cooking, btw) and got ready for the day. The rest of them came by and we headed off to the aquarium. We stopped by Georgia Tech to say hi to my other cousin who was helping with freshmen moving in for band camp. After a fairly quick stop, we went and grabbed lunch then headed towards the aquarium. It is a pretty neat aquarium, although it does seem a bit spaced out because the exhibits surround the main lobby and the viewing areas are honestly a little small, but it's well worth a visit.
Here's the main lobby of the aquarium.
Three of the four whale sharks they have. I had to wait a few minutes for them to come by so I could get a shot like this.
We got there a little later than we originally planned, but we did get to see the sea lions be fed. Niko and Diego.
It's definitely worth a visit because they're adding a dolphin exhibit within the next couple of years. After we made it through all the exhibits, we headed over to Centennial Park to find our bricks. We eventually did.
Two of my cousins are on the top brick while my brother and I are on the bottom one. It's pretty neat. Our grandparents had bought them for us back when they were constructing the park.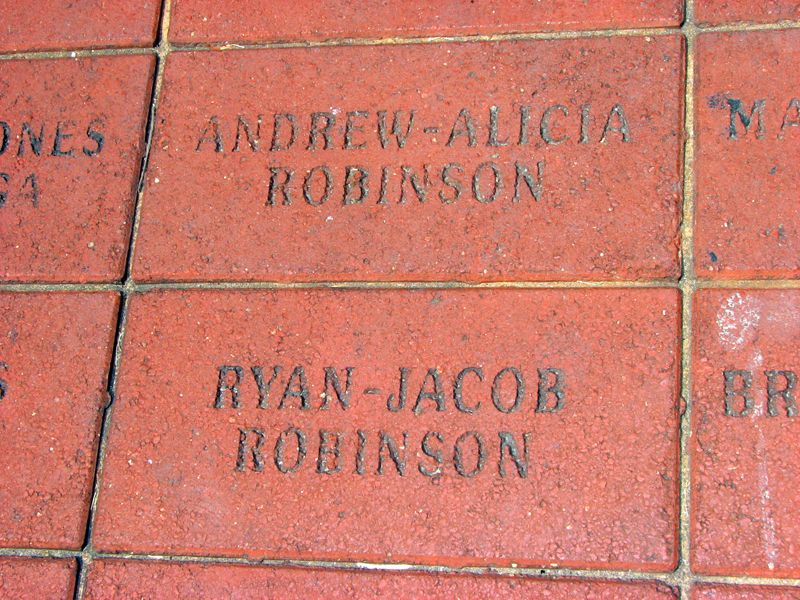 My cousin then mentioned that there was a statue in the park that has an imprint of a nail that impacted it when the bomb went off back during the '96 Olympics. Seeing that in person is just wow. You're just taken back to then.
So after that we headed back and dropped my Granddad and I off at his house and said our goodbyes until Christmas. That evening I ran some errands with him and ate at Chik-Fil-A for dinner. When we got back I uploaded the pictures from the aquarium onto my laptop and then started repacking some of my stuff for my flight the next day. I finally got to bed about 1130pm. My flight was at 9am, so I had to be at the airport by 7am at the latest. I was woken up about 530am and got ready and had some breakfast with my Granddad. We then headed out towards the airport. We got there, he dropped me off, and we said our goodbyes until Christmas. I checked in curbside and skipped all the hassle inside. After I got through security, I decided to head toward gate B12 which was where my flight left from. After I checked it out, I decided to check out the departure board and headed down to E to see what all was going on down there.
After I got off the train and up the escalators, this one caught my eye fairly quickly.
N866DA operating DAL91 to RKSI while Cathay Cargo blasts off 9L. Hard to believe this bird is almost 10 years old next year.
There was also a DL flight to Shanghai, but I couldn't get a decent shot of it. About then I decided to head back to my gate because it was about 15 minutes until boarding. So I scurried back over there and watched the activity until we boarded.
http://flightaware.com/live/flight/T...305Z/KATL/KSAT
N857RW getting serviced, my ride as TCF5882 to SAT.
I boarded and got to my seat, 12D, and was honestly quite surprised by the room I had. It was pretty awesome. Must say I'm a fan of the Embraer family now after a couple flights on them. Boarding was completed and we pushed back a couple minutes early.
Part of the queue for 8R, which was where we were headed also.
Little CRJ's being ushered along by big brother 738.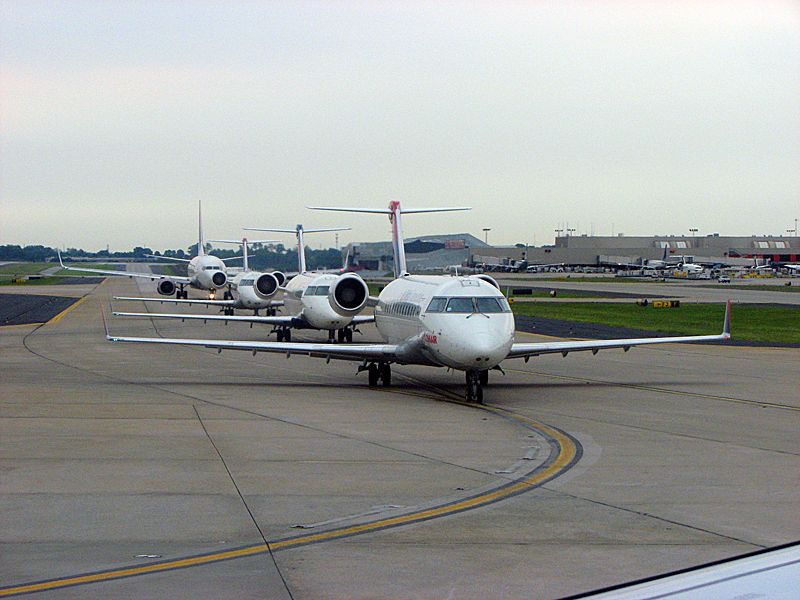 As you can tell, runway 8R is NOT level at all. CRJ rotating further down.
Well, they got me doing it.
For some reason whenever I fly into or out of ATL, it's always cloudy and sometimes rainy.
Here we are climbing in the clouds lingering over the area.
Just broke out of the clouds here.
[photoid=6343421]
After climbout, the flight was pretty smooth.
Traffic heading southwest as we head westward.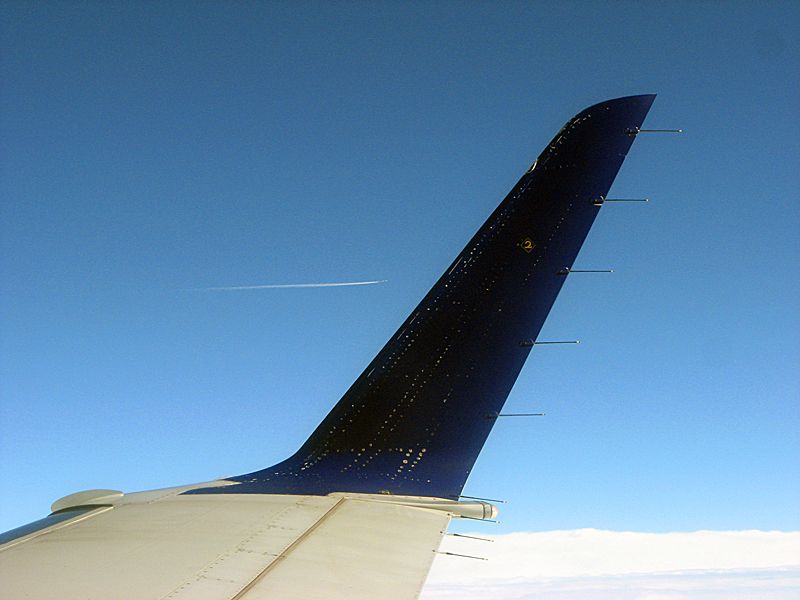 Turning southwest over northern Texas. The routing, as you can tell in the flightaware link, was not a normal routing for this flight. There were storms along the Gulf Coast, so that's why we went northward a bit. I was wondering why it took a little longer than it seemed.
Descending over central Texas with a fairly fresh contrail above.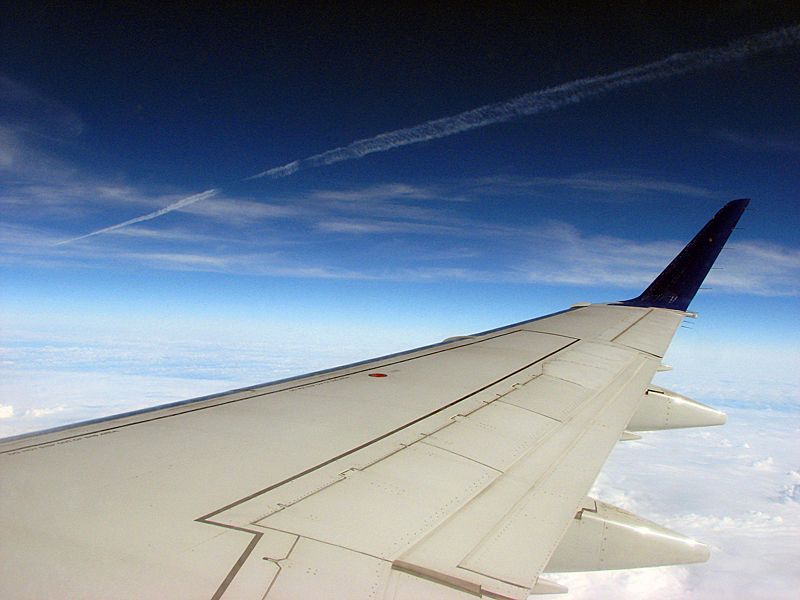 The clouds below started to get me thinking about what may lie ahead.
About 80 miles or so outside of SAT, I looked forward out the window a bit and saw this ahead of us. That was pretty much where the smooth flight ended.
It became bumpier when we entered it.
There were periods of time where it was just gray clouds surrounding us. I don't get nervous while flying, but this descent got me going a bit. It was a ride.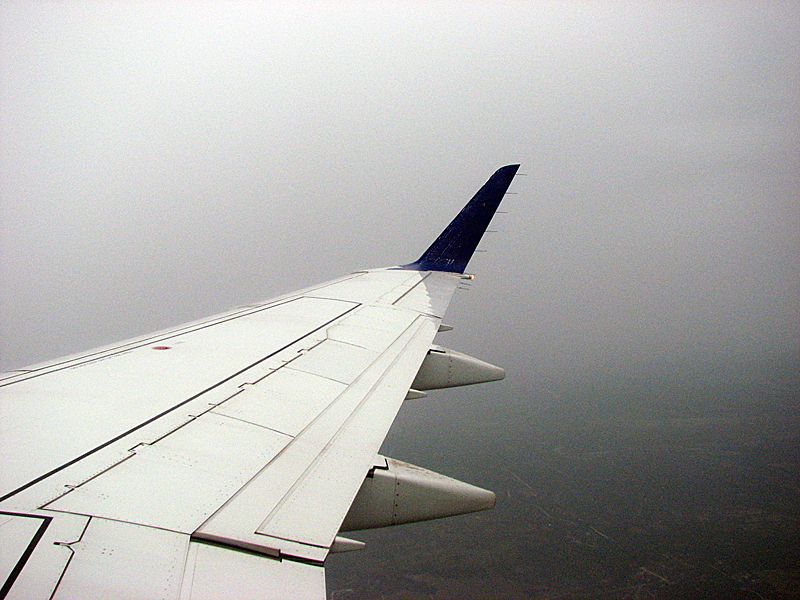 Passing over KSKF for 30R at SAT.
San Antonio
The landing actually wasn't that bad given the conditions.