This is the second part of my trip review.... Coming back home after an awesom stay in italy.
(this is the first part of the trip if you haven't read it: )
08 Aug 08
08:00am - Oh No!!! Vacations are finished... time to go back home, everthing is ready, got 25 kg more on my luggage than when i got here...
Time to go to the airport.
My flight to Toronto departed Rome at 12:30pm so I left for the airport at 9:30, one hour way from Roman Countryside to the airport.
Stopped at the "Autogrill" for some gas, and something to eat onboard, i got 3 (100grs) Toblerone Chocolate bars for 6euro.
Fuel wasn't cheap.
Heading to the airport.
We got there, we founded almost no traffic.
Departure at the airport.
Check in was ok, lot's of people at the airport, August is just crazy! But I loved that... We got on line, I got my passport checked through out security, I had already my seats booked, so no problems, my bags were ok one of them 25 the other 24.5... I has lucky, and I made EVERYTHING FIT IN!
We had almost an hour and a half, I went to the bar, had a nice Capuccino with my grandparents and finally it was time to say goodbye.
After hugs and "ciao's" I headed to the huge securyti line... There were about 10 security spots and all 10 of them were full. I waited about 25 minutes or so, and finally passed through security.
I immediatley took the SkyBridge ("La navetta")
(or like romans: Er trenino)
Well got to to terminal C and got some spare time, but i went to see my ride first.
In Rome, not like in Mexico, you can do the spotting you want!
Cathay Pacific, getting ready for her loooong flight to Hong Kong
My Gate, with the next flights... I wasn't sure if Toronto or Zagreb!....
I choosed the Toronto Flight! hahaha!
Airline:Air Canada (AC)
Flight number: AC891
Origin:Leonardo Da Vinci Aeroporto Internazionale, Rome Italy (LIRF)
Destination : Toronto Pearson Intl Airport, TORONTO, ON CANADA (CYYZ)
Distance: 4,402 mi
Scheduled departure time: 12:30pm
Actual departure time: 01:20pm
Scheduled flight time:09 hours 50 minutes
Class of Travel: Economy Class
Seat:19K
Aircraft: Boeing 767-300
I saw some shops, looking for a wallet, I saw a Ferrari one, it was too simple, Armani, too expensive and not my type, so i moved on to the gate and wait. When my turn, (just after families, Maple Leaf and Aeroplan Platinum passengers, and after Bussiness) It was my turn, rows 12 to 20 ( I was on 19K) Right in the wing!
I boarded, My seat was ok, the plane was an XM(extreme makeover one)
My seat partner was really Kind, a young lady, we chatted alot during flight.
We were delayed almost an hour, for fuel loading, and no other reasons.
Captain introduced to us told us that we were flying at 32,000 feet.
Meanwhile I did some spotting, Delta's T7, departing to Atlanta.
Finally we left, at 1.20
Kind of Sad, but happy after a great holiday.
The Terminal.
Nice Malasyan airplane.
Yep we were late, sorry for the bad picture, I took it, just for me to remember, but I'll post it the same... :P
Loveley! Air France
Little Alitalia....
Finally we taxied to runway 25... and took off.
ARRIVEDERCI ROMA!
Climbing over the Mediterranean.
European Traffic, EASYJET.
Last view of Italian Coast
After a while dinner camed, it was good, and I was hungry, In Italy I used to eat at 1.00....
-Salad: Cilieggini(small tomatoes), Mozzarella Cheese and Pesto! IT WAS AWESOME!
-Entree: Chicken with Potatoes and other vegetables. It was that or fish, so i prefered chicken, really tastey.
Bread, Butter.
French Red Wine and chocolate cake for dessert.
Flight continued well, I took a nap not for long....
Then we had a snack and some icecream....
It was a pastry... More or less... didn't like the BBQ sauce...
It didn't taste like BBQ.
And Ice Cream, not that good, and after tasting Italian Ice Cream.... not good... ( Air France used to give haggen daz) but not AC.
Couple of hours later we started descending to Toronto, about 4pm Local Time... We saw amazing clouds!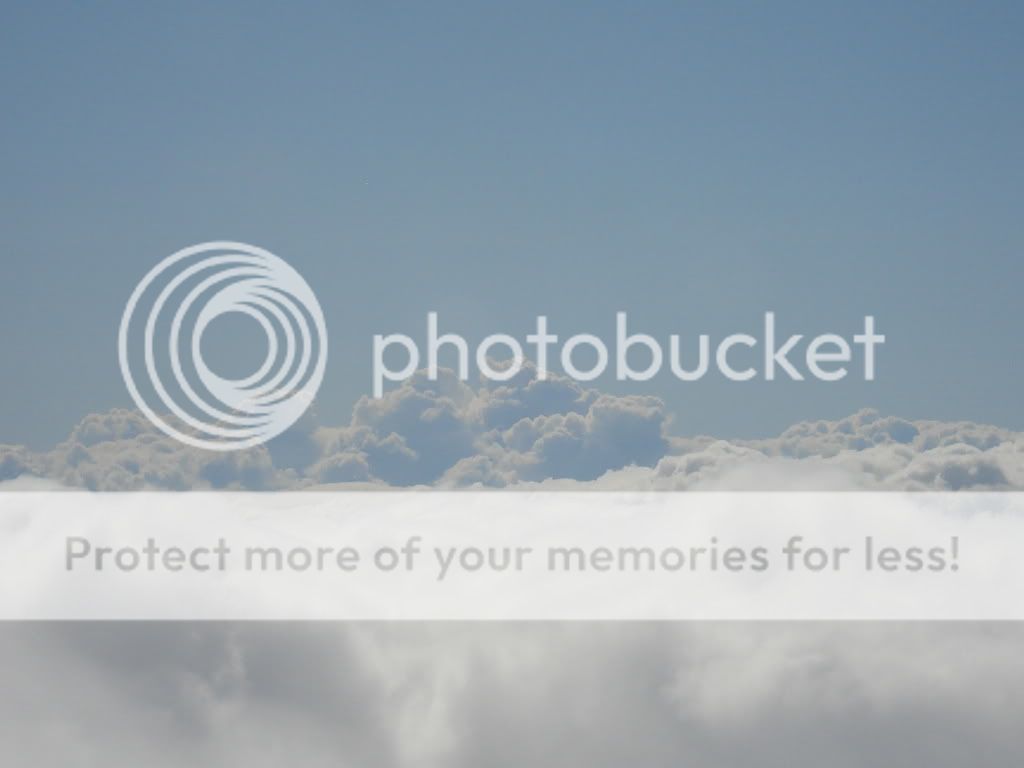 That Flight was the last flight of our Captain... He made an awesome landing, I hope he enjoys his retirement.
Approach to Toronto.
Kind of low visibility.
At Toronto(CYYZ), we saw couple of other European Flights, just arrived, and preparing for that night return... "The cycle of crossing da pond"
I headed to the cockpit, had a quick chat with the pilots, greet and congratulate captain for his retirement. And got out...
Thanks for that AC Crew!
We arrived to Toronto at 4:50pm, I cleared really fast customs, and headed slowly to Terminal 1, again... you have to kind of circle the terminal and go down one level....
Also over there i did some spotting, I had until 19:15 that boarding started for my 20:15 flight to Mexico City...
But first of all I needed a coffee... I headed to Starbuck's, and for my sorprise they didn't take Euros! I was like What? So I went to another store, and just to have canadian change, I bought a T-Shirt, a nice Canada Maple Leaf T-sh. After that i headed for my coffee (the expensier coffee in my life: 16 Euro for the T.shirt + 4.50 Cad), but i needed some caffeine...
I did some great spotting, I don't know why but the pics come better at YYZ than in FCO, maybe the glass is clearer.... hahah
My Gate:
Right beside, there was the flight to Rome, I tooked 2 months before... I wanted to go back on holidays!
My ride taking me south.
Meanwhile i was waiting I saw on another gate, a man arriving extremly late... Running desperatly! But he made it, he was going to Delhi on Jet Airways...
Finally we boarded... I was on 22F
Airline:Air Canada (AC)
Flight number: AC991
Origin: Toronto Pearson Intl Airport, TORONTO, ON CANADA (CYYZ)
Destination :Lic Benito Juarez Internacional, CIUDAD DE MEXICO (MMMX)
Distance: 2018 mi
Scheduled departure time:20:15
Actual departure time:20:20
Actual Arrival time: 23:58
Scheduled flight time: 04 hours 45 minutes
Class of Travel: Economy Class
Seat: 22F
Aircraft: A319
Departure was awesome, with a little of sunlight still, over downtown, we passed by the Rogers Centre, and we saw a baseball game, I could see the faces of the players, on the giant screen. It was great, Toronto inviting us to come back!
As it was a short haul flight, service was charged, i bought a horrible blanket and "pillow" it was like a plastig bag, if u inflate it, it would be a great ergonomic pillow! For 2 bucks.... But that or nothing...
What it was really bad was the sandwich I bought, swiss chalet and some carrots and ranch dip.
10 bucks....
We arrived to Mexico City at midnight... and one of my bags was lost, fortunatley I got it about 3 or 4 days in my city airport, I was in Frankfurt, so they sent it o Mexico City with Lufthansa....
And so this was the end of my trip this year hoping to go back soon to La Bella Italia.